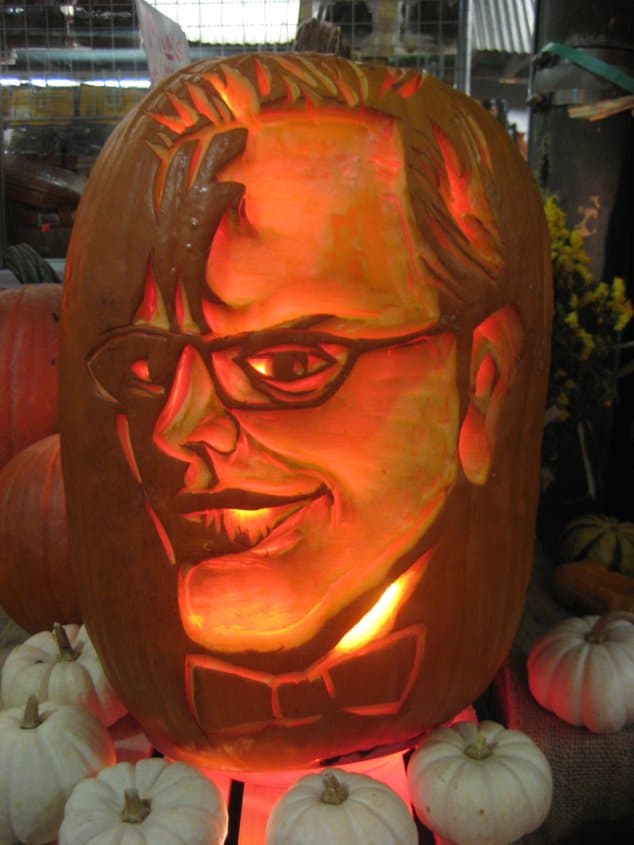 Last week I mentioned that I had a busy and exciting week, and it's been a busy and exciting weekend as well, which is why it's taken me so long to write my next post, haha. It was a great week at work, and I worked on a lot of fun and interesting projects. As I pointed out in my last post, an article I had written was posted on the Food Network's blog, and I did some great research as well for Aarti Party, which taught me a lot of new food-related trivia! For example, did you know that cardamom is the third most expensive spice in the world after saffron and vanilla? It ripens at different times and needs to be hand picked, making it more expensive than most other spices! Just a little trivia from me to you 🙂
I also stumbled upon another Gray's Papaya on Friday after work (539 8th Ave) and decided it was the perfect opportunity to try their Recession Special (love that name!). It was certainly more filling than just having one hot dog, and for my drink I chose the papaya drink (although the pineapple drink and pina colada were also calling my name). I thought it was very lightly sweet, tasty, and went well with the hot dogs. It was frothy and thick, and incredibly mild in flavor. Next time I think I want to try their pure pineapple juice.
Gray's Papaya Recession Special: 2 hot dogs and a drink (papaya) $4.45
Now for some more excitement! In addition to meeting Betsey Johnson, I attended two book signings this past week and met some food celebrities! It really was busy busy busy all week long, haha. The first was at the Barnes and Noble in Union Square on Wednesday evening. Alton Brown was in the house with his friend John Hodgman (PC from the "Get a Mac" ads and regular on The Daily Show with John Stewart). They were hilarious!!! They sat down, told us how for years they had meant to get together for a drink, and both pulled bottles of whiskey out of their bags! We knew we were in for a very entertaining evening. Check out a couple videos I recorded from the event...
One of my favorite stories (which I didn't get on tape) was when Alton described how as a child he was fairly rambunctious and one day decided to blow up a neighbor's dog house with some friends (with a homemade bomb). The neighbor caught them and shot him in the back with rock salt. It penetrated his skin and remained there for 2 weeks until it dissolved. He had to hide that pain from his parents, but the incredible irony was that ALTON BROWN WAS SHOT WITH SALT and now spends his life researching the chemical reactions behind foods, salt being a big one! It was a great free event (if you don't count how much it cost to purchase a book to get signed) and I laughed the whole time! The Union Square location offers a lot of great events and book signings, more than most of the other locations in town, so if you're a New Yorker, definitely check out their website for future events!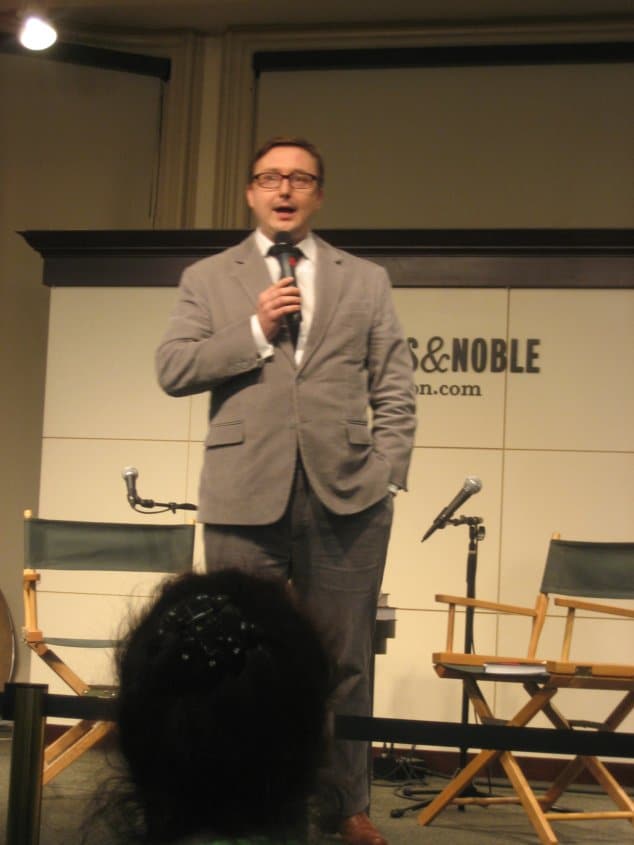 John Hodgman introducing (himself and) Alton Brown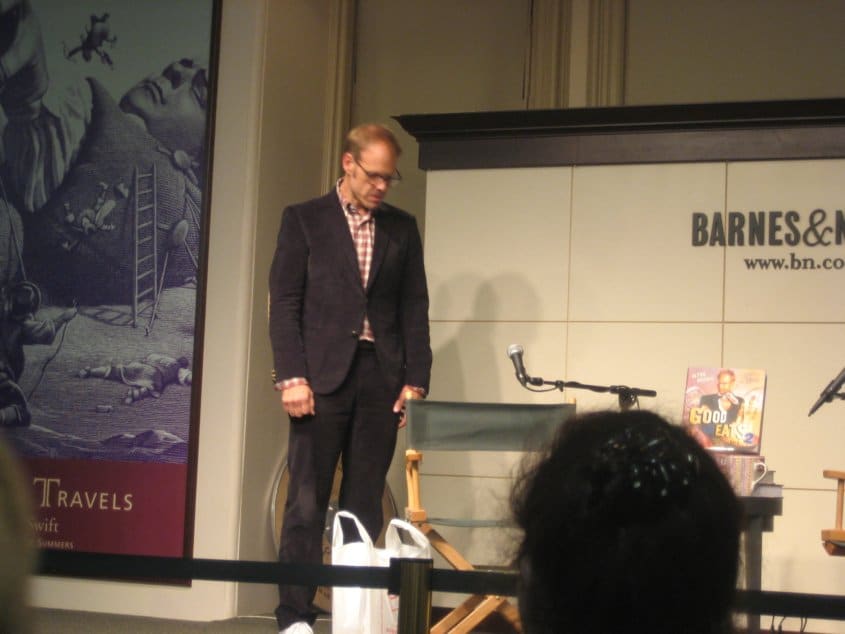 Alton was shocked he actually got a chair for the event...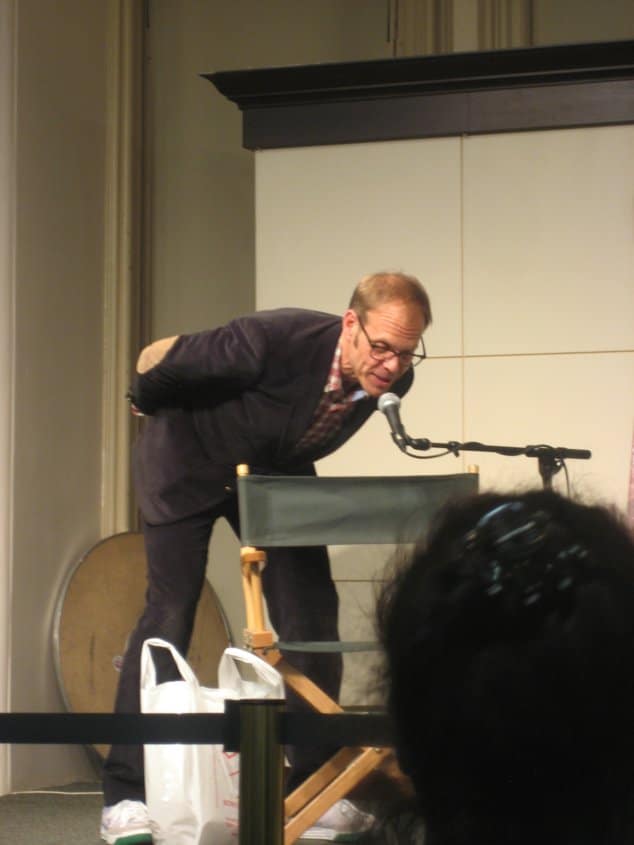 He thought maybe he'd just stand behind it and talk into the microphone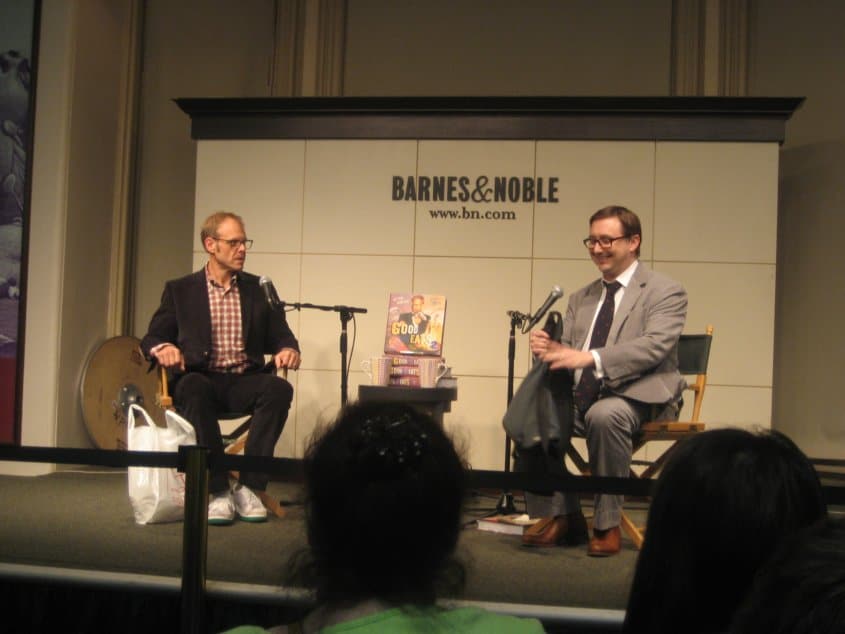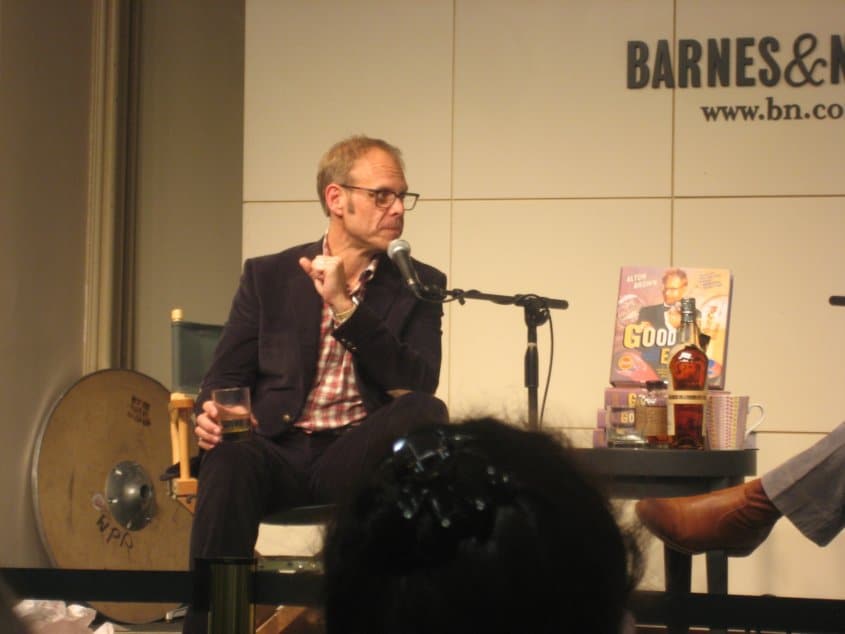 Oh and PS, when I went up to meet Alton to have him sign my book, I mentioned that I was an intern at the Food Network and that I write a food blog. He asked me what it was called, I told him, and then offered him my card so he could read my blog! Yup, I'm that ballsy and gave my card to Alton Brown. He pocketed it, so who knows if he actually checked it out. If he did... Hey, Alton, what's up??! It's me, Victoria 🙂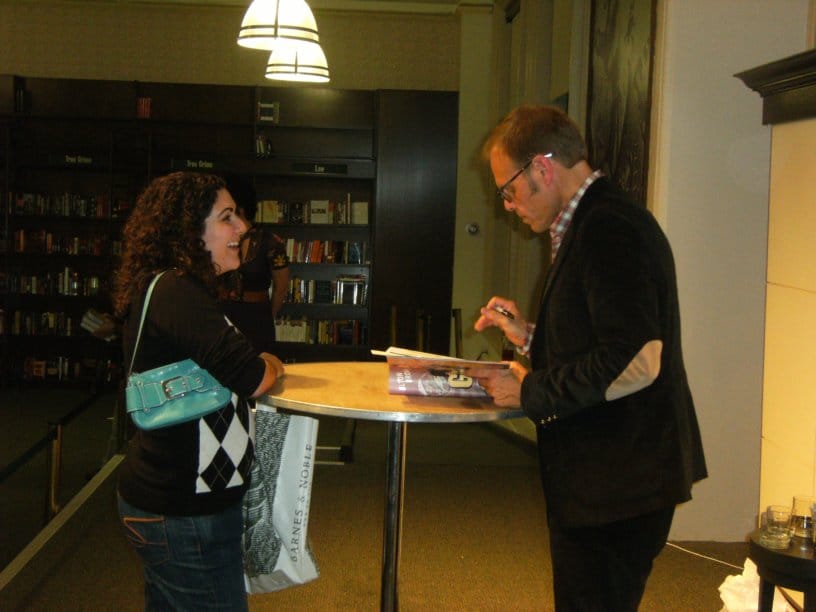 Hangin' with Alton! He signs his books "Cook Smart" 🙂
Moving onto the next awesome food event I attended. Here's the back story... so, last Thursday through Sunday was the New York Wine and Food Festival. Earlier this year when I saw tickets go on sale, I held off because I knew I'd be working at the Food Network and wasn't really sure if I would have to work any of the events, and thus not be able to attend. Tickets sold out for most events within hours (or days, I could be making this up), so I resigned myself to the fact that I just wouldn't be going this year. I saw a book signing event that said "Complimentary" following a TimesTalks event entitled "New York's Star-Studded Chefs" at the Times Center. That event was sold out, but I decided I would definitely head to the book signing portion to meet Daniel Boulud (yes, him!). Having already met Thomas Keller, Daniel would be the second three Michelin star chef I would get to meet! I arrived very early, in fact earlier than the original event was to start (karma or just really good timing?) and was told that a ticket to the event was required for the book signing too. I said that online it was separate and said "Complimentary," and they said they'd be happy to let me in again later, but that they may have a few tickets for sale from people who never picked theirs up. I had wanted to attend the event anyway (who wouldn't), so I was completely fine with that scenario. I purchased a ticket for $30 and headed in to find a seat.
The event was moderated by former New York Times restaurant critic, Frank Bruni, and included the likes of Daniel Boulud, Jean-Georges Vongerichten, and Michael White. We weren't allowed to take any photographs or video because the event was actually being professionally recorded (I am dying to know when/where it will air... I will let you all know if I find out). I will share some funny stories from the event, but unfortunately can't provide a full transcript (I'm just not that talented, and I'm getting older so I do forget things, haha), but I'll do my best!
First of all, I discovered that Jean-Georges is actually a partner in Co., Jim Lahey's amazing pizza restaurant, at which I have had the pleasure of dining. According to Jean-Georges's blog, Jim focuses completely on the food, while JG's people take care of the front of the house. I had no idea, but definitely enjoyed my visit there, recommended it in my review, and would happily go back! Jean-Georges also shared a funny story that happened at lunch last Thursday. Apparently, Jean-Luc Naret, the director of Michelin had reserved a table at Jean-Georges for 12 with a special menu, while the Zagat people had reserved one for 4. I guess these guys aren't on the friendliest terms, and when the Zagat people saw that Naret was there, they wanted the exact same menu as him and his guests. Unfortunately, the restaurant had only planned on preparing 12 of each course and had to reorganize and re-do everything for 16 people now. It was apparently one of Jean-Georges's most frustrating and nerve-racking moments as he described it to us. And let's just say that during the meal, neither party spoke with the other. Eek!
Michael White also shared a pretty funny story involving diners that were difficult and presented a challenge to the staff. For example, a very influential Voguer (think, Anna Wintour... yeah, I just made it really easy for you) orders a chicken and avocado salad everywhere she goes, even if it isn't on the menu. When she dined at Marea, she ordered the same. It being an Italian restaurant with no avocados anywhere on the menu, Chef White had to send a cook out to buy avocados in a hurry just to prepare the dish for her. Can you imagine?
The most hilarious member of the panel was easily Daniel Boulud! I would love to have drinks with that man, and can only imagine how much funnier he would get after knocking back a few, haha. Daniel's funny story about awkward restaurant situations involved an evening when both Palestinian leader Yasser Arafat and Israeli Prime Minister Binyamin Netanyahu were in attendance, separately of course. He said he was terrified of accidentally poisoning either of them, but said that later when he begrudgingly met Arafat (definitely not a fan) he had a "soft, limp hand." Boulud definitely tells it like it is, haha. He entertained us with stories about Lady Gaga eating lots of sausages at DBGB and said she ate sausages like a man (not even gonna go there), tales of years past when he used to kick troublesome diners out of Daniel (he would literally pull the tables away from them and inform them that they had to leave), and a great one about the angry man who stormed into Daniel and attempted to strangle his daughter's date. After the dad left, the date immediately ordered champagne 🙂 There were times when the panel was posed with questions, and even before anyone else could answer, Daniel piped up with some crazy anecdote. At one point Bruni informed the other two chefs that they could just leave because Daniel was answering everything, haha.
I think my favorite part of the Daniel Boulud Comedy Hour was during the question and answer segment of the night. The final question of the evening was posed by Daniel's own daughter, Alix! She got up to the mic and stated that she was Daniel's daughter and that she had a question for the others on the panel, so "Daddy can rest his voice now," haha. She shared with us that her dad hates bananas, and that they rarely ever appear on any of his menus. She asked the other chefs if they have any foods they truly dislike and avoid working with in their restaurants. As Jean-Georges and Michael were answering, Daniel started talking again and was quickly shushed by his daughter's "Daddy!!" Absolutely priceless!! The audience exploded in laughter!!
After this truly amazing event, it was finally time for the book signing portion (which was my original reason for being there). The only participants signing books that night were of course Daniel Boulud, and Frank Bruni. I didn't have Bruni's book, but I had a copy of The Cafe Boulud Cookbook, which is an awesome book, by the way. I ran downstairs in order to beat the others and not have to wait in line (I ended up being first!). After waiting a few minutes, Daniel emerged from a side door and sat down before me. An event volunteer handed him my book and I stepped forward to greet him. He saw my name on a post-it in the book and asked if I was Victoria. I said I was, and we chatted briefly. I told him that I went to culinary school and have a great interest in food writing, that I had been to Bar Boulud, and that I am hoping to try the rest of his restaurants soon, since I had only recently moved to the city. He smiled at me and told me (in his sexy French accent) he was sure I would get to try them soon. I won't hold my breath for bananas on the menu, or seeing Lady Gaga downing sausages, but I can't wait until those visits become a reality 🙂 Gotta start pinching pennies!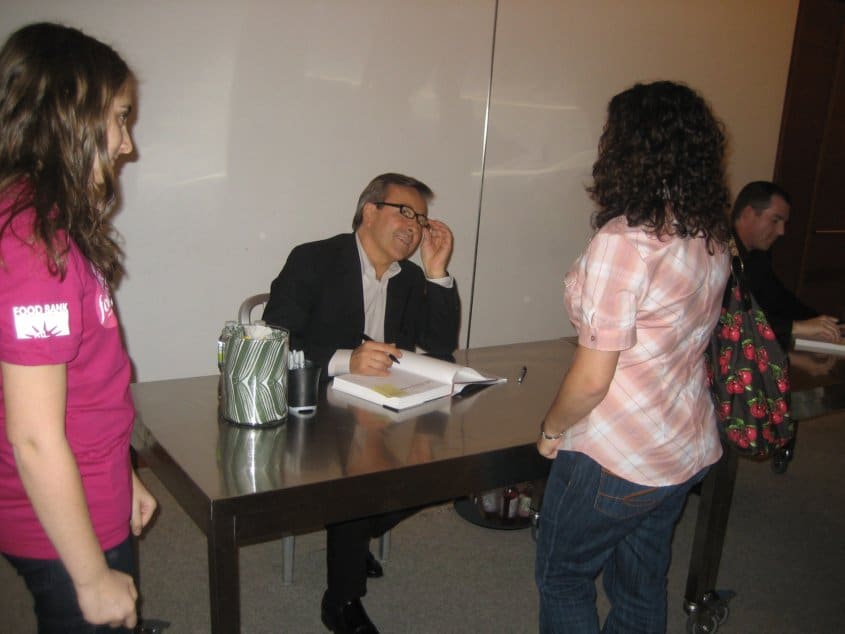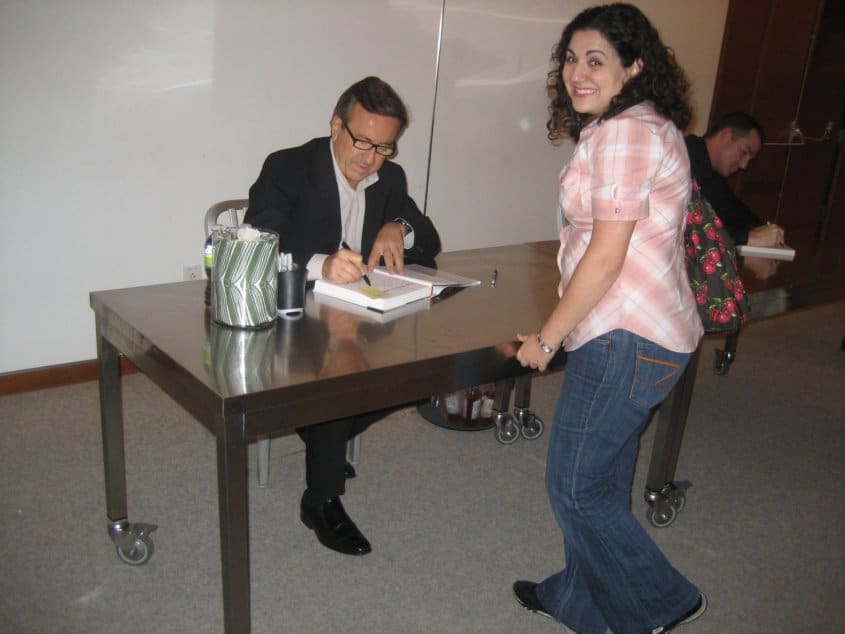 So excited to meet Daniel Boulud!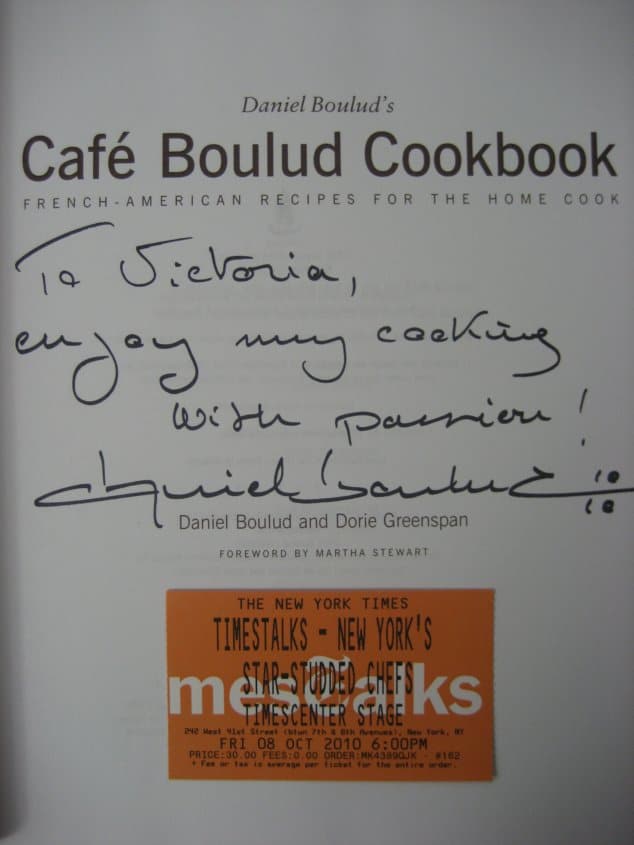 My signed book stating, "Enjoy my cooking with passion," and the ticket stub from the event!