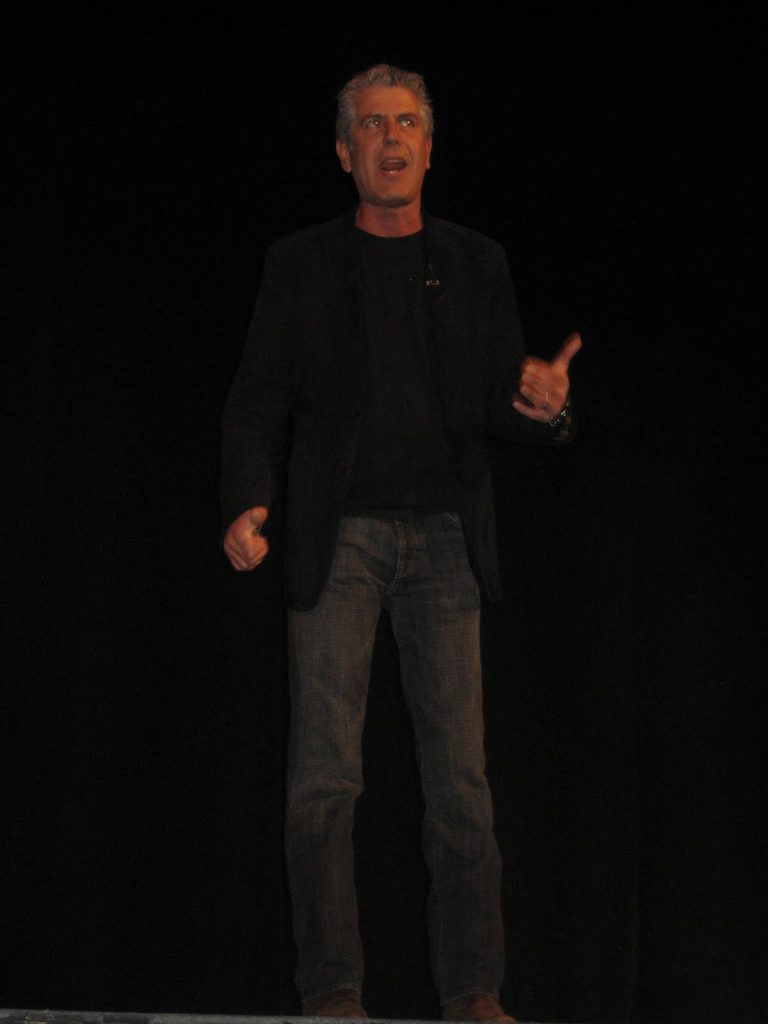 Last night, I met Anthony Bourdain. Yes, it's true. I met the man, the legend, the god. Maybe I should start from the beginning. For Christmas this year my sister and brother-in-law got me a ticket to join them to see Anthony Bourdain "perform" (essentially talk and joke about his experiences and take Q&A from the audience). It was a very generous ticket, and my sister splurged for the VIP tix as they were front and center, right in the action. We were in the second row in fact, pretty impressive. We showed up, eager for our evening with Tony, anxious to hear his stories, excited to be almost close enough to touch him... or so we thought. When we were escorted to our seats we were given a slip of paper informing us of the instructions for the "after party" with Anthony Bourdain. What what? We were going to MEET him after the show? Wait, how did no one tell us this as we procured these VIP tickets? They were so much more valuable now! Not only did we have some of the best seats in the house, but we were going to meet him face to face!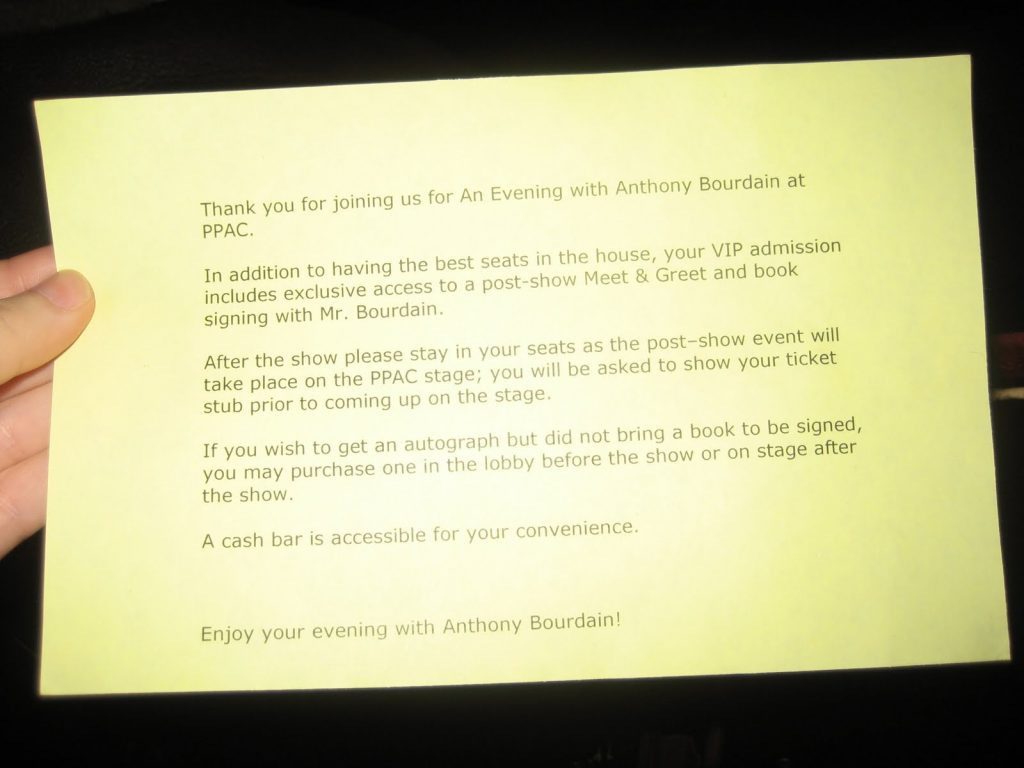 We ran back to the lobby to purchase some last minute books for signing. I opted for hardcover copies of both Kitchen Confidential and Anthony Bourdain's Les Halles Cookbook. We were given slips to write what we would like him to sign in our books. Here's what I decided to go with...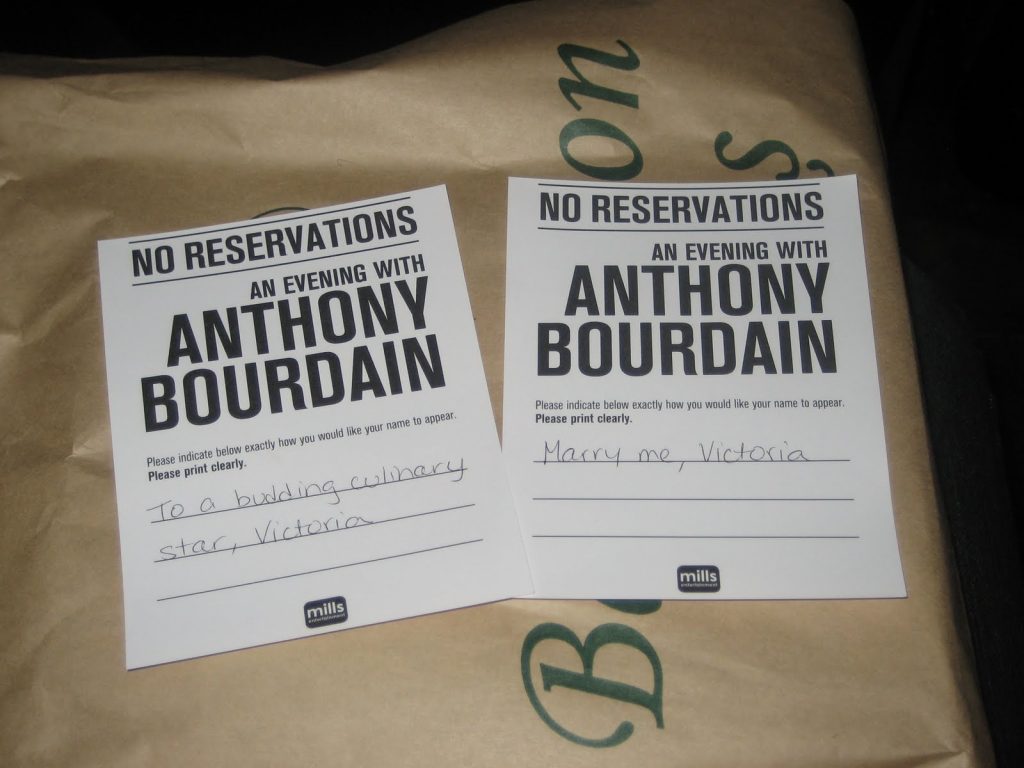 Shortly after I updated my Facebook status with crazed excitement over our "surprise" and added photos of our VIP instructions, mocking my foodie friends, Anthony Bourdain took the stage and started immediately discussing his favorite and least favorite Food Network stars (thumbs down to Rachel Ray--duh--Sandra Lee--double duh--Robert Irvine and Guy Fieri... thumbs up to Ina Garten--love her--Giada de Laurentiis--love her too--Alton Brown and Bobby Flay), his thoughts on other food shows like Top Chef (LOVE IT... he discussed judging on the show, it's all legit, they will not keep people on just because they are loved and have good story lines according to producers, Tom Colicchio makes sure of it), Hell's Kitchen vs. Kitchen Nightmares (KN is more the real Gordan Ramsay... duh), Man vs. Food and that other show with the guy who eats all that crazy stuff... yeah I don't watch, I think it's gross.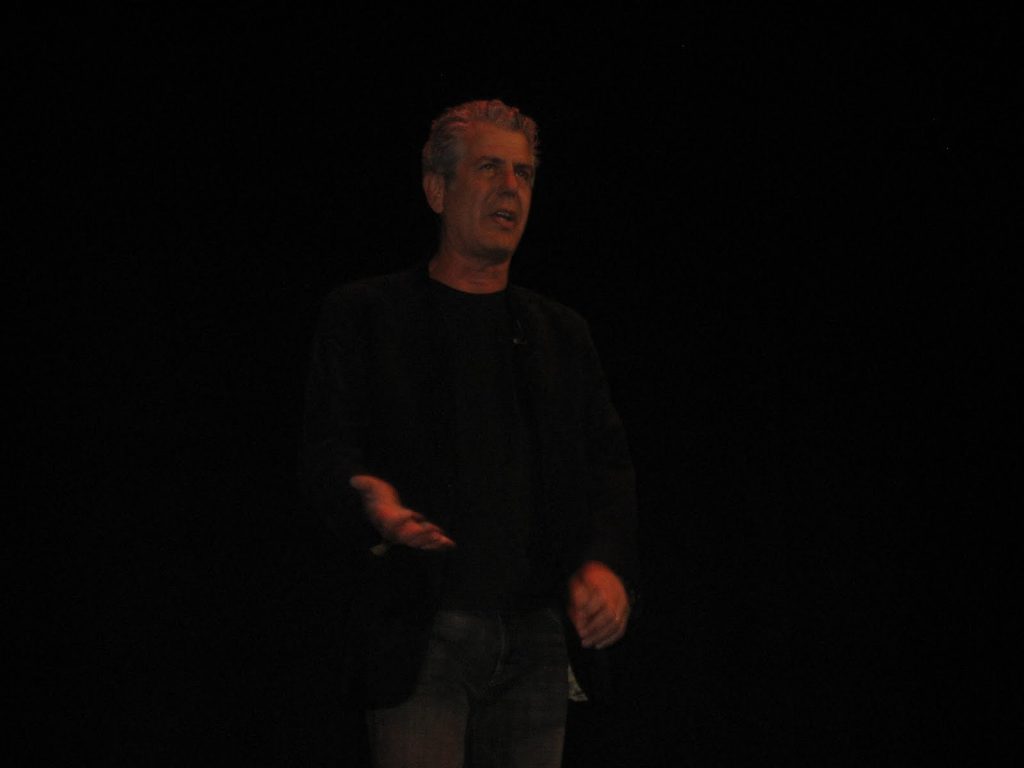 Anyway, really funny stories (I won't repeat them all now, sorry) and lots of discussions of his many travels all over the world, his theories on being a good guest and eating whatever you are served, even if it's not something you'd normally eat (I STRONGLY agree), how to travel (eat where the locals eat... where the locals REALLY eat... street food, out of the way places, etc), and also his thoughts of vegetarians and vegans. I'm not gonna go there. I have friends who might hate me if I repeat his thoughts 🙂 I'm a meat lover. I have no qualms with eating dead animals. If it's a religious purpose, fine. But otherwise, I really do think you're missing out. And so does Bourdain. There were some HILARIOUS drunk people in the audience asking questions and trying to meet him (stalk much?) and the whole night was really incredible, which was all topped off with the meet and greet after the show!
Free VIP Food After the Show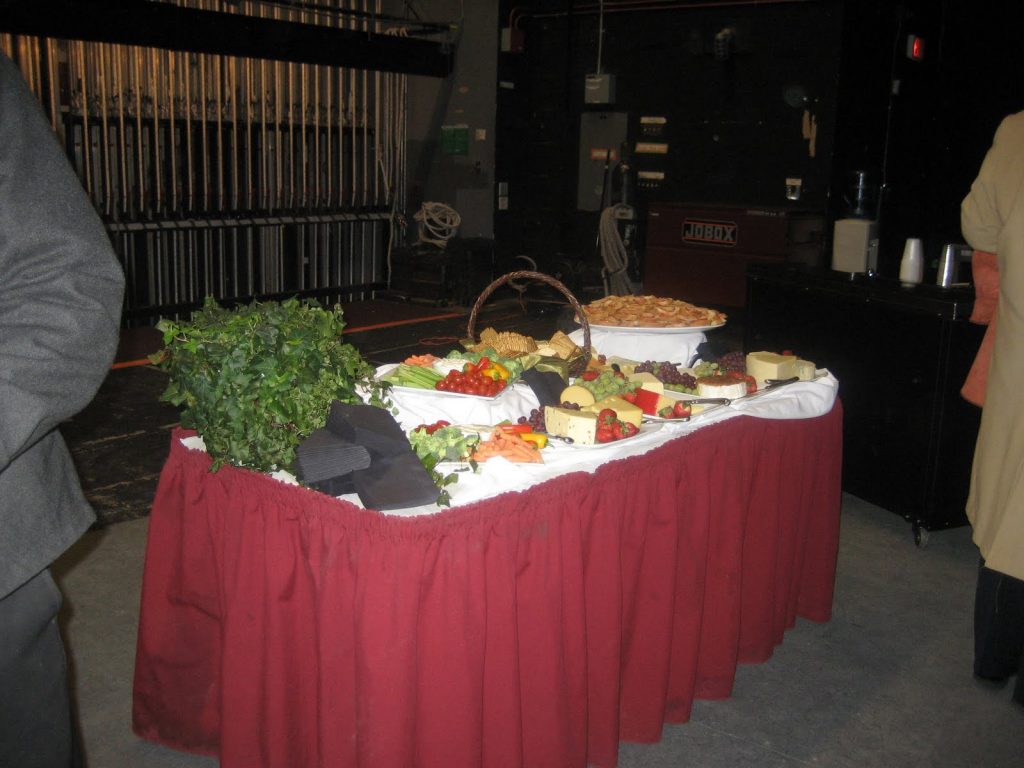 Waiting in line, I wasn't really sure what I wanted to say to him. Should I ask him about my career? Should I suggest he go to Armenia on his show? Should I ask him what he thought about the short stint of the TV show "Kitchen Confidential" which was based on his book? Should I just giggle nervously and then forget what we talked about 5 minutes later? I had no idea! Basically, when I went up to him, I told him it was really nice to meet him and told him my name. He said the same and shook my hand. I mentioned where I go to school and that I'm interested in food writing, and I asked what he might suggest to me for accomplishing that in the future. He told me to write. I mentioned that I have a food blog and he said that was great. Pause. SNAP PHOTO. He signed my second book, which was the marriage proposal, added his own funny addition. I giggled and left moments later. It was mostly a blur. I obviously couldn't stand there and chitchat, with a line of folks still waiting. I thought my meeting with the man was surreal, and awesome. I've already looked through and read parts of my new Les Halles Cookbook, and it has me craving duck confit, steak frites, moules, and just about every other fantastic French bistro dish that has ever been created. Yum. I have quite a few French cookbooks, but I'm thrilled to add this (personally autographed) copy to my collection. And I can promise that it will not collect dust 🙂 Thanks for everything, Anthony Bourdain! You truly are a rock star!!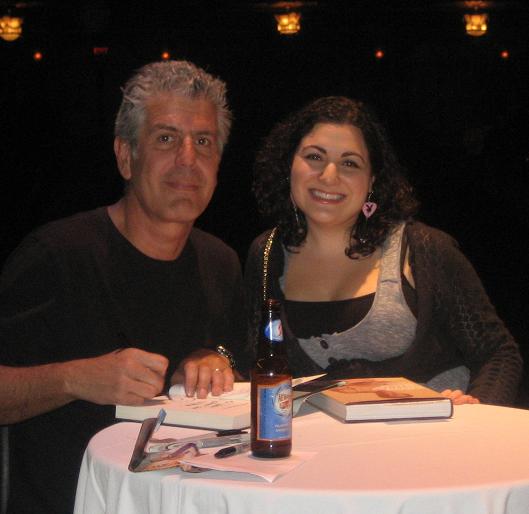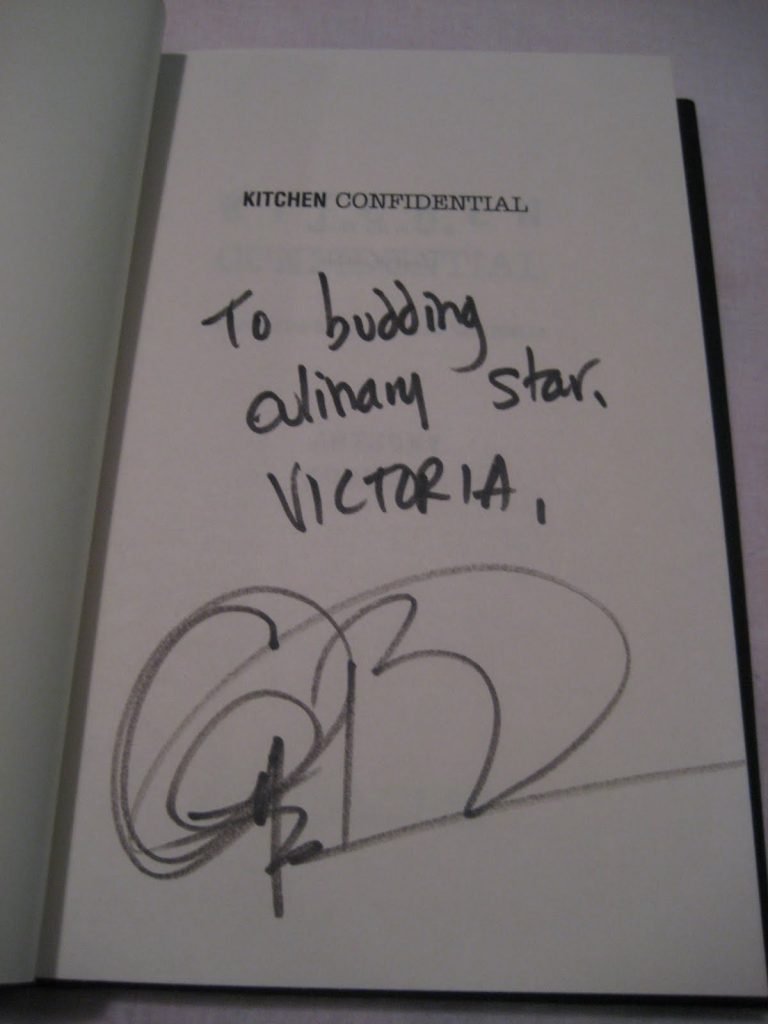 He's actually already married 🙂 I love it, though, haha!