Get the recipe for the award-winning crab and brie chowder from The Mooring in Newport, RI.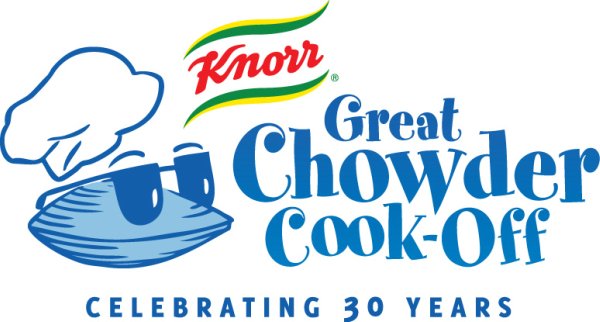 Thirty years ago, Jack Booth founded Newport, Rhode Island's Great Chowder Cook-Off, and the chowder (or chowda) loving world would never be the same. This annual event kicks off the summer with Newport Waterfront Events at the Newport Yachting Center.
This venue that hosts fun comedy and music series all summer long, along with other special events such as the Newport Winefest, Newport Arts Festival, and Newport International Boat Show, among many others.
For food-lovers, the Knorr Great Chowder Cook-Off is where it's at. It is the original and longest-running chowder championship in the world, and serves up over 3,000 gallons of chowder each year.
While the event originally showcased clam chowders only, it has since expanded to include seafood chowders, and eventually creative chowders. In past years, competitors have traveled from as far as Alaska, Bermuda, and Ireland to share their chowders with the fanatics in attendance. When a particular chowder wins three times, that chowder enters the Hall of Fame and is then retired and can no longer compete.
The Newport Yachting Center's marketing director Jocelyn Emory was kind enough to show us around the event space as the festival was kicking off this year on Saturday, June 4th. The layout was well-organized, although the tent that houses the creative chowders and many of the sponsors' booths was exceptionally crowded when the event got into full swing.
We were also escorted to a special VIP hospitality tent that had additional samples of food, including more substantial offerings like hot dogs, pasta salad, cold cuts, plenty of sweets from Sweet Street Desserts, Ben and Jerry's ice cream, and free booze (and other drinks)!
Outside of the VIP tent, food and drinks (with the exception of the chowder samples and some other drink samples) incur an additional charge. The VIP tent also had plenty of tables and comfortable seating, indoors and out, with incredible waterfront views. I was very pleased to have access to this area 😉
This year there were 10 competitors in the clam chowder category, 4 in the seafood chowder category, and 4 competing for best creative chowder. 20 to 25 total competitors is pretty standard for the event.
First, second, and third place winners are awarded in each category (and win monetary prizes and bragging rights!), as well as special awards for categories such as most spirited team, and best decorated booth.
The event's attendees, the "people," are given sole responsibility to select the annual winners in the three main categories as well as most spirited team.
I created a chowder spreadsheet before coming to the event, so I could take serious notes and look like a super nerd in front of everyone else having fun. That's how I roll. I have lots of opinions on all of the chowders we tasted, both good and bad.
I will not rehash every single thought I had... this isn't Top Chef (though I'm convinced I should be a guest judge... at least once!), but I will happily share some of my favorites and least favorites.
My favorites for the clam chowder category include Hotel Viking, which shared a chowder found on their regular menu. It featured applewood smoked bacon, and large rustic potato chunks. Their chowder had a mild sweetness that we enjoyed, but the bacon flavor was not overwhelming. We preferred their use of bacon to that of the Ocean Breeze Cafe, which to our dismay won third place and offered an overwhelmingly bacon-laden (and salty) chowder, which seemed to have more bacon than clams.
Another favorite in that category was Bobette's Take Out Bistro from Connecticut, which not only brought along a slew of cheerleaders, making them a shoo-in for the Most Spirited award, but included Sauternes (a French sweet wine) in their chowder, a secret ingredient which added a mysterious sweetness that we really enjoyed.
Our third favorite in the clam chowder category was Hemenway's a Providence seafood institution. Their chowder was classic! Tender clams and a sweet onion flavor in this well-seasoned and silky creation made this one of our stand-out chowders of the day.
Here are the winners of the clam chowder category. The first place winner, Tony's Seafood Restaurant, featured a spicy chowder that we enjoyed, but thought was a bit too spicy to consume in normal quantities (ie more than a sampling). We enjoyed Stefano's chowder a lot, and loved the mildly tangy flavor. The whole family was in attendance, pimping their 12-time Long Beach Island Chowderfest winning recipe 🙂
CLAM CHOWDER
1st Place: Winner of $1000 and $1000 Winner's Bonus courtesy of Seawatch International: Tony's Cedar Key Clam Chowder, Florida
2nd Place: Winner of $750: Stefano's Seafood, New Jersey
3rd Place: Winner of $500: Ocean Breeze Café, Newport, RI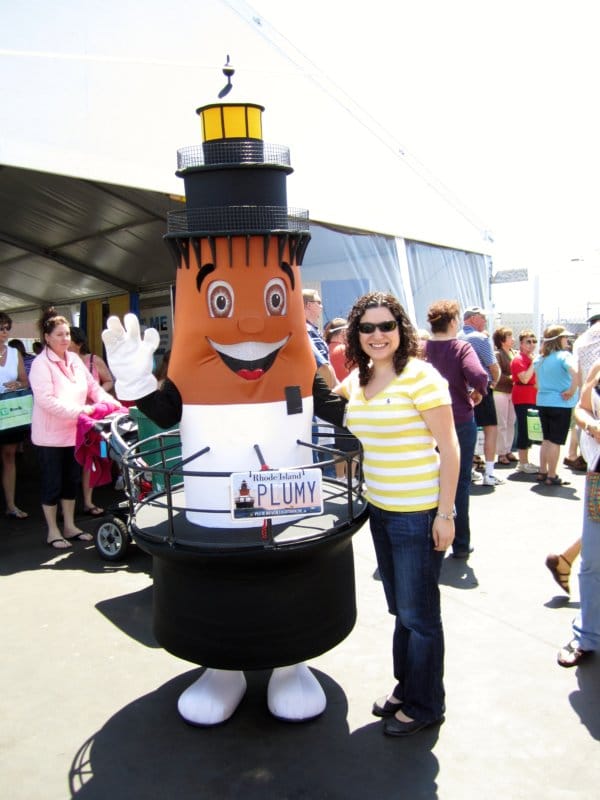 The seafood chowder category only had four competitors (as did the creative chowder category). The winner, Michael's Seafood, was by far our least favorite of the four. This is its third year winning (which inducts it into the Hall of Fame), and I'm honestly shocked. My opinion is that their chowder was bland, tasted heavily of potatoes, and not of the ocean whatsoever. Our other friends who also attended the event agreed completely. The other three chowders were delicious, however.
Selecting a favorite was a challenge. I loved the Portuguese Fish Chowder from Melville Grille. It boasted chorizo, shrimp, scallops, and cod, and was topped with a small piece of fried cod. It was very flavorful and had a lot of personality, as did those wielding cups of this unique chowder.
I also enjoyed the simple Maine Shrimp and Mussel Chowder from Castle Hill Inn. Although it featured a thinner broth, the flavor of mussels shone through strongly, and along with fresh, plump mussels, and bites of shrimp, it had far more seafood flavor than the one at Michael's.
The Tasso Ham and Scallop rendition from Waterman Grille balanced the smokiness of the ham well with the scallops. It was also a touch spicy, and thin-brothed.
SEAFOOD CHOWDER
1st Place: Winner of $1000: Michael's Seafood, North Carolina
2nd Place: Winner of $750: Melville Grill, Portsmouth, RI
3rd Place: Winner of $500: Castle Hill Inn, Newport, RI
The creative chowder category featured our overall favorite of the entire event. Though I disagree with some of the other winners of the event, I'm thrilled to say in this category, the best chowder definitely came out on top!
The Mooring stunned us with their incredibly innovative, unique, and flavorful Crab and Brie chowder. This chowder steals the show with its not-so-secret-ingredient, Brie. Who would have thought that a bit of this gooey cheese melted into a crab chowder would result in something so seductive?
Executive Chef Rob DeLuise informed us that this crab chowder recipe is a new creation and not on their regular menu. It was created specifically for this event.
We hope they will offer it as a special at some point (and invite us to enjoy a whole bowl of it), but in lieu of that he has offered to share the recipe with Mission Food Adventure's readers!
Consider yourself super lucky!! This crab chowder will change your life, so please make it STAT! Find the recipe at the end of this post. Thanks again, Chef DeLuise!
Before we get to the recipe, one more thing I just don't get. Probably our least favorite chowder of the day, the Lobster, Pepper Bacon, Corn, and Cilantro Chowder (sounds delicious, doesn't it?) from Trio won third place in the event.
Although the description and scent were alluring, this chowder was inedibley salty. Perhaps we sampled from a bad batch, but regardless, serving something THAT salty at an event like this did not deserve an award. We had to throw ours away.
CREATIVE CHOWDER
1st Place: Winner of $1000: The Mooring Seafood Kitchen & Bar, Newport, RI
2nd Place: Winner of $750: 22 Bowens, Newport, RI
3rd Place: Winner of $500: Trio, Narragansett, RI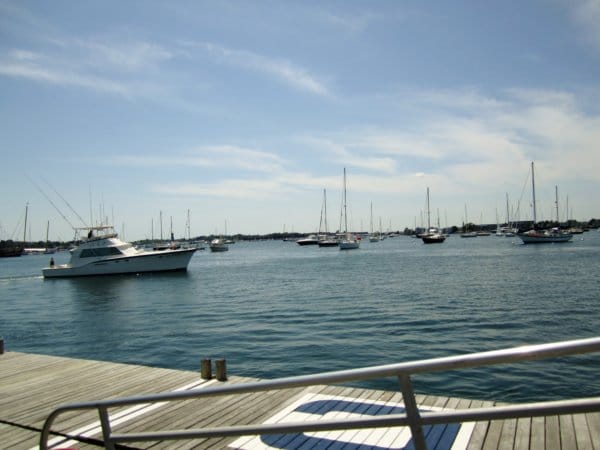 Thank you so much to the wonderful folks at Newport Waterfront Events for allowing Mission Food Adventure to take part in the festivities! I loved touring the venue and trying all of the fun and unique chowders. Participating and especially winning awards at this incredible Chowder Cook-Off has brought fame and prestige to so many great restaurants that may have been unknown otherwise to the greater public.
This is a wonderful event that brings "Chowdaheads" together to eat chowda, drink, and be merry. I hope if you live near any of the participating restaurants that you will stop by and give them your support!
And if life allows it, please consider attending next year's event! Newport is one of my favorite places in the world, and this event certainly showcases the incredible love of seafood that makes the Ocean State so proud of its shoreline.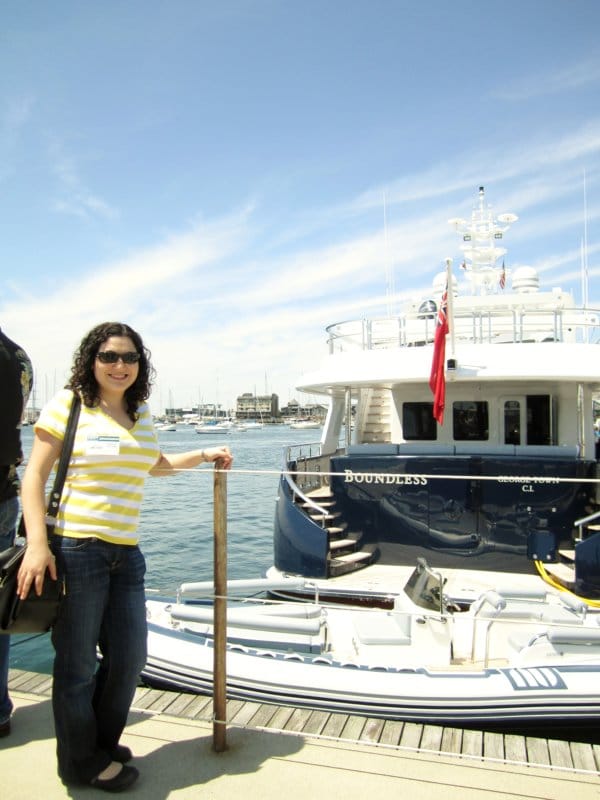 Other recipes you may like
Tried this recipe? Please leave a star ⭐️⭐️⭐️⭐️⭐️ rating in the recipe card below and/or a review in the comments section further down the page. You can also follow me on social media on Facebook, Instagram, and Pinterest!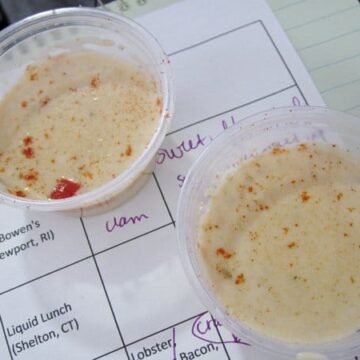 The Mooring's Crab and Brie Chowder
An award-winning recipe for crab and brie chowder from The Mooring in Newport, RI.
Print
Pin
Rate
Servings:
10
servings (makes about 1 gallon)
Ingredients
8

ounces

(2 sticks) unsalted butter, separated

4

ounces

all-purpose flour

1 ½

ounces

South Shore Seasoning

8

ounces

Spanish onions

¼-inch dice

4

ounces

celery

¼-inch dice

4

ounces

red bell peppers

¼-inch dice

1 ½

ounces

granulated sugar

white

1

cup

white wine

7 ¼

cups

lobster stock

½

cup

sherry wine

1

ounce

crab base

1

quart

(32 ounces) heavy cream, 36% milk fat

12

ounces

French Brie

rind removed

2 ½

pounds

Rock crab meat

Sweet smoked paprika

as needed for garnish
Instructions
In a large sauté pan melt 4 ounces (1 stick) butter and mix in flour until incorporated. Cook on low flame until it starts to look like wet sand and gives off a nutty smell. Remove from heat and save. This is your roux.

In a large sauté pan add South Shore Seasoning and place on high heat. Stir seasoning for about 2 minutes until it is lightly toasted and fragrant. Remove from heat and save.

In a large stock pot melt remaining 4 ounces (1 stick) butter and add onions. Sauté onions until translucent, then add celery and red peppers. Sauté for 1 minute and fold in the roux, toasted South Shore Seasoning, and sugar. Heat for 1 minute then add white wine. Stir and mix ingredients together, starting to dissolve roux.

Add lobster stock, sherry, and crab base. Stir to incorporate well. Let simmer for 30 to 45 minutes.

In a separate pot add heavy cream and Brie, heating until Brie is melted and whisked together, and then add to large pot. Mix well.

Remove from heat and fold in crab meat. Serve garnished with smoked paprika.
Nutrition
Calories:
799
kcal
|
Carbohydrates:
23
g
|
Protein:
24
g
|
Fat:
63
g
|
Saturated Fat:
30
g
|
Polyunsaturated Fat:
1
g
|
Monounsaturated Fat:
4
g
|
Cholesterol:
231
mg
|
Sodium:
2436
mg
|
Potassium:
192
mg
|
Fiber:
1
g
|
Sugar:
14
g
*All nutritional information is based on third-party calculations and should be considered estimates. Actual nutritional content will vary with brands used, measuring methods, portion sizes and more.*