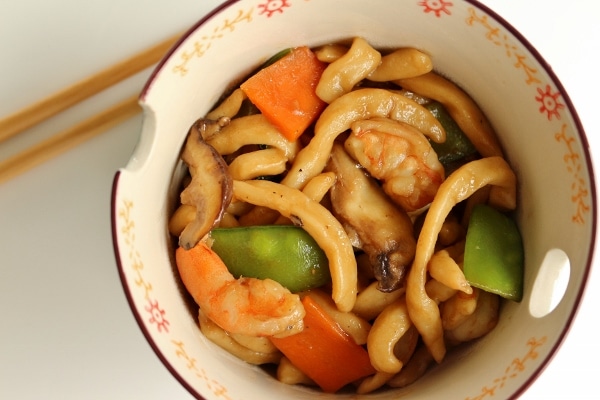 Of all international cuisines, I find Asian cooking to be the most fascinating. I love learning about the differences between various Asian cultures through their cuisine, and I enjoy challenging myself by truly exploring these cuisines on many levels in my own kitchen. I've cooked my share of authentic Chinese dishes in the past, as well as a handful of Korean, Thai, Vietnamese, Indian, and even Indonesian recipes, but I don't have nearly as many Japanese dishes in my repertoire.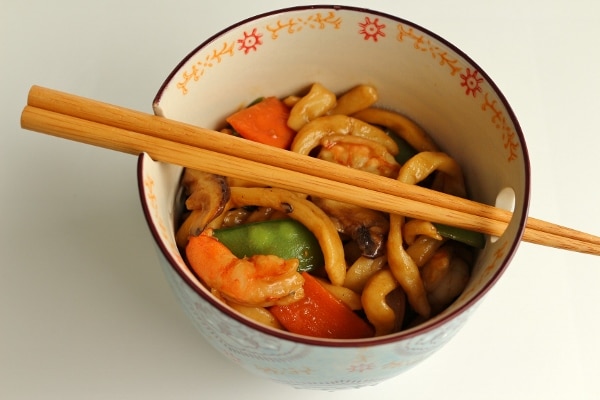 Enter Masaharu Morimoto's new cookbook Mastering the Art of Japanese Home Cooking. It covers all the bases when it comes to classic Japanese cooking in an approachable way for home cooks. Chapters cover subject ranging from the cornerstone of the Japanese kitchen, rice, to a series of chapters focusing on various cooking techniques, such as grilling, steaming, simmering, stir-frying, and frying.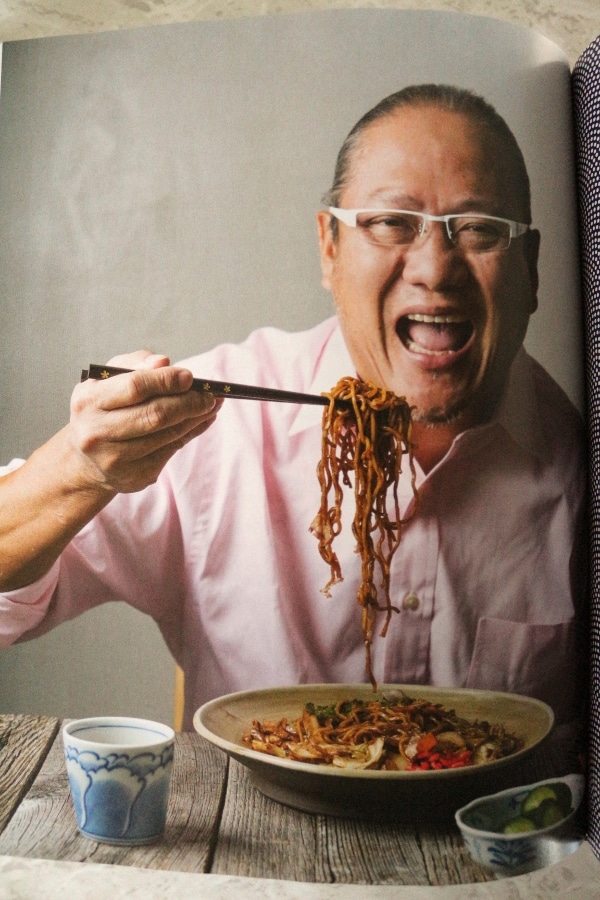 Yes, there are several recipes for sushi, but there are also many other Japanese favorites such as Kari Age (Japanese fried chicken), Tonkatsu (Japanese fried pork cutlet), Gyoza (pork and cabbage dumplings), Yakitori (grilled chicken and vegetable skewers), Yakisoba (stir-fried noodles with pork, cabbage, and ginger), and more. The only classic Japanese dish that seems to be missing, in my mind, is ramen, but that's perhaps a subject for an entire book.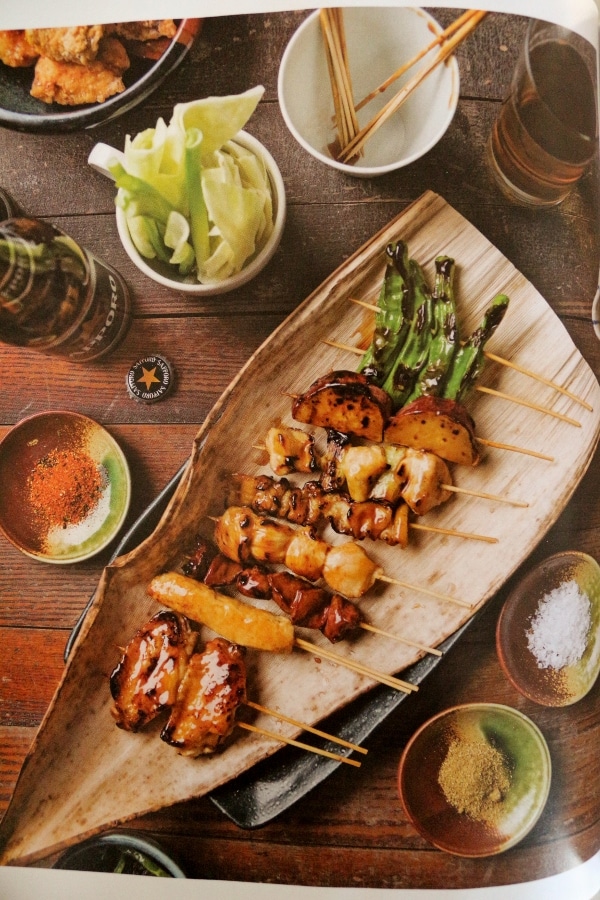 Yakitori
Mastering the Art of Japanese Home Cooking is an excellent introduction into Japanese cuisine. These days, most of the ingredients can be easily sourced in the international sections of many supermarkets as well as online. The recipes are detailed, and many of them even include step-by-step photos, which is a plus.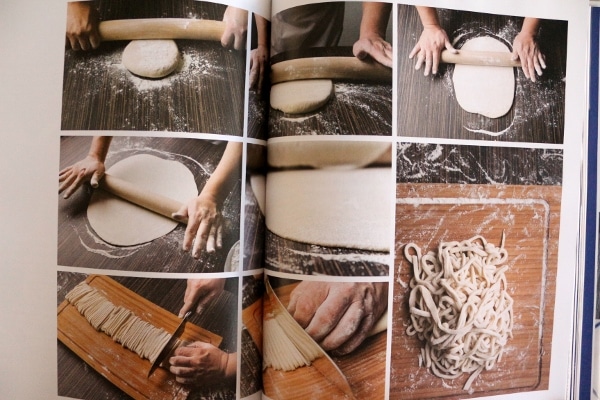 Step-by-step udon noodles
There are many dishes I could have selected in my initial exploration of this book, but I had been wanting to make my own udon noodles for some time, and had even pinned quite a few recipes on Pinterest. I figured this would be an excellent opportunity to try my hand at making these thick, chewy noodles.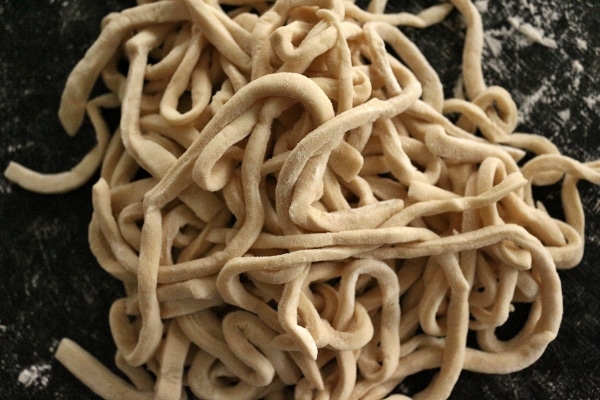 There are a few recipes in the book using the noodles, and although I was initially leaning towards making the Nabeyaki Udon, or "clay pot" udon noodle soup, I'm going to save that for colder weather. I selected the Kaisen Yaki Udon, or stir-fried udon noodles with seafood, instead.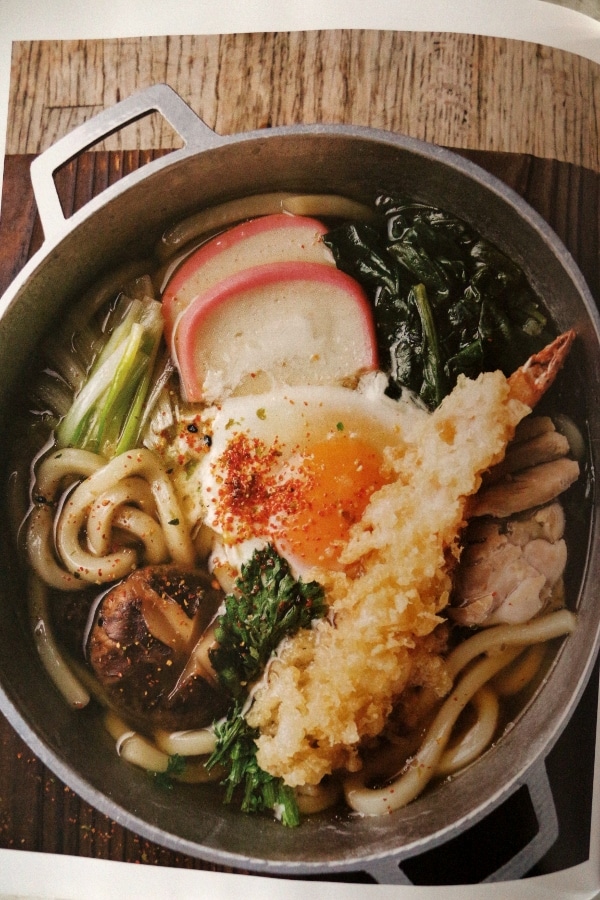 "Clay pot" udon noodle soup
I made the udon noodles by hand, and even decided to try the traditional method of kneading the dough with my feet. The recipe doesn't really outline this method, but I do know it's the way they do it in Japan, and most other recipes I've read follow this method, so after doing some of the kneading by hand, I put the mostly smooth dough in a plastic bag, and then used my clean, sock-covered feet to basically standing on the bag and knead with my feet in a rolling kind of motion. I noticed results almost immediately because the dough in the bag just looked and felt more pliable and smooth. I let it rest for about an hour afterwards to rest before rolling it out and then cutting it into fat noodles.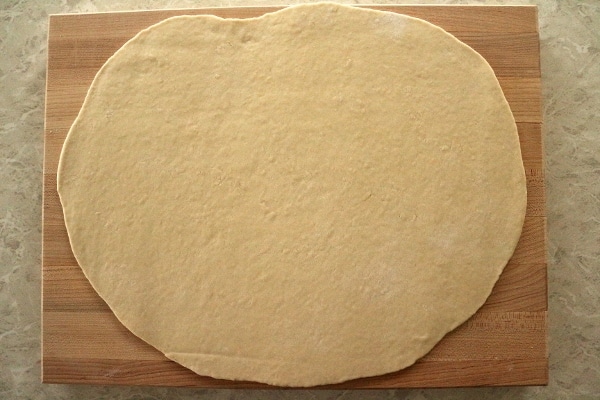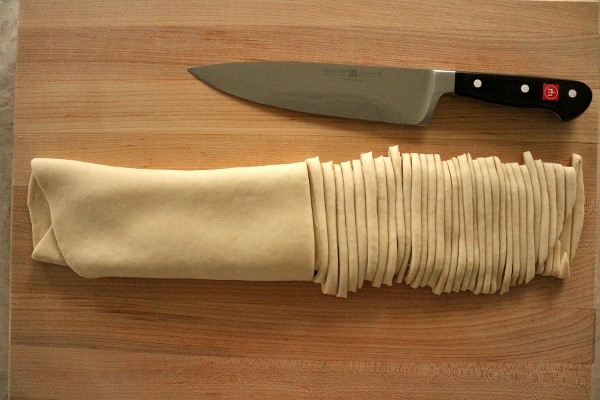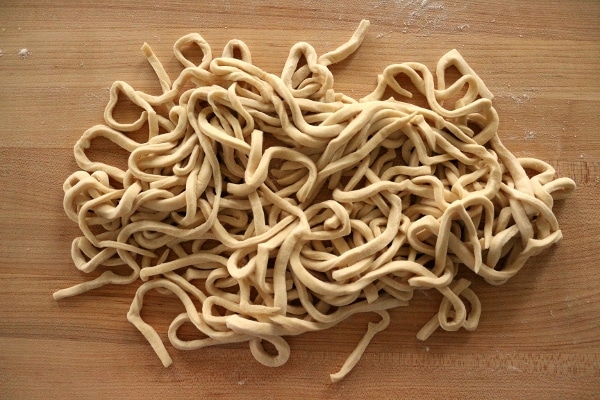 Half the noodles (the other half was formed into nests and frozen)
I decided to halve the yaki udon recipe, so I boiled half the noodles and then shocked them in ice water. The other half of the noodles, I tossed lightly with flour and formed into nests on a plastic cafeteria tray. I froze the noodles like this and then transferred them to a freezer bag. In the future, I can follow the same steps to boil, shock, and then use those noodles in another stir-fry or soup. The yaki udon recipe below would utilize the entire 2 pounds of udon noodles from Morimoto's recipe.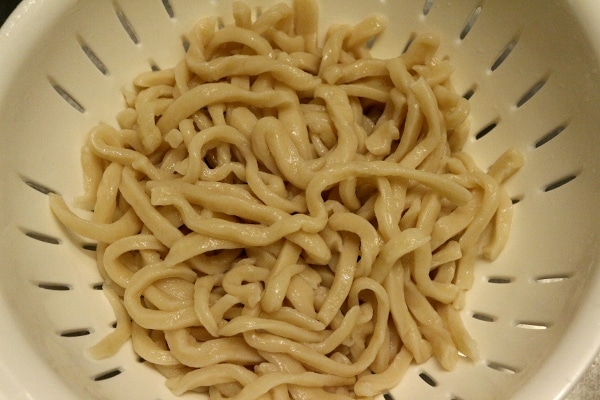 Boiled udon noodles
I also like the idea of taking the basic sauce mixture from this recipe, and maybe mixing up the combination of vegetables, and even replacing the seafood with chicken or pork, or maybe even thinly sliced beef. This would be a great way of using up some random compatible ingredients from the fridge or freezer, so I'm psyched to have a pound of fresh udon noodles in my freezer for a rainy day.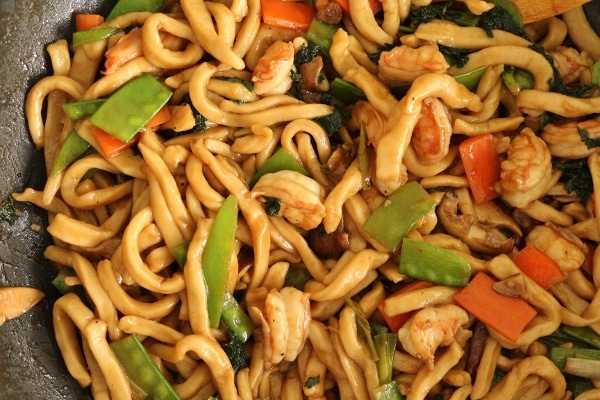 I boiled my udon noodles the day before I stir-fried them, and just stored them in a covered container in the refrigerator until lunchtime the following day when I refreshed them for a couple minutes in boiling water. The result was perfect.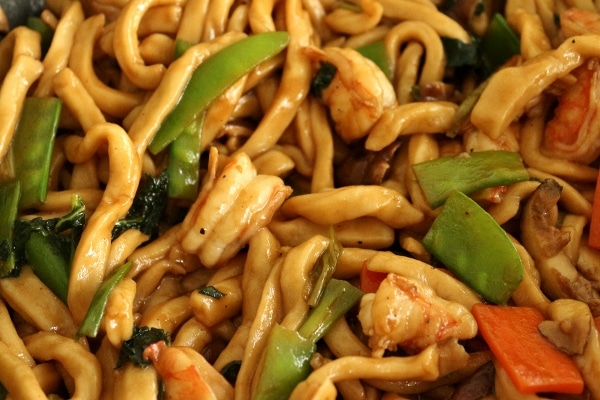 The yaki udon itself came together very quickly once I had prepped my ingredients. It stir-fries together in a matter of minutes, and the sauce is a fantastic attribute, and one I will be using in the future for variations of yaki udon using other proteins and veggies, whatever I have on hand then next time I have a craving.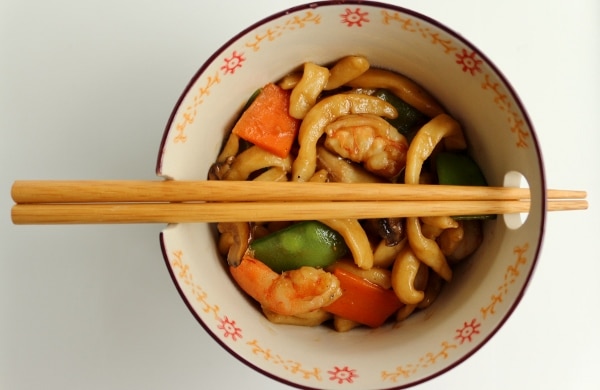 I loved slurping up these fat, chewy, slick noodles bathed in umami sauce and abound in brightly colored vegetables and plump, pink shrimp. The 2 servings I made essentially could also yield 3 to 4 smaller servings depending on your appetite and possibly other dishes eaten in conjunction.
Can we just take a moment to enjoy the beauty of my hand-painted Japanese noodle bowl? It's perfect for stir-fried noodles, but especially noodle soups. I purchased it at the Mitsukoshi store in the Japan Pavilion at Epcot! I love the built-in rest for the chopsticks.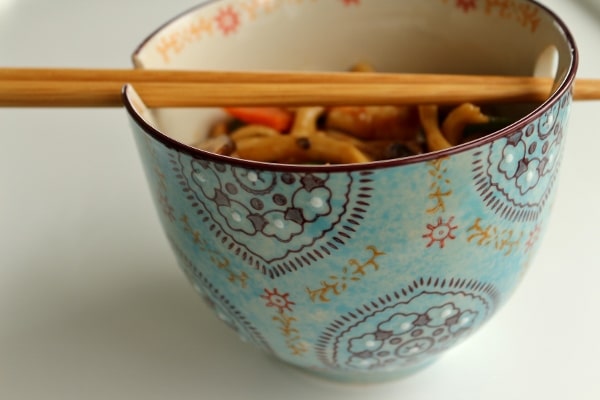 I'm definitely a fan of Morimoto's new book. My initial attempt at a couple of the recipes within have proven quite successful, and I'm really excited to try my hand at others. If you are a fan of Japanese cooking, or even simply a follower of Iron Chef Morimoto, this is a lovely book to add to your collection.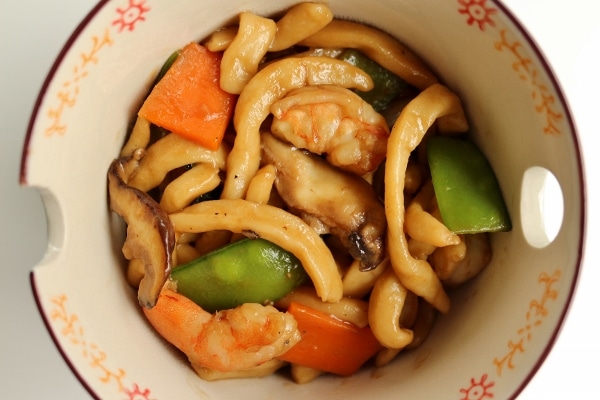 Please check out our Japanese Home Cooking Party at The Book Club Cookbook by clicking on the image below.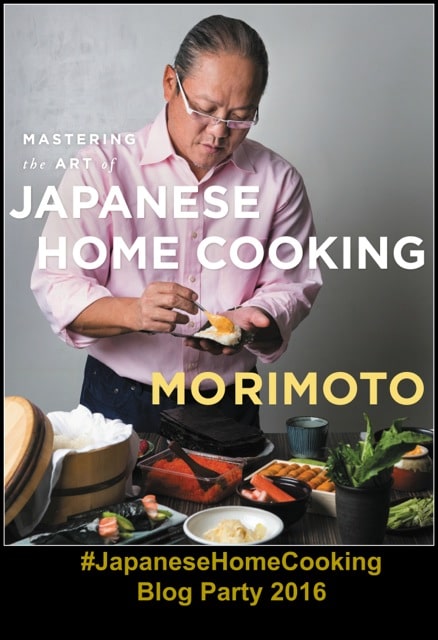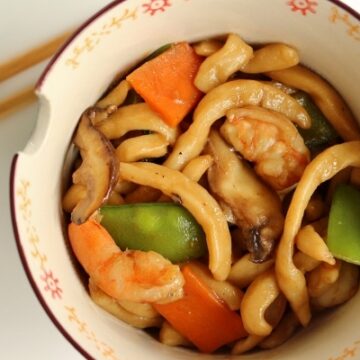 Kaisen Yaki Udon (Stir-fried Udon Noodles with Seafood)
Simple stir-fried udon noodles with seafood will satisfy both your noodle and seafood cravings in one! Use what you have on hand to make this easy and quick dish.
Print
Pin
Rate
Ingredients
½

cup

chicken stock or water

½

cup

Japanese soy sauce

¼

cup

oyster sauce

¼

cup

sake (Japanese rice wine)

2

tablespoons

granulated sugar

2

tablespoons

toasted sesame oil

Black pepper to taste

1

cup

sliced (¼-inch-thick bite size) carrots

4

lightly packed cups stemmed, chopped (bite-size pieces) curly kale

1 ½

cups

trimmed, halved snow peas

2

pounds

fresh or frozen precooked udon noodles

3

tablespoons

vegetable oil

2

cups

stemmed, thinly sliced shiitake mushrooms

8

scallions, trimmed and cut into 1-inch pieces

2

cups

mixed raw seafood (about 1 pound total), such as sliced squid, halved shrimp, and shucked mussels
Instructions
Combine the chicken stock, soy sauce, oyster sauce, sake, sugar, sesame oil, and black pepper in a medium bowl and mix well.

Bring a large pot of water to a boil. Add the carrots, kale, and snow peas and cook for 2 minutes. Use a strainer to remove them from the water (keep the water boiling) and rinse well under cold water. Gently squeeze the kale to remove excess water. Cook the udon noodles in the boiling water, stirring occasoinally, just until the noodle clumps separate, about 2 minutes for fresh and 4 minutes for frozen. Drain well.

Heat the vegetable oil in a wide shallow pot or Dutch oven over medium-high heat until it shimmers. Add the mushrooms and scallions and cook, stirring occasionally, until the mushrooms start to wilt, about 2 minutes. Add the carrots, kale, snow peas, and seafood and cook, stirring occasionally, until the seafood is almost cooked through, about 2 minutes. Increase the heat to high, add the sauce, and bring to a boil. Add the noodles and cook, stirring, until the sauce thickens slightly and the noodles are well coated, about 2 minutes.

Divide among 4 plates and serve right away.
Notes
Technically, there is no recipe for yaki udon, because the components of this dish of stir-fried noodles depend on what's in your fridge. The mixture of vegetables and seafood, then is up to you. Just follow my instructions for the sauce and make the effort to find the fat, slippery udon noodles that make this stir-fry such a pleasure to slurp. If using homemade udon noodles, boil, shock in ice water, and drain well, as instructed below. Toss them with a splash of vegetable oil if you boil them for more than 5 minutes before stir-frying.
Nutrition
Calories:
1079
kcal
|
Carbohydrates:
147
g
|
Protein:
62
g
|
Fat:
21
g
|
Saturated Fat:
3
g
|
Polyunsaturated Fat:
10
g
|
Monounsaturated Fat:
5
g
|
Cholesterol:
429
mg
|
Sodium:
4035
mg
|
Potassium:
474
mg
|
Fiber:
12
g
|
Sugar:
23
g
*All nutritional information is based on third-party calculations and should be considered estimates. Actual nutritional content will vary with brands used, measuring methods, portion sizes and more.*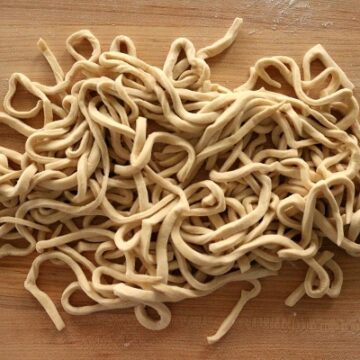 Homemade Udon Noodles
Making udon noodles from scratch is easier than you think, plus you have the bonus of kneading the dough with your feet!
Print
Pin
Rate
Servings:
4
servings (about 2 pounds)
Ingredients
600

grams

all-purpose flour (about 5 cups) sifted through a strainer,

plus more for dusting and tossing

1

tablespoon plus 1 teaspoon

kosher salt

1 ¼ to 1 ½

cups

water
Instructions
Make the dough: combine the flour and salt in a large mixing bowl, stir, then add 1 ¼ cups of the water. Use your hands to mix until the dough starts to come together in a few large clumps. Start to firmly press and knead the dough, incorporating the loose flour until there's none left. If necessary, add a little more water, 1 tablespoon at a time, until you can incorporate all of the flour.

Lightly dust a work surface with flour, add the dough, and knead (folding and firmly pressing with your palm, folding and pressing) until the dough looks and feels fairly smooth, about 5 minutes. Form the dough into a ball, wrap it in plastic wrap, and let it rest at room temperature for 1 hour. (Alternatively, once the dough is mostly smooth, you can put it in a zip top bag, seal it, wrap it in a towel, and then knead it more with your feet–I found this to really help create a smoother and more pliable dough, and it's also the way they do it in Japan!)

On a lightly floured surface with ample room, knead it again for about 2 minutes, lightly dust both sides with flour, then use the rolling pin to roll the dough, occasionally rotating the dough 90 degrees and lightly dusting with flour if it threatens to stick to the pin, into a rough, approximately 17-inch circle with an even thickness (slightly less than ¼-inch). If you are having difficulty rolling, allow the dough to rest for 5 to 10 minutes as needed. This allows the glutens to relax and make it easier to roll out out.

Fold the dough into thirds, then slice widthwise into approximately ⅛-inch-thick noodles. Gently separate the noodles and toss them with a little bit of flour, just so they don't stick together. Cook right away.

To cook homemade udon: The way you cook homemade noodles is slightly different from the way you cook purchased noodles. Follow these instructions whether you're planning to serve the noodles hot or cold.

Bring a large pot of water to a boil and prepare a large bowl of icy water. Add the noodles to the boiling water, stirring frequently and adding ¼ cup of fresh water if the water threatens to bubble over, until they're fully cooked but not mushy, 10 to 12 minutes. (Unlike Italian pasta, they shouldn't be al dente, but don't let them get mushy.)

Drain them, then transfer them to the icy water. Briefly and gently rub them with your hands to remove some of the starch. Drain very well.
Notes
This recipe uses kosher salt (aka cooking salt, kitchen salt, coarse salt outside of the US). If you are using table salt, definitely scale down the salt as that is a saltier type of salt! The type of salt will make a big difference in how salty your food tastes, so keep that in mind.
Adapted from Mastering the Art of Japanese Home Cooking
Nutrition
Calories:
550
kcal
|
Carbohydrates:
110
g
|
Protein:
20
g
|
Sodium:
1120
mg
|
Fiber:
5
g
|
Sugar:
5
g
*All nutritional information is based on third-party calculations and should be considered estimates. Actual nutritional content will vary with brands used, measuring methods, portion sizes and more.*
*Disclaimer* I received no compensation to write this review other than a free copy of the book. My opinions are always my own.