Delicious, easy, and fresh Veracruz-Style Fish features an aromatic sauce of tomatoes, olives and capers. Make it with whole fish or fillets for a fast and enticing meal hailing from Mexico's coastal region.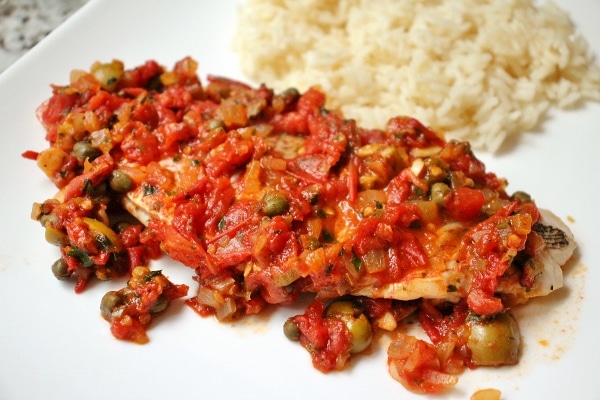 Happy Mexican Independence Day! I can't think of a better day of the year, other than perhaps Cinco de Mayo, to celebrate Mexican cuisine and talk to y'all about this gorgeous new cookbook by Danny Mena called Made in Mexico.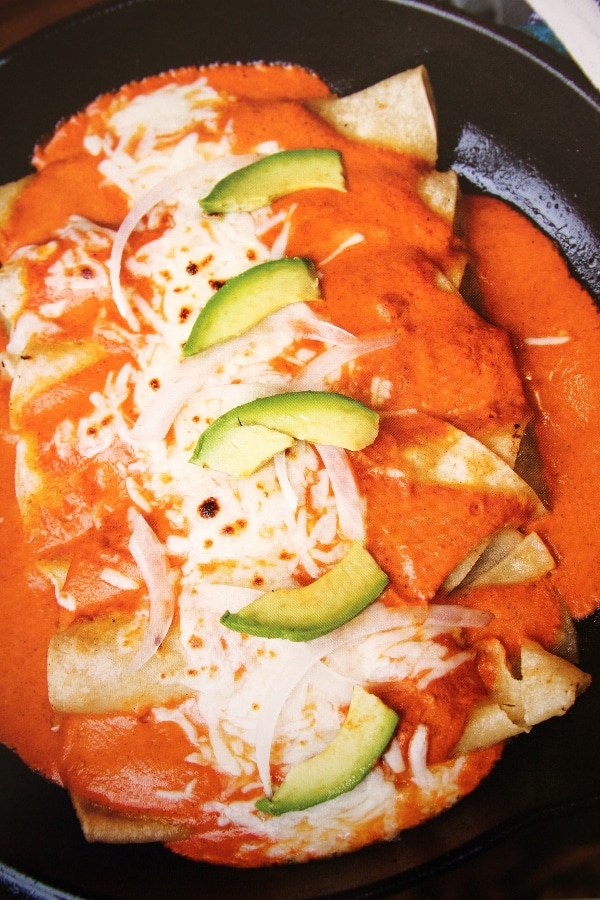 First of all, I have a decent array of Mexican cookbooks in my collection. Some of them focus on specific types of dishes, like tacos or salsas. But Made in Mexico is a unique cookbook offering, as it's not only a book full of mouthwatering recipes, but also a glimpse into the food scene of Mexico City.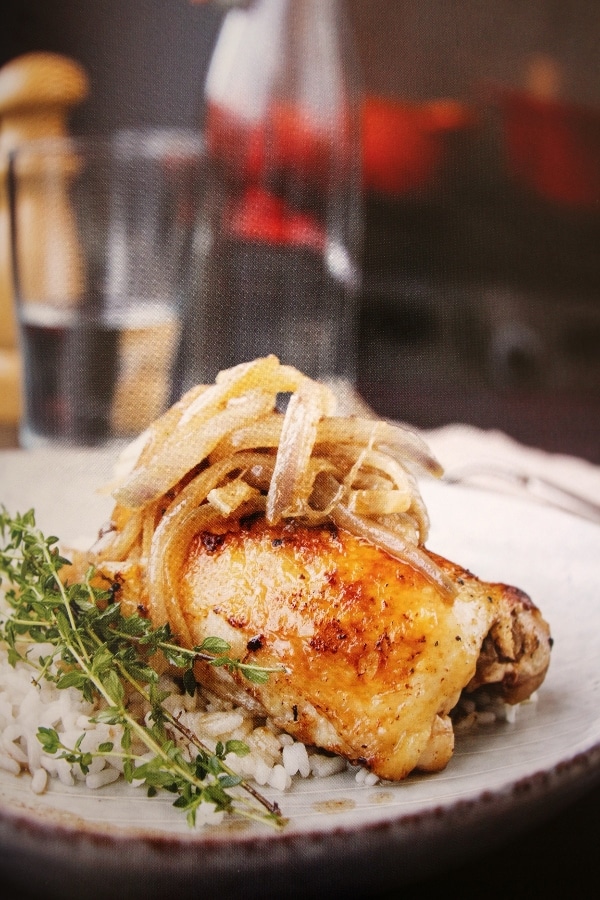 The recipes within are approachable and appetizing. My only qualm with the book is that all the recipes titles are in Spanish only without an English translation. I find that in books featuring international cuisine it is very helpful for English-speaking audiences to have the names of the dishes listed in both languages. When I look at the Table of Contents I have no idea what most of it says. I would have to flip through the book and read the ingredient lists and look at the pictures to know what is what (which isn't all bad, but it almost defeats the purpose of having a handy Table of Contents listing all the chapters and recipes).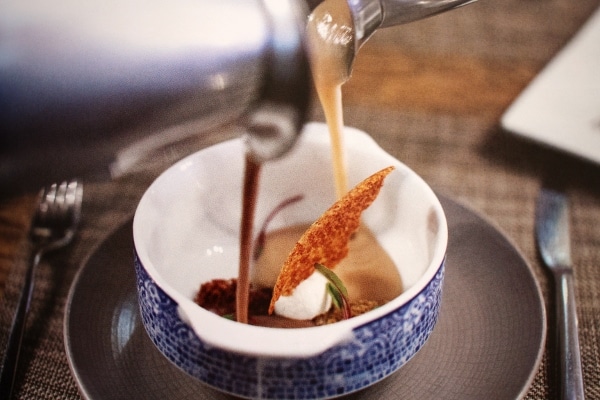 This is not your typical Mexican cookbook full of tacos and tamales. It bursts at the seams with a plethora of traditional and contemporary Mexican recipes derived from the heart of Mexico, in the country's capital. Recipe introductions refer to the actual Mexico City restaurants from which they originate.
I have compiled a long list of recipes I'd like to try, the first of which boasts the coastal flavors of Veracruz, a seaside state and city on the Gulf of Mexico. Pescado a la Veracruzana is a crowd-pleasing fish dish made with either a whole fish or fish fillets smothered in a tomato sauce infused with olives and capers. The flavors are reminiscent of of an Italian puttanesca, a bit of spice, some brininess, salt and acidity.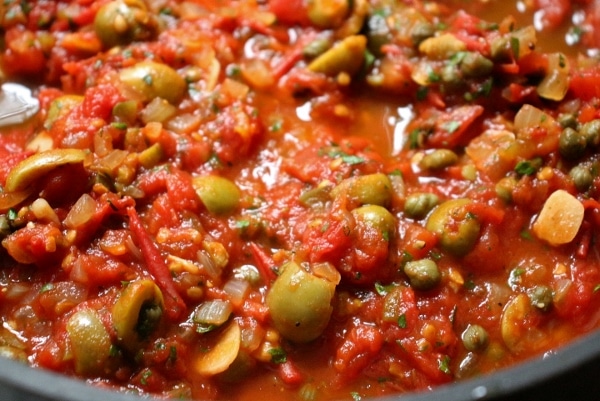 Although preparing the dish with a whole fish has a certain visual appeal, it cooks faster, and is easier to serve and eat if you opt for fillets. I used skin-on red snapper fillets, but any flaky white fish will do. I may try tilapia next time.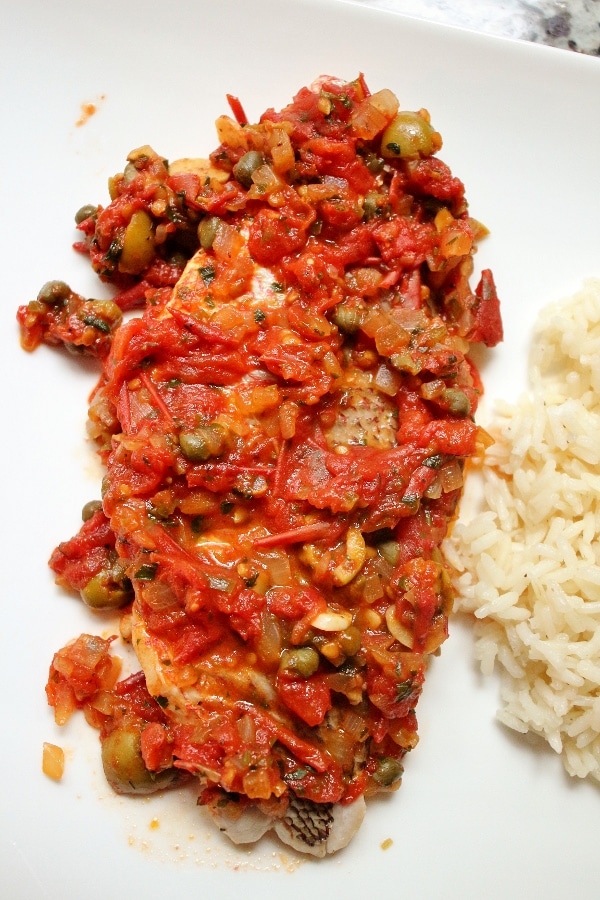 I absolutely loved this fish dish, and I have really enjoyed exploring Made in Mexico. Mexican food is one of my favorite global cuisines, and I am always looking to add more Mexican flair to my repertoire!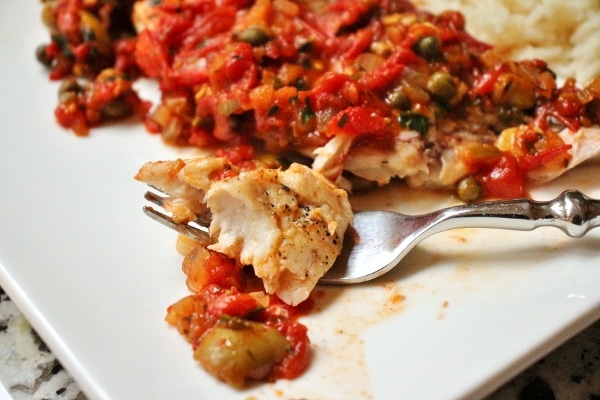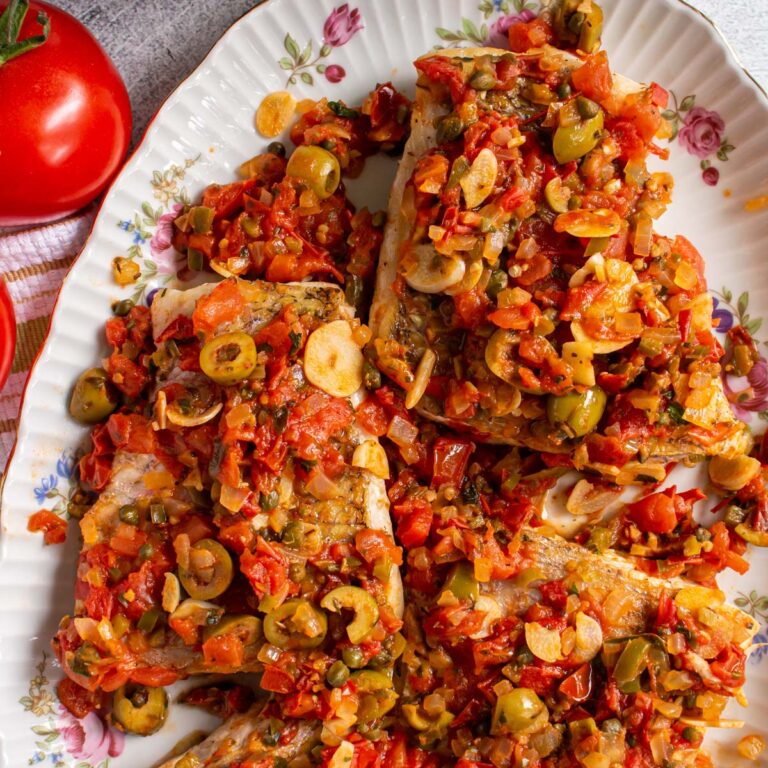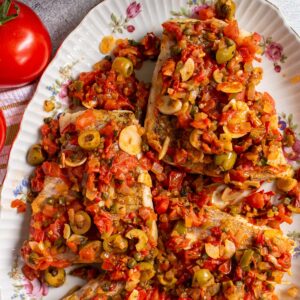 Pescado a la Veracruzana (Veracruz Style Fish)
Delicious, easy, and fresh Pescado a la Veracruzana, or Veracruz Style Fish, features an aromatic sauce of tomatoes, garlic, olives, and capers. Make it with whole fish or fillets for a fast and enticing meal hailing from Mexico's coastal region.
Print
Pin
Rate
Ingredients
1 ½

tablespoons

olive oil

½

yellow onion,

minced

4

cloves

garlic,

thinly sliced

2

tablespoons

white wine

3

bay leaves

4

plum tomatoes,

chopped

10 to 14

pitted Manzanilla or other green olives,

roughly chopped

¼

cup

sliced pickled jalapeño peppers,

chopped

2

tablespoons

capers

1

teaspoon

fresh oregano leaves or ½ teaspoon dried oregano

1

sprig fresh thyme or pinch dried thyme

Kosher salt and freshly ground pepper

1

tablespoon

chopped fresh parsley

1

(3 to 4 pound) large whole red snapper or 1 ½ pounds boneless skin-on red snapper fillets,

or other flaky white fish
Instructions
Heat ½ tablespoon of the olive oil in a large sauté pan over medium-low heat. Add the onions and garlic and cook just until the onions are translucent, about 3 minutes.

Next, add the wine and bay leaves and cook until the wine is almost completely evaporated. Add the tomatoes, olives, jalapeños, capers, oregano, and thyme and reduce the heat to low. Cook until the tomatoes are completely soft, stirring often, about 10 minutes. Add salt and pepper to taste, and stir in the parsley.

If using a whole fish, score each side with three or four deep slashes (this will help the sauce penetrate the fish and keep it from curling up). If using fillets, remove the pinbones using fish tweezers or needle-nose pliers, and season the flesh-side with salt and pepper.

In a pan large enough to hold the whole fish (or the fillets in a single layer), heat the remaining 1 tablespoon olive oil over medium-high heat.

For a whole fish: Add the whole snapper and cook for 2 to 3 minutes, until turning golden brown. Carefully flip the fish and pour the tomato mixture on top. Reduce the heat to medium-low and cover. Cook for about 10 minutes, until the fish is cooked through (the thickest part of the fish should flake easily when prodded with a fork).

For fish fillets: Cook skin down first for 2 to 3 minutes, until the edges start to brown, then flip and pour the tomato mixture on top. Reduce the heat to medium-low, cover, and cook for about 6 minutes, or until the fish is cooked through. The exact cooking time will depend on the thickness of the fish fillets.

To serve, divide the fish evenly among four plates and top with the sauce. Serve with white rice.
Notes
I highly recommend making homemade pickled jalapeños not only for this recipe, but in general. It's easy and far better quality than store-bought.
This classic Veracruz style fish is made with a whole red snapper, however you can use boneless skin-on red snapper fillets as I do. Red snapper is a lean, firm-textured fish with a mild flavor. If you can't find it, try this recipe with another flaky white fish.
If using red snapper fillets rather than a whole fish, the size of the fillets can vary significantly based on the size of the fish they came from. If the fillets are quite large, you can cut them into portions to make it easier to cook and serve.
I remove the skin after cooking and before eating my red snapper. Because the fish cooks in the sauce, you won't have a crispy skin like you may with other preparations so it's not as appealing for me to eat it.
You'll need some pitted green olives for this recipe. Manzanilla olives are usually stuffed with pimentos. Although you could use those (pimentos and all) I've opted for olives that aren't stuffed. It may be harder to find un-stuffed Manzanillas in your grocery store, so other varieties of green olives are fine too.
Adapted from Made in Mexico
Nutrition
Calories:
317
kcal
|
Carbohydrates:
6
g
|
Protein:
46
g
|
Fat:
11
g
|
Saturated Fat:
2
g
|
Polyunsaturated Fat:
1
g
|
Monounsaturated Fat:
5
g
|
Cholesterol:
60
mg
|
Sodium:
597
mg
|
Potassium:
911
mg
|
Fiber:
2
g
|
Sugar:
3
g
*All nutritional information is based on third-party calculations and should be considered estimates. Actual nutritional content will vary with brands used, measuring methods, portion sizes and more.*
*Disclaimer* I received no compensation to write this review other than a free copy of the book. My opinions are always my own.