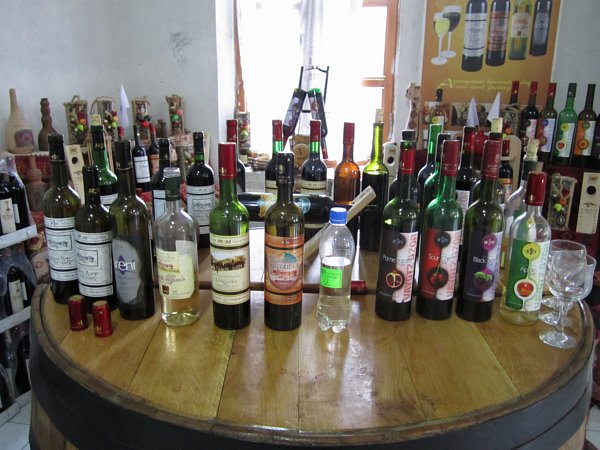 We're about halfway through my series of Armenia posts! What better way to get over the hump than to discuss my boozing adventures. I'm not talking about the bars I hit up while I was on vacation, but rather tours and tastings I experienced at both a winery and a brandy, wine, and vodka factory.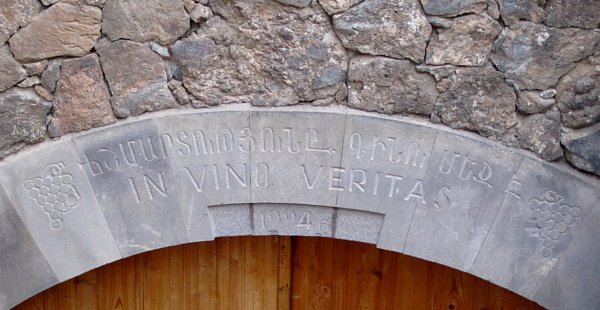 During our many travels, on three separate occasions we stopped in the ancient village of Areni, which is about 2 hours southeast of Yerevan. It is here where the oldest shoe in civilization was found, about 5500 years old. I'm serious! This village is also where the first wine was ever made in the world over 6000 years ago. That makes Armenia the oldest civilization still around, thank you. And thus we couldn't resist stopping by an Armenian winery
to sample their wine and view their facilities.
Areni Winery was established in 1994 in the village of Areni in the Vayots Dzor region of Armenia. The main type of grape used in most of their wines shares its name with the village. Areni grapes are featured in a number of their wines. These grapes have adapted to the mostly dry climate in this region of Armenia.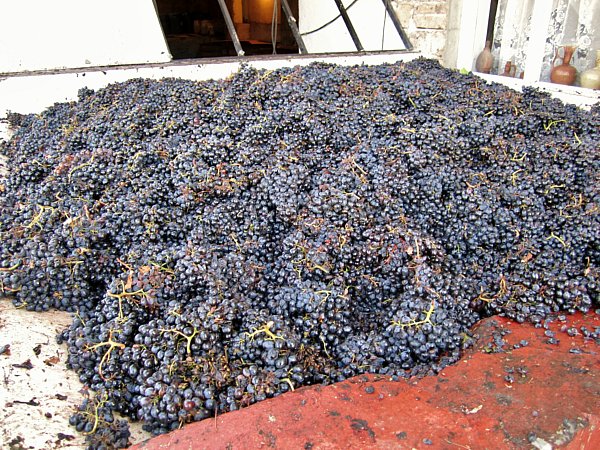 A combination of award-winning dry and semi-sweet wines produced from Areni grapes are complimented with a series of fruit wines featuring symbolically Armenian pomegranate, sour cherry, blackberry, and apple.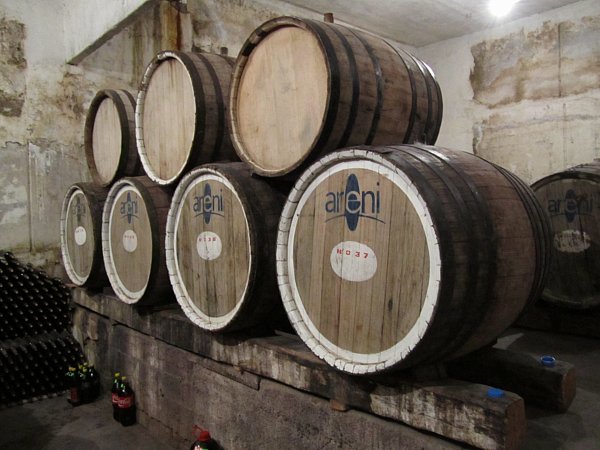 My favorite wines were the semi-sweet ones. They had an excellent flavor and were more medium bodied and easier to drink. I'm not a huge fan of super dry reds, but even the dry wines Areni produced were good.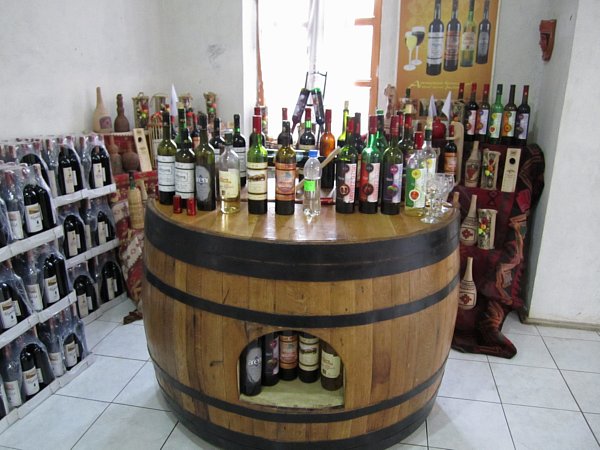 Of the fruit wines we sampled, the pomegranate stood out at the most natural in flavor. It was the best pomegranate wine we've tried, and even showcased the slight bitterness of the pits. I also enjoyed the light fruity flavor of the apple wine and thought it was the easiest to drink of the fruit varieties.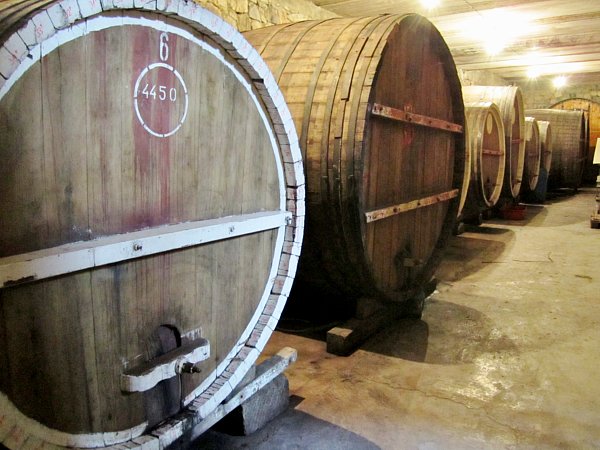 We had the pleasure of touring the winery in full and saw nearly every process with the exception of actually picking the grapes (which is done elsewhere). We watched the staff processing grapes to press out the juices, we saw vats of fermenting wine, casks of aging wine, empty bottles being filled and corked, etc.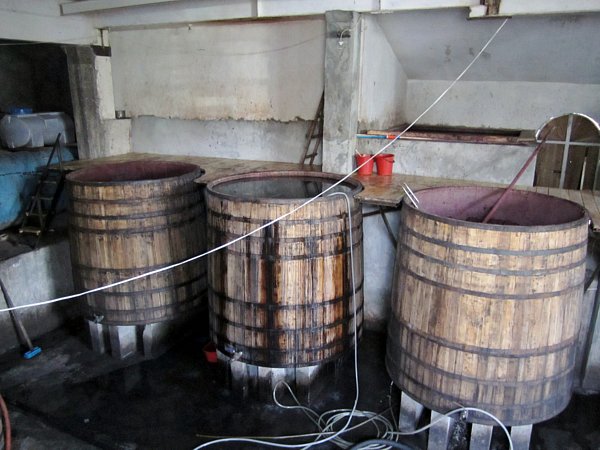 In such a small facility, there is so much that is done by hand by actual people and not machines. The bottles are filled and corked by an actual person operating a small machine (not a large factory setting that does it all mechanically). The labels are adhered to the bottles by hand as well. Every step is done by actual people with love for their work and the wine they are producing.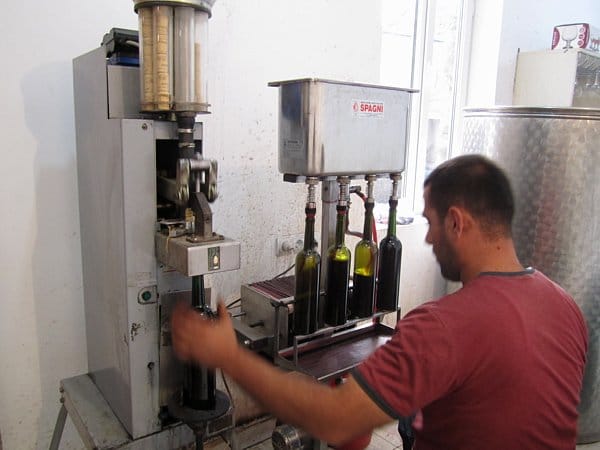 We loved these wines so much that we stopped here on multiple occasions to purchase wine every time we passed by here. One of my favorite discoveries was the "majar" we got to sample. Essentially majar is the fermented grape juice that has not been bottled and aged. It is slightly fizzy, like sparkling wine. It's not sold commercially, but since we visited the facility we had the ability to purchase some. It was refrigerated in plastic bottles, and we had to release pressure from the bottle by opening and closing it along our trip. The red wine majar was fuschia in color, tart and sweet and utterly addictive and dangerous. You can easily get more drunk drinking this stuff than actual wine.
Visiting Areni Winery was a fantastic experience that I would recommend to anyone traveling through Armenia. The staff was incredibly friendly and helpful and their tasting pours were both generous and delicious 🙂
Areni Winery
Areni Village
Vayots Dzor Region, Armenia
(374 81) 60410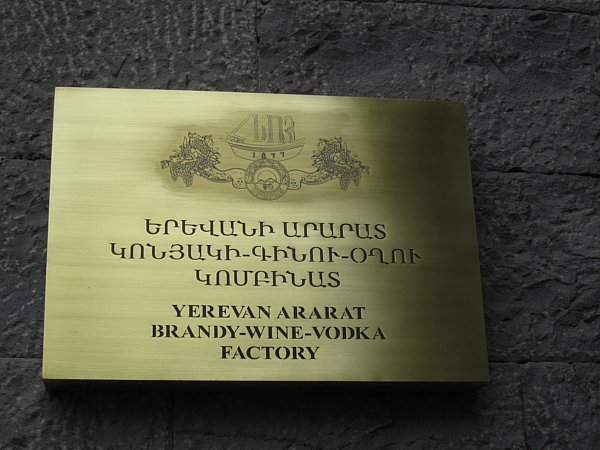 In addition to our multiple visits to Areni Winery, we also had the pleasure of touring the Yerevan Ararat Brandy-Wine-Vodka Factory in Yerevan. Armenian Brandy is world renowned. Winston Churchill used to drink it exclusively along with smoking his Havana cigars.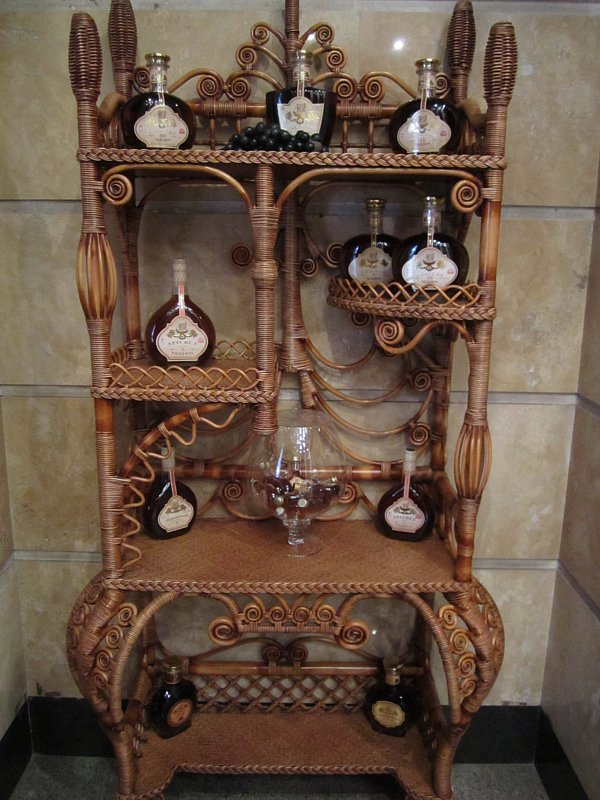 It is the only brandy in history that for a short period of time in 1902 was given the privilege of using the term Cognac by the French (which typically is only reserved for brandy produced in the Cognac region of France). In using the same technologies as the French, the Armenians have produced brandies that have rivaled those responsible for the creation of the drink. That's some serious props.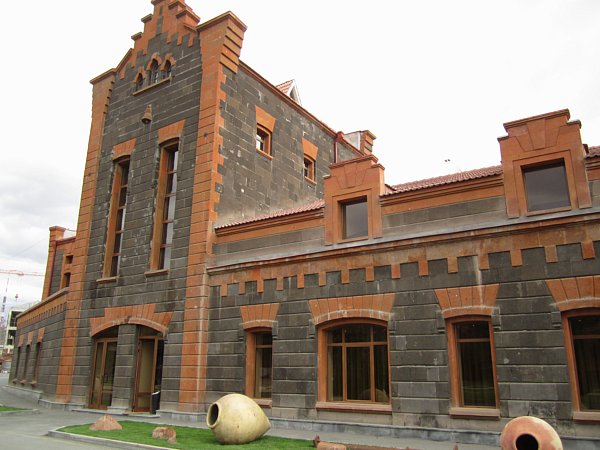 The factory is located on the grounds of a former Persian fortress. In 1858 the area was destroyed in an earthquake, and years later in 1877 it was turned into a wine making factory, and later began producing brandy here as well. We first toured the actual factory museum, which houses everything from historic bottles of brandy to photographs.
The name "Noy" which refers to the biblical Noah is given to the brandy produced here. Noah is a very important figure to Armenians, as remnants of the arc have been discovered on the historically Armenian mountain Ararat (which is also a huge Armenian national symbol).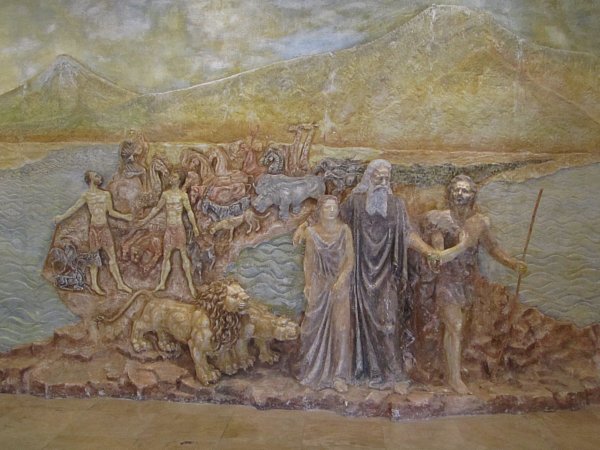 Important bottles of brandy from throughout the history of the company are featured in the museum along with major artifacts of the owners and key players during the height of brandy production in Armenia. The tour was very interesting and informative.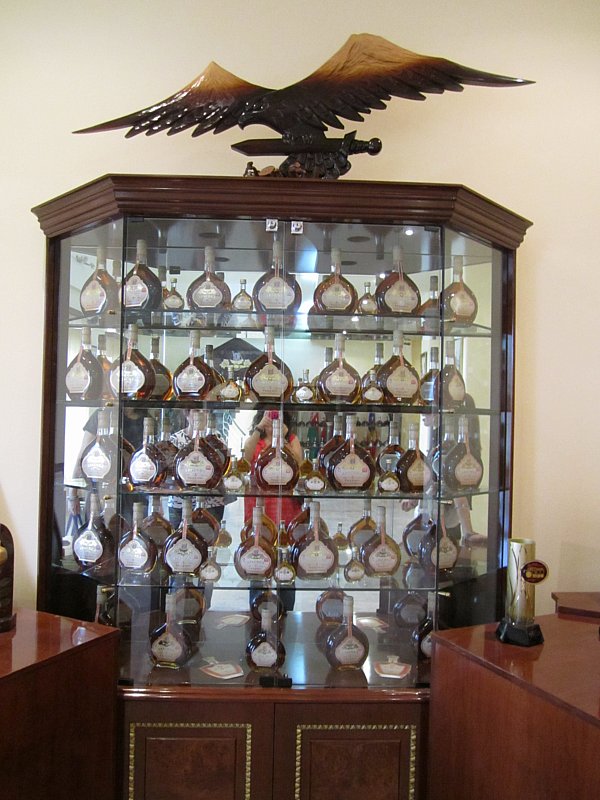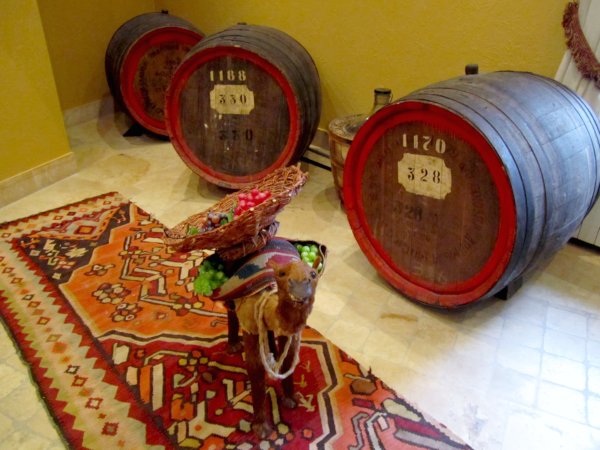 At the culmination of the museum tour, we exited to the actual factory building where we got to see large barrels of aging wine and brandy.
We were taken to catacombs deep beneath the ground that contained tunnels used during ancient time to escape the fortress, but more recently to transport grapes to the factory, and most recently simply as a tourist stop. With 100% humidity and located about 100 feet under ground, there isn't much modern day use for these tunnels.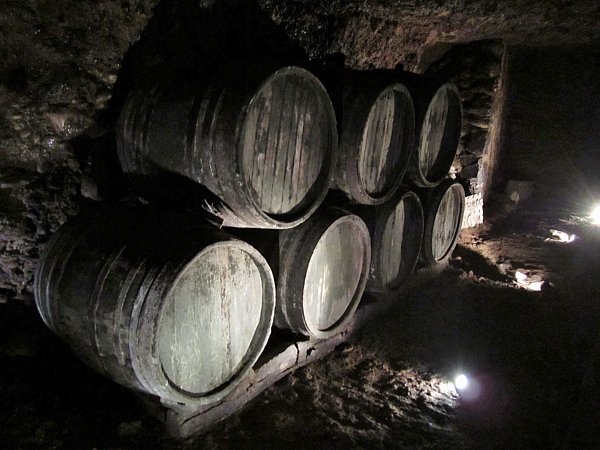 We saw casks of wine aged nearly 100 years which contain wine too expensive to realistically sell to consumers (each would cost between $2000 and $4000 a bottle) and instead these wines are offered as tastings to visitors.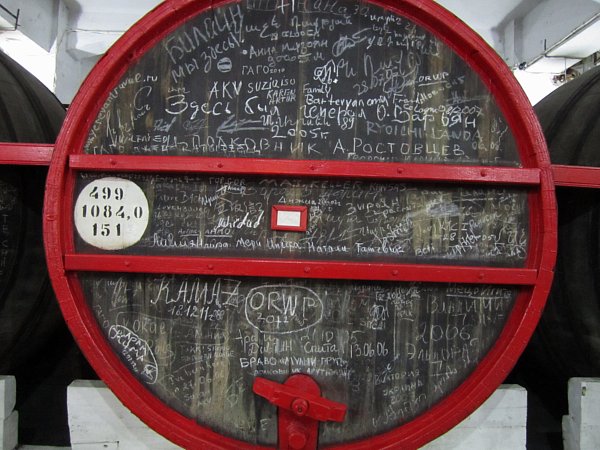 I'm so very grateful for that because I could never afford a bottle and would otherwise never have an opportunity to have my mind blown. We had the absolute privilege of tasting some Madeira wine from 1924.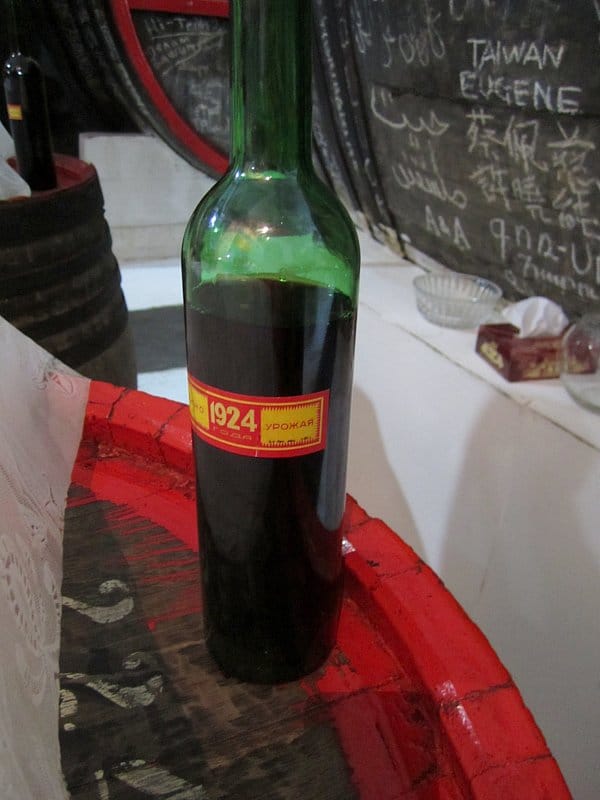 It was incredibly strong (warming up your throat like no other wine could) and flavorful. It was spectacular. If I had several thousand dollars lying around and these wines were for sale, I'd snatch one up in a heartbeat!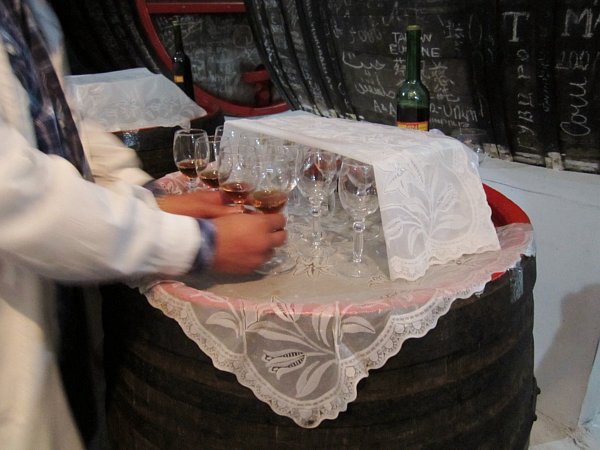 After this very special underground wine tasting, we were headed to the grand finale of our tour: the brandy tasting. This is why the factory is most famous, and even though I had never really cared for brandy in the past, I was really thrilled for this experience.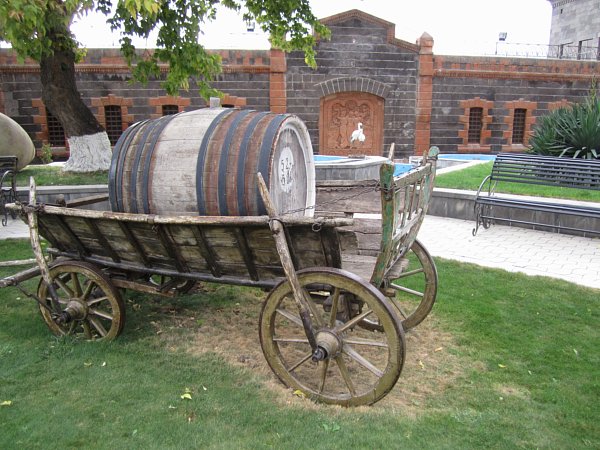 The tasting room contained tables that were pre-set for visitors partaking in tastings. Each place setting featured a square of chocolate as well as a communal plate of fruit. Chocolate and fruit (especially peaches) are very good paired with brandy, as are cigars (ashtrays adorned the tables as well).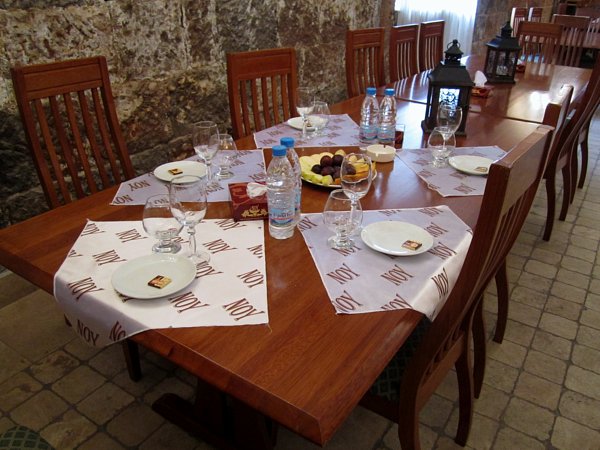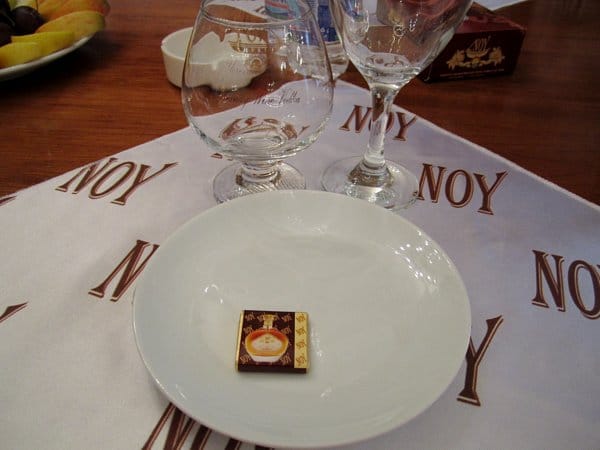 I learned a lot of interesting things about tasting brandy. In addition to these typical pairings, here are a few more bits of brandy trivia I'd like to share 🙂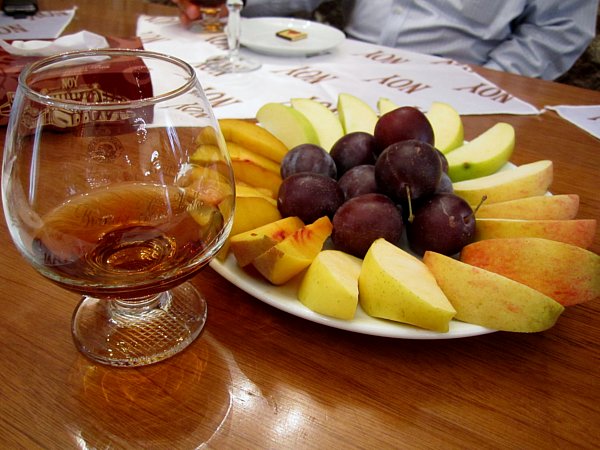 Brandy should always be served at room temperature in a brandy snifter. Holding the snifter in the palm of your hand helps to warm the brandy properly for drinking. Furthermore, in order to tell how much a brandy has been aged, swirl it around in your glass. Droplets of brandy will slowly drip back down into the glass, but the speed at which they do will determine their age. The slower the drop, the older the brandy (it thickens more as it ages and thus takes longer to drip back into your glass).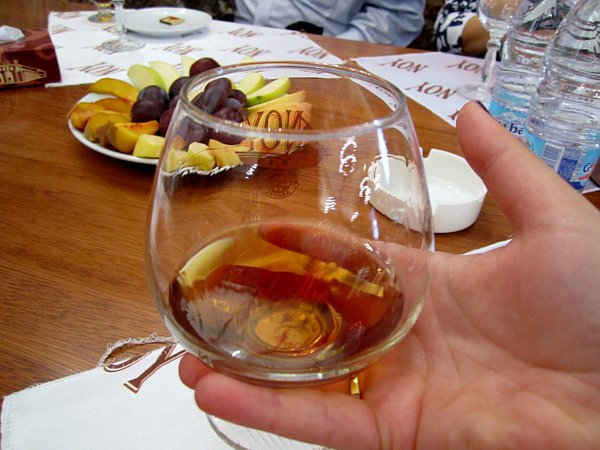 A brandy snifter should only be filled with a small amount of brandy (in fact, brandy should only be drunk in small amounts). When a snifter is filled with brandy and placed on its side, the brandy should not spill from the glass. If it does, you've filled too much.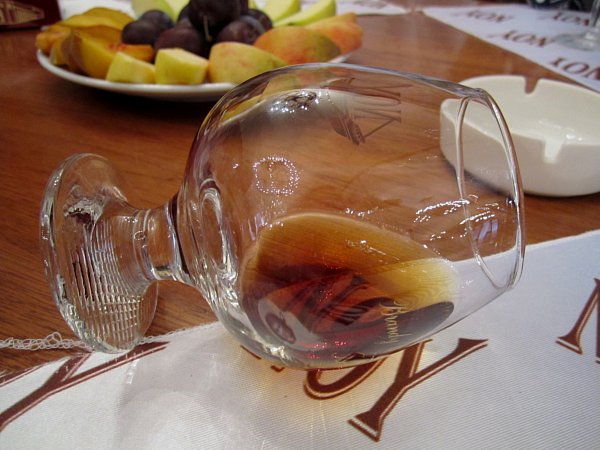 In order to tell if a brandy is completely natural, or if it has been fortified with sugar, place a drop of brandy in the palm of your hand and rub your hands together. Then hold your hands apart and let them dry. When you touch your palms back together, if they are sticky it means there is sugar added to the brandy. Good brandy should not make your palms stick together.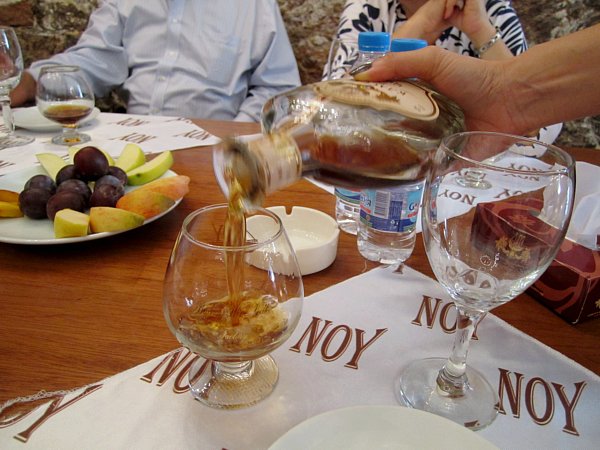 We tasted two Noy Classic brandies that were aged 10 years and 20 years. They were both very strong (for me), but the 20 year aged was even stronger and more potent in flavor and aroma. I really enjoyed sipping my brandy while enjoying some fruit and chocolate, and I loved learning all the wonderful trivia about tasting brandy. I had a wonderful time touring the facilities of the Yerevan Ararat Brandy-Wine-Vodka Factory and developed a new found appreciation for brandy in the process (I continued to drink it later that same day at dinner!). This was definitely a very special experience that I recommend to visitors of Yerevan. Even if you're not a major brandy lover, you might become one!
Yerevan Ararat Brandy-Wine-Vodka Factory
9 Admiral Isakov Avenue
Yerevan, Armenia
(374 10) 547048
https://www.armeniancognac.am/
Other Armenia posts