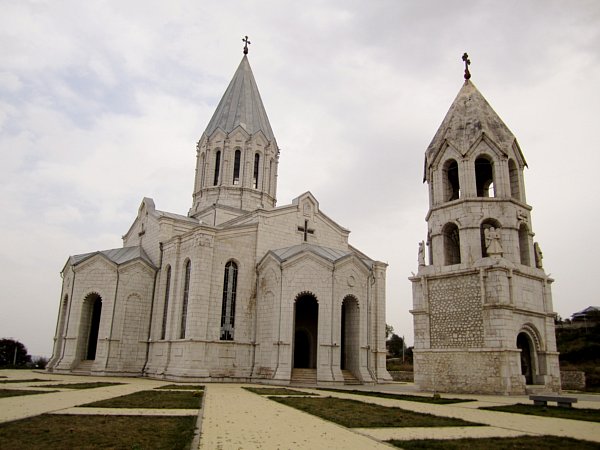 During our visit to Armenia, my family decided to take the long trip to Nagorno-Karabakh Republic (aka Karabakh) which is a republic of Armenians who broke free from Azerbaijan after years of war, persecution, and bloodshed. Although many countries do not recognize Karabakh as a sovereign state, there are many people who do, and I am one of them. The state of Rhode Island also officially acknowledges its existence. I'm proud to be a Rhode Islander 🙂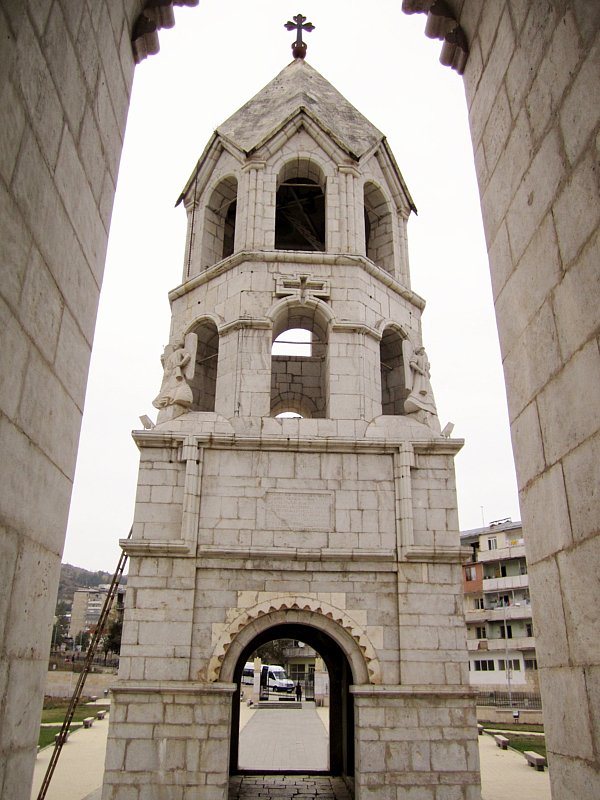 The trip was a very long one, but definitely worth it. This tremendously mountainous region is in theory 4 ½ hours from Yerevan, but it was more like 8 hours for us traveling on a twisting road with a couple of stops along the way. We stayed in Stepanakert, Karabakh's capital, but stopped in Shushi along the way to check out the beautiful Ghazanchetsots Cathedral, also known as the Cathedral of Christ the Holy Savior. Not only is this church stunning, but it played an integral part during the war of independence as a storage facility for supplies.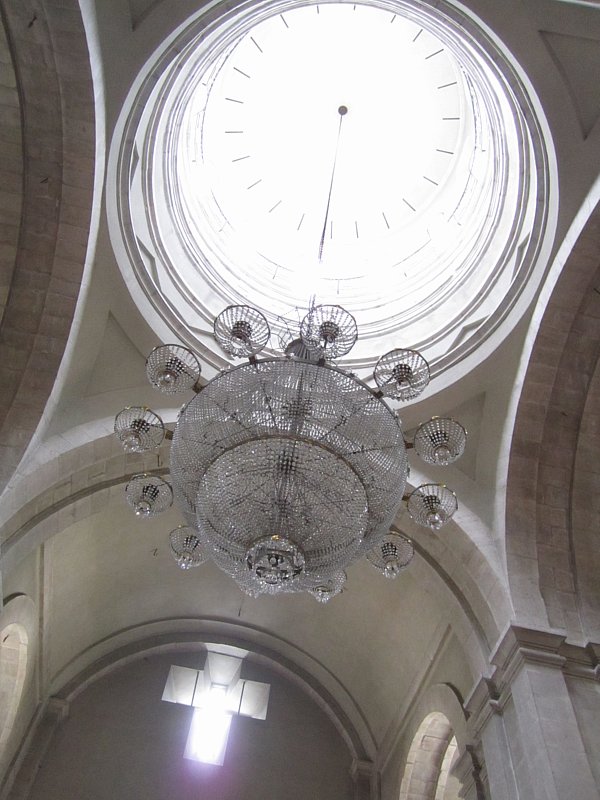 In Stepanakert, we stayed at the brand new Hotel Europe. It was only a month old and fitted with many modern conveniences, and featuring a very helpful and courteous staff. My only complaints of this hotel include the slow WiFi connection and the horrible free breakfast included in your stay. Every other hotel we stayed at included free breakfast, and all of them were infinitely more pleasant, delicious, and had more variety than the one at Hotel Europe. Definite room for improvement there, but considering this country was in the midst of a horribly destructive war only years ago, I think they have done a great job rebuilding and getting back on their feet.
We enjoyed walking around Stepanakert and taking in the sights, from the "White House" where the president lives and the National Assembly, to some beautiful fountains in the center square of the city.
Later that evening we also decided to try out a specialty of the region, zhingyalov hatz, which is a soft flatbread filled with many different greens including spinach, cilantro, parsley, basil, scallions, dill, and mint. Theoretically, I should have loved this bread, but I found it to be quite unpleasant. It was greasy and texturally one-note, kind of mushy and bland. My entire family agreed. I'm glad I tried it, but I wouldn't want more of it.
The following day was our full day of exploration in Karabakh. We were lucky to be joined by a friend of a friend who is from Karabakh and offered to be our tour guide for the day. Our first major stop of the day was at the Gandzasar Monastery atop a mountain overlooking the village of Vank.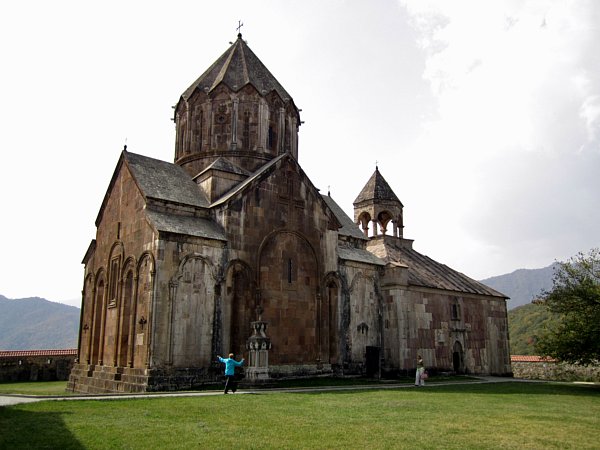 With breathtaking views, it was truly an astonishing location for this 13th century place of worship. Back then there were no modern roads, so I always wonder how these massive and incredible churches were built on top of mountains. Gandzasar is not the only one. I will be discussing other mountain-top churches in later posts.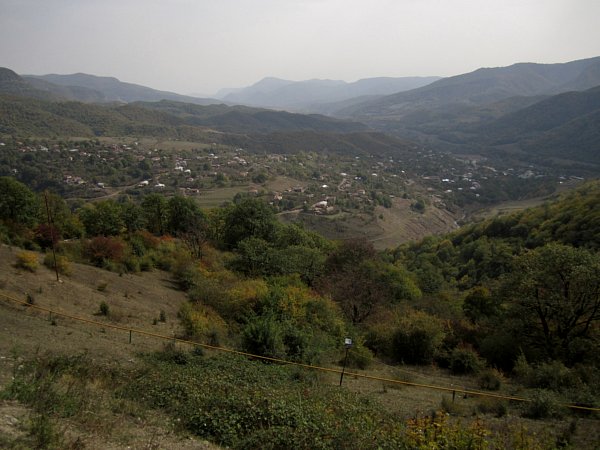 We had the privilege of meeting the priest at Gandzasar. Although I'm not tremendously religious, I love visiting these old churches, and I was especially thrilled to meet the priest because he was also the spiritual leader for the soldiers during the war. He has done a lot for morale and support for those fighting for their freedom. In addition to that, he was also the coolest priest I've ever met! Among other things, he told us that we had to join him in his office for some very special vodka, or else it would be as if we hadn't visited Gandzasar!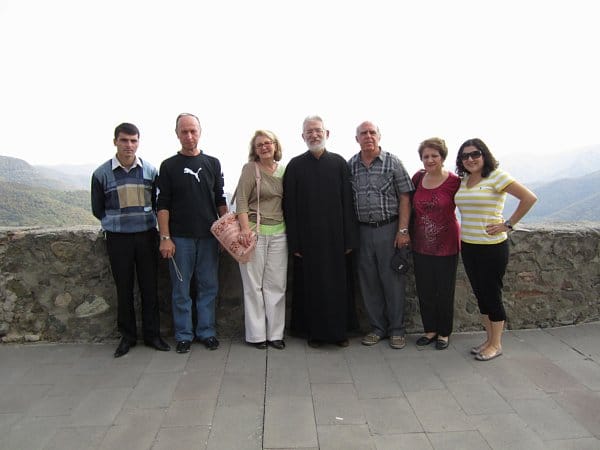 He poured us glasses of local 80 proof honey vodka. It was very strong, but such a special experience! We sat for a while in his office and talked. He told us stories of his life and from the war, as well as sharing hilarious anecdotes. The ringtone on his phone for when his wife would call was a war siren. Seriously! The man has a great sense of humor, especially after the trials and tribulations he experienced during the war. I've never had so much fun at church before 🙂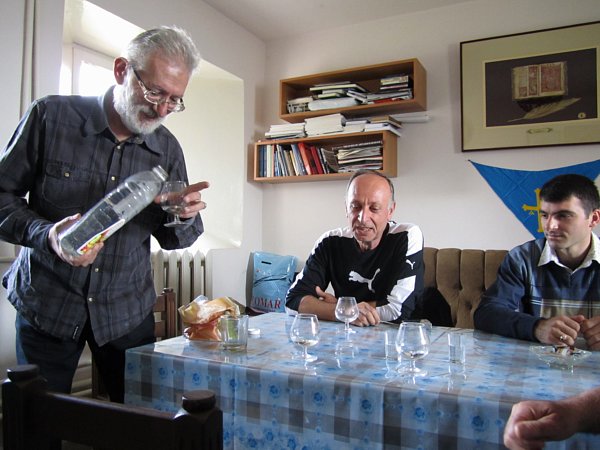 We left the Gandzasar and checked out some sights in the village of Vank, including a really clever lion statue made from rock naturally occurring on the side of a mountain. It actually roars too! Pretty neat!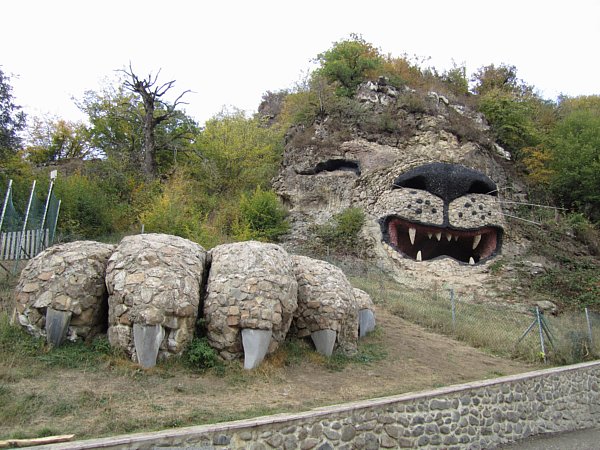 After making our way back to Stepanakert, we stopped to see the famous "We Are the Mountains" monument depicting an old man and woman. This monument is a great symbol for the Nagorno-Karabakh Republic.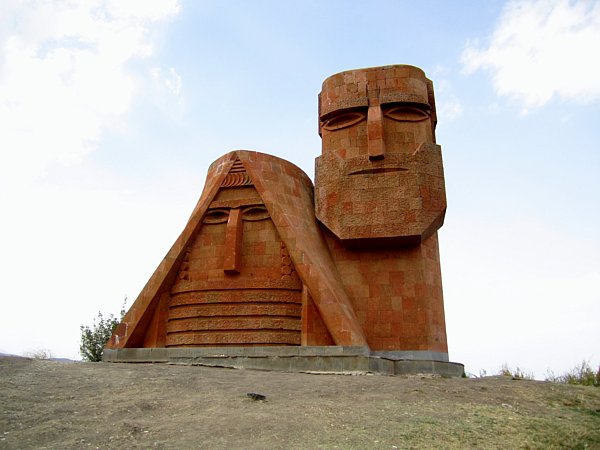 We proceeded onward to the Memorial Museum of the Perished Soldiers, an incredibly depressing but important spot to visit. Our unofficial tour guide had told us stories earlier in the day about how she had lost her sons, brother, and son-in-law during the war of independence. We soon learned that literally every citizen of Karabakh has lost loved ones in the war. Every single citizen. The curator of the museum herself lost her son, among other family members.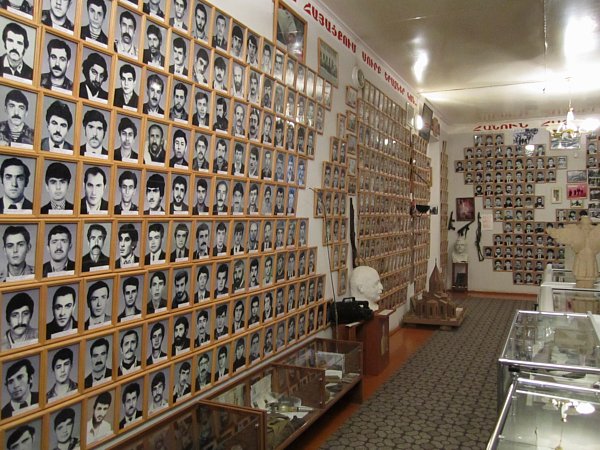 It is important to note that the Armenians were being persecuted and killed by the Azerbaijanis, and were pushed to the point of necessity to fight for their freedom and their independence. This region belonged to Armenia a long time ago, and was still inhabited by mostly Armenians during that time who wanted to free themselves from the tyranny of a government that hated them.
The Armenians often fought with homemade weapons through much of the war. "We fought against tanks with such weapons" was written in the museum showcasing some examples of these inferior weapons. They managed to fight for their cause, even with a high death toll. Now they are free, and that's all that matters (I just wish more countries would give them their due credit and respect!).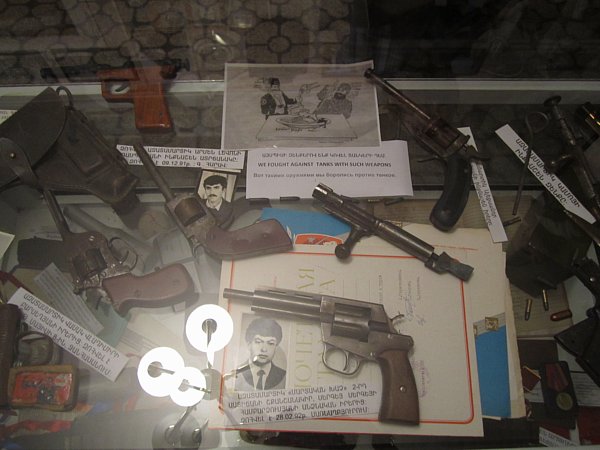 The walls of every room in the museum were lined from floor to ceiling with the unsmiling faces of the young boys and men who all perished during the war. Staring into each of their eyes, I felt tremendous sadness and sympathy for each of them and their families. These were and are people who know troubles that I've never known in my considerably privileged life as an American citizen. None of us should take our freedom for granted, especially when so many people have died for theirs.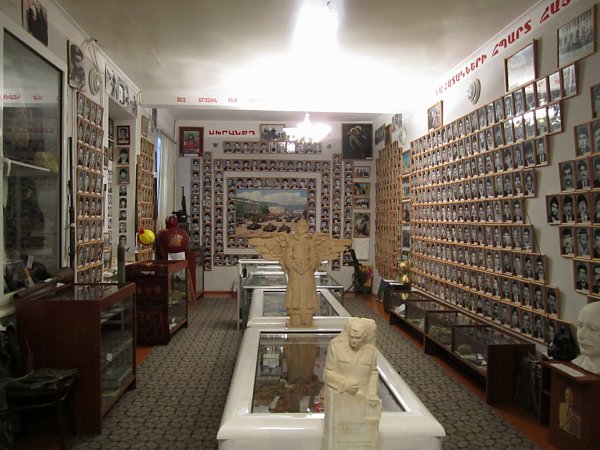 This truly emotional and eye-opening experience was worth every tear shed. I feel an even stronger connection to the wonderful people of Karabakh. They deserve their freedom and I am so proud of them for fighting for something so important. We left the museum and headed to the cemetery where many of the deceased soldiers from the war are buried.
A large monument stands across from the bullet-ridden former hospital. It is one of the few buildings that still stand from the war, showcasing just some of the damage. It was lucky. Most of the other buildings were completely destroyed from warfare. We visited the grave site of our tour guide's sons. I felt like I knew her sons, just by seeing their pictures and hearing the stories. Many of the gravestones featured two or three pictures at once for brothers who fought and died together. These are images I will never forget.
By this point in the day, we were ready to sit down to a nice meal together and reflect on all of the beauty and tragedy we had seen that day. We decided to try a spot that was recommended to us as the best in Stepanakert. Ureni is the Armenian name for weeping willow, and is also the name of the restaurant. I have to say, it totally lived up to the hype.
We enjoyed the beautiful weather by taking a seat outdoors, right by the restaurant's namesake, a weeping willow tree.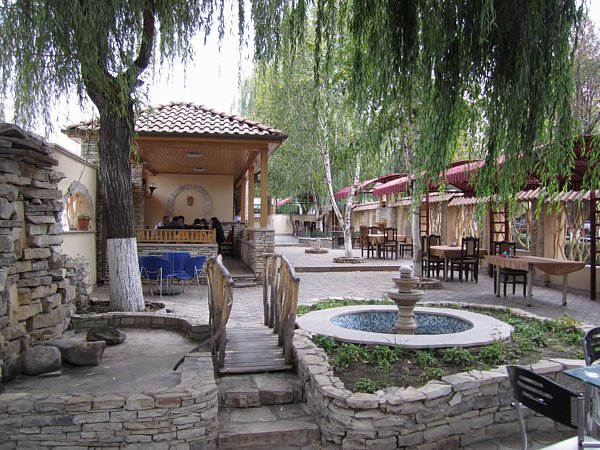 The fresh and still hot breads, yogurt (matzoon) and local cheese were all delicious. An excellent start to our meal.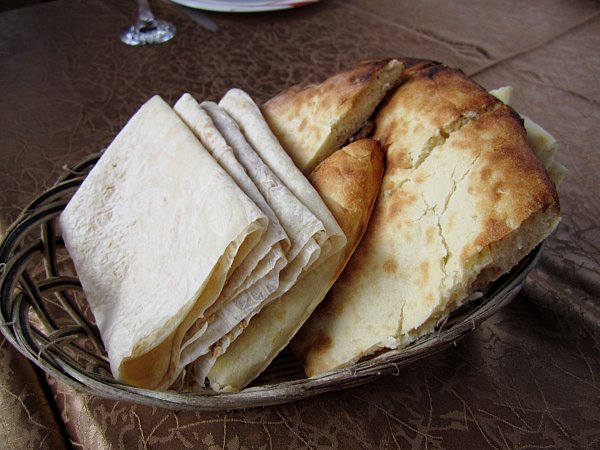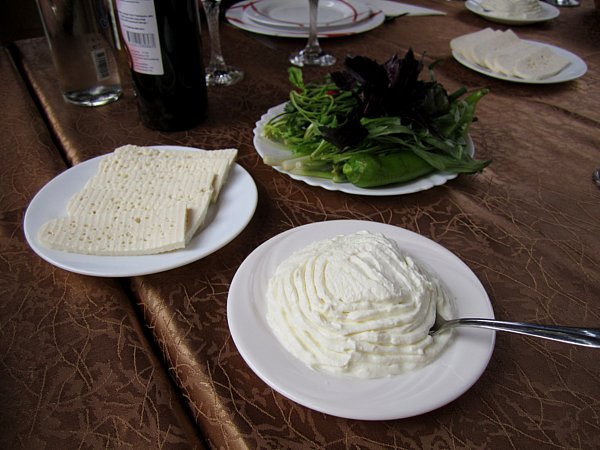 We also elected to try a salad that reminded me a bit of Caesar salad with chicken, tomatoes, and croutons. It was topped with a thick layer of grated cheese and piped sour cream. It was actually quite tasty even though it was heavily dressed.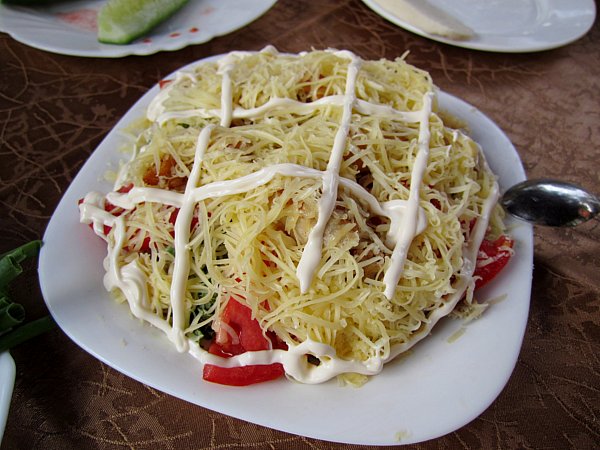 Fish seems to be the theme of many of our meals during the trip (hey, I'm not complaining), and we decided to have some fried local fish. They were fairly small and tender, absolutely delicious and very fresh.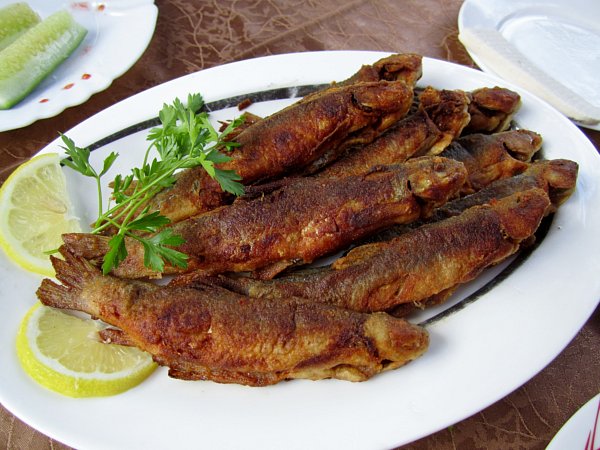 My absolute favorite component of the meal, believe it or not, was the potatoes. These are not your average Idahos. These small, long oval pale golden-fleshed potatoes are indigenous to the region. Here they were sliced on either side to expose the flesh, skewered with pieces of pork fat in between, and barbecued. The pork fat becomes crunchy and FABULOUS and the flavor absorbs into the already tender and fluffy potato. These potatoes are truly out of this world. I shouldn't wax poetic over a lowly potato, but I am because these potatoes deserve it. They are a must have!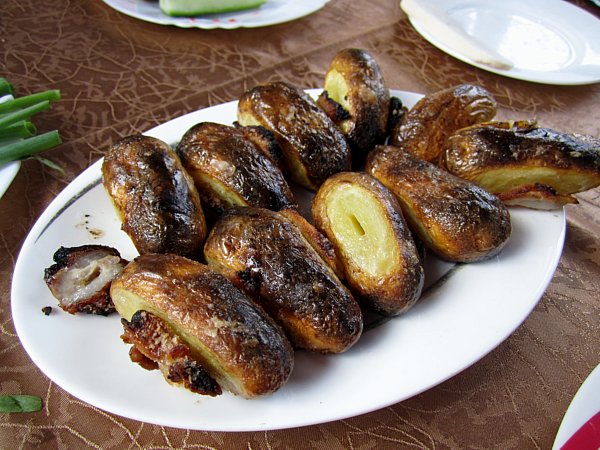 Our journey through Karabakh was definitely a memorable one. Even though the trip was tiring, I am so grateful for the opportunity to visit, and also to share these stories with my readers. I hope someday Nagorno-Karabakh Republic will have worldwide recognition. The people here are wonderful, and after all the tragedy they've survived, they deserve the world's respect for overcoming adversity and fighting for their freedom from hateful tyrants.
Ureni Restaurant
70d Tumanyan Street
Stepanakert, NKR
(374 47) 944544
Hotel Europe
26 Azatamartikneri Street
Stepanakert, NKR
(374 10) 253141
Other Armenia posts