One of my favorite parts of traveling is dining out. In Armenia, we do quite a bit of dining in at people's houses, but I also love checking out fun and popular restaurants and occasionally trying different cuisines. The last time I was in Yerevan, my friends took me to the first Chinese restaurant that opened there. Growing up eating Chinese food in America, it was definitely not news to me, but I remember being really impressed by the food! I knew then that Armenia was definitely opening up to new cultural experiences and cuisines. I was happy to see they also have sushi and Mexican food as well, which I know didn't exist a decade ago.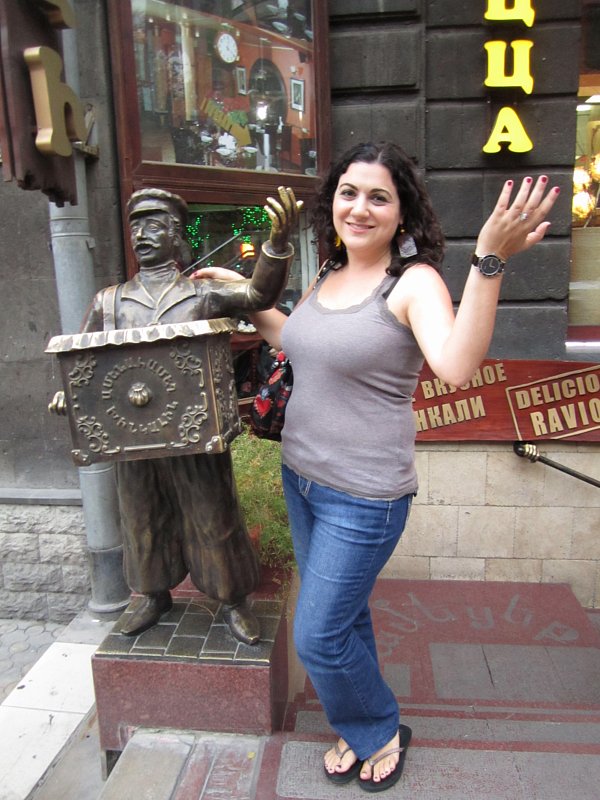 This trip I was really excited once again to explore the restaurant scene in Yerevan. We enjoyed delicious meals at several cafes, but there were a few more dining highlights that I simply must share. First off, we visited an underground restaurant that specializes in large Georgian dumplings called khinkali. In fact, the dish itself is the name of the restaurant, so there's really no confusion on what they're best at making. I have had countless khinkali in my life. It's a dish I've always enjoyed. The pleated dumplings are very large and usually filled with seasoned ground beef and cilantro. They are eaten plain, with just a sprinkling of black pepper, if desired. The knob where the pleats meet at the top is discarded because it's thick and tough (this also helps you count how many khinkali you've eaten).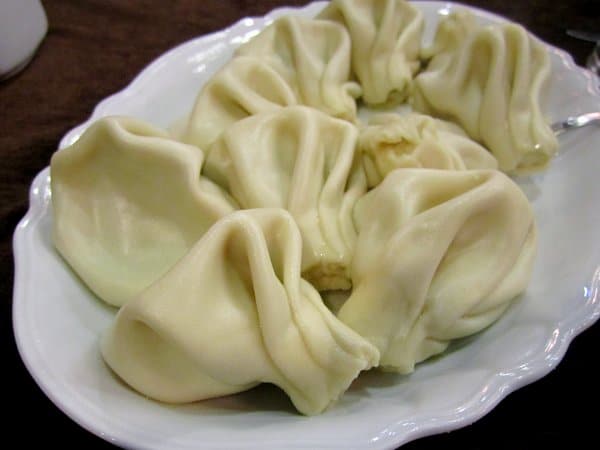 Khinkali are typically boiled, so that's how we tried our first batch of khinkali (all of which is made to order by hand). They were outstanding. The filling was the juiciest I've ever encountered. The broth was flavorful and fairly clear, which honestly made me wonder if they adapted Chinese soup dumpling techniques into their khinkali-making. Regardless of their secret methods, these were most definitely the best khinkali of my life.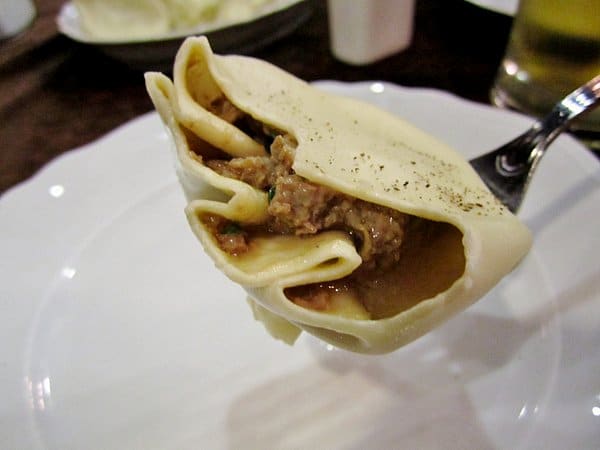 We were also told that we must try the fried khinkali. This was new to us and we were excited to try something less traditional. Frying yielded a more crisp crust than the chewy but tender boiled version. It was delicious but started to get soggy and less crisp pretty fast. It was also much heavier and filled us faster. Although we enjoyed the fried khinkali, we couldn't eat as many of the fried version as we could of the boiled. The filling was still equally as juicy and delicious, of course.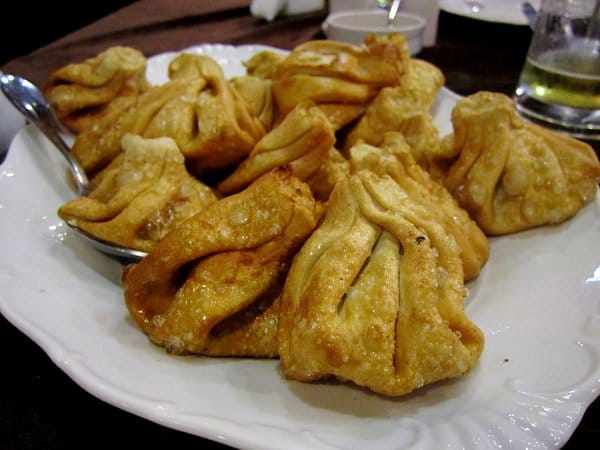 While we thought the khinkali was extraordinary, the service here was simply atrocious. I can't possibly glorify this restaurant without telling the truth about the quality of the staff. They have a lot to learn about treating customers well. When we walked into the restaurant to eat, not a single staff member stopped to see us to a table. They didn't ask us how many people were in our party or if we preferred smoking or non-smoking. They didn't bother to tell us that they were very full and that we'd have to wait. They totally ignored us. When we got frustrated and inquired with one of the staff members about why we were just standing there and no one was bothering to help us, he brushed us off. We finally asked for the manager and he managed to clear off a table for us and get us seated, but even then it was an afterthought. We were ignored during the entirety of our meal. As an American and food blogger, I have never witnessed such disregard for customer care. If Tumanyan Khinkali was in America, their outstanding food would never be enough to outweigh their horrible service. I read that they recently opened a location on the French Riviera. I hope the service there is better than in Yerevan. I wholeheartedly loved the khinkali here, but was so appalled by the service that I would think again before returning. Sorry. Sad, but true.
Tumanyan Khinkali
21/1 Tumanyan Street
Yerevan, Armenia
(374 10) 582352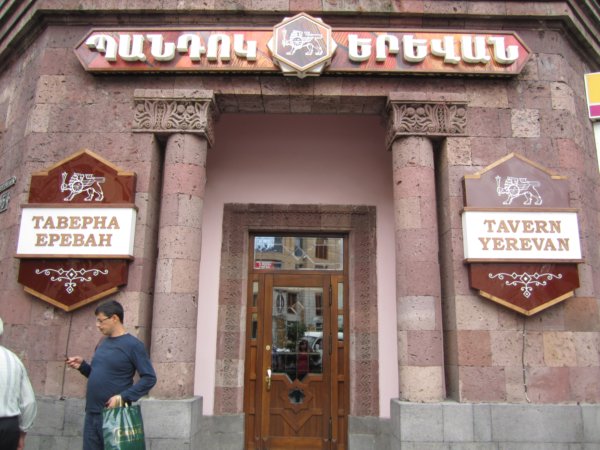 Speaking of service, I had the complete opposite experience at Tavern Yerevan (or Pandok Yerevan... that means tavern in Armenian). This place was recommended to us from our driver for our trip to Karabakh (which will be discussed in a later post). Not only did we take him up on his suggestion, but we were so impressed by both the food and the service that we returned a second time!
As far as service goes, it was a total 180 from what we experienced at Tumanyan Khinkali. The staff not only paid attention to us, but were courteous and attentive. When I got up to use the restroom three different people helped point me in the right direction (and it wasn't hard to find, they were just being extremely helpful!).
We loved everything from the setting (it was slightly cavernous and underground with Middle Eastern accents in the decor) to the uniforms the staff wore. The space wasn't too large and during busy hours it was clearly a popular spot.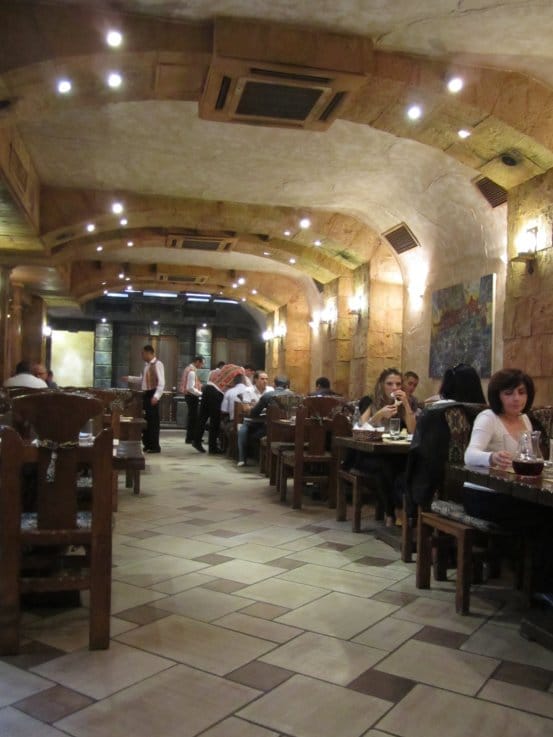 Selecting our food was fun too with a picture menu. While we picked over the delicious selection of bread (4 different kinds), we selected several items for everyone at the table to share. During our two visits to Tavern Yerevan, we tried the following dishes...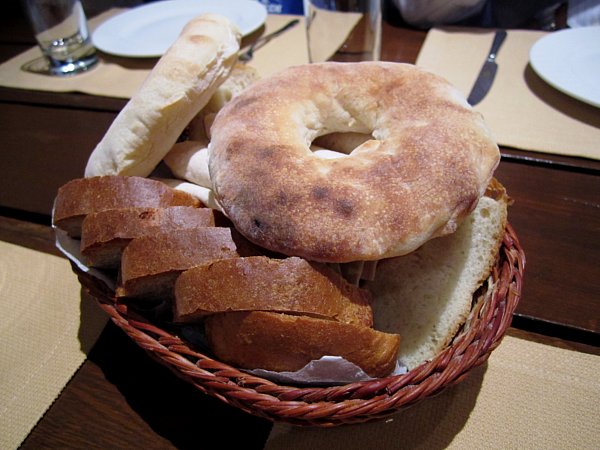 During both visits my dad ordered the aveluk (wood sorrel) soup. I tried it too and was really impressed. It was incredibly garlicky and not only contained the greens for which it was named, but also small chunks of potato, making it just a bit heartier as well.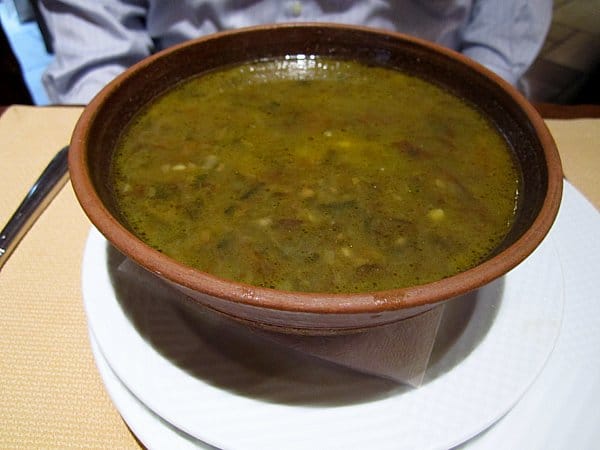 My mom and I decided to share the bean soup (made with kidney beans), which the restaurant actually served to us in separate bowls. I was really impressed that they did this because I've only encountered that service (splitting food onto separate plates for people sharing) at some of the nicer restaurants I've been to in the United States.
The soup itself was absolutely fantastic. Bean soup sounds pretty basic, but the flavors were so intense and delicious and the texture was nice and creamy with chunks of bean as well. It was one of the best soups I've had in a really long time. It excited me for fall and soup season. I will have to make some bean soup really soon 🙂
We decided to try the fried potatoes and mushrooms on our first visit and loved it so much we ordered it again on our return. Both components were fried perfectly and seasoned with just a bit of salt and some dill. Although I hate dill, the amount was moderate enough to accent the dish and not overwhelm my dill-hating taste buds. I will have to make this myself some time.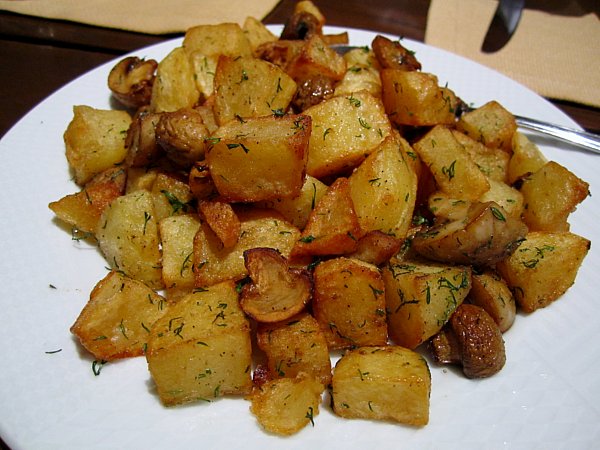 For the first of our main dishes, we ordered ishkhan (Sevan trout) baked in lavash. The fish was most likely grilled first and then wrapped and finished off in the lavash. With the exception of large chunks of dill, the skin and a couple pin bones, this was a lovely package. It became easier to eat by disassembling it to remove the skin (and dill, in my case) and then chowing away. This was also a really fun idea that I'd love to try in my kitchen (but with a skinless fillet and NO DILL).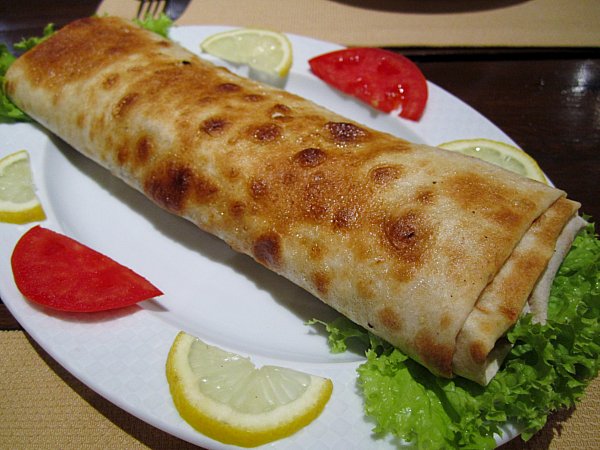 We also tried a dish called odjakhuri containing fried cubes of potatoes, chunks of pork, tomato wedges, onions, and bell peppers. The potatoes were obviously fried separately and then mixed in with the other ingredients, but the combination of flavors permeated every component. We thought this dish was outstanding as well!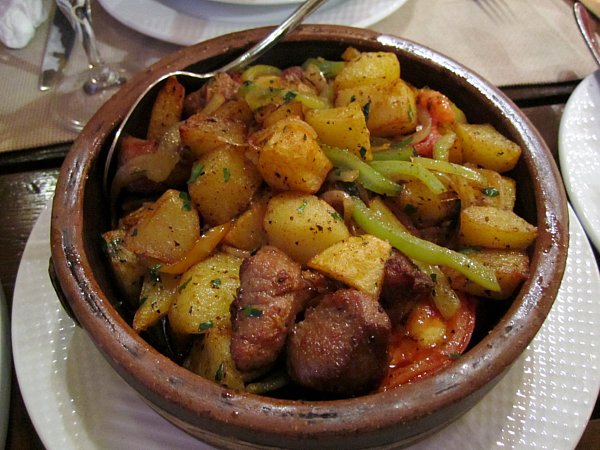 Hands down, my favorite discovery at Tavern Yerevan was the amazing chakhokhbili. This Georgian dish contains tomatoes, lots of sliced onions, cilantro, and a mountain of spices. They serve rabbit and chicken with this preparation; we opted for the rabbit. Holy Bugs Bunny, Batman, this was so absolutely outstanding I can't even put it into words.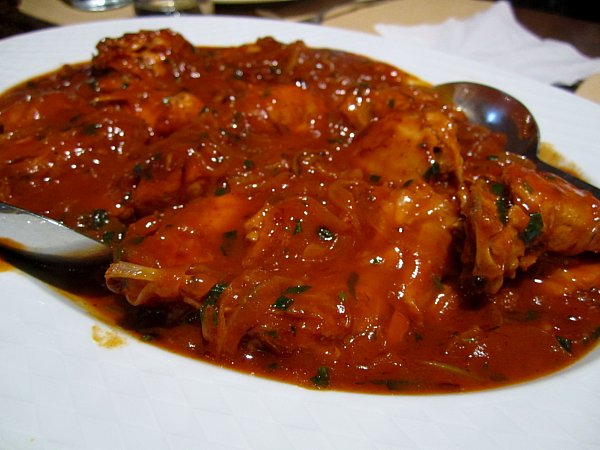 My taste buds are still tingling just thinking about it. Super tender rabbit (or chicken if bunnies are too cuddly for you) in a tangy and spicy tomato-based sauce with loads and loads of sweet melted onions. Good God, I want this dish again and I want it now. Thank you Tavern Yerevan for making my belly happy and full on not one, but TWO occasions. I love you!
Tavern Yerevan
(multiple locations, but this is the newest and largest location where we ate...)
5 Amiryan Street
Yerevan, Armenia
(010) 545-545, (099) 545-545
https://www.pandokyerevan.am/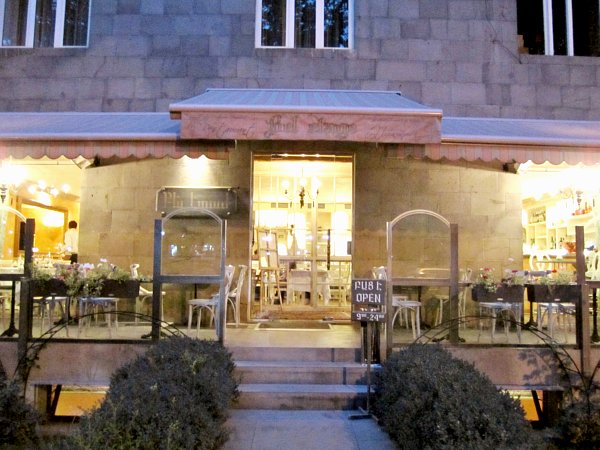 Finally, we're onto the third and last restaurant in this installment (psst, my next two posts will focus on chocolate and booze!). Bel Etage is a favorite of one of our friends' in Yerevan. I was so pleased that we had the opportunity to dine here. Honestly, it reminded me of something I'd find in New York City, and that's saying a lot.
The restaurant is described as being French, but I'd consider it to be more "European" as a whole. The menu swayed between French, Italian, and Spanish during our meal alone. I have no complaints. Everything was delicious, starting with the crusty bread that is baked in house. My favorite are the mini batons! They are scored too!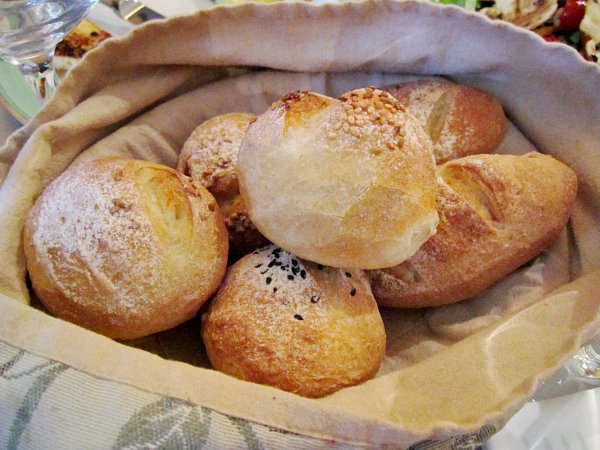 We also enjoyed some delicious liver pâté served with toast points and house salad. We ordered extra salad as well, which was topped with sliced mushrooms, carrots, red bell peppers and featured a balsamic dressing. Light and refreshing a great compliment to the richness of the pâté.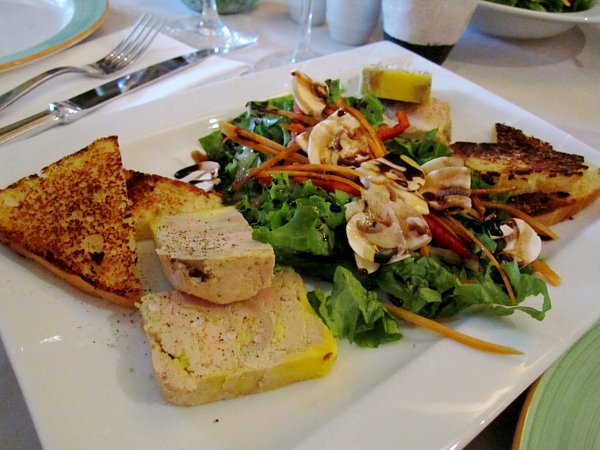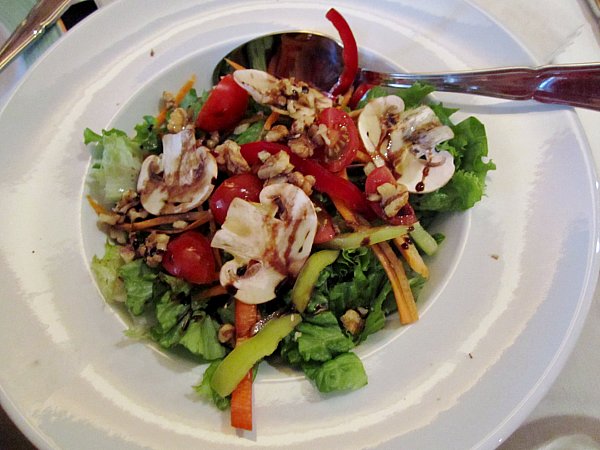 We also enjoyed some smoked salmon roulades that were filled with goat cheese and served with a light salad, cherry tomatoes, and lemon slices. Not only was it a very nice presentation, but the quality of the fish was great and all of the flavors were well balanced.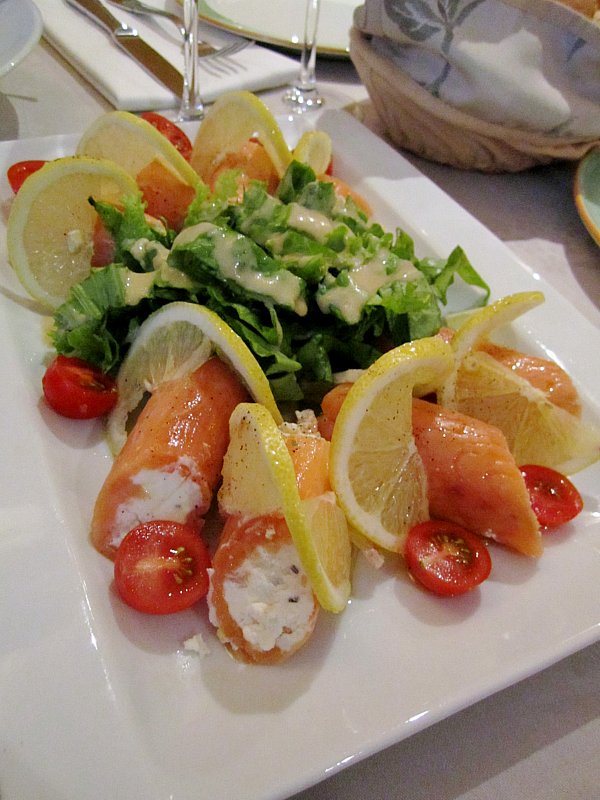 I also loved the mozzarella and tomato stacks, which were drizzled with balsamic vinegar and served with spoonfuls of light pesto on either side. This was a more Italian contribution to the menu.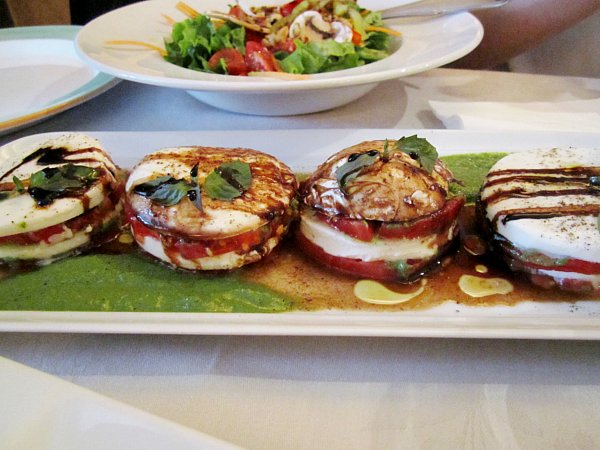 With our meal, we also enjoyed glasses of Armenian brandy aged 20 years. Right before this meal we took a tour of an Armenian brandy factory and participated in a brandy tasting (upcoming post!), so drinking more brandy at our meal was a great way of continuing the party 🙂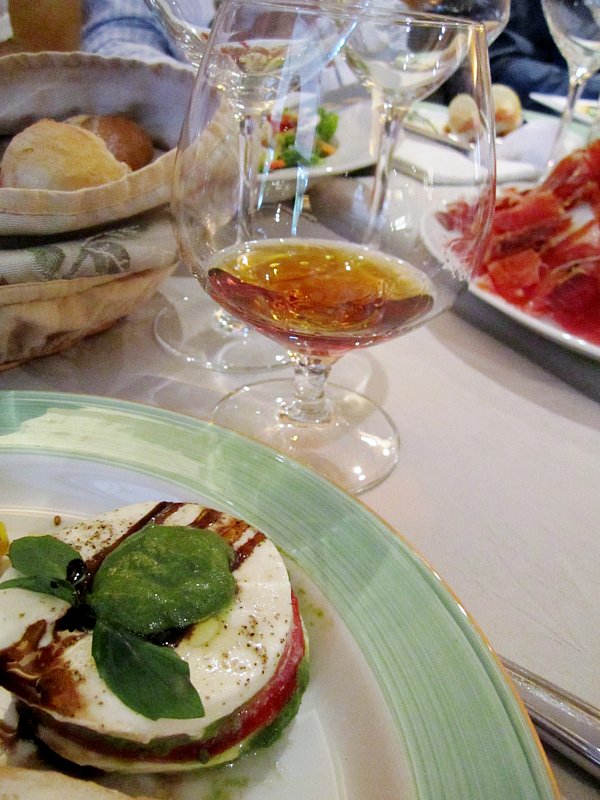 A touch of Spain came from a serving of freshly sliced Serrano ham. It was a tasty accompaniment to our meal, as well!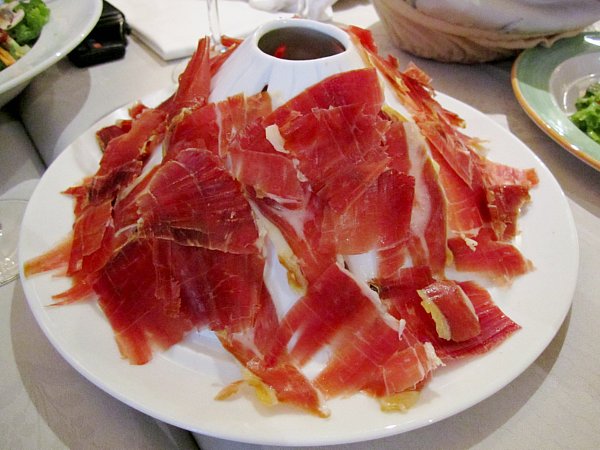 A sampling of all this amazing food left me thoroughly satisfied. Although I loved all the Armenian and Middle Eastern food we were eating, it was nice to step away and have something different.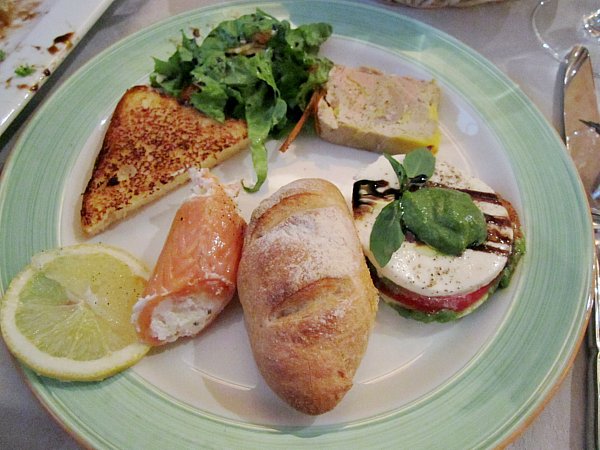 We still somehow managed to save room for dessert. I couldn't resist trying their molten chocolate cake. It was executed perfectly. Totally molten. Totally awesome.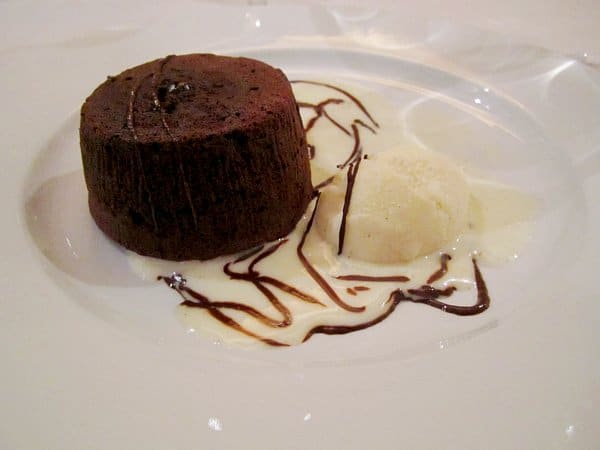 And finally, by far the happiest cappuccino I have ever had.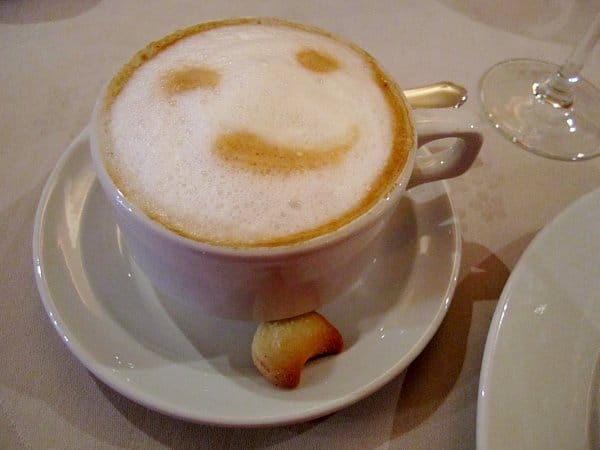 Thank you to the wonderful folks at Bel Etage for the amazing food and impeccable service. You made me a very happy girl (even happier than my cappuccino)!
Bel Etage
31 Strepan Zorian Street
Yerevan, Armenia
(374 10) 500751
Other Armenia posts