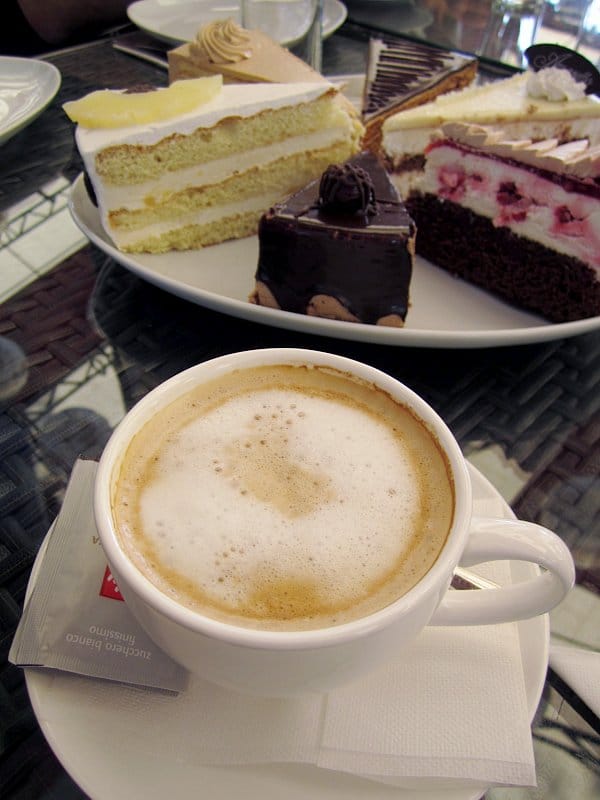 Yerevan is a café haven. The streets are lined with both outdoor and indoor cafes everywhere you turn. While the outdoor locations are open seasonally, many of them have indoor seating areas as well. Near the Yerevan Opera especially, there are cafés lined up all around the circumference of the circular theater.
Times have certainly changed, as this wasn't the case many years back. Armenians are becoming more inclined to go out and sit at cafés with their friends and families, drink coffee or even eat an entire meal. The city has become more cosmopolitan, and thus with the times the café culture has grown.
Today I will be discussing 3 cafés I visited in Yerevan. The first is a small chain of cafés called Jazzve. A jazzve is a coffee pot for making Armenian coffee. The pot is the namesake for the chain and is featured throughout the cafés. The bill is brought to tables in a small jazzve, and a jazzve-shaped cookie accompanies orders of Armenian coffee. We dined at Jazzve several times on my previous trip to Armenia. I have very fond memories even from then.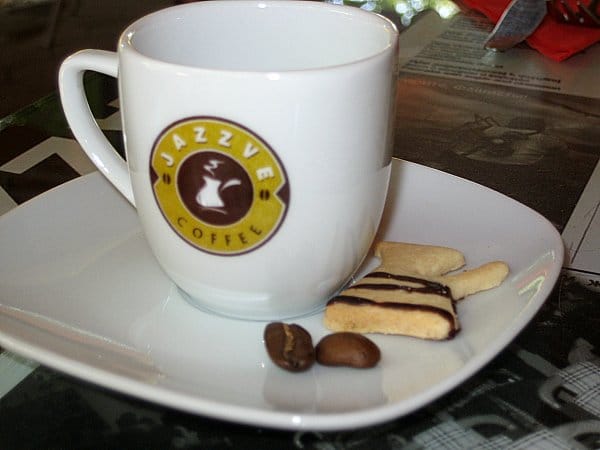 In addition to a selection of coffees and drinks, Jazzve is well known for their desserts. During my various visits, I have sampled quite a few of their cakes and pastries. I'd have to say my favorite cake is their pineapple cake.
Their Jazzve cake (below) is also good and features an almost marshmallow texture in each the layers. Many of the other cakes are very good, while a few of them are on the dry side, although intentionally. I happen to know that many Russian cakes are less moist and more crumbly than American cakes, and thus it makes sense that some of the cakes at Jazzve would follow suit. It's not really my cup of tea, but overall I've enjoyed many of the other cakes I've tried from here.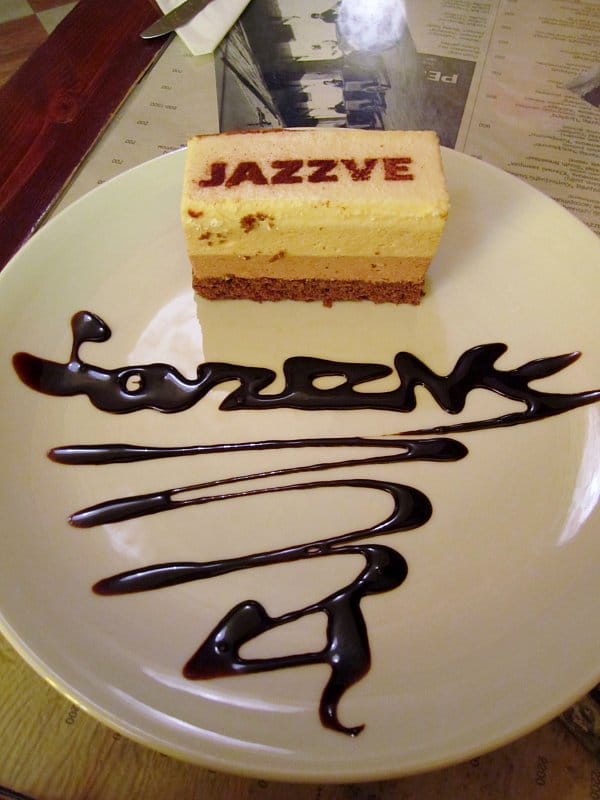 I also love their version of an apple tart. Unlike more traditional variations, theirs is topped with a thin lattice crust and sesame seeds which simply take the tart over the edge. That one layer of flavor from the sesame seeds transcends the tart to one of my new favorites, and I will definitely be stealing that idea in the future.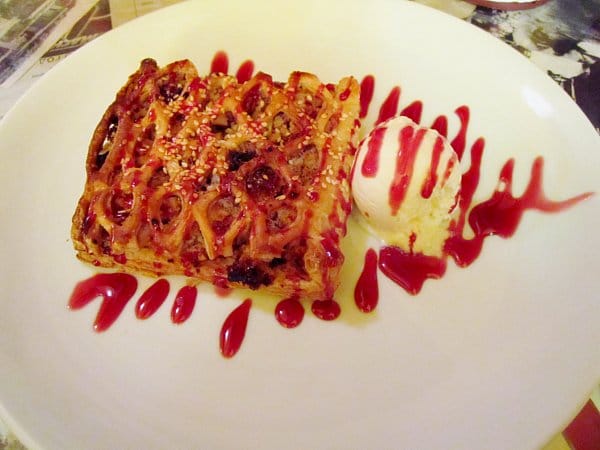 Another unique dessert served at Jazzve is their crepe purses filled with vanilla ice cream. They are drizzled either with strawberry sauce or chocolate sauce. I've tried both and they are equally fantastic! This is another great idea that can easily be replicated in a home kitchen with impressive results.
Jazzve
Multiple locations
https://www.jazzve.com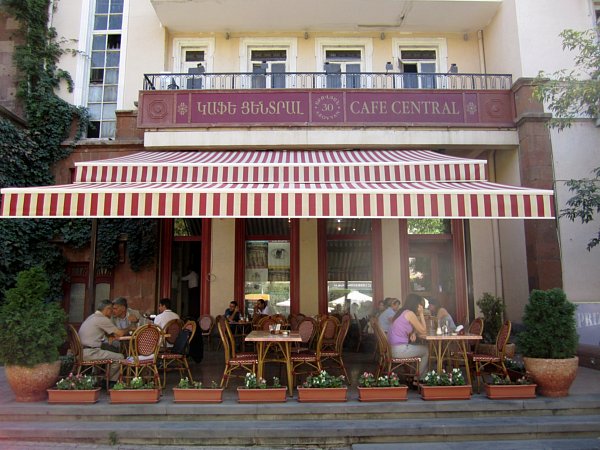 Another great discovery during my trip was Café Central. We came here with one purpose: to eat their special ice cream Napoleon. Layers of fresh vanilla bean ice cream and crushed puff pastry over a thin sponge cake base create a sinfully amazing dessert. Miraculously the puff pastry crumbs stay incredibly crunchy even between the layers of ice cream, a testament to the freshness of this creation. It was easily one of my favorite ice cream desserts ever. I definitely recommend trying it!
Café Central
30 Abovyan Street
Yerevan, Armenia
(374 10) 583990
https://www.cafecentral.am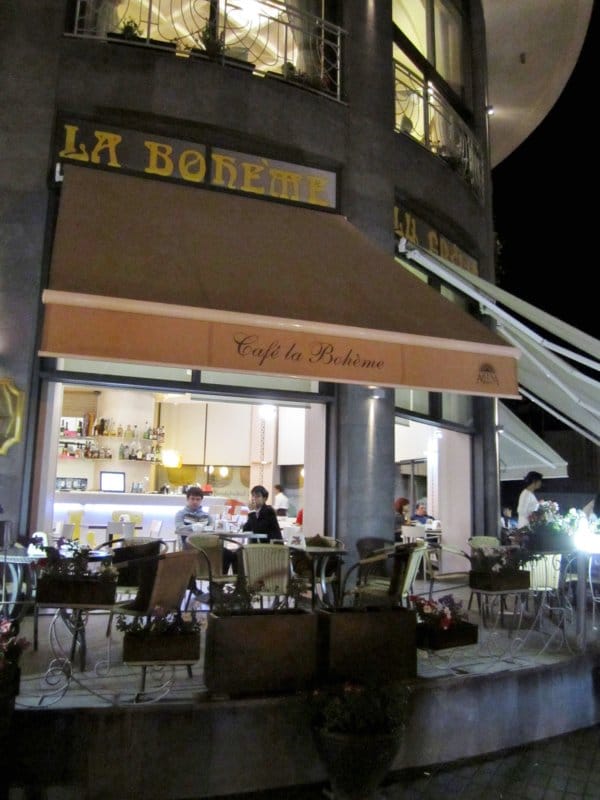 My last cafe discovery that I will be sharing is located on the beautiful Northern Avenue in Yerevan. Café la Bohème features traditional French desserts, most popularly their French macarons. They are a major draw to the cafe. The menu at Café la Bohème is not as French as the desserts and French music over the speakers would suggest. It's pretty eclectic and features everything from sandwiches (not particularly French ones), salads, soups, pasta, and more. Though the theme of the restaurant is French, it doesn't fully carry through to all of the menu items.
Regardless, I have no no complaints. For what it is, I really enjoyed my meal here. You see, I came here the day after I had food poisoning (seriously) and I needed a meal that I could eat, enjoy, and that wouldn't make me feel worse. This was the first real meal I had after being sick and I was thoroughly pleased by it! We started with a couple salads. The first was their version of a Caprese salad; sliced mozzarella and tomatoes arranged around a mound of romaine lettuce and Armenian basil, drizzled with balsamic vinegar, extra-virgin olive oil and a sprinkling of oregano. Although it wasn't a traditional Caprese, it was the exact satisfaction I needed in my starving belly. I thought it was perfect.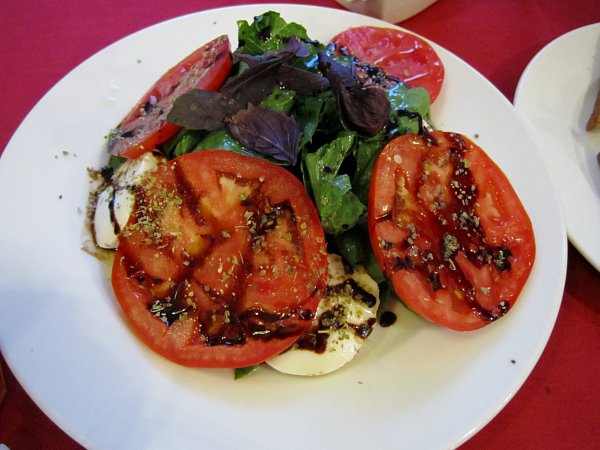 We also tried a "fromage" salad which was made with yogurt, cream, goat cheese, and mint. It was served with toast points and a couple cherry tomatoes. I loved the flavor of mint in the thick, somewhat dry "fromage" mound and found it particularly appealing spread over toast with the sweet cherry tomatoes. It was a perfect match of flavors. I only wish it came with more bread for spreading, but even without bread it was delicious on its own.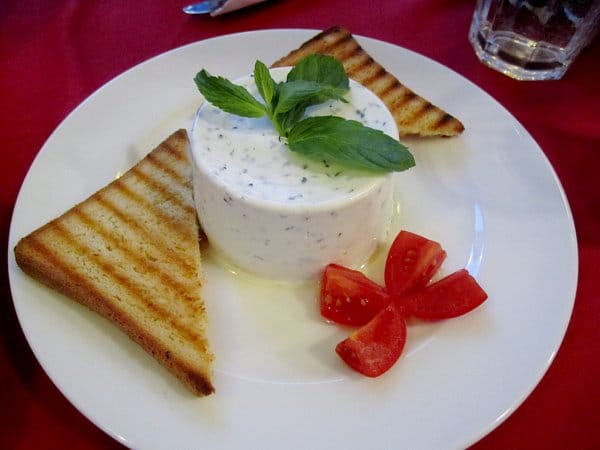 For our entrees we all enjoyed pasta (again, not French, but whatever). Because I was trying to be cautious, I decided to stick with a simple spaghetti with tomato sauce. Nothing too heavy or extreme. The sauce was very light and made with fresh tomatoes. It didn't live up to other transcendental dishes of pasta I've had in my life (remember the $24 spaghetti with tomato and basil at Scarpetta?), but it was the exact comfort I needed and wanted. Also, with a price tag of only about $4.50 for a filling portion, it was also the cheapest bowl of pasta I've ever had in a restaurant. God, I love Armenia 🙂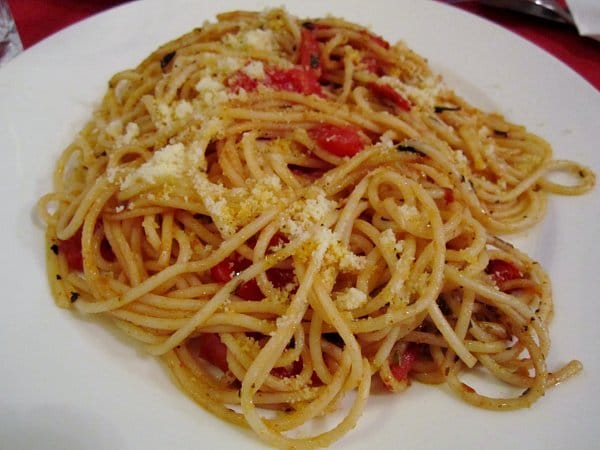 My companions elected to try the penne "formaggi" which was made with a selection of three cheeses: Roquefort, Parmesan, and Maasdam (a variety of Swiss). It was a bit heavier than my pasta (understandably) but was very tasty. If I wasn't recovering from an illness, I would have happily eaten more than a few bites!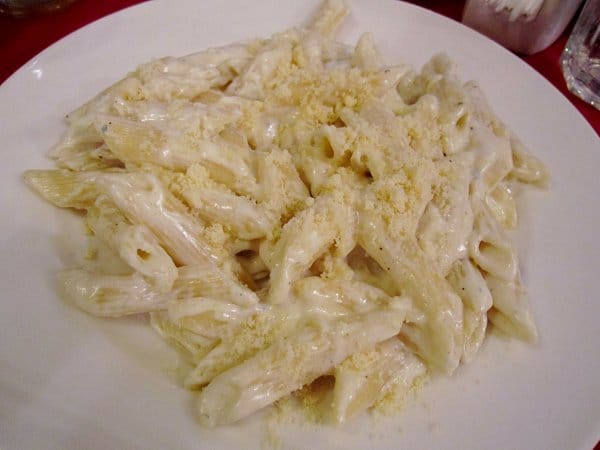 Finally, we couldn't resist enjoying a few macarons at the culmination of our meal. We opted for 2 raspberry, 2 vanilla, and 2 caramel. Of the 2 I tried, the raspberry was my clear favorite. It tasted really fresh and the texture was right on. I also tried the caramel, and although it was good, it was very sweet (understandably... it's caramel after all). I was definitely impressed by the quality of the macarons at Café la Bohème. I know how hard they are to master, and they've done a great job. Most impressive, perhaps, is that each macaron costs less than $1! That a huge steal considering what I know they cost in the US and I'm sure other locations abroad (such as France). Overall, another great café find!
Café la Bohème
5 Northern Avenue
Yerevan, Armenia
(374 98) 434043
https://www.cafelaboheme.am
Other Armenia posts