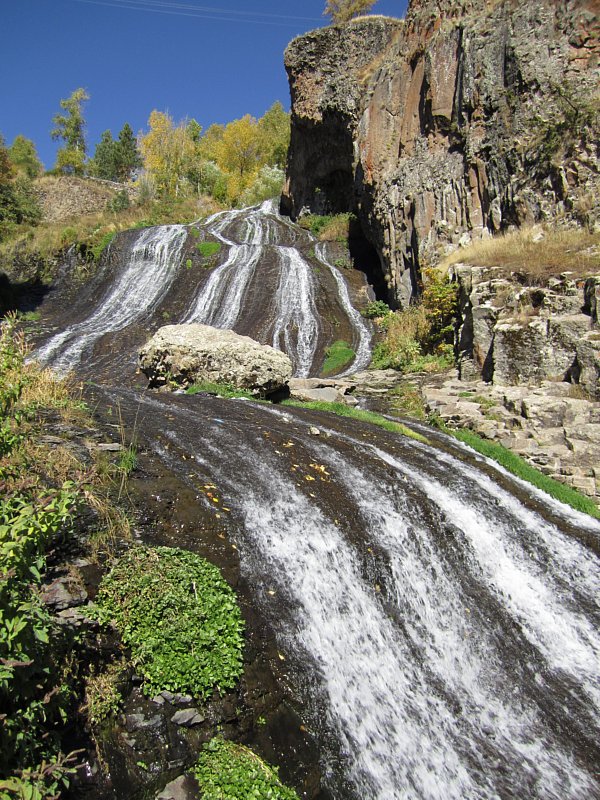 On several separate occasions we took road trips outside of Yerevan to visit other regions in Armenia. These next posts will be discussing those adventures. Our fist weekend in Armenia we traveled to Jermuk in the Vayots Dzor region (the same region as Areni).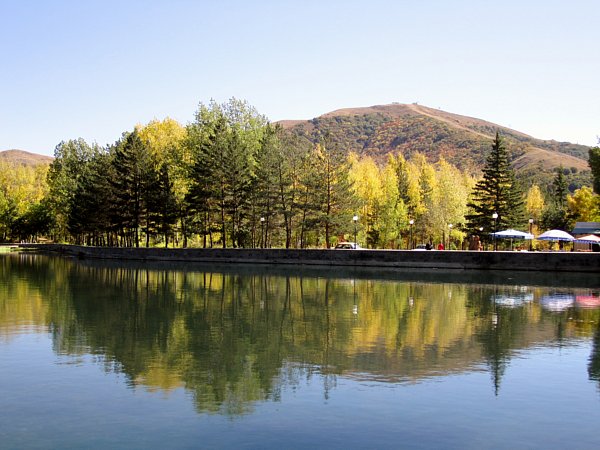 The trip theoretically would last about 2 ½ to 3 hours, but took much longer because we stopped several times along the way. First we stopped at two incredible churches (Khor Virap and Noravank).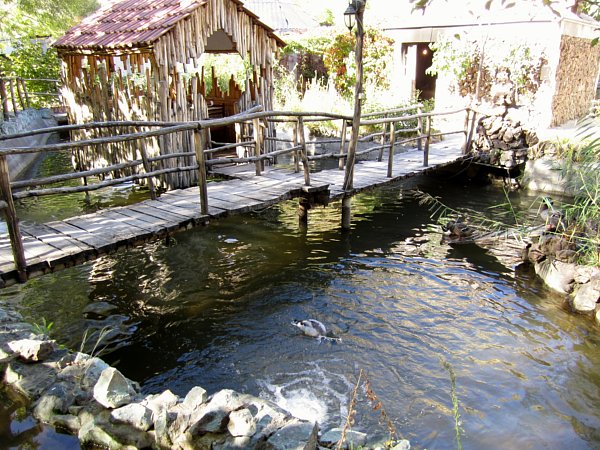 Then, as we continued our journey to Jermuk, we stopped for dinner at a restaurant by the Arpa River called Vorskan, which means "hunter." The staff was actually dressed like hunters, which added to the theme of the eatery.
Individual open-air rooms of various sizes line the river's edge, fitted with dining tables and incredible sights and sounds of the babbling adjacent stream. Words can't describe the experience. I will
leave those nuances to your imaginations.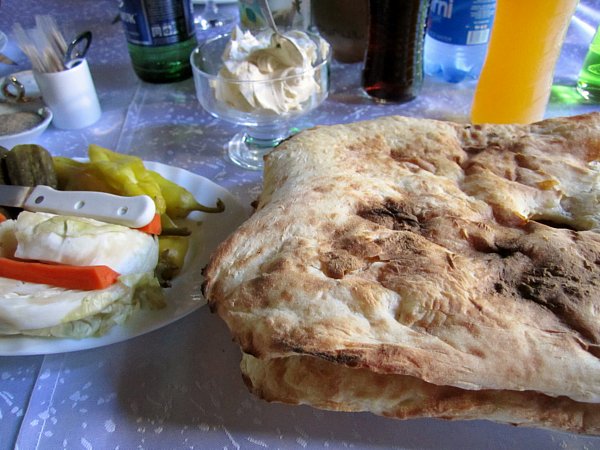 Meals are served family-style, as are most in the region. "Khorovatz," or Armenian barbecue, is a specialty (although I beg to differ). What I actually preferred most was the variety of fresh salads, the delicious and chewy fresh-baked "poori hatz," a type of amazing bread, and the incredibly thick and flavorful "matzoon" or yogurt (in most cases it is strained to thicken and intensify it). I filled my belly with as much matzoon and hatz as I possibly could. I had dreamed of it for over 3 years.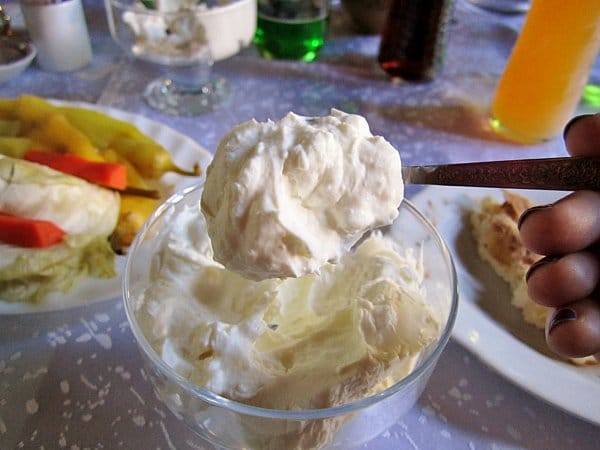 The best matzoon I ever had was previously in Dilijan, and contained specks of milkfat. It was extraordinary. This matzoon was lovely, and filled my craving. It didn't surpass its predecessor, but I loved it just the same.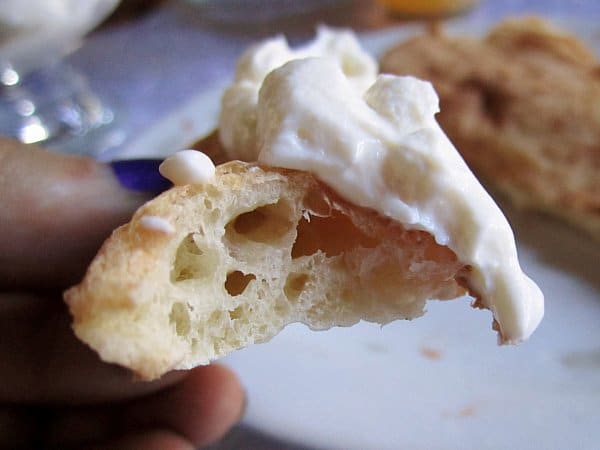 And for the record, many of you may have eaten strained yogurt in other places, but there is absolutely no comparison. In Armenia this matzoon spreads like butter and tastes like Heaven. It's simply in a world of its own; even with some specific samples surpassing others, they all surpass non-Armenian varieties. I speak the truth.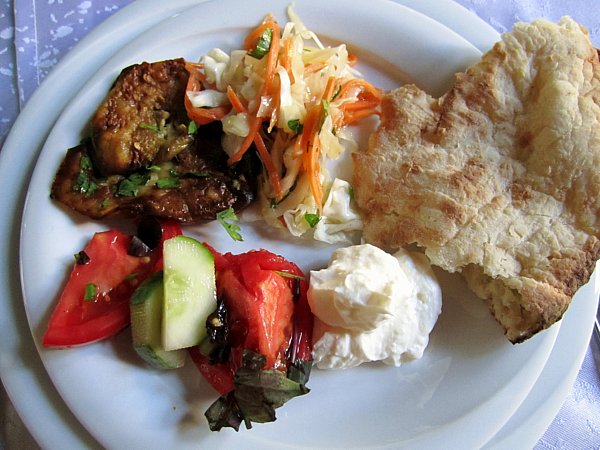 What disappointed me was solely the quality and cookery of the khorovatz meat. As with most (realistically all) Armenian meat cookery, it's always served well-done. As an American medium-rare meat-eater, it's unapproachable for me, but for politeness sake I will always make an effort. Anthony Bourdain would too.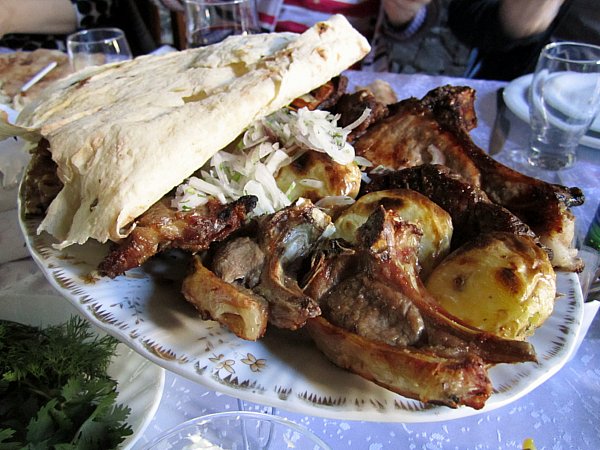 As an Armenian, I have adapted to eating well-cooked pork (on this occasion it was still pretty juicy, and I'm grateful), but when faced with overcooked beef and lamb I simply cry inside for the poor animals that lost their lives to provide that wasted meat. Attempting to cut steak-turned-shoe leather with a butter knife is hilariously painful. I actually gave up and couldn't even attempt a bite.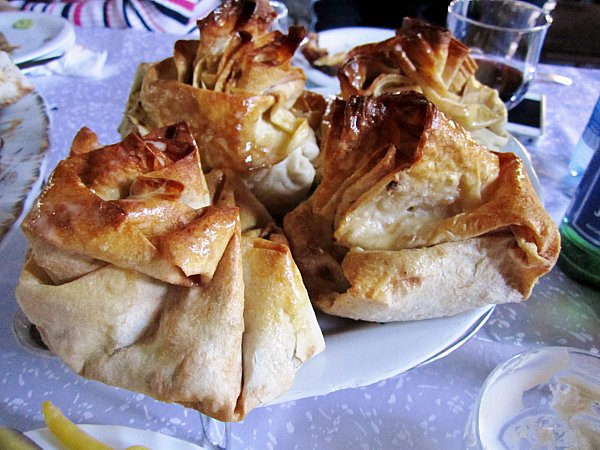 On the other hand, the beef used in the lavash purses was fork-tender and delicious. The meat used was a proper cut for stewing and resulted in not only an edible but truly delicious creation. The meat was cooked with bell peppers, onion, walnuts and spices and wrapped in lavash into a purse shape, topped with butter and baked until crisp. This was easily one of my favorite components of the meal and won me over after my disappointment in the "khorovatz." This is actually something I'd love to try making at home as well.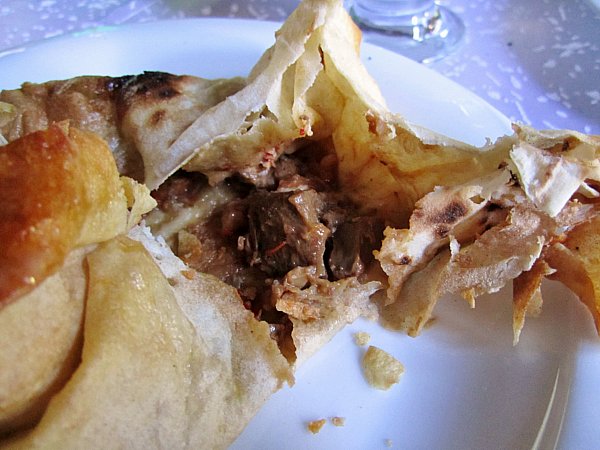 After wrapping up our meal, we continued our journey to Jermuk where we stayed in the nicest hotel there, Hotel Armenia. Jermuk is best known for its hot springs and mineral water. There are many spas and health facilities throughout Jermuk, even at hotels such as ours.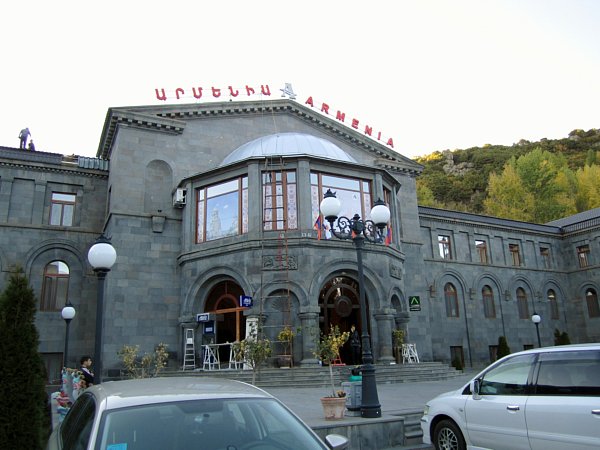 The water there is believed to have healing powers, and people from around the world go there for treatments. The area is beautiful (especially in the fall with the changing colors), but is definitely a more relaxing area with less hustle bustle and excitement.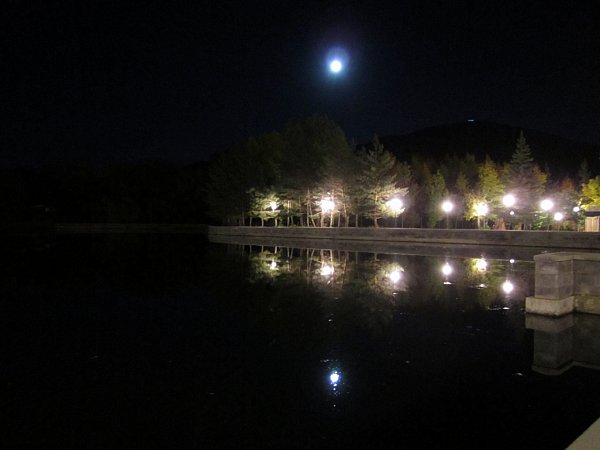 Right by our hotel there was a series of hot springs where you could drink the hot mineral water from the springs. There were 5 decorative fountains from which you could sample the water, each was at a different temperature (labeled above). They were all warm or hot. I not only prefer my water ice cold, but didn't like the mineral-laced flavor of the water. It's supposed to be really good for you, but I don't think anyone really thinks it tastes good 🙂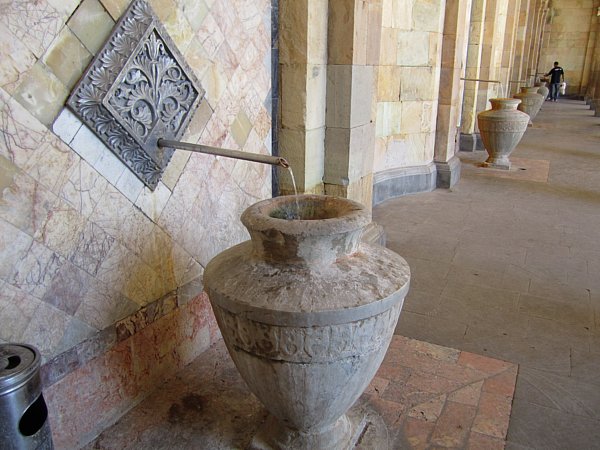 The next day we visited the other main tourist attraction in this high-altitude town (at least as far as I'm aware), the beautiful waterfall. I'm told that in the spring there is more water rushing down the rocks, but when we visited, instead there were beautiful ribbons of water cutting through. I thought it was truly lovely. It may not be the tallest or most powerful waterfall, but it was definitely one of my favorites I've seen! It was beautiful from every angle.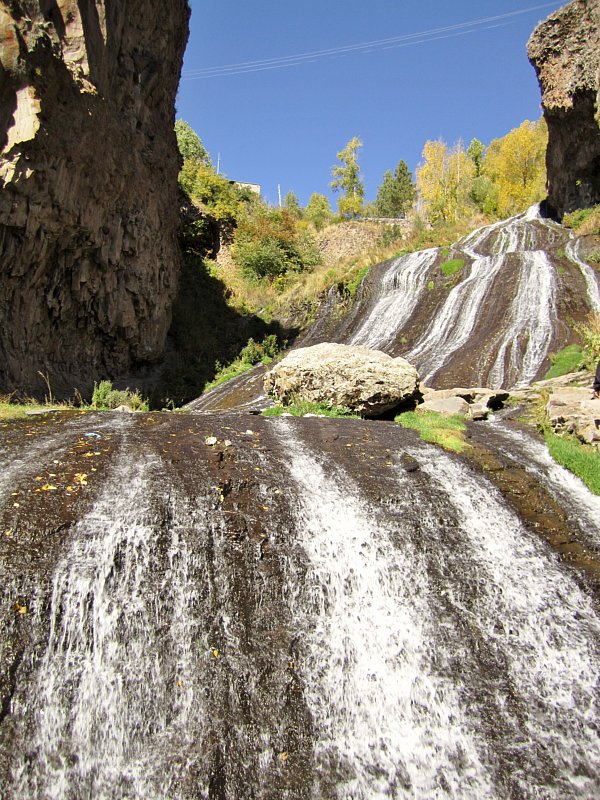 After a relaxing and brisk morning, we headed back to Yerevan and stopped at another riverside dining spot along the way. This was along the same river but closer to Noravank than to Jermuk, 30 minutes down the road. Edem, or Eden in Armenian, is the name of the spot, and I can honestly say that the name was fitting based on the delicious meal and scenery we enjoyed there.
Amidst the red stone mountains that frame it, the matzoon was even more delectable than the previous day's, thicker and even more flavorful. Instead of khorovatz, we elected to dine on fresh fish in honor of my late grandfather who was a fisherman at that same exact river a whole lifetime ago.
We enjoyed two different fishes prepared in two different ways. First was a species of trout with red dots called Karmrakhayt that is native to the area. It was poached in a flavorful broth containing tomatoes and peppers. Succulent and dreamy. It was the species of fish my grandfather had fished and my grandmother prepared. An excellent tribute to the past.
Next we enjoyed a fish called Ishkhan which is a trout native to Lake Sevan in Armenia. It was grilled and equally succulent and delicious. There is no joy greater than dining on native yogurt, drinking native wine, and eating native fish with your loved ones in the land where it all began. I can't pick a more favorite fish; both were prepared flawlessly.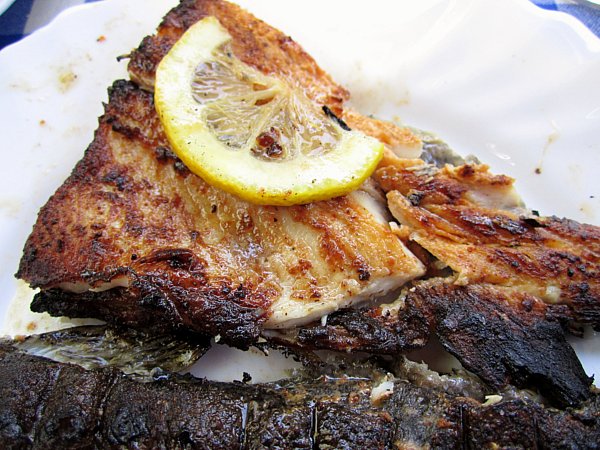 We actually loved dining at Edem so much that on a later trip we stopped here again, enjoying many of the same delicacies, the matzoon, the fish, this time ordering both varieties grilled.
We also tried the grilled potato, which was sliced and skewered and had a delicious charred flavor. It was the perfect mate to a grilled fish smörgåsbord.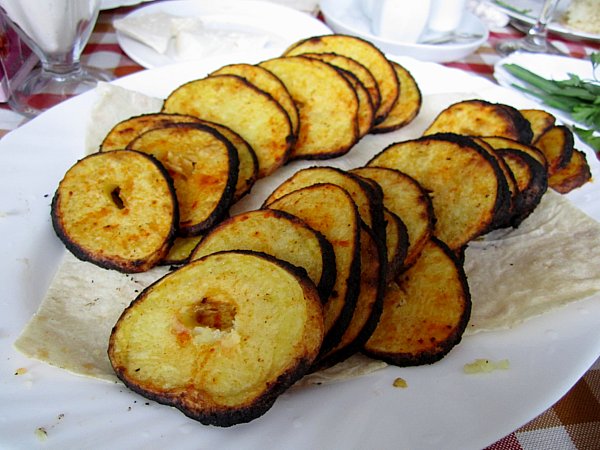 We left satisfied and with full bellies. My only complaint is that on our return visit our server was horrible and seemed unhappy to be there. Once again, bad service in Armenia rears its ugly head. If we had received bad service on our first visit, I doubt we would have returned. When will they learn?
Vorskan
Vayk-Goris Motorway 5th km
Vayk, Armenia
(374 93) 029602
Edem
Yeghegnadzor-Noravank Rd
Areni, Armenia
(374 94) 516309
Hotel Armenia
2 Miasnikyan Street
Jermuk, Armenia
(374 60) 379777
https://www.jermukarmenia.com
Other Armenia posts