This creative spin on Eggs Benedict uses popular Chinese ingredients for a fun and delicious breakfast. A base of mini scallion pancakes are topped with tender char siu pork tenderloin, of course a poached egg, and finally hoisin infused Hollandaise sauce.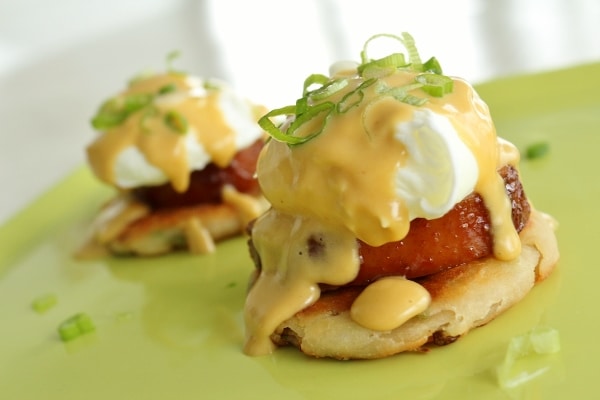 I have been dreaming about this month's Creative Cooking Crew challenge for months and when it was finally presented I knew exactly what I wanted to make.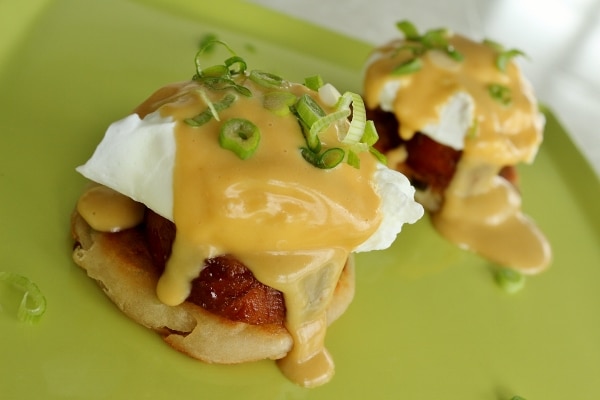 I have been brainstorming this Asian inspired Eggs Benedict recipe for well over a year now, no joke. My original idea started with miniature scallion pancakes, a mysterious filling which I could never fully decide upon, poached eggs, and then Sriracha Hollandaise. I consider both veggie and meat filling ideas.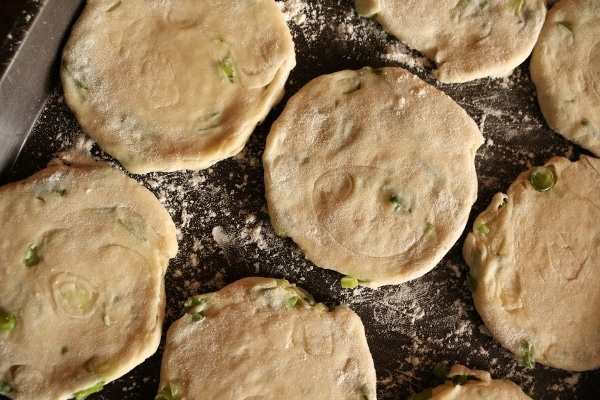 I even starting planning an idea of making an Okinawan purple sweet potato and char siu (Chinese BBQ pork) hash, but then thought having a potato hash on top of a scallion pancake would be too much starch (and my heart was set on the scallion pancake so the hash would have to go--for now).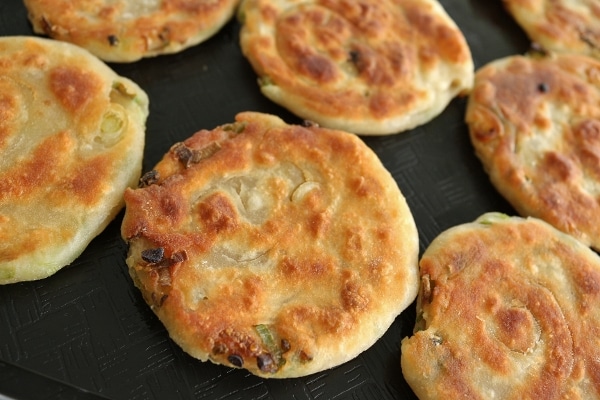 Then I thought of just sticking to plain char siu, and decided I would make some char siu pork tenderloin because it would cook quickly, be lean and tender, and be perfectly round (sort of), fairly reminiscent of the good old Canadian bacon that is so common for Eggs Benedict. But then Sriracha Hollandaise just didn't make sense with the char siu.
I oped for a Hoisin Hollandaise instead to tie in some of the BBQ flavors from the pork's marinade. This idea actually reminded me a bit of the American-Chinese version of moo shu pork, which actually features pork with hoisin sauce served with moo shu pancakes. This would be my spin on all of these things combined 🙂 All in the name of culinary creativity!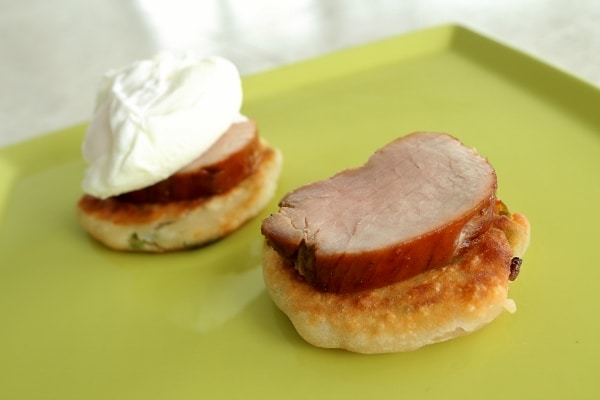 My brainstormed dish turned out just as awesome as I had hoped it would be. Please note, it was a tad difficult to cut because the scallion pancake is crisp and chewy (as it's meant to be!) so use a very sharp knife to make cutting easier. This is not the time or place for a butter knife. Break out the steak knives!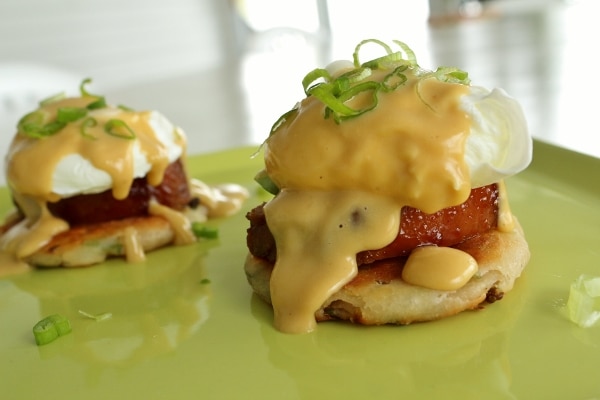 Also, I know 5 servings is a little weird, but to get the perfect size scallion pancakes with the basic recipe I use, making 10 yields the best size. If you don't want 5 servings, simply poach enough eggs for as many servings as you want and distribute the Hollandaise as desired, using a bit more per serving. Eat the extra scallion pancakes along with the leftover pork (oh yeah, you'll have extra of that too, but it's so delicious you will wish you had made even more!).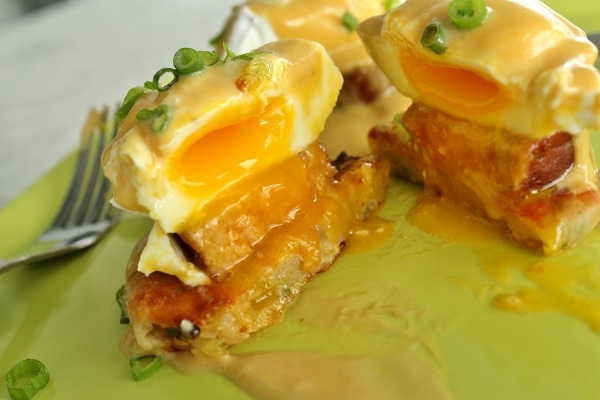 Between the chewy scallion pancake, the sweet and tender pork, the perfectly yolky poached egg, and the Hoisin infused Hollandaise, this truly is the perfect Asian inspired Eggs Benedict I could have imagined. It's definitely everything I hoped it would be, and more!
I'm looking forward to trying some more International Eggs Benedict creations. I'm thinking an Indian version might be next on the list... Eggs Masala has a nice ring to it 😉 I considered calling this current recipe Eggs Hong Kong or Eggs Canton as it is more regionally correct for my use of char siu, but I think Eggs Shanghai just sounds better, don't you?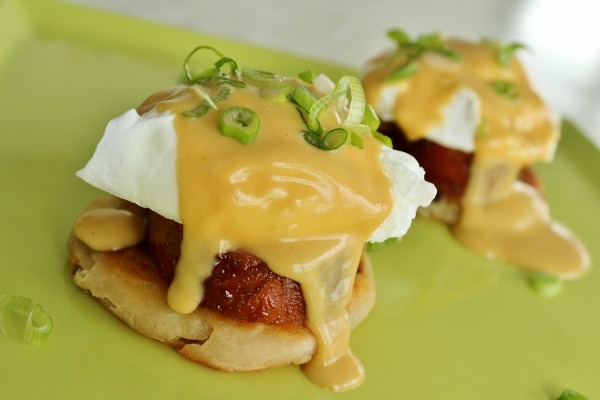 Other recipes you may like
Tried this recipe? Please leave a star ⭐️⭐️⭐️⭐️⭐️ rating in the recipe card below and/or a review in the comments section further down the page. You can also follow me on social media on Facebook, Instagram, and Pinterest!
Eggs Shanghai (Asian Inspired Eggs Benedict)
This creative spin on Eggs Benedict uses popular Chinese ingredients for a fun and delicious breakfast.
Print
Pin
Rate
Ingredients
Char Siu Pork Tenderloin:
1

(1 to 1 ¼ pound) pork tenderloin, trimmed

3

cloves

garlic

minced

¼

cup

hoisin sauce

3

tablespoons

honey

3

tablespoons

soy sauce

3

tablespoons

Shaoxing rice wine or dry sherry

2

tablespoons

packed brown sugar

(light or dark is fine)

½

teaspoon

Chinese five spice powder
Miniature Scallion Pancakes:
1 ½

cups

all-purpose flour

plus additional for dusting the board

½

cup

boiling water

2

tablespoons

cold water

4

scallions

white and green parts, thinly sliced (about ¾ cup)

2 ½

teaspoons

toasted sesame oil

Kosher salt

2 to 4

tablespoons

peanut

canola, or vegetable oil
Hoisin Hollandaise Sauce:
3

large egg yolks

1 ½

tablespoons

lemon juice

2

tablespoons

water

plus more as needed

1

stick

(4 ounces) unsalted butter

melted and clarified

1

tablespoon

hoisin sauce

Kosher salt
Assembly:
10

large eggs

2

tablespoons

distilled white vinegar
Instructions
To make the char siu: Place the trimmed pork tenderloin in a large resealable plastic freezer bag. In a medium bowl, stir together the remaining ingredients to create the marinade. Reserve 6 tablespoons of the marinade in another resealable container and pour the remaining marinade into the bag with the pork. Gently squeeze out the excess air from the bag and seal it and place the sealed bag on a plate or small tray in case anything drips or leaks out. Allow the pork to marinate in the refrigerator for at least 2 hours and up to overnight, flipping the bag over occasionally to distribute the marinade.

Remove the pork from the fridge 45 minutes before cooking. Position a rack in the upper third of the oven and preheat to 400°F. Line a baking sheet with foil and place a flat roasting rack on the baking sheet. Lightly grease the rack and then place the pork on top of it. Discard the used marinade. Roast the pork, basting it with fresh marinade every 5 minutes for about 30 to 35 minutes, or until the pork registers an internal temperature of about 140 to 145°F (145 is required by the USDA for food safety, but it can be slightly undercooked as I did for a pinker center).

Remove the pork from the oven and let it rest for 10 minutes before slicing it into ½-inch thick slices for serving. You will have more pork than you need for the Benedicts.

To make the scallion pancakes: Add the flour to a large bowl and make a well. Stir in the boiling water until well blended, then add the cold water and mix. Bring the dough together and knead on a lightly floured surface for 4 to 5 minutes, or until the dough is firm and elastic. Form the dough into a ball, dust with flour, and wrap in plastic wrap or place in a zip-top bag and seal, pressing out excess air. Let rest at room temperature for 30 minutes.

Preheat the oven to 200°F. Cover a baking sheet with several layers of paper towels and set it aside.

Divide the dough into 10 pieces. On a lightly floured surface, roll out one piece of dough into a 4 ½-inch circle. Brush ¼ teaspoon sesame oil on the dough within ¼ inch of the edge. Sprinkle with pinch of salt and 1 tablespoon of the scallions, then lightly press the salt and scallions into the dough.

Fold the dough in thirds (like a letter, even though the dough is round and not a square) and pinch the ends closed. Roll up the dough loosely from one short end, like a jelly roll, and pinch the edge closed. Turn the coil round side up, dust a little flour on it, flatten it slightly with your fingers and roll it into a 3-inch circle (this can be a little messy, squeezing scallions out of the sides). Repeat with the remaining dough and filling ingredients. Reserve the remaining scallions for garnish.

Heat a large non-stick skillet over medium heat and add 1 to 2 tablespoons oil (just enough to coat the bottom evenly). When it is almost smoking, place several pancakes in the skillet and cook for 2 to 3 minutes per side, turning once, until golden brown. Add more oil to the skillet when you turn the pancake, if needed. Lift an edge occasionally to check for over-browning and adjust the heat if necessary. Cook the remaining pancakes in batches and keep them warm in the preheated oven as needed.

To make the Hoisin Hollandaise: Fill a saucepan with a couple inches of water and bring it to a simmer over medium heat. In a medium stainless steel bowl (that will fit comfortably over the saucepan without touching the water), whisk the egg yolks with the lemon juice and water.

Place the bowl on top of the saucepan and continue to whisk constantly. Use a potholder, if necessary, to hold the bowl with your other hand, as it will heat up from the steam beneath. Lower the heat to maintain a gentle simmer and steam. You do not want to curdle the eggs. After a couple minutes of whisking, the eggs will start to thicken and become creamy. Remove the bowl occasionally from the heat source to keep the temperature from getting too high. Continue to whisk off the heat and then place the bowl back onto the saucepan (you can keep going back and forth throughout the process to maintain a stable and comfortable heat).

When the eggs have thickened a bit, you can start to add the butter in a thin, steady stream while continuing to whisk. Slowly the butter should emulsify into the egg mixture. Feel free to take short breaks to remove the bowl from the heat and continue whisking. Be gentle with your Hollandaise; too much heat can cause the eggs to curdle or the sauce to break. Continue whisking in the butter until it is completely emulsified and the sauce is thick (fyi: the more butter you add, the thicker the mixture will get). Whisk in the Hoisin sauce and adjust seasoning with salt. Keep the sauce over the double-boiler on low heat, whisking occasionally, until needed. If it thickens too much as it sits, whisk in room temperature water by the tablespoonful until it thins out to your desired consistency (vigorously whisking in water is also a great trick to fix a broken Hollandaise).

To poach the eggs: Fill a medium to large, shallow saucepan (I use a nonstick one in case the eggs sink and want to stick) about halfway with water. Add the vinegar and bring to a simmer over medium heat (you can get the water going while prepping the other components).

Crack 1 egg into a small bowl. If you have several small bowls on hand and don't mind getting them dirty, it saves some time to crack an egg into each bowl and have them all ready in advance. If not, you can do one at a time, reusing the same bowl. When the water is simmering, but not boiling, gently lower 1 egg at a time into the water.

If you feel confident, add more eggs, one at a time, into the simmering water. Just remember the order in which you add the eggs so you can remove them in the same order. Each egg should take about 3 minutes. The whites should be cooked through but the yolks should remain runny. When you remove an egg with a slotted spoon, it should feel fairly firm right where the white meets the yolk, but it should still have some give when you move closer to the yolk. Remove each egg with a slotted spoon and place on a paper towel if you'd like to soak up a bit of the water.

To assemble: Place 2 miniature scallion pancakes on each plate and top each with a slice of pork, followed by a poached egg, and then drizzle a spoonful of the Hoisin Hollandaise over the top, followed by some of the leftover sliced scallions to garnish. Serve immediately.
Nutrition
Calories:
761
kcal
|
Carbohydrates:
48
g
|
Protein:
39
g
|
Fat:
45
g
|
Saturated Fat:
17
g
|
Polyunsaturated Fat:
4
g
|
Monounsaturated Fat:
11
g
|
Cholesterol:
596
mg
|
Sodium:
1436
mg
|
Potassium:
223
mg
|
Fiber:
2
g
|
Sugar:
20
g
*All nutritional information is based on third-party calculations and should be considered estimates. Actual nutritional content will vary with brands used, measuring methods, portion sizes and more.*