This post may contain affiliate links, which means that I may receive a commission if you make a purchase using these links. As an Amazon Associate I earn from qualifying purchases.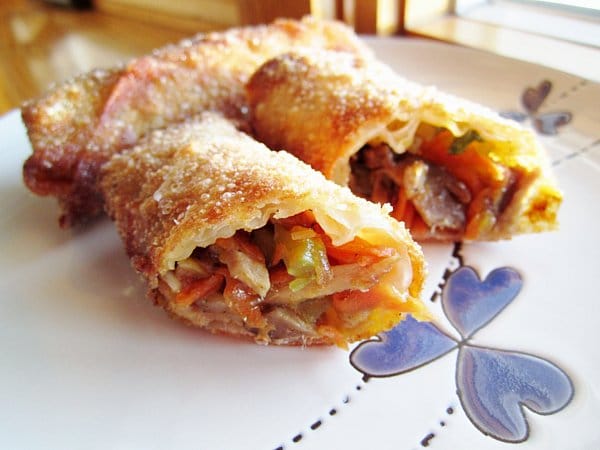 Really good. REALLY good. Egg rolls from your neighborhood Chinese restaurant have got nothing on these babies! They have so much going on. Whereas the cheapo egg rolls we're all sadly used to are stuffed with bland cabbage and questionable crumbles of pork, the filling for these rolls is at the opposite end of the spectrum.
Although they contain the obligatory shredded Napa (or Chinese) cabbage, they're also filled with bright orange shreds of carrot, and small chunks of crisp celery, along with delicious Char Siu (Chinese BBQ) pork matchsticks (homemade in my case… booyah!).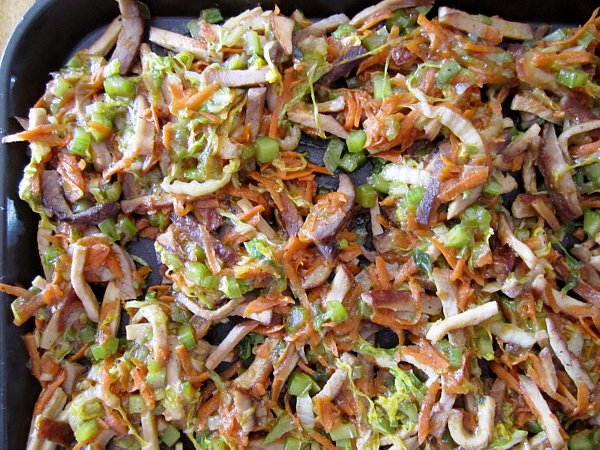 A delicious flavoring sauce enhanced with soy and oyster sauces brings everything together. Not only is the filling more colorful than most, but it tastes out of this world. A homemade sweet and sour sauce is the perfect dipping sauce for these crunchy morsels.
I guarantee that once you make these egg rolls from scratch you will never want to go back to eating the bland and greasy ones prevalent throughout neighborhoods far and wide. They have the Mission Food Adventure stamp of approval, and that's money in the bank, y'all.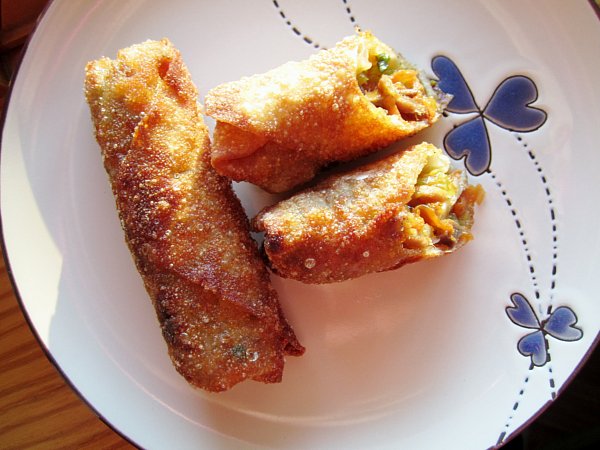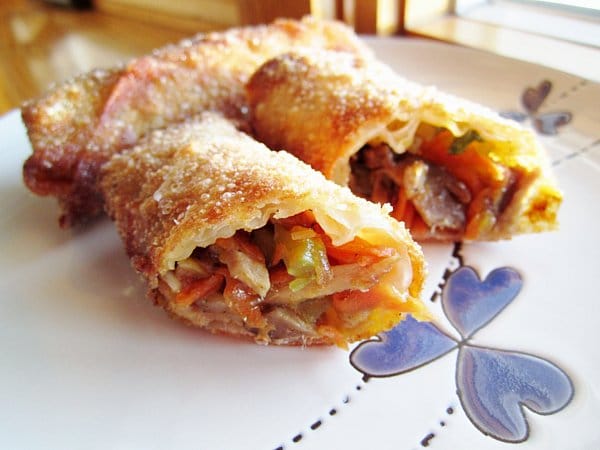 Cantonese Char Siu Pork and Vegetable Spring Rolls (aka Egg Rolls) with Homemade Sweet and Sour Sauce
Homemade egg rolls are filled with a cabbage, celery, carrots, and of course Chinese bbq pork. These are perfect for you next homemade Chinese dinner.
Ingredients
Filling:
1

teaspoon

sugar

1/2

teaspoon

kosher salt

1/2

teaspoon

freshly ground black pepper

3

teaspoons

soy sauce

preferably low-sodium

2

tablespoons

oyster sauce

3

tablespoons

water

3

tablespoons

canola oil

3

scallions

white and green parts, sliced

3

cups

lightly packed finely shredded/sliced Napa/Chinese cabbage

omit thick center spines

1 1/2

cups

finely chopped celery

1 1/2

cups

shredded carrot

about 1 to 2 carrots depending on size

3/4

pound

Char Siu (Chinese BBQ pork), homemade or store-bought,

cut into 1 1/2-inch-long thin matchsticks

1 1/2

tablespoons

cornstarch dissolved in 2 tablespoons water
Sweet and Sour Sauce:
1/4

cup

sugar

1/4

teaspoon

kosher salt

1

tablespoon

ketchup

1

tablespoon

soy sauce

preferably low-sodium

3

tablespoons

unseasoned rice vinegar or cider vinegar

1/2

cup

water

2

teaspoons

cornstarch dissolved in 2 T. water
Assembly:
12 to 14

egg roll wrappers

1

large egg

lightly beaten

Canola or peanut oil

for deep-frying
Instructions
To make the filling, combine the sugar, salt, pepper, soy sauce, oyster sauce, and water in a small bowl. Stir this flavoring sauce well and set aside.

Heat the oil in a large skillet over medium-high heat. Add the scallions and cook, stirring, for about 30 seconds until soft and aromatic. Add the cabbage, celery, and carrot, stirring well to combine. Cook, stirring frequently, for about 1 minute until the vegetables have collapsed slightly. Add the flavoring sauce and continue cooking for about 2 minutes, until most of the liquid has disappeared and the vegetables have just cooked through. Add the pork and continue cooking, stirring to combine the flavors and heat through, about 1 minute. Give the cornstarch a final stir, and pour over the filling. Cook for about 30 seconds to bind the mixture nicely. Transfer to a platter and spread out to cool completely. Feel free to prepare the filling up to 2 days in advance.

Make the sweet and sour sauce by combining the sugar, salt, ketchup, soy sauce, vinegar, and water in a small saucepan. Bring to a near boil over medium heat, stirring occasionally to dissolve the sugar. Give the cornstarch a final stir and then add it to the pan. Continue cooking for about 15 seconds, or until the sauce comes to a full boil and thickens.

Remove from the heat, transfer to a serving bowl and set aside for 10 minutes to cool and concentrate in flavor. Taste and add extra salt, if needed. Serve warm or at room temperature. Feel free to prepare the sauce a day in advance.

Before assembling the rolls, lightly dust a small baking sheet with cornstarch. Place an egg roll wrapper on a work surface with the points facing 12, 3, 6, and 9 o'clock. Place a scant 1/2 cup of filling just below the center of the wrapper in a horizontal log shape going from 9 o'clock to 3 o'clock, but leaving about 1 1/2 inches on either side for folding over. Fold in the sides of the wrapper, brush the upper edges with egg wash, and then roll tightly from the bottom up to seal and finish, forming a cigar shape. Set the finished rolls, seam side up, on the prepared baking sheet and cover with a kitchen towel or lightly damp paper towel to prevent drying.

Heat 1 inch of oil in a wok, saucepan, or deep skillet over medium-high heat to about 350 degrees F on a deep-fry thermometer. Slide in a few rolls and fry, turning as needed, until golden brown and crisp. Remove from the oil and drain on paper towels. Repeat with the other rolls. Be sure not to add too many rolls at once since it will lower the oil temperature suddenly. Try to keep it at or around 350 degrees F throughout the cooking process by adjusting the heat as necessary.

Serve hot, whole or cut in half diagonally with the sweet and sour sauce.
Notes & Nutrition
Adapted from Asian Dumplings
Servings 14.0 * calories 207 * Total Fat 9 g * Saturated Fat 1 g * Monounsaturated Fat 4 g * Polyunsaturated Fat 1 g * Trans Fat 1 g * Cholesterol 21 mg * Sodium 642 mg * Potassium 41 mg * Total Carbohydrate 23 g * Dietary Fiber 1 g * Sugars 5 g * Protein 9 g
*All nutritional information is based on third-party calculations and should be considered estimates. Actual nutritional content will vary with brands used, measuring methods, portion sizes and more.*