Loco Moco is a Hawaiian favorite featuring white rice topped with a burger patty, gravy, and finished with a fried egg. Although there are variations of this beloved breakfast and lunch staple, this easy recipe hits the mark perfectly. With an umami mushroom and onion gravy, it's super hearty and flavorful. Tastes just like a trip to Hawaii!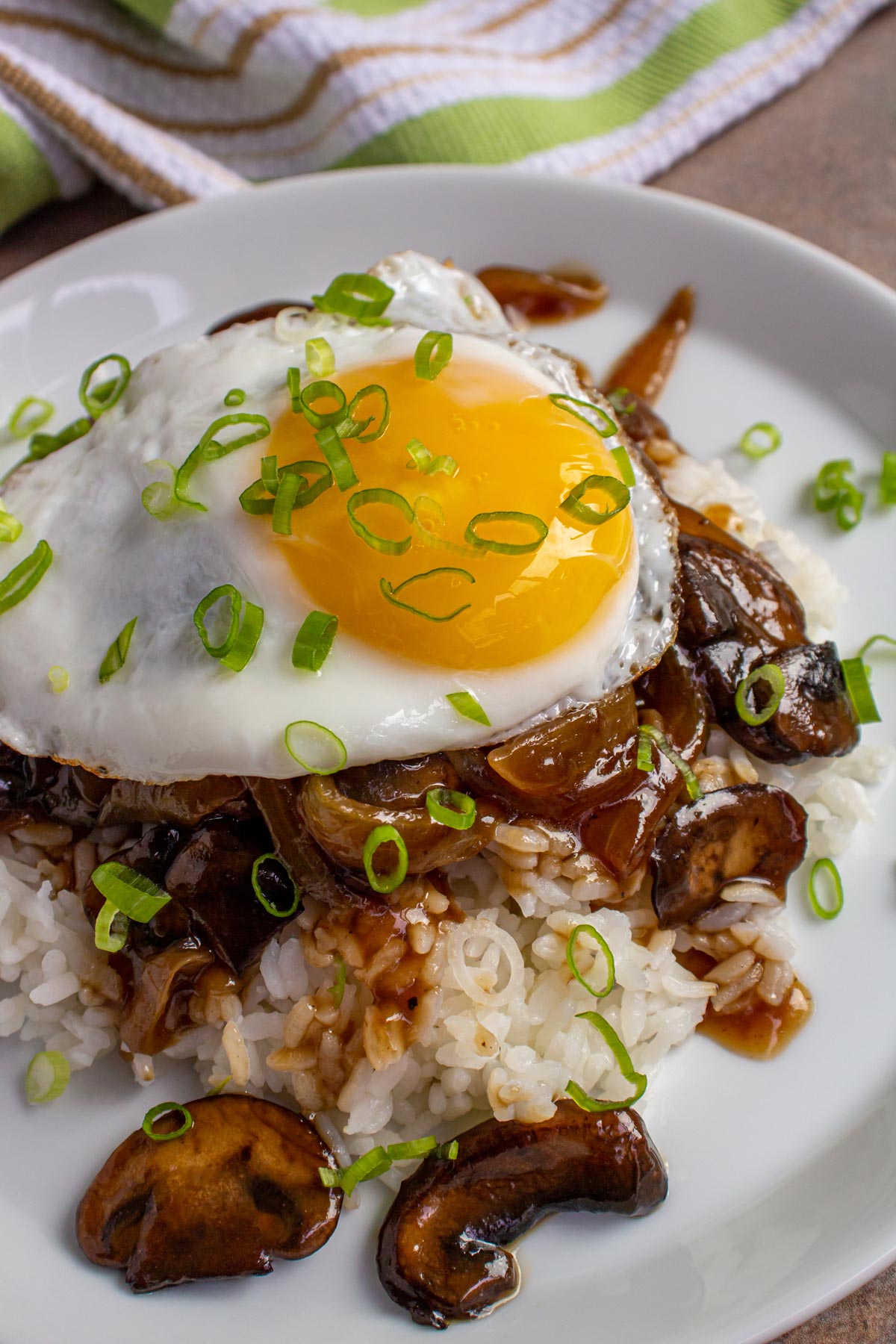 (This recipe was originally published in June 2019, but was updated with new photos and content in 2022).
This authentic Hawaiian Loco Moco recipe is crazy good! The beef patty is super flavorful. A fried egg, complete with runny yolk, is the figurative icing on the cake.
Although I'm not the biggest fan of plain, sticky, steamed white rice, Asian-inspired loco moco gravy with mushrooms and onions soaks into the rice, giving it tons of flavor.
Making homemade loco moco is a quite easy, and significantly cheaper than a plane ticket. If a trip to Hawaii is not in the cards right now, this recipe will definitely satisfy the craving for traditional Hawaiian flavors. Aloha!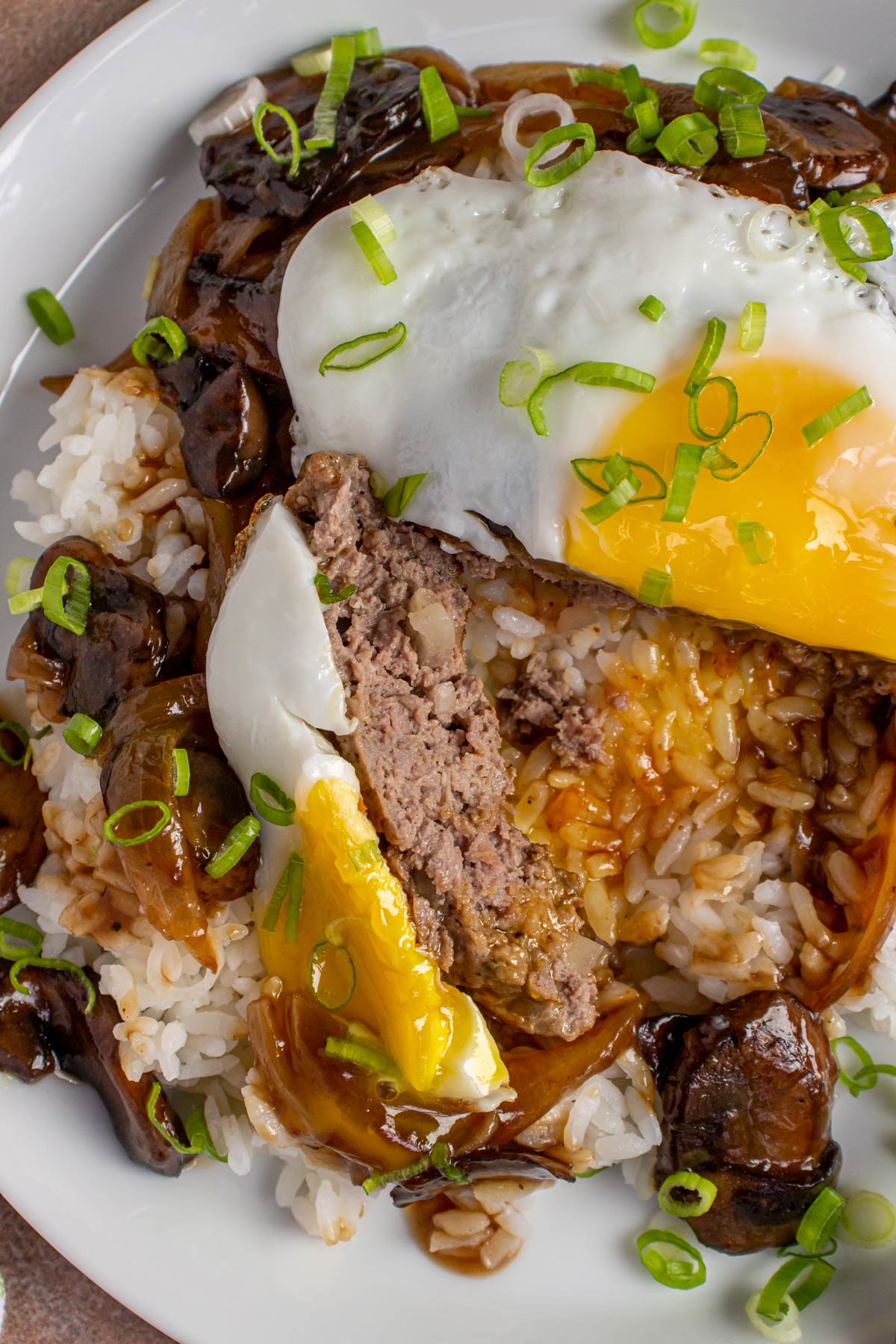 The legend of the Loco Moco
According to the story, loco moco originated on the Big Island of Hawaii, although the exact origin is heavily debated. Reportedly, the dish was invented in 1949 at the Lincoln Grill at the request of a group of teenagers.
They named the dish after a friend nicknamed "Crazy." This "crazy" delicious dish is popular for breakfast, lunch or dinner. It's available any time of day in Hawaii, making it an epic hangover meal as well as a late night staple.
In addition to the traditional version featuring a beef hamburger patty, there are tons of creative riffs on this dish served up throughout the islands. Here are some twists on the classic loco moco filling:
Fried Spam
Split and fried Portuguese sausage
Shredded kalua pork
Pork chop
Steak
Braised short rib
Ingredient notes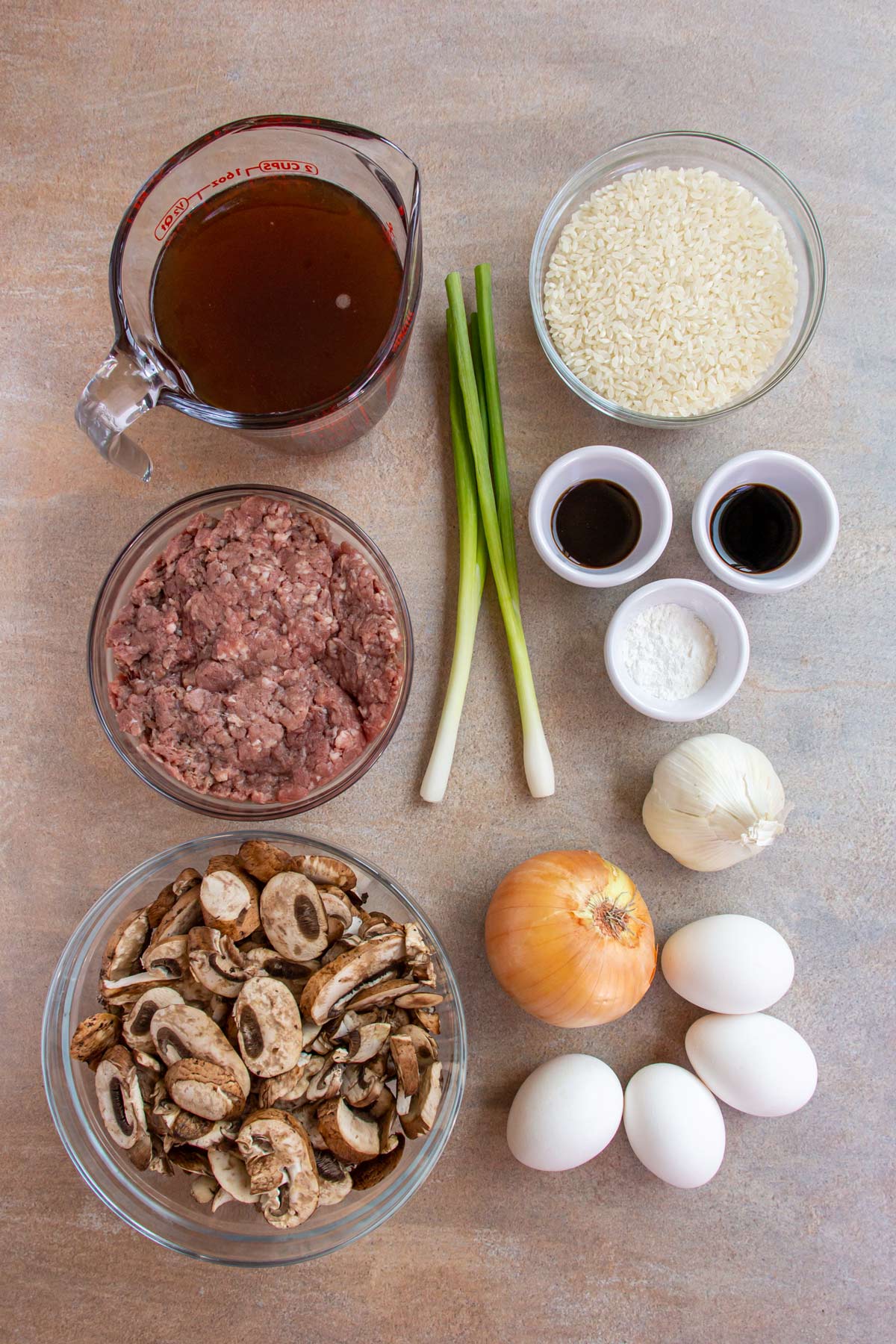 Rice: It's best to use the same type of rice used throughout Hawaii. Calrose or Kokuho Rose are sticky, medium-grain California-grown rice varieties that can also be used for sushi. Find it at Asian supermarkets or online.
Ground Beef: I usually use lean ground beef and it's still delicious and flavorful, but you could use a fattier ground beef for a juicier patty.
Mushrooms: Use cremini or baby bella mushrooms for the gravy. They are about the same size as standard white mushrooms, but they have a lot more flavor.
Beef Broth: You can use homemade or canned beef broth. I keep beef broth concentrate in the fridge so I can make broth whenever I need it.
Soy Sauce and Worcestershire Sauce: You'll need both soy sauce (I prefer low-sodium) and Worcestershire to provide salty umami flavor to the gravy. Half of the Worcestershire sauce will also flavor the beef patties.
Cornstarch: When I first published this loco moco recipe it called for 1 tablespoon of cornstarch. This yields a delicious but fairly thin gravy. I have since increased the amount to 1 ½ tablespoons which I prefer for a thicker gravy. This is personal preference, so I've included a range in the recipe below. You can start with 1 tablespoon and then add another ½ tablespoon (by whisking a little more broth into the remaining cornstarch) if you want it thicker.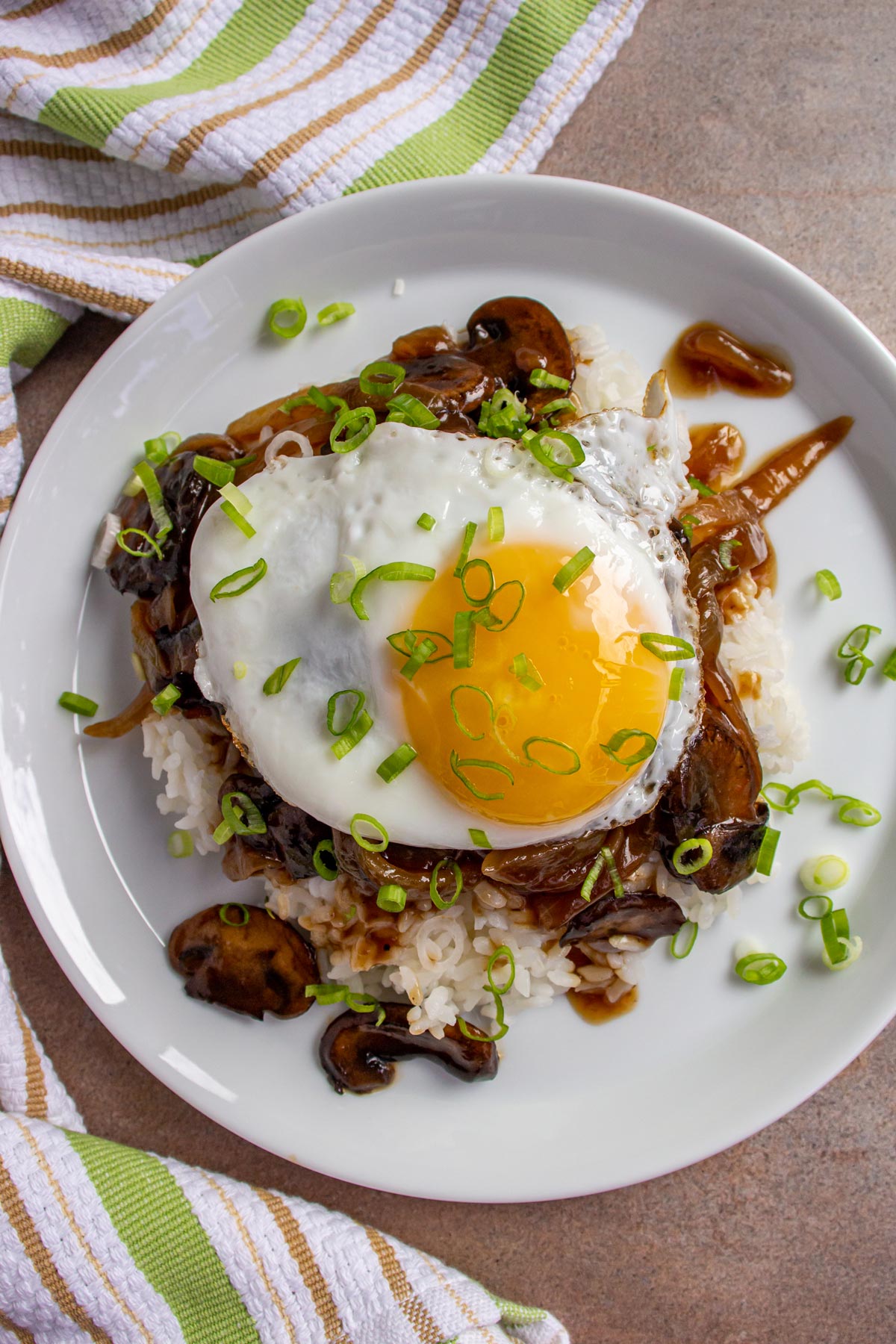 How to make it
Combine ground beef with chopped onion, garlic, Worcestershire sauce, salt and pepper in a mixing bowl (PHOTOS 1-2).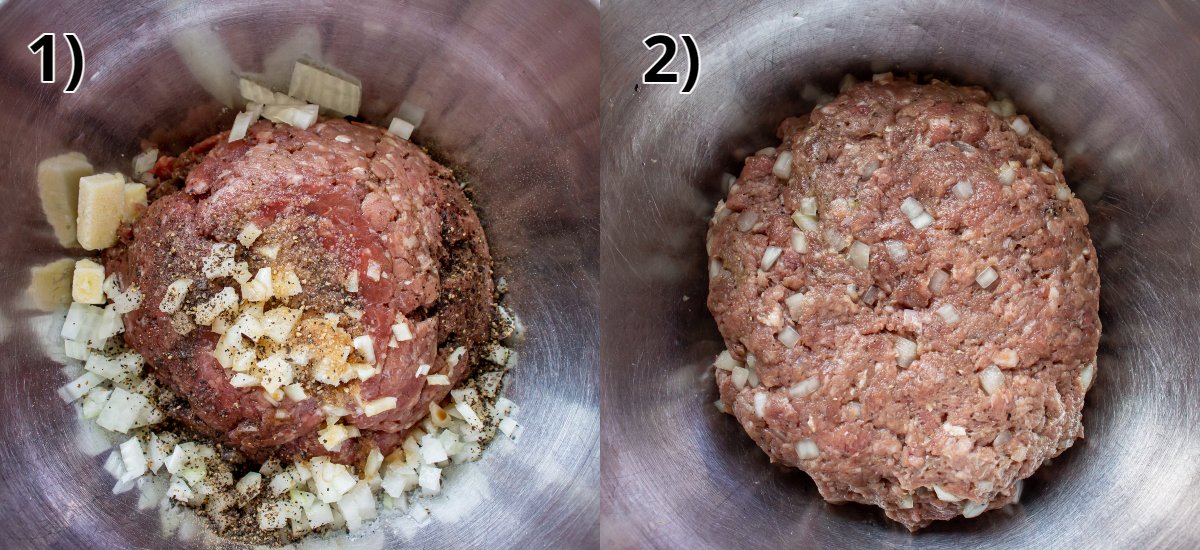 Shape the meat into 4 equal-sized patties and refrigerate until you're ready to cook them.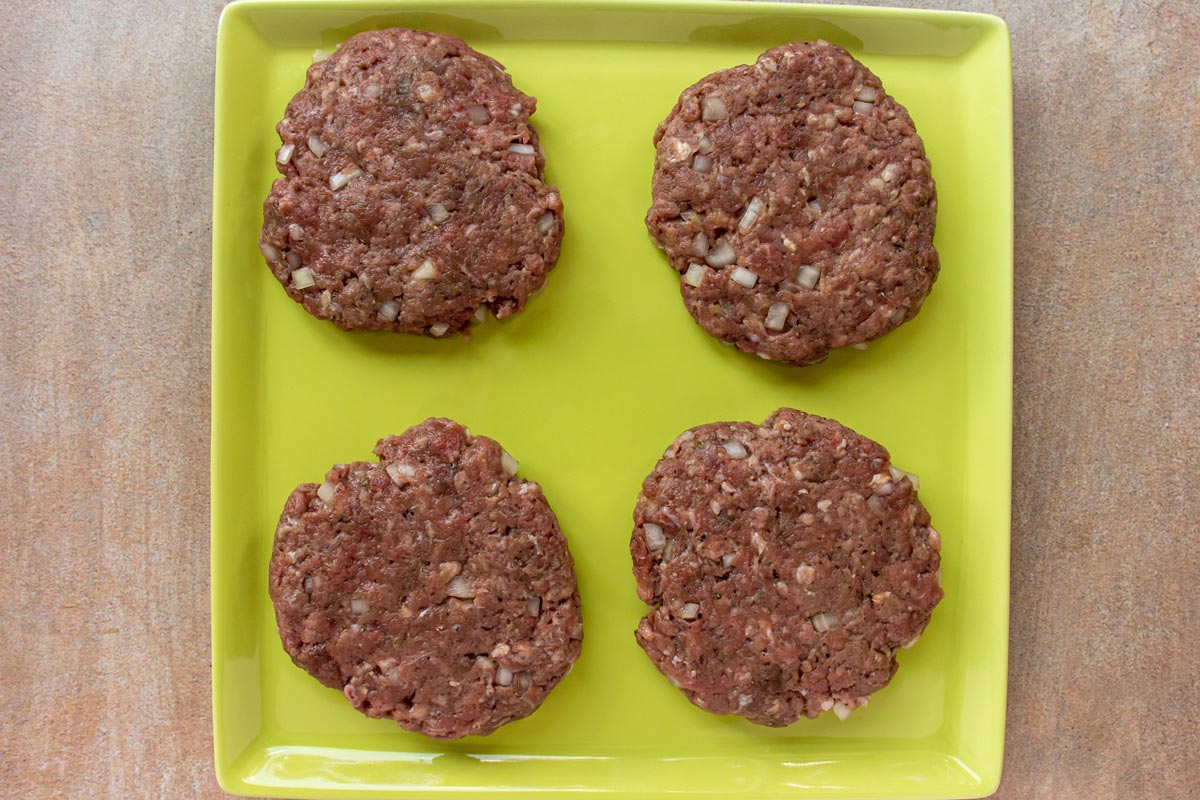 This loco moco recipe features a mushroom and caramelized onion gravy. Begin by caramelizing onion wedges in a little oil in your skillet, then set aside until you're ready to finish your gravy.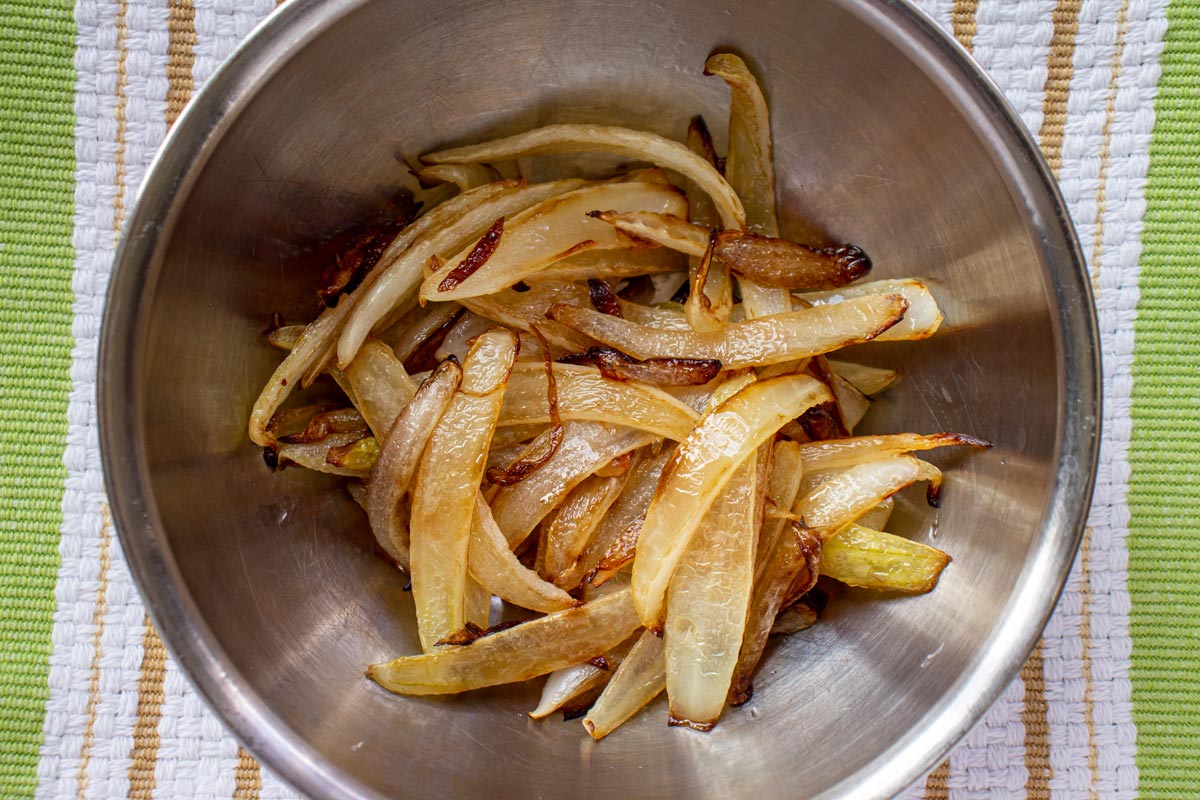 Next, cook your burgers in the same skillet. No need to fire up the grill. When the burgers are cooked to your liking, set them aside on a plate and cover with foil. This will keep the patties hot while you finish the loco moco gravy.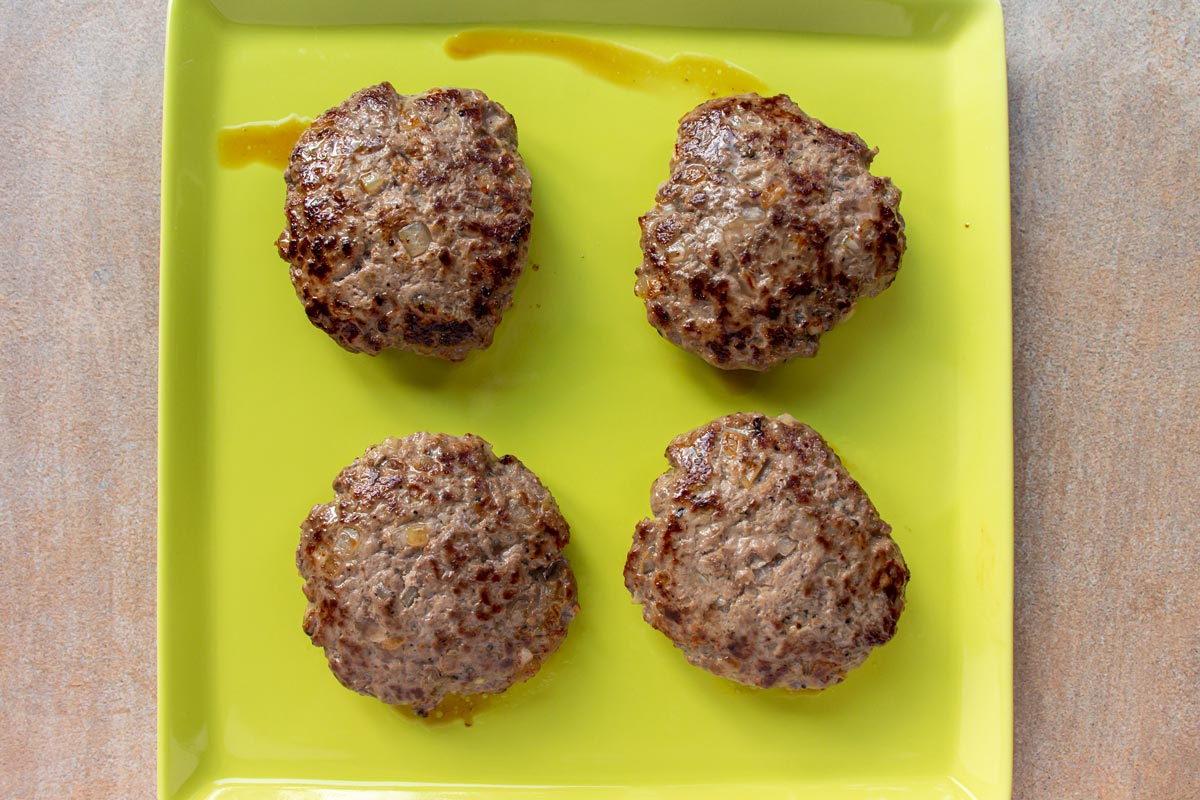 Sauté sliced cremini mushrooms in the same pan until tender (PHOTO 3). Add the reserved caramelized onion wedges, beef broth, soy sauce and Worcestershire sauce (PHOTO 4).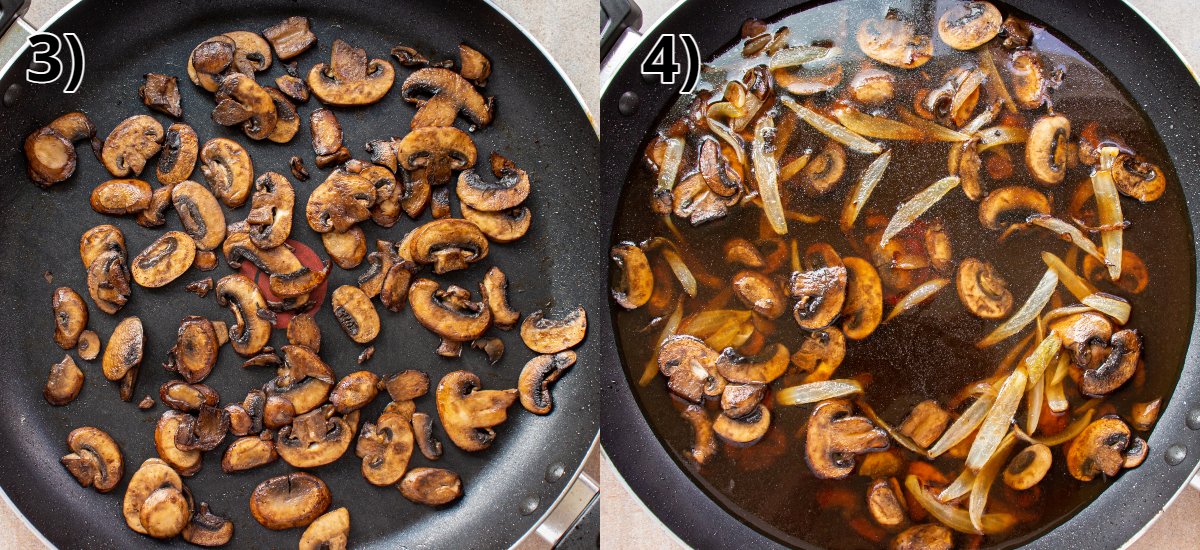 Thicken the gravy with a bit of cornstarch. It's definitely more of an Asian-style gravy, as it uses cornstarch to thicken and features soy sauce as a main flavoring component.
While you finish up the gravy, fry up a few eggs in another pan.
When you're ready to assemble your Hawaiian loco moco start with a scoop of rice (PHOTO 5), then top with a burger patty (PHOTO 6).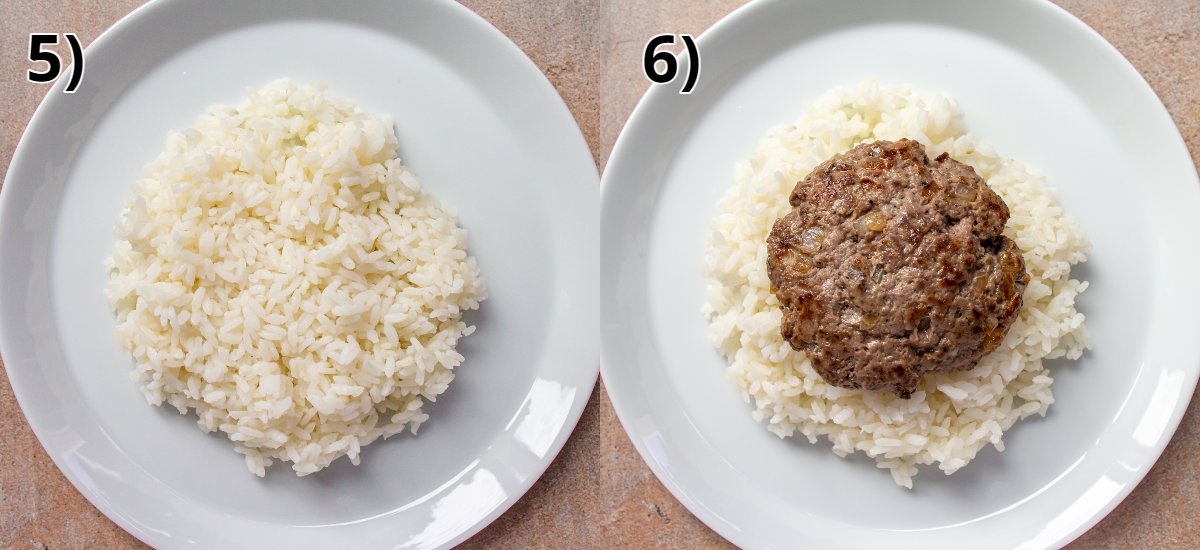 Spoon some of the mushroom-onion gravy over the top (PHOTO 7), and then finish with a fried egg and sliced scallions to garnish (PHOTO 8).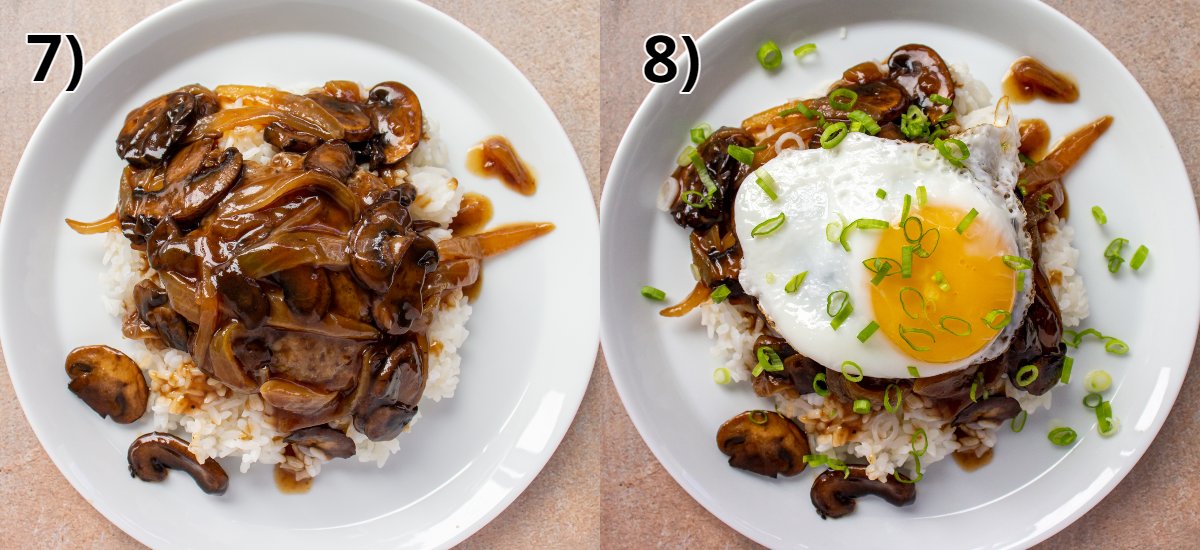 Serve immediately and enjoy!
Please scroll to the bottom of the post for the full recipe (in a printable recipe card) including ingredient amounts and detailed instructions.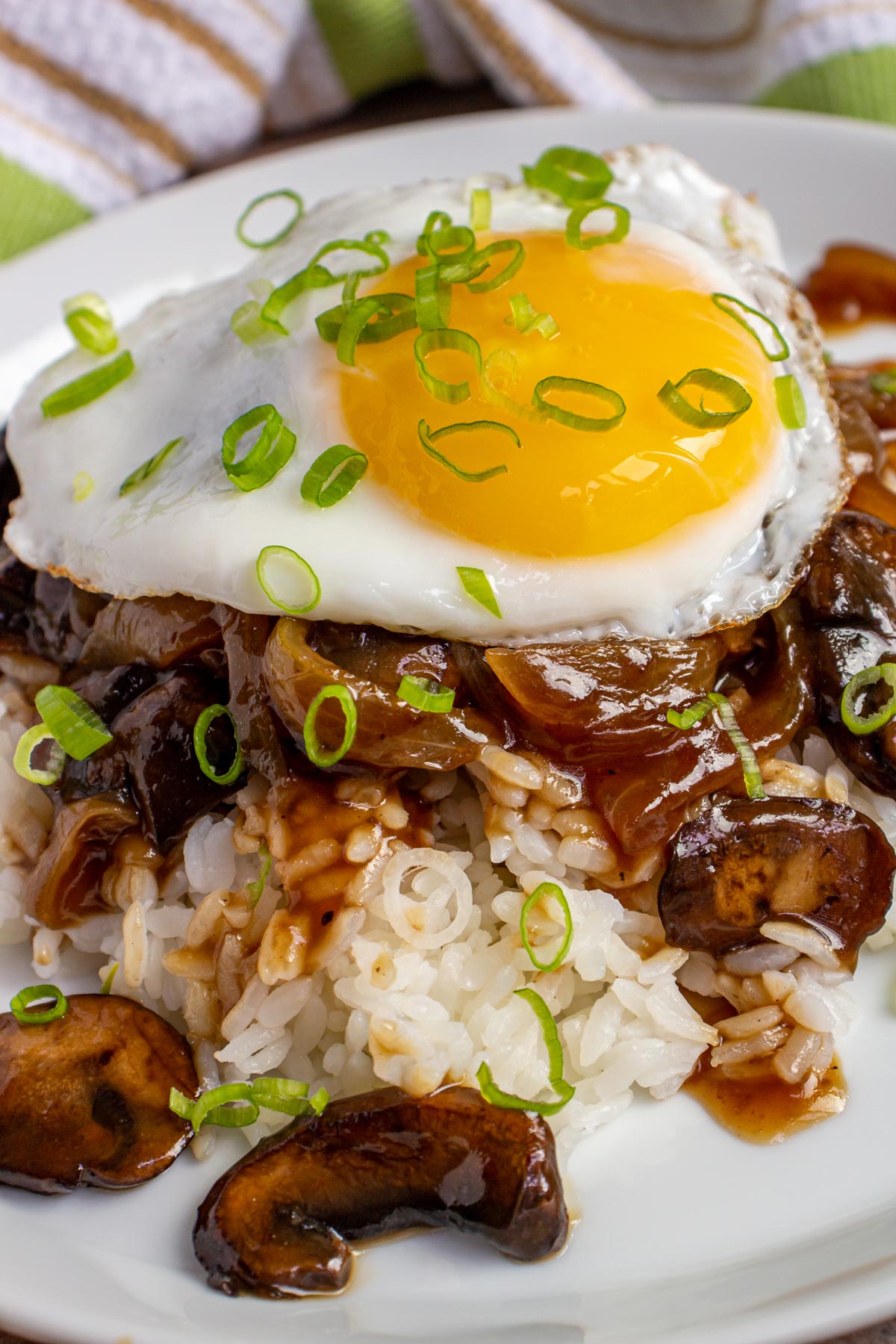 Expert tips
To prep your Hawaiian loco moco in advance, you can cook the rice ahead of time and reheat it. You can also make the gravy in advance and reheat it, though you may want to thin it out with a little water or broth if it thickens up too much. Same goes if you want to enjoy leftovers.
I would recommend seasoning, shaping, and cooking the burger patties last minute. If you season them too far in advance the salt content in the meat can cause it to get dry when cooked.
This loco moco recipe uses one skillet to prepare components of the gravy, cook the burger patties, and then finish the gravy. This serves a couple purposes: 1) less dirty pans, and 2) the flavors left in the pan from the cooked onion and later the burgers help flavor the gravy.
Although the burgers will stay fairly warm if you cover/wrap them in foil while you finish the gravy, if you're willing to dirty an additional pan you can cook the gravy in one from start to finish and cook the burgers simultaneously (toward the end of the gravy cooking time) in another pan.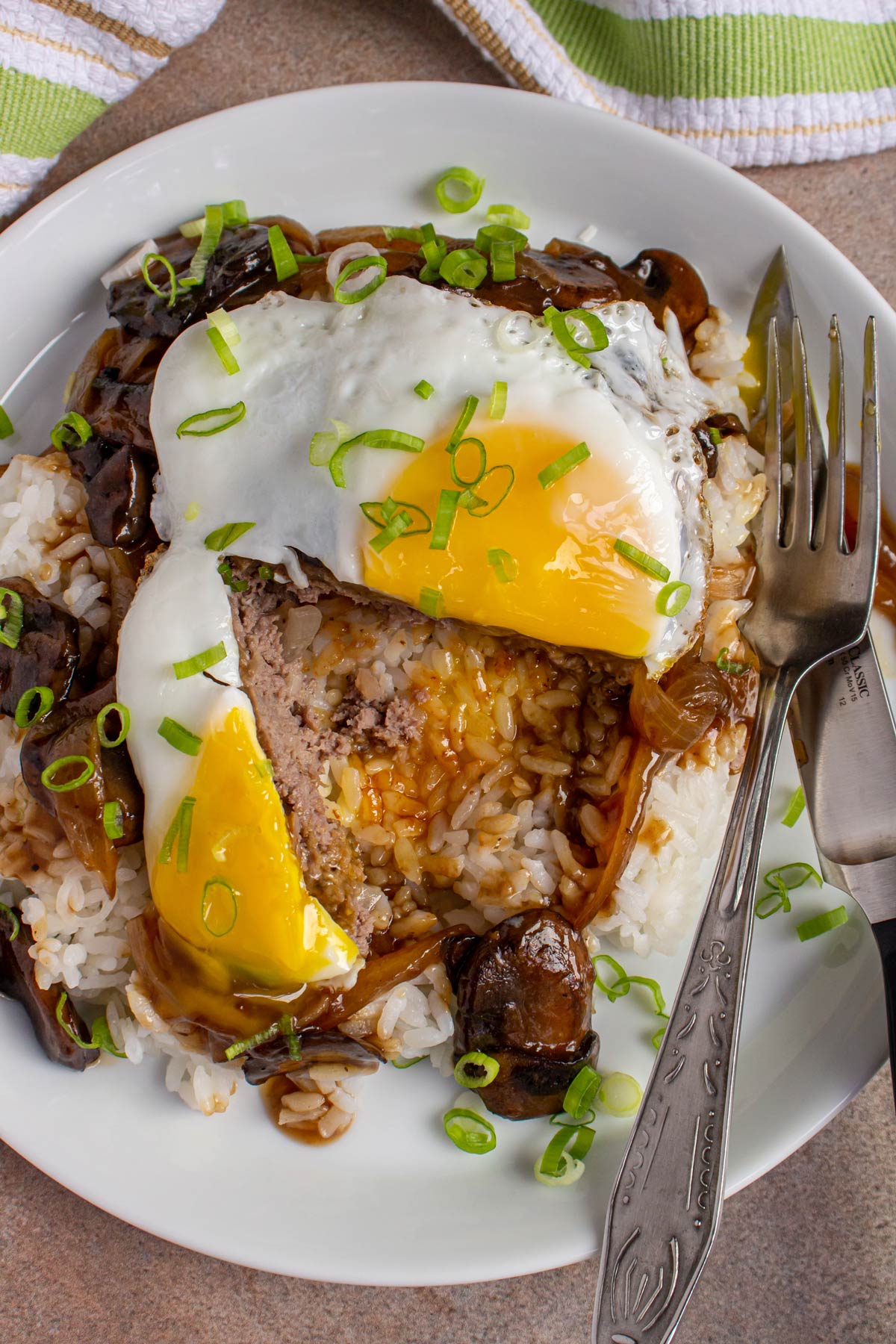 The Hawaiian plate lunch
If you want to zhuzh up your Hawaiian loco moco a bit, turn it into a Hawaiian plate lunch. What's a plate lunch, you ask? It's basically a plated meal consisting of a serving of protein, steamed rice, and mayo-based salad.
These salads can either be macaroni (or mac) salad, potato mac salad or even tuna mac salad. The exact variations of both the plate lunch and the mac salad component can range significantly not only from restaurant to restaurant but also island to island.
You can easily upgrade a loco moco to a plate lunch because it already includes rice and a protein. Simply add a scoop of Hawaiian Macaroni Salad on the side and the plate lunch is born. It's a thing of beauty!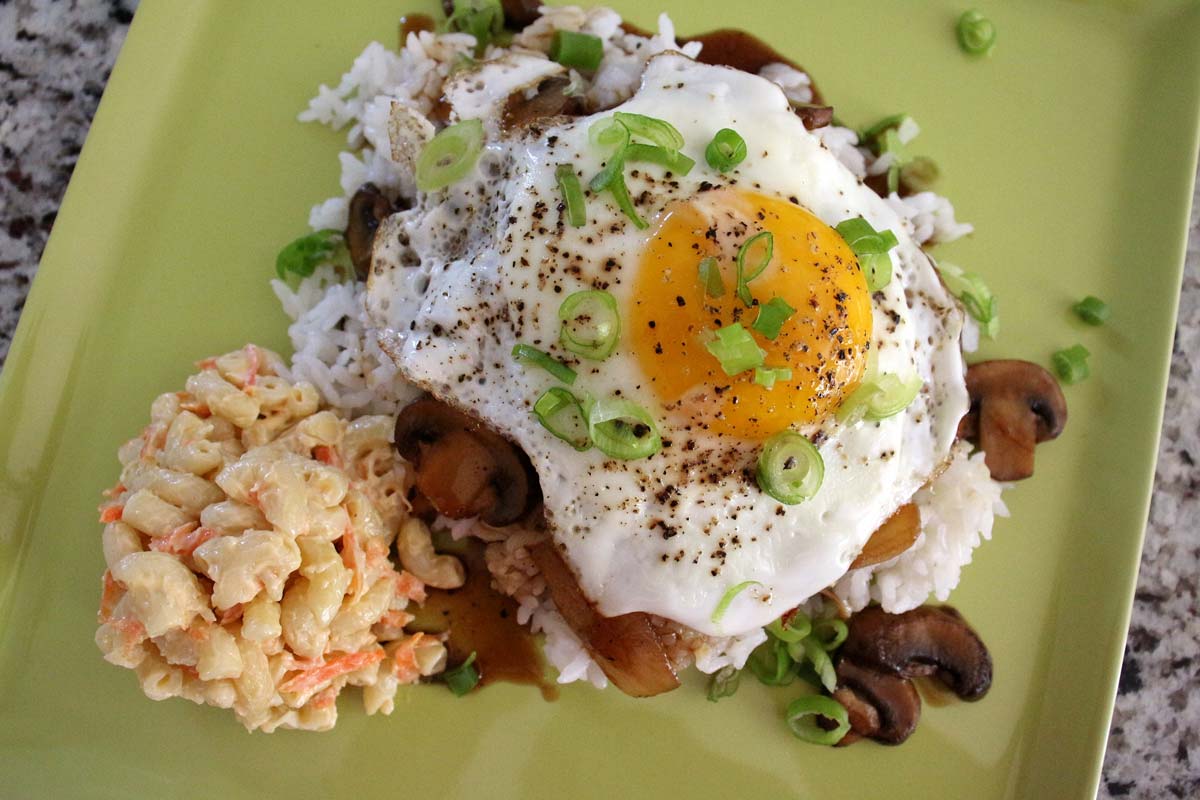 Other recipes you may like
Tried this recipe? Please leave a star ⭐️⭐️⭐️⭐️⭐️ rating in the recipe card below and/or a review in the comments section further down the page. You can also follow me on social media on Facebook, Instagram, and Pinterest!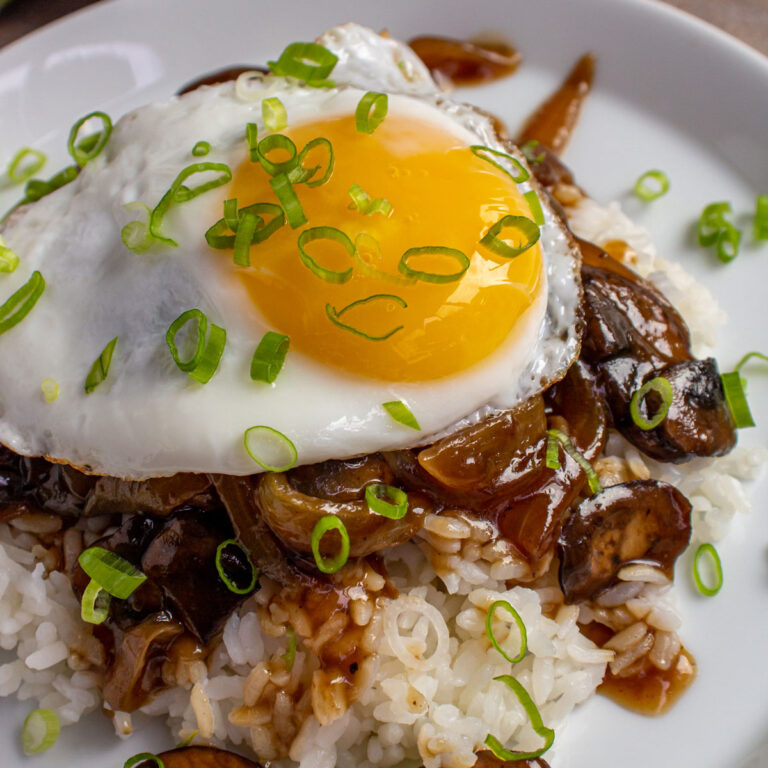 Hawaiian Loco Moco (Hamburger Steak with Gravy)
Loco Moco is a Hawaiian favorite featuring white rice topped with a burger patty, gravy, and finished with a fried egg. Although there are variations of this beloved breakfast and lunch staple, this easy recipe hits the mark perfectly. With an umami mushroom and onion gravy, it's super hearty and flavorful. Tastes just like a trip to Hawaii!
Print
Pin
Rate
Ingredients
1

pound

ground beef

1

medium Maui or yellow onion,

¼ of the onion finely chopped and ¾ of the onion sliced into ½-inch wedges

2

garlic cloves

peeled and finely grated, minced, or crushed

3

teaspoons

Worcestershire sauce

1

teaspoon

kosher salt,

plus more as needed

½

teaspoon

freshly ground black pepper,

plus more as needed

2 ½

tablespoons

vegetable oil or other neutral oil

8

ounces

cremini mushrooms,

cleaned and sliced

2

cups

beef broth

2

teaspoons

soy sauce

1 to 1 ½

tablespoons

cornstarch

4

cups

steamed or boiled white rice,

preferably Calrose or Kokuho Rose medium-grain white rice

4

large eggs,

fried sunny-side up or over easy

2

chopped scallions,

for garnish
Instructions
In a bowl combine the ground beef, chopped onion, garlic,

1 ½ teaspoons

of the Worcestershire sauce, salt and pepper. Gently mix with your hands or a wooden spoon until just combined. Be careful not to overmix. Form the beef mixture into four equal-size patties about ½ inch thick. Place the patties on a plate, cover with plastic wrap, and transfer to the refrigerator to rest for 20 minutes.

While the patties are resting, add

1 tablespoon

of the oil to a large skillet set over medium heat. When the oil is hot, add the onion wedges and sauté until almost translucent, 5 to 7 minutes. They'll break apart and no longer resemble wedges, but that's fine. Turn the heat to low and continue cooking for 10 minutes, stirring often, until they are soft, browned, and caramelized. Transfer to a bowl and set aside.

Add another

1 tablespoon

of the oil to the skillet and set it over medium heat. Carefully swirl the hot oil around the pan to evenly coat it, then gently place the burger patties in the pan, leaving space between them. Cook until browned, about 4 minutes on each side. Using a spatula, remove the patties and transfer to a clean plate to rest. Cover tightly with foil to keep the patties hot while you make the gravy.

Add the remaining

½ tablespoon

oil to the pan and heat over medium heat until hot. Add the mushrooms and sauté until tender, about 7 to 10 minutes. Season with salt and pepper, then add the reserved caramelized onions followed by the beef broth, soy sauce, and the remaining

1 ½ teaspoons

Worcestershire sauce. Bring to a simmer.

Turn the heat to medium-low, scoop out a couple tablespoons of the hot broth from the skillet, and whisk it with the cornstarch in a small bowl until smooth. Whisk the cornstarch slurry into the skillet and simmer until the sauce has thickened, 5 to 7 minutes (note: use

1 ½ tablespoons

of cornstarch if you prefer a thicker gravy).

Place 1 cup cooked rice on each plate and top in this order with 1 cooked burger patty, ¼ of the gravy, 1 fried egg, and chopped scallions to garnish. Serve immediately.
Notes
It's best to use the same type of rice used throughout Hawaii. Calrose or Kokuho Rose are sticky, medium-grain California-grown rice varieties that can also be used for sushi. I found it at a local Asian supermarket for fairly cheap, but it's also available online if you can't find it elsewhere. Prepare the rice according to the package directions.
Upgrade your loco moco to a Hawaiian plate lunch. Simply add a scoop of Hawaiian Macaroni Salad on the side.
This recipe uses kosher salt (aka cooking salt, kitchen salt, coarse salt outside of the US). If you are using table salt, definitely scale down the salt as that is a saltier type of salt! The type of salt will make a big difference in how salty your food tastes, so keep that in mind.
Adapted from Aloha Kitchen
Nutrition
Calories:
563
kcal
|
Carbohydrates:
55
g
|
Protein:
33
g
|
Fat:
23
g
|
Saturated Fat:
7
g
|
Polyunsaturated Fat:
6
g
|
Monounsaturated Fat:
2
g
|
Cholesterol:
178
mg
|
Sodium:
999
mg
|
Potassium:
273
mg
|
Fiber:
1
g
|
Sugar:
3
g
*All nutritional information is based on third-party calculations and should be considered estimates. Actual nutritional content will vary with brands used, measuring methods, portion sizes and more.*