This post may contain affiliate links, which means that I may receive a commission if you make a purchase using these links. As an Amazon Associate I earn from qualifying purchases.
This cozy and comforting recipe for Burmese Beef Curry with Potatoes hails from Burma Superstar restaurant in San Francisco. Chunks of beef are slow-cooked in a myriad of spices before finishing with hearty potatoes, and fresh cilantro.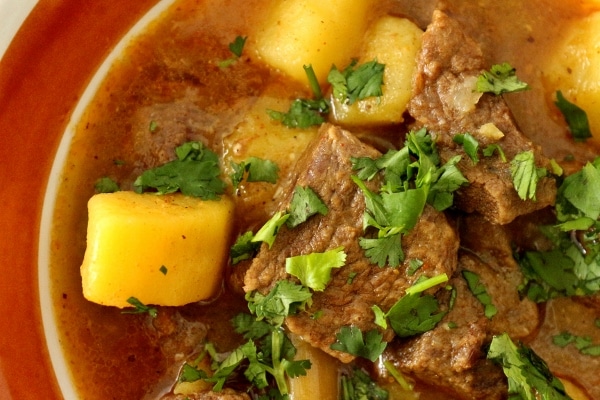 I have a particular fondness for Asian cuisine, but Burmese cooking is unfamiliar to me. I'm excited to dive into my copy of Burma Superstar to branch out my cooking repertoire to include Burmese cuisine. Let's take a look!
Review of Burma Superstar cookbook
This cookbook not only shares a look into the food and culture of Burma, renamed Myanmar in 1989, but is a companion cookbook to the restaurant of the same name in San Francisco. I didn't realize this was a restaurant at first. I just thought it was a cool title for a cookbook. Apparently it's a very popular eatery that I would love to try the next time I'm in the Bay Area.
Burma Superstar straddles the line between being an excellent source of Burmese recipes, and a book for fans to recreate their favorite dishes. This is my first venture into learning about the food of Burma/Myanmar. Myanmar shares borders with Thailand, Laos, China, and India. Therefore, many of its culinary influences may seem similar at times with its neighbors.
You will find a chapter devoted to Curries and Slow-Cooked Dishes along with one focused on Stir-Fries and Fast-Cooked Dishes. Curry powder, fish sauce, cilantro, and Thai basil are only a few of the ingredients in the book. The same ingredients are also prevalent in nearby cultures. I was fascinated to learn more about what makes the cuisine of Myanmar so unique in comparison. It seems to capture the best of its neighbors and bring it all together.
Some of the recipes in the book are restaurant favorites, such as the famous Tea Leaf Salad and Kebat, which is a home-cooked dish popular in Myanmar. It's also adapted slightly as a restaurant-style version at Burma Superstar. Both the home-style and restaurant-style versions are included in the book. They feature several protein options ranging from shrimp, tofu, chicken, and beef. I've tried the Home-Style Chicken Kabat, and really loved it, but I'd like to try them all!
Making Burmese Beef Curry with Potatoes
Since Mother Nature isn't being quite fair to us just yet, subjecting us to too much rain and gloom even with the whole "April showers" mentality, I decided to start with one of the slow-cooked curries. I've tried curries from various cultures, namely Indian, Japanese, and Thai, and have enjoyed them all, appreciating their diversity. This was my first time trying a Burmese curry. The Beef Curry with Potatoes was calling my name. It's available at Burma Superstar with lamb as well if you prefer lamb to beef.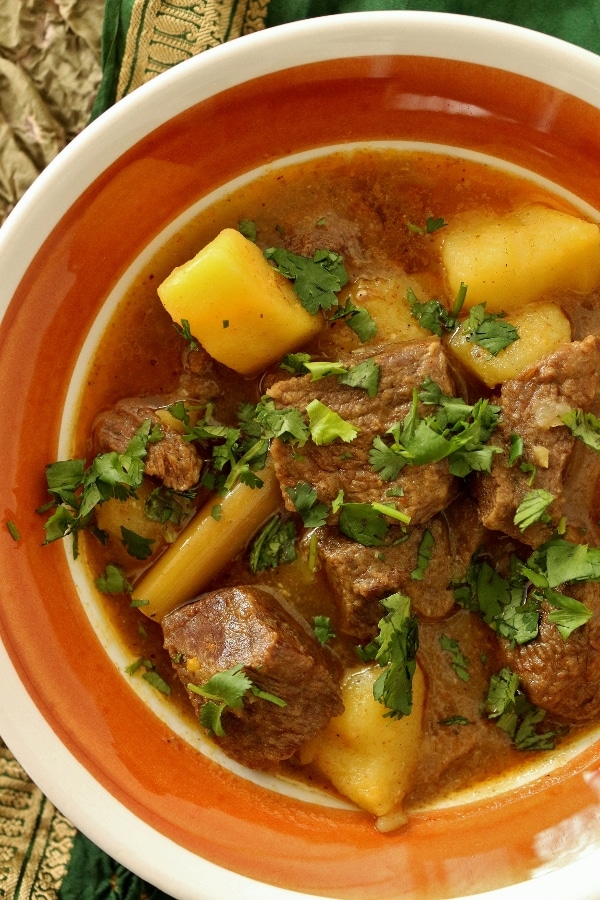 The process to make Burmese Beef Curry with Potatoes is similar to any other beef stew. You begin with a short laundry list of ingredients including tons of garlic, ginger, lemongrass, onion, Thai chiles, bay leaves, fish sauce, turmeric, paprika, Madras curry powder, and garam masala. Cubes of beef slow-cook in this aromatic sauce until fork tender, making this an incredibly fragrant and delicious dish. Chunks of Yukon gold potatoes round out the curry, and offer a bit of starch.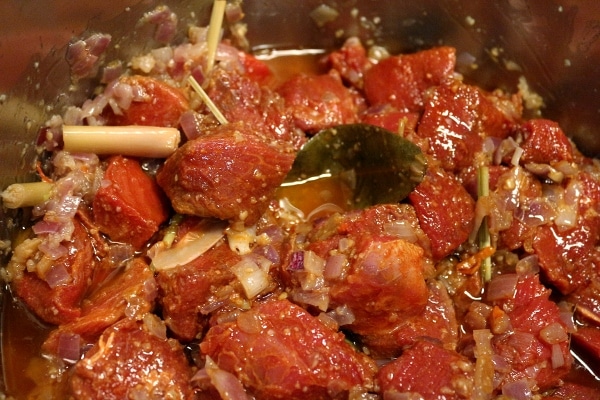 I'm not sure if my curry simply didn't reduce enough during the cooking process, but it did not thicken as much as I would have expected for a curry. It was kind of like a thick stew, but still somewhat thinner than some other Indian curries I've tried. It's more like a brothy stew, than a thick curry. I guess saying, "until thickened" in the recipe is relative depending on the curry style.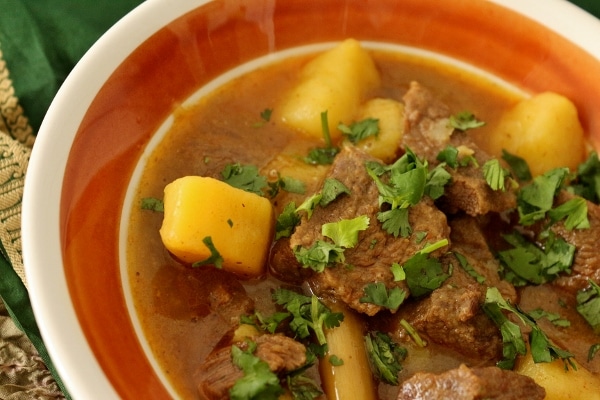 How to serve it
Normally I would serve curry over rice (which soaks up all that amazing liquid), but in this case since it contains potatoes I simply served it as is in a bowl with a spoon, much like a typical stew. It's delicious! I'm not sure if mine is identical to the version at Burma Superstar, but regardless it tastes of pure comfort. Think of this is a meat-and-potatoes stew with a bit of Southeast Asian flair!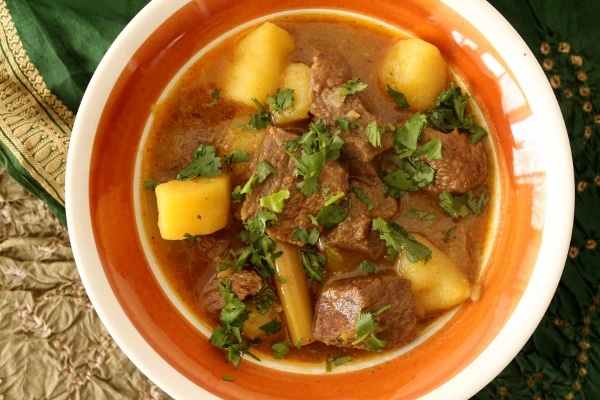 I really enjoyed exploring this new-to-me Southeast Asian cuisine through the eyes and words and kitchen of Desmond Tan and Kate Leahy, the book's authors. Thank you as well to Ten Speed Press for sharing this lovely book with me and other readers who will now have the privilege of trying something new and different to us, a taste of Myanmar by way of San Francisco.
Other recipes you may like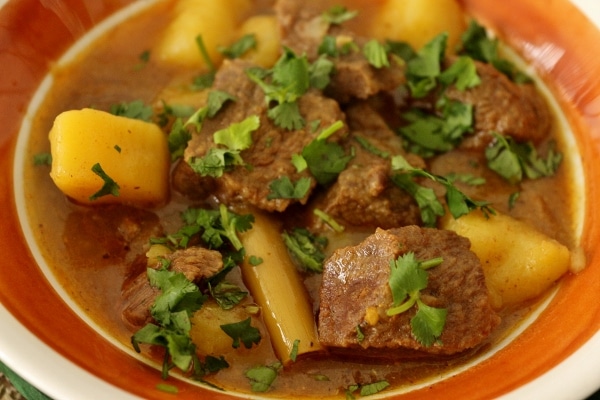 Have you ever visited Burma Superstar in San Francisco? If so, what's your favorite dish on the menu? Please tell me in the comments! I would love recommendations on which recipe(s) to try next.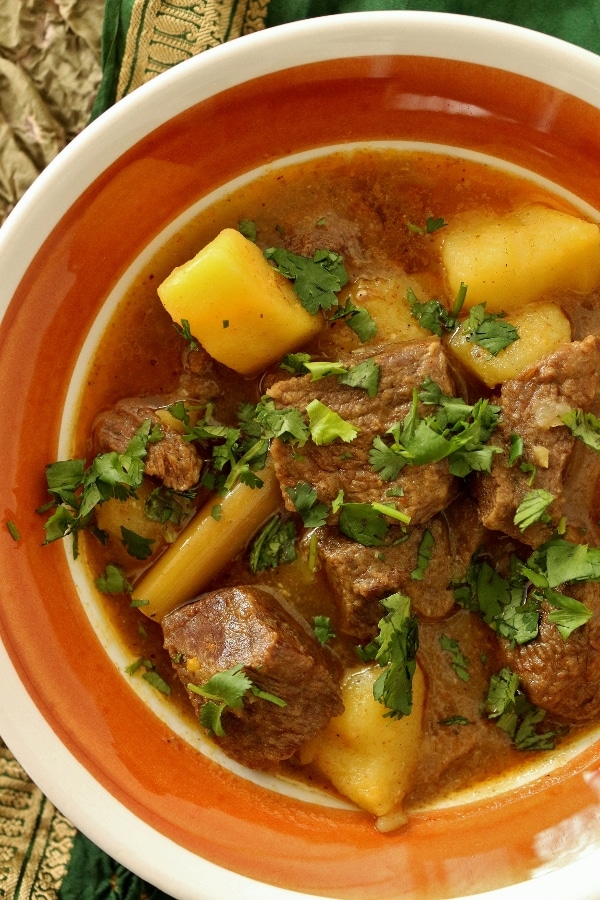 Burmese Beef Curry with Potatoes
This cozy and comforting recipe for Burmese Beef Curry with Potatoes hails from Burma Superstar restaurant in San Francisco. Chunks of beef are slow-cooked in a myriad of spices before finishing with hearty potatoes, and fresh cilantro.
Ingredients
2 1/2

pounds

beef stew meat

1

tablespoon

paprika

1/2

teaspoon

ground turmeric

2

teaspoons

salt

1/3

cup

canola oil

(you can probably get away with using a bit less)

1

ounce

fresh ginger,

peeled and thickly sliced lengthwise into slabs

2

stalks lemongrass,

cut into 2-inch pieces

2 1/2

cups

finely diced yellow onion

1/3

cup

minced garlic

1 to 3

thinly sliced Thai chiles or 2 small dried chiles

(use 1 for a slightly milder curry–3 will be quite spicy)

2

bay leaves

2

tablespoons

fish sauce

4

cups

water

1

tablespoon

Madras curry powder

3/4

teaspoon

garam masala

1

pound

Yukon gold potatoes (about 4),

cubed

Spoonful of plain whole milk or Greek yogurt

(optional)

1

cup

cilantro sprigs,

for garnish

1

lime or lemon,

cut into wedges, for garnish
Instructions
Trim away the sinew from the beef and cut the meat into 1/2-to-1-inch cubes. Transfer to a bowl and use your hands to mix with the paprika, turmeric, and salt. Let the beef marinate at room temperature while you prepare the other ingredients, or refrigerate overnight.

In a 6-quart pot, heat the oil over medium-high heat. Add the ginger and cook until the edges become slightly browned, 2 minutes. Stir in the lemongrass and cook until slightly softened, 2 minutes.

Add the onions, lower the heat to medium, and cook for 4 minutes, stirring often to keep the onions from sticking to the bottom of the pot. Stir in the garlic, chiles, and bay leaves. Decrease the heat to medium-low and cook, stirring often, until most of the water from the onions has been cooked out and a glossy layer of oil has risen to the surface, about 10 minutes.

Add the beef and fish sauce and stir to coat. Pour in the water. Increase the heat, bring to a boil, then lower to a gentle simmer (at this point I highly suggest taking a few minutes to skim the impurities and some of the excess oil from the surface–there was a lot of scum on mine). Cook, stirring occasionally, until the meat is beginning to become tender, about 1 1/2 hours.

Stir in the curry powder, garam masala, and potatoes. Pour in more water if the curry looks thick. Cook until the potatoes are tender, about 20 minutes more.

Ideally, let the curry sit for at least 20 minutes before serving to allow the beef to soak in the curry flavor as it cools. Bring to a simmer before serving, and taste, adding more salt or fish sauce if desired. Stir in the yogurt. Serve with bowls of cilantro and lime wedges at the table.
Notes & Nutrition
You may swap out the beef for lamb if you prefer to make a lamb curry instead.
Recipe from Burma Superstar
Servings 4.0 * calories 1006 * Total Fat 64 g * Saturated Fat 19 g * Monounsaturated Fat 11 g * Polyunsaturated Fat 6 g * Trans Fat 0 g * Cholesterol 188 mg * Sodium 2310 mg * Potassium 898 mg * Total Carbohydrate 57 g * Dietary Fiber 6 g * Sugars 7 g * Protein 59 g
*All nutritional information is based on third-party calculations and should be considered estimates. Actual nutritional content will vary with brands used, measuring methods, portion sizes and more.*
Pin it for Later!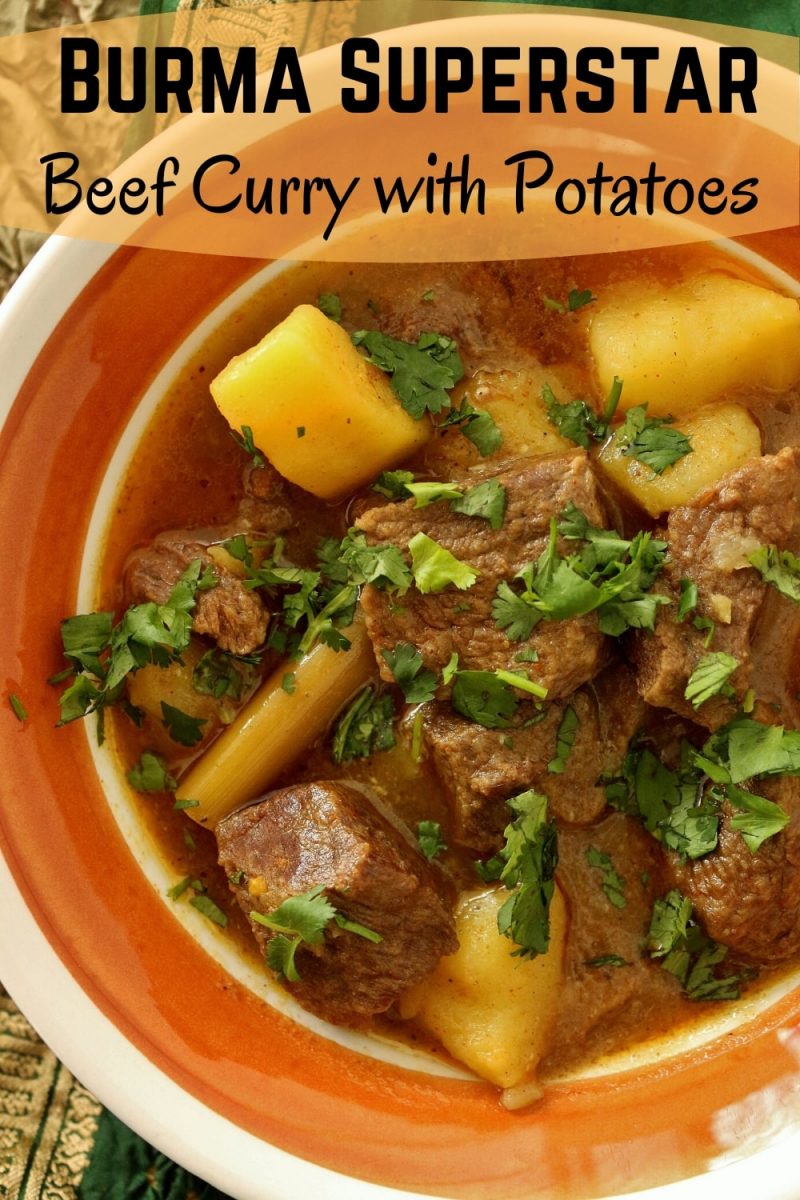 *Disclaimer* I received no compensation to write this review other than a free copy of the book. My opinions are always my own.
Amazon disclosure – We are a participant in the Amazon Services LLC Associates Program, an affiliate advertising program designed to provide a means for us to earn fees by linking to Amazon.com and affiliated sites.