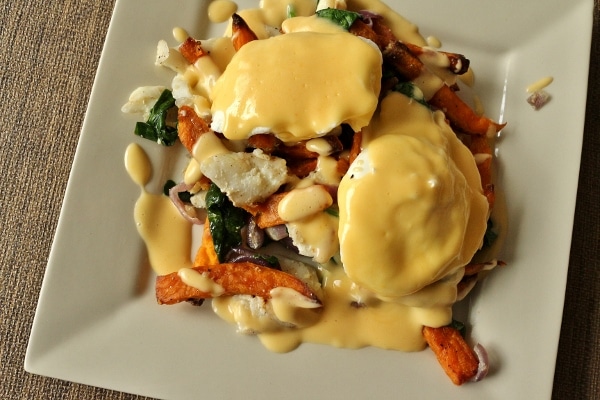 Different dishes may represent comfort foods for various people, but at the end of the day, comfort foods are those that make you feel warm and fuzzy inside. They fill your belly and make you smile. In some cases, they may take you back to a time in the past, perhaps reminding you of your grandmother's cooking. In other cases, they may warm you up on a cold winter's day after shoveling snow for hours. In any case, they are always welcome in my kitchen.
I was recently asked to participate in a blog tour for a new cookbook entitled Adventures in Comfort Food by Kerry Altiero, chef/owner of Cafe Miranda in Rockland, Maine. This small town restaurant features awesome food that really transcends gastronomical boundaries, bringing a little Asian flair into the same establishment as Italian dishes, American favorites, and so much more. If it's delicious and fresh, Kerry will find a way to put it on the menu.
Chapters in the book range from Starters, Soups and Salads, Pasta, Vegetables and Sides, Dinners, Bread, Pizza, and Sandwiches, Party Food, and Components. The recipes within are reminiscent of the eclectic menu at Cafe Miranda, and so are the unusual dish names. Although there are many enticing recipes with titles that make sense (like Seared Scallops in Asian Broth, Chowder Guy, Lobster Rolls, Steak Bomb and more), there are many dishes with titles that are really off the wall (Don't Eat Me Again, Joel!, Aggablagga, Next Day Air, Simply Delish, and Whaddyagot, to name a few).
As much as I love the creativity of the dishes themselves, and the playfulness of their names, when flipping through a cookbook to select a recipe, having titles that don't really explain the dish can be really daunting, especially without photos for said dishes. I would have LOVED if there was a subscript to the title actually telling us what the dish is, or even just listing the key components.
Example… Whaddyagot: Rigatoni with Chard, Peppers, Onions, and Proscuitto, or at least something more explicit. In fact, using the actual description from the menu for each dish would have been a simple fix. I basically have to read the entire ingredient list for most of the recipes to see what the dish even entails. It does make it a bit of a challenge. That's really the only negative thing about this book.
The recipes really are super creative and intriguing. There are a lot of unique creations, as well as creative variations on classics that I'm really anxious to try. The recipes appear quite simple, and usually include relatively short ingredient lists with simple-to-follow instructions. The key here is using fresh ingredients and treating them with finesse to really allow them to shine. This is how you can make "homey" comfort food into something extraordinary.
Also, I'd like to note that the serving sizes in many of the recipes range from 1 serving to 4, but most serve 1 or 2 people. I actually really love this. Personally, I don't think there are enough cookbooks that cater to single people, couples, or very small families. It's usually easier to double a recipe or multiply it for more servings than to divide it up to serve 1. If you have a huge family, this book may not really cater to your needs, but that doesn't mean you can't tweak the recipes to make more.
I decided to try the Fish Hash, a truly creative take on breakfast. I made a few changes to the recipe when I created it, but the original is shared below. Instead of frying the sweet potato, I actually made oven fries by simply tossing the cut sweet potatoes in olive oil, seasoning with salt and pepper, and then roasting them at 450 degrees F for about 45 to 50 minutes, stirring occasionally to promote even cooking.
I also made my Hollandaise sauce the old fashioned way. I'm very comfortable making Hollandaise without taking shortcuts, and for me, setting up my stand mixer to make the short-cut Hollandaise was actually more work than just whisking it together in a double boiler. I added more hot sauce and more lemon juice than this recipe calls for (extra lemon is especially nice in context with the fish). I also like to add a little warm water to my Hollandaise to loosen it up a bit. It's also a great trick to fix a broken Hollandaise. You can make your Hollandaise however you like. My basic technique can be found here.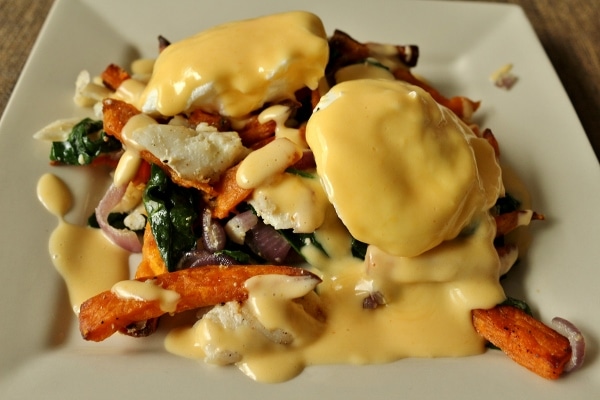 The oven temp called for in the recipe is too low in my opinion. I started my onions at the 325 degrees F it states, but quickly realized that my onions would never soften, let alone caramelize, at that temp for 10 minutes. I steadily bumped up the temp until I reached 425 degrees F and that is what I will recommend for this recipe, even for cooking the fish. Start out at 425, add the onions to the hot pan with some oil and stir occasionally.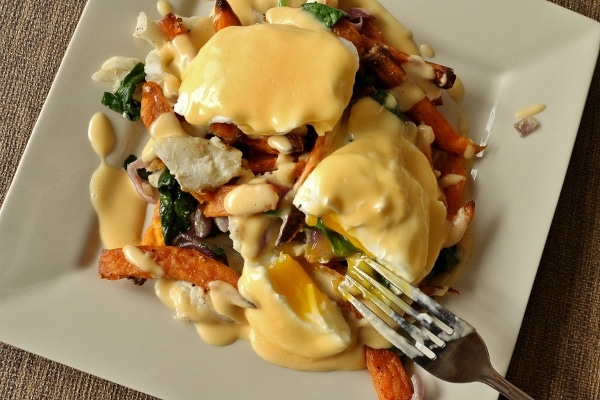 Then season the fish with salt and pepper (the recipe below doesn't include that step, but I think it's a good idea) and plop it on top of the onions. Continue cooking at 425, mixing it up at least once to break it up a little (it will also cook the fish a bit faster). Then add the oiled spinach, back into the oven it goes, and then stir at least once or twice over the next couple minutes to allow it to wilt. Finally, you'll be adding the fried or oven-fried sweet potatoes and allowing them to heat back through with the rest of your hash.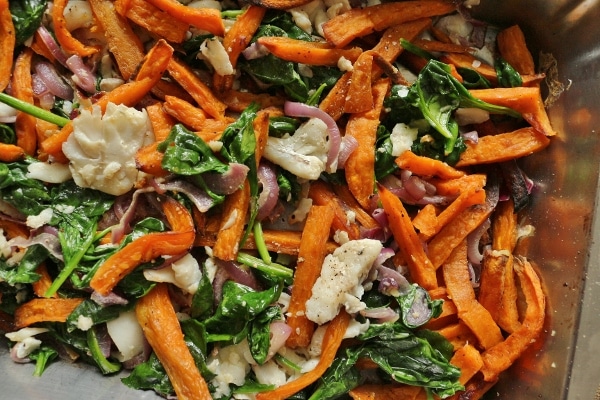 You can also poach your eggs slightly in advance and then put them back into the simmering water to reheat them. This is another great trick if you are trying to cook this on the fly, but worried about keeping all the components hot at the same time. My Hollandaise was finished and on the double boiler over low heat (I would occasionally whisk and add a touch of warm water if I noticed it thickening too much) and the hash in the oven when I poached my eggs. But then the hash took too long to cook because I started at a lower temp, and so I had to catch up. This is where reheating the poached eggs turned out to be a great trick, since the hash wasn't ready for me when my eggs first were.
Even though I tweaked this recipe a bit (once again, the recipe below is as it is written in the book--see my notes above to make it the way I did, if you prefer), I must say the flavors were phenomenal. Fish hash doesn't actually sound like the most appetizing thing in the world, but then think fish tacos. They sound kinda weird if you've never had one, but they are the most delicious thing in the world. This fish hash has a similar wow factor. You really don't expect it to taste as great as it does, even with all the delicious components. But it's really impressive!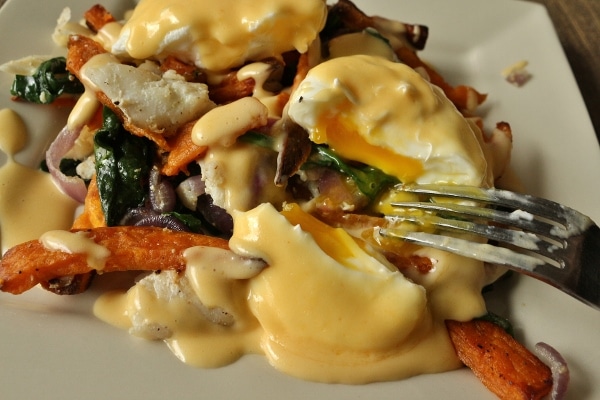 One final note. I actually served this amount of hash to three people instead of two and just poached enough eggs for three servings. The Hollandaise is also enough for three servings, so you can definitely extend this dish to serve slightly smaller servings to more than two people if you prefer. Otherwise, it can definitely make two very delicious and generous servings to start your day. Either way, its a wonderfully creative spin on brunch that I will definitely make again.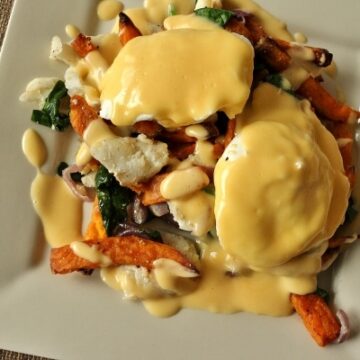 Fish Hash
This is a delicious seaside take on breakfast hash, featuring fish, sweet potatoes, spinach, and of course beautiful poached eggs and Hollandaise sauce.
Print
Pin
Rate
Ingredients
For the Hollandaise:
2

large egg yolks

Salt

Dash Tabasco

½

cup

(115 grams) butter

½

teaspoon

freshly squeezed lemon juice
For the Eggs:
5

large local eggs

(You only need 2 per person, but you may break one while poaching)

Pinch

salt

2

teaspoons

(10 ml) freshly squeezed lemon juice
For the Fries:
Olive oil

2

sweet potatoes

peeled and cut like fries
For the Hash:
1

cup

(132 grams) red onion

sliced

Olive oil

7

ounces

(198 grams) fillet of haddock

2

teaspoons

(6 grams) garlic

minced

3

cups

(90 grams) spinach

stemmed if needed, oiled

Salt and coarsely ground black pepper
Instructions
Let's do the hollandaise first. This a total cheater method. Easy, quick and highly idiot-resistant. In the trusty stand mixer with the whip attached or the food processor with the "S" blade (the regular one), place the 2 yolks, Tabasco and a couple of pinches of salt. Beat until the yolks are pale, like a watercolor yellow.

Meanwhile, place the butter in a microwave-safe measuring cup that you can pour from. Zap it in the microwave to melt and get the butterfat and the whey HOT. As soon as the micro has scrambled the molecules, turn your mixing appliance of choice back on high speed. S L O W L Y pour the butter into the spinning yolks. This should emulsify to a shiny sauce of buttery richness. At the last second, add the lemon and salt. DONE. This is best held in a thermos. Really. I use one of the bigmouth ones that can hold a meal, and it does a great job.

Start the eggs: We are poaching here, so pay attention. Use a shallow nonreactive pan, perhaps 3 inches/8 cm deep, with a 10-inch/25 cm or larger diameter. Fill with water, leaving some headroom so that it will not overflow when the eggs are added. Add a pinch of salt and the lemon juice. The acid will bind the egg whites so they will stay together. Bring the water to a boil, then lower the heat to a simmer. Cover the pan and leave it for now, without adding the eggs.

Cook the fries: Place 1⁄2 inch/1.5 cm of oil in a 12-inch/30 cm skillet over medium heat. Heat until a drop of water will sizzle. Add the sweet potatoes and sauté until tender and starting to brown. Drain on paper towels and keep warm. (You can save time in the morning by making the fries a day ahead and reheating them spread out on a cookie sheet. This works well with any hand-cut, self-cooked fries, not your crinkle-cuts or McD's.)

Preheat your oven to 325°F/163°C. Start the hash: Use a heavy roasting pan or oven-friendly 10-inch/25 cm skillet, and preheat it in the oven. Put the onion in the hot pan with 1 tablespoon/15 ml of olive oil. Let it brown and caramelize in the oven, stirring so that it cooks evenly. This will take about 10 minutes.

Add the fish and garlic. Roast for about 5 minutes more, then stir. It's OK to break up the fillet (we are making hash, after all). Add the spinach and roast until the color intensifies, a couple of minutes more. When you see the color change, remove the pan from the heat and put it on a trivet. Toss in the sweet potato fries and gently stir. Season with salt and pepper. Park it while you cook the eggs.

Remove the lid from the pan of simmering water. Adjust the heat so there are just the tiniest bubbles rising. The water temperature ought to be around 205°F/96°C.

Crack an egg into a small bowl that can be submerged in hot water. You do not want to crack them directly into the water as this greatly increases the likelihood of the yolks breaking.

Slide the egg out of the cup into the simmering water. Easy does it! Repeat. Repeat. Repeat. And, if you broke one: Repeat.

Let cook until the whites are just set, the yolk still liquid, 6 to 8 minutes, depending on your runniness preference.

Spoon the sweet potato mixture onto the warm platter. Remove the eggs from the poaching liquid with a slotted spoon so the water stays in the pot. Place the eggs on the mixture. Pour the Happy Hollandaise over the whole pile. Grind some pepper.
Nutrition
Calories:
1741
kcal
|
Carbohydrates:
123
g
|
Protein:
61
g
|
Fat:
115
g
|
Saturated Fat:
44
g
|
Polyunsaturated Fat:
11
g
|
Monounsaturated Fat:
52
g
|
Cholesterol:
1146
mg
|
Sodium:
894
mg
|
Potassium:
3221
mg
|
Fiber:
20
g
|
Sugar:
35
g
*All nutritional information is based on third-party calculations and should be considered estimates. Actual nutritional content will vary with brands used, measuring methods, portion sizes and more.*
*Disclaimer* I received no compensation to write this review other than a free copy of the book. My opinions are always my own.