Zankou Chicken is an extremely popular Armenian-owned fast casual restaurant chain in the greater Los Angeles area. Most notably they're famous for their epic Zankou Chicken garlic sauce. The recipe is a guarded secret, but this easy copycat recipe is the next best thing!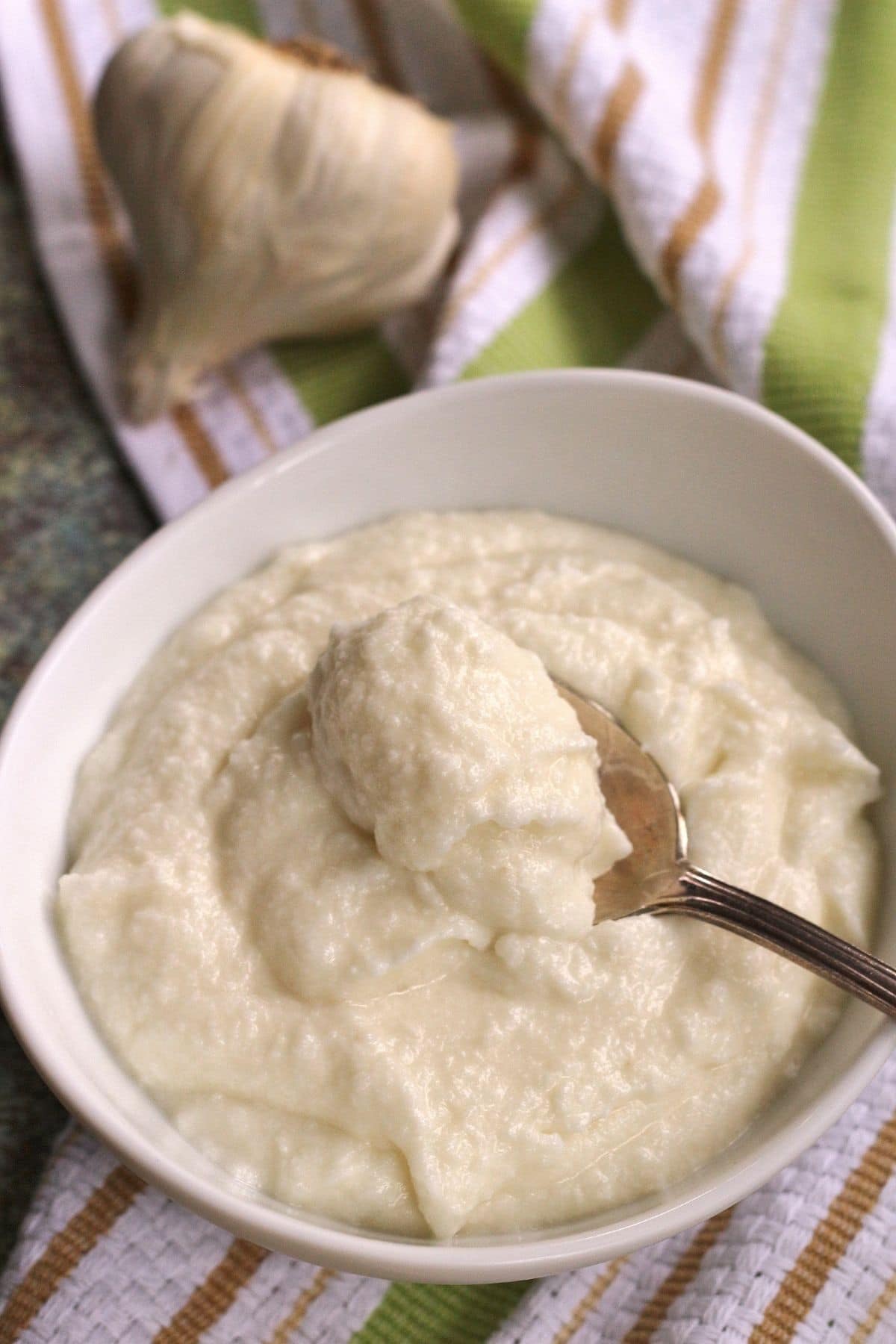 Zankou Chicken is famous. It's a landmark chain in Los Angeles with outstanding Middle Eastern cuisine to back up its reputation. Musician Beck even sang about Zankou Chicken in his song "Debra." The well-known chain also has a tragic history, but through it all they serve up some of the best quick Middle Eastern fare around.
My first Zankou Chicken meal was in July 1999 during a visit to Los Angeles to see some family friends. I remember it well because it basically changed my life. Chicken would never taste the same to me without that incredibly pungent Zankou Chicken garlic sauce.
Years later I moved to Los Angeles and took advantage of the proximity to so many Zankou locations. The best chicken experience of my life was at my fingertips any time I wanted!
And then I moved back east again and my Zankou Chicken dreams went down the drain. Wah wah. I had to resort to smuggling garlic sauce in my luggage after visits to LA. It's just not the same.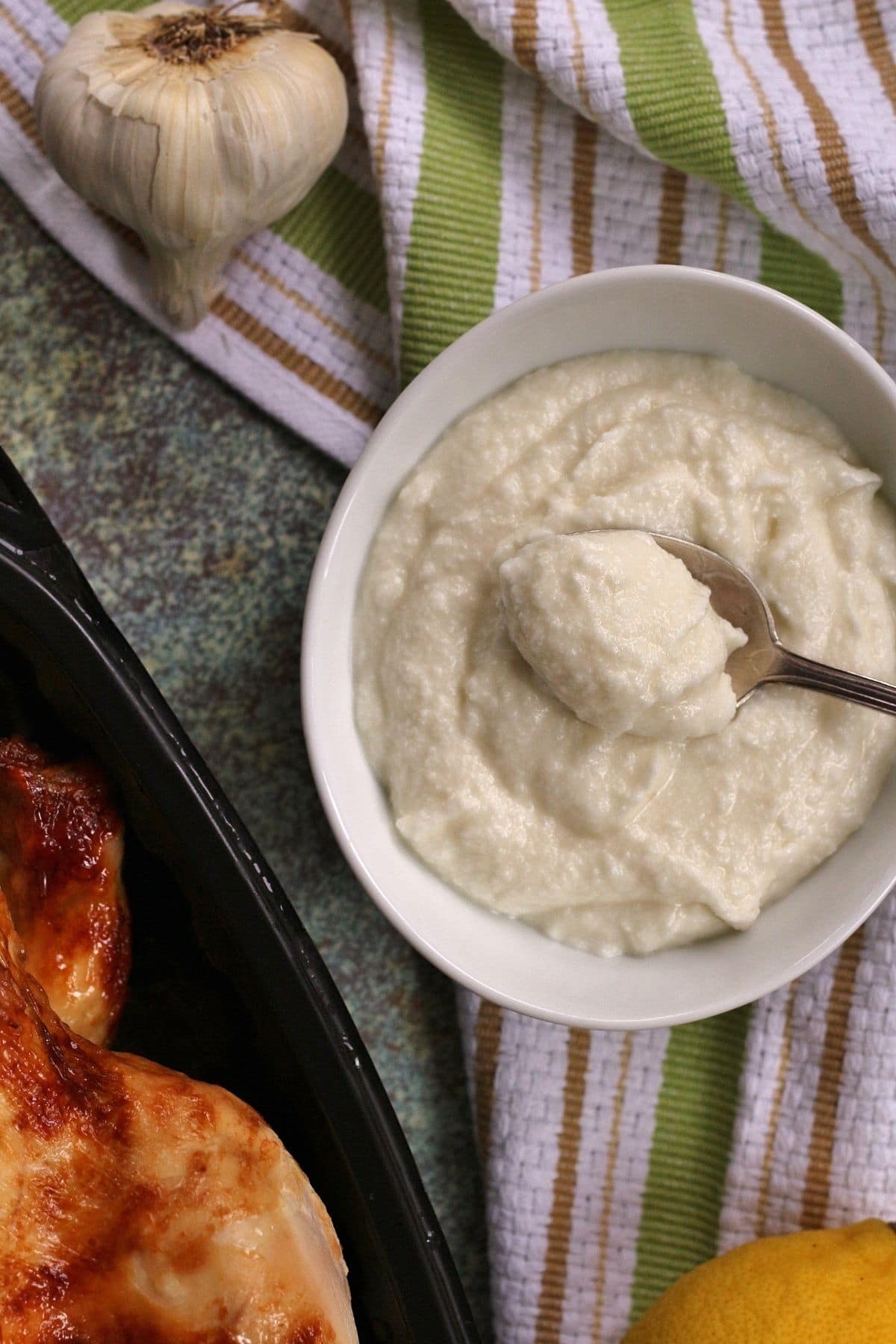 You're probably wondering how spit-roasted chicken can be so exciting, but let me tell you it's not the chicken but the Armenian garlic sauce that put Zankou on the map. Yes, their chicken, shawarma, and other Middle Eastern delights are wonderful, but it's the garlic sauce people crave.
Toum is actually a Lebanese garlic sauce found in many Middle Eastern restaurants, often accompanying shawarma. It's basically a super intense garlic mayonnaise made with garlic, lemon juice, oil, and salt. It's like an eggless garlic mayo but with brightness and complexity from the addition of lemon juice. It also typically contains a lot of oil to help it get so thick.
Toum isn't shocking revelation. You can find a version of it on Halal carts in NYC, and in various Middle Eastern restaurants. But what makes Zankou so special?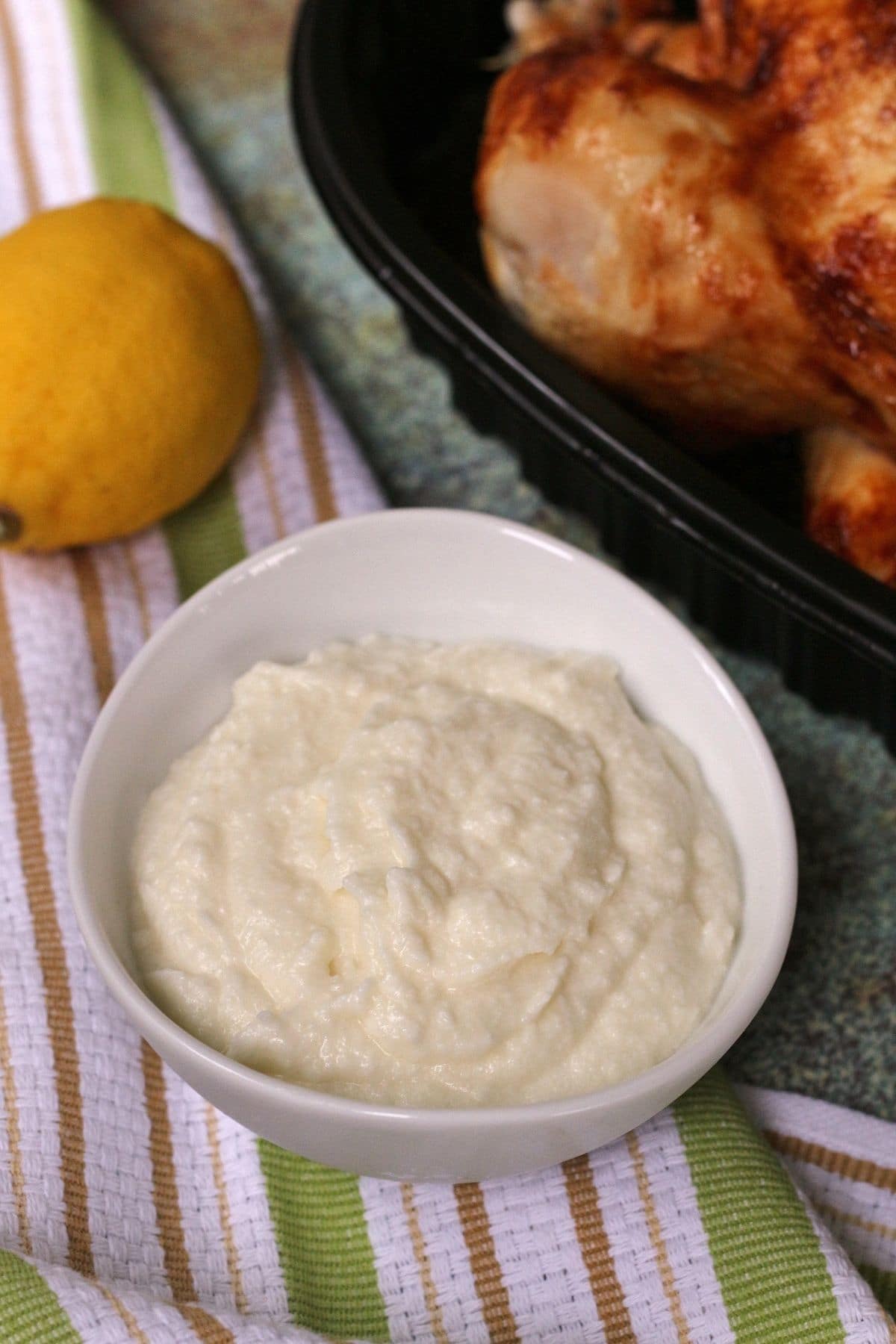 Unlocking Zankou's secrets
This Armenian garlic paste is based on traditional toum, but it has a secret ingredient. My garlic sauce-loving forefathers at Chowhound already did some of the hard work figuring it out.
Surprise! It's potato. How do we know? Well, supposedly if you take some Zankou Chicken garlic paste and cook it in a pan, it will make a pancake. I haven't tried this test since I now live 3,000+ miles away, but I will take their word for it. From this you can deduce that it contains a type of starch, and the likely culprit is potato.
Some recipes call for a specific number of russet potatoes. But potatoes come in all shapes and sizes, so this isn't a great way to gauge how much you need for a successful recipe that can be replicated. I want everyone who tries this recipe to yield the same exact result, one that matches the garlic paste at Zankou as best as possible.
Other recipes use instant mashed potatoes, but I never buy that for my personal use so it doesn't make sense to buy it just for this. We'll stick with the humble russet potato for our version.
I decided to cook the potato and then measure out how much goes into the sauce, rather than saying a certain number of potatoes.
But how exactly do you use the potato? I tested out the recipe a few times. The first time I mashed the potato with a potato masher and whisked it in. The result was a tad lumpy. Not the smoother texture you get at Zankou.
Next, I used a food mill to basically rice my cooked potato and then stir it in, thinking this would dissolve the potato more. It still wasn't perfect. It had a texture to it like fine grains of rice throughout the sauce.
The solution! Blend it in the blender on the highest setting. I had avoided adding my potato to the blender because I was worried the starch would make it gummy. Fortunately, this didn't happen. My copycat Zankou Chicken garlic sauce turned out smooth, and the flavor is spot on! And as a bonus, it uses a lot less oil than traditional toum recipes.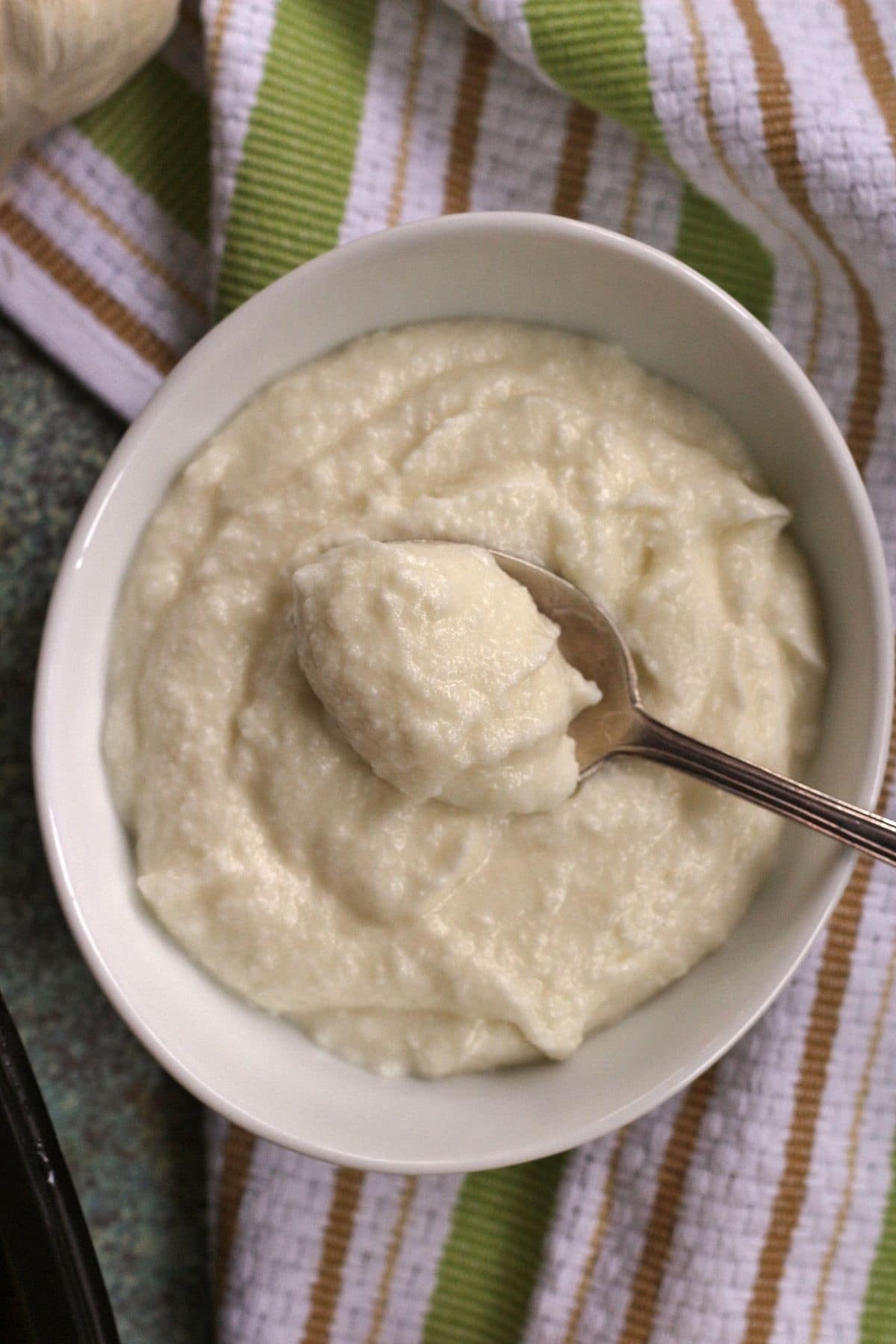 How to make it
In the jar of a blender add garlic cloves from a large head of garlic (aim for about 14 large cloves or 3 to 3 ¼ ounces garlic cloves if you weigh them). Err on the side of more garlic! If your head of garlic is on the smaller side, just throw in a few extra cloves from another head of garlic.
Add ¼ cup fresh lemon juice and 1 ½ teaspoons kosher salt (PHOTO 1). Cover with the lid and puree on the highest setting.
Scrape down the sides and replace the lid, opening the small hole on top. Use a paper towel to cover the hole a bit so it doesn't splatter everywhere. With the blender running on the highest setting, slowly pour in ½ cup vegetable oil. When all the oil is in, turn off the blender and scrape down the sides (PHOTO 2).
You can technically enjoy the sauce at this stage. This is essentially a thinner version of toum (Lebanese garlic sauce). It's thick but pourable, and super garlicky. But we are taking it to the next level to fulfill our Zankou fantasies.
You need about 1 cup of cooked potato that has been put through a ricer or food mill (measure it AFTER you rice it). Technically you could mash it too, but it will do a better job getting the potato super fine if you do it this way. If you have a digital scale, it should be somewhere between 4 and 4 ¼ ounces of cooked, riced potato.
If you are using mashed potato instead of riced potato, the potato will be a bit more compacted from the mashing process, and you may want to start with less than 1 cup (or simply weigh it like I suggest) and then add more if you feel the need.
Add the riced potato to your blender and puree on the highest setting. Stop, scrape, and blend again until it's very smooth. It shouldn't take long at all (PHOTOS 3-4).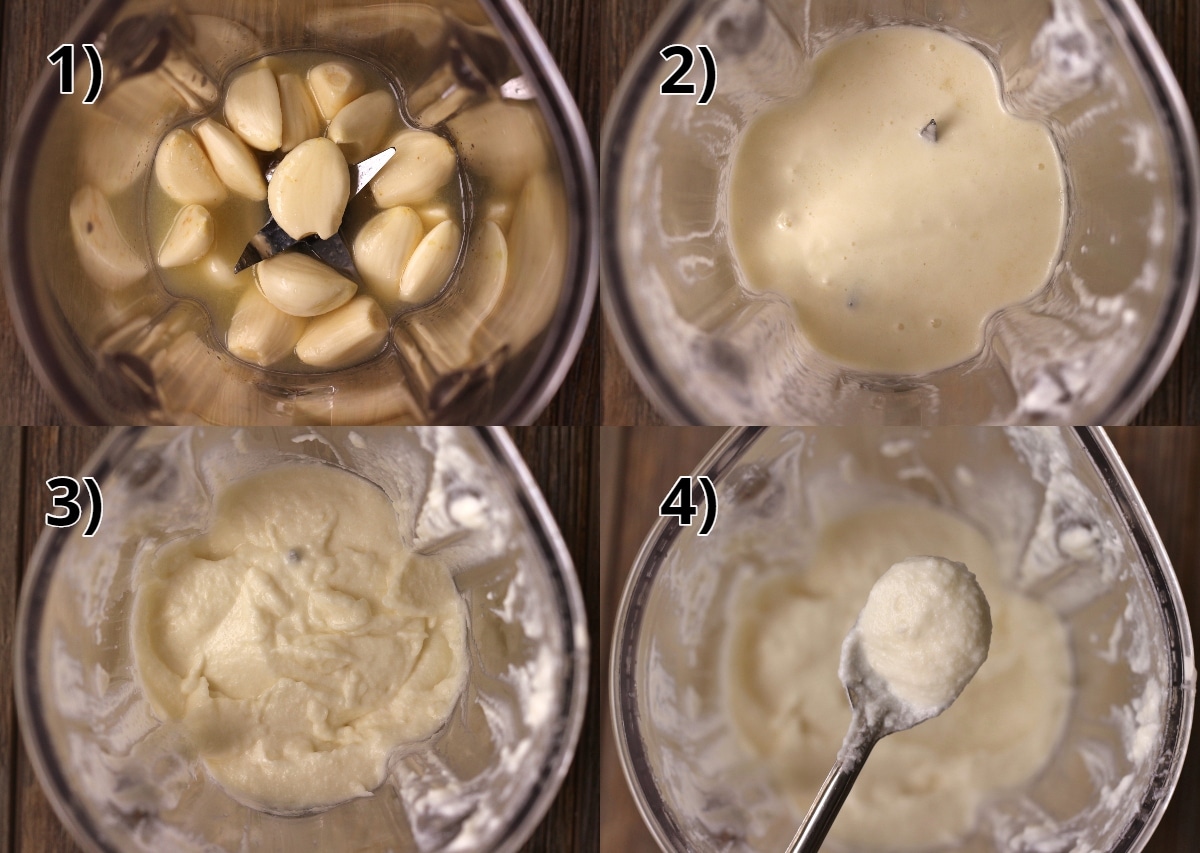 Transfer the garlic sauce to a container, cover and refrigerate for a few hours or overnight. It really benefits from having some time for the flavors to meld and mellow, but you CAN enjoy it immediately if you don't have time (I've done this countless times when I didn't plan ahead). Afterwards, taste it and adjust the seasoning if needed.
Voilà! Now you can make Zankou Chicken garlic sauce no matter where in the world you live!
Please scroll to the bottom of the post for the full recipe (in a printable recipe card) including ingredient amounts and detailed instructions.
Ways to use it
You can enjoy this Armenian garlic sauce in countless ways. Here are a few suggestions to get you started:
Rotisserie chicken (store-bought is totally fine!) or roasted chicken
Chicken or beef shawarma (basically Heaven on Earth)
Roasted or grilled meats (like pork, beef, or lamb--kebabs are a great idea here)
Falafel (but of course!)
Spread it onto sandwiches in place of mayonnaise
Add it to rice bowls to bump up the flavor
Dip your french fries or roasted potatoes in it
Use it in pasta, potato, and chicken salads as some of your "dressing" for a garlicky punch (thin it out with some plain mayo perhaps)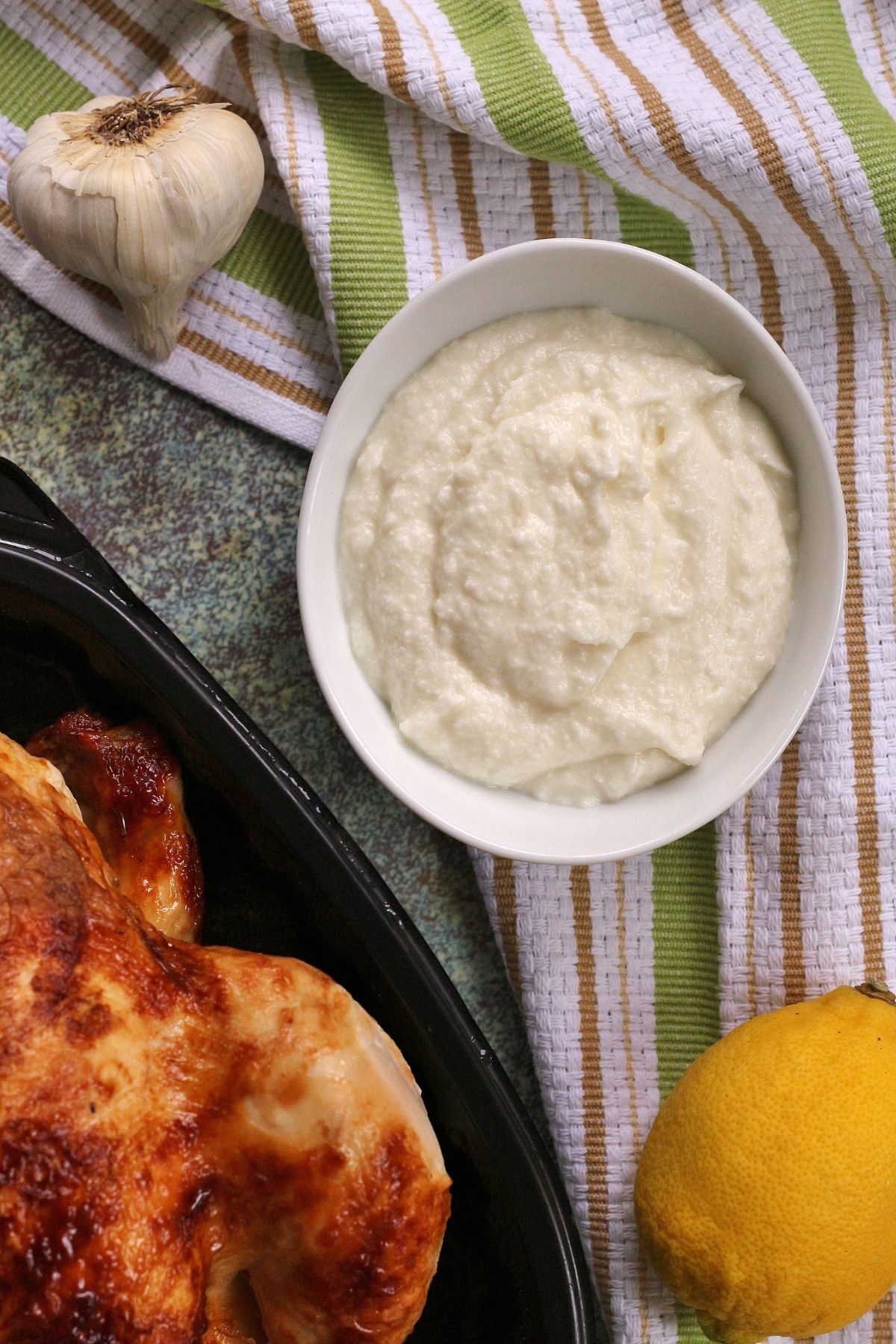 Other recipes you may like
Are you as Zankou obsessed as I am? Ever dreamed of your own personal supply of that addictive Armenian garlic paste? Well, I'm super excited that this copycat recipe is spot on! It's also gluten-free, dairy-free, and eggless.
Tried this recipe? Please leave a star ⭐️⭐️⭐️⭐️⭐️ rating in the recipe card below and/or a review in the comments section further down the page. You can also follow me on social media on Facebook, Instagram, and Pinterest!
Zankou Chicken Garlic Sauce (Copycat Recipe)
Zankou Chicken is an extremely popular Armenian-owned fast casual restaurant chain in the greater Los Angeles area. Most notably they are famous for their epic Zankou Chicken garlic sauce. The recipe is a guarded secret, but this easy copycat recipe is the next best thing!
Print
Pin
Rate
Servings:
12
(2 tablespoon) servings
Ingredients
1

large head garlic,

peeled (about 14 large cloves or about 3 to 3 ¼ ounces after peeling)

¼

cup

fresh lemon juice

1 ½

teaspoons

kosher salt

½

cup

vegetable oil

(or other neutral flavored oil)

About 4 to 4 ¼ ounces cooked russet potato,

processed through a potato ricer or food mill to yield about 1 cup (see notes if mashing)
Instructions
Add garlic cloves, salt, and lemon juice to the jar of a blender. Cover with the lid and puree on the highest setting. Turn off the blender and scrape down the sides.

Open the small hole on the blender lid and cover it with a paper towel to keep it from splattering everywhere. Turn the blender back on to the highest setting and slowly pour in the oil. When you've added all the oil, turn off the blender, remove the lid and scrape down the sides again. You should have a creamy white mixture.

Add 1 cup of riced/food milled cooked russet potato to the blender jar, and process on high. Turn off the blender, scrape down the sides once more, and process again until smooth. The mixture should be relatively thick.

Transfer to a container, cover and refrigerate for a few hours or overnight (you can enjoy it right away if you didn't plan ahead, but the flavor and texture will mellow a bit if you allow it to rest). Adjust the seasoning with more salt if needed.
Notes
If you don't have a food mill or potato ricer you can mash the potato instead before putting it in the blender, but note that mashing will compact the potatoes so you will have more potato in 1 cup than if you riced it (weighing on a digital scale is always your best bet). If you are using mashed potato in place of riced potato, you'll need about ½ cup plus 2 tablespoons (or 10 tablespoons) to yield the same amount of potato by weight.
If your garlic isn't super fresh and has any green sprouts, don't use it. You're better off using garlic that hasn't sprouted. The sprouts can add a lot of sharpness but even if you remove them from the inside of the garlic cloves, the older garlic can still taste sharper and harsher than non-sprouted garlic. Since this recipe uses so much garlic, use the freshest garlic for the best results.
This recipe recommends russet potatoes (floury/starchy potatoes) for optimal results, but in a pinch I have used waxy potatoes when that is all I've had on hand. It's a fine substitute. Just note that if you use yellow or gold potatoes, the sauce will have a slightly more yellow color tone than pure white.
Here are some serving suggestions for your sauce:

Rotisserie chicken (store-bought is totally fine!) or roasted chicken
Chicken or beef shawarma
Roasted or grilled meats (like pork, beef, or lamb)
Falafel
Spread it onto sandwiches in place of mayonnaise
Add it to rice bowls to bump up the flavor
Dip your french fries in it
Use it in pasta, potato, and chicken salads as some of your "dressing" (thin it out with some plain mayo perhaps)

This recipe uses kosher salt (aka cooking salt, kitchen salt, coarse salt outside of the US). If you are using table salt, definitely scale down the salt as that is a saltier type of salt! The type of salt will make a big difference in how salty your food tastes, so keep that in mind 🙂 You can always add more later.
Makes about 1 ½ cups
Nutrition
Serving:
2
tablespoons
|
Calories:
51
kcal
|
Carbohydrates:
5
g
|
Fat:
10
g
|
Saturated Fat:
1
g
|
Polyunsaturated Fat:
6
g
|
Monounsaturated Fat:
2
g
|
Sodium:
143
mg
|
Potassium:
85
mg
*All nutritional information is based on third-party calculations and should be considered estimates. Actual nutritional content will vary with brands used, measuring methods, portion sizes and more.*