These Vegetarian Stuffed Grape Leaves (Yalanchi aka Sarma) are Mediterranean favorites! With a vibrant herb and lemon-infused rice filling, they are perfect as appetizers, snacks, or even part of a meze platter.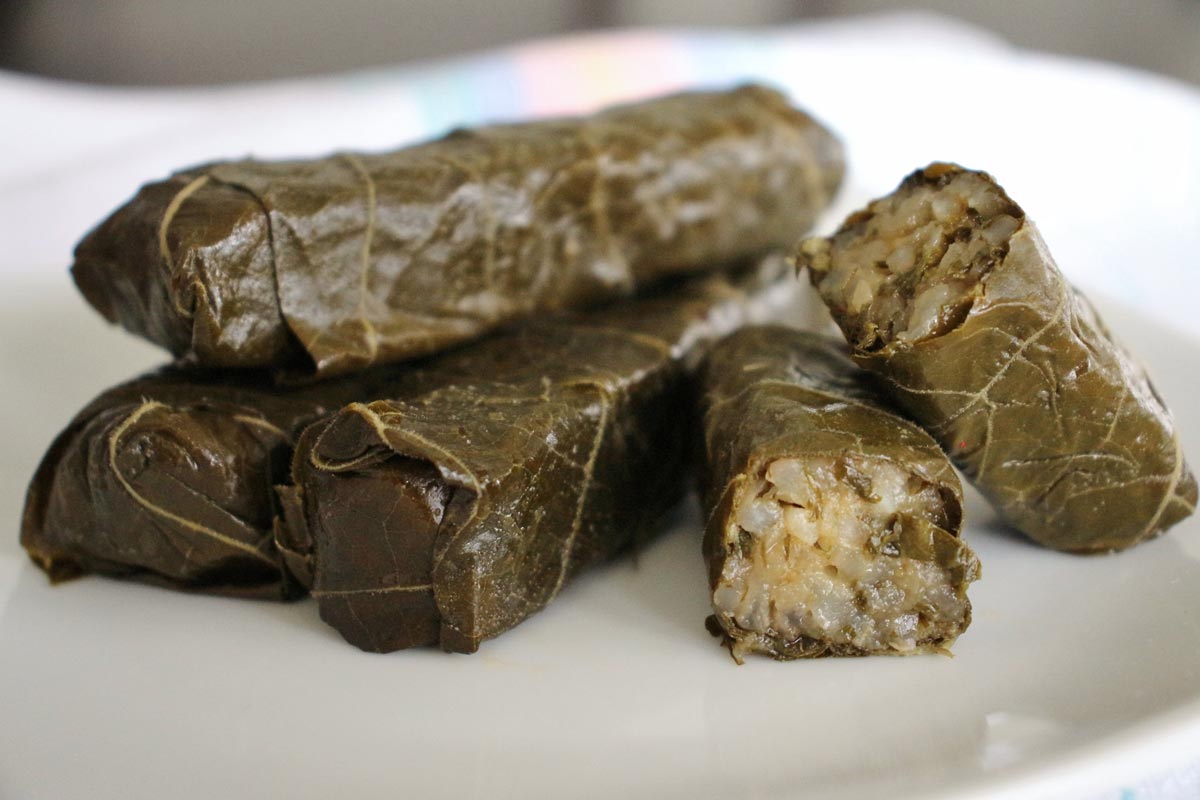 I hate dill. I despise it. When my taste buds find a fleck of dill in anything I eat, the alarms in my head go off. Dill and I are not friends. There is one dish on this Earth, however, that contains dill and for some crazy reason I don't hate it. In fact, quite the contrary. I absolutely, against all odds, love it.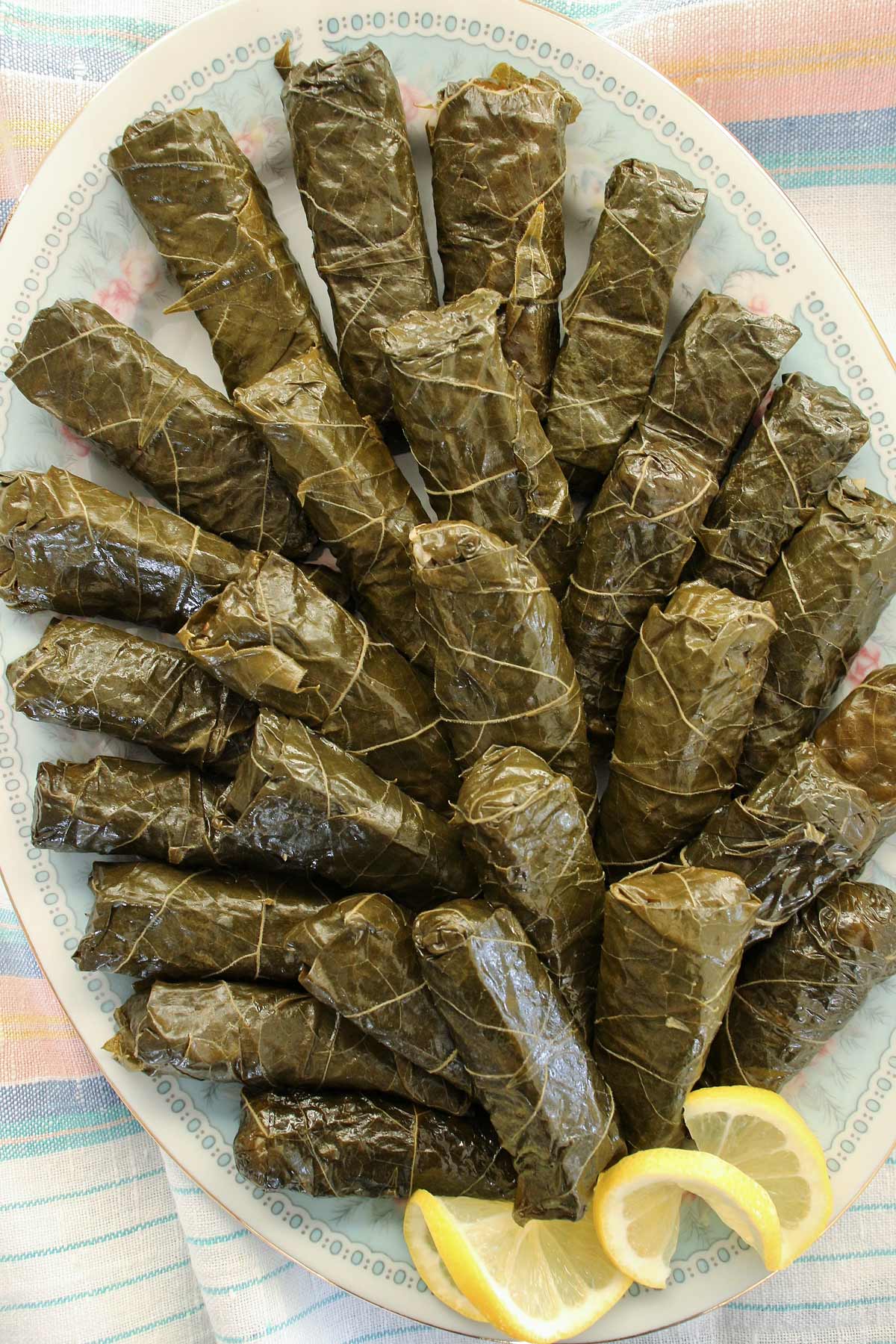 Terminology
I'm referring to yalanchi, or vegetarian stuffed grape leaves. In Turkish, yalanchi means "fake." It refers to the fact that these grape leaves do not contain meat.
They are, therefore, fake stuffed grape leaves. If they are filled with meat, they are called "dolma" (which means "stuffed" in Turkish). This term can also refer to meat-stuffed peppers, tomatoes, zucchini, eggplant, etc.
My family makes dolma with lots of different vegetables. The word "sarma" means "wrapped" and refers to both the meat and non-meat filled grape leaves. These are wrapped with grape leaves, hence the term.
Yalanchi are always served cold, while their meat-filled cousins are served hot. Those are the major differences between the two: meat vs. no meat, and hot vs. cold.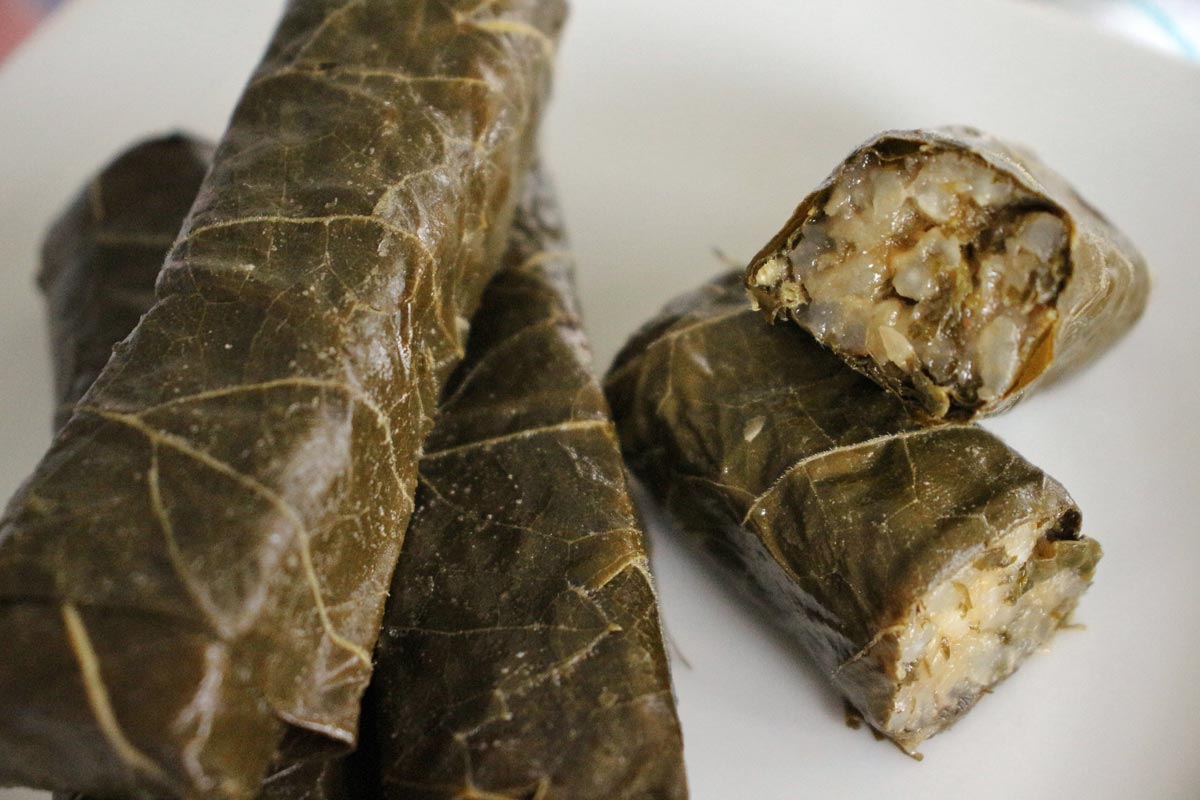 Where to find or purchase grape leaves
A family member has grape vines in her yard, so every summer my family picks fresh grape leaves, trims the stems, lines them up, wraps them in bundles with string, and blanches them in boiling water. They then cool and freeze the grape leaf bundles until needed.
Fresh grape leaves may not be accessible to most of you, but fortunately preserved grape leaves are now readily available. You can purchase them in jars at Middle Eastern grocery stores and other specialty stores, such as Restaurant Depot. Amazon also sells grape leaves.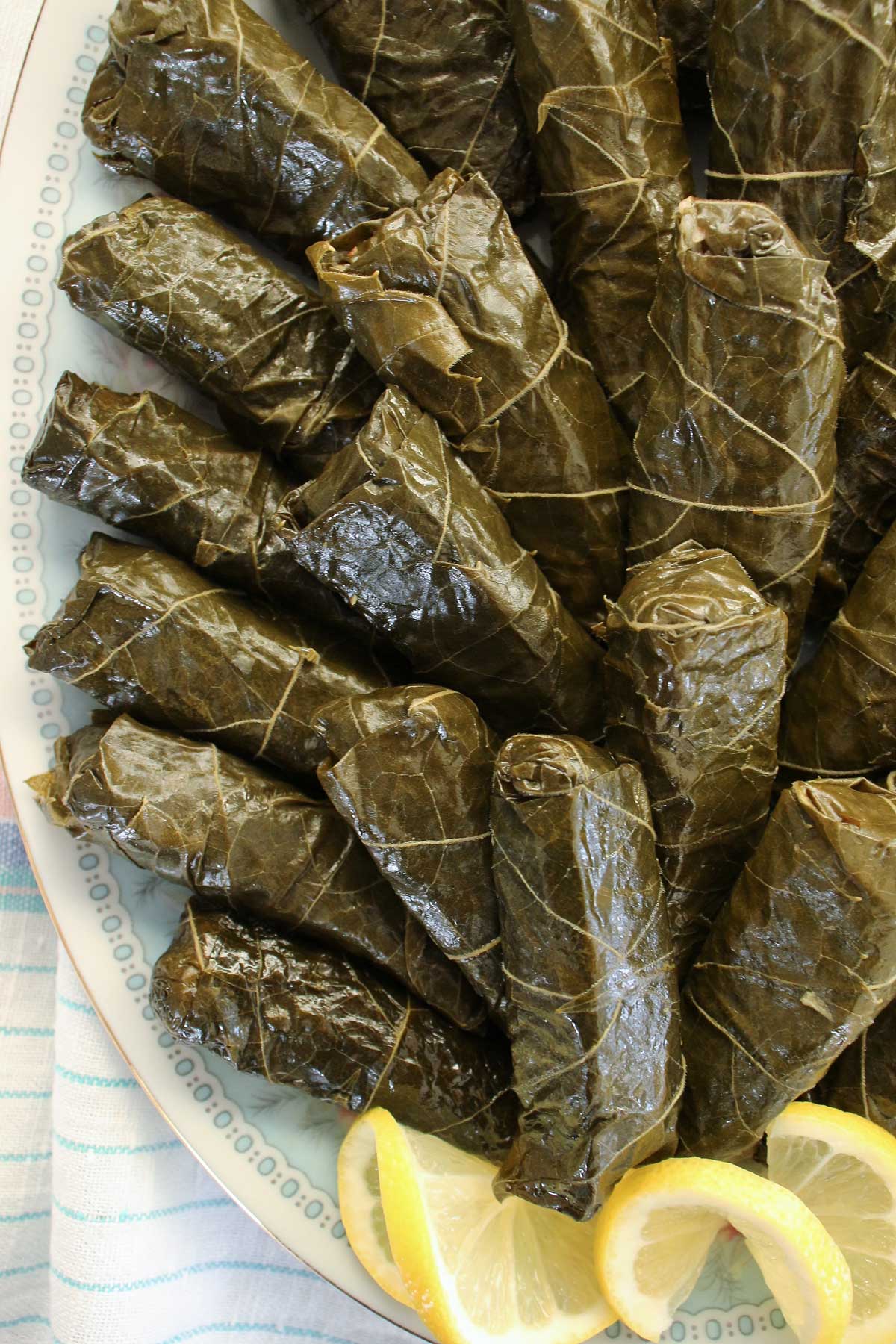 How to make Yalanchi
The first step for making yalanchi is the filling. Your food processor, if you have one, will be your best friend. Use it to finely chop your onions. You can also use it to chop your herbs instead of chopping them by hand. Saute the onions in olive oil for about 5 minutes until softened, and then add the rice.
You'll saute them together for another 5 minutes before you remove the mixture from the heat. Then mix in the other filling ingredients, including tomato paste, the herbs, and lemon juice. Cool the filling completely before moving onto the next step.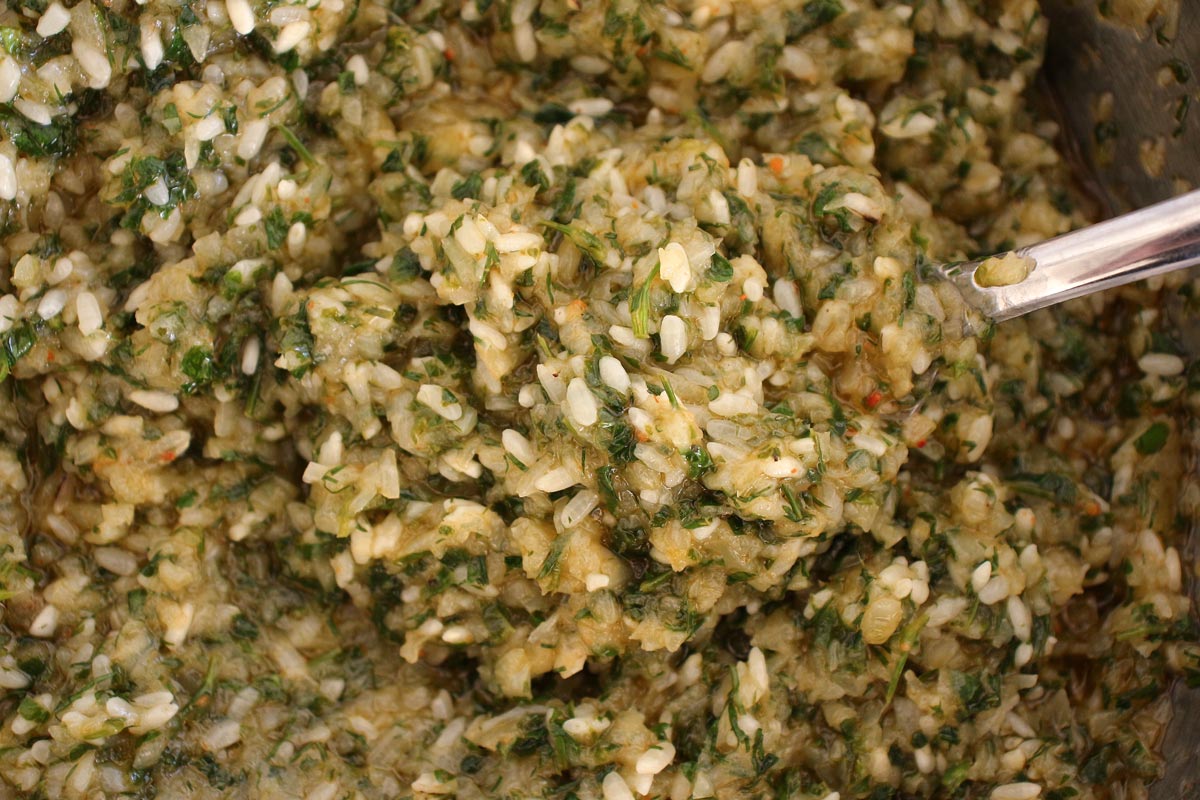 It's time to assemble the yalanchi! Lay out a grape leave one at a time on a work surface with the underside (veiny side) facing up. Add about 1 tablespoon of filling to the edge closest to the stem (PHOTO 1).
If your grape leaves are rather large, you may need more filling. Next, roll the bottom of the grape leave up to cover the filling (PHOTO 2). Fold over the sides like you would a burrito (PHOTO 3), and then continue rolling until sealed closed (PHOTO 4).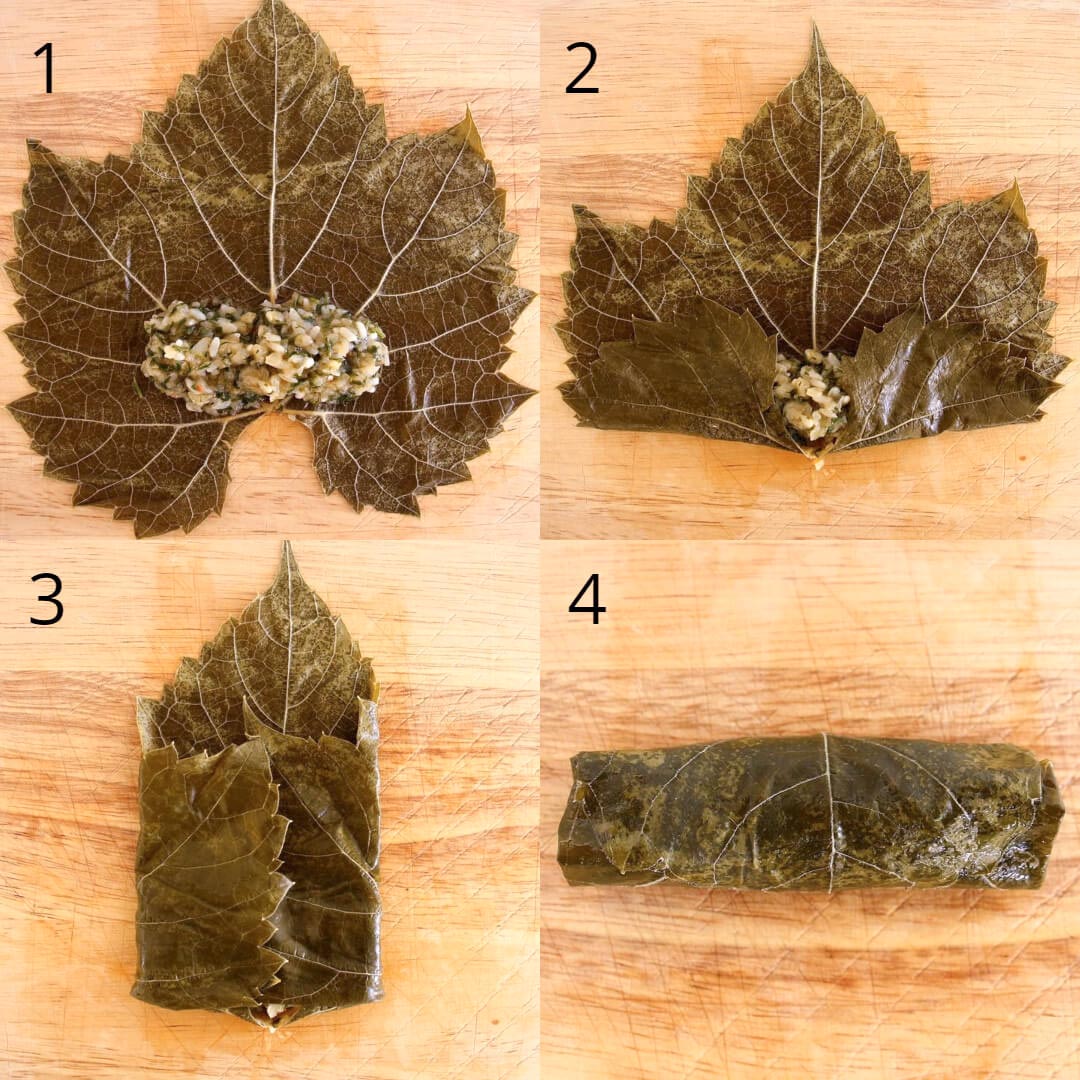 Arrange the stuffed grape leaves tightly in a baking pan 2 rows high.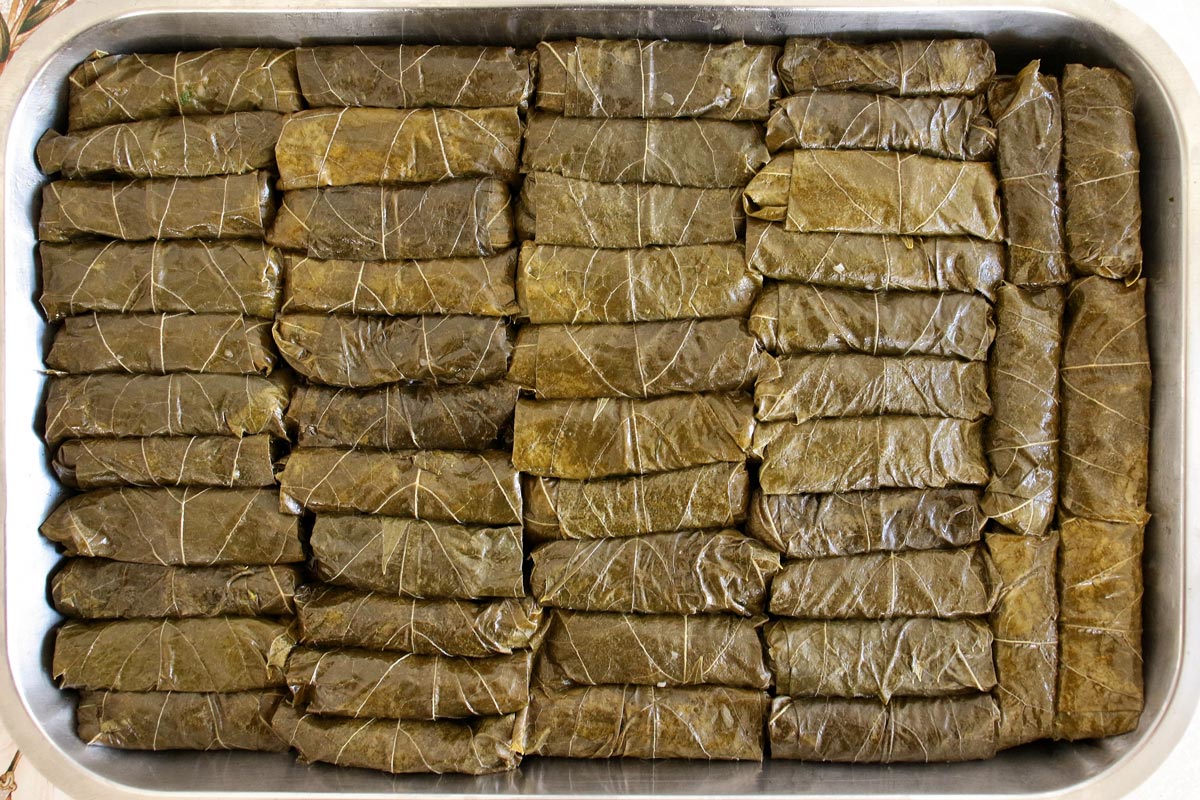 Cover the yalanchi with extra grape leaves, like a blanket. Then pour water over the top to cover. Cover with a piece of parchment paper, and then a piece of aluminum foil and bake until the rice is cooked through (make sure you test one!). Cool stuffed grape leaves completely before serving.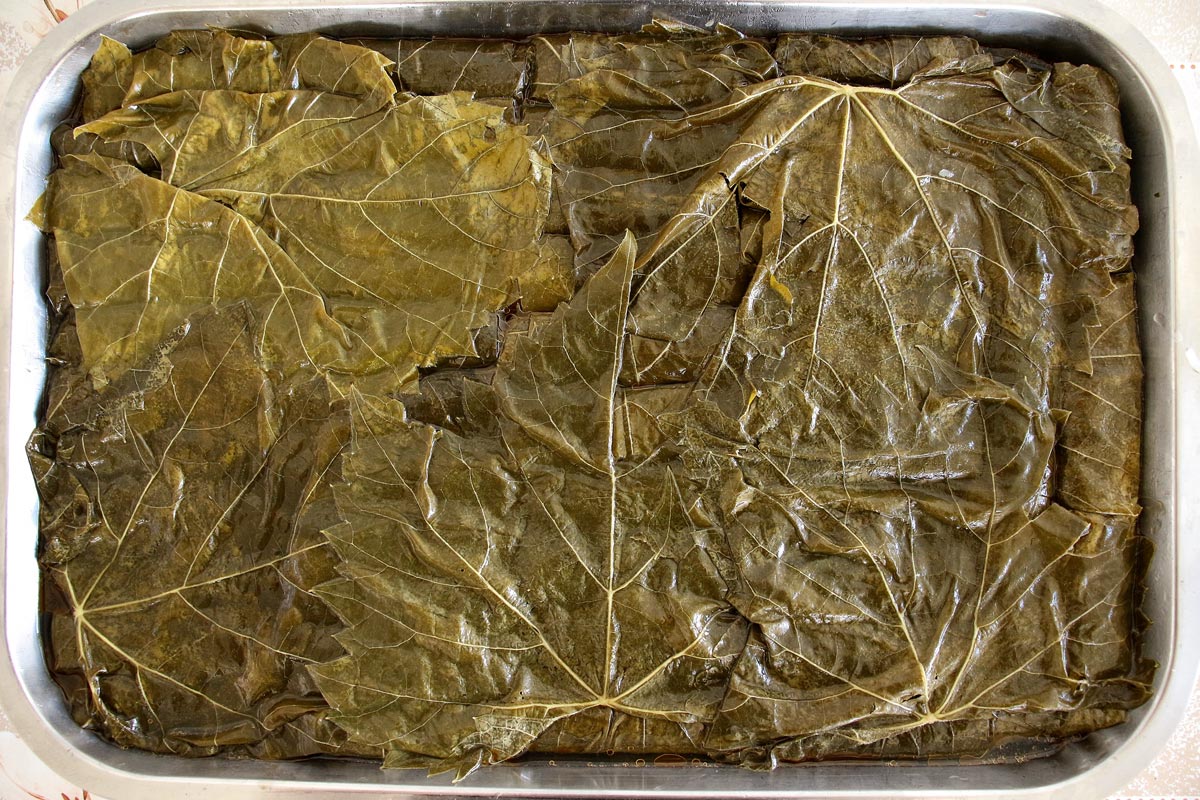 Please scroll to the bottom of the post for the full recipe (in a printable recipe card) including ingredient amounts and detailed instructions.
Other recipes you may like
Although making stuffed grape leaves can be a tedious process, in this case I really think it's worth the effort. Although I'm a proud meat-eater, I can honestly say that I prefer these vegetarian yalanchi to those made with meat.
They are great meze year round and often grace our Christmas table (we typically double the recipe for the holidays!). There are different ways to make yalanchi. Some people add pine nuts or dried currants.
My family recipe for stuffed grape leaves does not contain those ingredients. It is, however, very lemony and super vibrant and flavorful. We have tweaked it over the years to get the perfect balance of flavors. You can't eat just one, or five... start with ten and then you'll be off to a good start!
Tried this recipe? Please leave a star ⭐️⭐️⭐️⭐️⭐️ rating in the recipe card below and/or a review in the comments section further down the page. You can also follow me on social media on Facebook, Instagram, and Pinterest!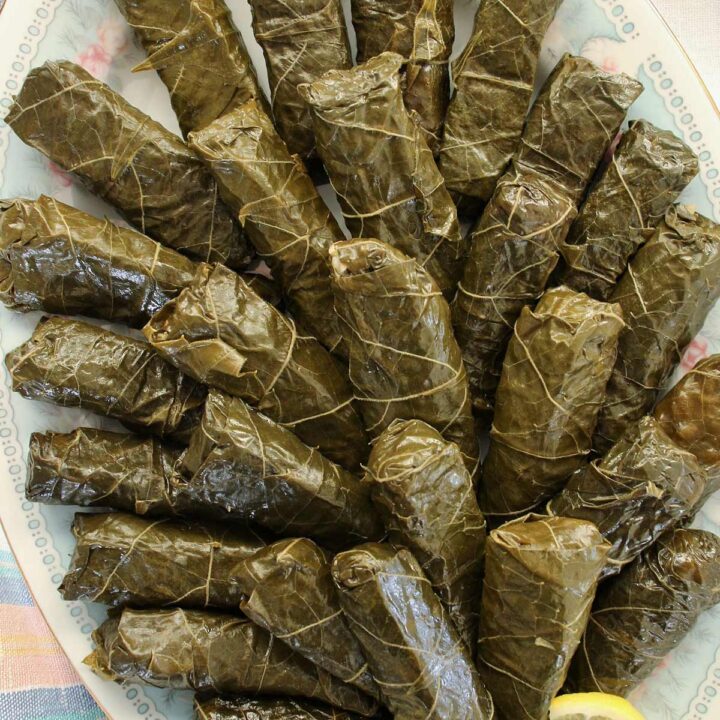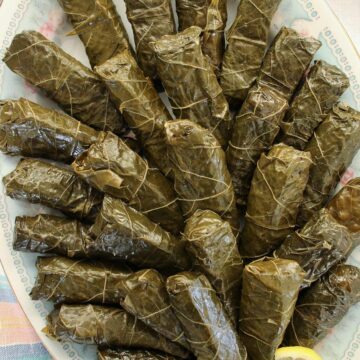 Yalanchi (Vegetarian Stuffed Grape Leaves)
These vegetarian stuffed grape leaves (yalanchi aka sarma) are Mediterranean favorites! With a vibrant herb and lemon-infused rice filling, they are perfect as appetizers, snacks, or even part of a meze platter.
Print
Pin
Rate
Servings:
70
grape leaves
Ingredients
1

jar

(1 pound) preserved grape leaves

4

cups

finely chopped onions

(use a food processor)

1

cup

extra-virgin olive oil

1

cup

short-grain or medium-grain rice

2

teaspoons

tomato paste

1 ½

cups

finely chopped fresh Italian parsley

(use a food processor)

½

cup

finely chopped fresh dill

(use a food processor)

1

teaspoon

granulated sugar

½ cup plus 1 tablespoon

fresh lemon juice

Kosher salt, freshly ground black pepper, and hot red pepper

1

cup

water,

or as needed

Lemon slices

for garnish
Instructions
Rinse the grape leaves in running water and remove stems. Set aside.

To prepare the filling, in a medium pot over medium heat, sauté the onions in the olive oil for about 5 minutes, until softened. Stir in the rice, and cook for 5 minutes longer. Remove from the heat and add the tomato paste, parsley, dill, sugar, lemon juice, and season to taste with salt, pepper, and hot red pepper. Allow the mixture to cool before stuffing the grape leaves.

Preheat the oven to 350°F, and arrange the rack in the bottom third of the oven.

When the filling has cooled, lay the grape leaves with the underneath-side (the less smooth side with the visible veins) facing up, and place about 1 tablespoon of filling (or more depending on the size of the leaves) along the stem end of each leaf, fold over the sides, and roll from the stem up to form a sausage-like roll. Repeat with the remaining grape leaves. (If you have leftover filling, you can stuff bell peppers with it and cook it with the yalanchi.)

Arrange the yalanchi in a

9-inch

square baking dish, lining them up 2 layers high. If you have extra unwrapped grape leaves, lay them across the top of the others. This will prevent the yalanchi from getting too dry or dark when baked. Pour water over the top to just cover the grape leaves.

Cover the pan with parchment paper, and then a layer of foil. Place in the oven and bake for about 1 ½ hours, or until the rice is puffed up and cooked through (taste one to be sure!). Remove the foil, but leave the parchment paper on it while it cools completely (this will prevent the top from drying out). After it cools to room temperature, cover and refrigerate until cold.

Serve cold, garnished with lemon slices. This dish is best prepared a day ahead, covered, and refrigerated until ready to serve.
Notes
If you have different sizes of grape leaves (in your jar or from your own picking/canning) use the larger grape leaves for these yalanchi. Save the small ones for making dolma!
If you plan to multiply this recipe, I recommend baking it a couple of smaller pans rather than a single large pan. I find that when baking this in a very large pan sometimes the yalanchi cooks unevenly (the ones in the middle don't cook as fast as the ones on the edges).
A food processor saves a lot of time. Use it to chop your herbs, transfer chopped herbs to a bowl, and then (without even washing it out) chop your onions. It's fine if your onions have a bit of herb residue in them. They will all be cooking together eventually anyway.
Nutrition
Serving:
1
piece
|
Calories:
47
kcal
|
Carbohydrates:
4
g
|
Protein:
1
g
|
Fat:
3
g
|
Polyunsaturated Fat:
2
g
|
Monounsaturated Fat:
1
g
|
Sodium:
24
mg
|
Potassium:
24
mg
|
Fiber:
1
g
|
Sugar:
1
g
*All nutritional information is based on third-party calculations and should be considered estimates. Actual nutritional content will vary with brands used, measuring methods, portion sizes and more.*