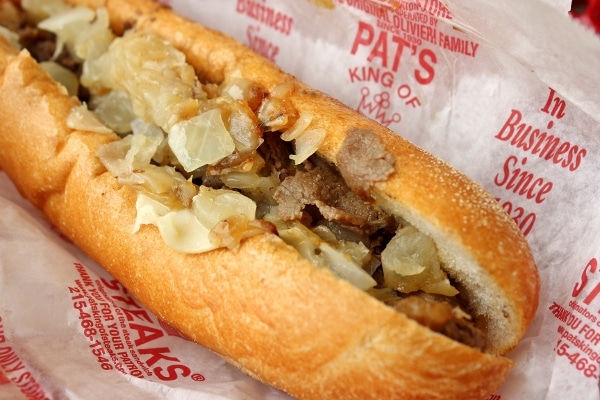 This past weekend I visited one of my best friends from college who lives in Philadelphia. I've been to Philly on a couple of brief occasions in the past, but this was the first time I spent more than a day in the city. I let her do all the planning with one request: I wanted a Philly cheesesteak. Other than that, everything else was up to her to plan. She did an awesome job selecting delicious spots to try, showing me various neighborhoods around the city, and just being a fantastic companion for exploring (why do you think we're friends after all?).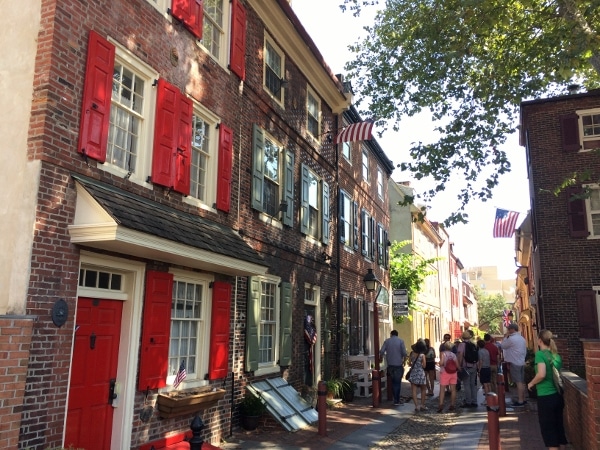 I thought it would be fun to show you all a glimpse of my delicious fun weekend in Philadelphia, the City of Brotherly Love, the Birthplace of our Nation, and of course the land of Rocky Balboa ("Adrienne!!!!!").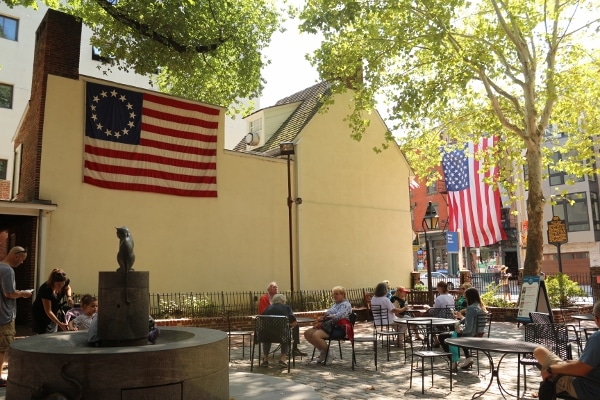 On Saturday we started with brunch at Cuba Libre, a really fun spot in Old City with excellent Cuban decor and ambiance that makes you feel like you're practically in Havana.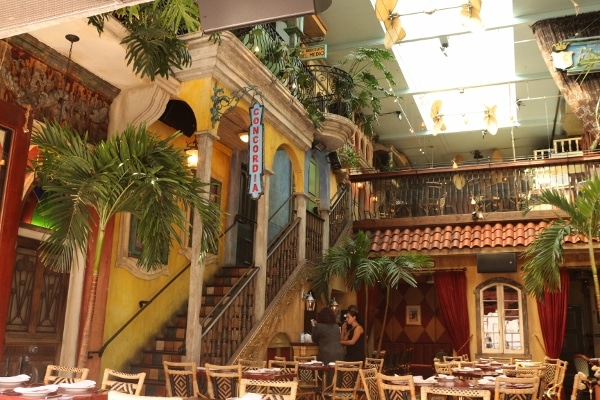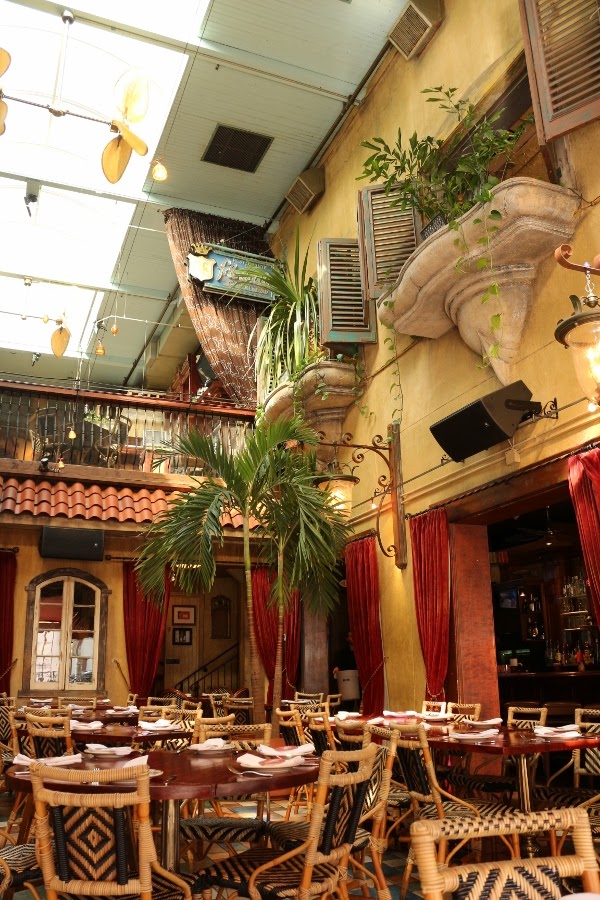 We split the Homemade Latin Breakfast Breads basket, which contains banana bread, a guava cream cheese hojaldre, a crispy churro, a coconut-berry muffin, and a chocolate-chocolate chip muffin, along with mango butter, coconut-lime preserve, and guava marmalade for spreading.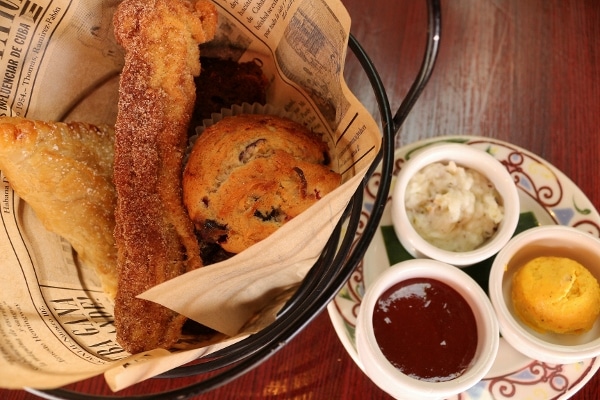 Homemade Latin Breakfast Breads $11
We actually saved the muffins for later, but snacked on the other sweets before our meal arrived. The guava cream cheese hojaldre and the churro were my two favorites! I enjoyed all the spreads, but the the guava marmalade was the real winner. Guava rules!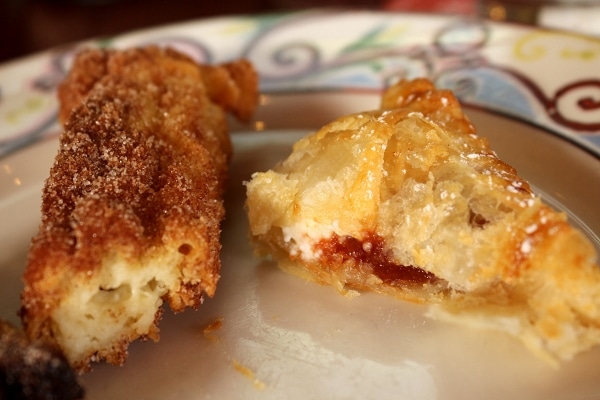 Meanwhile, we both sipped on some of the non-alcoholic aguas frescas. I loved the hibiscus-blood orange-mango flavor!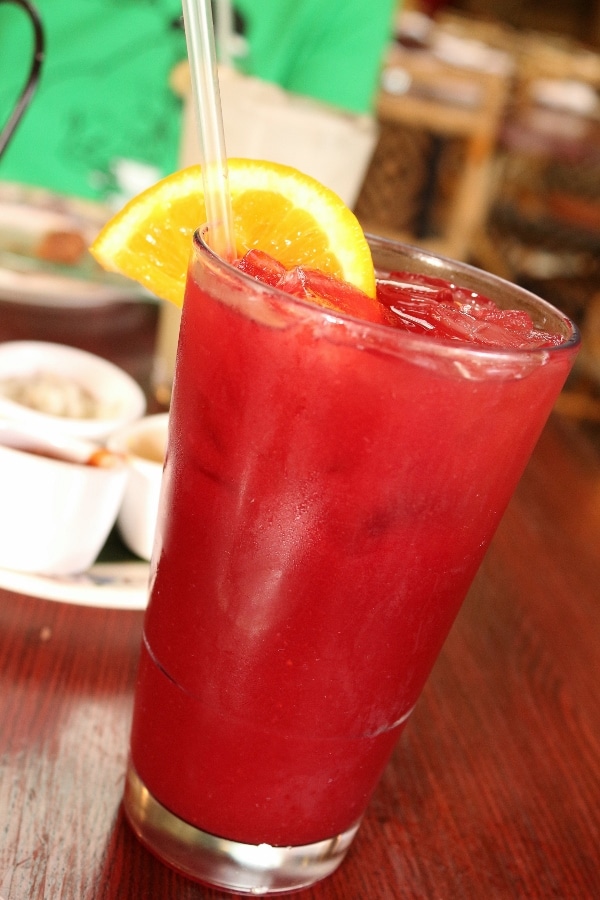 Habiscus-Blood Orange-Mango Agua Fresca $5.50
We decided to split one of the breakfast tapas as well as the Cubano sandwich. The pressed Cuban sandwich is made Ybor City style with sour orange marinated pork loin, Genoa salami, ham, provolone and Swiss cheese with yellow mustard-pickle relish. It was delicious and satisfied that looming craving for a Cubano after my most recent viewing of the movie Chef.
El Cubano $16.50
We also split the One-Eyed Ropa Vieja Hash, which features a classic Cuban shredded beef brisket stewed with tomatoes, bell peppers, potato, boniato, maduros and corn hash, all topped with a fried egg. It was flavorful and juicy, and the runny yolk from the egg was just the icing on the figurative cake here.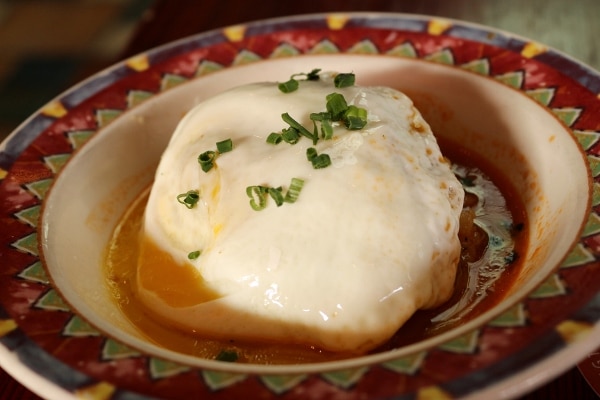 One-Eyed Ropa Vieja Hash $9.50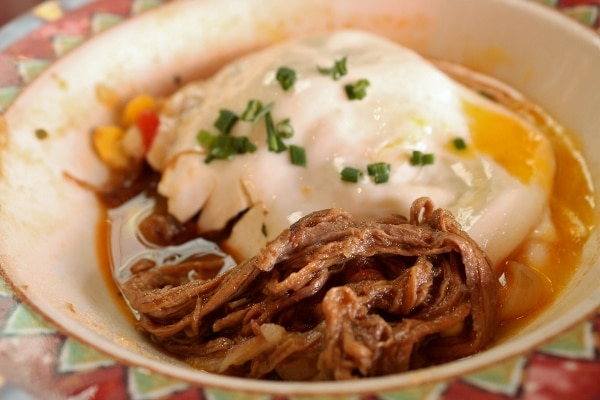 I could practically feel Ricky Ricardo's spirit enter my soul after finishing up this Cuban meal ("Lucy!!!!").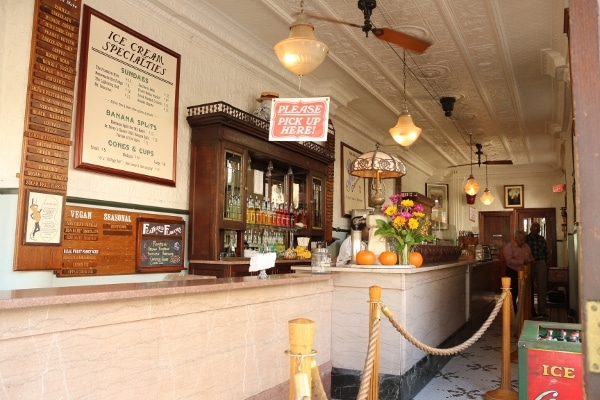 About a block away from Cuba Libre is the Franklin Fountain, an old-timey ice cream parlor complete with an actual working old school telephone. I actually called it while we were there to see/hear it ring, and had one of the employees answer it. Pretty cool!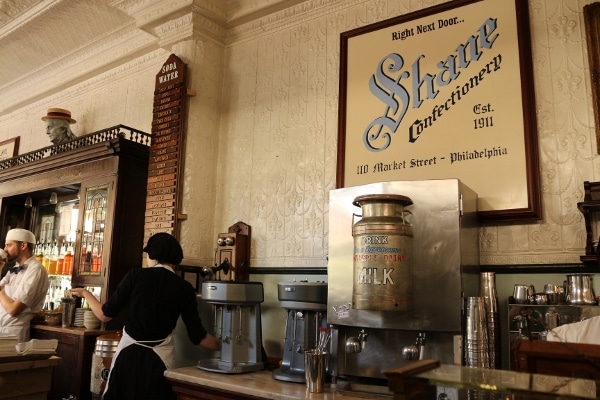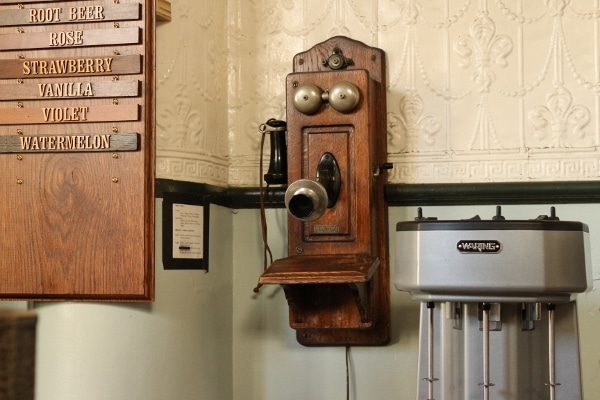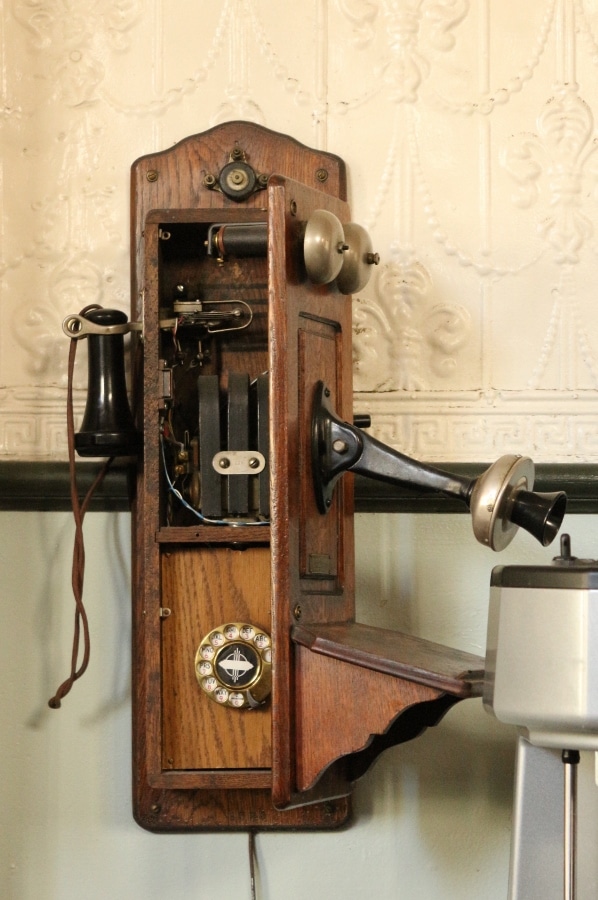 I love the vintage feel of this space (as well as the turn-of-the-century feel at Shane Confectionery, it's sister shop next door). The staff is very friendly, and it's definitely worth a visit! We tried a caramelized banana milkshake. It was super thick and decadent! Thankfully after our large meal of Cuban food, we were smart enough to split it instead of each getting our own.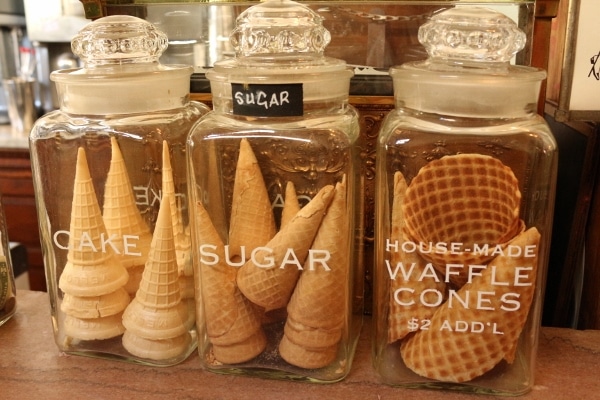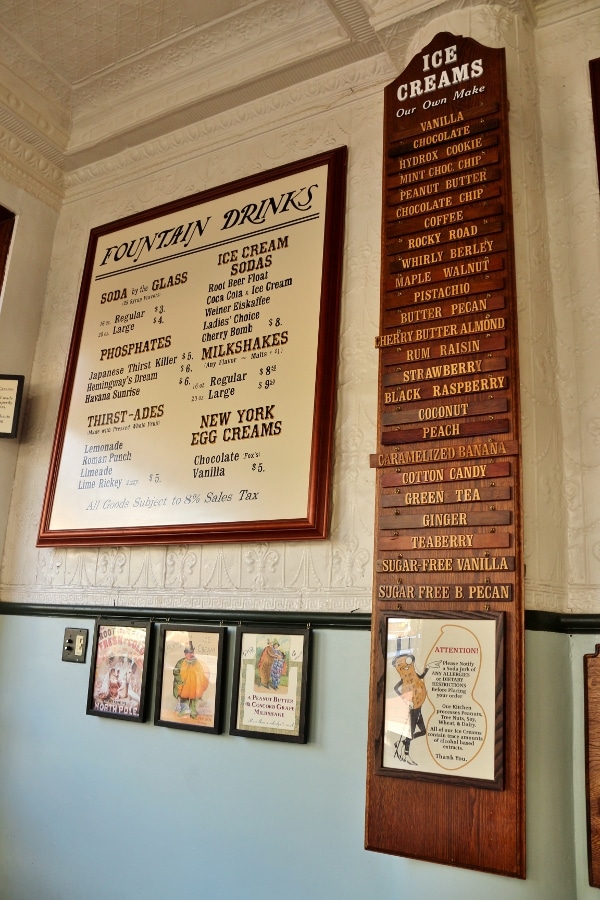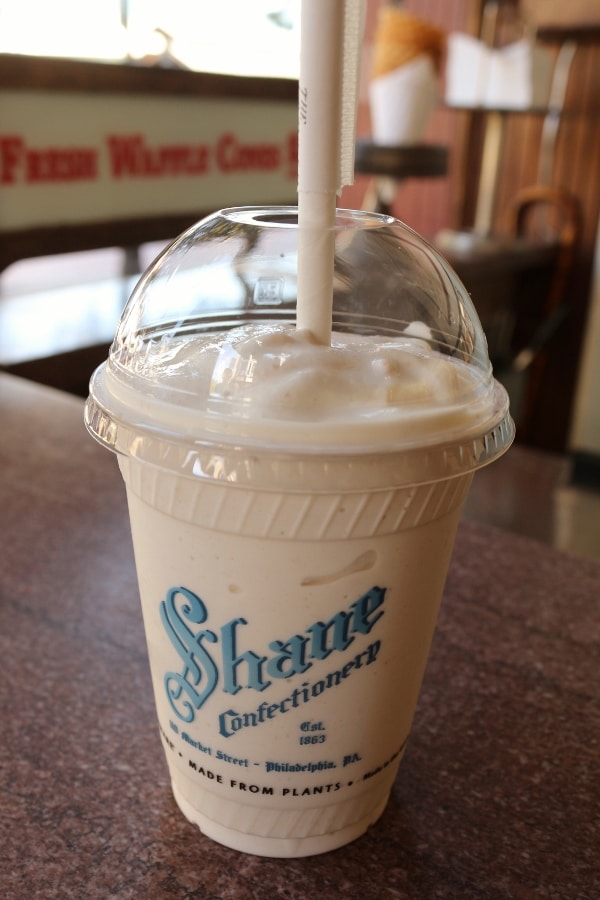 Regular Caramelized Banana Milkshake $8.50
We wandered and shopped quite a bit while enjoying our shared milkshake. Eventually, we made our way to South Philadelphia, through the Italian neighborhood (we made a few stops along the way to buy cheese, because obvi), and finally reached our destination at a crossroads of Philly Cheesesteak nirvana.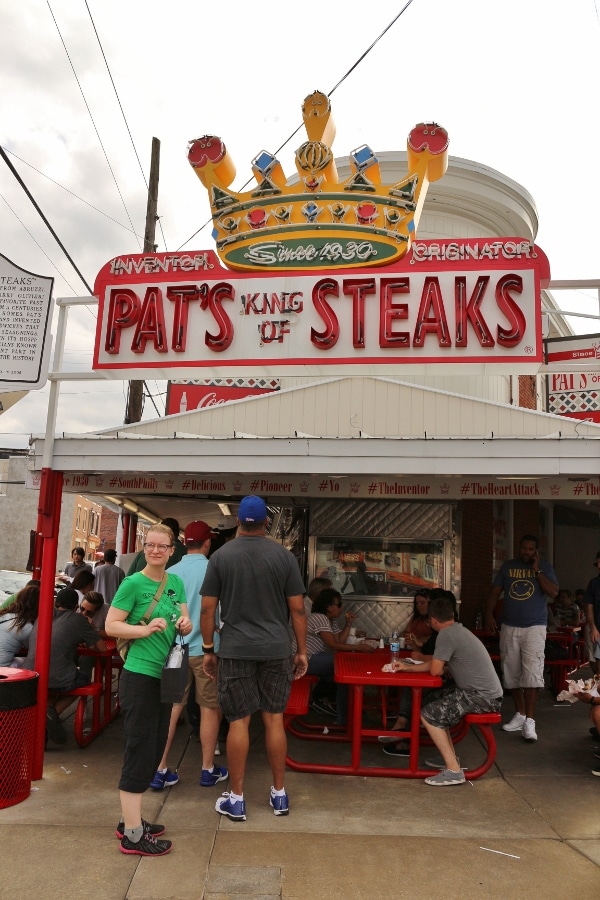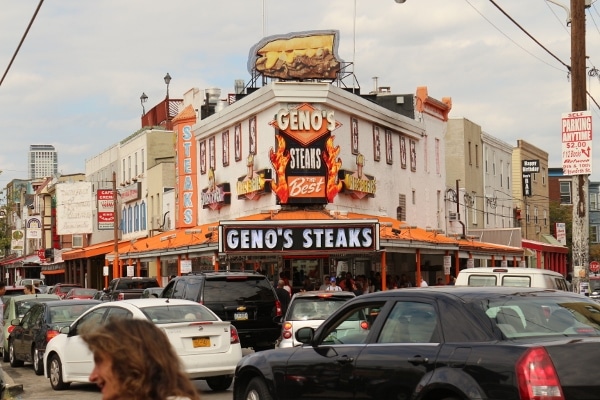 Across the street from one another are two of Philadelphia's most legendary cheesesteak spots: Pat's and Geno's. The rivalry between the two, much like that of the Crips and the Bloods of LA, or the Montagues and Capulets of Verona, is pretty hard-core. People tend to pick sides and they are passionate about their choices.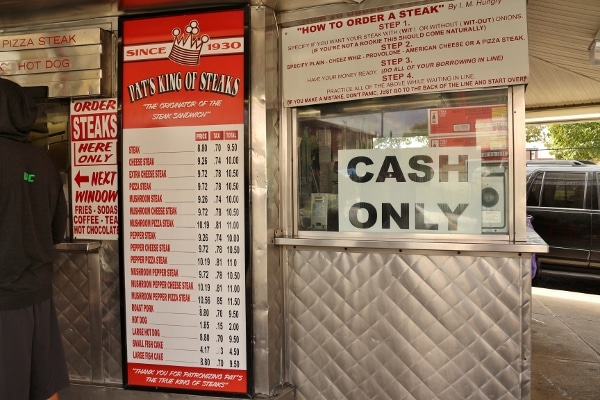 Geno's is definitely the flashier of the two. Pat's looks a bit more run-down, but I think that's part of its charm. Based on the feedback of friends and family, I had decided long-ago that if I stood at the crossroads of these two, I wanted my first Philly Cheesesteak to come from Pat's. In theory, I would have loved to get a cheesesteak from each location and try them both simultaneously, but after a big Cuban brunch, an artery-clogging milkshake, and cheese-sampling along the way, my friend and I decided to split a cheesesteak between the two of us, because we still had dinner plans only a few hours later (true story).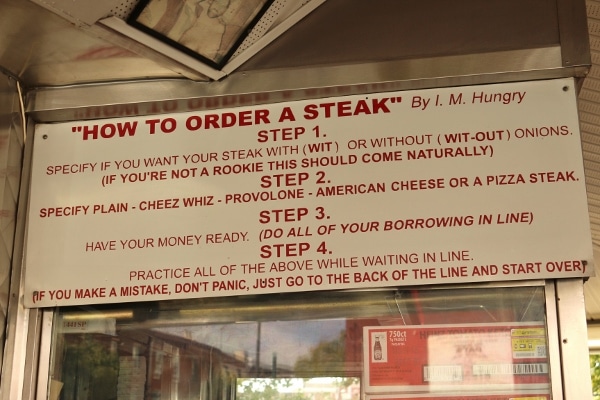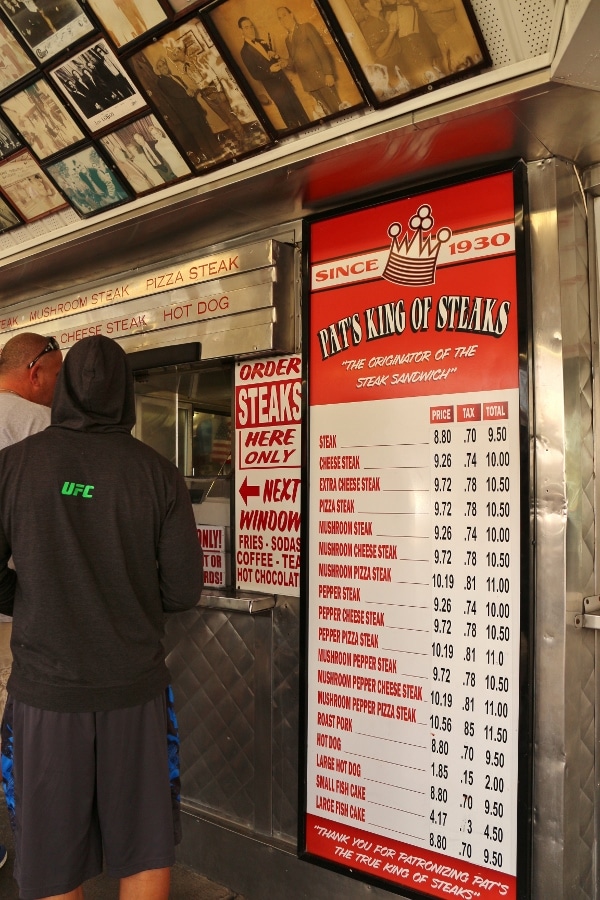 Pat's it is! We opted for an American (cheese) wit (with onions). I argued with my friend, "I don't know if I can eat any! I'm still so full!" and then I easily scarfed down my half cheesesteak, it was so damn good! The bread was soft, yet chewy. The steak itself is sliced super thin, tender and incredibly juicy. And of course the cheese can range depending on your choice, but we found that the American melted really nicely beneath the hot steak. The experience was priceless, watching the cooks speedily putting together cheesesteak after cheesesteak, but truly the cheesesteak itself was the pinnacle of our adventure. It was delectable, delicious, every fantasy I had hoped it would be. I'm craving another one. Right. Now.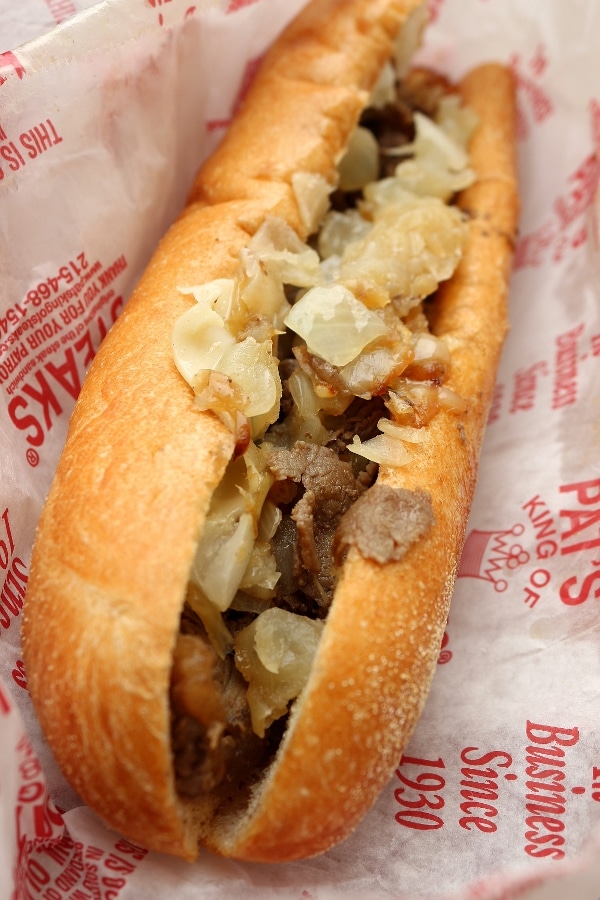 American wit (onions) $10
Remember I said we had dinner plans after this? Fortunately we had a few hours between death-by-cheesesteak and our next meal. I didn't fully document our dinner (it was pretty casual and I left my fancy camera at home), but I will share a few bits and pieces. We went to a small, laid back bistro called Miles Table near Rittenhouse Square. We started out by sharing a bowl of Blue Nachos. It was classic, yet nicely executed.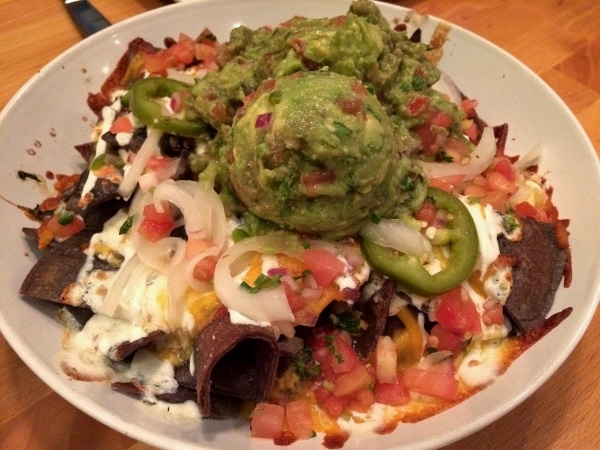 Blue Nachos w/ Guacamole $13
I only photographed my own entree choice, but it was also delicious. The Eggplant Parmesan is quite crispy when first served (before the basil marinara starts soaking in). It's layered with mushrooms, arugula, and gooey mozzarella, and served with a side of very lightly dressed greens. I kind of ignored the greens to be honest. The eggplant parm definitely stole the show, and I even enjoyed leftovers the next morning for breakfast. Good times.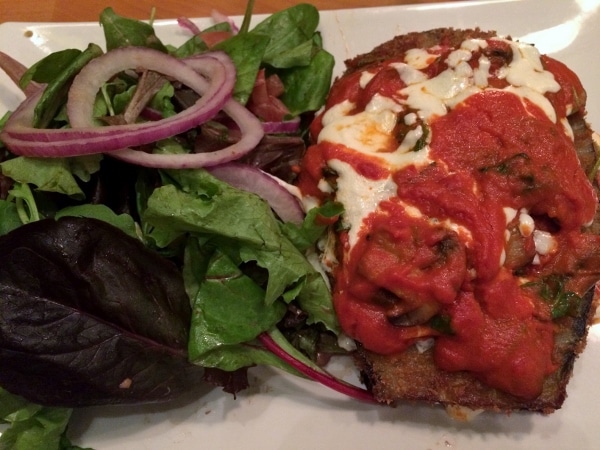 Eggplant Parmesan $17
Although I don't have any photographic evidence, after dinner we stopped next door at Magpie where we ordered a few slices of pie to go. This would be part two of my breakfast the next morning. I selected the pear ginger with oatmeal crumble topping. It was a great way to start the day! Tune in next week for an exciting look at my second day in Philly, where we went to a cooking class and learned all about glories of matcha tea!
Cuba Libre
10 S 2nd St
Philadelphia, PA 19106
(215) 627-0666
cubalibrerestaurant.com
The Franklin Fountain
116 Market St
Philadelphia, PA 19106
(215) 627-1899
franklinfountain.com
Pat's King of Steaks
1237 E Passyunk Ave
Philadelphia, PA 19147
(215) 468-1546
patskingofsteaks.com
Miles Table
1620 South St
Philadelphia, PA 19146
(267) 318-7337
milestable.com
Magpie
1622 S St
Philadelphia, PA 19146
(267) 519-2904
iluvmagpie.com
Related posts