This post may contain affiliate links, which means that I may receive a commission if you make a purchase using these links. As an Amazon Associate I earn from qualifying purchases.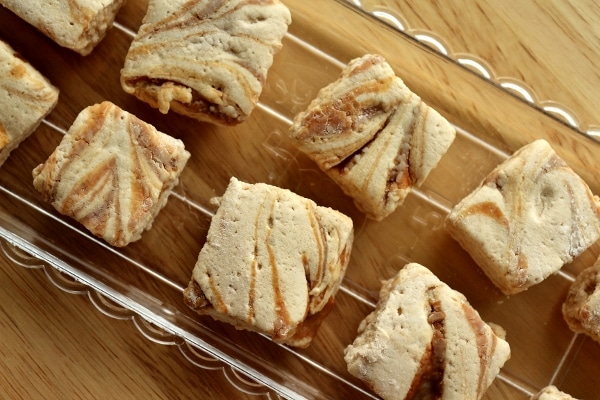 I had never really thought much about making homemade marshmallows. I had seen others do it, and it seemed simple enough, but never quite made it onto my to do list. It wasn't until I received a review copy of Paige Couture's The Artisan Marshmallow from Hardie Grant Books that I finally planned a marshmallow-making adventure in my kitchen.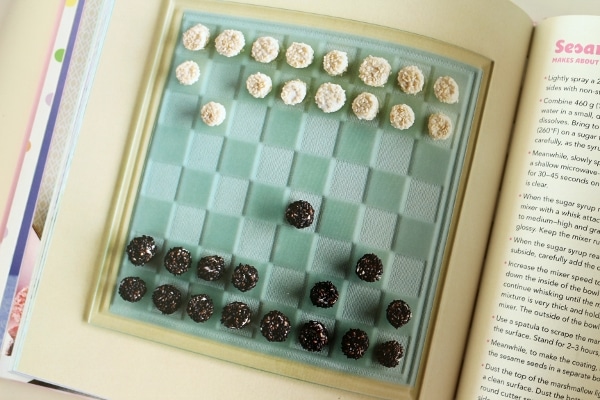 The book, due for an October 1st release, features a puffy pink cover and chapters entitled Easy, Fruity, Swirly, Cutesy, Boozy, Hipster-y, and Variety. There is no introduction or index, which at first I found odd, but I think it's a British thing. The other book by Hardie Grant that I'm currently reviewing (keep your eyes peeled for that upcoming post!) is also more streamlined without additional introductions and such.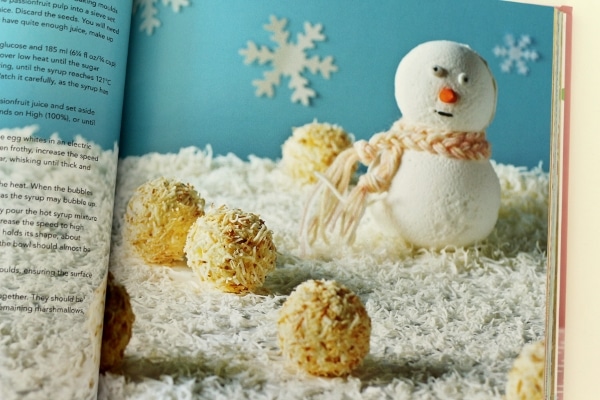 Even the recipes themselves don't have playful little intros, but rather get straight to the point. There are occasional notes in the sidebar, however, so that is helpful when needed. Every single recipe includes a photograph, so that's a definite plus! They are colorful, whimsical perfection, truly fitting a book on a subject so youthful, yet gourmet.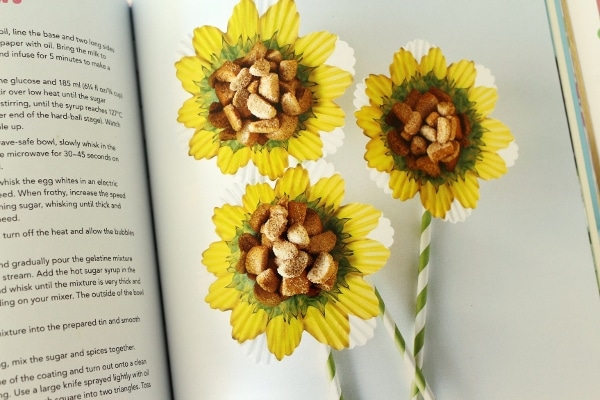 Being a marshmallow virgin and all, I was perhaps a tad apprehensive getting started. I have a handy candy thermometer, so that definitely helps, and the recipes are very detailed and well-written. There are lots of exciting marshmallow recipes I considered, such as Mojito Marshmallows, Honeyed Cardamom Marshmallows with Pistachios, Double Raspberry Marshmallows, and Saffron & Honey Marshmallows among others.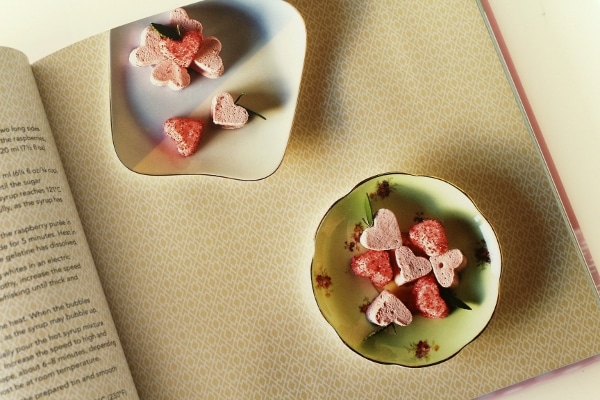 I decided to start out with the Honey & Peanut Butter Swirl Marshmallows, because who doesn't love peanut butter (well, I suppose people who are allergic to peanuts)? Most of the recipes include a small quantity of glucose, which is a specialty ingredient I was hoping to avoid buying. I do believe corn syrup may be a fine substitute, but for this particular recipe, there is no glucose anyway, and instead a generous quantity of honey!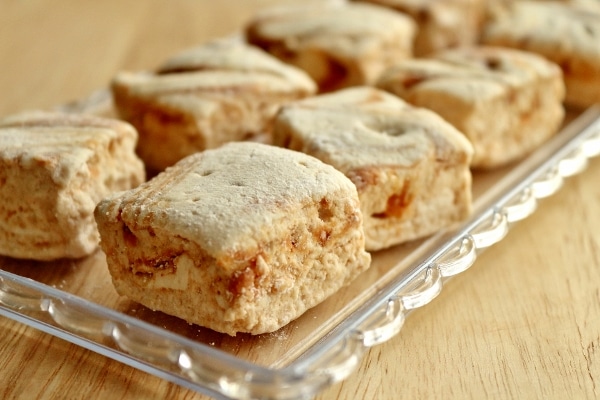 These recipes also feature gelatin, which is not vegetarian, but again this doesn't really affect me, but it might make a difference to you. Following Couture's thorough instructions, I got to work on my first batch of marshmallows.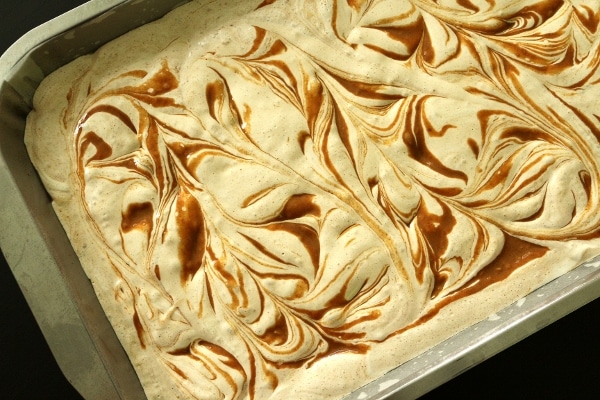 I used granulated sugar instead of caster/superfine, but I measured in weight instead of volume so it shouldn't have made much of a difference. I found the recipe very easy to follow, and after making marshmallows only once, I feel extremely confident to try more recipes again in the future.
Unlike store-bought marshmallows, these are extremely delicate, spongy, and basically melt in your mouth. In this particular case, the peanut butter flavor is outstanding, and really sends you to the moon! What a delightful treat! I'm so glad I took a chance and decided to finally make marshmallows myself, because I'm so impressed not only with the ease of preparing them, but with the fantastic results.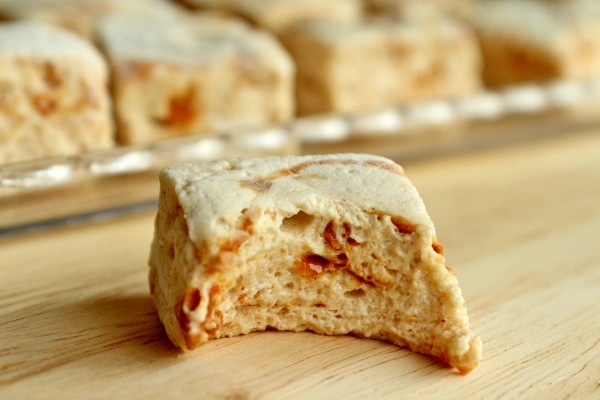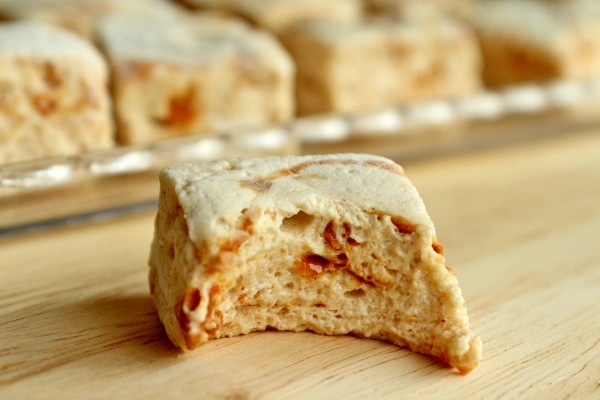 Honey & Peanut Butter Swirl Marshmallows
Homemade marshmallows can be a lot of fun to make (and eat). This version features a decadent honey and peanut butter swirl!
Ingredients
400

g

(14 oz/1 3/4 cups) caster (superfine) sugar

(I use granulated, but weigh it in grams vs volume)

150

g

(5 oz) honey

2

tablespoons

powdered gelatin

70

g

(2 1/2 oz/2 large) egg whites, at room temperature

185

g

(6 1/2 oz/3/4 cup) crunchy peanut butter
Coating:
30

g

(1 oz/1/4 cup) icing (confectioners') sugar

30

g

(1 oz/1/4 cup) cornflour (cornstarch)
Instructions
Lightly spray a 25 x 30 cm (10 x 12 in) baking tin with oil, line the base and two long sides with non-stick baking paper and lightly spray the paper with oil. Combine 345 g (12 oz/1 1/2 cups) of the sugar, the honey and 125 ml (4 fl oz/1/2 cup) water in a medium, deep heavy-based saucepan. Stir over low heat until the sugar dissolves. Bring to a boil and simmer, without stirring, until the syrup reaches 127 degrees C (260 degrees F) on a sugar thermometer (this is the upper end of the hard-ball stage). Watch it carefully, as the syrup has a tendency to bubble up.

Meanwhile, slowly sprinkle the gelatin over 160 ml (5 1/4 fl oz/2/3 cup) cold water in a shallow microwave-safe bowl and set aside for 5 minutes. Heat in the microwave for 30-45 seconds on High (100%), or until the gelatin has dissolved.

When the sugar syrup reaches 115 degrees C (239 degrees F), whisk the egg whites in an electric mixer with a whisk attachment on medium speed. When frothy, increase the speed to medium-high and gradually add the remaining sugar, whisking until thick and glossy. Keep the mixer running on medium speed. When the sugar syrup reaches 127 degree C (260 degrees F), turn off the heat and allow the bubbles to subside.

Increase the mixer speed to medium-high and gradually pour the gelatin mixture down the inside of the bowl in a thin, steady stream. Add the hot sugar syrup in the same manner. Increase the speed to high and whisk until the mixture is very thick and holds its shape, about 10 to 12 minutes, depending on your mixer. The outside of the bowl should almost be at room temperature.

Meanwhile, put the peanut butter in a small microwave-safe bowl and heat in the microwave on Medium (50%) in 15-second bursts until softened slightly, but not hot (I used a "natural" style crunchy peanut butter, so it was already fairly soft at room temperature and I didn't follow this step to soften it further).

Reserve a couple tablespoons of the peanut butter and use a large spoon or spatula to gently fold the rest through the marshmallow mixture, stirring and lifting the mixture only 2 to 3 times (I totally broke this rule). Do not over-mix.

Use the spatula to scrape the marshmallow mixture into the prepared tin and gently smooth it out. Swirl the reserved peanut butter through the top of the marshmallow. Stand for 2 to 3 hours, until set.

Meanwhile, to make the coating, sift the icing sugar and cornflour together. Dust the top of the marshmallow with some of the coating and turn out onto a clean surface. Dust the bottom with more coating. Use a large knife sprayed with oil to cut the marshmallow into pieces. Toss the pieces in the remaining coating, dusting off the excess.

Keep in an airtight container for 2 to 3 days.
Notes & Nutrition
Servings 35.0 * calories 99 * Total Fat 3 g * Saturated Fat 1 g * Monounsaturated Fat 1 g * Polyunsaturated Fat 1 g * Trans Fat 0 g * Cholesterol 0 mg * Sodium 25 mg * Potassium 42 mg * Total Carbohydrate 18 g * Dietary Fiber 0 g * Sugars 16 g * Protein 1 g
*All nutritional information is based on third-party calculations and should be considered estimates. Actual nutritional content will vary with brands used, measuring methods, portion sizes and more.*
*Disclaimer* I received no compensation to write this review other than a free copy of the book. My opinions are always my own.