This post may contain affiliate links, which means that I may receive a commission if you make a purchase using these links. As an Amazon Associate I earn from qualifying purchases.
These creative Tamarind Margaritas feature a vibrant Indian/Asian influence through the addition of tamarind. Tamarind is a fruit pod native to Asia and Northern Africa, but also very popular in Latin America where it's called tamarindo. These refreshing cocktails are sweet-tart and delightfully boozy with a hefty mix of tequila and triple sec!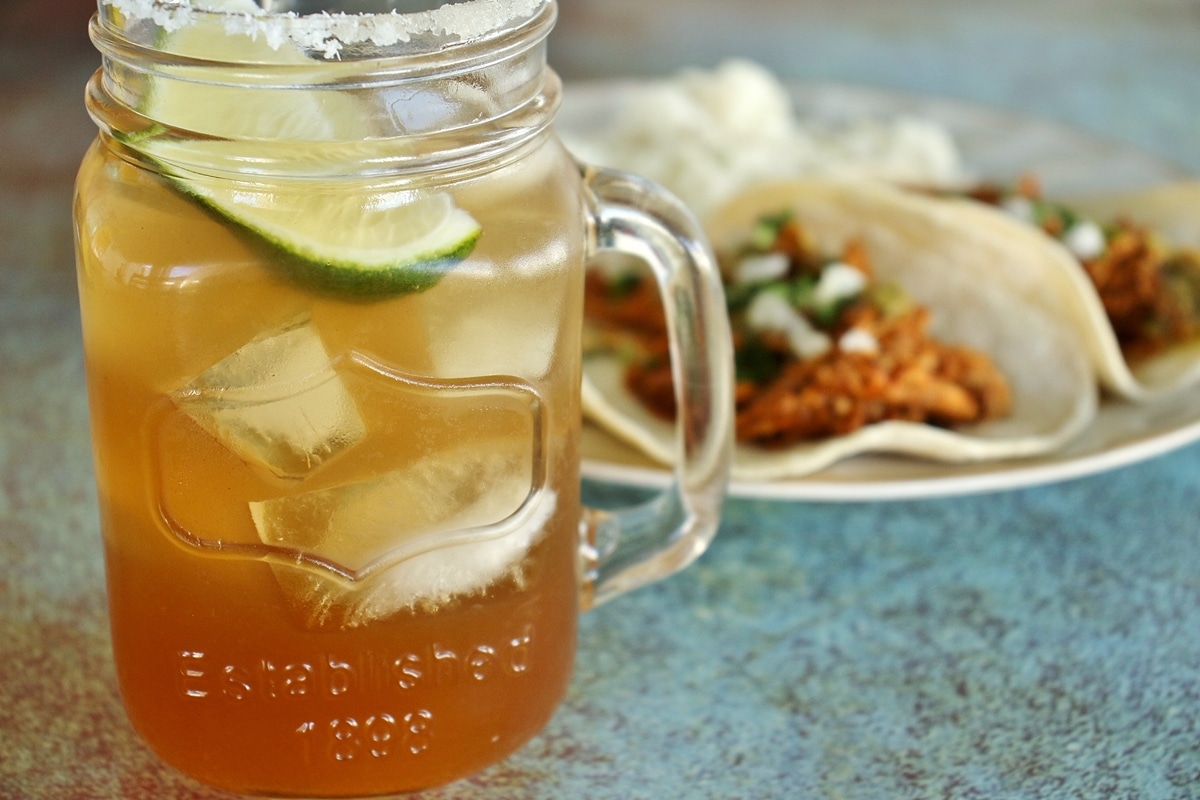 Over the years I have ordered tamarind margaritas at my favorite local Mexican and Indian restaurants. Tamarind is a common ingredient in many global cuisines including Indian, Thai, Vietnamese, Mexican, and Caribbean to name a few.
Adding it to margaritas is TOTALLY brilliant, and something every tamarind-lover should try. Before we dive into how to make these incredible tamarind cocktails, I want to take a moment to discuss the star ingredient.
What is tamarind?
Tamarind is an edible pod-like fruit that grows on trees. India is the biggest producer of tamarind in the world, but it is very common throughout Southeast Asia and also Latin America.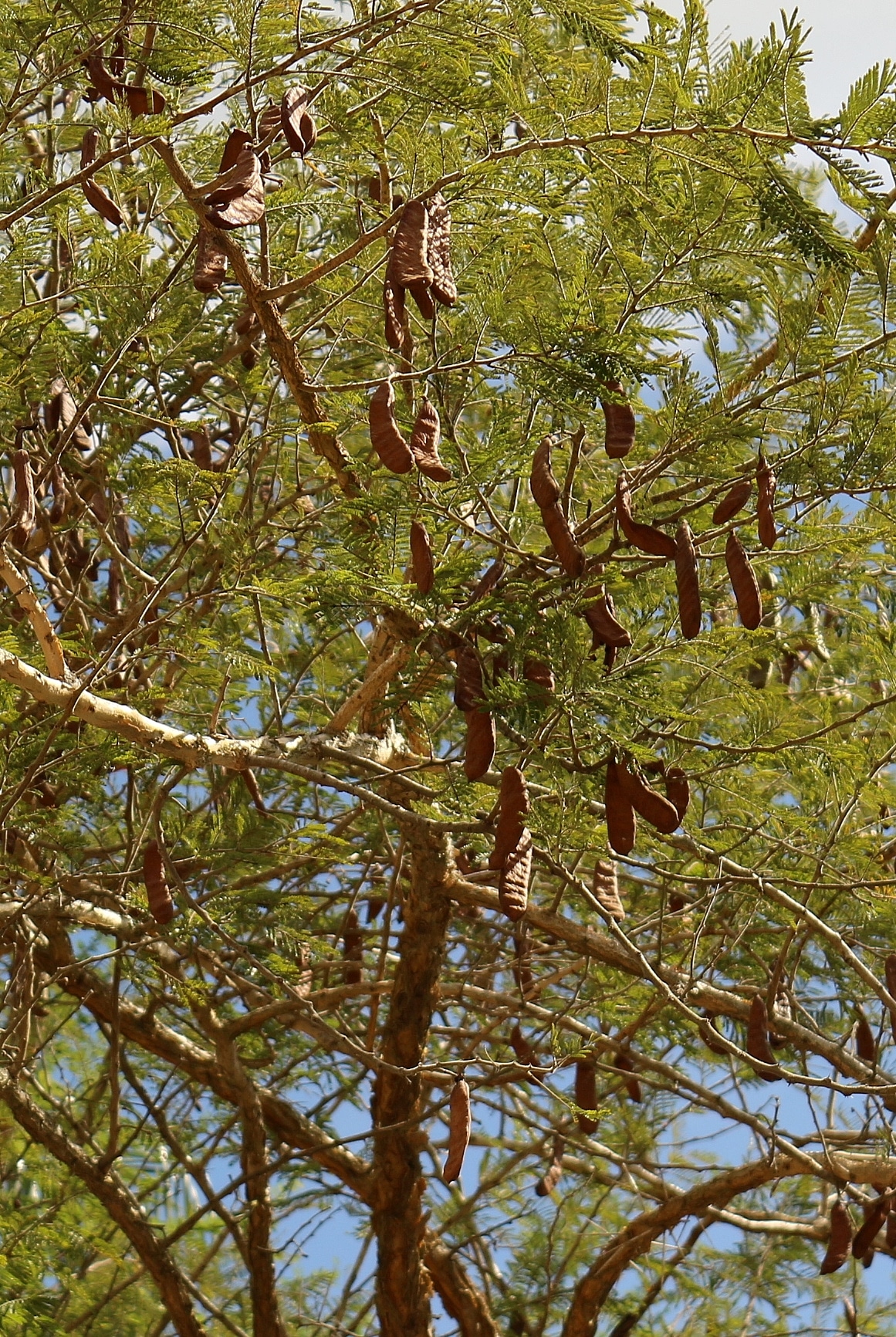 You can purchase tamarind in a variety of ways. Tamarind pulp is quite popular, and is the actual compacted fruit pulp (sometimes with seeds) pressed into a block. To use blocks of tamarind pulp, a bit of prep is required. Soak the pulp in boiling water until softened, and then strain, pressing out the tamarind puree, leaving the fibers and seeds behind.
You can also purchase tamarind puree or tamarind paste concentrate in bottles or jars. The texture can vary depending on the specific brand and preparation. While tamarind puree may be more like applesauce in texture, tamarind paste (at least the brand I use) is extremely thick and pitch black.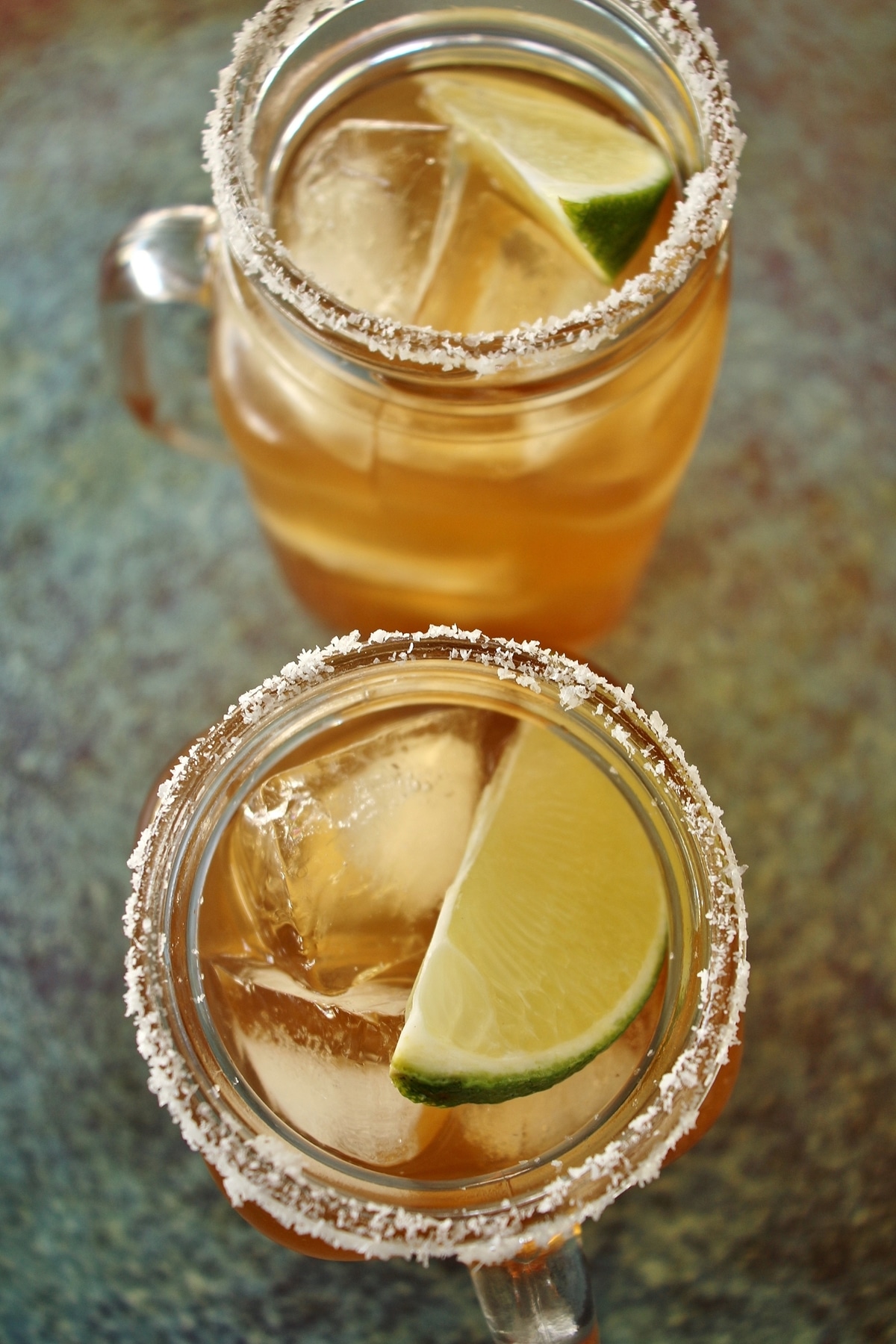 For this recipe I use a very small amount of Tamican tamarind paste because it's so concentrated. If you use another brand of paste or different tamarind preparation, adjust the recipe slightly. You may need a bit more puree to yield the same color and flavor that a small bit of paste/concentrate provides.
Because this tamarind paste concentrate is SO intense, it's much easier to make a tamarind simple syrup with it rather than shaking the paste directly into your cocktail where it may not fully dissolve. Even if you use another brand, you can still follow these steps.
How to make tamarind margaritas
Making these refreshing tamarind margaritas is similar to any other margarita recipe. We begin by making simple syrup by combining equal parts water and sugar in a small saucepan.
Add a tiny spoonful of intense tamarind paste concentrate (or a bigger spoonful of a less saturated tamarind puree). Heat until the sugar and tamarind are fully dissolved. Remove from the heat, and cool completely. You should have about 3 fluid ounces. If you use tamarind puree, you may yield more (adjust how much you add to your margaritas in the following steps, as needed).
You have a couple options here. You can use the syrup to shake up individual cocktails or make a small pitcher of 4 servings at once.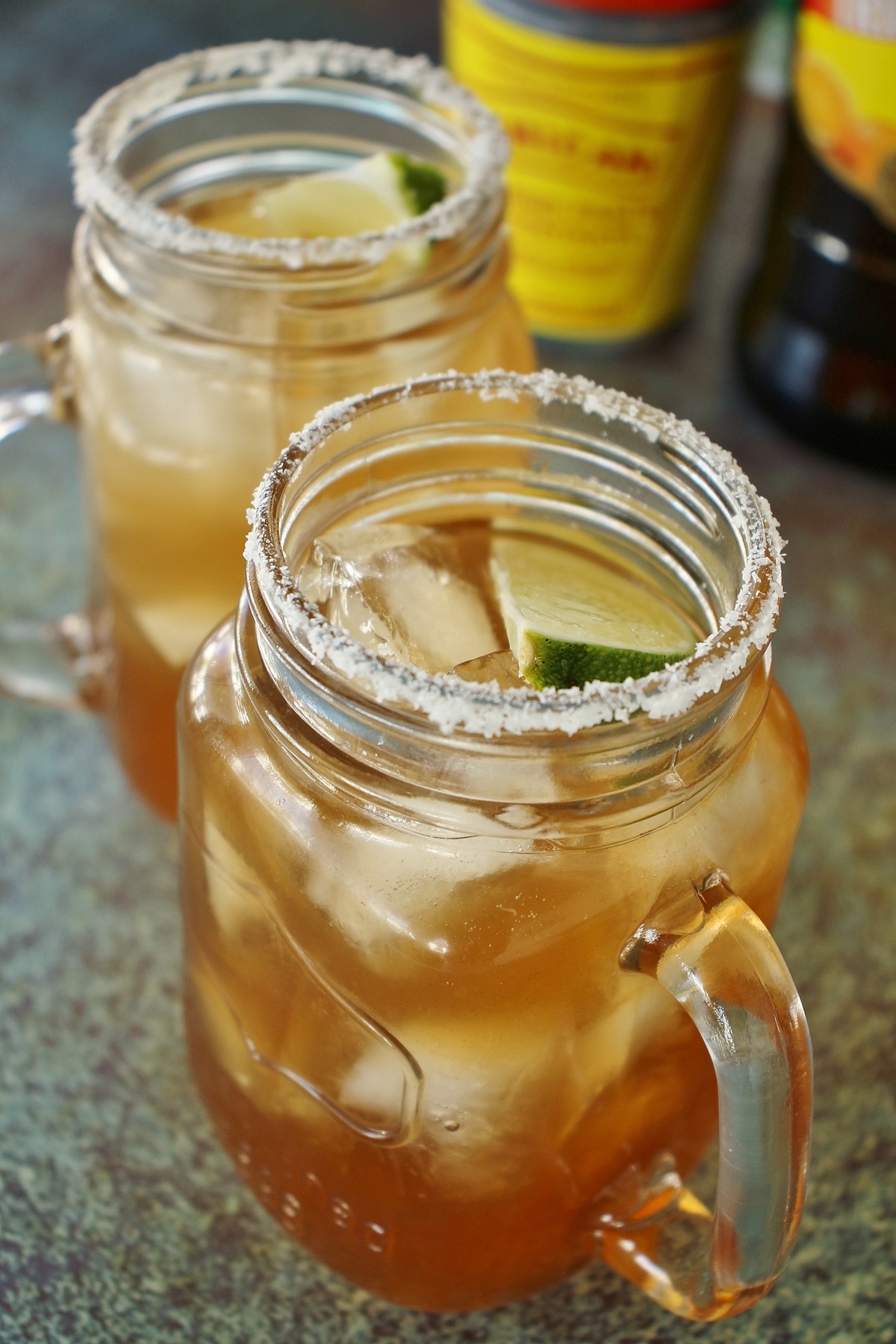 To make a single margarita:
Combine 2 ounces of tequila, 1 1/2 ounces triple sec, 1 ounce fresh lime juice, and 3/4 ounce of the tamarind simple syrup. Shake in a cocktail shaker with ice, and then strain into a salt-rimmed glass filled with ice.
To make ALL the margaritas:
Combine all the ingredients in a large measuring cup or small pitcher (1 quart capacity max). You can portion from here and shake up individual margaritas if you want. But if you're like me and make this mixture ahead of time, simply refrigerate it for a couple hours. It will get ice cold, and then all you have to do is give it a stir, and pour it into salt-rimmed ice-filled glasses. Easy peasy!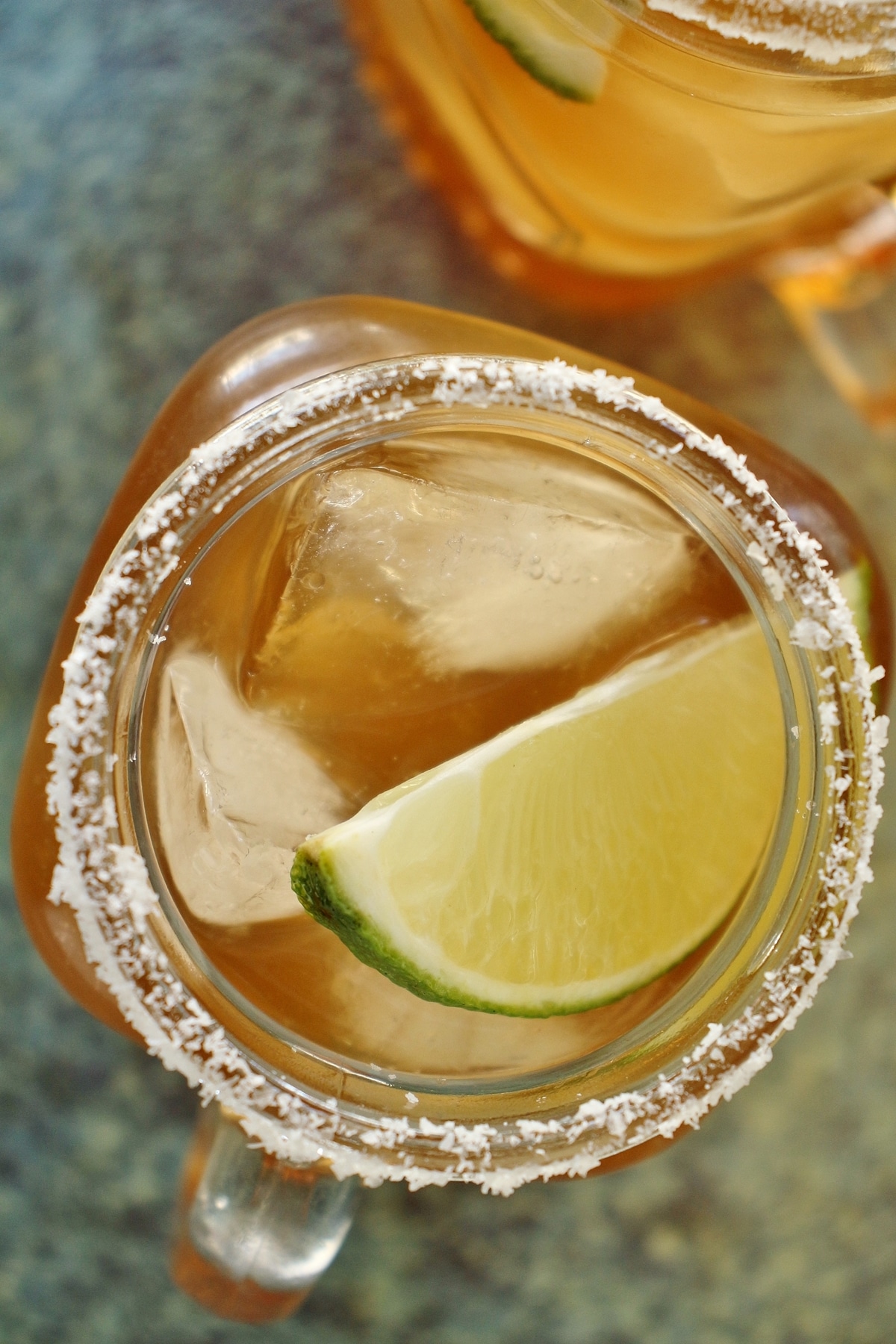 How to serve them
Margaritas traditionally feature a salt rim, although some people prefer sugar or a combination of salt and sugar. The easiest way to do this is to pour some kosher salt (or sugar if that's your jam) onto a flat plate. Then rub a lime wedge over the rim of each glass. Press the wet rim into the salt, rotating the glass as needed to cover the entire circumference.
I don't own any margarita glasses, so I usually serve mine in glass tumblers or even mason jars! Half-pint (8 ounce) jars should be a sufficient size for the recipe as it's written.
However, if you want to serve up bigger portions you can divide the tamarind margarita mix into 2 (for double margaritas) or 3 for slightly more generous pours. In Starbucks terms think of them as tall (4 servings), grande (3 servings) and venti (2 servings).
For grande and venti sizes you can serve these tamarind margaritas in pint-size (16 ounce) mason jars with plenty of ice.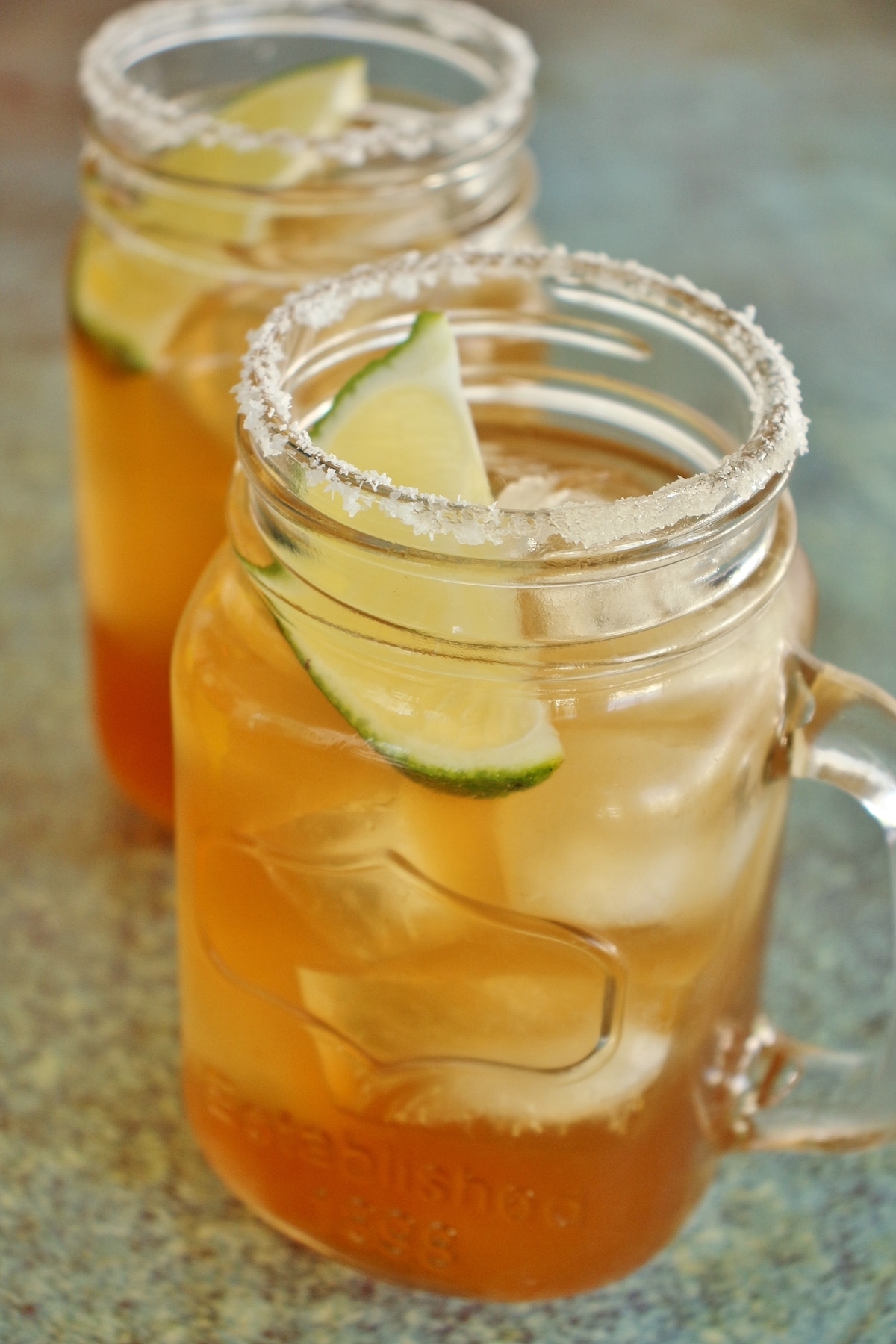 Other cocktail recipes you may like
Want to pair these amazing margaritas with some delicious food? Check out my roundup of the best Cinco de Mayo recipes for some great menu ideas!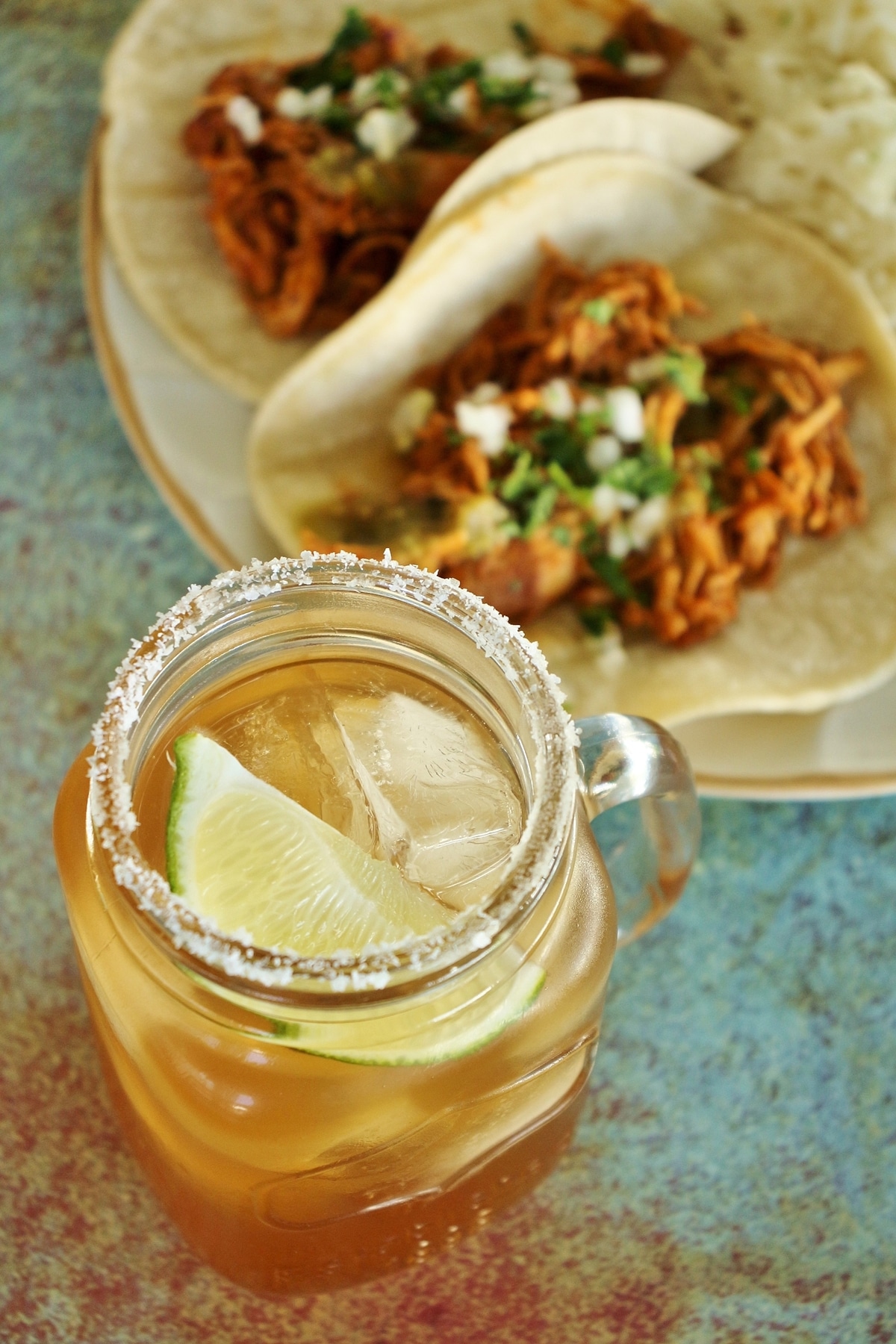 What are your favorite margaritas? Do you prefer frozen or on the rocks? Salt or sugar rim? Let me know in the comments! And don't forget to rate this recipe if you've tried it. Thanks.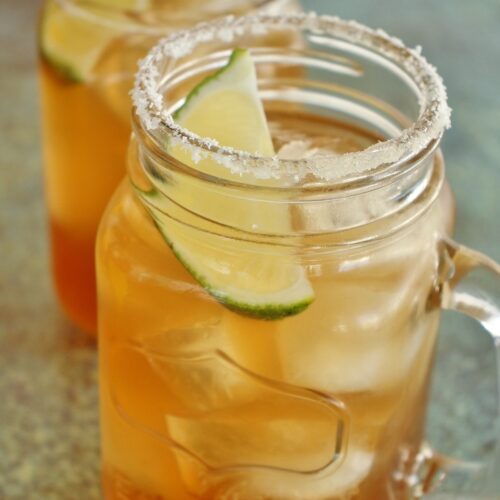 Tamarind Margaritas
These creative Tamarind Margaritas feature a vibrant Indian/Asian influence through the addition of tamarind. Tamarind is a fruit pod native to Asia and Northern Africa, but also very popular in Latin America where it's called tamarindo. These refreshing cocktails are sweet-tart and delightfully boozy with a hefty mix of tequila and triple sec!
Ingredients
1/4

cup

(2 fl oz) water

1/4

cup

granulated sugar

1/4

teaspoon

tamarind paste concentrate

1

cup

(8 fl oz) tequila

3/4

cup

(6 fl oz) triple sec

1/2

cup

(4 fl oz) fresh lime juice

Lime wedges

for garnish

Kosher salt

for garnish
Instructions
Make tamarind simple syrup by combining the water, sugar, and tamarind paste in a small saucepan over medium heat. Stir until the sugar and tamarind are both dissolved (you may need to be a bit more vigorous if your tamarind paste is extremely thick). Set aside, and cool completely.

Wet the rim of 4 margarita glasses or tumblers by running a lightly squeezed lime wedge around it. Rotate the rim of the glass in kosher salt spread on a flat plate. Fill the glasses with ice cubes.

To make 1 margarita: Combine 2 ounces tequila, 1 1/2 ounces triple sec, 1 ounce fresh lime juice, and 3/4 ounce tamarind simple syrup in a cocktail shaker filled with ice. Shake and then strain into a prepared glass. Serve immediately.

To make all 4 margaritas at once: In a large measuring cup or small pitcher combine all of the cooled tamarind simple syrup, tequila, triple sec, and lime juice. You will have about 21 fl oz of tamarind margarita mix.

To serve immediately: shake 5 1/4 ounces of the margarita mixture in a cocktail shaker with ice, then strain into an ice-filled glass. Repeat with 3 more glasses to make 3 more margaritas with the remaining margarita mixture.

If you plan to serve these margaritas later, chill the entire mixture for several hours. When you're ready to drink, simply pour 5 1/4 ounces of margarita mix into each of 4 ice-filled glasses.
Notes & Nutrition
Tamarind can come in a variety of preparations. Blocks of tamarind pulp require a bit of effort to prepare, including soaking in boiling water and then straining. Tamarind puree and tamarind paste are other options, with the paste being the thickest and most concentrated. It's nearly solid, and pitch black in color. This is the version I use in this recipe. If you use one of the others, you will likely need to adjust the amount of tamarind used (likely increase it) to have a similar color and flavor.
You can use this recipe to make larger, restaurant-sized portions you certain can. Make 2 giant double margaritas, or 3 extra-generous margaritas. For the doubles just measure out 10 1/2 ounces per serving, and aim for 7 ounces per serving if you're making 3 margaritas instead of 4.
To serve these margaritas in 16-ounce (pint-size) mason jars like I did, fill the jars very generously with ice and divide the margarita mixture into 3 portions of 7 ounces each. You can also serve double margaritas in this size jar, with a bit less ice.
Servings 4.0 * calories 332 * Total Fat 0 g * Saturated Fat 0 g * Monounsaturated Fat 0 g * Polyunsaturated Fat 0 g * Trans Fat 0 g * Cholesterol 0 mg * Sodium 0 mg * Potassium 0 mg * Total Carbohydrate 61 g * Dietary Fiber 0 g * Sugars 29 g * Protein 0 g
*All nutritional information is based on third-party calculations and should be considered estimates. Actual nutritional content will vary with brands used, measuring methods, portion sizes and more.*
Pin it for Later!