This post may contain affiliate links, which means that I may receive a commission if you make a purchase using these links. As an Amazon Associate I earn from qualifying purchases.
Ooh La La is a Disney Cruise Line craft cocktail that is easy enough to make yourself! Cuban mojitos with a French flair, these Elderflower-infused libations are refreshing and light with a burst of lime and mint flavor in every sip.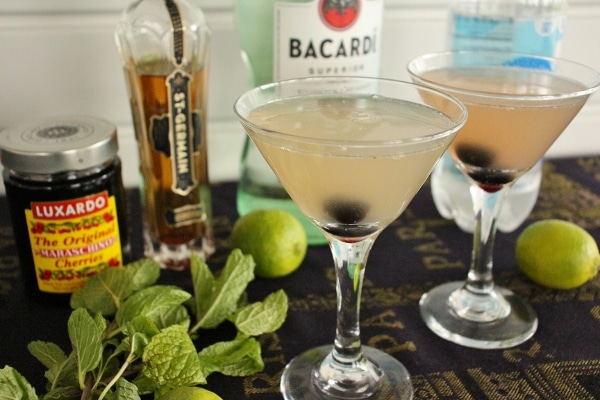 I recently participated in a mojito tasting aboard the Disney Fantasy cruise ship where we not only learned how to make traditional and flavored mojitos, but also sampled drinks including typical mojito ingredients. One of the cocktails we tried is featured on the cruise ship's Skyline Lounge drink menu. Cocktails here are devoted to a variety of world cities whose images make up the illuminated decor in the intimate lounge.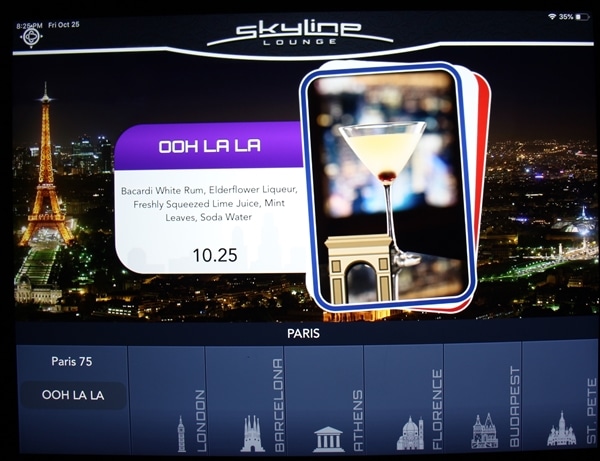 A cocktail by the name of Ooh La La is found on the Paris menu, and is a play on a traditional mojito. The inclusion of a French liqueur is likely the only reason this drink would be representing Paris as opposed to Havana, but regardless of its roots it's a delicious adult beverage I was anxious to recreate. Luckily the bartender at Skyline Lounge provided me with more details and suggestions on measurements for my DIY cocktail.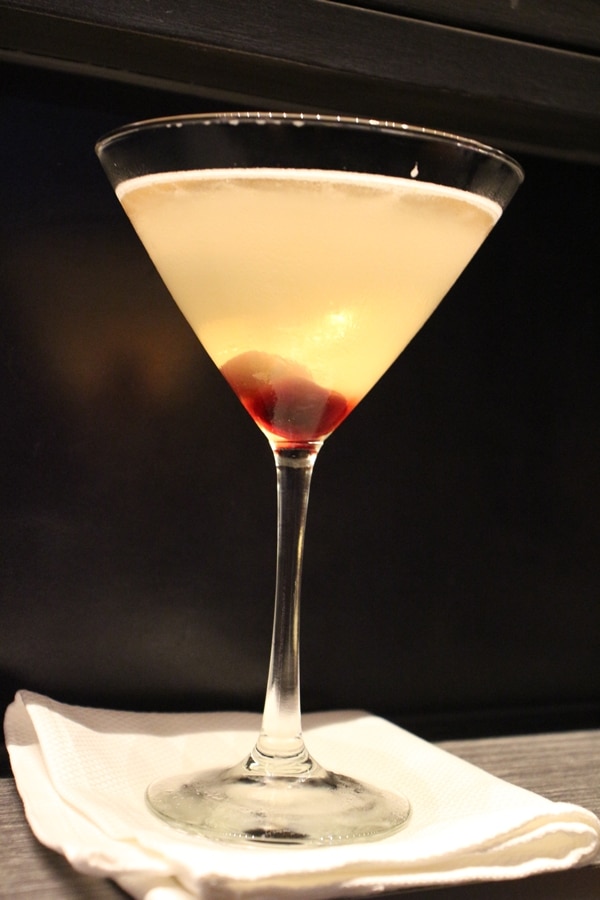 It took a couple tries, but I finally got the proportions right. Unlike a mojito which is served on the rocks, the Ooh La La is shaken and then strained into a cocktail glass. In addition to the standard lime, mint, rum, and seltzer water, the real French element here is the St. Germain Elderflower Liqueur. St. Germain is one of my favorite cocktail ingredients. I almost always order any craft cocktail that features it.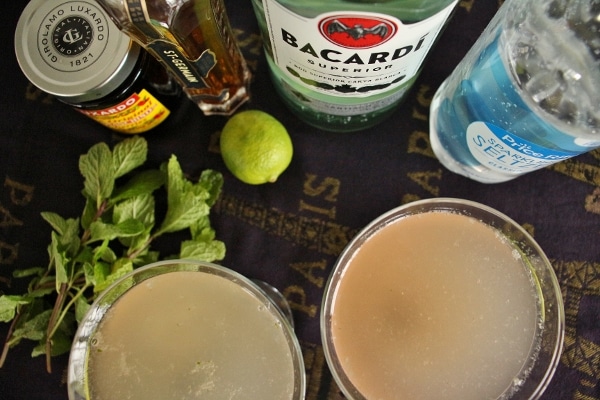 St. Germain is produced in an artisanal manner with elderflowers hand-picked in the hillsides of the French Alps during a four-to-six week period in late spring. The flowers are then bicycled (how French!) to where they are macerated and processed into liqueur using a secret method. The bottles are individually numbered reflecting the year in which the flowers were picked. The result is a beautifully floral (yet not medicinal or soapy) essence with hints of fruit. It's the magic ingredient in some of my favorite cocktails, and in my opinion worth the hefty price tag.
Sourcing the garnish for my Ooh La La was a bit more expensive and challenging than I anticipated. On the ship they use Filthy brand black cherries. They are rather pricey to purchase online for a small-ish jar, and although I finally tracked down a few bottles at a local liquor store (after visiting and calling half a dozen), I actually opted to try a different brand called Luxardo. Both brands have similar ingredients, but they use slightly different varieties of Italian cherries.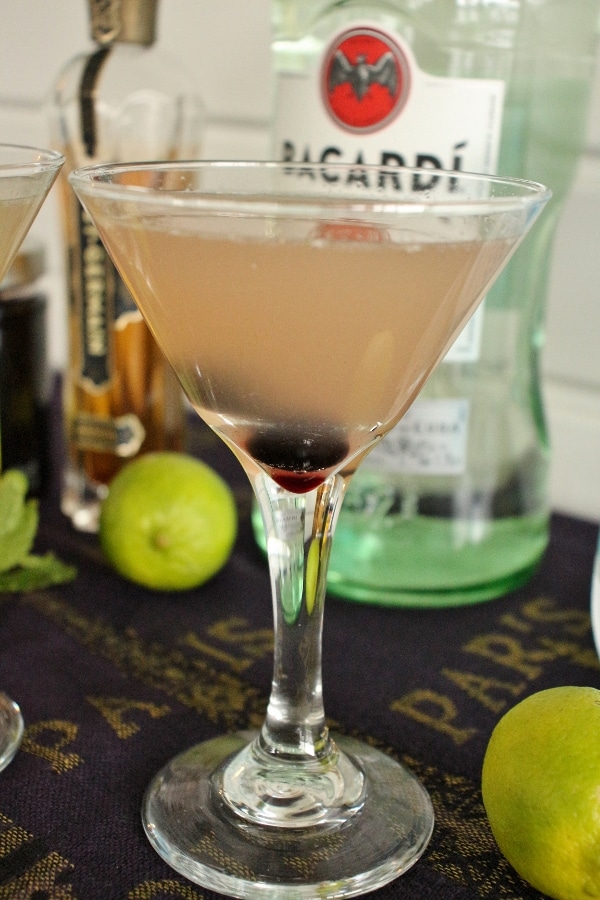 Filthy brand almost tastes like fruit roll ups or chewy fruit snacks, and uses Italian Amarena cherries. Luxardo tastes more like exceptionally good maraschino cherries, and uses Italian Marasca cherries. They are slightly different, but both great, and both use natural ingredients ie no high fructose corn syrup or artificial food dye (like another brand I considered). I found the Luxardo to be a better deal for the size of the jar, so I gave it a try with no regrets.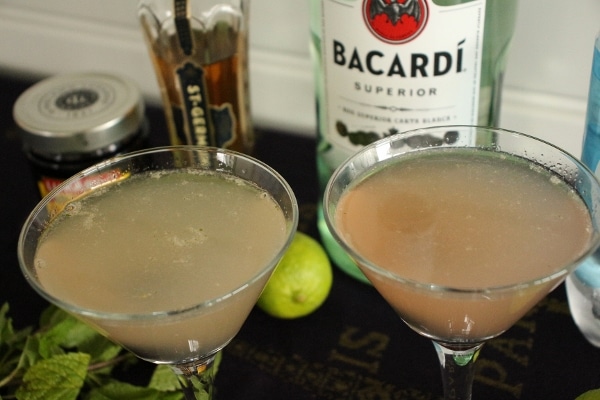 The recipe below yields an accurate version of the cocktail served on the Disney Fantasy. You can certainly add a little cherry syrup with the cherries (see photo below). It will add flavor and color although the cocktails served on the ship are a very pale blush, not particularly pink. I made it both ways during my experiments, adding a bit of the syrup in the second batch to compare. Although the color is different, the flavor is great, and they are technically pretty in pink 🙂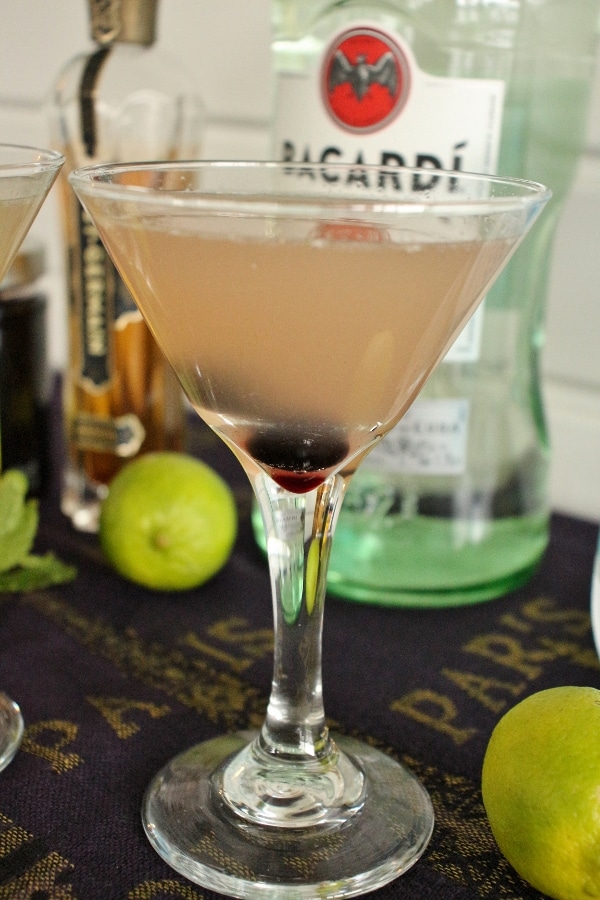 Ooh La La
Ooh La La is a Disney Cruise Line craft cocktail that is easy enough to make yourself! Cuban mojitos with a French flair, these Elderflower-infused libations are refreshing and light with a burst of lime and mint flavor in every sip.
Ingredients
2 to 3

black cherries in syrup

(Filthy or Luxardo brands are both good)

3

lime wedges

(from a lime cut into 8 wedges)

6 to 8

mint leaves

1 1/2

ounces

Bacardi white rum

1/2

ounce

St. Germain Elderflower Liqueur

Cold seltzer water

to top off
Instructions
Place cherry garnish into cocktail glass.

Muddle together the lime wedges and mint leaves in a cocktail shaker. Add Bacardi, St. Germain, ice, and shake well.

Strain through a small fine mesh sieve into the cocktail glass to remove lime pulp and bits of mint leaves. If there is any cherry syrup settled in the bottom of the glass, give it a little stir to dissolve. Top off with seltzer water. Serve immediately.
Notes & Nutrition
My cocktail glasses have a 7 1/2 ounce capacity. If yours are much larger you may need to adjust the ingredient amounts to get the proper ratios.
Look for Filthy or Luxardo cherries to garnish these cocktails.
Servings 1.0 * calories 289 * Total Fat 0 g * Saturated Fat 0 g * Monounsaturated Fat 0 g * Polyunsaturated Fat 0 g * Trans Fat 0 g * Cholesterol 0 mg * Sodium 29 mg * Potassium 22 mg * Total Carbohydrate 42 g * Dietary Fiber 1 g * Sugars 29 g * Protein 1 g
*All nutritional information is based on third-party calculations and should be considered estimates. Actual nutritional content will vary with brands used, measuring methods, portion sizes and more.*