This post may contain affiliate links, which means that I may receive a commission if you make a purchase using these links. As an Amazon Associate I earn from qualifying purchases.
One of my favorite fruity cocktails by far is the Prickly Pear Margarita. This vibrant pink concoction is even more delicious, and easier to make than the green-hued standby.
When my sister traveled to Tucson, Arizona for business I begged her to bring me back some prickly pear goodies. My sister headed directly to Cheri's Desert Harvest manufacturing center in Tucson. It houses a small gift shop where she was able to purchase a selection of their products to bring back to New England. We can pretend it isn't so cold here this time of year! She got me a large bottle of prickly pear syrup, perfect for prickly pear margaritas and topping pancakes. I also requested a few jars of prickly pear honey, prickly pear jelly, and margarita marmalade, made with lemons, limes, tequila, and triple sec.
What are prickly pears?
Prickly pears, or cactus pears, are vibrant pink fruits that grow on cacti. Prickly pear products are commonly sold in Arizona, where prickly pears thrive. I have occasionally seen fresh prickly pears sold at my local Whole Foods in Rhode Island. But products made from the fruits, such as syrups and honeys, are not as readily available in many other states. You can typically order them online, however.
Prickly pears are actually extremely beneficial to one's health! Studies have found them to aid in the management and treatment of type 2 diabetes, have anti-inflammatory and antiviral properties, among other incredible qualities. They are also high in dietary fiber, vitamin C, and antioxidants. So really, these prickly pear margaritas are good for you. Totally healthy.
How to make a Prickly Pear Margarita
These hot pink cocktails are not only delicious and refreshing, but they are absolutely gorgeous to look at. The color is completely natural and oh so beautiful. They are super easy to make, easier than the classic shaken margarita if you're making simple syrup from scratch. I never buy simple syrup. It's a waste of money since it's easy to make yourself with sugar and water. In this case, instead of simple syrup we are using prickly pear syrup to sweeten our prickly pear margaritas.
The rest of the ingredients are typical of any margarita: fresh lime juice, tequila, and orange liquor of some kind, likely triple sec or Cointreau. Shake this combination over ice, and serve in a salt-rimmed glass over fresh ice cubes. I've played around with the amount of prickly pear syrup in this recipe. Half an ounce is reasonable amount, and yields a balanced margarita. If you have a sweet tooth, feel free to increase the amount of syrup to a full ounce. I certainly won't judge you. You can also double the recipe to make a giant margarita like they serve at Mexican restaurants! I've definitely done this on more than one occasion!
More cocktail recipes you may like
What's your favorite kind of margarita? Are you a frozen or on the rocks kind of drinker? Salted, sugared, or naked rim? Let me know how favorite ways to enjoy a margarita in the comments!
Prickly Pear Margarita
One of my favorite fruity cocktails by far is the Prickly Pear Margarita. This vibrant pink concoction is even more delicious, and easier to make than the green-hued standby.
Ingredients
Kosher salt

1 1/2

ounces

tequila

1

ounce

triple sec or Cointreau

1

ounce

freshly squeezed lime juice

1/2

ounce

prickly pear syrup

1

slice

lime
Instructions
Wet the rim of a margarita glass or tumbler by running a lightly squeezed lime wedge around it. Rotate the rim of the glass in kosher salt spread on a flat plate.

In a cocktail shaker filled with ice combine tequila, triple sec, fresh lime juice, and prickly pear syrup. Shake vigorously, then strain into the prepared glass. Add a few ice cubes to the glass, and garnish the rim with a slice of lime. Serve immediately.
Notes & Nutrition
You can purchase the same prickly pear syrup I used on Amazon.
Servings 1.0 * calories 228 * Total Fat 0 g * Saturated Fat 0 g * Monounsaturated Fat 0 g * Polyunsaturated Fat 0 g * Trans Fat 0 g * Cholesterol 0 mg * Sodium 1123 mg * Potassium 8 mg * Total Carbohydrate 16 g * Dietary Fiber 0 g * Sugars 16 g * Protein 0 g
*All nutritional information is based on third-party calculations and should be considered estimates. Actual nutritional content will vary with brands used, measuring methods, portion sizes and more.*
Pin it for Later!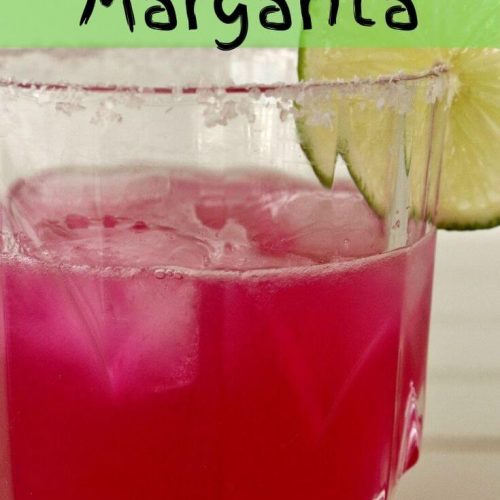 Amazon disclosure – We are a participant in the Amazon Services LLC Associates Program, an affiliate advertising program designed to provide a means for us to earn fees by linking to Amazon.com and affiliated sites.