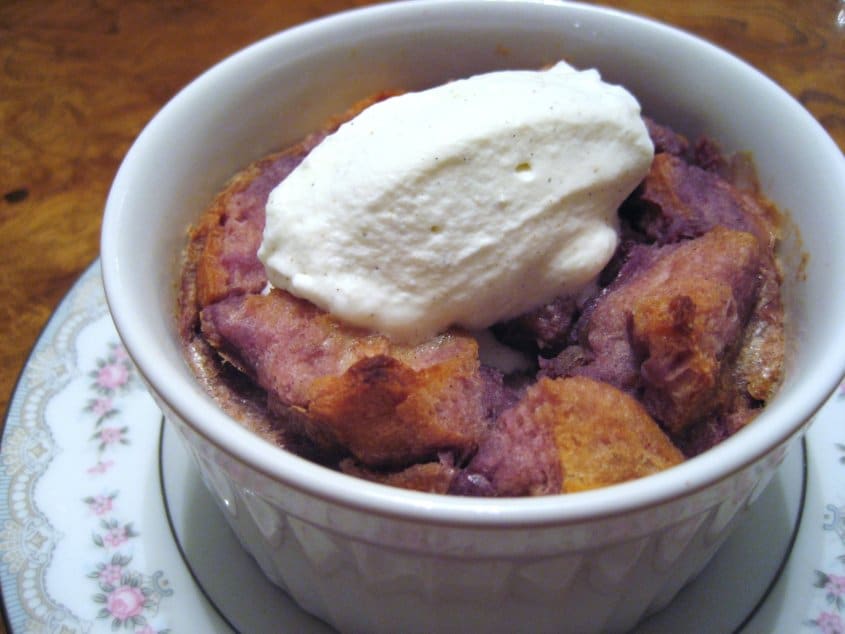 Happy Thanksgiving, everyone! I am so thankful this year, as I am every year, but maybe more this year. In the past year so much has changed in my life. I attended and graduated from culinary school (with a perfect 4.0 GPA by the way!). I moved to New York City and interned at the Food Network, every foodie's dream job. I am surrounded by friends and family who love me, and who don't think I'm strange for photographing all my food, both at home and at restaurants. I feel accepted, and I am so grateful for that.
I have made wonderful food blogger friends and I am so inspired by all of you, and love seeing all the wonderful and creative dishes on your blogs. I am inspired to create fun dishes not only for myself, but to share with all my amazing readers. Thank you for taking the time out of your busy lives to read my blog and to leave thoughtful comments. I feel like such a little person in the world (in truth, I'm only 5'1"!) but I feel like through this blog I make an impact on people's lives, and that's something I've wanted for so long, to make a difference, and to inspire people. Thank you, thank you, thank you, for giving me a wonderful audience to write for. I love you all!
Recently, I was introduced to Okinawan purple sweet potatoes by Maya at Foodiva's Kitchen. She has made almost a dozen amazing and inspiring dishes utilizing this vibrant root vegetable. With her guidance, I managed to find a source to purchase them in Chinatown and immediately started planning what I would make. I chose to make bread pudding as my first exploration with this new ingredient.
The great thing about bread pudding is that it is so versatile! You can make it with bread that is crustless, or leave the crusts on (I did). You can use regular white bread, crustier Italian bread, challah, brioche, sweet rolls, cinnamon rolls, donuts, croissants, panettone, quick breads or cakes (pumpkin bread, carrot cake, etc)... just make sure that you let your bread dry out and get stale, or lightly toast the bread cubes. I cubed my bread the night before and left it out on a tray to dry out. This helps them absorb more of the yummy custard!
For the liquid, you have choices as well. You can use milk, cream, a combination, eggnog, again, a lot of options there. I used low-fat milk, which was great because the purple sweet potato puree thickened it nicely, and using cream probably would have made it too thick and rich. You can also mix in fresh or dried fruits, nuts, chocolate chips, whatever you like. A simple bread pudding can be transformed into so many different things.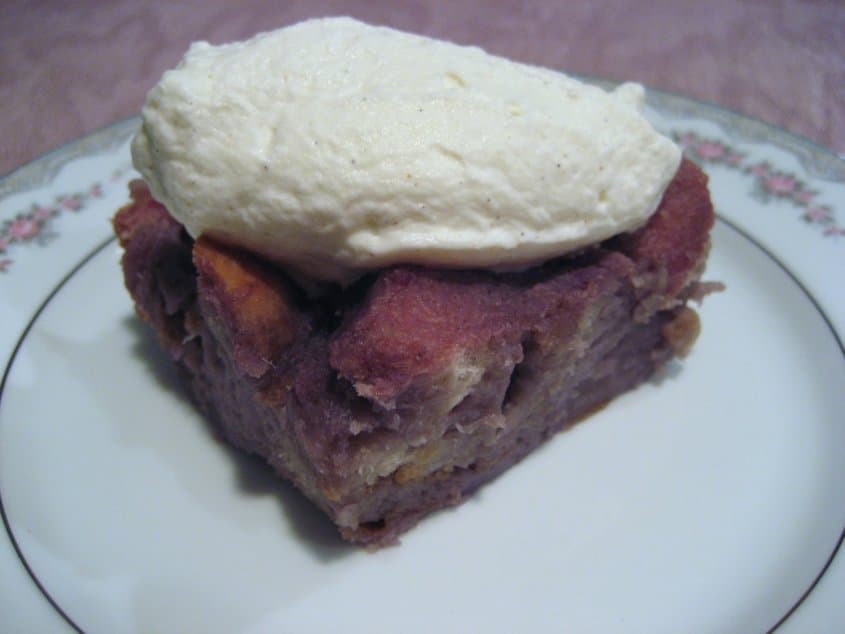 I made a large baking dish of this mildly sweet and lightly spiced dessert for Thanksgiving, but allowed myself a small preview with a personal ramekin of the purple custard-infused delicacy. Everyone who tried it thought it was perfect and not overly sweet or rich, just right. It was easy to make room for seconds, haha 🙂 I liked the idea of adding a touch of cardamom as one of the spices in the bread pudding and then repeated it again in the whipped cream. The little black specks of cardamom in the whipped cream looked like fresh vanilla bean, but instead offered a completely unexpected twist. It was a great background note that didn't overwhelm the dish, as I obviously wanted to showcase the purple sweet potato both in color and flavor. I think I succeeded 🙂 I hope you'll seek out these beautiful sweet potatoes and give this recipe a try! And if you can't find them, just substitute regular sweet potatoes. I promise it will taste just as good!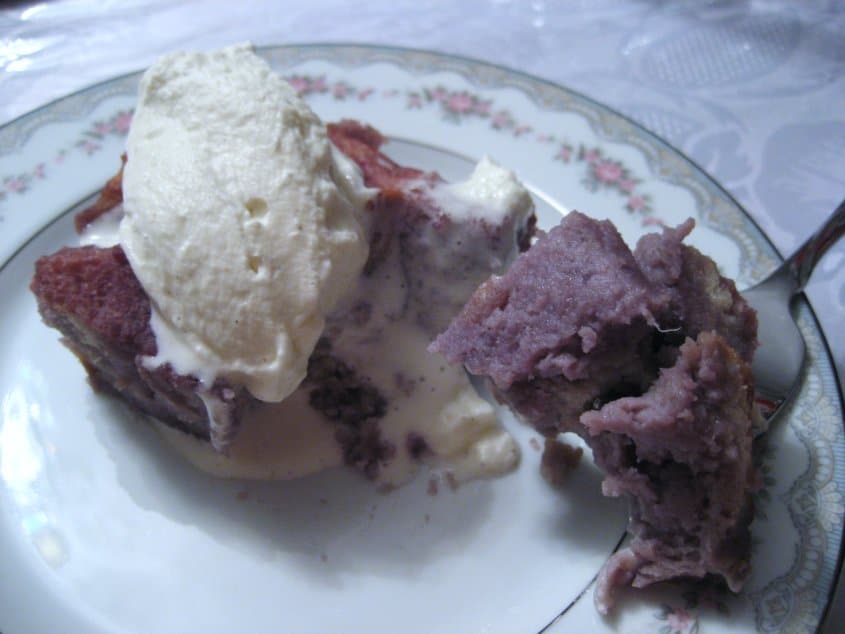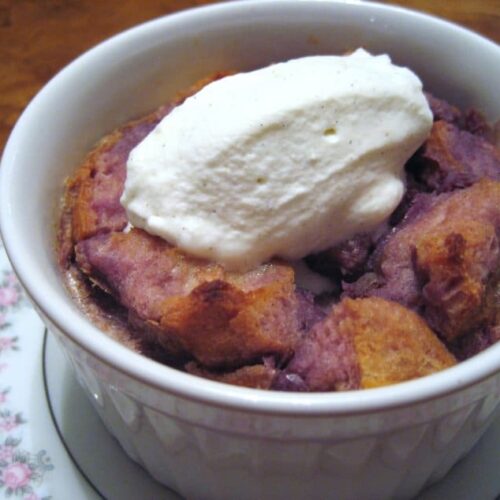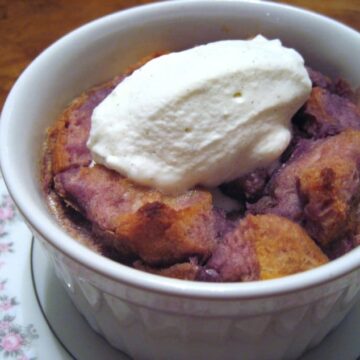 Purple Sweet Potato Bread Pudding with Cardamom Whipped Cream
Perfect for the cooler months, this comforting bread pudding gets its unique color from purple sweet potatoes.
Print
Pin
Rate
Ingredients
Bread Pudding:
Unsalted butter

for baking dish

8

cups

stale* ½-inch bread cubes

such as Italian, challah, or brioche

1

cup

purple sweet potato puree

½

cup

packed light brown sugar

4

large eggs

½

teaspoon

ground cardamom

¼

teaspoon

ground cinnamon

3

cups

low-fat milk
Cardamom Whipped Cream:
1

cup

heavy whipping cream

1

tablespoon

sugar

½

teaspoon

ground cardamom
Instructions
Place the oven rack in the center of the oven, and preheat to 350°F. Butter a 9 by 13-inch baking dish and arrange the stale bread cubes in the dish.

Whisk the purple sweet potato puree, brown sugar, eggs, cardamom, and cinnamon together in a large bowl. Then whisk in the milk until well-combined and smooth. Pour the mixture evenly over the bread cubes in the baking dish, pressing down with your hands and making sure that all the bread gets submerged and starts soaking in the custard.

Soak for 10 to 15 minutes and then put the baking dish in the oven. Bake until the filling is set and the top is lightly browned and crusted, about 30 to 35 minutes.

Meanwhile, beat the heavy cream to medium peaks. Beat in the sugar and ground cardamom to medium-stiff peaks. °Serve the bread pudding warm with cardamom whipped cream.
Notes
*If your bread isn't very stale, cut it into cubes and allow the bread cubes to dry out at room temperature all day or overnight. Alternatively, lightly toast them on a sheet pan in a 350

°

F oven until dry, about 10 to 15 minutes.
Nutrition
Calories:
376
kcal
|
Carbohydrates:
26
g
|
Protein:
7
g
|
Fat:
17
g
|
Saturated Fat:
10
g
|
Monounsaturated Fat:
3
g
|
Cholesterol:
136
mg
|
Sodium:
58
mg
|
Potassium:
38
mg
|
Fiber:
1
g
|
Sugar:
21
g
*All nutritional information is based on third-party calculations and should be considered estimates. Actual nutritional content will vary with brands used, measuring methods, portion sizes and more.*