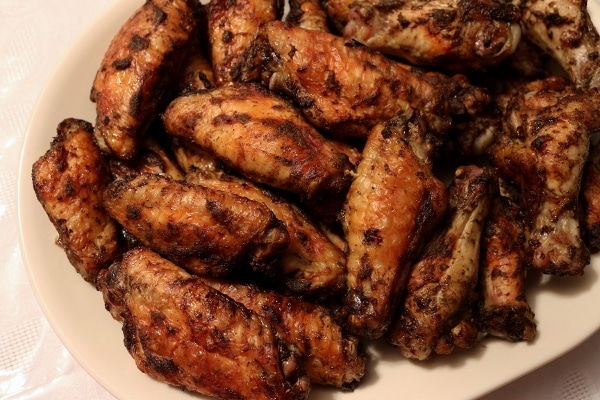 If you've been following my blog for a while now you'd know I have a deep-rooted love for the Olympics. I hosted my first Olympic party in honor of the London Games, but nearly passed on the chance to host something for the Sochi Games because of personal/political reasons against the country hosting them.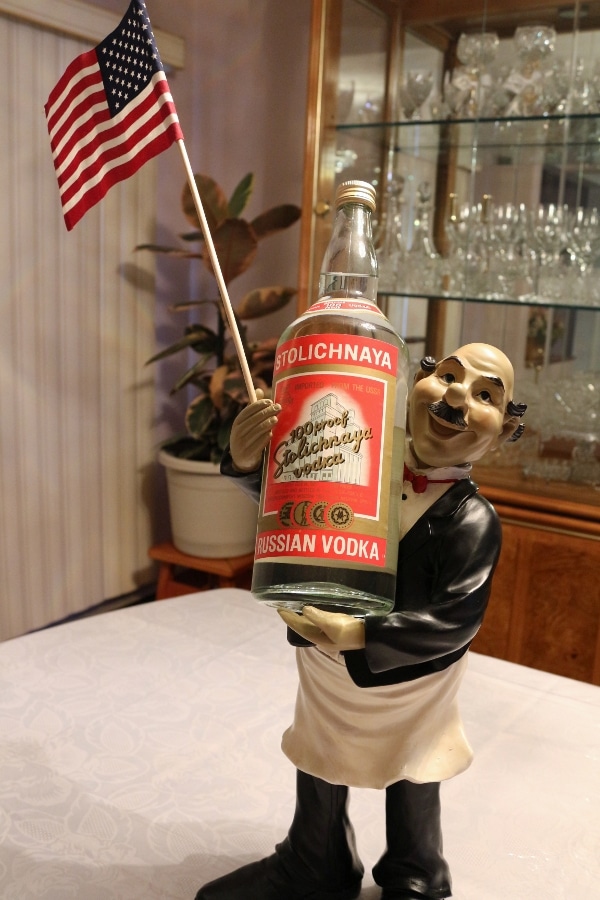 In honor of the hard-working athletes, however, I decided to put together a fun menu and invite a small group of friends to watch the opening ceremonies with me.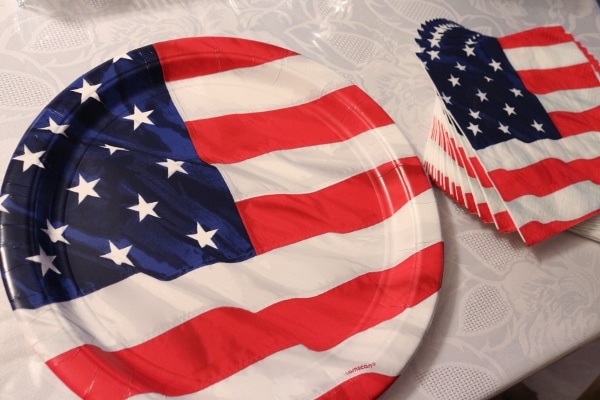 I created dishes representing a variety of countries, and guests also brought a few dishes of their own to contribute. I had a lot of fun decorating as well. I printed flag-maps of the countries I represented with my food onto white cardstock, cut them out, then taped them to colorful paper straws which I cut in half.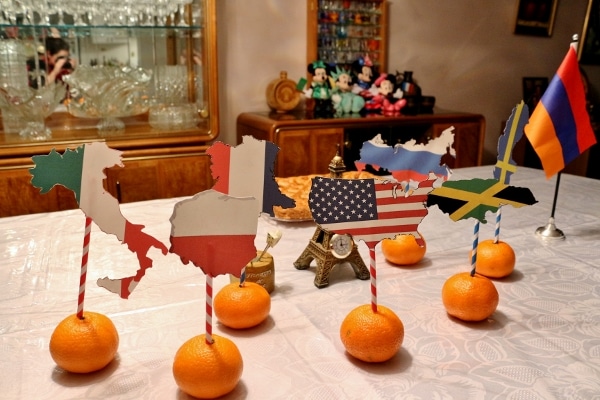 I then took clementines (citrus fruits are prevalent in winter so it seemed extra fitting to use them for the winter games) and stuck a toothpick into the top of each, and then arranged the straws attached to the flag-maps onto each one. This was a fun, festive, and easy way to label and decorate my table.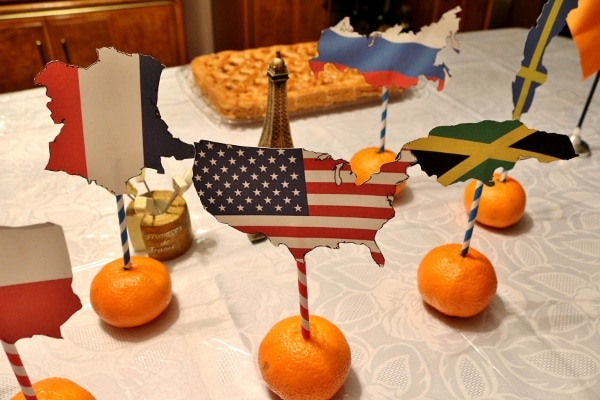 There are so many possibilities for countries to represent through dishes, and of course many different options for each of those countries. I had some countries and specific dishes I wanted to represent, and yet others I had to put on the back burner to save for a future party. Here is the menu for this year's shindig...
Savory:
Jerk Chicken Wings (Jamaica)
Pissaladiere Tartlets (France)
Potato Pierogi with Caramelized Onions and Sour Cream (Poland)
Swedish Meatballs with Mushroom Gravy and Lingonberry Preserves (Sweden)
Pizza (Italy)
Sweet:
Pirog with Apricot Jam (Russia)
We enjoyed a really lovely menu that spanned from Europe to the Caribbean! I've shared the potato pierogi recipe previously, so today I will simply share some photos, but the recipe can be found here. I actually made them in advance and froze them (uncooked) and simply boiled, drained and fried them in some butter the day of the party. Easy peasy!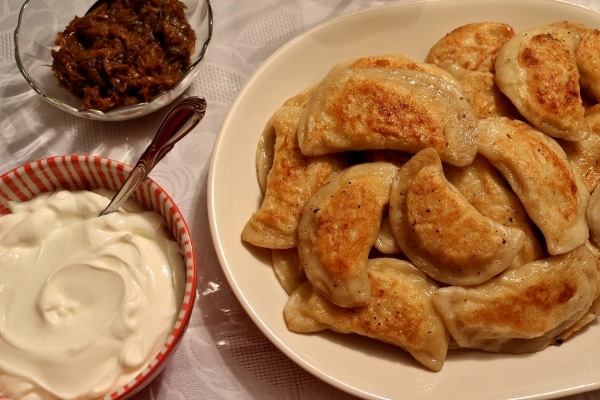 The pizza was homemade and brought by a couple of my guests, so I don't have a recipe to share for that (nor did I remember to take a picture before we dug in), but pizza recipes are not elusive either 🙂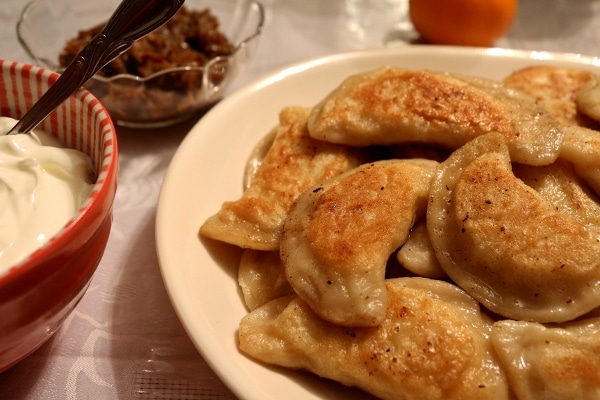 My friend Camille made her mom's famous macaroni and cheese which features lots and lots of gooey American cheese and a Ritz cracker crust.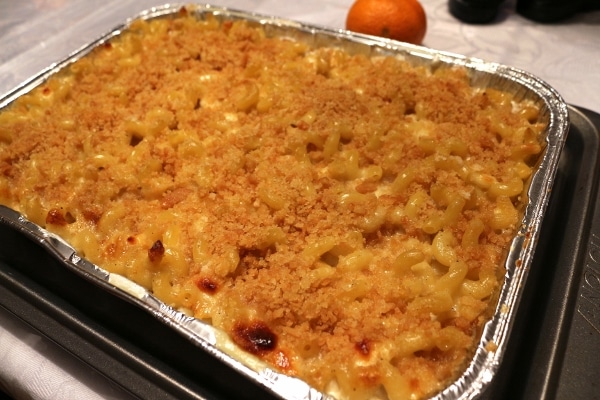 She also made a mocha semifreddo for dessert. That recipe is on the Food Network website, so I've simply linked to it here. Camille made a couple changes, replacing the Marsala wine with more espresso and using almond biscotti instead of amaretti cookies. The result was delicious!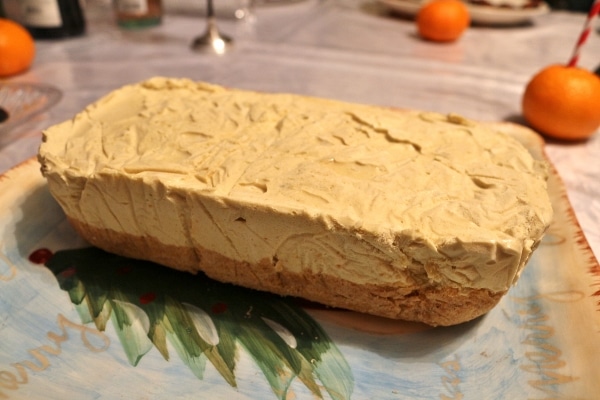 A country I knew I had to represent this year was Jamaica. I know what you're thinking. Jamaica has much more of a presence in the Summer Olympics, but you may be forgetting one of the greatest Olympic movies in the history of Olympic movies: Cool Runnings. I can't see a Jamaican Olympian (summer or winter) without singing, "Jamaica, we have a bobsled team!" just like in the movie. I'm serious. I'm obsessed. The Jamaican bobsled team rocks my world, and in honor of them, I made jerk chicken wings for my Olympic menu this year.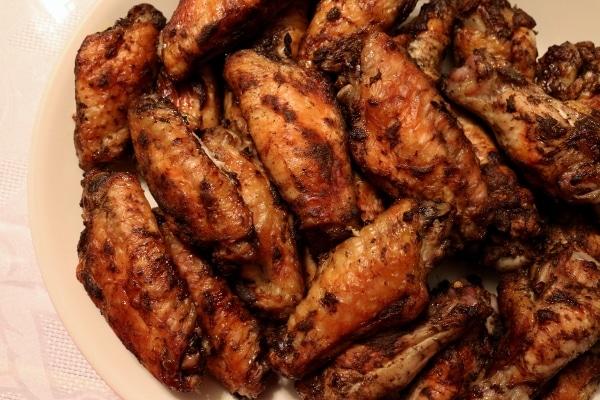 They are baked at a high enough temperature that results in crispy skin without frying. I only used one chile and slathered my jerk seasoning on 4 pounds of chicken wings, so they didn't turn out excessively spicy, but you can certainly use more chiles in the seasoning, and also use this amount of sauce on less chicken wings (say 3 pounds) to have more seasoning per wing. I still thought the flavor was great with just enough spice to please a crowd while keeping the integrity of a good Jamaican jerk. It had heat without burning off any tastebuds for the night.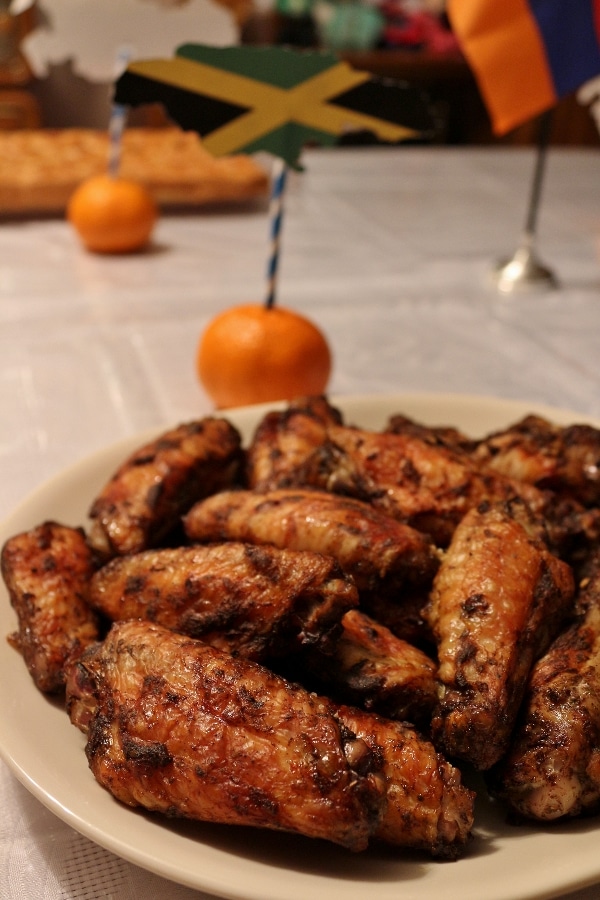 The one point I must make is regardless of how many chiles you use, PLEASE wear gloves both when handling the chiles, and also when slathering the sauce on your wings. The last thing you want to do is accidentally touch your eyes after touching these extremely hot chiles. You will be so very sorry.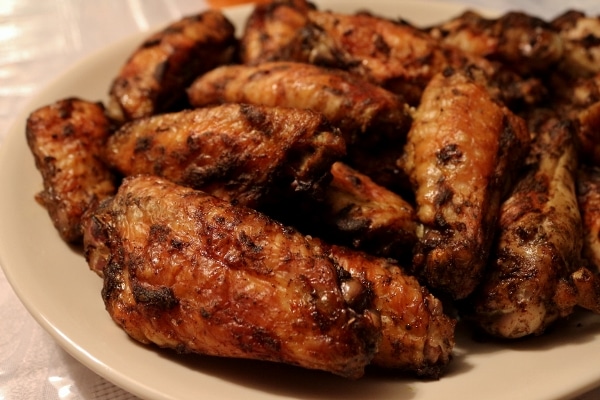 I will be sharing more recipes in the coming days, so keep your eyes peeled for additional dishes from my Olympic menu! Go USA (and go Jamaica)!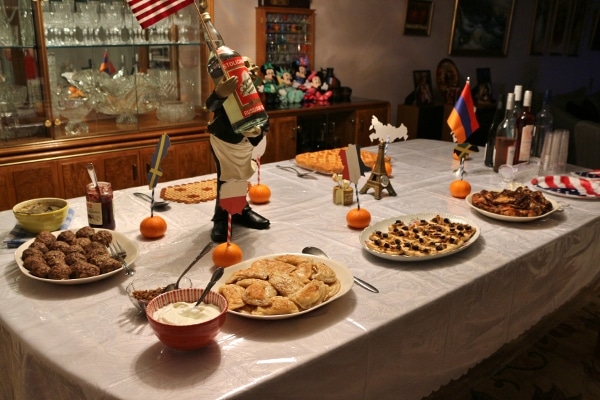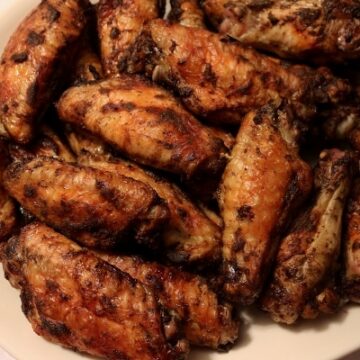 Jerk Chicken Wings
These easy Jamaican style chicken wings are baked, not fried, and are perfect for parties!
Print
Pin
Rate
Ingredients
¼

cup

cane vinegar or distilled white vinegar

6

scallions

1 to 3

Scotch bonnet or Habanero peppers

(use 1 pepper if you don't want it seriously hot!)

1

tablespoon

vegetable oil

1

tablespoon

chopped fresh thyme or ½ tablespoon dried thyme

2

teaspoons

allspice berries or 1 teaspoon ground allspice

2

teaspoons

ground cinnamon

1 ½

teaspoons

kosher salt

1

teaspoon

grated nutmeg

1

teaspoon

brown sugar

1

teaspoon

freshly ground black pepper

4

pounds

(about 28) split chicken wings
Instructions
To make the jerk seasoning, mash all the ingredients except for the wings together in a mortar and pestle until smooth, or place ingredients in a small food processor or blender and puree into a thick paste.

Combine the chicken wings and seasoning to thoroughly coat the wings with sauce. Cover and refrigerate 1 hour to overnight.

Preheat the oven to 475 degrees F. Grease a couple baking sheets and arrange the chicken wings skin-side up on the pans. Bake the wings, rotating the pans partway through, for about 50 to 55 minutes, or until the skin is crispy and dark golden. Serve immediately.
Notes
This recipe uses kosher salt (aka cooking salt, kitchen salt, coarse salt outside of the US). If you are using table salt, definitely scale down the salt as that is a saltier type of salt! The type of salt will make a big difference in how salty your food tastes, so keep that in mind.
Nutrition
Serving:
1
wing
|
Calories:
151
kcal
|
Carbohydrates:
1
g
|
Protein:
12
g
|
Fat:
11
g
|
Saturated Fat:
3
g
|
Cholesterol:
50
mg
|
Sodium:
108
mg
|
Potassium:
123
mg
*All nutritional information is based on third-party calculations and should be considered estimates. Actual nutritional content will vary with brands used, measuring methods, portion sizes and more.*