This super popular Korean fried chicken recipe is crunchy and spicy! It's perfect for your next game day or fried chicken craving.
Happy New Year! I hope all my readers have a wonderful 2016 filled with lots of delicious food from all over the globe. Although it might be breaking several health-focused resolutions, the first recipe I'd like to share this year is exceptional.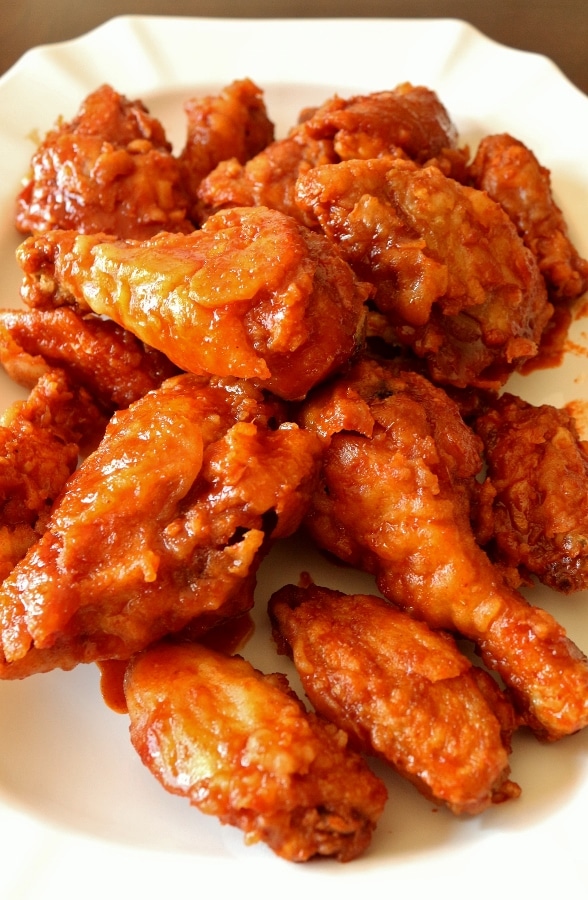 Although frying can be incredibly messy, and certainly not a healthy cooking method, I consider it a treat on occasion, and do allow myself to eat and enjoy fried food from time to time. One of my favorite occasions to be bad is when watching football. I mean really, it kind of goes hand-in-hand. And with the playoffs kicking off this weekend, there's no better time to plan your game day menus!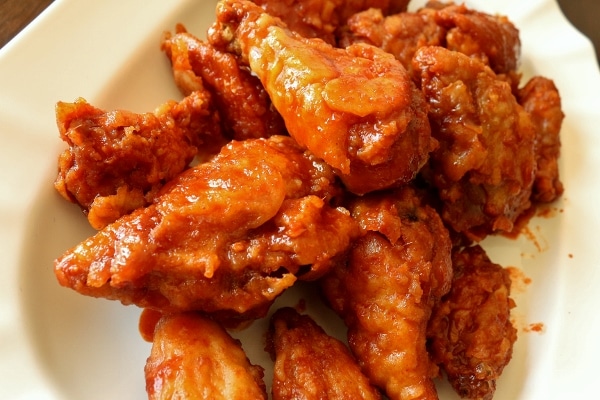 For months now I've been wanting to make Korean Fried Chicken. I've eaten Korean fried chicken once before, many years ago, and recall seriously delicious memories of the experience.
Korean fried chicken boasts a thin, brittle, incredibly crispy crust and a complex spicy sauce featuring gochujang, Korean chili paste. When combined with football watching, it mimics the consumption of Buffalo chicken, and in my opinion even surpasses it.
This particular Korean fried chicken is one of the crunchiest fried chickens I've ever had with a spicy yet flavorful sauce that has way more dimension than your standard Buffalo.
The recipe calls for drumsticks, thighs, and wings, but no breasts. I butchered two fresh whole young chickens that were exactly the same size (weighing in just under 4 ½ pounds each).
I used the wing tips, backbone, and breasts to make chicken stock (along with a bunch of aromatics like onion, carrots, peppercorns, bay leaves, and parsley stems), then shredded the boiled breast meat for enchilada filling for enmoladas (that recipe is coming up soon!) and saved the rest of the chicken parts for my Korean fried chicken.
By butchering your own chicken(s), you can ensure that the chicken parts are the same size and will cook uniformly. Purchasing already cut-up chicken parts yields parts from all different chickens with potentially different cooking times.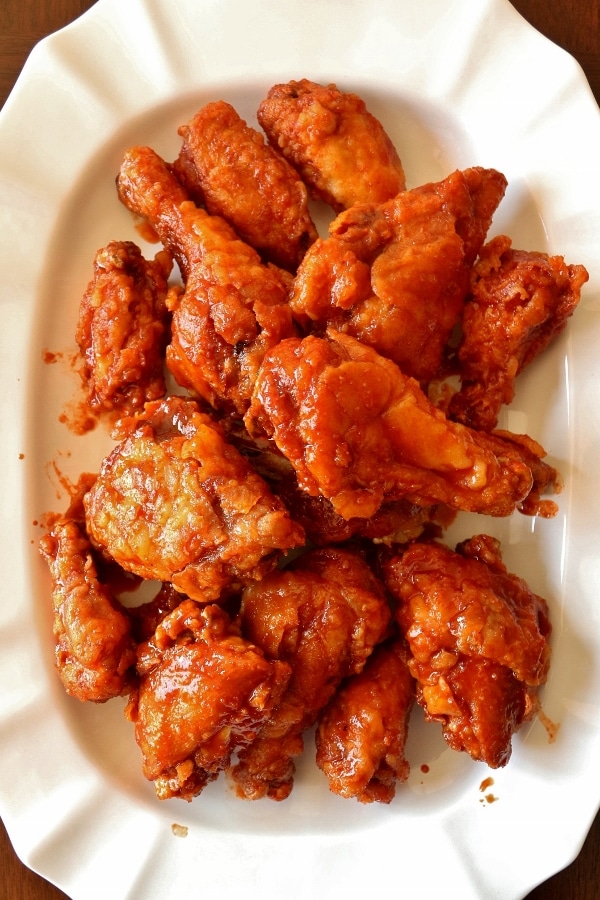 One of the things I particularly like about this recipe for Korean fried chicken is the fact that if you use gluten-free soy sauce and gochujang, the result is gluten-free. You lightly coat your chicken pieces in rice flour and then dip them in a paste made with rice flour and water.
You fry the chicken part-way, then remove it and shake to break off excess crusty bits, and then finish them back in your hot oil before tossing in the sauce. I fried my chicken in two batches because all the pieces would have overcrowded my pot. The first batch was still pretty hot even after resting while I fried the second batch. I planned to re-heat it in the oil again, but it didn't seem necessary.
I had a couple small concerns with the recipe, but my finished result still turned out great. One, when I "vigorously" shook my first batch, I perhaps shook it too vigorously (I did it in the sink instead of over a baking sheet to make less of a mess on my counter) and I lost quite a bit of my crispy crust, more than I expected.
In one case, one of my drumsticks lost ALL of it's skin and batter and had to go back in the fryer naked. For my second batch, I shook it slightly less vigorously. Whether or not my crust was thin enough for a traditional Korean fried chicken is irrelevant to me because it was delicious. I'd say just be wary you don't end up losing ALL your crust if you shake it too hard.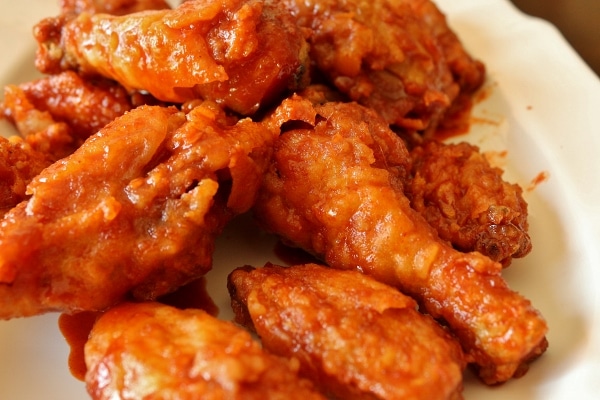 Two, I fried the first batch almost as long as the recipe specified, 10 minutes before shaking and 10 minutes after, but felt that it was starting to overcook on the tail end and pulled the pieces out a few minutes early.
My second batch fried for 5 minutes before and 5 minutes after shaking and was still cooked through and golden crisp on the outside. The recipe specifies the number of chicken pieces, but not the original weight of the chicken(s) those pieces derive from, so just use your judgement (and if needed a meat thermometer) to determine when they are done (the wings technically shouldn't take as long as the dark meat either).
Even though one batch cooked nearly twice as long as the other, the finished result was so delicious we couldn't even tell which pieces came from which batch. They weren't dry at all!
The sauce is unreal. It begins with plenty of garlic and ginger and is then blended with gochujang (Korean chili paste), unseasoned rice vinegar, soy sauce, honey, and fish sauce to yield a complex, spicy, slightly tangy and sweet sauce that kicks my beloved Buffalo chicken's butt.
The chicken is so crunchy, that even when coated with sauce, it seriously maintains every bit of crunch. Although I was a bit worried during the frying process, both from losing too much of my batter and from potentially over-cooking my first batch, the finished product was in no way disappointing.
I would definitely make this chicken again! The recipe yields 4 to 6 servings, but 3 hungry football fans easily demolished it in one sitting. Cheers!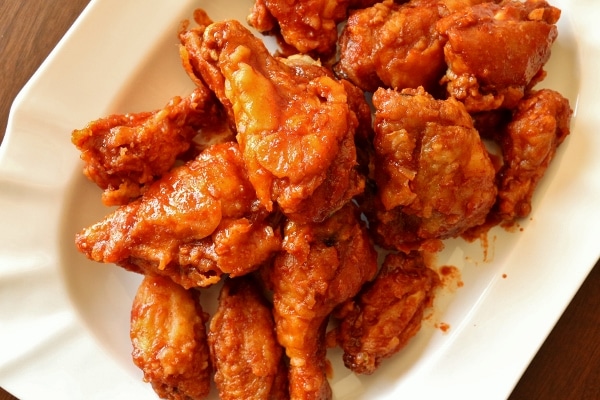 Other recipes you may like
Tried this recipe? Please leave a star ⭐️⭐️⭐️⭐️⭐️ rating in the recipe card below and/or a review in the comments section further down the page. You can also follow me on social media on Facebook, Instagram, and Pinterest!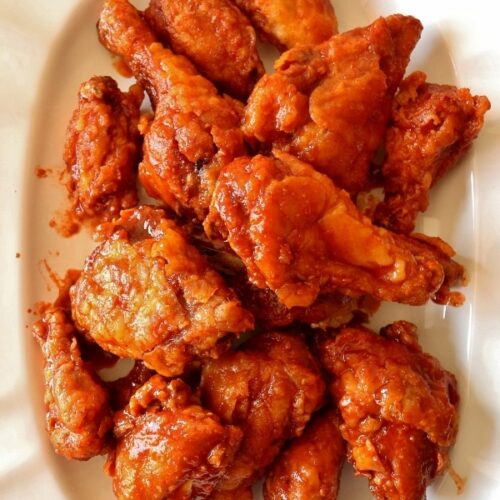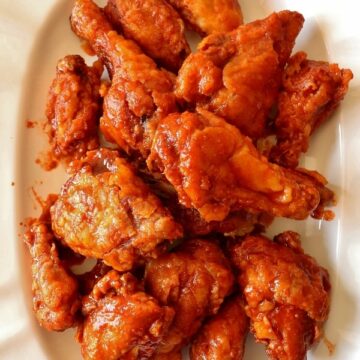 Korean Fried Chicken
This super popular Korean style fried chicken recipe is crunchy and spicy! It's perfect for your next game day or fried chicken craving.
Print
Pin
Rate
Ingredients
Gochujang Sauce:
4

cloves

garlic

1

(1-inch) piece fresh ginger, peeled and coarsely chopped

¼

cup

gochujang

¼

cup

unseasoned rice vinegar

2

tablespoons

soy sauce

2

tablespoons

honey

1

tablespoon

fish sauce
Frying:
Canola oil

for frying

4

cups

rice flour

2

cups

water

4

chicken wings

wing tips removed

4

chicken drumsticks

4

chicken thighs
Instructions
To make the sauce, pulse the garlic and ginger in a food processor fitted with the metal blade until finely chopped. Add the gochujang, rice vinegar, soy sauce, honey, and fish sauce and pulse just until combined. Pour the sauce into a large mixing bowl and set aside.

In a deep fryer or large, deep stockpot, heat 3 inches of canola oil over high heat to 340°F.

Set a wire rack over a rimmed baking sheet for draining the chicken. Submerge a frying basket in the oil, or place a wire mesh colander nearby. Place a rimmed baking sheet near the fryer. (You'll shake the fried chicken over the baking sheet.)

Put 2 cups of the rice flour in a shallow bowl (I thought 1 cup was more than enough). In a bowl, stir the remaining 2 cups of rice flour with the water to make a very thin paste (this is also more than you'll realistically need).

Dredge the chicken pieces in the flour, then dip them into the flour paste to coat. Once all pieces have been coated, carefully place the chicken in the hot oil. Fry for 10 minutes (see note below regarding fry time). Maintain a frying temperature of 340°F.

If using the frying basket, lift it from the oil and vigorously shake the basket over the baking sheet, allowing the crispy bits of batter to fall off. Let the chicken rest in the basket out of the oil for 2 minutes.

If using a colander, use a spider or a slotted spoon to transfer the chicken to the colander and shake vigorously over the baking sheet, allowing the crispy bits of batter to fall off. Let the chicken rest in the colander for 2 minutes.

Check the temperature of the oil; it should remain at 340°F throughout the frying process. Return the shaken, rested chicken to the oil and fry for 10 minutes longer (see note below regarding fry time).

Drain the chicken on the wire rack. Add the pieces to the bowl with the sauce and toss to coat evenly with the sauce.
Notes
*Note* I thought this total fry time was a bit too long, and reduced it by about half (both before and after shaking) for my second batch of chicken, for a total of about 10 minutes (5 before and 5 after shaking). Please use a meat thermometer to check your internal temperature if you're uncertain if it's cooked through: 165°F is your target for poultry.
Adapted from Fried Chicken
Nutrition
Calories:
1507
kcal
|
Carbohydrates:
159
g
|
Protein:
73
g
|
Fat:
67
g
|
Saturated Fat:
13
g
|
Polyunsaturated Fat:
10
g
|
Monounsaturated Fat:
21
g
|
Cholesterol:
231
mg
|
Sodium:
1659
mg
|
Potassium:
508
mg
|
Fiber:
5
g
|
Sugar:
13
g
*All nutritional information is based on third-party calculations and should be considered estimates. Actual nutritional content will vary with brands used, measuring methods, portion sizes and more.*