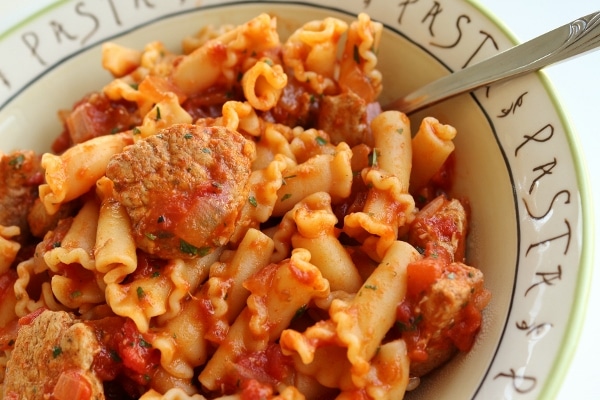 Along with Usain Bolt (the fastest man alive), Bob Marley (the face of reggae), and the Jamaican bob sled team (the subject of one of the best sports movies ever: Cool Runnings), Jerk chicken is one of the most famous symbols of Jamaica.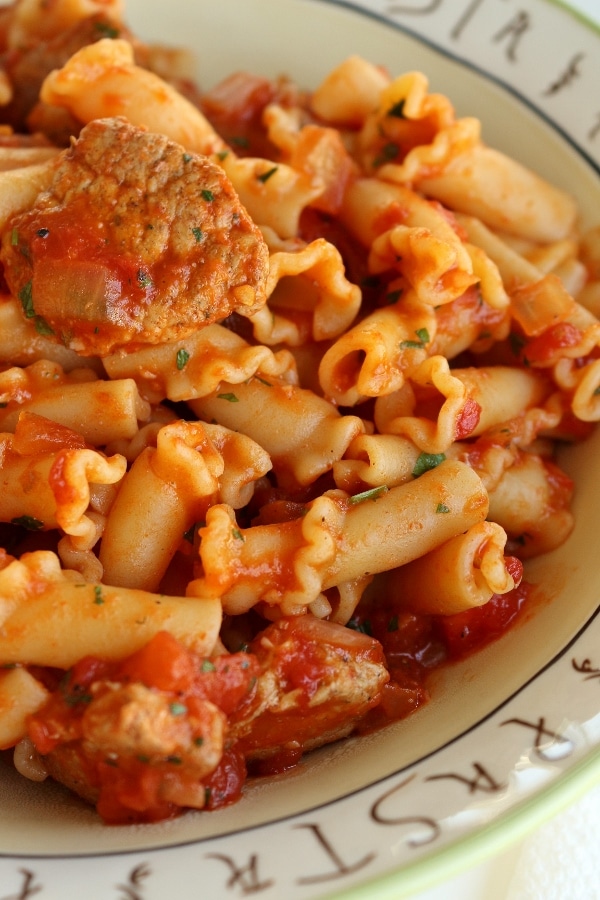 I've actually visited Jamaica once as port of call on a Western Caribbean cruise on the Disney Fantasy in May of 2014. We drove by Usain Bolt's high school on our way to Montego Bay.
We had a private tour and then hit up Doctor's Cave Beach where we dined on jerk chicken at the beach-side restaurant called Sand and drank a frozen drink called a Bob Marley (it featured layers of mango, banana, and strawberry frozen daiquiris)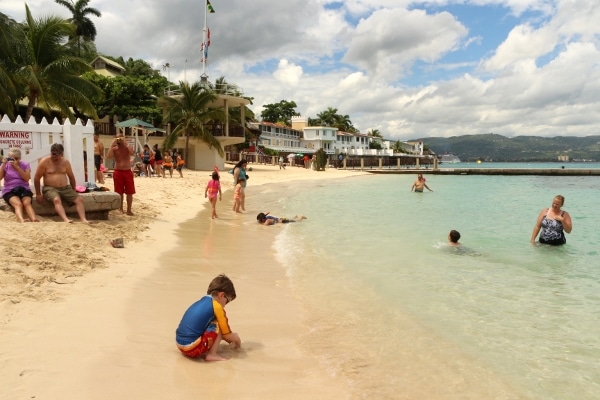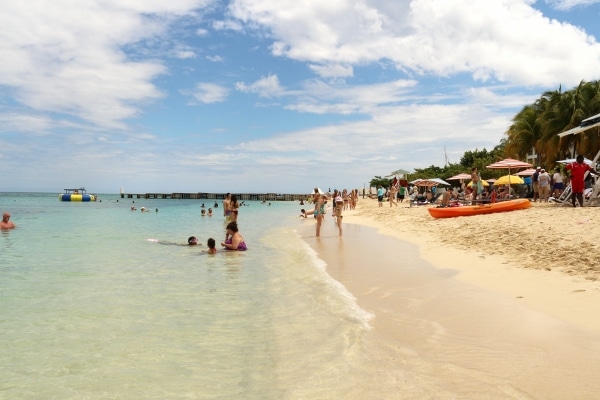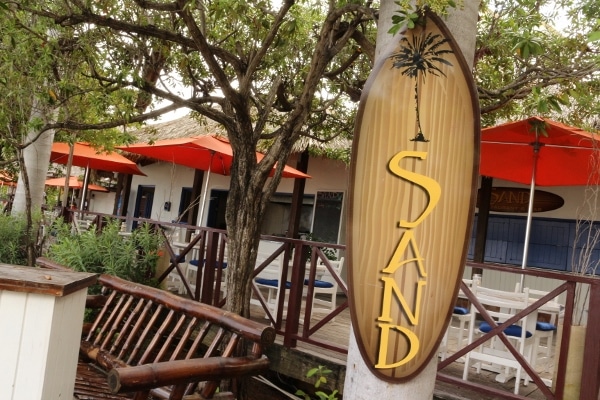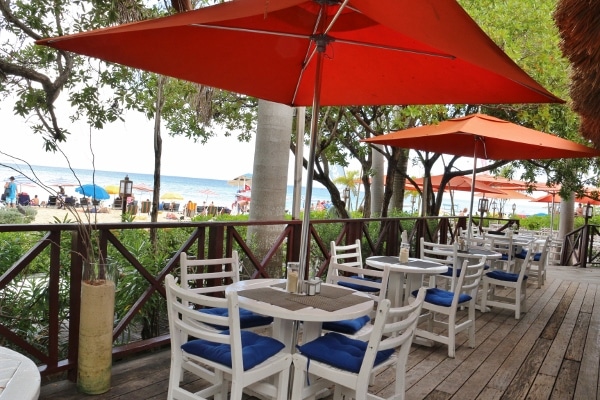 And then escaped from a crazy Caribbean storm that we watched slowly approaching the beach from the other side of the bay. Thankfully, we finished eating just in the nick of time.
With the exception of bobsledding, it was pretty much the ultimate Jamaican experience 🙂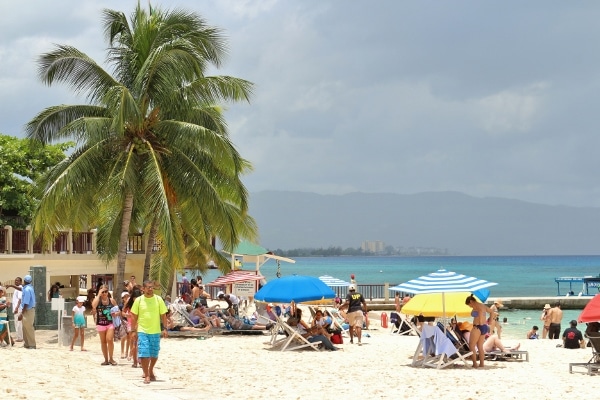 We also have a wonderful Jamaican restaurant in Providence called Half Way Tree, where the chef hails from Jamaica, and whips up some of the best Jamaican food you'll find outside of the Caribbean.
I enjoy cooking food from all around the world in my own kitchen. If I can make a meal that reminds me of my travels, then at least my tastebuds can imagine they're on vacation. I own a couple Caribbean cookbooks, and have really enjoyed exploring them over the years. I recently decided to whip up a batch of Jamaican jerk seasoning.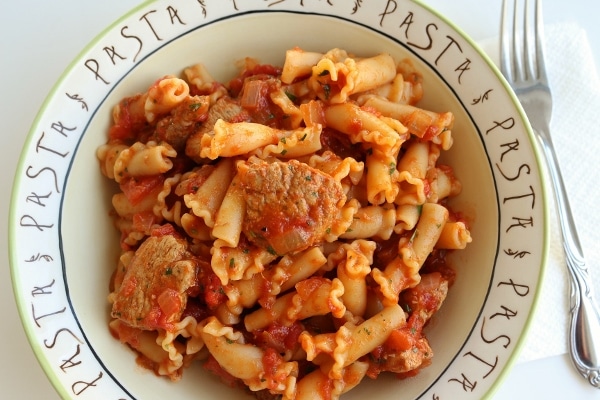 The sauce is incredibly versatile. I've used it before on shrimp and ribs as well. I found a fun, contemporary (read: non-traditional) recipe in one of my Caribbean cookbooks for a delectable jerk chicken pasta dish. It only uses 1 tablespoon of the jerk seasoning, so I froze the remainder in 1 tablespoon portions in an ice cube tray, and then transferred the frozen cubes to a freezer bag for future use.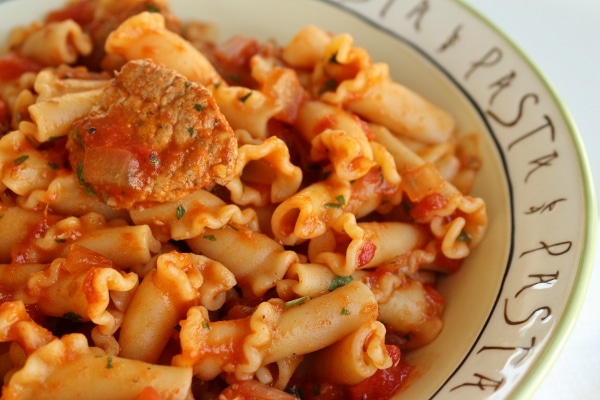 Slices of chicken are marinated in the jerk seasoning and then sauteed with onion and garlic. Red wine, fresh tomatoes, tomato sauce, and chicken stock simmer with the sauteed jerk chicken until thickened. The slightly spicy chicken really permeates the sauce even though there is a minimal amount of jerk seasoning used in the recipe. It isn't really spicy, but rather offers a bit of warmth along with great flavor from all the spices used in jerk seasoning--allspice, cinnamon, nutmeg, and more.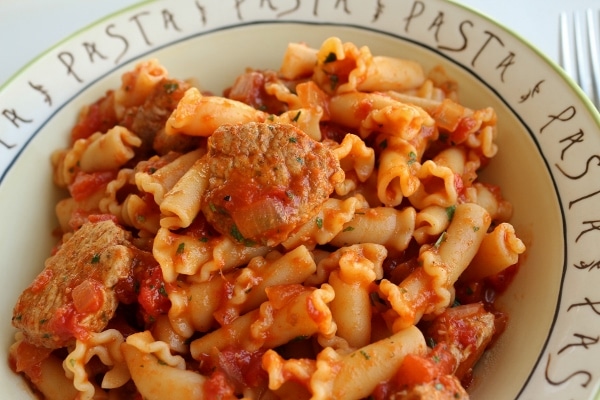 Each time I make jerk seasoning, I up the spice level just a bit. The very first time, I swapped the scotch bonnet peppers for jalapeno. The second time I used one habanero (easier to procure than scotch bonnet). This time I used two habaneros. Since the chicken is also tossed in sauce, the flavor isn't as pungent as it would be if eaten on its own. I'm thinking two habaneros is probably a safe number (no seeds of course). You can use your judgement. And always wear gloves when handling these bad boys!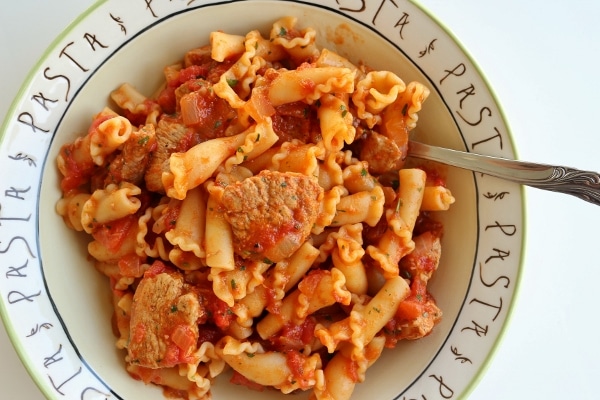 I really love this pasta dish. It's so unique and unexpected. You have the traditional tomato base, but there is really so much other flavor going on in there, between the wine, the chicken stock, the onions and garlic, and the jerk chicken. It's easy to make, as well. The most complex part is peeling, seeding, and chopping the tomatoes. Scoring the bottoms of the tomatoes and dropping them in some boiling water for a few seconds makes that process much easier.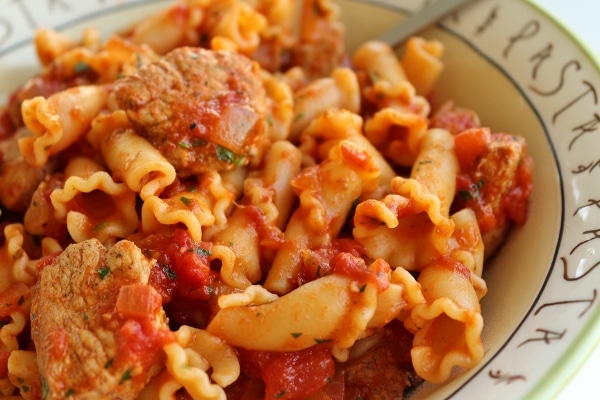 Next time you're seeking a fun and unique pasta recipe, look no further than this Caribbean-inspired jerk chicken pasta! And just imagine this is the view from your dinner table...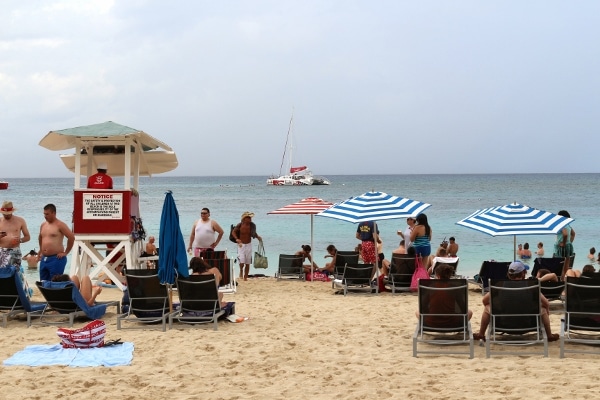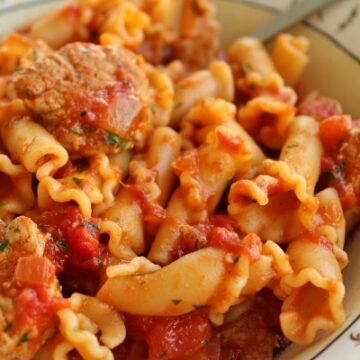 Jerk Chicken Pasta
This creative take on jerk chicken combines bite-size pieces of spiced chicken with pasta and a delicious tomato sauce.
Print
Pin
Rate
Ingredients
6

skinless, boneless chicken thighs

(I used 2 skinless, boneless chicken breasts instead)

1

tablespoon

Jamaican jerk seasoning

(recipe follows)

2

tablespoons

olive oil

1

onion

chopped

2 to 3

garlic cloves

chopped

¼

cup

red wine

4

plum tomatoes

peeled, seeded, and chopped (I used 2 larger summer tomatoes)

1

cup

tomato sauce

½

cup

water or chicken stock

Kosher salt and freshly ground black pepper

1

pound

dried penne or rigatoni

(I used campanelle pasta)

1

tablespoon

chopped fresh basil or parsley

Grated Romano or Parmesan cheese, or crumbled feta cheese, to serve

(optional)
Instructions
Cut the chicken into strips. Rub thoroughly with the jerk seasoning (wear gloves!), cover and let sit for at least 1 hour in the refrigerator.

Heat the oil in a skillet. Saute the chicken pieces until browned. Add the onion and garlic and saute for 2 to 3 minutes. Do not allow the garlic to burn.

Deglaze the pan with red wine, scraping up the slightly burned bits in the pan. Simmer for 1 minute and then add the tomatoes, tomato sauce, stock, salt and pepper. Simmer for 10 minutes uncovered, allowing the sauce to reduce and thicken. Adjust the seasoning as needed.

Meanwhile, bring a pot of water to a boil. Salt it generously and add the pasta, stirring occasionally, and cooking until al dente (see package for suggested cooking times). Drain immediately in a large colander.

Toss the hot, drained pasta with the sauce and add the basil or parsley. Sprinkle with cheese, if desired. Serve immediately.
Nutrition
Calories:
493
kcal
|
Carbohydrates:
65
g
|
Protein:
32
g
|
Fat:
12
g
|
Saturated Fat:
3
g
|
Polyunsaturated Fat:
1
g
|
Monounsaturated Fat:
4
g
|
Cholesterol:
90
mg
|
Sodium:
559
mg
|
Potassium:
382
mg
|
Fiber:
5
g
|
Sugar:
8
g
*All nutritional information is based on third-party calculations and should be considered estimates. Actual nutritional content will vary with brands used, measuring methods, portion sizes and more.*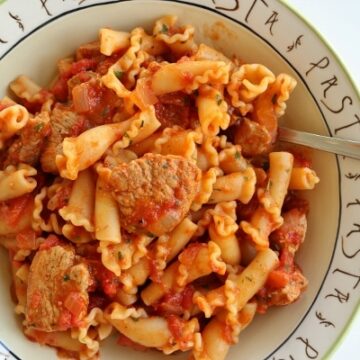 Jamaican Jerk Seasoning
Easily make homemade Jamaican jerk seasoning with this recipe.
Print
Pin
Rate
Servings:
10
servings (⅔ cup)
Ingredients
¼

cup

cane vinegar or distilled white vinegar

6

scallions

1 to 3

Scotch bonnet or Habanero peppers

(use 1 pepper if you don't want it seriously hot!)

1

tablespoon

vegetable oil

1

tablespoon

chopped fresh thyme or ½ tablespoon dried thyme

2

teaspoons

allspice berries or 1 teaspoon ground allspice

2

teaspoons

ground cinnamon

1 ½

teaspoons

kosher salt

1

teaspoon

grated nutmeg

1

teaspoon

brown sugar

1

teaspoon

freshly ground black pepper
Instructions
Mash the ingredients together in a mortar and pestle until smooth, or place ingredients in a small food processor or blender and puree into a thick paste.
Notes
From Eat Caribbean
*All nutritional information is based on third-party calculations and should be considered estimates. Actual nutritional content will vary with brands used, measuring methods, portion sizes and more.*
*All nutritional information is based on third-party calculations and should be considered estimates. Actual nutritional content will vary with brands used, measuring methods, portion sizes and more.*