These flaky Ham and Cheese Empanadas feature a deliciously creamy and cheesy filling studded with smoky bites of ham. They are common among various Latin American countries including Cuba, Argentina, and Chile.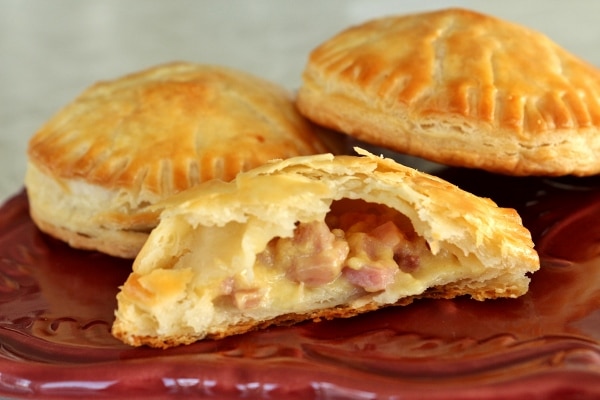 I enjoy pretty much anything wrapped in dough. This is why I adore dumplings so very much, and empanadas fall under the same umbrella of dough-wrapped love. I love them whether they are baked or fried, regardless of the type of wrapper, and the variety of filling.
I'm tremendously excited by empanadas and have been trying out fun variations in my kitchen for years. They are excellent appetizers or snacks, so I love including them on menus for game night! I also like to take them with me when I travel as a simple hand-held meal on the go.
I was surprised to discover a recipe for Ham and Cheese Empanadas in Empanadas: The Hand-Held Pies of Latin America. It isn't a flavor combination that I would normally consider to be Latin American.
After further thought, the mixture of ham, cheese, and mustard reminds me of a Cuban sandwich, minus the roast pork and pickle. I've actually made Cuban Sandwich Empandas in the past, which were truly exceptional, and something I should make again soon!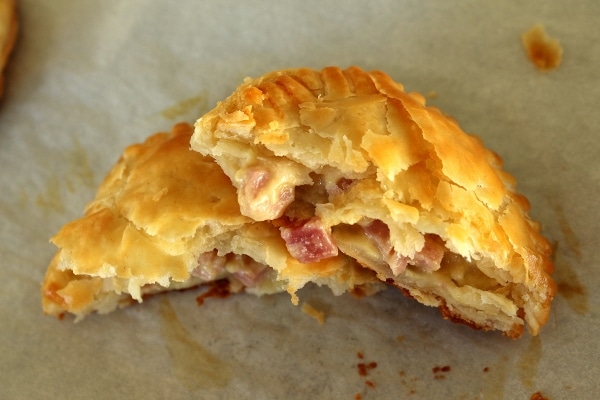 This particular recipe for Classic Ham and Cheese Empanadas hails from Cuba, Central America, Chile, and Argentina. It seems to be popular throughout many countries in Latin America. It's also quite popular in my own kitchen! Ideally, they are best warm, but you may also enjoy them at room temperature if you're on the go.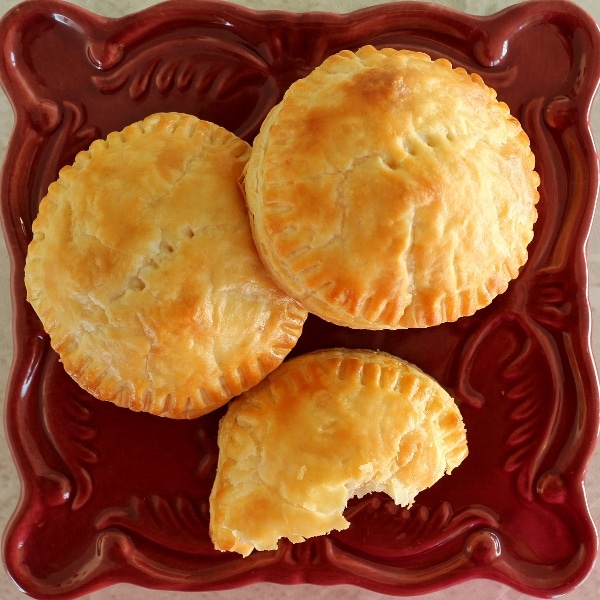 How to make Ham and Cheese Empanadas
Making the filling for these empanadas is an absolute breeze. In a medium bowl combine chopped cooked ham, shredded cheese, creamy mayonnaise, and tangy mustard (I used Dijon).
You have some freedom when selecting the variety of cheese. Be sure to pick something that melts really well. I used a combination of cheddar and American cheeses for this batch of empanadas. Chill the filling for 30 minutes to 24 hours.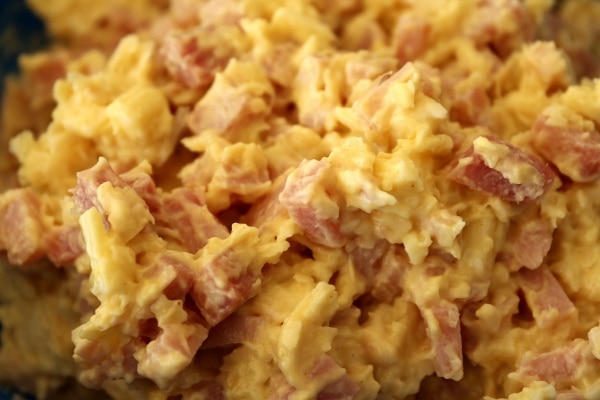 The dough comes together quickly and easily in your food processor. It's bound with a combination of cold unsalted butter and cream cheese. A bit of sugar adds some sweetness to this flaky dough, which is a nice contrast to the savory filling. After blitzing this easy dough in your food processor, wrap it up and chill it for 30 minutes to 48 hours.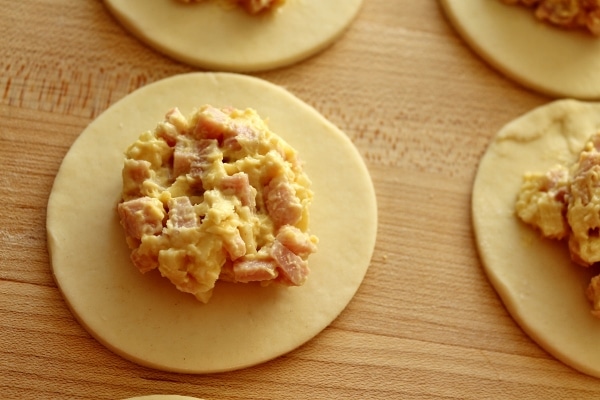 Next it's time to assemble the empanadas! Roll out the dough on a well-floured surface until it's about ⅛-inch thick, like a pie crust. Cut out 28 rounds with a 3 ½-inch round cutter.
Gather and re-roll the scraps as needed until you have enough circles. If you are able to cut additional circles, go ahead. The original recipe suggests cutting 32 rounds to yield 16 empanadas, but I don't think there's quite enough dough and filling to accomplish that.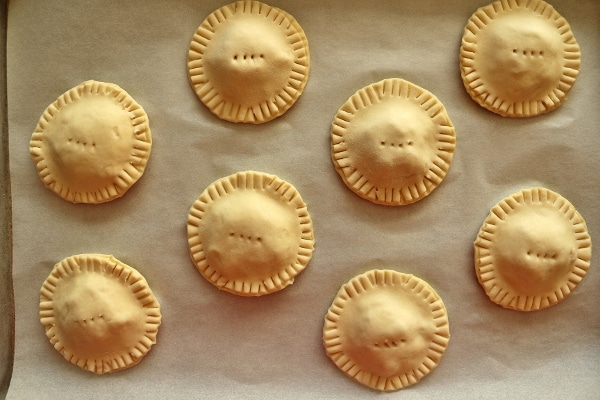 To assemble, top half the dough rounds with an equal amount of filling, a generous tablespoon worth. Brush the edges with egg wash, and top with another round of dough. Press out any air, and use your fingers to seal the dough edges together.
Follow up with a fork to create a crimped pattern around the perimeter. This will also help seal in the filling. Chill the assembled empanadas for another 20 minutes while you preheat your oven. Brush the tops with more egg wash, and bake until golden and flaky. Serve these delicious morsels warm!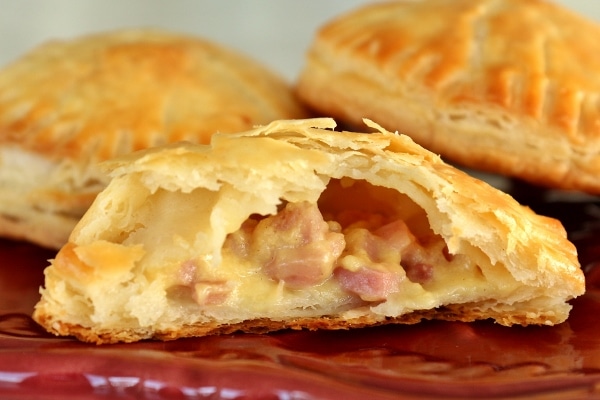 This is probably one of the easiest empanada recipes in the book. They are also baked, not fried, so that's even less of a mess in your kitchen! The result is pure comfort, so that's a pretty big win in my book.
Flaky, tender, slightly sweet dough encases a creamy, salty, cheesy, tangy filling. These puffy little empanadas are a real treat! They are a great fusion of a beloved American flavor combination (ham and cheese) with a Latin American staple (empanadas).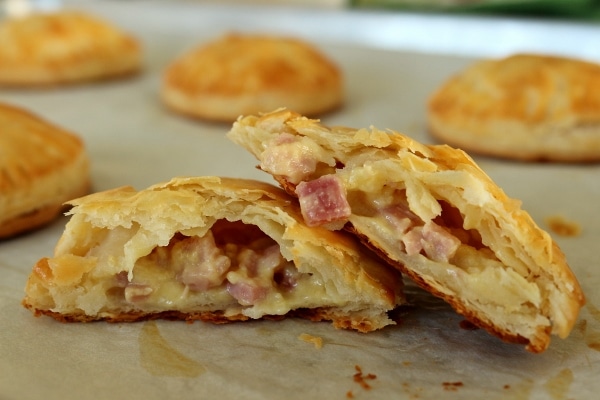 Other recipes you may like
What are your favorite empanada fillings? Do you prefer baked or fried varieties? Please share your favorites in the comments below, and don't forget to rate this recipe. Thanks!
Classic Ham and Cheese Empanadas
These flaky Ham and Cheese Empanadas feature a deliciously creamy and cheesy filling studded with smoky bites of ham. They are common among various Latin American countries including Cuba, Argentina, and Chile.
Print
Pin
Share by Text
Rate
Ingredients
Filling:
¼

pound

(115 grams) finely chopped cooked ham

½

cup

(60 grams) shredded cheddar, mozzarella, Muenster, or other melting cheese

¼

cup

(60 ml) mayonnaise

1

tablespoon

mustard

(your favorite flavor–I used Dijon)
Flaky Dough:
1 ½

cups

(170 grams) all-purpose flour, plus more for dusting

2

tablespoons

sugar

Pinch

of fine sea salt

8

ounces

(225 grams) cream cheese,

cubed and chilled

½

cup

(115 grams) unsalted butter,

cubed and chilled

Egg wash

(made with 1 beaten egg and 2 teaspoons water)
Instructions
Make the filling: In a medium bowl, mix together the ham, cheese, mayonnaise, and mustard. Cover and chill for at least 30 minutes (or up to 24 hours)

Make the dough: In the bowl of a food processor fitted with a metal blade, combine the flour, sugar, and salt; pulse for 20 seconds, or until combined. Add the cream cheese and butter and pulse until the mixture comes together and forms a ball, about 2 minutes (about 125 one-second pulses). Remove the pastry from the food processor, and divide it in half. Shape each half into a disc; wrap each disc in plastic wrap, and chill them for at least 30 minutes or up to 48 hours. You can freeze the dough up to 2 months and thaw the dough in the refrigerator overnight, before proceeding with shaping the empanadas.

Assemble the empanadas: Line two large baking sheets with parchment paper; set them aside. If the dough is too cold to roll out, let it sit at room temperature for 10 minutes before rolling. On a well-floured surface and with a well-floured rolling pin, roll out the pastry to about ⅛ inch thick (like for piecrust). Keep lightly dusting flour on your surface and rolling pin as you roll so that the pastry doesn't tear or stick (for easier rolling, use a piece of plastic wrap or parchment paper directly over the top of the pastry so that the rolling pin doesn't stick).

Using a 3 ½-inch cutter, make 28 rounds, rolling and cutting the scraps as needed (if you need to re-roll the dough, brush excess flour off the scraps with a clean pastry brush and gather up the scraps; wrap them in plastic and chill them for 10 minutes). Keep them covered as you work. Place a generous 1 tablespoon of filling in the center of half of the pastry rounds. Working with one round at a time, brush the edges with the egg wash and place another dough round over the filling. Use your fingers to seal the empanadas (they will look like ravioli), being careful to press the air out of the dough as your fingers move to the edges. Seal the edges very well with your fingers and then press them together with the tines of a fork; use the tines of the fork to poke vents on top of each empanada. Transfer the empanadas to the baking sheets and chill them uncovered for 20 minutes (or up to 8 hours).

Bake the empanadas and serve: Preheat the oven to 400°F. Brush the tops of the empanadas with the egg wash. Bake the empanadas until they are golden, 12 to 15 minutes (rotate the pans in the oven halfway through baking, back to front and top to bottom, to ensure that all of the empanadas bake evenly–mine baked longer, for about 20 to 25 minutes). Let them rest 2 to 3 minutes and serve them warm.
Notes
To freeze the unbaked empanadas, do not brush the tops with egg wash. Place them in one layer on the prepared baking sheets and freeze them until solid. Transfer them to freezer-safe bags or bins and keep them frozen for up to 4 months. To reheat, brush the tops of the frozen empanadas with the egg wash. Bake them directly from the freezer. Add 3 to 5 minutes to the baking time, or bake until the empanadas are lightly golden.
Adapted from Empanadas: The Hand-Held Pies of Latin America
Nutrition
Serving:
1
empanada
|
Calories:
225
kcal
|
Carbohydrates:
12
g
|
Protein:
5
g
|
Fat:
17
g
|
Saturated Fat:
9
g
|
Polyunsaturated Fat:
2
g
|
Monounsaturated Fat:
3
g
|
Cholesterol:
52
mg
|
Sodium:
175
mg
|
Potassium:
29
mg
|
Sugar:
2
g
*All nutritional information is based on third-party calculations and should be considered estimates. Actual nutritional content will vary with brands used, measuring methods, portion sizes and more.*