They're finally here! The Olympics are here! I look forward to this every two years. Whether it's the winter or summer games, it's all good in my book. I just love the Patriotism of the Olympic games. I love cheering on my country, and seeing how all these incredibly talented athletes come together to compete.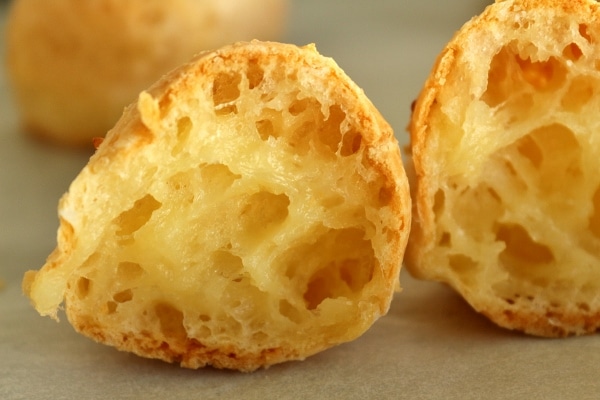 For the past couple Olympic games, I have had a small group of friends over to watch the opening ceremonies and enjoy dishes I had cooked from a variety of countries. Last Friday, I had another intimate gathering to watch the opening ceremonies and nosh on international cuisine.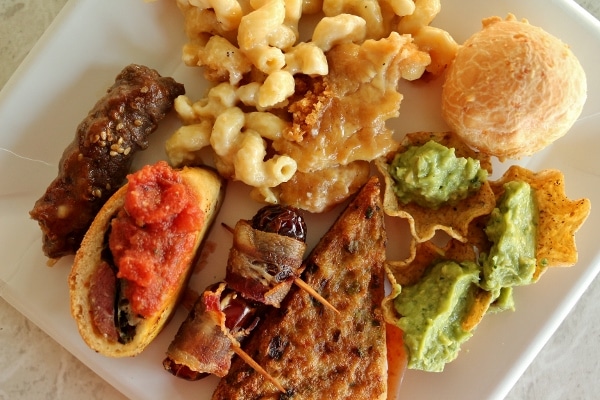 I wanted to decorate a bit more for this party than I had in the past. A couple summers ago I had purchased a red-and-white striped tablecloth which is quite Patriotic (minus the stars), but can also easily be used for other purposes since it's not a glaring American flag, but simply the stripes portion of the flag.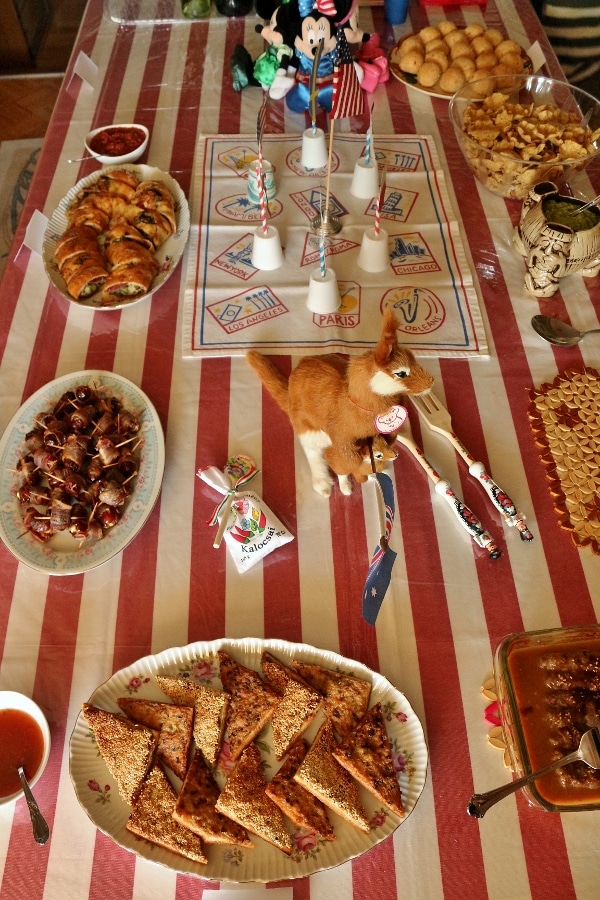 I downloaded some printable world flags, which I cut individually and hung on kitchen string across the dining room to make for a more festive environment. Although it includes 100 flags, they don't represent EVERY Olympic country, but it's still a really great free download that easily made my party way more festive than the ones in the past.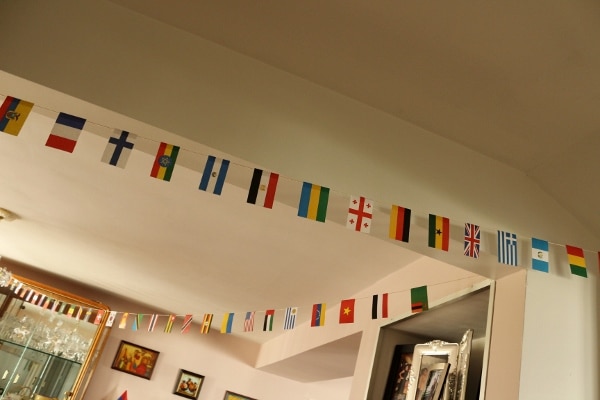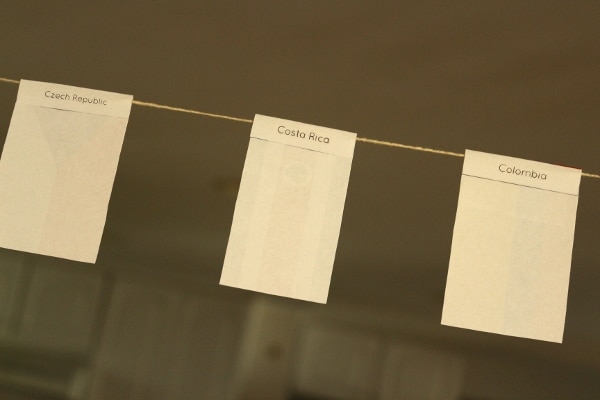 The name of each country's flag is written on the back!
I hung up a "Welcome Athletes" sign on the front door, and added a start and finish line just outside of the dining room.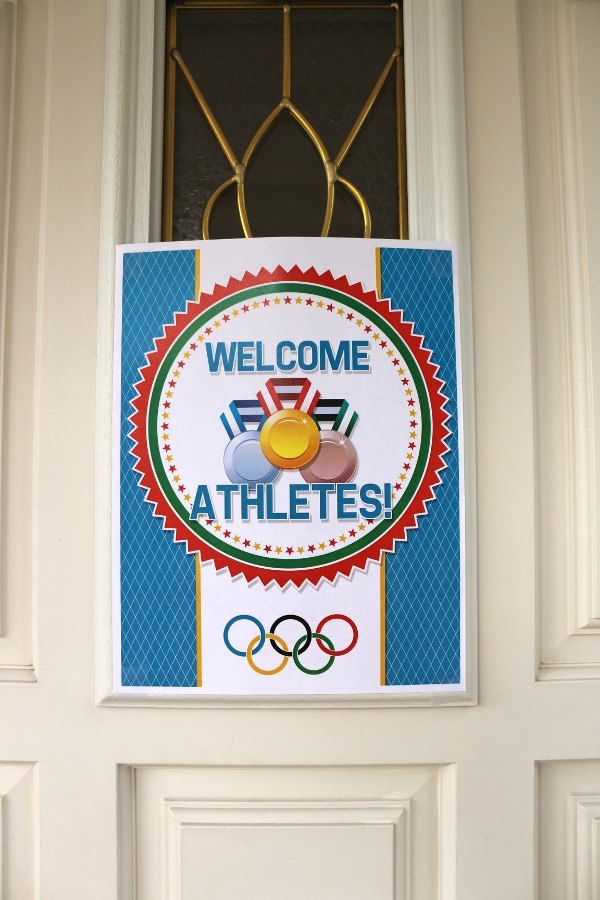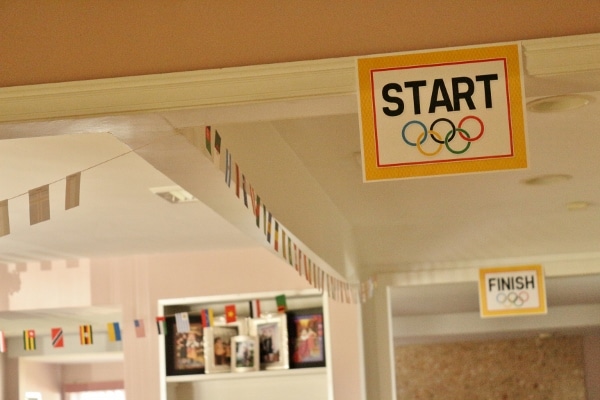 I printed out tent cards for each of the dishes, with both the name of the county and an image of its flag, as well as the name of the dish, of course.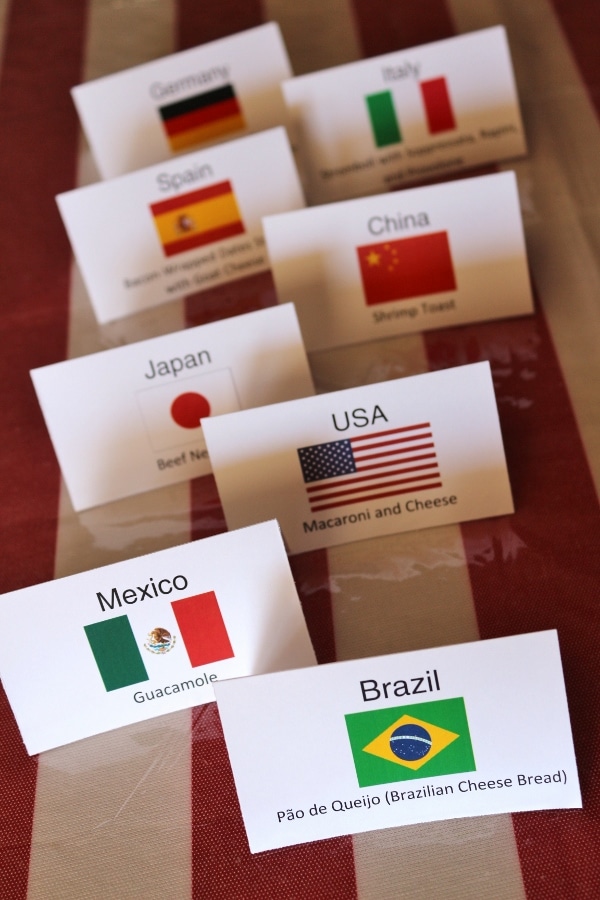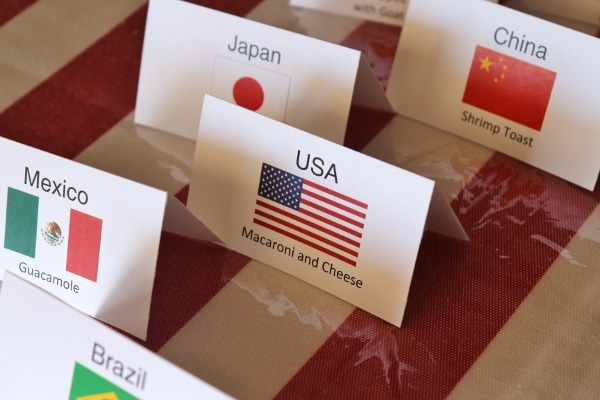 A few more international trinkets rounded out the decorations for the party, creating a bit of a worldly tablescape. I included a kangaroo figurine (actually from Australia) and a few collectibles from Hungary. I also featured an inflatable palm tree and a bunch of other souvenirs from my family's travels.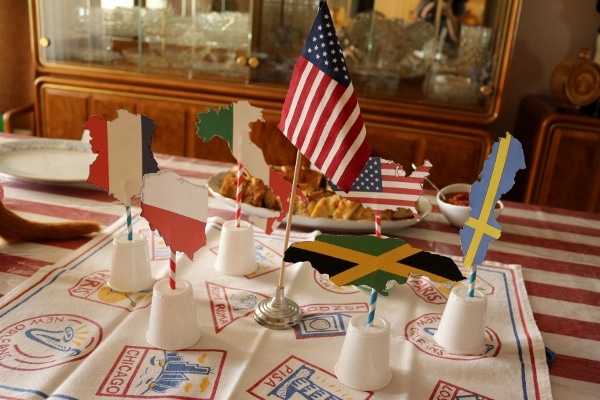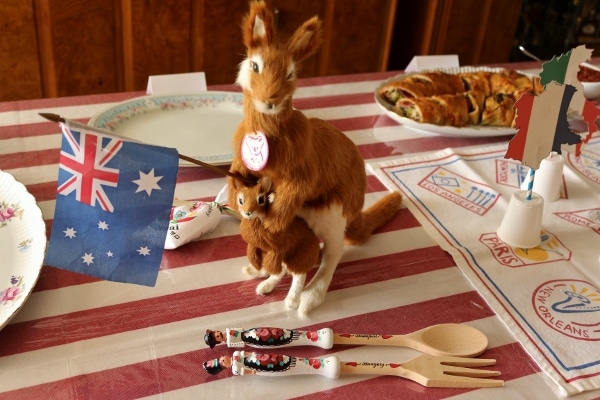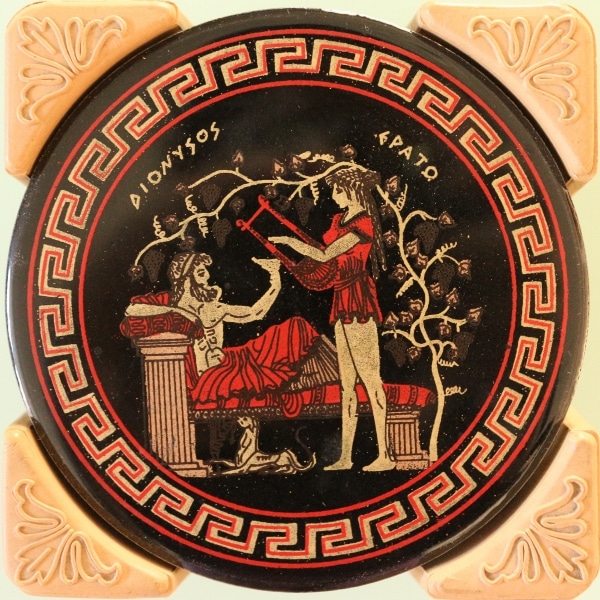 Coasters from Greece!
A posed a few Minnie Mouse dolls from my extensive collection (yup, I'm a 30+ adult who LOVES Disney and Minnie Mouse, don't judge me). They are decked out in Patriotic and international garb.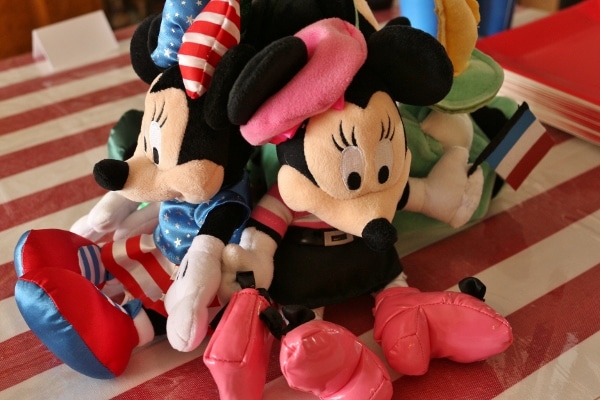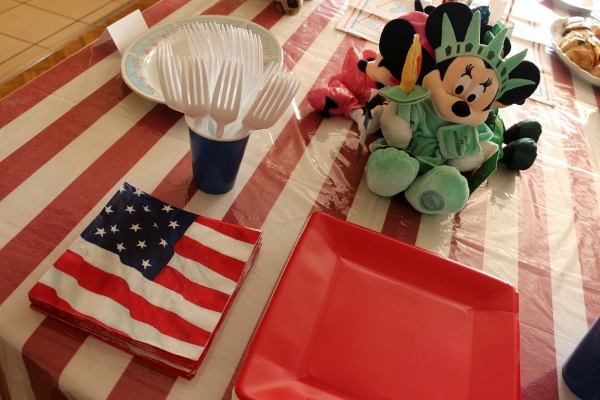 The food was set up like a buffet, and consisted of snacky items that were filling enough to satisfy even the hungriest athletes.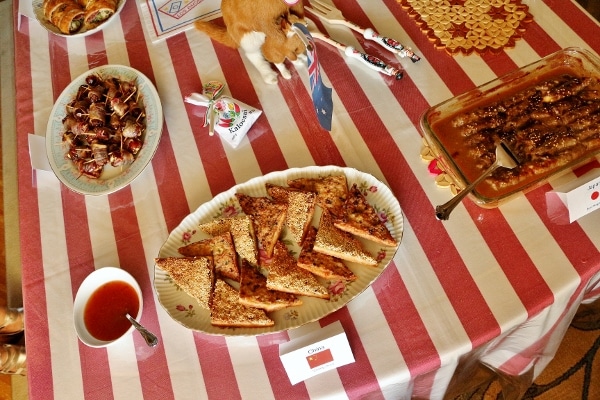 My menu for the Rio games is as follows:
Brazil: Pão de Queijo (Brazilian Cheese Bread)
Mexico: Guacamole
USA: Macaroni and Cheese
Japan: Beef Negimaki
China: Shrimp Toast
Spain: Bacon-Wrapped Dates Stuffed with Goat Cheese
Italy: Stromboli with Soppressata, Rapini, and Provolone
Germany: Black Forest Cupcakes
The guacamole, macaroni and cheese, beef negimaki, and Black Forest cupcakes were brought to the party by guests, and I made the remaining four dishes myself.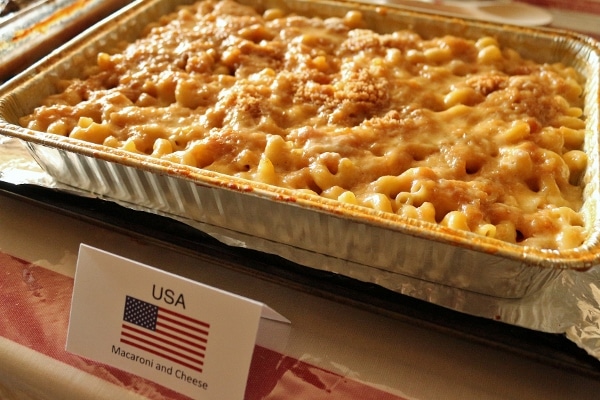 I served the guacamole in a beloved tiki bowl I acquired/purchased at Trader Sam's Grog Grotto on my recent trip to Walt Disney World. It's not Mexican, but I figure it adds another international element representing the South Pacific. Call it fusion cuisine!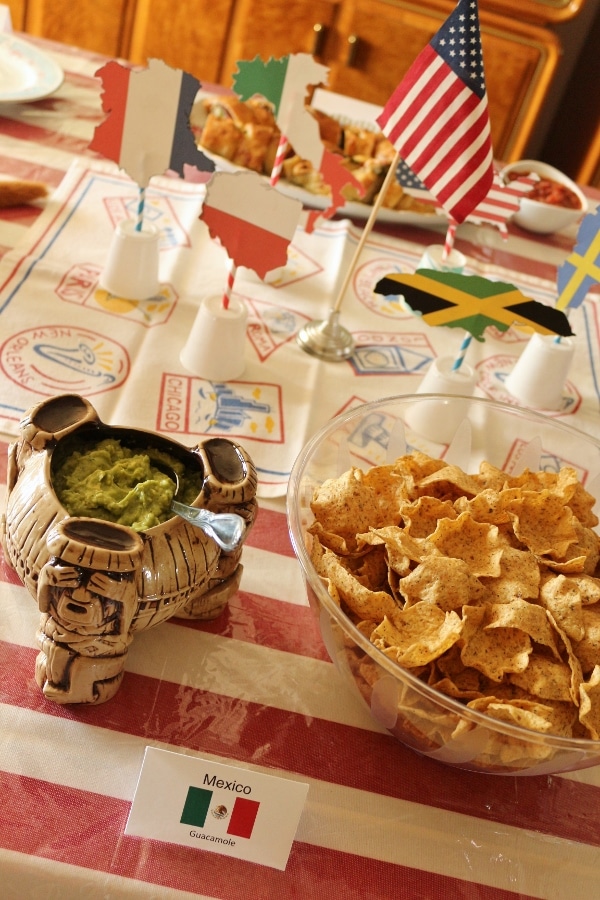 Beef negimaki consists of thinly sliced beef rolled around a filling of scallions and cheese, heightened with teriyaki sauce, finished with sesame seeds and baked.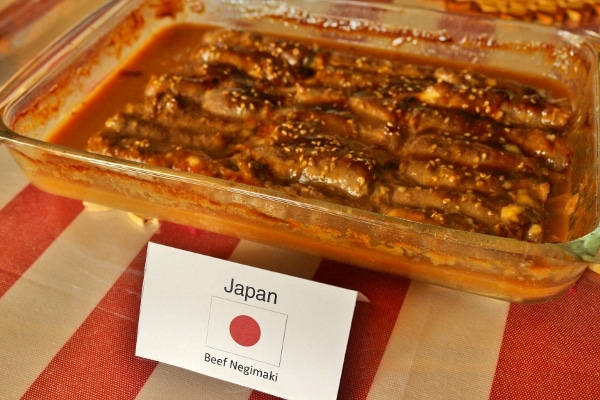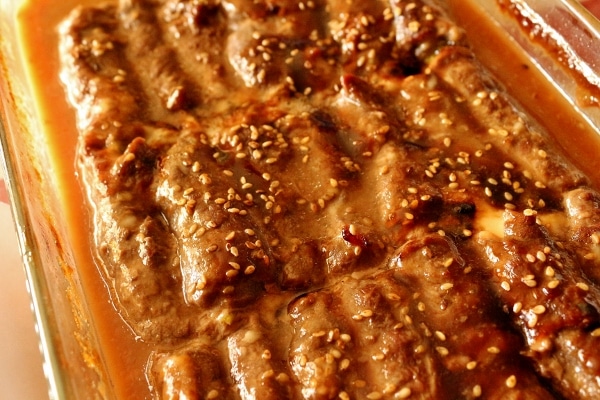 I've previously shared the Stromboli with Soppressata, Rapini, and Provolone--the recipe can be found here. It's seriously one of my favorites, and a perfect party dish to represent Italy at an Olympic-themed party.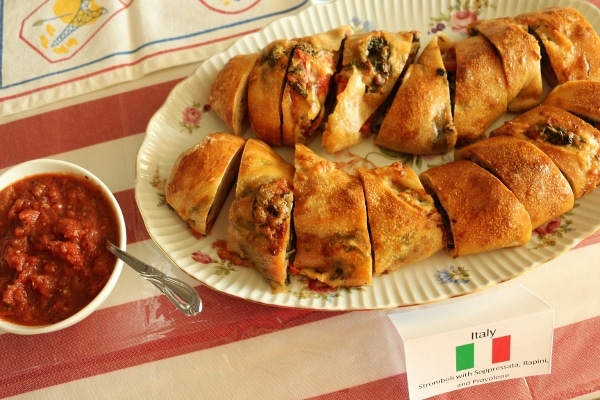 The Black Forest cupcakes were a huge crowd favorite. They were baked by a good friend of mine who I met in culinary school. I studied culinary arts, and she was in the pastry program. Chocolate cupcakes are filled with homemade cherry pie filling and topped with freshly whipped cream, shaved chocolate, and chocolate-dipped cherries. Yum!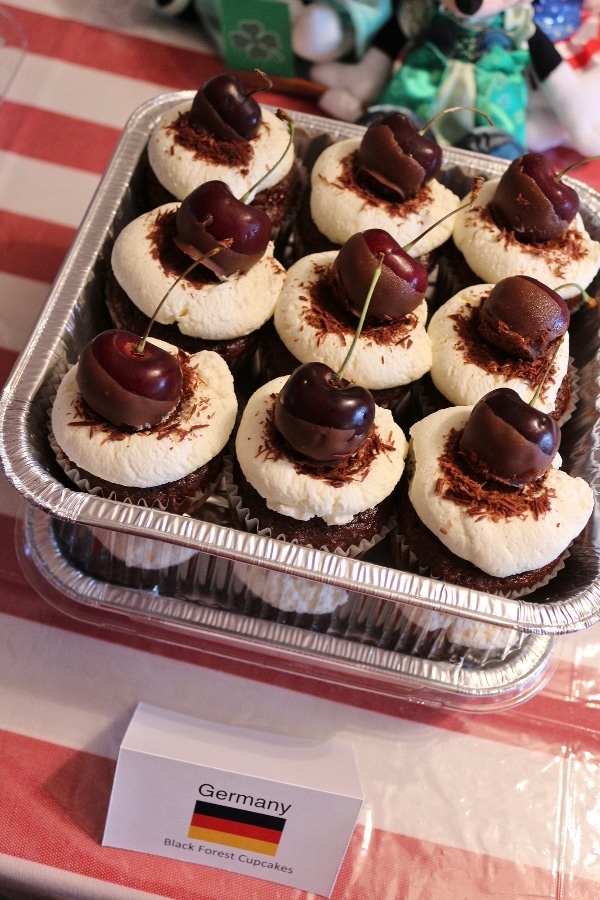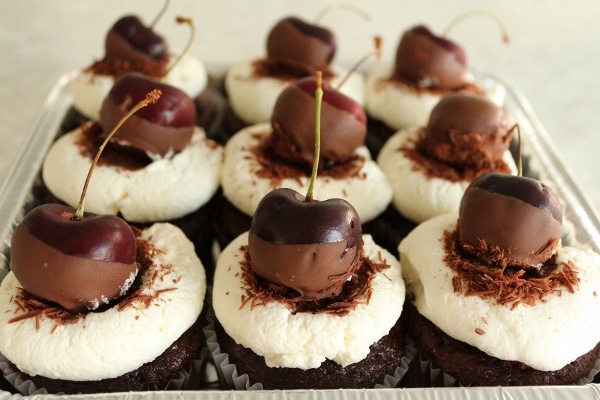 I will be sharing several of the other recipes over the coming weeks. Today, I'm starting with Brazil, the host country. I decided to make Pão de Queijo, or Brazilian cheese bread. They are very similar to French gougères or cheese puffs, but they're actually gluten-free because they are made with tapioca flour/starch.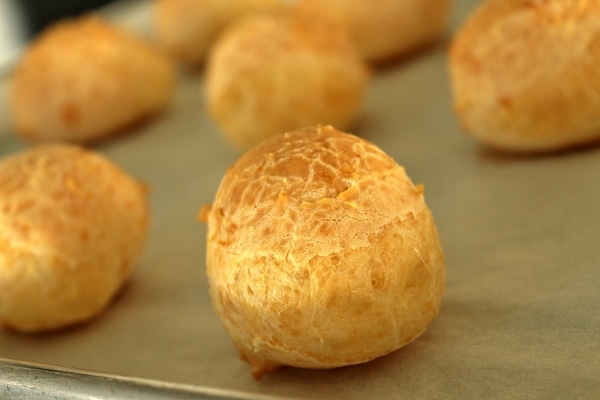 The traditional cheese for Pão de Queijo is called minas, but is apparently impossible to find in the United States. Many say that Mexican Cotija is a suitable replacement for this purpose, but I have found that most recipes utilize Parmesan cheese, and in some cases a combination of cheeses. I decided to use both shredded mozzarella (for it's mild flavor and fantastic gooey texture) and Pecorino-Romano for it's sharpness.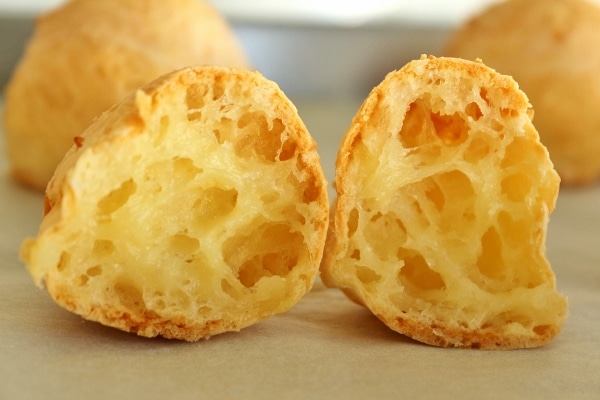 The technique used for making the Pão de Queijo is very similar to pâte à choux, the dough used for gougères, éclairs, cream puffs, profiteroles, and more. Rather than piping this dough into perfect rounds, I found that most recipes simply suggest spooning mounds of dough onto the sheet pan, or using a small cookie/ice cream scoop to portion.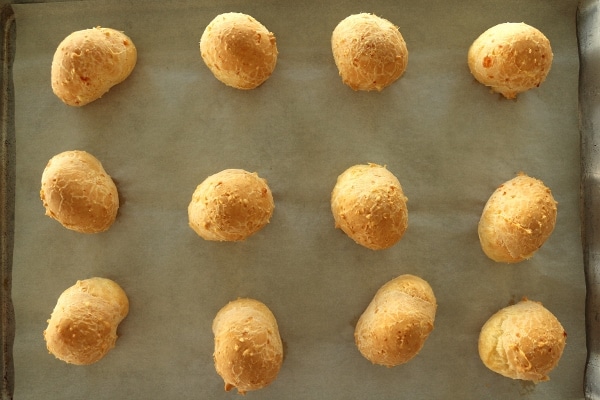 These Pão de Queijo were a lot easier to make than I expected. I was a little nervous making them for a party without ever having tried making them previously, but they were very successful. The exterior is crispy and golden, while the interior is chewy with a mild hint of cheese flavor (the amount of cheesiness is certainly dependent on the type of cheese used).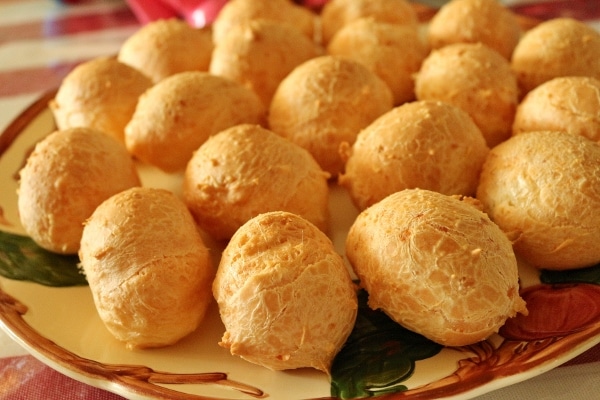 These were very popular, and although preferably served warm, they still retained their great texture and flavor at room temperature. They are truly easy enough to make even on a weeknight if you are looking for a special Brazilian snack while watching the Rio games.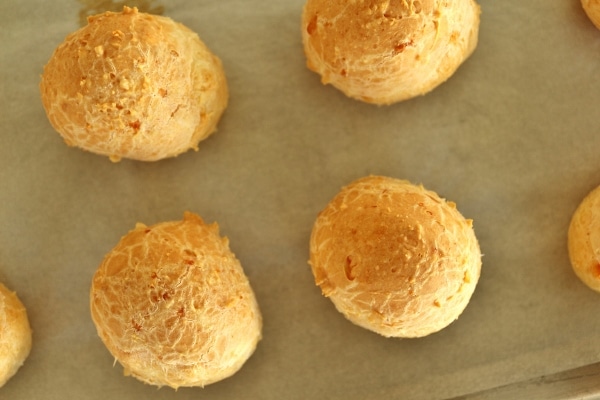 Keep your eyes peeled over the next couple of weeks for more recipes from my Rio menu. Go USA!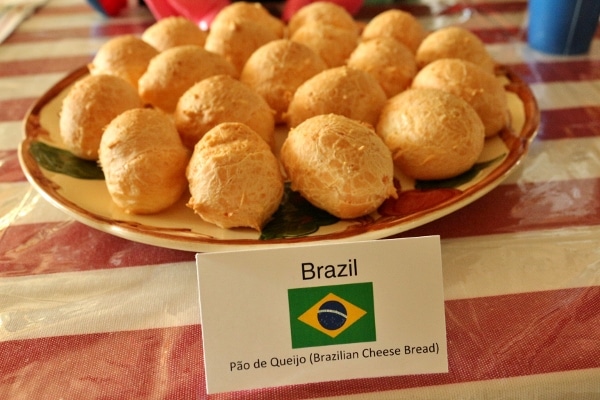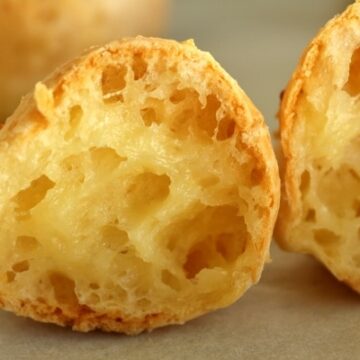 Pão de Queijo (Brazilian Cheese Bread)
These gluten-free Brazilian cheese breads are easy to make and super delicious! They are great appetizers or snacks for gatherings, including of course Olympic parties!
Print
Pin
Rate
Ingredients
½

cup

water

½

cup

milk

¼

cup

vegetable oil

1 ½

teaspoons

kosher salt

2

cups

tapioca flour/starch

(I use Bob's Red Mill brand)

2

large eggs

3

ounces

finely grated cheese

(I use a combination of mozzarella and Pecorino-Romano)
Instructions
Combine water, milk, oil, and salt in a small sauce pan and bring to a boil. Meanwhile, put the tapioca starch in a medium bowl. In another bowl grate the cheese and whisk it together with the eggs.

When the milk mixture comes to a boil, pour it over the starch and beat it vigorously with a wooden spoon until you have a cohesive, thick gelatinous paste. Let it cool completely.

When cool, transfer it to the bowl of a stand mixer fitted with the paddle attachment. Add the cheese/egg mixture and beat on medium-high for about 90 seconds until the mixture is smooth. It will be very sticky and stretchy.

Spoon roughly 2-tablespoon-sized quantities (I use a 1 ½ tablespoon sized small cookie/ice cream scoop to portion) onto 1 to 2 parchment lined-sheet pans and bake 30 to 40 minutes until golden and puffed (if you are using two sheet pans, rotate them from front to back and top to bottom halfway through baking). Eat warm.
Nutrition
Calories:
79
kcal
|
Carbohydrates:
9
g
|
Protein:
1
g
|
Fat:
4
g
|
Saturated Fat:
1
g
|
Polyunsaturated Fat:
2
g
|
Monounsaturated Fat:
1
g
|
Cholesterol:
21
mg
|
Sodium:
114
mg
|
Potassium:
13
mg
*All nutritional information is based on third-party calculations and should be considered estimates. Actual nutritional content will vary with brands used, measuring methods, portion sizes and more.*