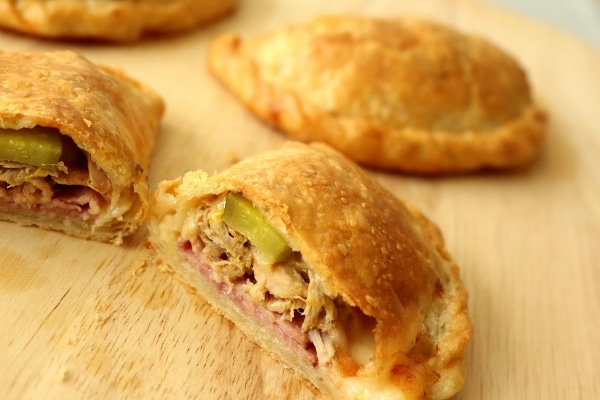 I recently received a review copy of Stuffed: The Ultimate Comfort Food Cookbook by Dan Whalen (published by Page Street Publishing Co.). I'm a big fan of comfort foods, but had not often considered the beauty of creating stuffed versions of my favorite dishes, sometimes stuffing one into the other.
I was excited to check out this book featuring tons of creative recipes, each sharing useful heat and pig-out scales to help determine which recipes to try (based on your spice tolerance and overall gluttony). This is fun and playful, keeping with the attitude of this outside-of-the-box cookbook.
The photography is only so-so (the lighting is on the harsh side), but there are photos included for many (but not all) of the recipes, so even though the photo quality doesn't quite stand up to other cookbooks I own, it's forgivable considering there are lots featured throughout. A matching photo usually adds to my desire to attempt a particular recipe.
Some of the most appealing recipes in the book quickly added to my "to do list" include Cuban Sandwich Empanadas, Cheeseburger Slider Steamed Buns, Buffalo Chicken Buns, Sweet Potato Tamales, Brazilian Cheese Bread Stuffed with Chorizo, Cobb Summer Rolls, Chicken Tikka Masala Ravioli, Cheesesteak Pot Stickers, Buffalo Chicken Stuffed Blue Cheese Arancini, Lobster Stuffed Fried Mac and Cheese Balls, Cuban Chicken Cordon Bleu, Banh Mi Deviled Eggs, Cheddar Sriracha Stuffed Mushrooms, Bacon Avocado Chicken Salad Stuffed Tomatoes, Fish and Chip Tots, and last but not least Cherry Pie Stuffed Chocolate Cake.
It was quite a challenge to narrow down which recipe to try, and if it had been football season when I received this book I undoubtedly would have created a massive spread of several of the dishes for munching on during the game. In lieu of that, I was happy to indulge in a post-football feast.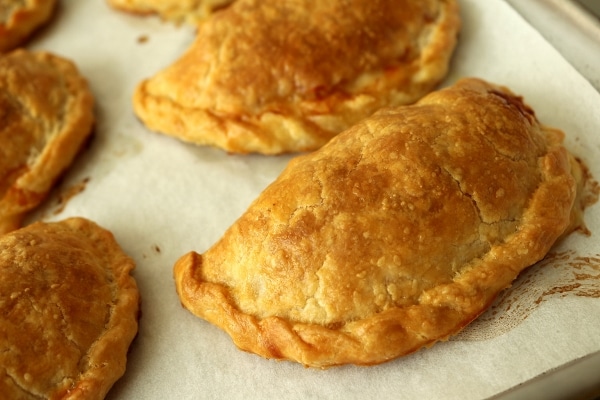 It's actually the Stanley Cup Playoffs and so preparing yummy snacks while watching the big game is still totally relevant in my eyes. Also, many of these creations are perfect for game nights of any kind, which is actually the purpose for which I whipped up the first of my attempts from the book: Cuban Sandwich Empanadas for a night playing Cards Against Humanity with friends (best game ever!).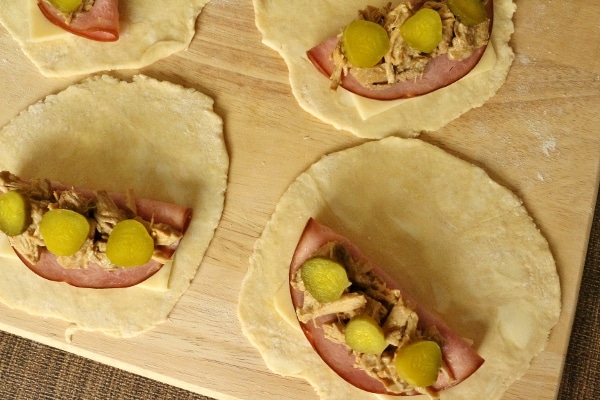 Although the roast pork filling isn't super authentic Cuban, I like that the pork is essentially slow-roasted/braised in a mustardy concoction, which steeps that necessary mustard flavor from a traditional Cuban sandwich straight into the pork without having to add extra mustard to the empanada. I did end up with a lot of extra sauce even after shredding my pork and tossing it around in the sauce to moisten it, so I used a slotted spoon to remove the pork from the sauce before assembling so I wouldn't end up with soggy empanada filling.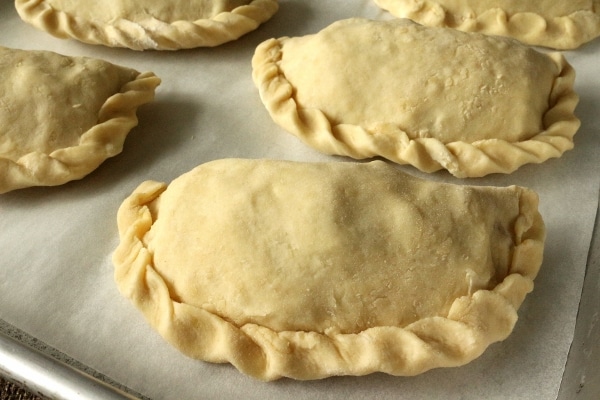 I also cut down on the amount of cheese. It called for 16 slices Swiss cheese (2 per empanada) but Swiss cheese slices can be pretty large especially if you get them at the deli, so I actually used only 8 slices, each of which I cut in half and placed one half on the bottom and one on top of the filling. I had baby dill pickles and not regular pickles, so I sliced some of those up and used an extra slice per empanada since they are smaller. Also, please note that although the original recipe states it yields 8 small empanadas, I would use the term large to refer to these bad boys. They are about 5 inches across. Not small and easily shareable.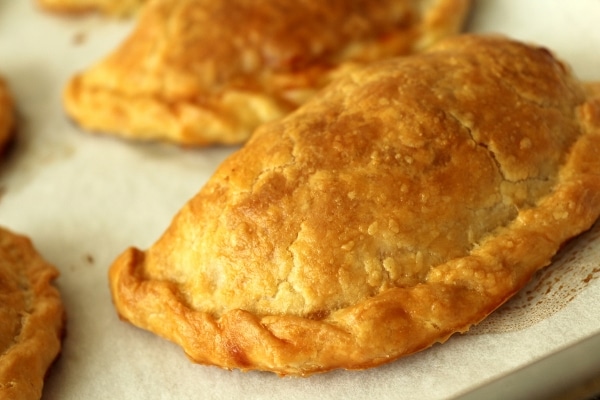 The flavor is huge. Although I baked and didn't fry, the buttery crust was flaky and delicious, while the piping hot filling was the perfect balance of smokiness from the ham, gooeyness from the cheese, juiciness from the mustardy pork, with acidity from the pickles. Everyone who tried one said it was awesome, and I can't help but agree! These will make it onto a future game day menu again regardless of the sport or activity.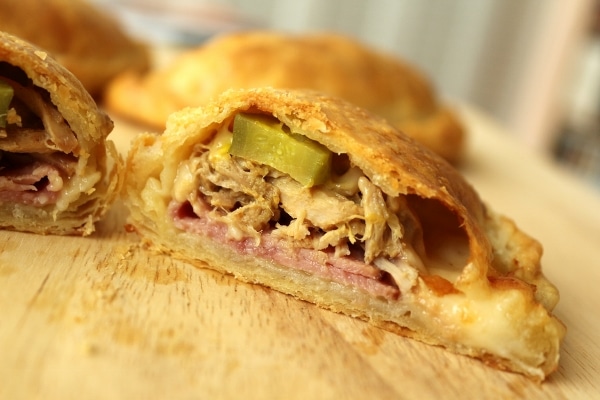 Stuffed is full of really fun and creative ideas, putting spins on many classics with easy to follow instructions. Although authenticity isn't the main attraction here, using ethnic fusion to think outside-of-the-box definitely makes this a fun cookbook for anyone who enjoys entertaining. Most of the recipes are best suited for parties and less so for everyday eating.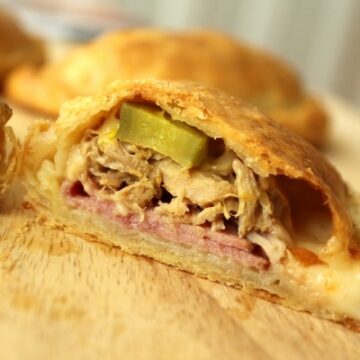 Cuban Sandwich Empanadas
A creative twist on empanadas filled with the flavors of a classic Cuban sandwich! These flaky baked empanadas will be a hit at your next get-together.
Print
Pin
Rate
Servings:
8
large empanadas
Ingredients
Roast Pork Filling:
¾

pound

(340 grams) boneless country-style pork ribs

¼

cup

(60 ml) red wine vinegar

¼

cup

(44 grams) mustard

2

tablespoons

(30 ml) Worcestershire sauce
Empanada Dough:
1 ¾

cups

(210 grams) all-purpose flour

½

cup

(112 grams) cold unsalted butter, cut into ¼-inch cubes

1

large egg

⅓

cup

(80 ml) water
Stuffing:
16

pickle slices

8

Swiss cheese slices

8

ham slices
Egg Wash:
1

large egg

2

tablespoons

(30 ml) water
Instructions
Make the roast pork filling: Preheat the oven to 300°F (150°C).

Chop the pork into 1-inch cubes. Toss in the vinegar, mustard and Worcestershire sauce. Place in an oven-safe frying pan or small baking dish and cover with foil. Bake for 2 ½ hours, stirring once halfway through the cooking time. Remove from the oven and shred the pork with the cooking liquid. If there is a lot of excess cooking liquid, use a slotted spoon to remove the pork from the excess sauce before using it in the empanadas.

Make the dough: Mix the flour and butter in a bowl. With your fingers, work the butter into the flour until it creates small crumbs. Then beat the egg into the water and pour the water/egg mixture into the flour and mix with a fork. Once it comes together, begin kneading with your hands until the dough is smooth, but not too long because you don't want to soften the butter too much. Refrigerate for at least 15 minutes.

Stuff it!: Roll out the empanada dough into 8 thin rounds. Place half a slice of Swiss cheese followed by a slice of ham, one-eighth of the pork filling, 2 pickle slices, and another half a slice of Swiss cheese onto each round, placing them off to one side. Fold the round over and seal by lightly wetting the edge with your finger. Fold the edge of the dough over itself repeatedly from one end to the other to form the traditional empanada look.

Cook it: You can bake or fry these empanadas. To fry, heat vegetable oil in a Dutch oven to 350°F (180°C). Gently drop in your empanada and let it cook until browned, about 2 minutes. If you want to bake it, set the oven to 400°F (200°C) and line a baking sheet with parchment paper, placing the empanadas on top. Beat the egg with the water and brush it evenly over the tops of the empanadas. Bake until golden brown, about 30 minutes.
Nutrition
Calories:
416
kcal
|
Carbohydrates:
22
g
|
Protein:
23
g
|
Fat:
25
g
|
Saturated Fat:
13
g
|
Polyunsaturated Fat:
1
g
|
Monounsaturated Fat:
6
g
|
Cholesterol:
117
mg
|
Sodium:
898
mg
|
Potassium:
273
mg
|
Fiber:
1
g
|
Sugar:
1
g
*All nutritional information is based on third-party calculations and should be considered estimates. Actual nutritional content will vary with brands used, measuring methods, portion sizes and more.*
*Disclaimer* I received no compensation to write this review other than a free copy of the book. My opinions are always my own.