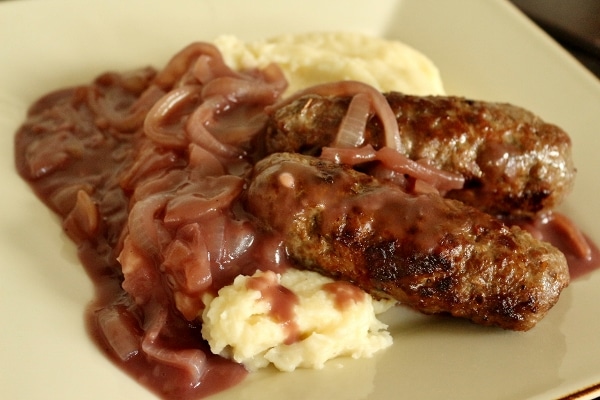 A week ago, I reviewed The Artisan Marshmallow from Hardie Grant Books. Today, I'm taking a look at another book from Hardie Grant, Great Pub Food by Rachael Lane. Like The Artisan Marshmallow, this book also gets right to the point without any introduction, and although I'd love to read stories about British pubs and what makes them so special, I am willing to let that slide in this case.
I will take this opportunity to point out that I am not British. My limited experience in real British pubs (in Great Britain) involve two meals, both of which included beer and fish and chips. Yup, I ordered fish and chips at both of my only real meals at pubs in London. I may not have been the most adventurous diner, but I was 18 and I wanted the "traditional fish and chips pub meal." And so that's what I ordered. Twice.
I have made other British dishes in my own kitchen, such as Cottage Pies at my last Olympics party. I also love tea and occasionally throw tea parties with scones and finger sandwiches and the like. Still, that's not really pub food. British, but not pub. I was really stoked to get the chance to try some more authentic dishes from the pages of this book.
Chapters in the book range from Burgers, Pies & Pastries, Classics, Specials Board, Sides & Salads, and finally Desserts. There are many classic dishes shared, such as *cough cough* fish and chips, various savory pies such as steak and mushroom and veggie curry, as well as Cornish pasties, various burgers (some that seem less traditional to me, like tempura fish burgers and tandoori chicken burgers), and roast beef and Yorkshire puddings.
Some dishes that are considered classics in the book are very unusual to me, like mushroom risotto and eggplant parmigiana, but again, I'm not British so I guess these are pretty typical dishes, even if they aren't British in origin. The Specials Board includes even more dishes that think outside the box, such as chicken tikka masala (considered to be a British invention believe-it-or-not), rabbit cacciatore, and prawn and chorizo paella. There's definitely a great range of recipes in this book! It is missing a few "classics," however, such as Scotch egg, bubble and squeak and perhaps some others I'm not nearly British enough to be aware of.
The photography reveals incredibly appetizing looks at very comforting dishes. If pub food is anything at all, it's full of comfort foods and various guilty pleasures. I was most certainly planning on making one of the savory pies or pasties, due to my love of pastry dough (is there anything more satisfying?), but decided to try the bangers and mash instead. It features homemade skinless pork and herb sausages and roasted garlic mash, along with a traditional onion gravy.
Considering that all components of the dish are completely homemade, the bangers and mash are actually really simple and straightforward to prepare. The "bangers" are infused with garlic, red wine, herbs and spices and simply shaped into sausage-shaped logs.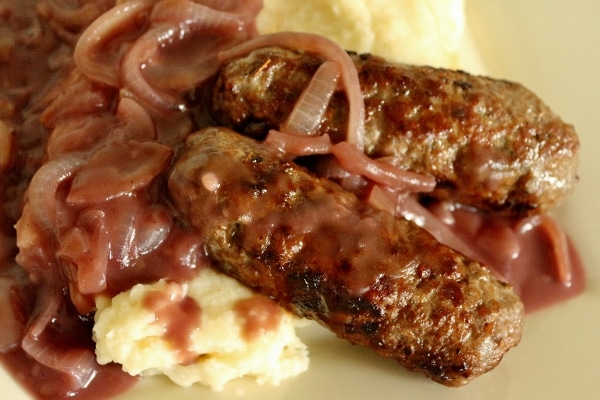 The recipe says to shape them 1 hour to overnight in advance. Please note, the longer they sit, the more the salt will essentially "cure" the meat. Mine sat longer than overnight (I shaped them one afternoon and cooked them for dinner the following day--more than 24 hours later) and they were a tad on the salty side, but the quantity of salt actually in the recipe is not substantial, so that's my own fault. Also, since the "bangers" are skinless, they won't have the same sheen as traditional ones, but who really cares?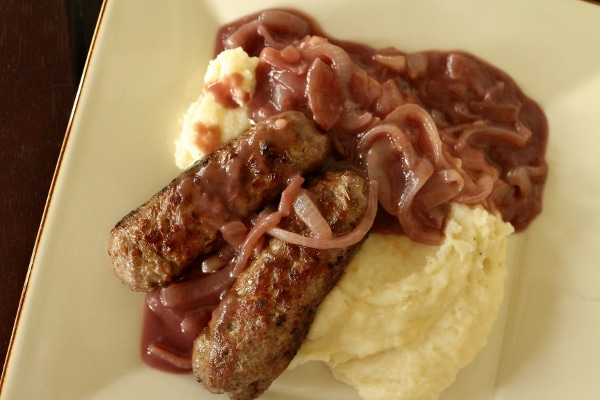 The mash... is perfection. I used whole milk instead of cream, and added a splash or so of extra milk because I wanted my mash a bit softer than the original result. The gravy is meaty and wine-y with lots of sweet, melted onions in there. Mine turned out more purple than brown because the red wine I used had a more purple hue. Also, I used beef broth instead of stock, so the stock would have yielded an even richer and more intense color and flavor.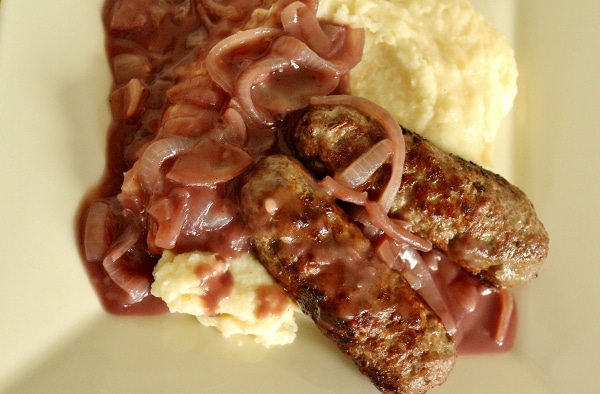 Regardless, I was floored by how tasty this dish turned out! Even though my sausages were a touch salty (again, my own fault), combined with the sweet garlicky mash and the decadent gravy, it was truly the ultimate comfort food! I have so many recipes in my arsenal (and well over a hundred cookbooks in my ever-growing collection), that I don't always fall back on ones I've already tried before, but I can definitely assure you that these bangers and mash will be made again in my kitchen. We all loved them!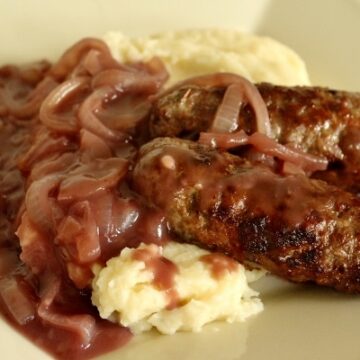 Bangers and Mash
Dine like you're at your favorite pub from the comfort of your home. This is a British classic featuring homemade casing-free sausages and a decadent onion gravy.
Print
Pin
Rate
Ingredients
Skinless Pork and Herb Sausages:
750

grams

(1 pound 10 ounces) minced (ground) pork

3

tablespoons

red wine

2

cloves

garlic

crushed

2

tablespoons

finely chopped oregano

(or 1 tablespoon dried oregano)

1

tablespoon

finely chopped thyme

(or 1 ½ teaspoons dried thyme)

1

tablespoon

olive oil

2

teaspoons

sea salt

1

teaspoon

freshly ground black pepper

1

teaspoon

fennel seeds

crushed

1

teaspoon

chili flakes

crushed
Onion Gravy:
1

tablespoon

olive oil

20

grams

(¾ ounce) butter

2

brown onions

thinly sliced

2

tablespoons

all-purpose flour

½

cup

(125 ml/4 fluid ounces) red wine

1

cup

(250 ml/8 ½ fluid ounces) beef stock
Creamy Roast Garlic Potato Mash:
1

bulb garlic

Olive oil

for drizzling

1

kilogram

(2 pounds 3 ounces) all-purpose potatoes, such as russets

½

cup

(125 ml/4 fluid ounces) milk or heavy cream

100

grams

(3 ½ ounces) butter

Sea salt and ground white pepper
Instructions
To make the sausages: place all the ingredients in a medium-sized bowl and using clean hands, mix and knead together until sticky and combined well. Shape the mixture into 8 even-sized sausages, put on a plate and cover and refrigerate for at least 1 hour or overnight.

To prepare the onion gravy: heat the oil and butter together in a large frying pan over low-medium heat. Cook the onion until softened and golden. Add the flour to the pan and cook, stirring with a wooden spoon, for 20 seconds. Pour in the wine and stock, stirring to prevent lumps, and bring to a boil. Reduce the heat and gently simmer for a few minutes, or until thick enough to coat the back of the spoon. Keep warm until needed.

To make the mash: Preheat the oven to 350°F (180°C).

Place the whole garlic bulb on a piece of foil and drizzle with oil. Wrap with the foil and place on a baking sheet. Roast in the oven for 30 to 40 minutes, until very soft. Set aside to cool slightly.

Peel and halve (or quarter) the potatoes and place in a large saucepan of cold salted water. Cover and bring to a boil over high heat. Uncover and boil for 15 minutes, or until tender when tested with a skewer or fork. Drain. Use a food mill or potato ricer to puree the potato and return it to the pan.

Heat the cream (or milk) and butter together in a small saucepan over medium heat, until the butter has melted and the cream is hot. Pour into the potato and using a wooden spoon, beat to combine.

Cut the base off the roasted garlic bulb and squeeze out the softened cloves starting from the tip and pressing down. Add to the potato and beat to combine. Season with salt and pepper and serve.

To finish: Heat the oil in a large frying pan over medium heat and cook the sausages for 10 minutes, turning occasionally, until brown all over (I cooked mine longer to make sure it would cook through–alternatively, it wouldn't be a bad idea to finish them off in the oven if you are worried about them cooking through).

Serve the sausages with potato mash and onion gravy.
Nutrition
Calories:
1126
kcal
|
Carbohydrates:
59
g
|
Protein:
39
g
|
Fat:
79
g
|
Saturated Fat:
30
g
|
Polyunsaturated Fat:
3
g
|
Monounsaturated Fat:
19
g
|
Cholesterol:
195
mg
|
Sodium:
1919
mg
|
Potassium:
1123
mg
|
Fiber:
6
g
|
Sugar:
13
g
*All nutritional information is based on third-party calculations and should be considered estimates. Actual nutritional content will vary with brands used, measuring methods, portion sizes and more.*
*Disclaimer* I received no compensation to write this review other than a free copy of the book. My opinions are always my own.