These creative Chinese dumplings are inspired by spicy General Tso's chicken, a Chinese-American classic. You can find the originals at Nine Dragons at Walt Disney World's Epcot theme park, or make them yourselves with this recipe!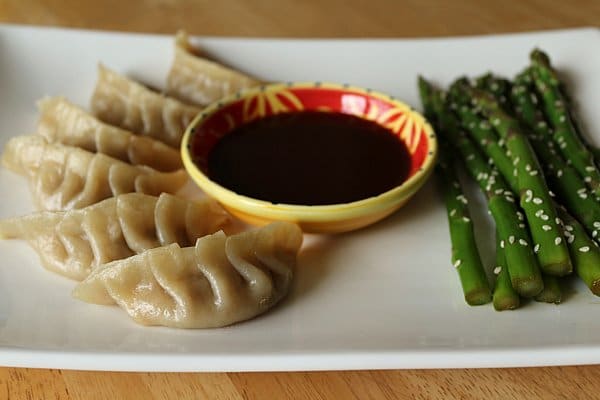 For the record, I have never dined at Nine Dragons at Walt Disney World's Epcot in the World Showcase, but this is the second recipe I am featuring from there. The first recipe I tried was their Honey Sesame Chicken (delicious!).
I have read reviews of the restaurant and each one of them swooned over the General Tso's Chicken Dumplings, so I reached out to Disney to see if they would share the recipe. They did!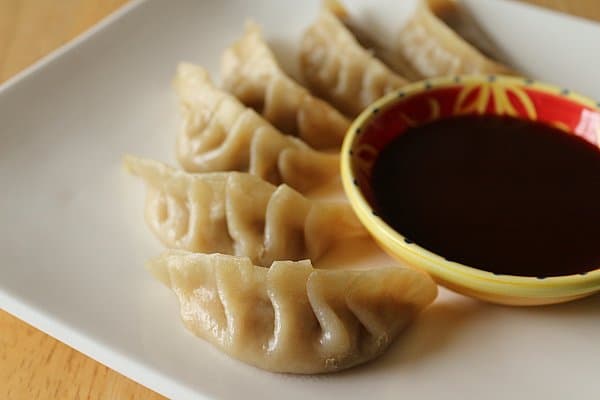 Their recipe had some gaps, however. For one thing, it didn't include a recipe for the dipping sauce, which is described on the menu as a Chinese red sauce. Reviews have described it as a barbecue style sauce. I used my imagination to create the sauce I envisioned.
The recipe also originally used store-bought wrappers, and said the filling would be enough for 10 dumplings.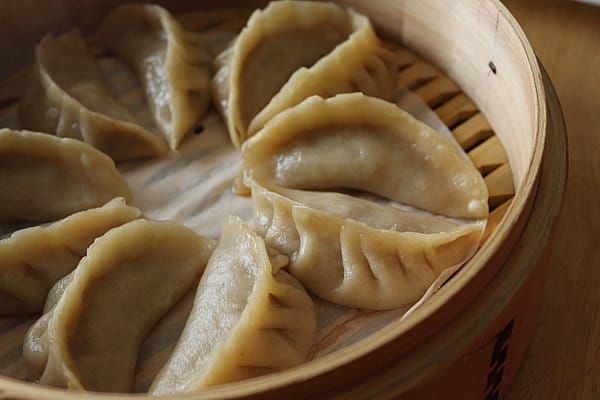 Well let me assure you, this filling was more than enough for 32 dumplings. That's a much safer number. I personally love making my dumpling wrappers from scratch and so of course this dumpling adventure was no exception.
You can easily substitute store-bought wrappers, but I will totally judge you. Seriously. If I can do it, you can do it. Take pride in your cooking!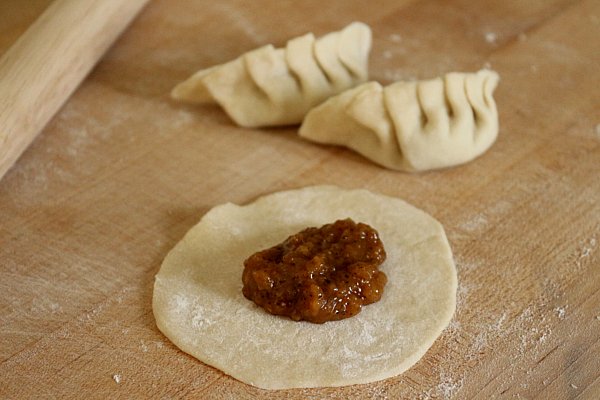 The only other change I've made in the recipe below (other than adding a lot more information to the method of prep to alleviate things, and using chicken breast instead of thighs) is to cut down on the amount of black pepper.
The original recipe calls for 1 tablespoon. Against my better judgement I followed the original recipe and resulted in deliciously juicy dumplings... that contained way too much black pepper.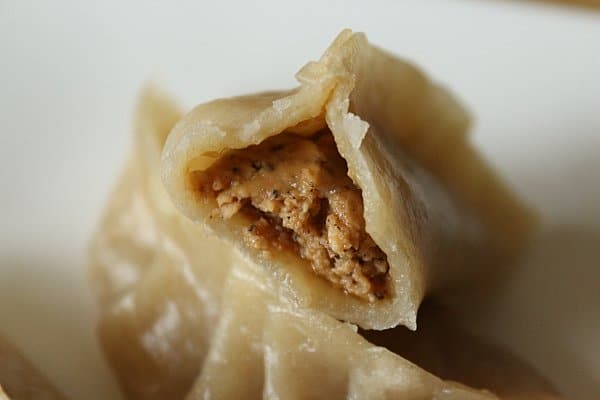 At first bite it wasn't that bad, but a few dumplings in you start to feel the burn in the back of your throat. It just gets more and more overwhelming. Totally different burn than you get with hot sauce, trust me.
My brother-in-law LOVED the dumplings exactly as they were, black pepper and all, but in the future I would definitely scale back the black pepper by half, and this is the measurement I have included in the recipe below.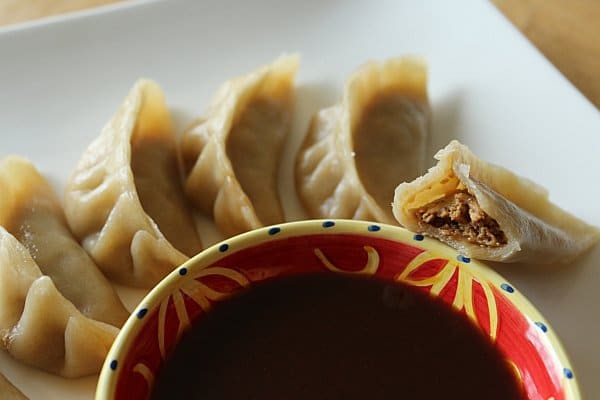 Other recipes you may like
Tried this recipe? Please leave a star ⭐️⭐️⭐️⭐️⭐️ rating in the recipe card below and/or a review in the comments section further down the page. You can also follow me on social media on Facebook, Instagram, and Pinterest!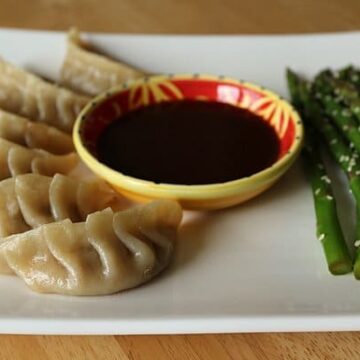 General Tso's Chicken Dumplings
These creative Chinese dumplings are inspired by spicy General Tso's chicken, a Chinese-American classic. You can find the originals at Nine Dragons at Walt Disney World's Epcot theme park, or make them yourselves with this recipe!
Print
Pin
Rate
Ingredients
Filling:
8

ounces

skinless chicken thigh or breast meat

¼

cup

water

¼

cup

tomato sauce

2

tablespoons

sugar

1

tablespoon

soy sauce

1

tablespoon

oyster sauce

1

tablespoon

sesame oil

1

tablespoon

chicken bouillon

1 ½

teaspoons

black pepper

1 ½

teaspoons

hot sauce

such as Tabasco or Frank's Red Hot
Dough:
10

ounces

(285 grams / 2 cups) all-purpose flour

About ¾ cup just-boiled water

(boil water, then let it sit for a minute off the heat before measuring)
Dipping Sauce:
¼

cup

hoisin sauce

1

tablespoon

soy sauce

1

tablespoon

unseasoned rice vinegar
Instructions
To make the filling: first mince the chicken by pulsing it in a food processor until it's fine with small chunks but not a puree. Transfer the minced chicken to a large mixing bowl.

Add the remaining filling ingredients to the mixing bowl. Stir in one direction for about 2 minutes or until all ingredients are uniform and liquids are completely absorbed by the meat. Refrigerate the filling until needed.

To make the dough: place a large mixing bowl over a damp paper towel on your work surface, to keep in place while mixing. Add the flour and make a well. Use a wooden spoon to mix the flour while you add the water in a steady stream. Mix together until you have a lot of lumpy bits, then knead the hot dough in the bowl until the dough comes together. Add water by the teaspoon if the dough does not come together.

Continue kneading the dough on a lightly floured surface (only flour if necessary, and do so sparingly) for a couple more minutes until the dough is smooth and elastic (my mixing bowl was very large so I finished kneading directly in the bowl and it was just fine). The dough should bounce back when pressed with your finger, but leave a light impression of your finger. Place dough in a zip-top bag, seal tightly, pressing out excess air, and set aside at room temperature for 15 minutes up to 2 hours. The dough will steam up the bag and soften. After resting, the dough can be used right away, or refrigerated overnight and returned to room temperature before using.

To assemble the dumplings: Remove the dough from the bag, turning the bag inside out if the dough is sticky. Put the dough on a lightly floured surface and cut it in half. Put half back in the bag, squeezing out the air and sealing it closed to prevent drying.

Roll the dough into a 1-inch-thick log and cut into 16 pieces (cut in half, then cut each half in half, and so on to create pieces that are even in size. The tapered end pieces should be cut slightly larger). If your pieces are oval, stand them on one of the cut ends and gently squeeze with your fingers to make them round, like a scallop. Take each piece of dough and press each cut end in flour, lightly pressing the dough to about ¼ inch thick and set aside.

Next, flatten each dough disk into a thin circle, about ⅛ inch thick, either with a tortilla press (lined with plastic wrap), or with a heavy flat-bottomed object like a frying pan (also lined with plastic). Alternatively, use a dowel (which is a good lightweight rolling pin alternative for fast and flexible dumpling making) to lightly roll out each disc into an ⅛ inch thick circle.

To finish the wrappers and assemble: Place wrappers one at a time on your work surface, and flour only if sticky. Imagine a quarter-size circle in the center of the dough. This is what the Chinese call the "belly" of the wrapper. You want to create a wrapper that is larger than its current size, but still retaining a thick "belly" in the center. This ensures an even distribution of dough when the dumpling is sealed. Use the rolling pin to apply pressure to the outer ½-to-¾-inch border of the wrapper. Roll the rolling pin in short downward strokes with one hand while the other hand turns the wrapper in the opposite direction. Aim for wrappers that are about 3 ¼ inches in diameter. When a batch of wrappers is formed, fill them before making wrappers out of the other portion of dough.

Line a baking sheet with parchment paper (if planning to refrigerate dumplings for several hours, also dust with flour to prevent sticking). Hold a wrapper in a slightly cupped hand and scoop about 1 tablespoon of filling slightly off-center toward the upper half of the wrapper, pressing and shaping it into a flat mound and keeping a ½-to-¾-inch border on all sides.

To make "pleated crescent" shapes, make the first pinch between index finger and thumb, then fold over the front edge to form the first pleat and press it against the back edge. Continue pleating the dough in this fashion until making the final pleat and then settle the dumpling on a work surface and press the edges to seal well.

Alternatively, to make "pea pod" shapes, fold the edge of the wrapper closest to you to meet the top edge and pinch together to seal well. Place on your work surface and press gently to steady the dumpling and make it sit flat. Fold the sealed edges of the dumpling to make a series of pleats from one end to the other.

Place finished dumplings on the prepared baking sheet. Repeat with the remaining wrappers and dough, spacing out dumplings about ½ inch apart. Keep the finished dumplings covered with a dry kitchen towel.

When all the dumplings are assembled, they can be covered with plastic wrap and refrigerated for several hours and can be cooked straight from the refrigerator. For longer storage, freeze them on their baking sheet until hard (about 1 hour), transfer to a zip-top freezer bag, pressing out excess air before sealing, and frozen for up to 1 month. To cook after freezing, partially thaw, using your finger to smooth over any cracks that may have formed during freezing, before cooking.

To make the dipping sauce: Mix together all of the ingredients and set aside until needed.

To cook the dumplings: Place the dumplings into a bamboo steamer lined with a perforated parchment circle or cabbage leaves (to keep the dumplings from sticking to the steamer) steam over boiling water for for 10 to 12 minutes until cooked through. Serve immediately with the dipping sauce.
Notes
Adapted from Nine Dragons at Walt Disney World's Epcot World Showcase; Dough recipe from Asian Dumplings
Nutrition
Serving:
1
dumpling
|
Calories:
53
kcal
|
Carbohydrates:
8
g
|
Protein:
3
g
|
Fat:
1
g
|
Sodium:
149
mg
|
Potassium:
9
mg
|
Sugar:
1
g
*All nutritional information is based on third-party calculations and should be considered estimates. Actual nutritional content will vary with brands used, measuring methods, portion sizes and more.*