This post may contain affiliate links, which means that I may receive a commission if you make a purchase using these links. As an Amazon Associate I earn from qualifying purchases.
These creative Asian-style Chicken Parmesan Dumplings are a fun way to enjoy the Italian classic in a playful and unique way. Serve them at parties with warm marinara sauce for dipping. This is a fun way to enjoy an Italian classic in a playful and unique way.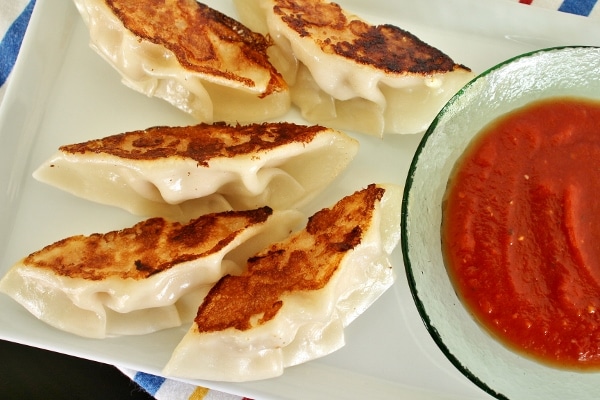 I'm a dumpling fanatic! Whether they're traditional or quirky, I love a plump and juicy dumpling with a crispy base. It's fun coming up with new ideas for fillings. I recently imagined converting Chicken Parmesan into a little morsel packed with flavor. From that moment of creative thinking, these Chicken Parmesan Dumplings are born! It's incredible how much they taste just like chicken parm, with a super juicy and cheesy filling, crispy exterior, and warm marinara dipping sauce.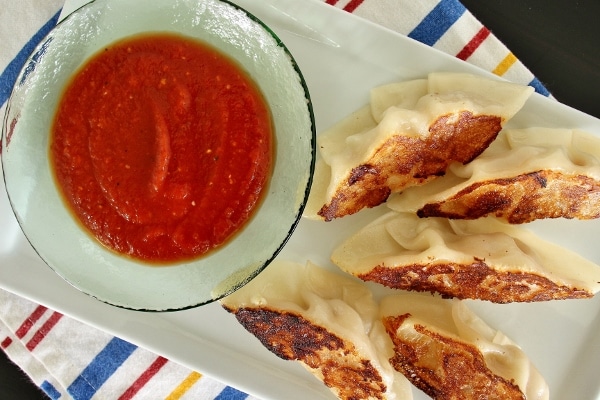 Store-bought dumpling wrappers are a huge time saver, but you can easily make homemade wrappers if you prefer. The filling is a combination of ground chicken (although ground turkey works fine as well), chicken broth to loosen things up and make for a more juicy filling, grated Parmesan cheese, and a little nugget of fresh mozzarella. In the future I'd consider placing a small basil leaf in between the ground chicken mixture and mozzarella. This would provide a pop of color, and of course more flavor!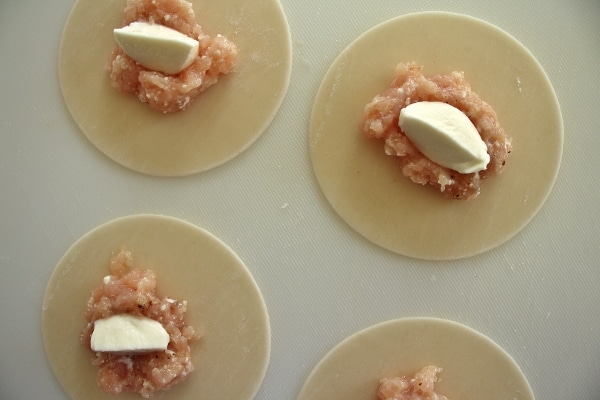 Serve these crispy dumplings with your favorite marinara sauce, heated until bubbly. When combined, the flavor truly screams of chicken Parmesan! You've traded in the breaded exterior for a dumpling wrapper, but everything else is nearly an even switch. This was a really fun and delicious experiment! It's also easy to make these dumplings ahead and freeze them, so you can whip them up any time to satisfy your chicken Parmesan craving. Yum!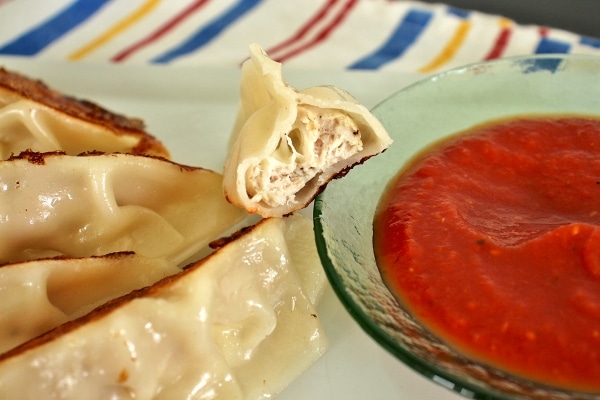 Other creative dumpling recipes you may like
Have you ever tried unusual, non-traditional dumplings? Would love to hear what your favorite kinds are! Leave me a note in the comments.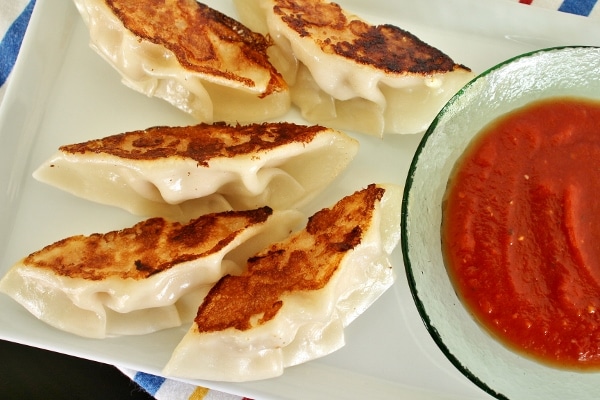 Chicken Parmesan Dumplings
These creative Asian-style Chicken Parmesan Dumplings are a fun way to enjoy the Italian classic in a playful and unique way. Serve them at parties with warm marinara sauce for dipping. This is a fun way to enjoy an Italian classic in a playful and unique way.
Ingredients
8

ounces

ground chicken or turkey

1/4

cup

chicken broth

2

tablespoons

grated Parmesan cheese

1/4

teaspoon

kosher salt

1/4

teaspoon

freshly ground black pepper

2 1/2

ounces

fresh mozzarella cheese

cut into 24 pieces (I quartered 6 small "ciliegine" mozzarella balls)

24

round dumpling wrappers

Vegetable oil

Marinara sauce

heated, for dipping
Instructions
In a medium mixing bowl combine the ground chicken, chicken broth, Parmesan cheese, salt, and pepper. Mix thoroughly until the broth gets absorbed into the chicken, and everything is evenly combined.

Take out four wrappers and cover the rest with a damp dowel. Lay out the four wrappers like ducks in a row. Wet 1/2 inch of the rim of each wrapper. Scoop a heaping teaspoon of filling into the center of each wrapper, and top with a piece of mozzarella. Fold the wrapper in half like a taco and pinch the edges at the top center. Continue folding the dumpling using your preferred folding method.

At this point, the dumplings can either be cooked immediately, covered and refrigerated for up to a couple hours, or frozen.

To pan-fry the dumplings, use a medium or large nonstick skillet (or cook two batches at the same time using two pans). Heat the skillet over medium-high heat and add 1 1/2 tablespoons oil for a medium skillet and 2 tablespoons for a large one. Place the dumplings 1 at a time, sealed edges up, in a winding circle pattern. The dumplings can touch. Medium skillets will generally fit 12 to 14 dumplings, large skillets will fit 16 to 18 dumplings. Fry the dumplings for 1 to 2 minutes until they are golden or light brown on the bottom.

Holding the lid close to the skillet to lessen splatter, use a measuring cup to add water to a depth of roughly 1/4 inch (about 1/3 cup water). The water will immediately sputter and boil vigorously, Cover with a lid or aluminum foil, lower the heat to medium, and let the water bubble away for 8 to 10 minutes, until it is mostly gone. When you hear sizzling noises, remove the lid as most of the water is now gone. Let the dumplings fry for another 1 or 2 minutes, or until the bottoms are brown and crisp. Turn off the heat and wait until the sizzling stops before using a spatula to transfer dumplings to a serving plate. Display them with their bottoms facing up so they remain crisp. Serve with hot marinara sauce for dipping.
Notes & Nutrition
I prefer to use Shanghai-Style Dumpling Wrappers by Twin Marquis. Please note that wonton wrappers are not a suitable substitute for dumpling wrappers.
Freeze uncooked dumplings by arranging in a single layer on a tray or sheet pan. Freeze until firm, then transfer to freezer bags. Cook the dumplings either thawed or from a frozen state. They may require a bit longer to cook if frozen.
Servings 24.0 * calories 55 * Total Fat 2 g * Saturated Fat 1 g * Monounsaturated Fat 0 g * Polyunsaturated Fat 0 g * Trans Fat 0 g * Cholesterol 9 mg * Sodium 70 mg * Potassium 4 mg * Total Carbohydrate 5 g * Dietary Fiber 0 g * Sugars 0 g * Protein 3 g
*All nutritional information is based on third-party calculations and should be considered estimates. Actual nutritional content will vary with brands used, measuring methods, portion sizes and more.*
Pin it for Later!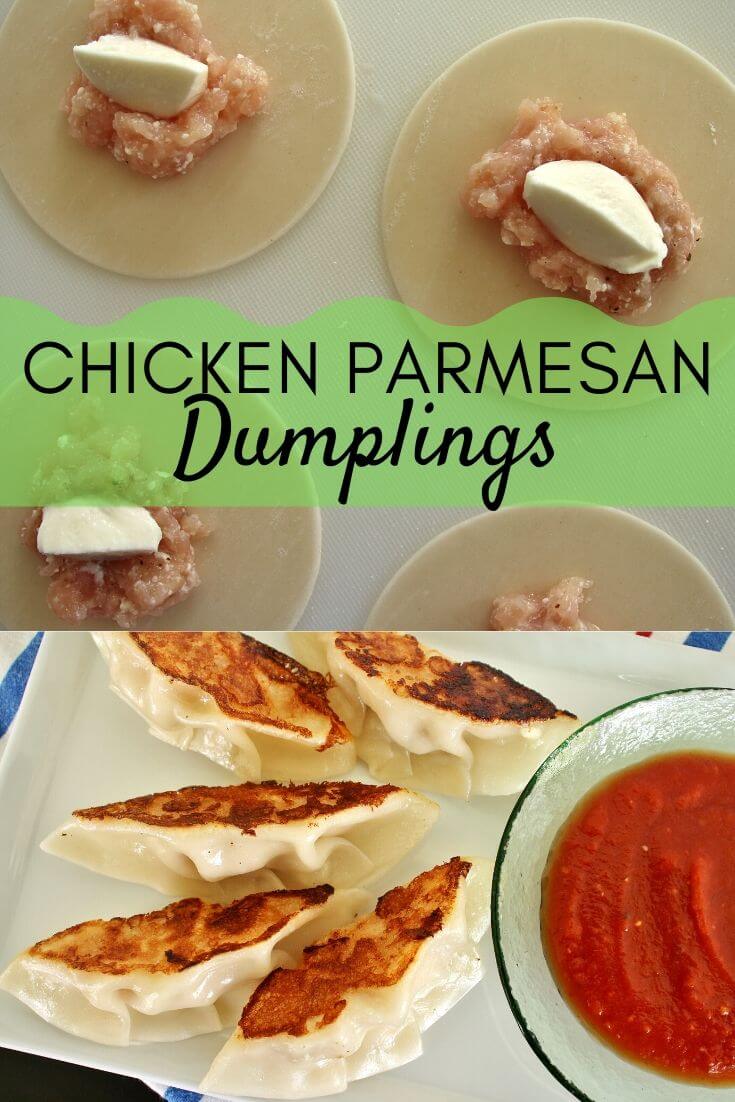 Amazon disclosure – We are a participant in the Amazon Services LLC Associates Program, an affiliate advertising program designed to provide a means for us to earn fees by linking to Amazon.com and affiliated sites.