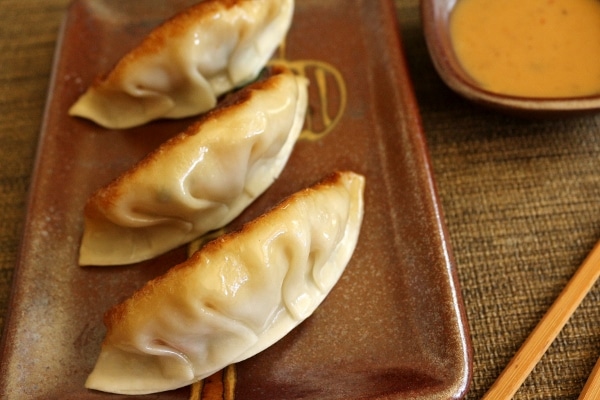 The Olympics are coming! The Olympics are coming!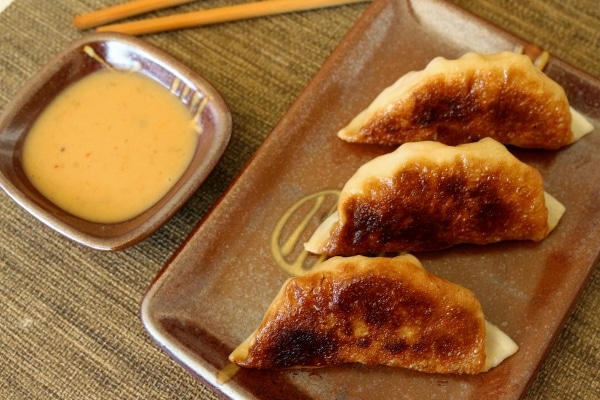 I am a huge fan of the Olympics, counting down for years until the next one. It's a never-ending cycle of Olympic obsession. I love watching the various sports, but I also just love being patriotic and supporting all of our athletes.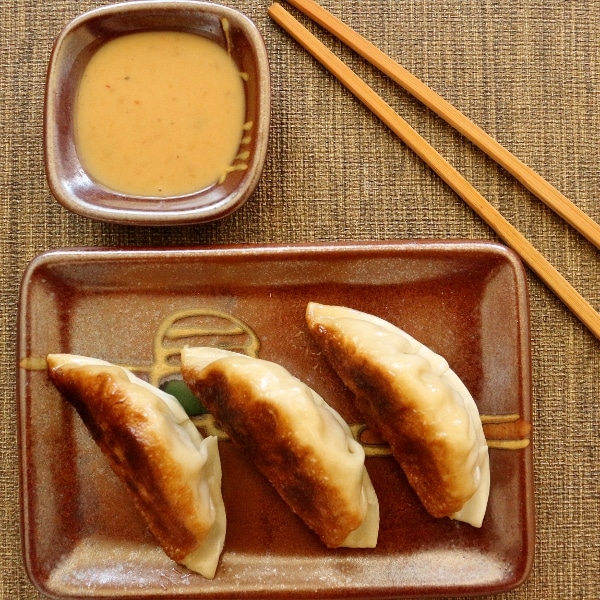 Embracing all of these nations coming together in competition can perhaps be best expressed through culinary exploration. What better way to celebrate our diversity than by cooking and eating foods from around the world.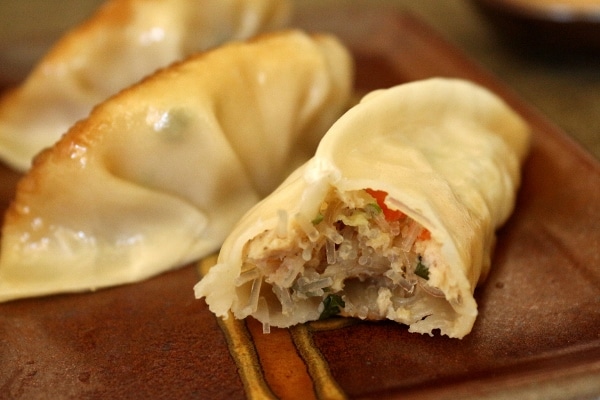 I plan on sharing more posts leading up to and during the Olympics, including other international recipes, but today let's take a look at a really delicious dumpling that embodies a fusion of traditional Thai flavors in a Chinese-style package.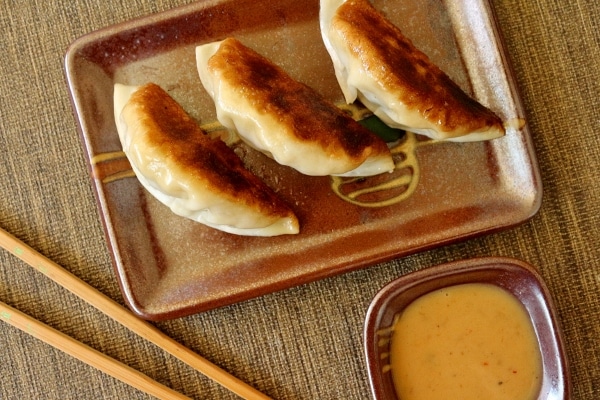 These Chicken & Thai Basil Dumplings were incredibly popular at New York City's Rickshaw Dumplings in its heyday. The recipe for these beloved dumplings is available in Kenny Lao's Hey There, Dumpling! cookbook.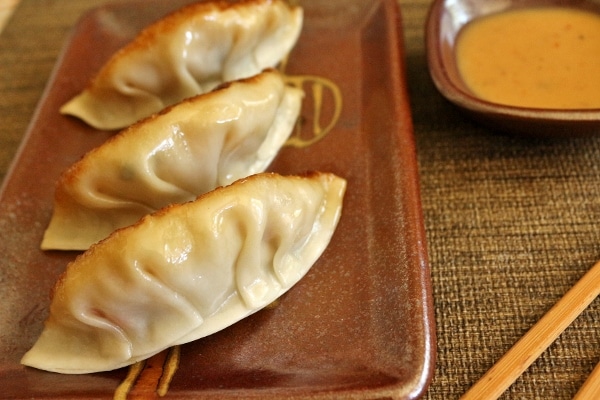 It does require a bit of advance prep, including preparing the lemongrass marinade and allowing it to sit at least overnight or up to a week. After mixing the strained marinade with the other filling ingredients, it's also a good idea to chill the mixture further before using it. This will allow the filling to be more easily scooped into the wrappers.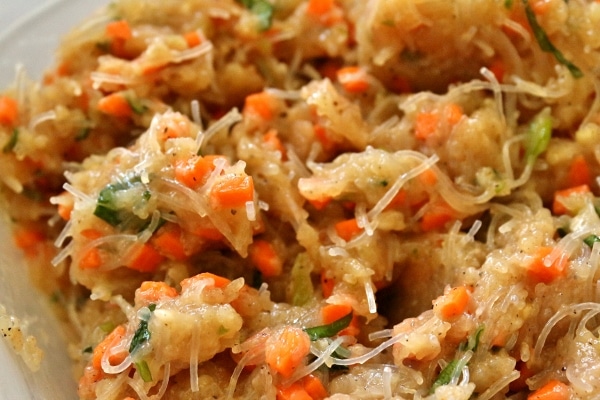 With just a bit of planning, you could potentially be eating these dumplings (instead of drooling over my pictures) within a couple days! Not too shabby.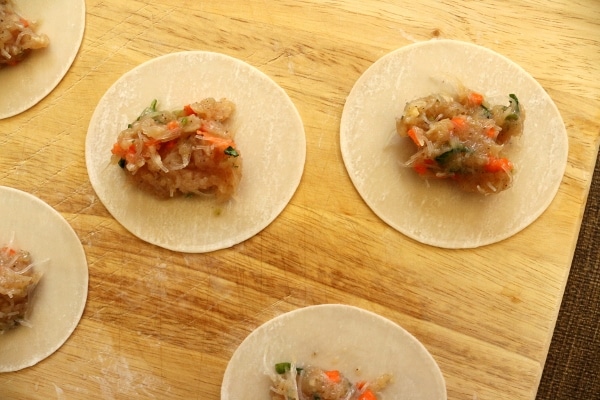 Fish sauce, lemongrass, Thai basil, scallions, chicken, carrots, cellophane noodles, and lime are just a few of the key flavors showcased here. The accompanying dipping sauce also screams traditional Thai, and is very reminiscent of a satay sauce, combining creamy peanut butter and coconut milk, along with spicy nam prik pao, a Thai chile paste (I used Thai Kitchen brand Roasted Red Chili Paste).
I added a bit more nam prik pao to yield a slightly spicier sauce, but even with my addition it was still relatively sweet and creamy with very little spice. The sauce can definitely be tweaked to your taste.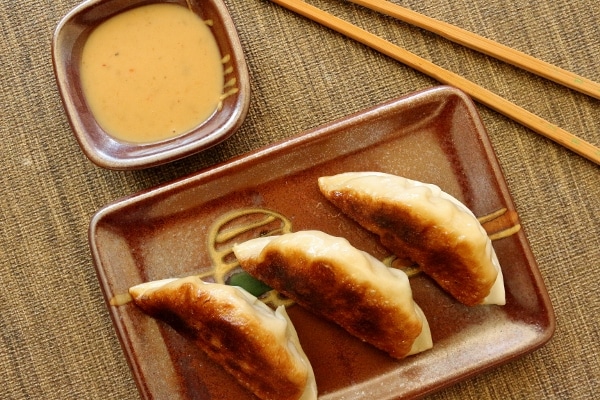 These dumplings are easy enough to make with store-bought dumpling wrappers. There are a few steps involved in their preparation, but if you like Thai flavors, and Chinese pan-fried dumplings, you will adore this combination.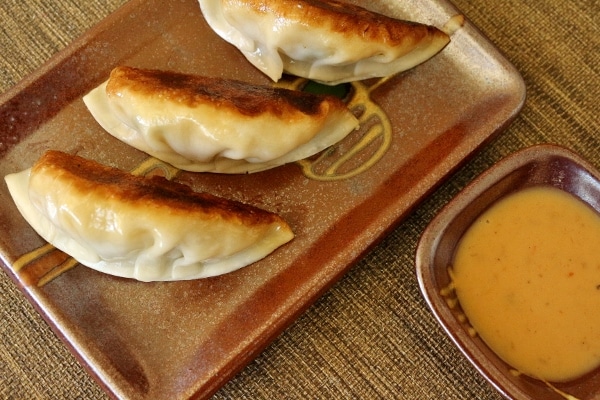 You can also make these dumplings and freeze them on a baking sheet before storing the frozen dumplings in your freezer in a freezer bag or airtight container for cooking at a later time.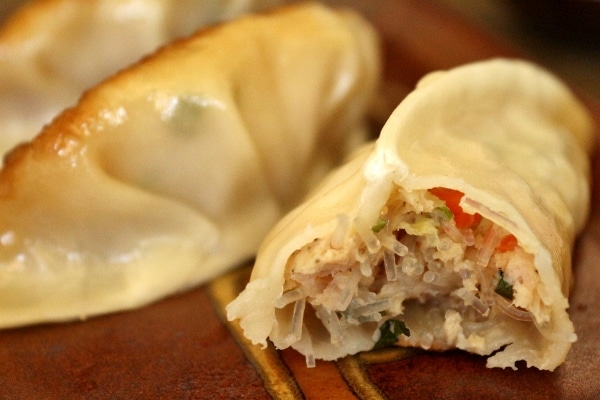 What a perfect way to celebrate the Olympics, by pan-frying some of these flavorful, chewy and crispy dumplings for you and your friends.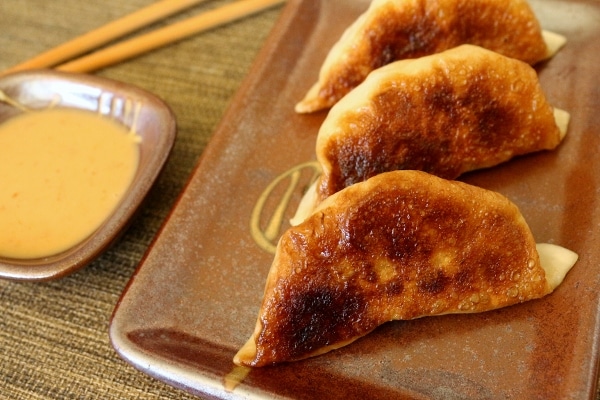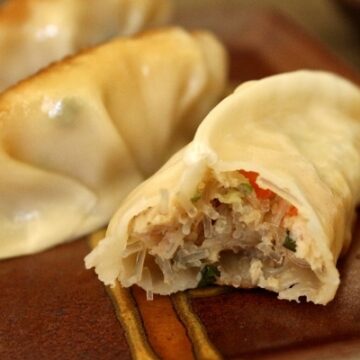 Chicken & Thai Basil Dumplings
This is the recipe for the famous Chicken and Thai Basil Dumplings at NYC's now shuttered Rickshaw Dumplings.
Print
Pin
Rate
Ingredients
Spicy Peanut Dip:
2

tablespoons

creamy peanut butter

2 ½

teaspoons

nam prik pao

(Thai roasted chile jam)

1

tablespoon plus 2 teaspoons

sugar

1

teaspoon

fish sauce

¾

cup

(180 ml) coconut milk

(I used a small 161 ml can, closer to ⅔ cup)

Kosher salt and freshly ground black pepper
Dumplings:
½

cup

(100 grams) sugar

¼

cup

(60 ml) fish sauce

2

garlic cloves

1

lemongrass stalk

trimmed, smashed, and coarsely chopped

2

teaspoons

freshly ground black pepper

1

bundle

(50 grams) vermicelli mung bean noodles

(also called cellophane noodles, bean threads, or glass noodles)

1

pound

(455 grams) ground chicken

1

cup

(130 grams) very finely chopped carrots

¼

cup

(6 grams) thinly sliced Thai basil leaves

(use regular basil if you can't find Thai basil)

¼

cup

(25 grams) finely chopped scallions

1

tablespoon plus 2 teaspoons

kosher salt

2 ¼

teaspoons

sriracha

2 ¼

teaspoons

fresh lime juice

1

tablespoon

cornstarch

1

(1-pound/455-g) package round dumpling wrappers
Instructions
To make the spicy peanut dip: In a small bowl, whisk together the peanut butter, nam prik pao, sugar, and fish sauce. Continue whisking and add the coconut milk in a slow, steady stream to emulsify the mixture. Season with salt and pepper to taste. You also can adjust the other seasonings to your taste. The dip can be refrigerated in an airtight container for up to 1 week.

To make the dumplings: In a food processor, combine the sugar, fish sauce, garlic, lemongrass, and 1 ¼ teaspoons pepper. Pulse until the lemongrass is very finely chopped. Transfer the marinade to an airtight container and refrigerate at least overnight and up to 1 week.

When ready to cook, strain the marinade through a fine-mesh sieve, pressing on the solids to extract as much liquid as possible. You should have ½ cup (120 ml). (If you have extra, save it to use as a marinade for grilling chicken, pork, or beef.)

Fill a medium bowl with ice and water. Bring a small pot of water to a boil and drop the noodles in. Cook just until softened, about 3 minutes, then drain and transfer to the ice water. When cool, drain again, then chop the noodles.

In a large bowl, combine the chicken, carrots, basil, scallions, salt, sriracha, lime juice, cornstarch, ½ cup (120 ml) marinade, noodles, and remaining ¾ teaspoon pepper. Use your hands to work all the ingredients together until well-mixed. It's best to use your hands because you can get everything incorporated into the meat without making the pieces of meat too small.

If you have time, cover and refrigerate the filling until nice and cold, up to 2 days. The filling will be easier to spoon into your wrappers when it's chilled.

Take out five wrappers and cover the rest with a damp dowel. Lay out the five wrappers like ducks in a row. Wet ½ inch of the rim of each wrapper. Scoop a fat teaspoon of filling into the center of each wrapper, shaping it elongated like a football to make it easier to fold. Fold the wrapper in half like a taco and pinch the edges at the top center. Continue folding the dumpling using your preferred folding method (simply press the edges together or pleat to create another shape).

At this point, the dumplings can either be cooked immediately, covered and refrigerated for up to a couple hours, or frozen.

To pan-fry the dumplings, use a medium or large nonstick skillet (or cook two batches at the same time using two pans). Heat the skillet over medium-high heat and add 1 ½ tablespoons oil for a medium skillet and 2 tablespoons for a large one. Place the dumplings 1 at a time, sealed edges up, in a winding circle pattern. The dumplings can touch. Medium skillets will generally fit 12 to 14 dumplings, large skillets will fit 16 to 18 dumplings. Fry the dumplings for 1 to 2 minutes until they are golden or light brown on the bottom.

Holding the lid close to the skillet to lessen splatter, use a measuring cup to add water to a depth of roughly ¼ inch (about ⅓ cup water). The water will immediately sputter and boil vigorously. Cover with a lid or aluminum foil, lower the heat to medium, and let the water bubble away for 8 to 10 minutes, until it is mostly gone. When you hear sizzling noises, remove the lid as most of the water is now gone. Let the dumplings fry for another 1 or 2 minutes, or until the bottoms are brown and crisp. Turn off the heat and wait until the sizzling stops before using a spatula to transfer dumplings to a serving plate. Display them with their bottoms facing up so they remain crisp. (Alternatively you may steam these dumplings in a bamboo steamer basket lined with parchment paper or cabbage leaves.)

Serve the dumplings with the Spicy Peanut Dip.
Notes
Nam prik pao, an essential Thai condiment, combines a chile-garlic-shallot paste with funky shrimp paste, fish sauce, sweet palm sugar, and tangy tamarind. It's sometimes labeled roasted chile paste, chile jam, or chile paste in oil. Look for the blend of ingredients above and you've got the right thing.
I prefer to use Shanghai-Style Dumpling Wrappers by Twin Marquis. Please note that wonton wrappers are not a suitable substitute for dumpling wrappers.
Freeze uncooked dumplings by arranging in a single layer on a tray or sheet pan. Freeze until firm, then transfer to freezer bags. Cook the dumplings either thawed or from a frozen state. They may require a bit longer to cook if frozen.
Adapted from Hey There, Dumpling!
Nutrition
Serving:
1
dumpling with sauce
|
Calories:
45
kcal
|
Carbohydrates:
5
g
|
Protein:
2
g
|
Fat:
2
g
|
Saturated Fat:
1
g
|
Cholesterol:
8
mg
|
Sodium:
268
mg
|
Potassium:
13
mg
|
Sugar:
3
g
*All nutritional information is based on third-party calculations and should be considered estimates. Actual nutritional content will vary with brands used, measuring methods, portion sizes and more.*