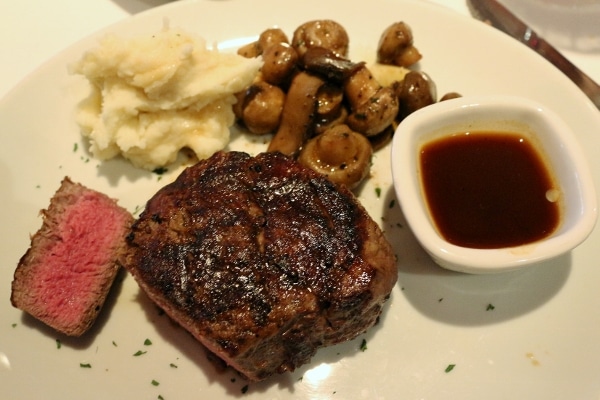 Just because a restaurant might be a "chain" doesn't make it bad. I'm not referring to the likes of Applebee's or the Olive Garden here, I'm talking about a little steakhouse called Fleming's. There are locations all across the country, but I've had the pleasure of trying out the one in Providence, located in the Omni Hotel downtown.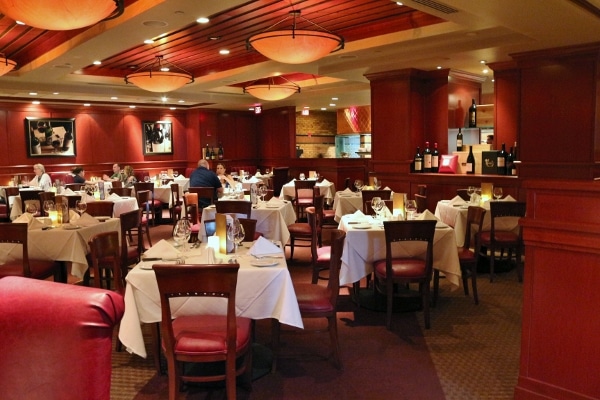 After horrible recent experiences at both Fred and Steve's (dirty glasses and horrible service) and Providence Prime (where the wait staff was not only mis-educated on the cuts of meat, but the steak was bland and dry, and the management later argued with me after a negative, but honest, review I wrote on Yelp--won't be going THERE again) I was in need of some truly satisfying cow with service to match.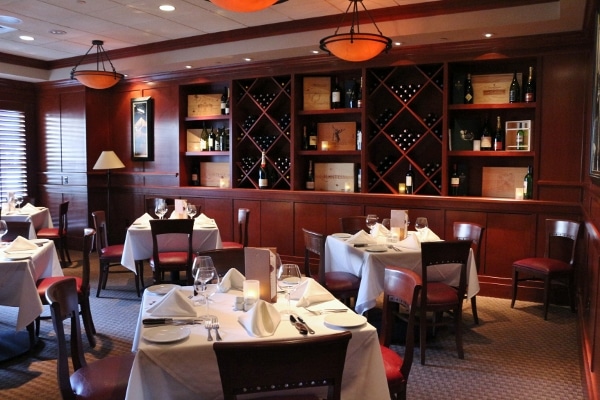 Enter Fleming's, with its dark wood-paneled walls and wine-inspired artwork. We were escorted into a smaller dining room adjacent to the main room. It was just as cozy, but with more natural light filtering through the windows. Would I prefer the standard white cloth napkin or a black napkin? I'll take a black napkin, thank you. I can't tell you how many times white linen napkins have left lint on my black pants. Being asked this question was actually a really thoughtful consideration. Definite points for Fleming's there.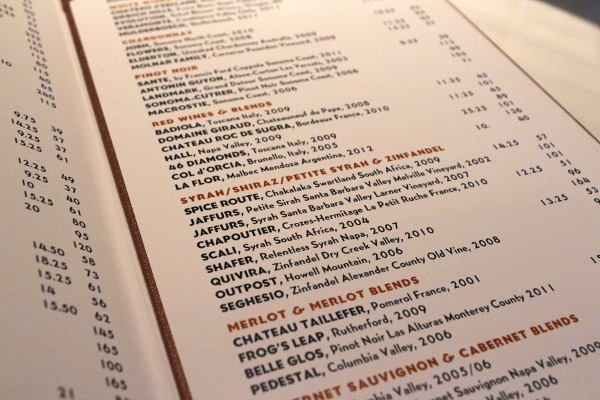 Service is excellent. It's not in the same world as say The Modern, Le Bernardin, or Eleven Madison Park, but it also doesn't have Michelin Star bragging rights either. A regular wine list was accompanied by an electronic tablet that helped match food with wines, but I went the old fashioned route and just selected the Chapoutier Syrah because it sounded my style. It was! My companions also loved their Pinot Noir selection. The wines were served in small flasks and poured into our wine glasses periodically throughout the meal.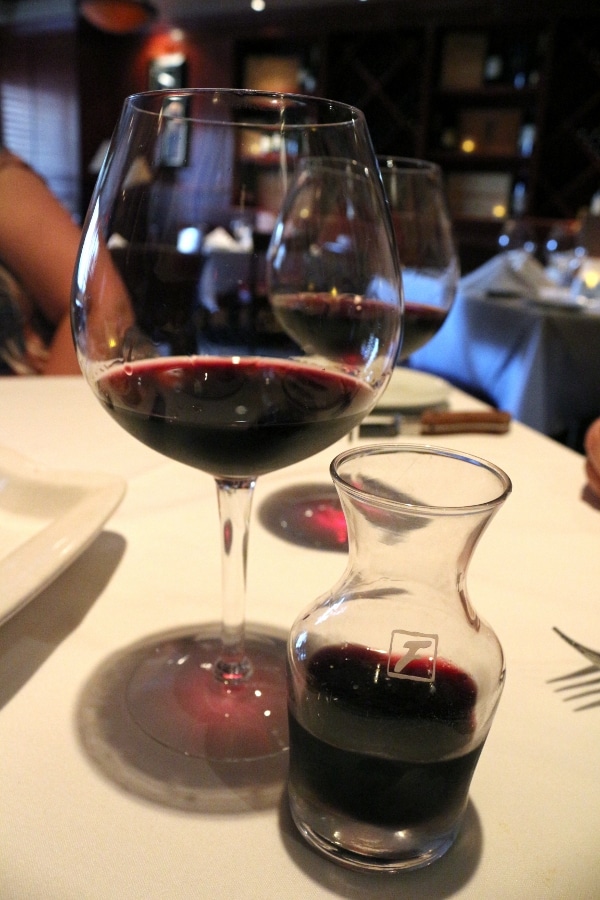 Glass of Chapoutier Crozes-Hermitage Le Petite Ruche France 2010 $12.25
The bread at Fleming's is outstanding. Their warm Parmesan-garlic bread is served with two spreads: roasted tomato butter and Chardonnay-infused feta spread. Both spreads are phenom, with the feta spread perhaps inching its way past the butter, but just by a hair. My sister and her husband had previously dined at Fleming's and raved so much about the bread that the staff packaged up a loaf with both of the spreads for them to take home. Now that's good service 🙂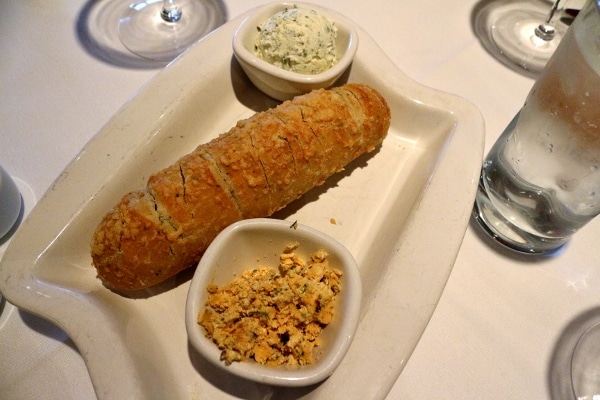 In addition to the delicious bread, we also decided to start with some of their sweet chile calamari, which was perfectly tender and had a nice balance of sweet with just a touch of spice from the sauce. Although it wasn't crispy (I feel like any sauced calamari falls into that category), it was cooked perfectly and was a popular choice.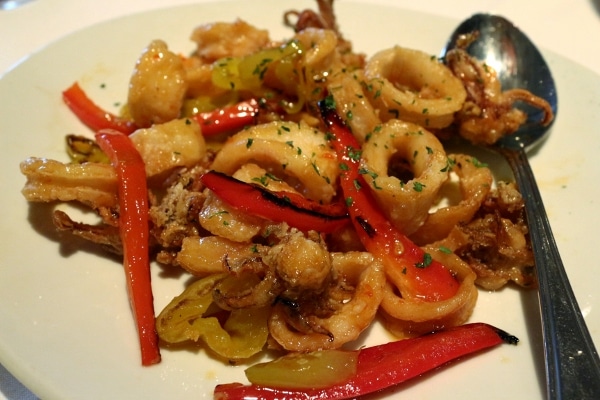 Sweet Chile Calamari $14.95
For entrees, one of my dining companions decided to skip out on steak and try the double thick pork rib chop, which is served with apples and jicama, and an apple cider and creole mustard glaze. OMG, this is pork done right! This pig was LOVED! The meat itself was incredibly tender and delicious, and the glaze was outstanding... sweet and flavorful and just perfection across the board. If I wasn't so hung up on enjoying cow in a steakhouse, I would definitely order this next time!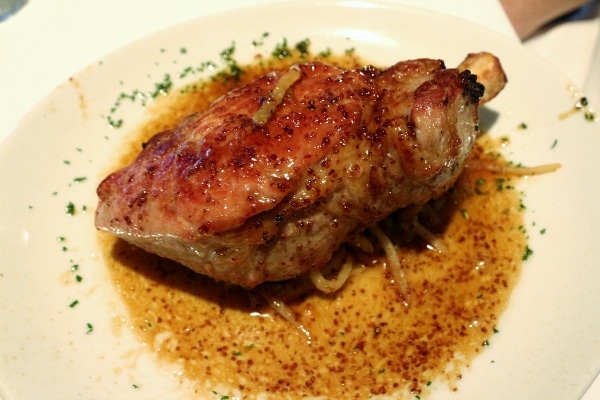 Double Thick Pork Rib Chop $34.95
My other dining companion and I both selected the USDA Prime petite filet (not so petite at 8 ounces!). It was cooked PERFECTLY medium-rare. It was incredibly flavorful and juicy, expertly seasoned, and a prime example of how a good piece of meat should be cooked.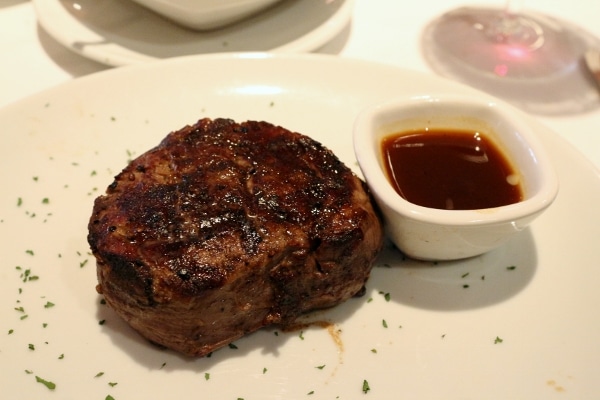 Petite Filet Mignon $40.95
Although it required no embellishments, there are several sauces that can be ordered with your steak, free of charge. I selected the Madeira sauce, which was delicately sweet and thick and a fantastic contribution to an already wonderful steak.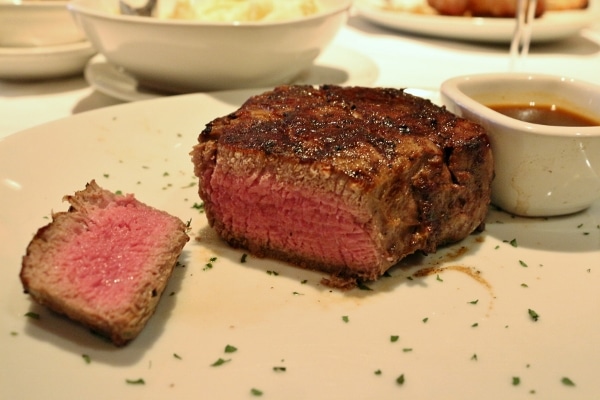 The meat is served a la carte, just as at any other high-end steakhouse, so we added on a couple sides to share. Mashed potatoes are offered up in a few flavors, including blue cheese and Parmesan peppercorn, but we went with classic roasted garlic and were very happy with our choice.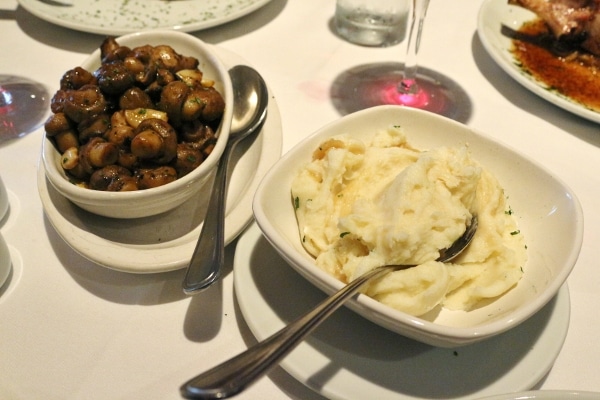 Sauteed Mushrooms $10.50, Roasted Garlic Mashed Potatoes $9.50
We also selected the sauteed mushrooms, which were full of flavor and complimented our steaks really well. These were maybe a couple of the "healthier" side choices, as we were all trying to be good in a restaurant where it's easy to be bad 🙂 Don't worry, we indulged in dessert.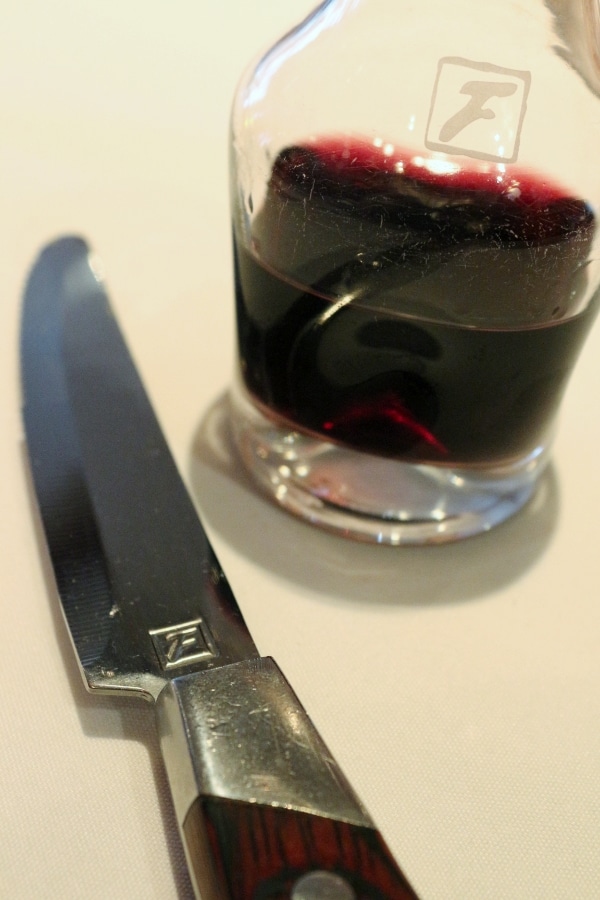 After our incredibly satisfying first two courses, and some of the best steak I've ever had, it was time to finish up with something sweet. We decided to share the walnut turtle pie. It was... so good! A delicious combination of chocolate, walnuts, and caramel, I wanted to throw it into a blender with more caramel and then inject it directly into my veins*.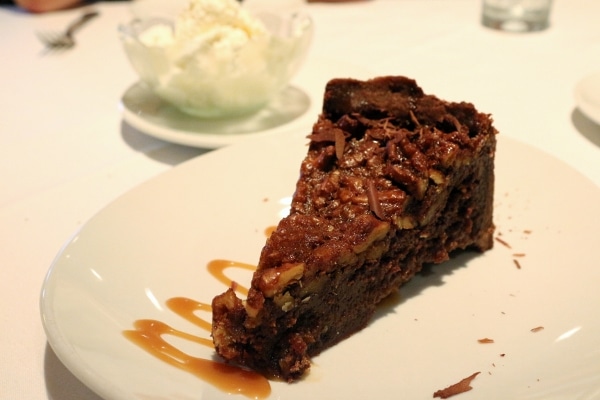 Walnut Turtle Pie $9.95
OD-ing on delicious food aside, our meal at Fleming's was just what the doctor ordered (well, probably not considering its high cholesterol content). It's what I needed to discover in Providence after a couple bad local steaks. The only somewhat off-putting part of the meal was when an older couple a few tables away from us starting playing travel backgammon in the middle of their meal. It was distracting, and very very odd behavior in a nice restaurant. Otherwise, there was really nothing to detract us from what was an unforgettable dinner.
Also, please note that even with validation from Fleming's, valet parking at the Omni Hotel will still cost you $9. It's unfortunate considering a lot of nice restaurants in the area offer complimentary valet parking, but I suppose when you are located in a hotel, all bets are off on free parking. Either way, a meal at Fleming's is 100% worth it. I will definitely be back.
*I don't do drugs. But if I did, I'd do this pie. Also, if you know me, you'll know that I've also on occasion wanted to fill a bathtub with amazing food (like the polenta with truffled mushroom fricasse at Scarpetta) and drown in it. I have a weird sense of humor 🙂
Fleming's Prime Steakhouse & Wine Bar
1 West Exchange Street
Providence, RI 02903
(401) 533-9000
www.flemingssteakhouse.com
Related posts