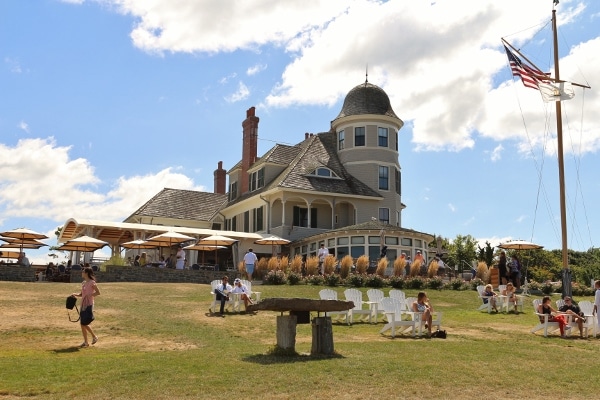 Whenever people ask me to share my favorite restaurants in Rhode Island, Newport's Castle Hill Inn always makes it to the list. A quaint seaside inn is set against a beautiful nautical backdrop with a sprawling lawn scattered with ever-popular Adirondack chairs boasting to die for views.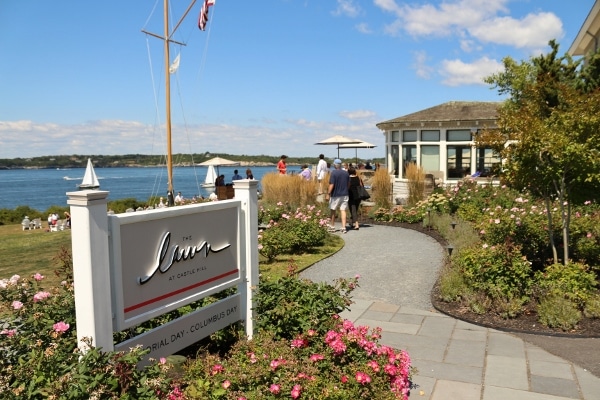 From Memorial Day to Columbus Day, the lawn is the place to be, featuring lunch Monday through Saturday and brunch on Sunday (complete with live jazz music).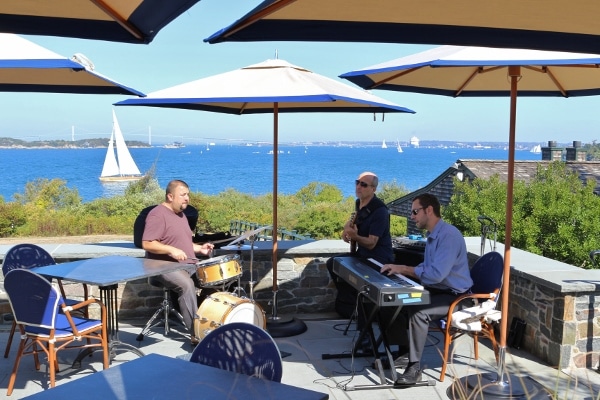 Although there is seating in the small dining room indoors, the seasonal outdoor seating is incredibly popular. During the non-summer months, lunch and brunch is only served indoors, so it is nice to take advantage of the beautiful outdoors while you can!
The lunch and brunch menus periodically change to make room for seasonal updates. I recently visited Castle Hill Inn on a couple different occasions for brunch and once for lunch. I love sitting outdoors and enjoying the beautiful weather, but please note that toward the end of the summer the bees really start to get in your face while you're dining. Eek!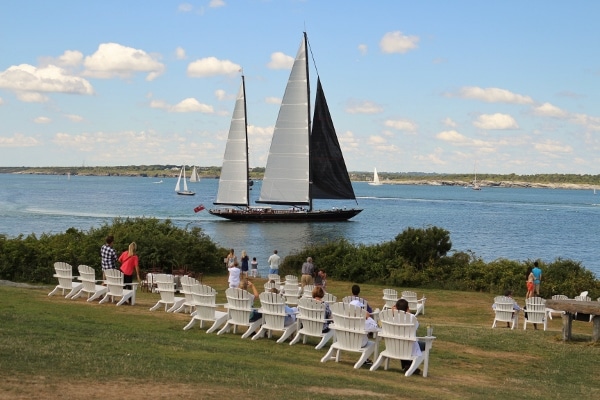 Tall Ship sighting!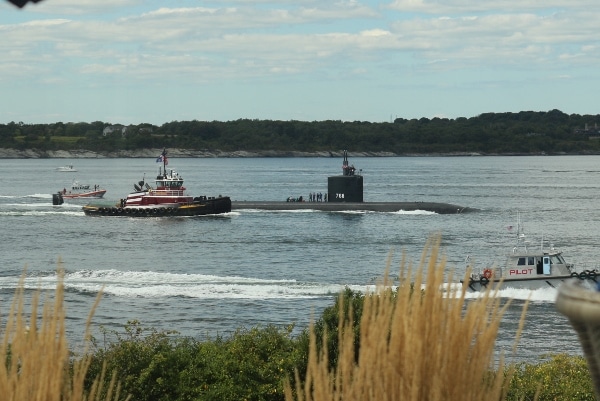 On another visit recently, we saw an actual submarine go by!

View of Castle Hill from the water
I can't count the number of times I've dined at Castle Hill over the years. Probably at least a dozen, and over the years I've been pleased to discover that the ever-changing menu still meets my expectations. Here's a look at what you can expect to find if you visit Castle Hill in the near future...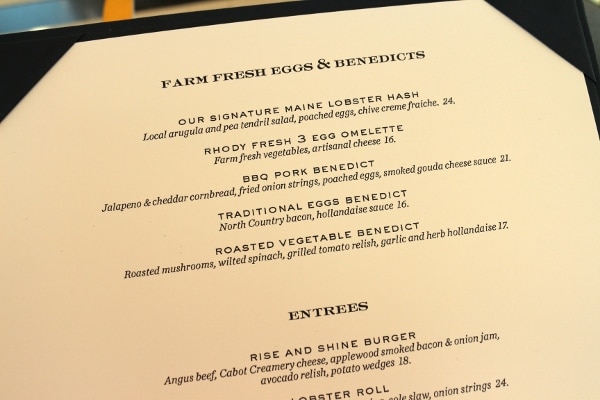 Summer 2014 Sunday Brunch Menu
Currently, when you visit Castle Hill for brunch, your bread basket will include sticky buns, while visiting for lunch will feature homemade cornbread with butter. Both are delicious and a wonderful alternative to traditional bread offerings.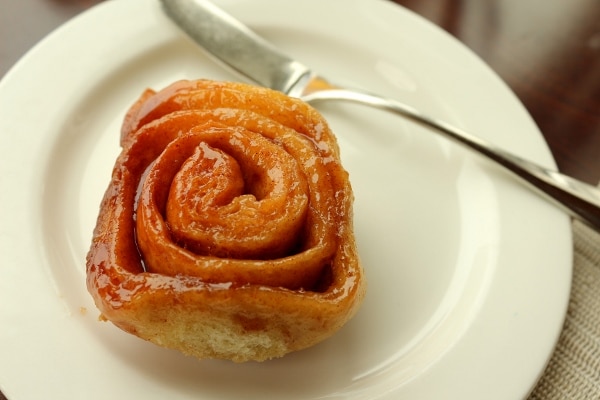 Sticky bun at brunch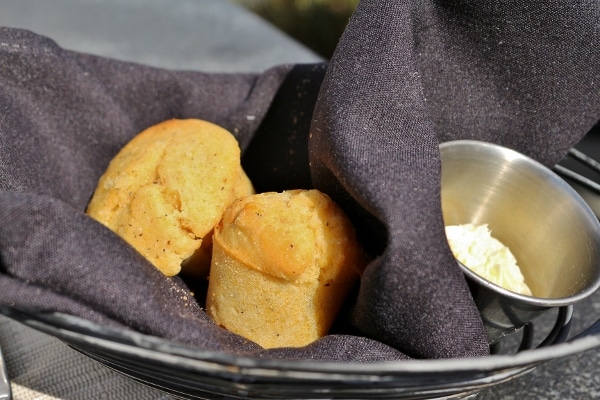 Corn bread at lunch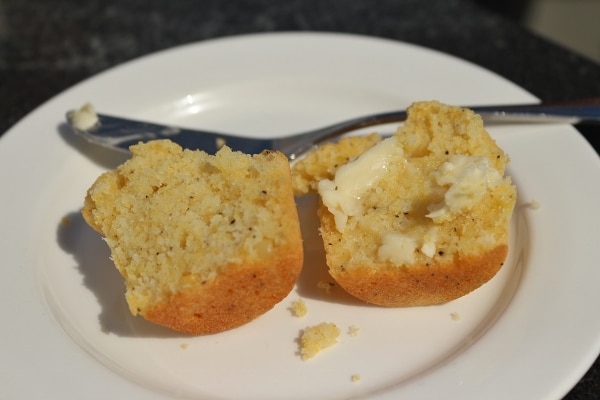 There are a lot of great options for drinks, whether you are looking to booze it up or keep things alcohol-free. Unsweetened iced tea is a standby option, but a few great drinks for brunch time include Castle Hill's famous Blueberry Lemonade (don't let the name fool you--it's alcoholic), their mimosa and their delicious bloody Mary. I also enjoy their iced lattes for a cool caffeine kick.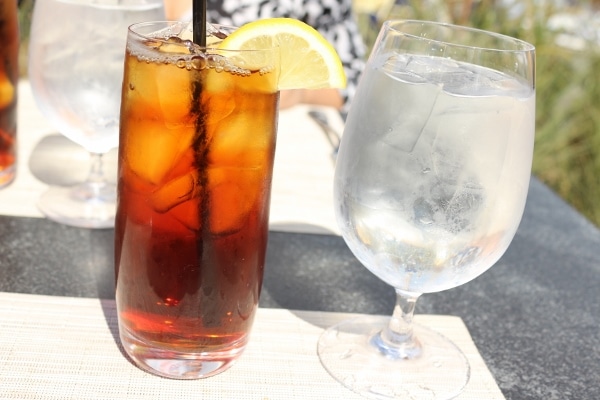 Iced Tea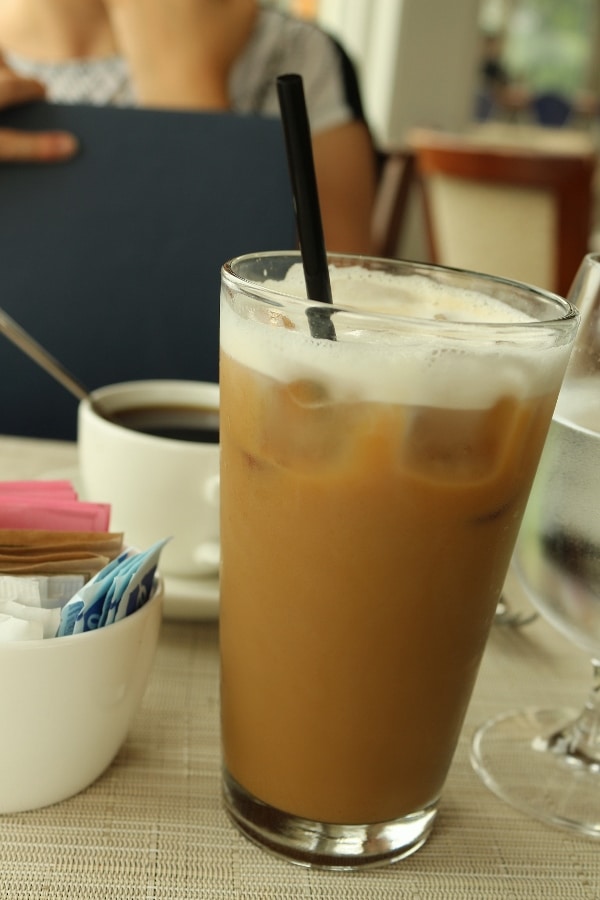 Iced Latte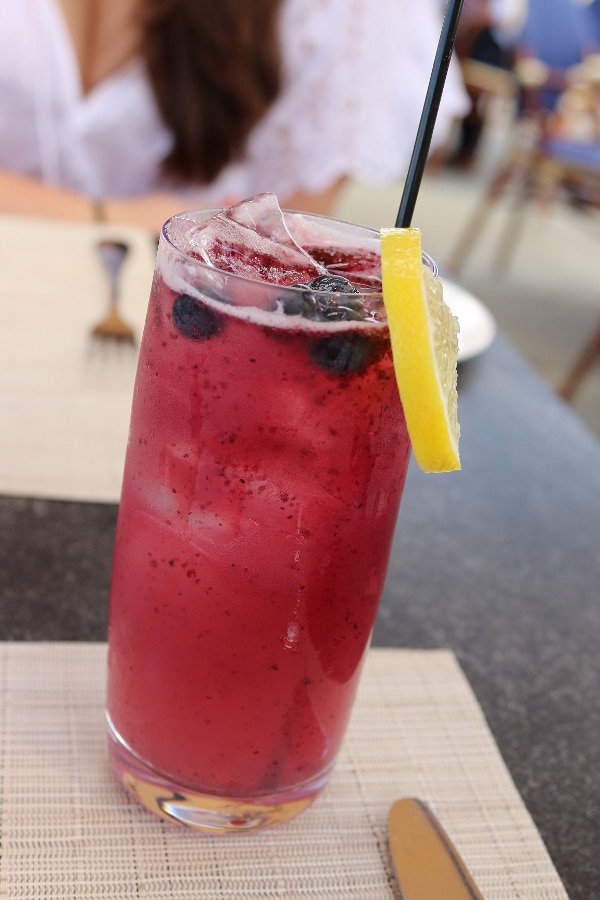 Blueberry Lemonade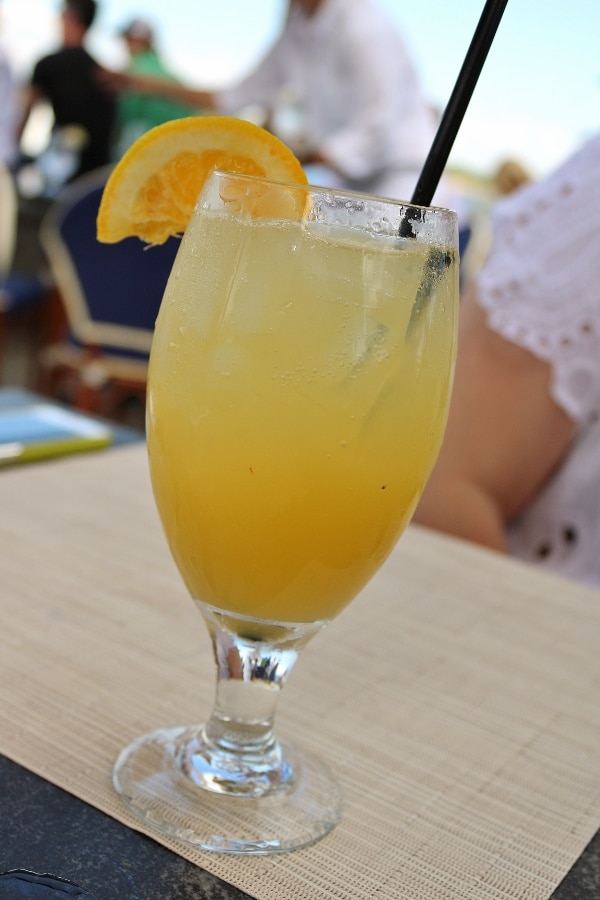 Mimosa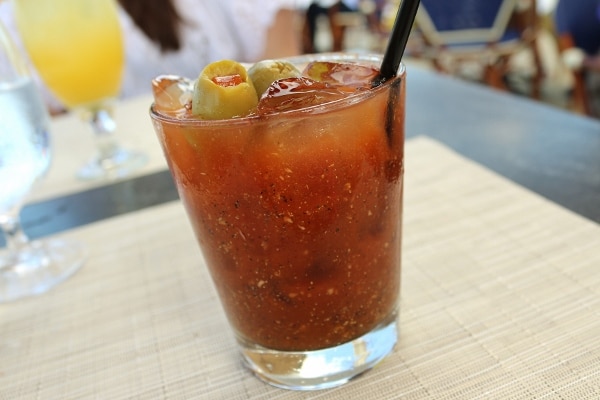 Bloody Mary
The Rhode Island Calamari is a starter on both the lunch and brunch menus. We're famous for our calamari in Little Rhody, and the calamari at Castle Hill is a great example as to why. It's crispy and tender with bright acidity from pickled banana peppers. The tomato aioli on the side is fantastic and a wonderful compliment to the perfectly cooked squid.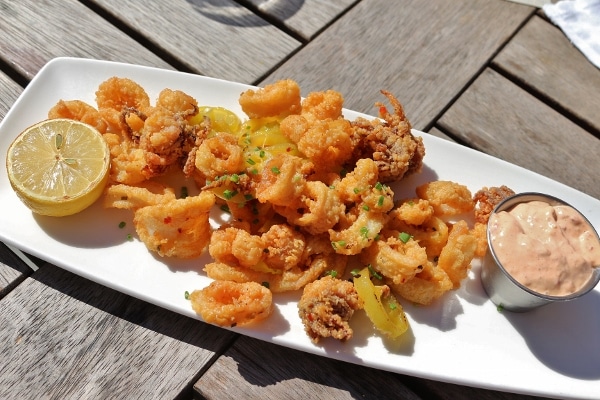 Rhode Island Calamari $14
Another great fried starter featured on the lunch menu is the Chouriço and Clam Cakes, served with roasted garlic sour cream and grilled lemon. Clam cakes are another RI specialty, and the ones here at Castle Hill are definitely elevated. Small bites of clam and chourico offer a surf and turf twist on this beachside favorite.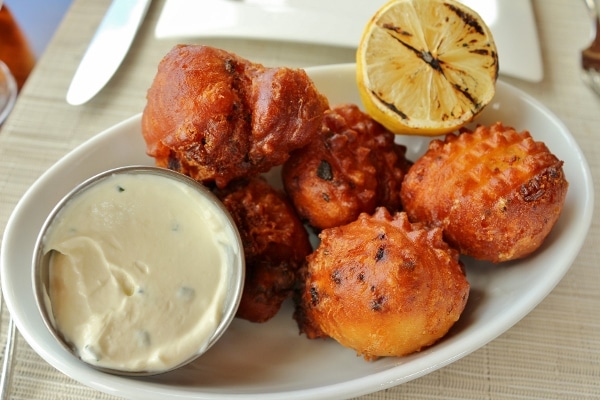 Chourico & Clam Cakes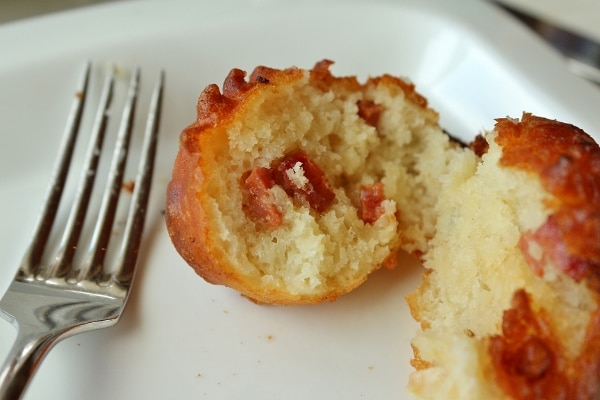 At lunch, as much as I love the actual entree options, over my last handful of visits I tend to lean in the direction of the sandwiches. They are considerably well-priced and wonderfully executed, perfect for lunchtime fare. My sister and I recently split a couple of the sandwich options.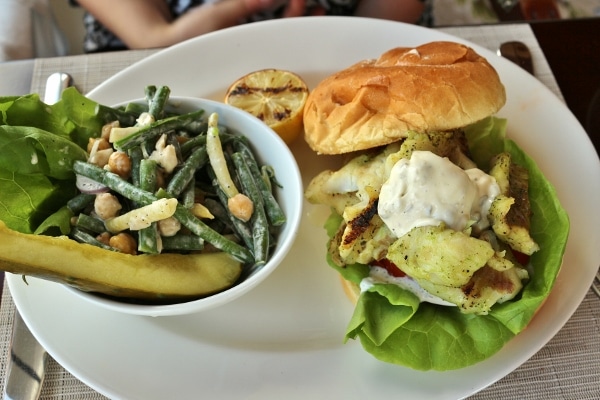 Grilled Acadian Redfish Sandwich $18
Starting with the Grilled Acadian Redfish with bibb lettuce, dill-marinated tomatoes, lemon and caper aioli, and three bean salad, the chef at Castle Hill has done a great job over the years creating delicious fish sandwich options for the menu. My personal favorite was several years back in the form of a fish wrap, but this slightly messier fish sandwich is lovely with tender fish and a surprisingly unexpected three bean salad on the side. I didn't expect it to have a creamy dressing, but I really liked it overall.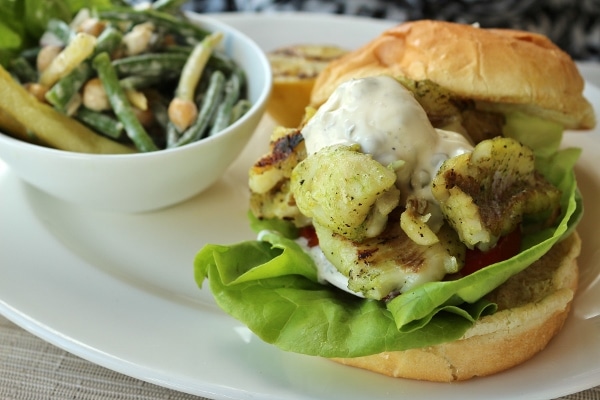 Additionally, we tried the Cajun Turkey Club with Cajun turkey breast, Vermont cheddar cheese, avocado relish, applewood smoked bacon, spicy tomato aioli, and served with salt and vinegar kettle chips. This sandwich hits so many notes and yet it remains stoically balanced in terms of flavors and textures. What the homemade chips lack in vinegar flavor, they make up for in crunchiness! Overall, this is a tasty sandwich choice.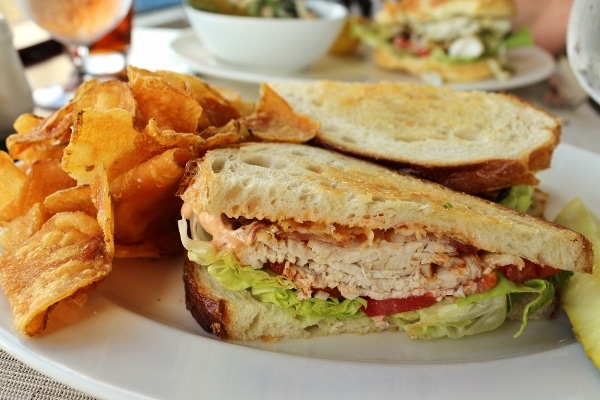 Cajun Turkey Club $16
If you're perusing the brunch menu instead, there are some great options there as well. On both recent brunch visits, one of my friends ordered the Traditional Eggs Benedict with North Country bacon and Hollandaise sauce. It's such a well-executed classic that my friend repeated her choice and I have a feeling on a future visit I could see her do it again. There's nothing quite like a perfect Eggs Bene.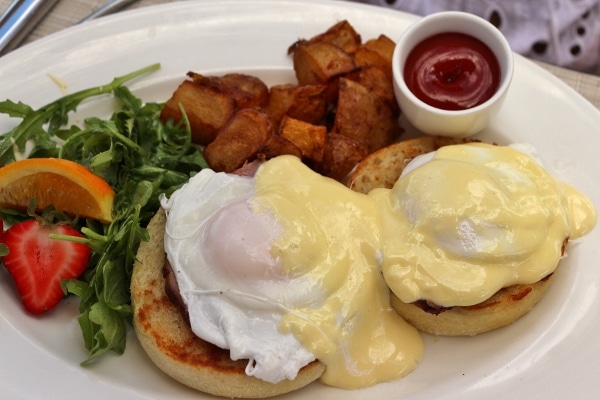 Traditional Eggs Benedict $16
The Lobster Hash with local arugula and pea tendril salad, poached eggs, and chive creme fraiche is famous. It was actually featured on the Food Network as well, and it's as delicious as you'd expect for a signature dish at a place as exquisite as Castle Hill.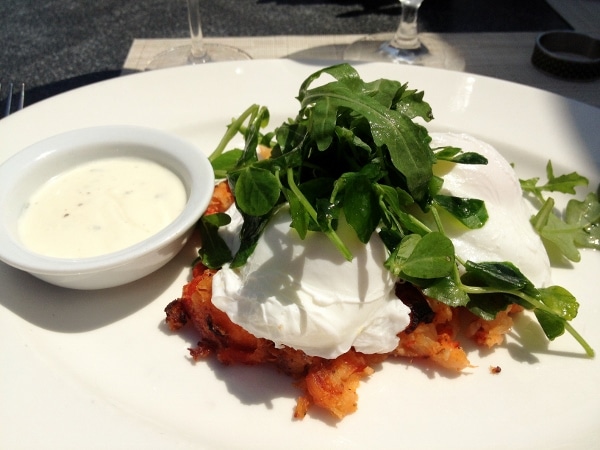 Signature Maine Lobster Hash $24
I love anything with poached eggs, and recently decided to try the Steak and Eggs featuring Archer Angus tenderloin tips, piperade, poached eggs, and bernaise. This was a really unexpected choice because steak is not usually something I select so early in the day, but the tenderloin tips are super moist and don't overwhelm the rest of the dish. I also love the little potatoes! There's a mix of red, white, and purple.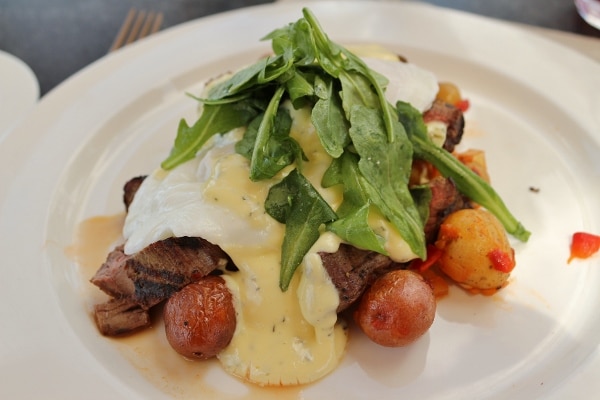 Steak and Eggs $24
I've also recently tried a new addition to the brunch menu, the BBQ Pork Benedict, served atop jalapeno and cheddar cornbread, with fried onion strings, poached eggs, smoked gouda cheese sauce. The cheese sauce is decadent, and a wonderful compliment to the slightly sweet pulled pork. The corn bread is a somewhat softer texture for the base of this Benedict, but the flavors are lovely, and overall it's an enjoyable dish.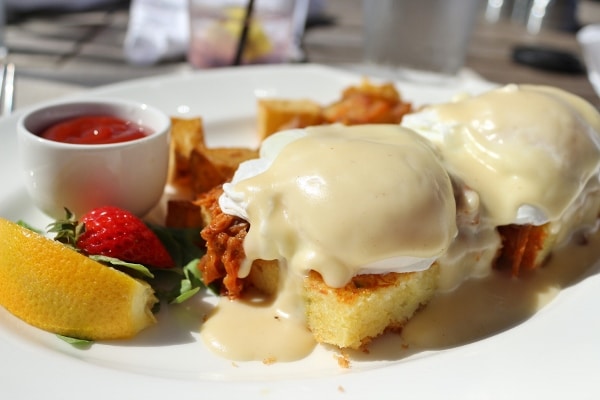 BBQ Pork Benedict $21
If you're looking for something sweet, the "Peach Melba" is a great choice and features buttermilk pancakes, roasted Sweet Berry Farm peaches, raspberry-maple syrup, and puffed rice. It's a truly contemporary revision of an old school dessert, but in the form of breakfast.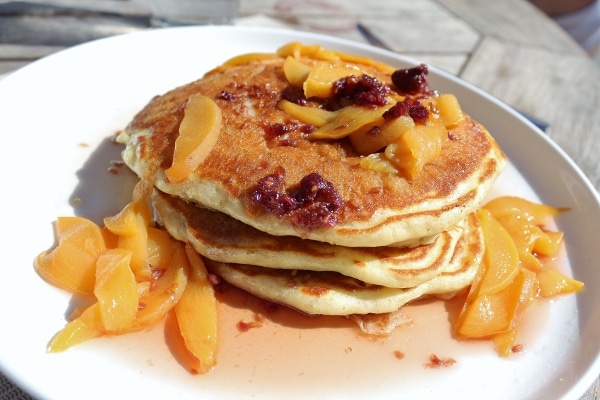 "Peach Melba" $18
I never get tired of visiting Castle Hill Inn, and I never get tired of recommending it. It's really one of the most beautiful views in the entire state, with excellent service, and incredible food. Castle Hill will stay on my radar for a long time to come.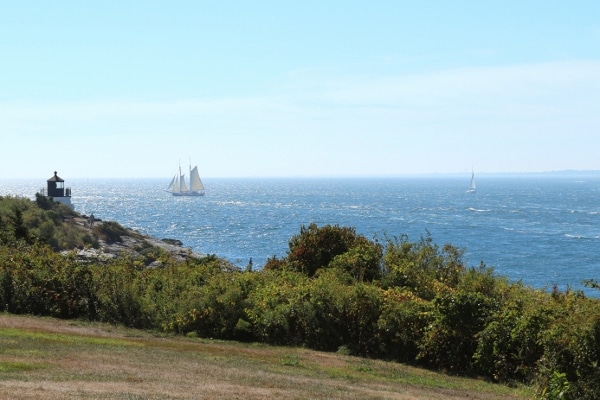 *Update 6/29/15* I've been visiting Castle Hill for about 6 years now, and could easily wax poetic on an annual basis, sharing all the fantastic new options on the menu, along with old favorites. My post from last summer was quite thorough, but upon a couple recent visits to Castle Hill for lunch and brunch, I've discovered more I'd like to share! As of this update, the following items are available at Castle Hill...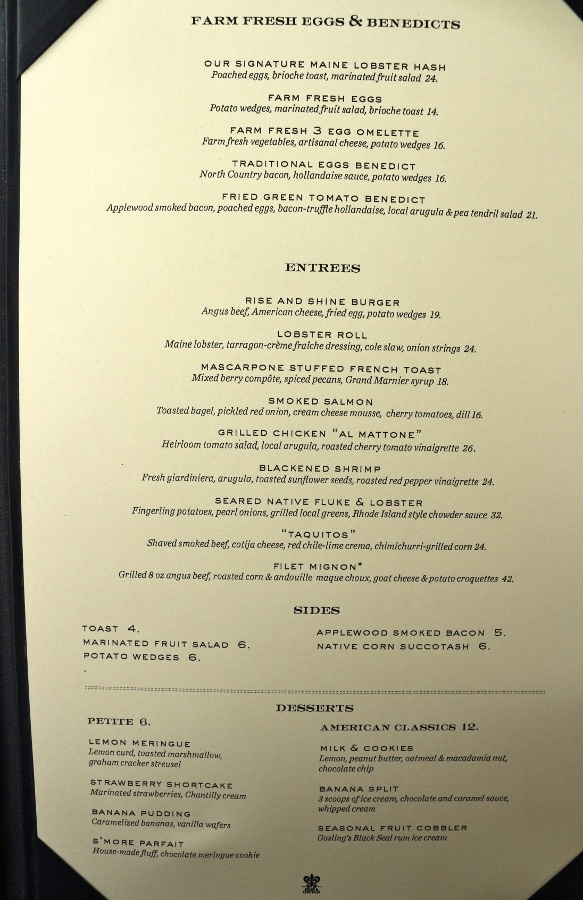 Summer 2015 Sunday Brunch Menu
The lunch menu features an excellent Fried Whole Belly Clam Po' Boy with remoulade and shredded lettuce. It's briny and delicious with a side of crisp fries.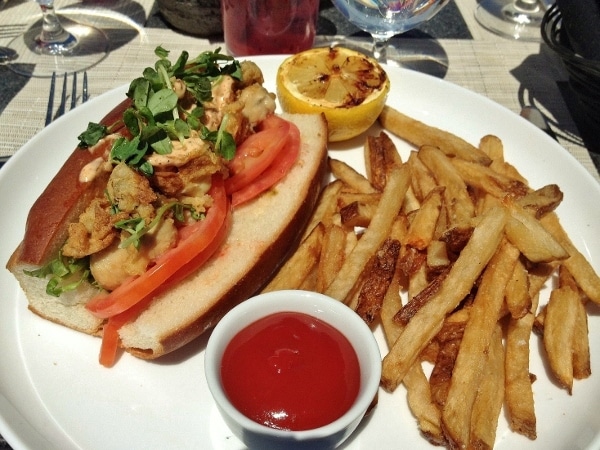 Fried Whole Belly Clam Po' Boy $22
The Lobster Roll has been on the menu for ages for both lunch and brunch, and it's always topped with zesty onion strings. Years ago it was served on a buttery brioche bun, but they're now serving it on a hot dog style bun. I have to say, it's easier to eat than its predecessor, and just as delicious, chock-full of succulent, chilled lobster meat.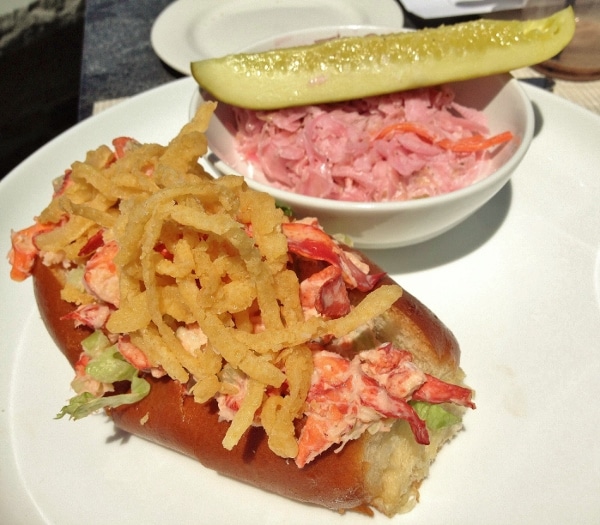 Lobster Roll $24
A new addition to the summer brunch menu is the "Taquitos," featuring shaved smoked beef, cotija cheese, red chile-lime crema, and chimichurri-grilled corn. My sister ordered this and shared a single bite with me. Even with only a small taste I absolutely loved it, and my sister couldn't stop raving. This might be the highlight of the summer brunch menu this year! Absolutely fantastic! I'd be hard pressed to order something else on my next visit...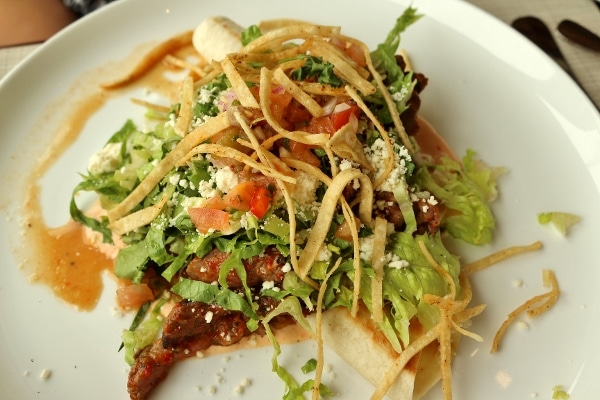 "Taquitos" $24
Although with that said, I was equally impressed with my own choice at brunch, the Fried Green Tomato Benedict. The applewood-smoked bacon is perhaps the best I've had--thick cut and super crispy, just perfection. Between the fried green tomatoes, crisp bacon, perfectly poached eggs, and of course the obligatory Hollandaise, this a decadent option, but so worth it. Speaking of Hollandaise, this particular variation features bacon and truffles! The truffle flavor is subtle, but still shines. The "home fries" appear to be battered and well-seasoned, a really unique spin on breakfast potatoes. Holy breakfast, Batman, this is a winner!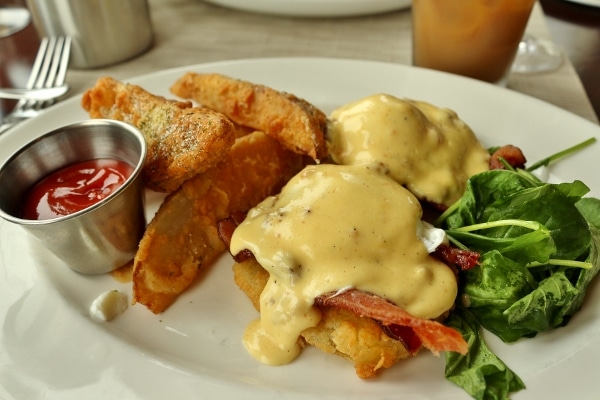 Fried Green Tomato Benedict $21
We ordered some dessert on the most recent visit, a couple of the "individual" sized parfaits. We tried the Lemon Meringue and S'mores flavors, but honestly, both of them were incredibly sweet, especially the S'mores. I can't see how a single person could finish something so sweet. Even sharing them both, we still ended up with some residual S'mores in the glass. Personally, I'd skip these particular desserts in the future. Save your appetite and try one of the amazing starters instead.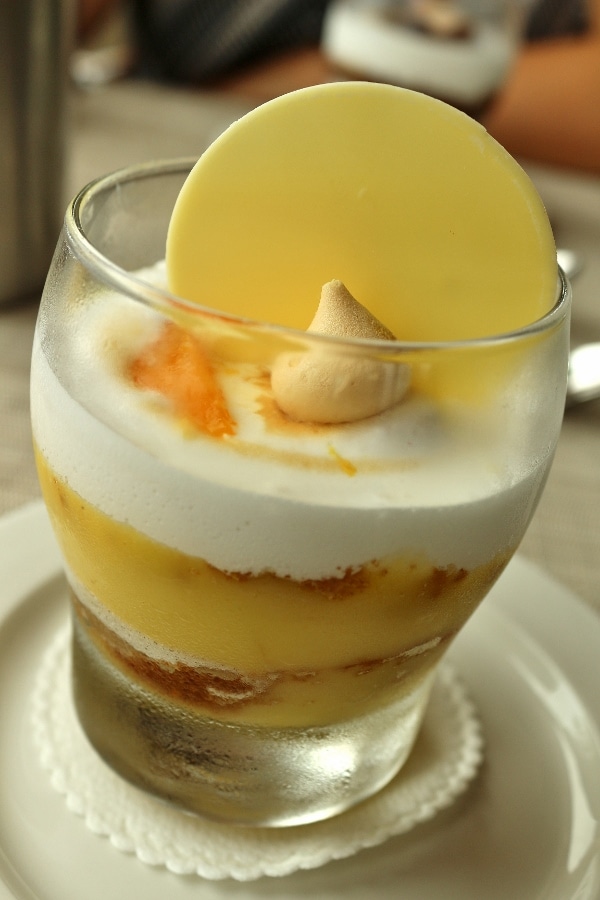 Lemon Meringue $6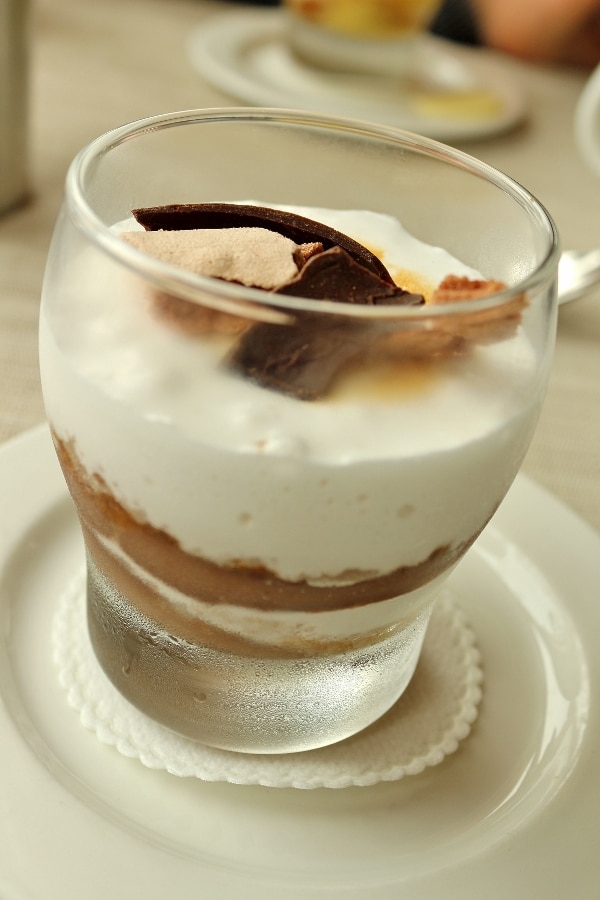 S'mores Parfait $6
Castle Hill Inn
590 Ocean Ave
Newport, RI 02840
(401) 849-3800
https://www.castlehillinn.com
Related posts