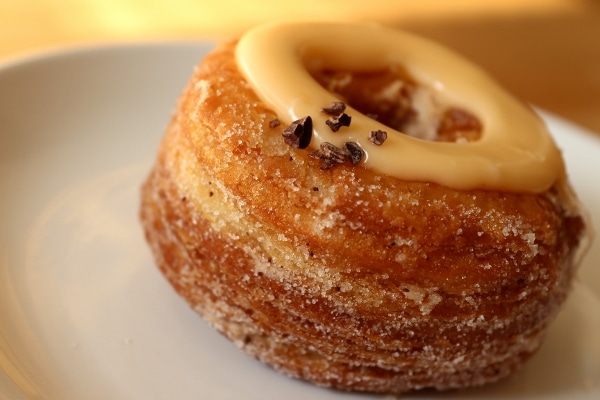 Last October I made my first pilgrimage to Dominique Ansel Bakery to try the pastry that has taken the world by storm: the Cronut. There are many imitations available these days, and I haven't tried any of them. Thus far I've only stuck to the real deal, and although they can be difficult to attain, I still believe they are worth it.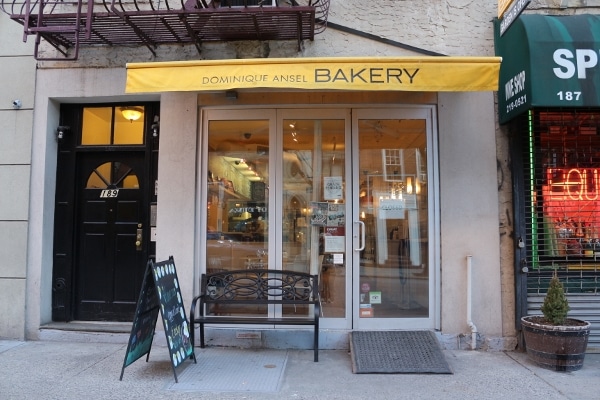 On my last visit, I arrived at 6:45 am and didn't get my hands on a Cronut until about 10 am (2 hours after the bakery opens). This past week, my friend and I arrived at 6 am sharp and were 3rd and 4th in line. It was also much colder than my previous visit, and thus perhaps deterred some people from showing up that early.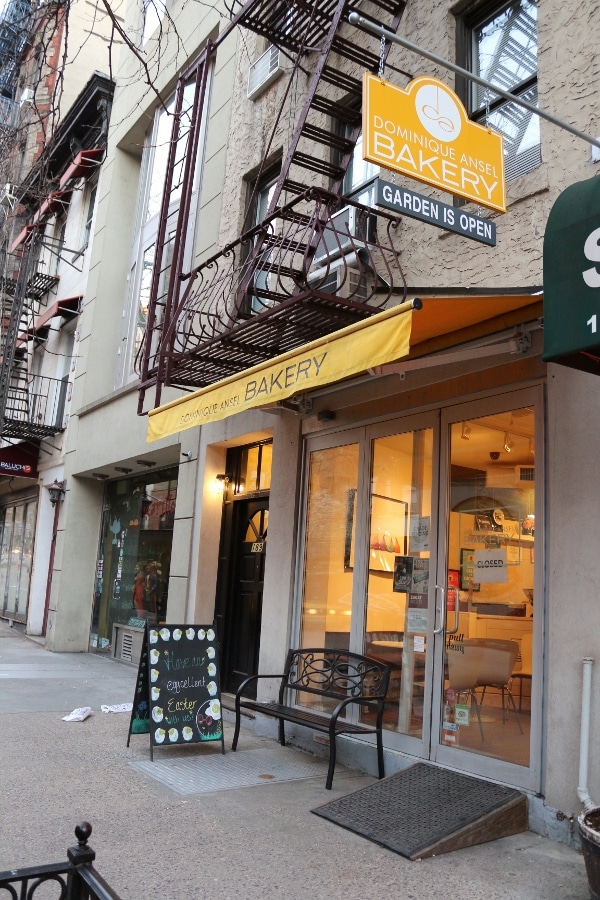 The line still extended far beyond the street corner by the time the bakery opened. Waiting only 2 hours in line is much better than the alternative, even though it was chilly, we got through the door right when they opened, and that's something I would hope to repeat on future visits.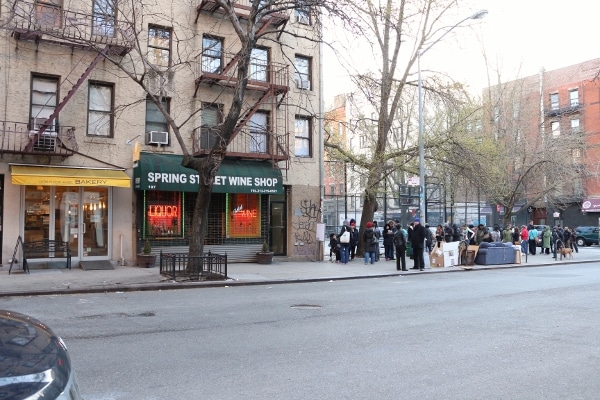 Just as before, previous to opening, we were treated to still-warm freshly baked baked mini madeleines with a light lemon flavor. They are perfection and even tempted me to purchase more from the bakery once inside.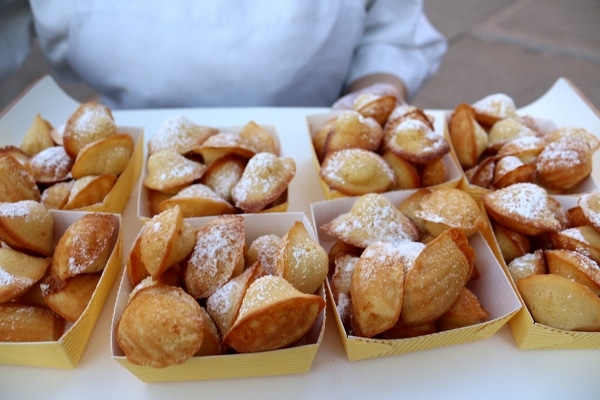 On this particular occasion, since the temperature was in the 30's during our early morning wait, another staff member also brought out small paper cups of hot chocolate to hold us over. It was another truly thoughtful treat from the staff, a huge thank you to their fans for braving the cold for a taste of the world's most famous pastry.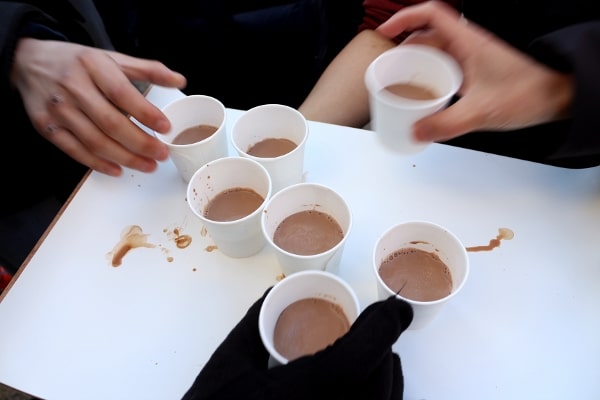 Although in my personal opinion the hot chocolate could have been richer (it was a bit runnier than comparable homemade hot chocolates), it was good since it was free. If the hot chocolate they sell is the same as this, I'd probably pass.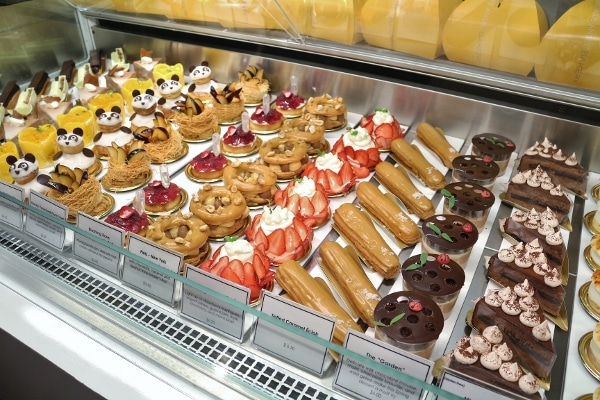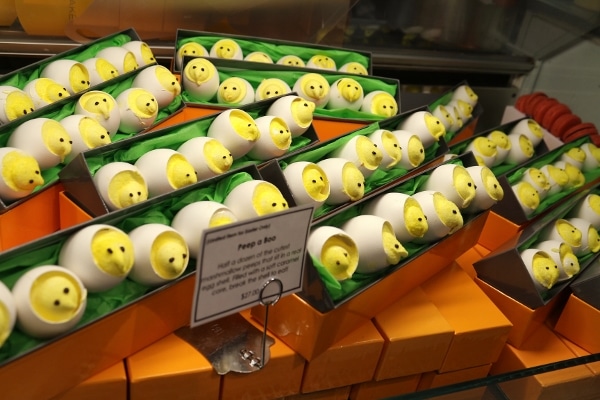 Did I mention that Dominique Ansel himself actually held the bakery door open for us when we were allowed inside? I had heard that he is really friendly and down-to-Earth, and now I've seen it with my own eyes.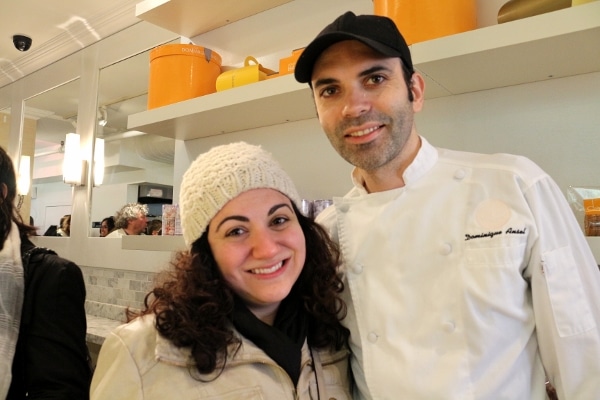 He happily posed for a photo with me, and later I snapped off several pictures of him piping filling into trays of Cronuts along with other staff members.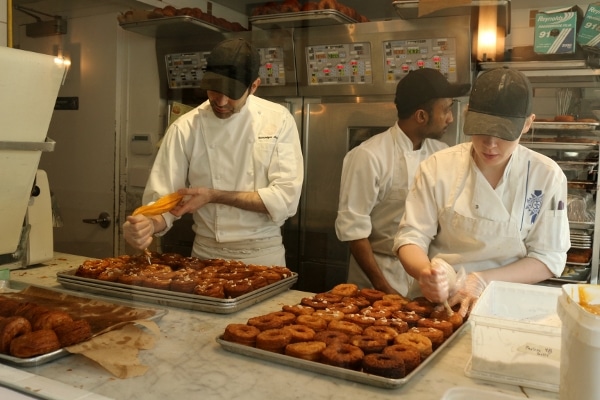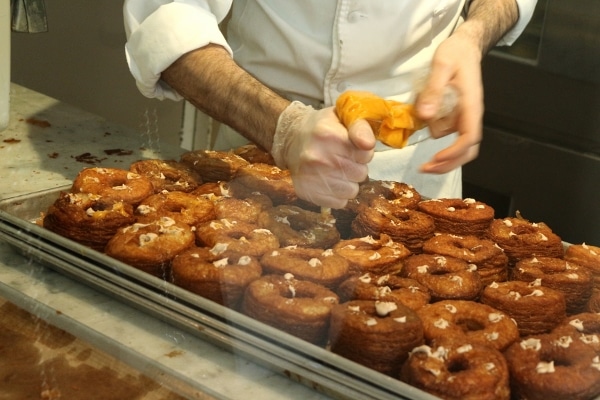 Although April is nearly over, I am happy to share my thoughts on the Cronut flavor for this month: Passion Fruit-Caramelia. Each Cronut is filled with passion fruit puree and caramelia (caramelized milk chocolate), tossed in cocoa nib sugar, topped with a passion fruit glaze and garnished to cocoa nibs.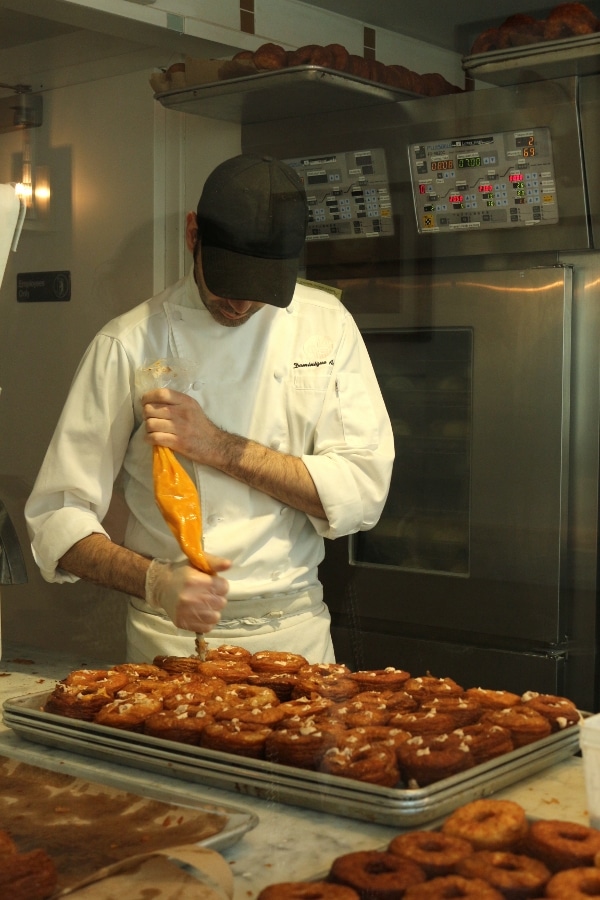 April's Cronut flavor was as delicious as I've come to expect based on my previous visit in October (
which featured an apple-themed flavor
). The Cronut itself is crisp on the outside with buttery layers within, easy to pull apart and eat layer-by-layer if you prefer. The tart passion fruit puree foils the rich and creamy delicately chocolatey caramelia.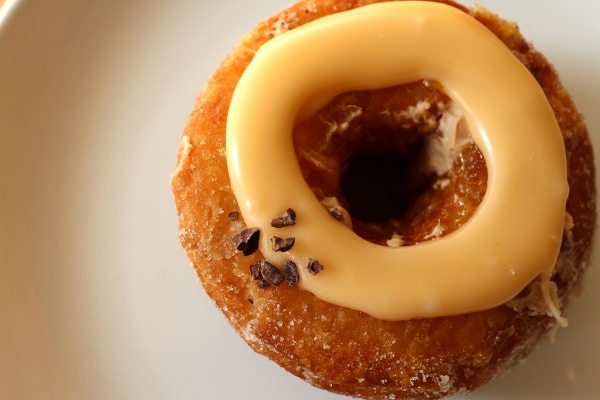 Passion Fruit-Caramelia Cronut $5
It's crispy and chewy, sweet and tart. What I love most about Cronuts is their perfectly balanced and complex flavor profiles. From my limited experience I've noted that they tend to have not one by two fillings, a flavored sugar, a glaze, and a garnish. And every month is different! One of the girls ahead of us in line told us that she waits in line once a month to try the Cronut of the month. I envy her. If I could I would too!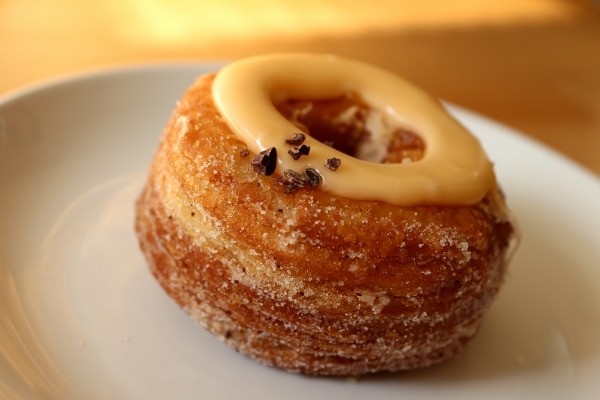 As much as I loved the Cronut I tried in October, I perhaps enjoyed April's flavor even more! It really wasn't very chocolatey--the caramelia only features a delicate chocolate note and the cocoa nib in the sugar and as the ganish is also quite minimal. Passion fruit is the main attraction here with chocolate taking a back seat for sure. And yet it is a perfect marriage.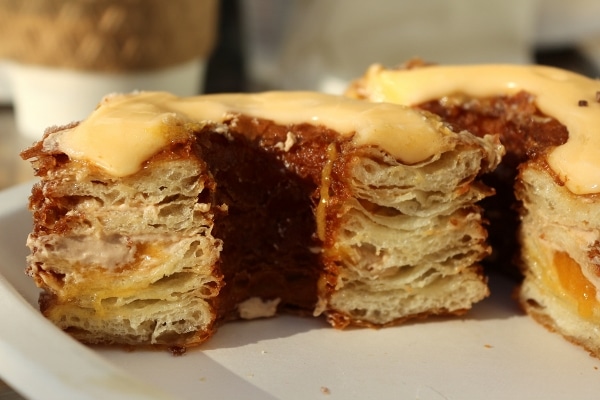 Like last time, I couldn't resist trying the Perfect Little Egg Sandwich. It is truly perfect as the name states. The bun is buttery, crispy, and flaky, while the souffleed egg is fluffy and light, perfectly seasoned, and simply topped with melted Swiss-style cheese (I think Gruyere?) and some herbs. My friend isn't much a savory breakfast person but agreed that this egg sandwich is worth the hype. I can't imagine a Cronut breakfast not preceded with this delicious sandwich!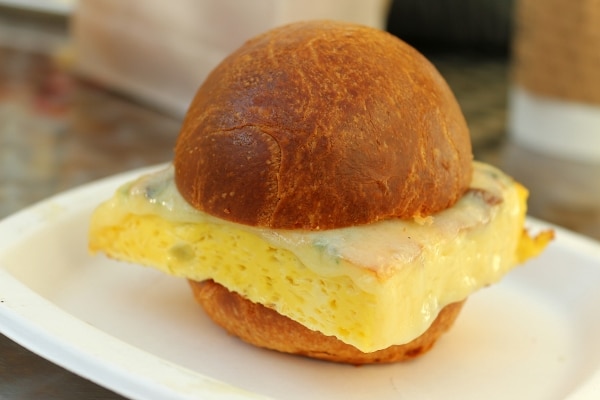 The Perfect Little Egg Sandwich $5
We also tried the DKA again, which is Dominique Ansel's version of a Kouign Amann, a buttery and sugary laminated pastry. It can easily hold its own next to a Cronut.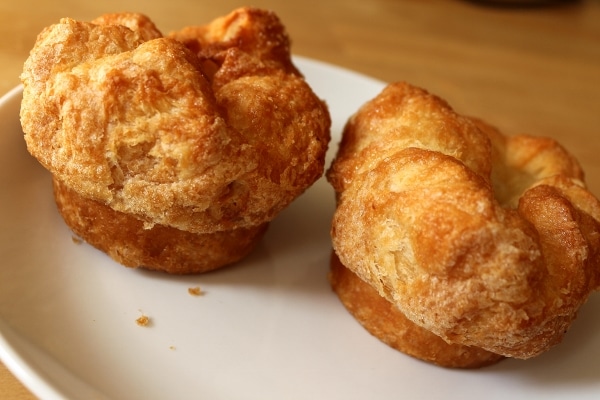 DKA: Dominique's Kouign Amann $5.25
This is another treat I can't imagine indulging in on future visits to Dominique Ansel Bakery. It's crisp and sweet on the outside with caramelized sugar all around, and buttery and delicate on the inside. Perfection. I have a recipe I've been meaning to try... I hope it lives up this precedent. Stay tuned!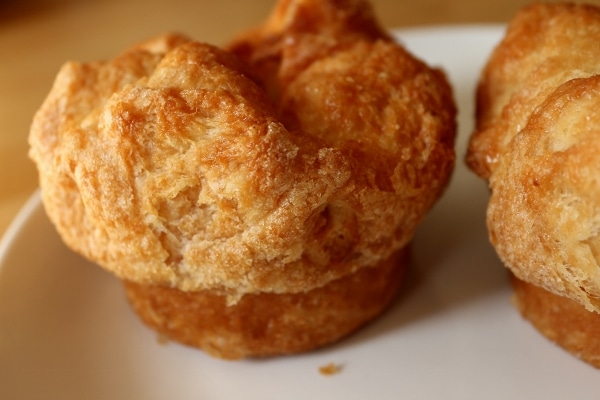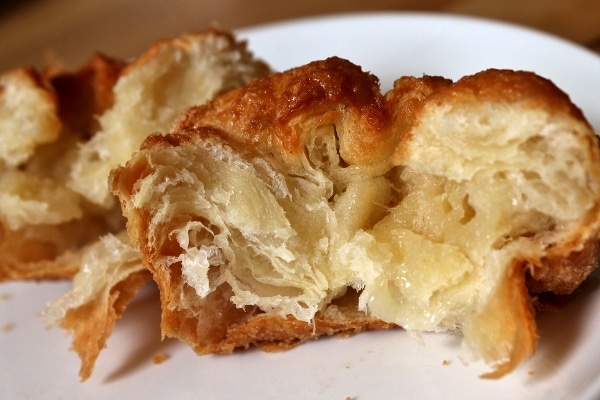 Finally, we also decided to try the Chausson aux Pommes, or apple turnover. Super flaky puff pastry is wrapped around a not-too-sweet apple filling and then dusted with powdered sugar. It's light-years ahead of typical apple turnovers from just about any standard bakery.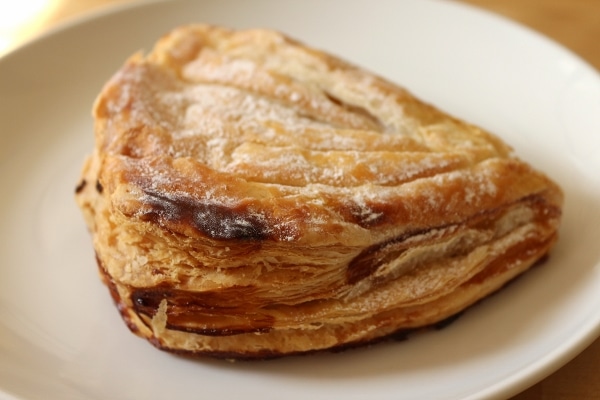 Chausson aux Pommes $4
The homemade puff pastry dough is the key here, and along with the slightly tart apple filling, this is certainly French and not an overly sweet American adaptation. Very well done.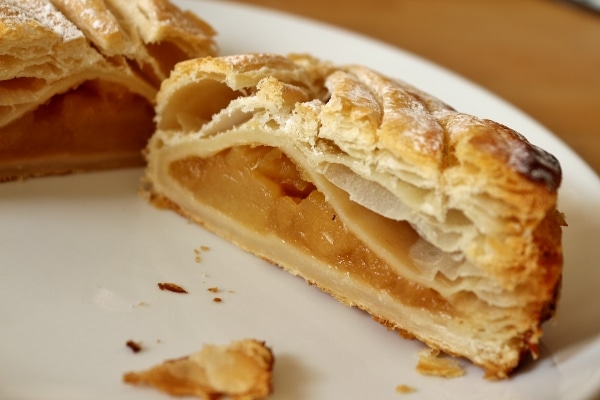 I have loved both visits to Dominique Ansel Bakery (even with the freezing temperatures this time around) and would gladly return at the crack of dawn for more Cronuts, or really any time of day to try many of the other pastries offered there. Not only has every bite of food been exquisite, but the staff is friendly and warm, and Chef Dominique Ansel himself is down-to-Earth and humble, especially after all his fame and success. I will be back!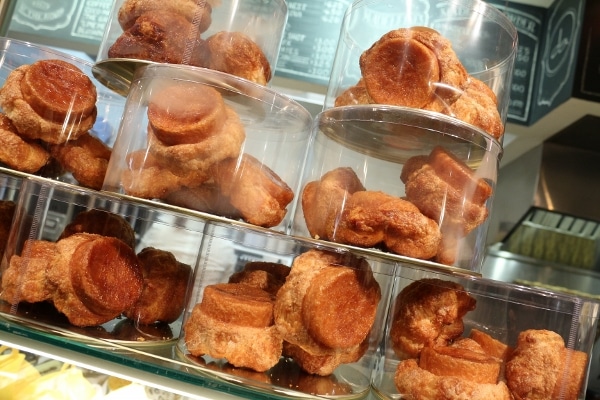 Dominique Ansel Bakery
189 Spring Street
(between Thompson St and Sullivan St)
New York, NY 10012
(212) 219-2773
dominiqueansel.com