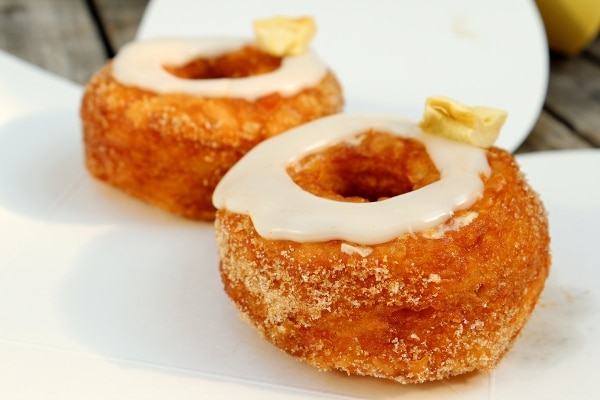 Up until last Friday morning at around 10:30 am, I imagined that all the hype surrounding the nation's most trendy bakery item was honestly pretty ridiculous. I made fun of each and every person on my Facebook feed who bragged about waiting in line for Cronuts, sharing their drool-worthy photos online.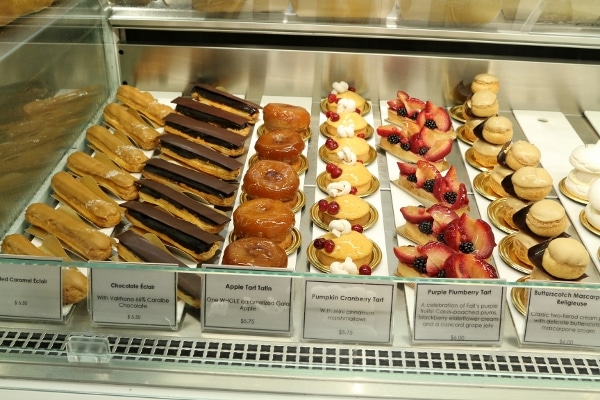 I mean, it's a freaking pastry. How could that possibly be worth waiting in a potentially 3+ hour line?! Sure it sounds delicious, but is it really worth it? Before I answer that, let me tell you about my Cronut adventure...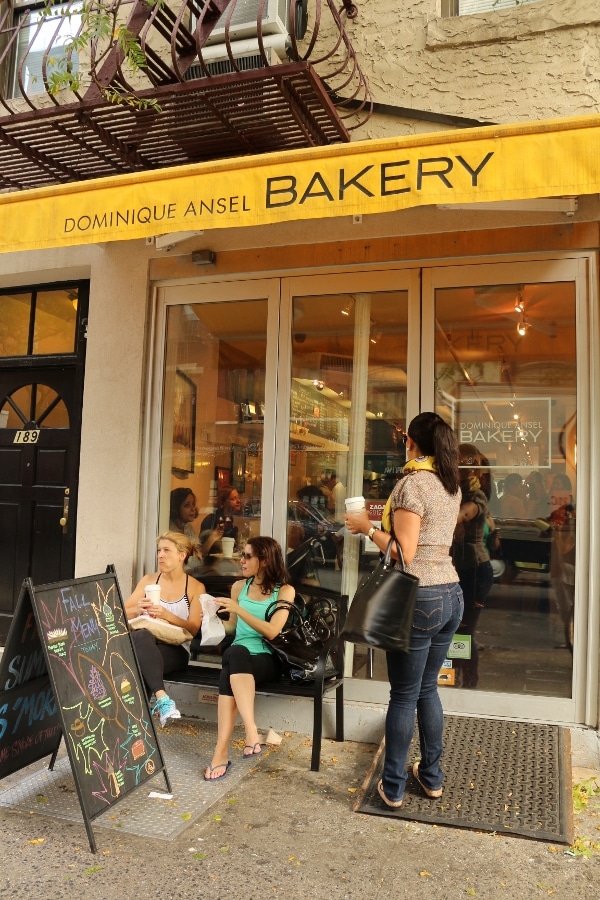 Leading up to a recent visit to New York City, I actually decided that as a foodie, blogger, and lover of New York City food exploration, I was going to suck it up and wait in line for Cronuts just so I could try them myself. I asked around, did some Googling, and decided I would plan to arrive by 7 am with a fellow foodie friend.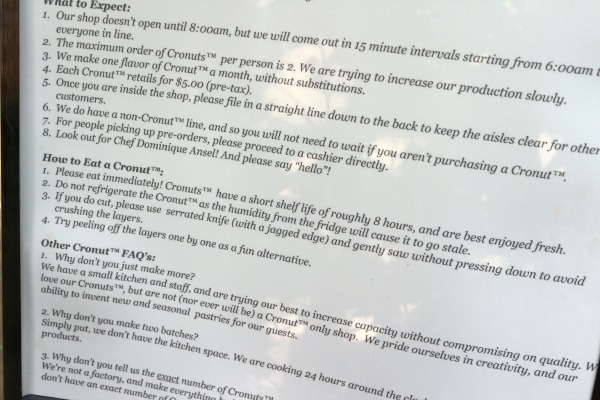 Some rules and guidelines 🙂
I was staying at a friend's apartment in Astoria (Queens), so I woke up at 5:45 am, got ready and headed to the subway before dawn for an approximate 40 minute ride to SoHo. I was cursing myself the entire time. When I arrived at Dominique Ansel Bakery at 6:45 am, there was already a pretty lengthy line that wrapped around the block. I found a spot and waited. And waited.
I'm not gonna lie, it was a really long wait. The bakery opens at 8 am, and so there was no movement whatsoever until that time. Meanwhile, my friend (who RAN there from her apartment in Brooklyn--total badass) and I gossiped, socialized with others in line, and watched on as a bunch of dogs (and their owners) played in the nearby racketball court under a sign that said "No Dogs Allowed." Those misfits!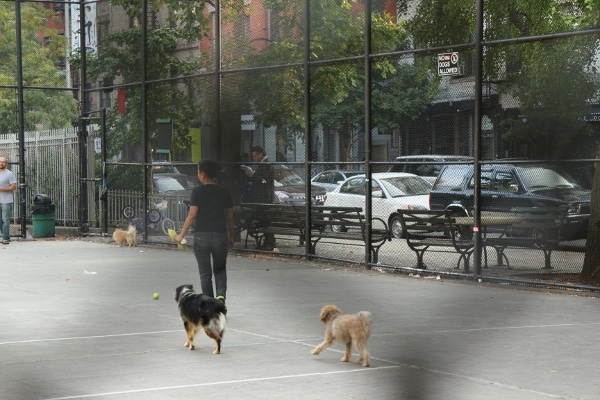 About an hour before the bakery opened, a staff member came outside and talked with the people waiting in line, explaining the "rules" for purchasing Cronuts (mainly the 2 Cronut per person maximum) and also informed us of the new Cronut flavor for October which would be our only option. It features caramelized apple compote and creme fraiche ganache filling, vanilla rose sugar, cinnamon glaze and a dried apple chip.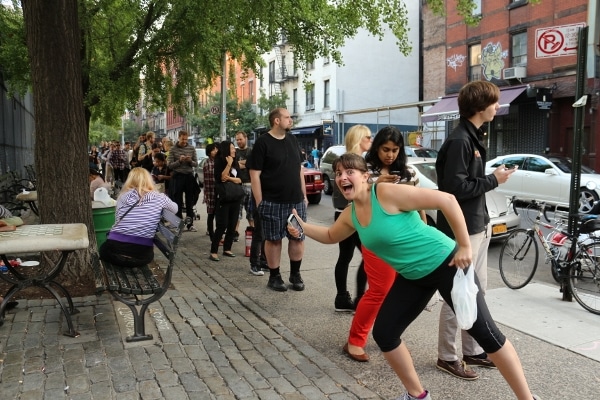 My friend Crystal is super excited! Haha
I can't even tell you how hungry I already was, but after hearing her describe the flavor of the month, I was ready to get my hands on one! Around the time the bakery opened, another staff member came outside with a tray of warm, freshly baked madeleines for us to sample. They were delicious and a total treat after hours of hunger!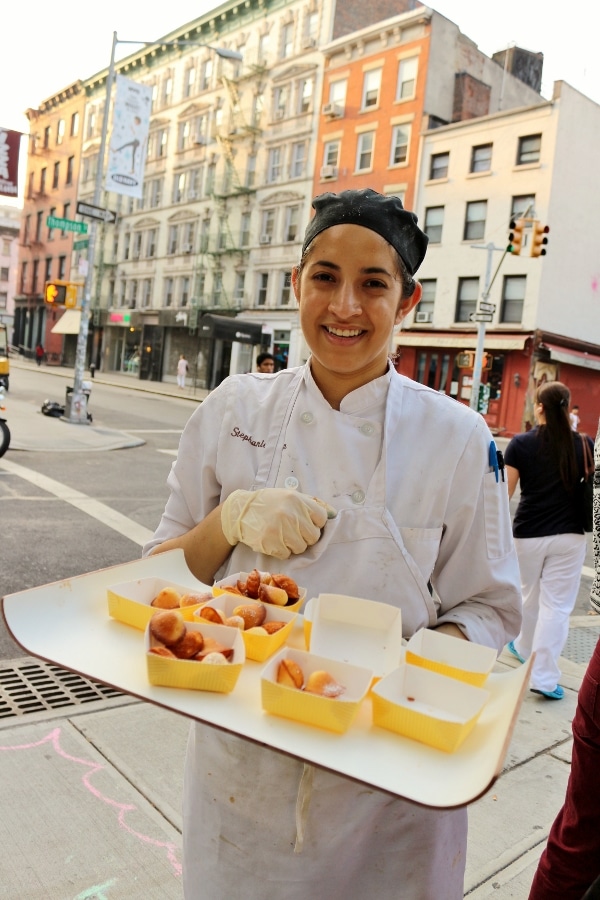 A few people in line near us separated from their party and headed inside in the non-Cronut line to purchase a few other baked goods to enjoy while waiting in line. They were smart. My mentality was "Cronut or bust," so I waited it out until it was our turn to go in (besides I planned to photograph my selections and standing in a line would have made that even more awkward than my gurgling tummy).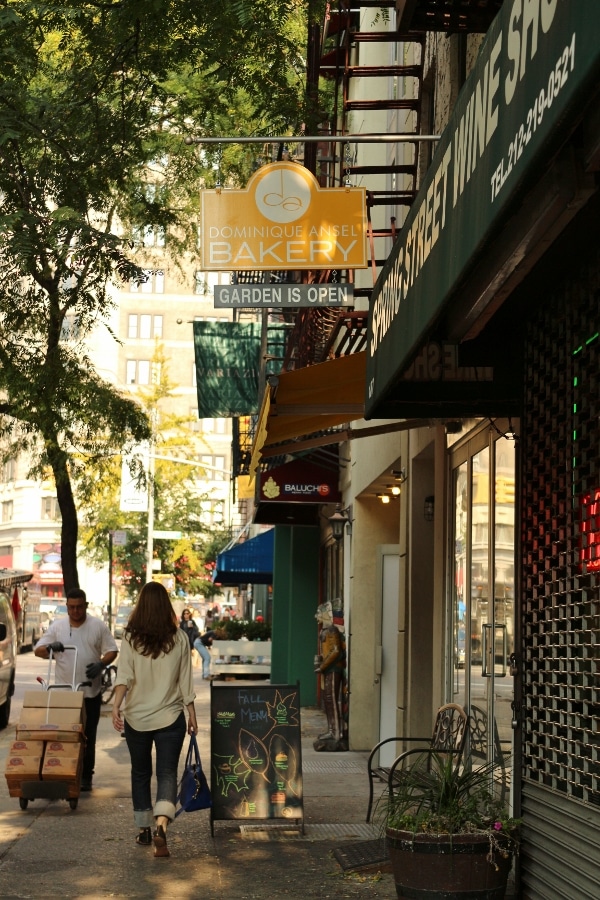 The staff allowed about 24 people from the Cronut line into the bakery at once. Someone would come outside, hand a foam baguette to the first person in line and then count them off. For this reason, the line really only moved a few times rather than being consistently moving. After all those people had purchased Cronuts, they would come back outside and let in the next group. I actually thought this was brilliantly efficient, and I will explain why in a minute.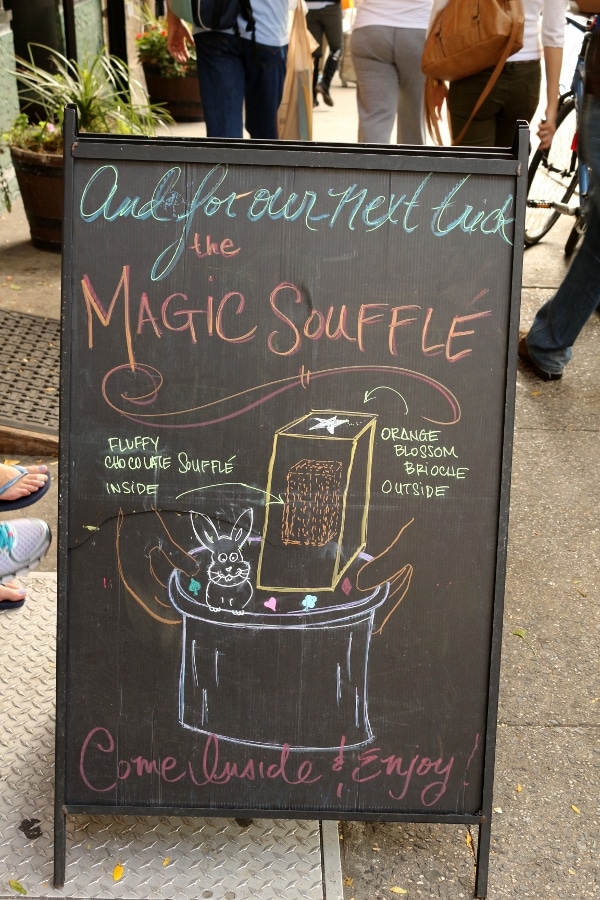 Around 10 am, it was finally our turn! I was first in line (which meant I just missed out on getting into the bakery on the last round), and was handed the coveted foam baguette. We headed inside and lined up against the display case. There was another, much shorter line at another register which was reserved for people not waiting for Cronuts.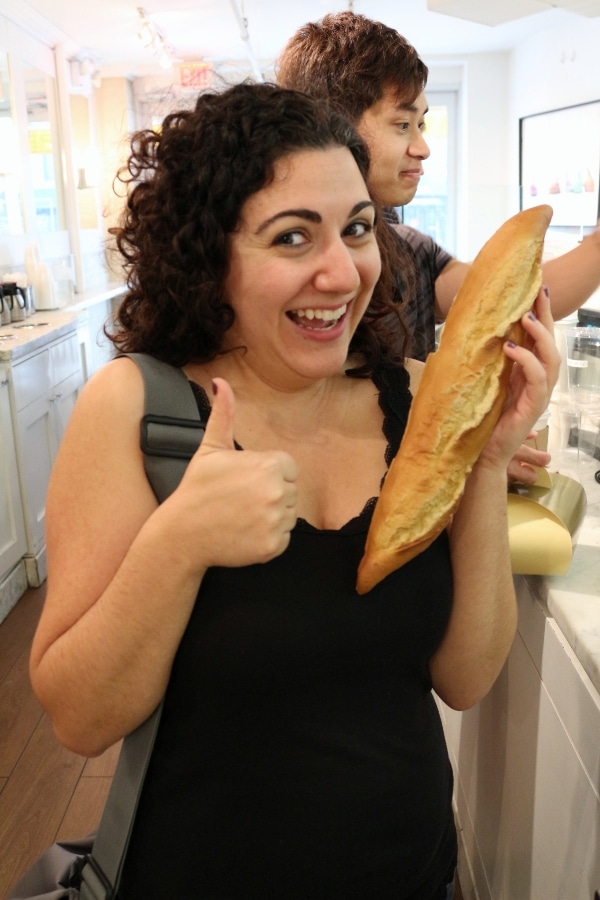 First in line... at least this round, haha 🙂
My head was spinning. I knew I was going to get two Cronuts (anyone who waits that long in line and only gets one is an idiot, if you ask me). I also wanted to sample some other items since I a) was STARVING and b) had waited 3 hours and 15 minutes at this point. It was my obvious reward. Everything was zero calories, in my eyes. I had heard rave reviews about both the Perfect Little Egg Sandwich and the DKA (Dominique's Kouign Amann--which I still can't properly pronounce). Along with a latte, I added those to my order.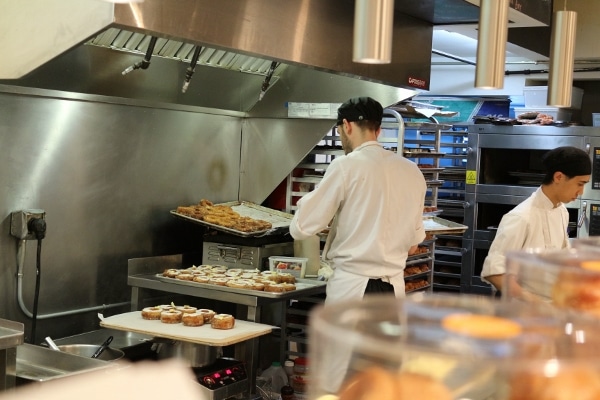 Where the magic happens... fry, Cronuts, fry!!!
I was handed a glorious golden "Holy Grail" of a box that contained my Cronuts, the DKA on a paper plate, and my latte and headed to the back of the bakery where there is an indoor and outdoor "Garden" seating area (in addition to some seating in the bakery as well). My friend would grab my egg sandwich along with hers when it was ready in a few minutes.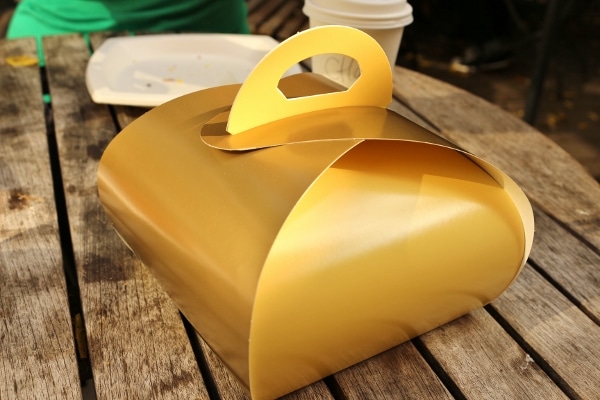 Here's why I think the system used at Dominique Ansel Bakery for only allowing small groups of Cronut-ers inside at a time is so utterly brilliant. At no point during my time ordering my food, waiting for my drink/food, looking for a table, and finally eating did I ever feel overwhelmed or crowded.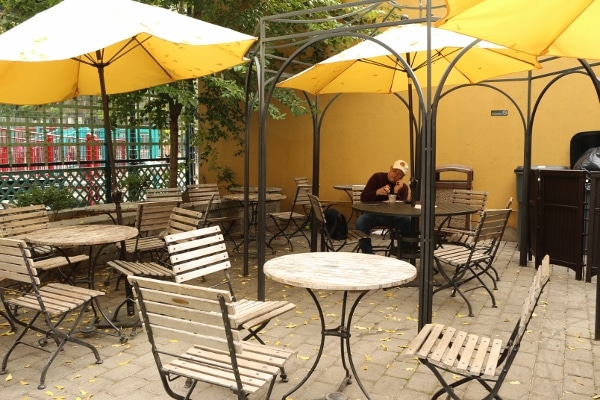 There was TONS of seating both inside and outside (and it's not a huge space), and I felt like after all that waiting, I could really just sit down, relax, and enjoy myself without any pressure for as long as I wanted. This was the Cronut experience! I could have my Cronut and eat it too!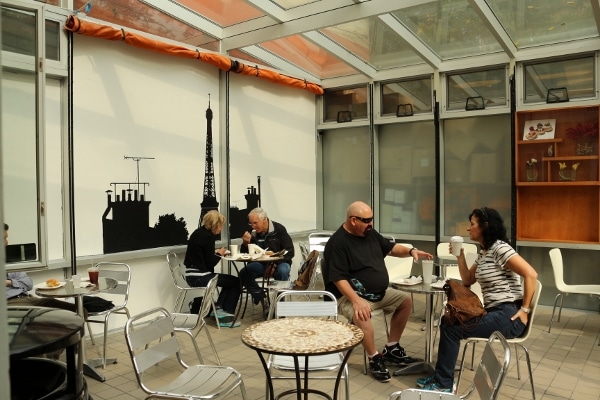 I know what you're thinking. I probably ripped open my Cronut box and dug right in! Right? Wrong. My friend and I showed incredible restraint, and decided to start with the Perfect Little Egg Sandwich instead, since it was savory and made sense as a starter. In no way was this "settling," however. The egg sandwich was fantastic.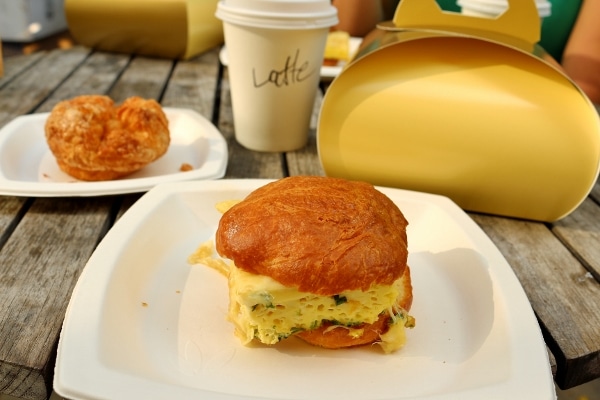 Although my egg was just slightly cool in the center (in its defense, I did make it sit there for a few minutes while I photographed it), it was fluffy as air and topped with melted cheese. The "bun" it was served upon was flaky, buttery, and totally outstanding. It wasn't huge, but its flavors and texture were lovely and I would happily make this part of a future non-nutritious breakfast.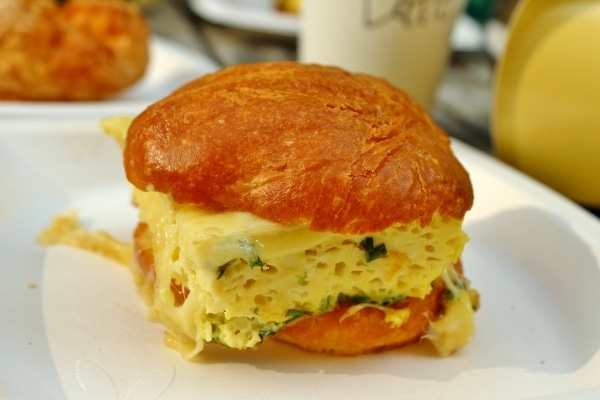 The Cronuts were next on our radar! Opening the box was like unwrapping a gift on Christmas morning! These golden fried beauties were so cheerful to gaze upon after standing zombie-like in a slowly moving line for over 3 hours. I already mentioned the flavor-of-the-month and its various components earlier in this post.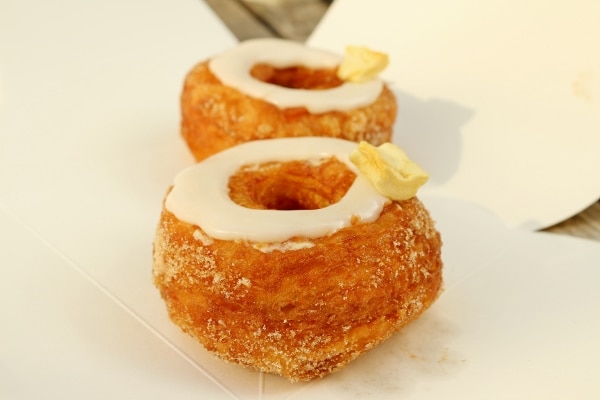 I must say, I was really impressed by how complex these Cronuts are. I imagined them to be simply fried dough with a standard filling, but they showcased so much skill and innovation, not to mention outstanding flavor.
First of all, the texture is neither that of a croissant or a donut. Although it is layered (using a secret laminated dough much like a croissant or Danish), the layers don't shatter at all like a croissant. The dough is much more tender on the inside, but the outside is a crispy and chewy story all its own.
The fillings are piped through secret holes along the top of each Cronut, and then topped with glaze to cover them up. This way, there is an even layer of filling throughout the interior of the pastry (most filled donuts don't have holes in the center, so this obviously presents a different technique for filling them evenly).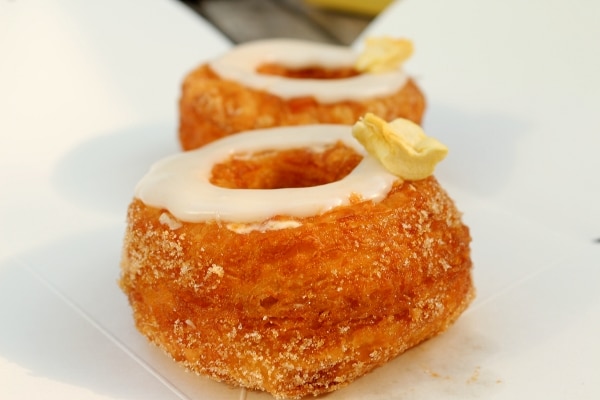 The marriage of the sweet and cinnamony apple compote, with intense apple flavor, and the creamy and slightly tangy, not-so-sweet creme fraiche ganache is a perfect balance of flavor, sweetness, and texture. There is enough filling to get a little bit in each bite, but not so much that the actual Cronut dough itself is overwhelmed. Each component really stands its ground.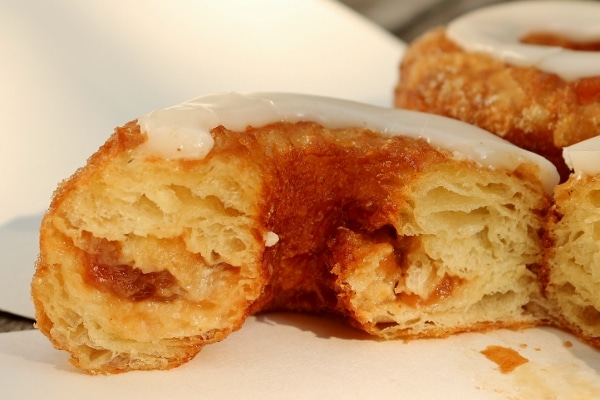 A light dusting of vanilla rose sugar and a touch of cinnamon glaze round out this lovely treat. After months of thinking that Cronuts' popularity is a trendy fluke, and after hours of waiting in line, I can honestly say that I'm thrilled I decided to do it! I actually shared my second Cronut with a friend later on (who couldn't join me in line) and she told me that after trying it, she was so impressed that next time she would come along and wait with me! Honestly, I would happily go again in a future month to try yet another unique flavor.
Although it sounds crazy, I think the pay off was worth it for me. So there's my answer: Yes, I think Cronuts are worth the hype. But if you aren't really into sweets, you may want to pass. My friend who waited in line with me has far less of a sweet tooth (prefers savory hands down), and said that although she liked the Cronuts overall, she didn't think it was really worth it. She preferred the less sweet items she tried. So there you go. Three different perspectives.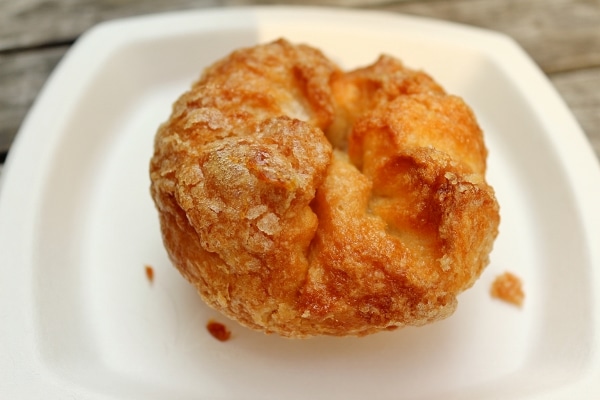 After trying the Cronut, I was ready for the last piece of the puzzle, the DKA, which was patiently waiting to the side while the Cronuts were in the spotlight. It was... magnificent. Honestly, whether I wait in the Cronut line or simply visit Dominique Ansel Bakery on its own, the DKA will definitely be part of my order. It features incredibly tender, buttery layers of dough, a sugary, crisp and chewy exterior, and an awesome name I'll never actually remember how to pronounce.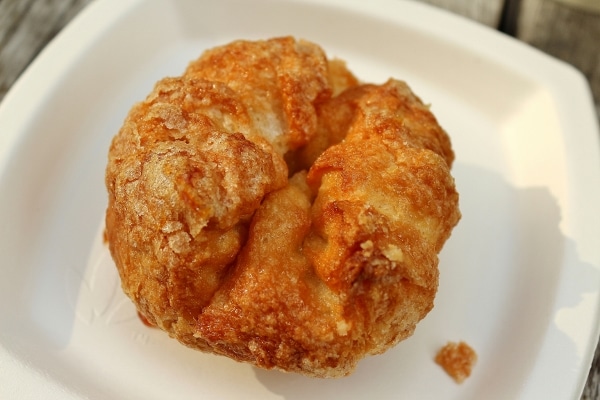 The DKA was overall less sweet and less complex than the Cronut, but for this reason, my dining companion actually preferred it. I loved it too, and find it very difficult to say it was in any way less awesome than the Cronut. Both of these treats are uniquely delicious and well worth checking out. I'm happy to discover that I have a recipe for Kouign Amann in my Flour, Too cookbook and hope to try making it myself one of these days!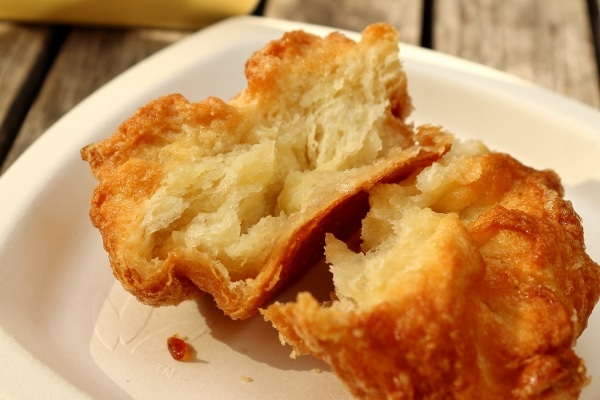 My final thought is this: on a really nice day (as this was), waiting 3+ hours in line for Cronuts is actually quite pleasant with the right company. I'm sure on a sweltering or freezing day, the results may be less thrilling. I loved all of the things I sampled during my visit, and even had a Dominique Ansel sighting while I was there! My final bill for two Cronuts, a DKA, an Egg Sandwich, and a small latte came to over $25. It's not cheap, but I think the quality absolutely dictates the price (and wait). When it comes down to it, hundreds of people wouldn't be waiting if it wasn't worth it.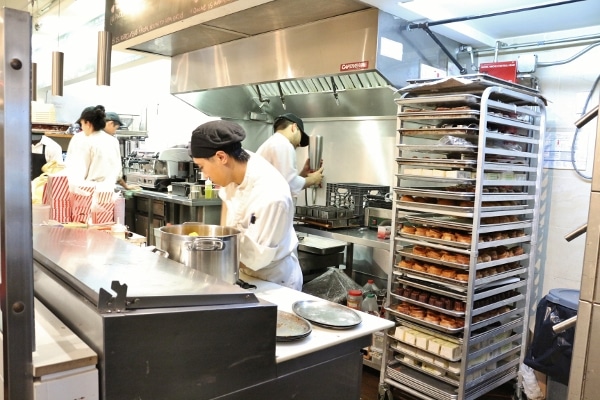 Dominique Ansel Bakery
189 Spring Street
(between Thompson St and Sullivan St)
New York, NY 10012
(212) 219-2773
dominiqueansel.com