This fun and creative recipe for cheeseburger dumplings is inspired by classic American cheeseburgers, but assembled and served like Asian dumplings. Serve with plenty of ketchup for dipping!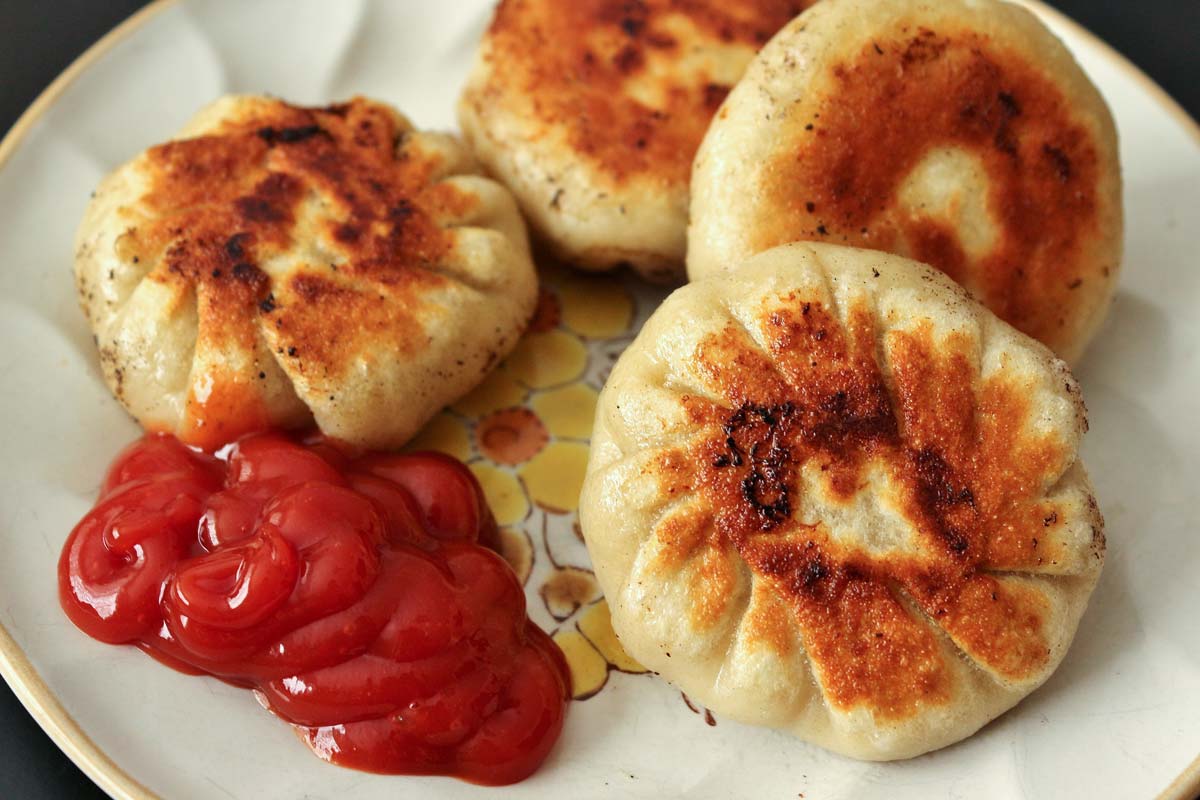 The Creative Cooking Crew challenge for the month of February was to "substitute, elevate, or transform" a typical burger. I decided to take this challenge in the direction of transforming a cheeseburger into a dumpling. I'm sure none of you are shocked by this. I'm kind of dumpling obsessed.
Instead of creating a typical dumpling shape, I decided to make large, flat, round dumplings in a puck shape and pan-fry them. This is more along the lines of a burger shape, and essentially the size of a slider. You can find step-by-step photos of how to create these puck-shaped dumplings on my Chinese chive dumplings post.
The filling is comprised of ground beef and seasonings. These include mustard and Worcestershire sauce as well as some grated Cheddar cheese.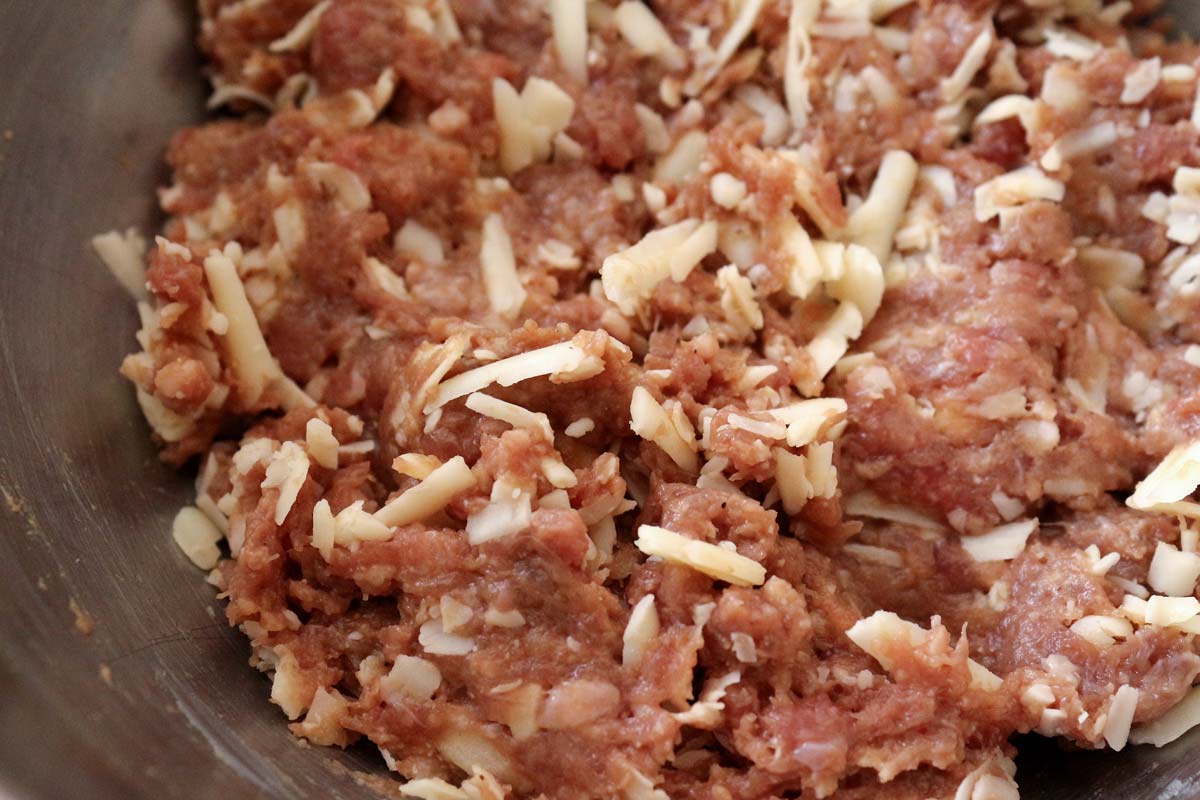 You can easily make some tweaks to this basic recipe to add your favorite burger fixings. Try caramelized onions, sautéed chopped mushrooms, and crispy chopped bacon. Personally, I think they're perfect just the way they are.
What do cheeseburger dumplings taste like?
There's a place called Ted's Restaurant in Meriden, CT which is famous for their steamed cheeseburgers. Although I've never tried one, I've seen them featured on television. Basically, the patties and cheese are steamed separately, and then put together on buns to create incredibly juicy burgers.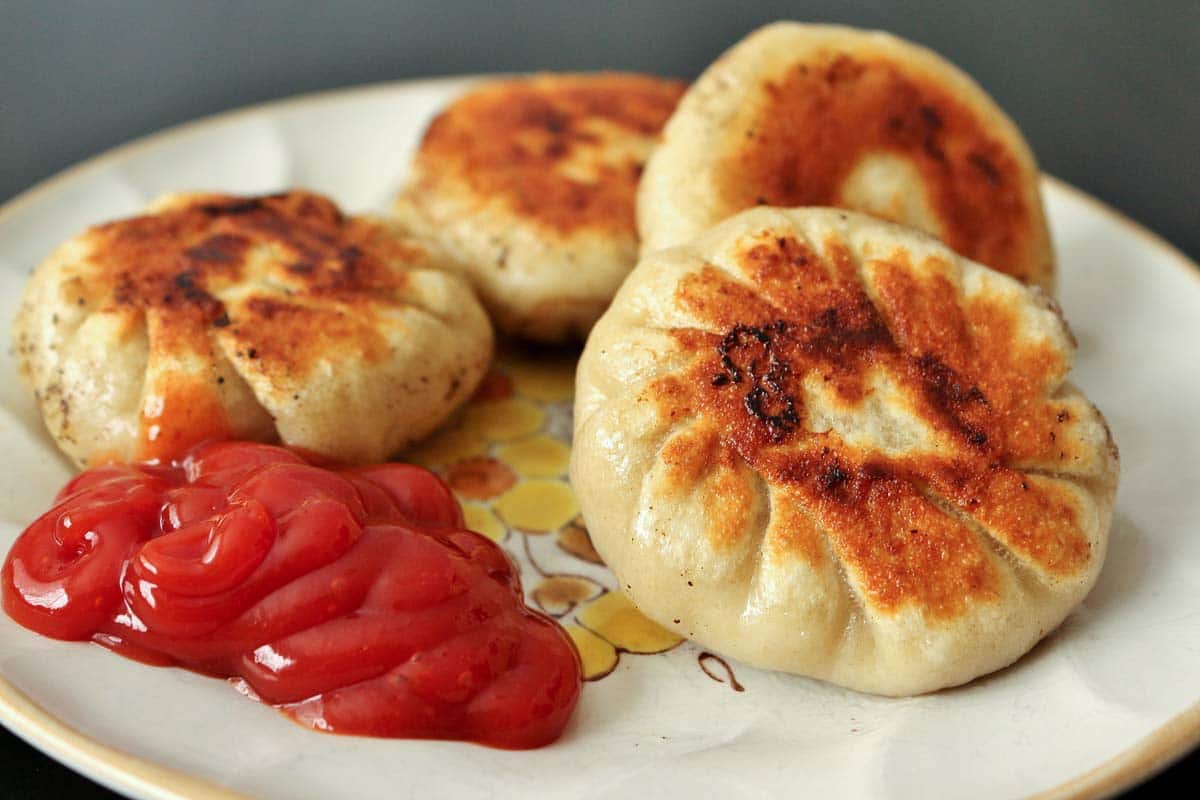 When this dumpling filling is wrapped tightly with the dough and then pan-fried (a two-step process that both crisps and steams them), the filling steams within the dough and yields a result not unlike these famous burgers.
When you bite into the crispy and chewy exterior, the first thing you notice is a burst of juicy, cheesy goodness. It's as if the juiciness from the steamed beef filling combines with the melted cheese to create a cheesy broth that is as luscious as it sounds.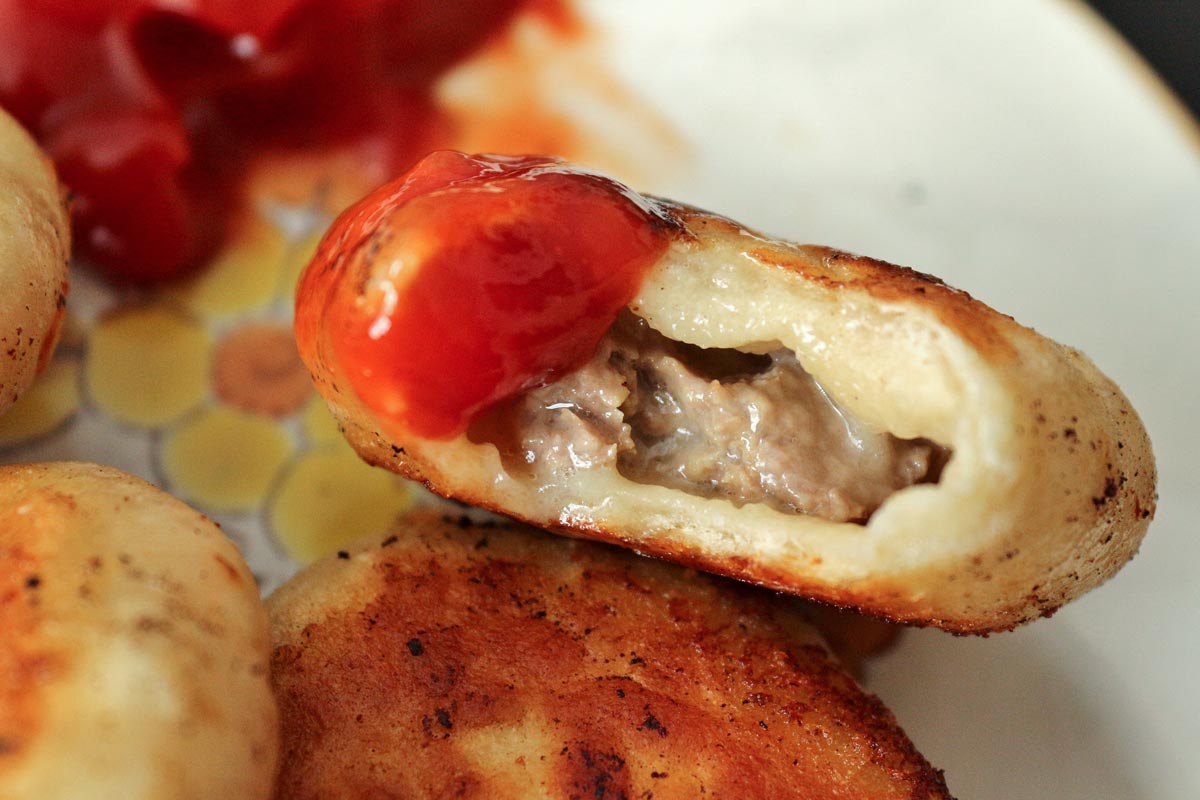 I went a little light on the seasonings. Dumplings generally sway on the lightly seasoned side because they almost always are enjoyed with a somewhat salty dipping sauce). Feel free to add more if you prefer, although I think dipping these dumplings in ketchup is the way to go and creates a perfect balance of flavor.
They taste exactly like a juicy cheeseburger with ketchup, but with an extra awesome crispy and chewy "bun." And for the record, even though these look like Chinese pan-fried buns (or bao), I didn't use actual bao dough (which contains yeast), which is why they're still dumplings and not buns.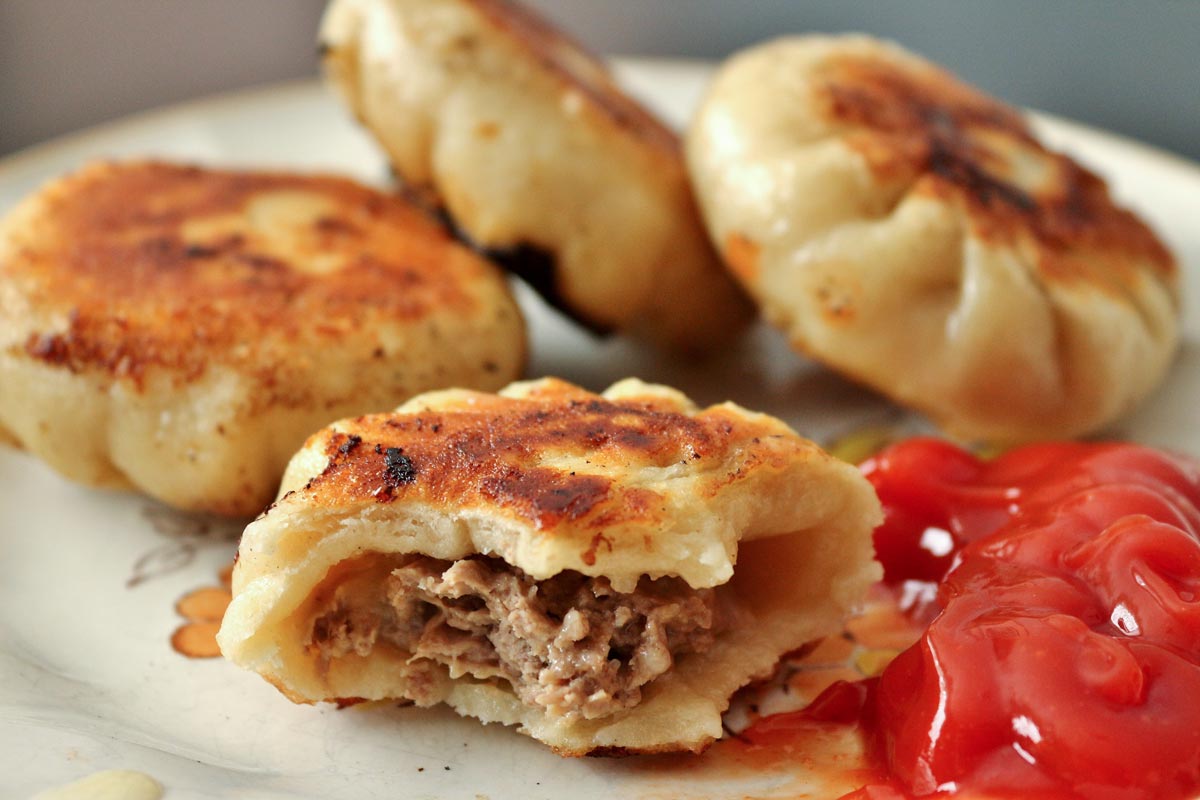 Other recipes you may like
Tried this recipe? Please leave a star ⭐️⭐️⭐️⭐️⭐️ rating in the recipe card below and/or a review in the comments section further down the page. You can also follow me on social media on Facebook, Instagram, and Pinterest!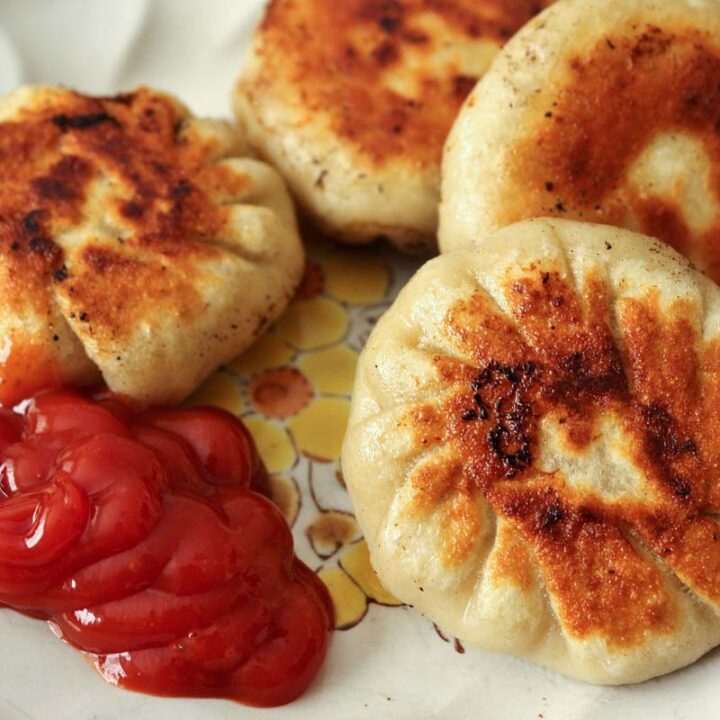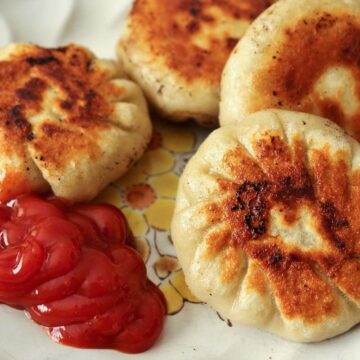 Cheeseburger Dumplings
This fun and creative recipe is inspired by classic American cheeseburgers, but assembled and served like Asian dumplings. Serve with plenty of ketchup for dipping!
Print
Pin
Rate
Servings:
12
large dumplings
Ingredients
Filling:
8

ounces

ground beef

1

tablespoon

Worcestershire sauce

2 to 3

teaspoons

mustard

(yellow or Dijon both work)

½

teaspoon

kosher salt

¼

teaspoon

freshly ground black pepper

2 to 3

ounces

grated sharp cheddar cheese

(or any cheese you like on your burger)
Dough:
10

ounces

(285 grams / 2 cups) all-purpose flour

About ¾ cup just-boiled water

(boil water, then let it sit for a minute off the heat before measuring)
Cooking & Serving:
Canola or peanut oil

for pan-frying

Ketchup

for serving
Instructions
To make the filling, in a medium bowl mix together the ground beef, Worcestershire sauce, mustard, salt, and pepper until combined. Add the grated cheese and mix. The filling can be made up to a day in advance and refrigerated until ready to use.

To make the dough, place a large mixing bowl over a damp paper towel on your work surface, to keep in place while mixing. Add the flour and make a well. Use a wooden spoon to mix the flour while you add the water in a steady stream. Mix together until you have a lot of lumpy bits, then knead the hot dough in the bowl until the dough comes together. Add water by the teaspoon if the dough does not come together.

Continue kneading the dough on a lightly floured surface (only flour if necessary, and do so sparingly) for a couple more minutes until the dough is smooth and elastic (my mixing bowl was very large so I finished kneading directly in the bowl and it was just fine). The dough should bounce back when pressed with your finger, but leave a light impression of your finger. Place dough in a zip-top bag, seal tightly, pressing out excess air, and set aside at room temperature for 15 minutes up to 2 hours. The dough will steam up the bag and soften. After resting, the dough can be used right away, or refrigerated overnight and returned to room temperature before using.

To assemble the dumplings, remove the dough from the bag, turning the bag inside out if the dough is sticky. Put the dough on a lightly floured surface and cut it in half. Put half back in the bag, squeezing out the air and sealing it closed to prevent drying.

Roll the dough into a chubby log and cut into 6 pieces. If your pieces are oval, stand them on one of the cut ends and gently squeeze with your fingers to make them round, like a scallop. Take each piece of dough and press each cut end in flour, lightly pressing the dough to about ¼ inch thick and set aside.

Next, flatten each dough disk into a thin circle, about ⅛ inch thick, either with a tortilla press (lined with plastic wrap), or with a heavy flat-bottomed object like a frying pan (also lined with plastic). Alternatively, use a dowel (which is a good lightweight rolling pin alternative for fast and flexible dumpling making) to lightly roll out each disc into an ⅛ inch thick circle.

To finish the wrappers, place wrappers one at a time on your work surface, and flour only if sticky. Imagine a quarter-size circle in the center of the dough. This is what the Chinese call the "belly" of the wrapper. You want to create a wrapper that is larger than its current size, but still retaining a thick "belly" in the center. This ensures an even distribution of dough when the dumpling is sealed. Use the rolling pin to apply pressure to the outer ½-to-¾-inch border of the wrapper. Roll the rolling pin in short downward strokes with one hand while the other hand turns the wrapper in the opposite direction. Aim for wrappers that are about 4-to-4 ½-inches in diameter. When a batch of wrappers is formed, fill them before making wrappers out of the other portions of dough.

Line a baking sheet with parchment paper (if planning to refrigerate dumplings for several hours, also dust with flour to prevent sticking). To assemble a dumpling, hold a wrapper in a slightly cupped hand. Use a spoon to center one twelfth of the filling (about 1 ½ tablespoons–you can divide it up in advance into 12 balls if you like) atop the wrapper, flattening the filling a bit and keeping about ½ to ¾ inch of wrapper clear on all sides. Then fold, pleat, and press to enclose the filling and create a closed satchel. Try to make large pleats so that the dumpling is not too thick on one side. After pinching the opening closed, twist off any excess dough and discard.

Set the finished dumpling closed side down on prepared baking sheet and flatten it into a puck shape. Assemble more dumplings from the remaining wrappers before working on the next batch of dough. Keep dumplings covered to prevent them from drying out.

When all the dumplings are assembled, they can be covered with plastic wrap and refrigerated for several hours and can be cooked straight from the refrigerator. For longer storage, freeze them on their baking sheet until hard (about 1 hour), transfer to a zip-top freezer bag, pressing out excess air before sealing, and frozen for up to 1 month. To cook after freezing, partially thaw, using your finger to smooth over any cracks that may have formed during freezing, before cooking.

To pan-fry the dumplings, use a medium or large nonstick skillet (or cook two batches at the same time using two pans). Heat the skillet over medium-high heat and add 1 ½ tablespoons oil for a medium skillet and 2 tablespoons for a large one. Place the dumplings 1 at a time, smooth side down, in the pan. The dumplings can touch. Fry the dumplings for 1 to 2 minutes until they are golden or light brown on the bottom.

Holding the lid close to the skillet to lessen splatter, use a measuring cup to add water to a depth of roughly ¼ inch (about ⅓ cup water). The water will immediately sputter and boil vigorously. Cover with a lid or aluminum foil, lower the heat to medium, and let the water bubble away for 8 to 10 minutes, until it is mostly gone. When you hear sizzling noises, remove the lid as most of the water is now gone. Let the dumplings fry for another 1 or 2 minutes, or until the bottoms are brown and crisp. Flip each over to crisp the sealed (pleated) side for about 2 minutes. Turn off the heat and wait until the sizzling stops before using a spatula to transfer dumplings to a serving plate. Serve dumplings immediately with ketchup for dipping.
Notes
Feel free to dress up these dumplings by adding some of your favorite burger fixings into the dumplings. You could add some caramelized onions, sauteed chopped mushrooms, or even crisp, chopped bacon right into the filling.
Dough/assembly adapted from Asian Dumplings
Nutrition
Serving:
1
dumpling
|
Calories:
189
kcal
|
Carbohydrates:
19
g
|
Protein:
9
g
|
Fat:
8
g
|
Saturated Fat:
3
g
|
Polyunsaturated Fat:
1
g
|
Monounsaturated Fat:
3
g
|
Cholesterol:
24
mg
|
Sodium:
192
mg
|
Potassium:
73
mg
*All nutritional information is based on third-party calculations and should be considered estimates. Actual nutritional content will vary with brands used, measuring methods, portion sizes and more.*