Inspired by the carrot dumplings at NYC's Buddakan restaurant, these veggie-filled Carrot Dumplings are as delicious as they are adorable!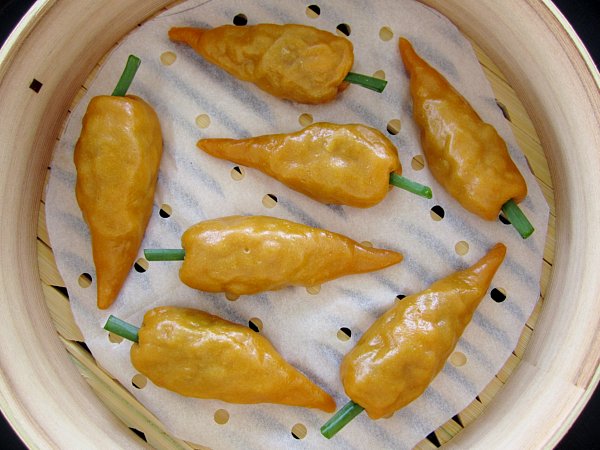 I'm definitely one of those people who tries to recreate delicious things I try in restaurants. One of the dishes I really wanted to recreate were the carrot dumplings from Buddakan in NYC.
Not only do they feature a bright orange carrot-infused dumpling wrapper, and carrot in the filling (along with shiitake mushrooms and corn), but they're shaped like carrots! With little scallion carrot tops to boot! They're almost too cute to eat. Almost.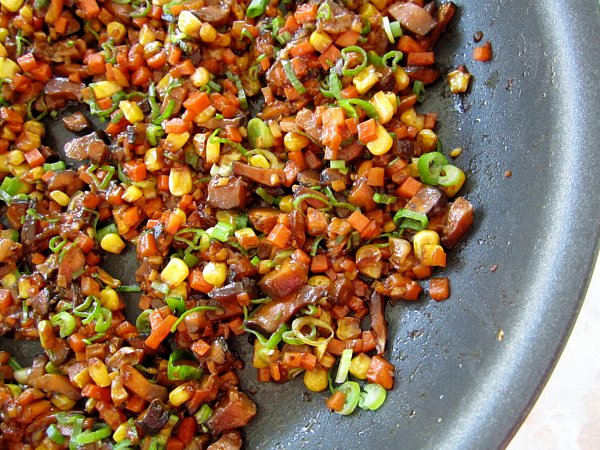 I knew I could make carrot dumplings wrappers by replacing the boiling water with just-boiling carrot juice. That was the easy part. And making the filling was pretty straightforward as well.
Buddakan featured shiitake mushroom and carrot in their filling, but also included some sweet corn for color and flavor.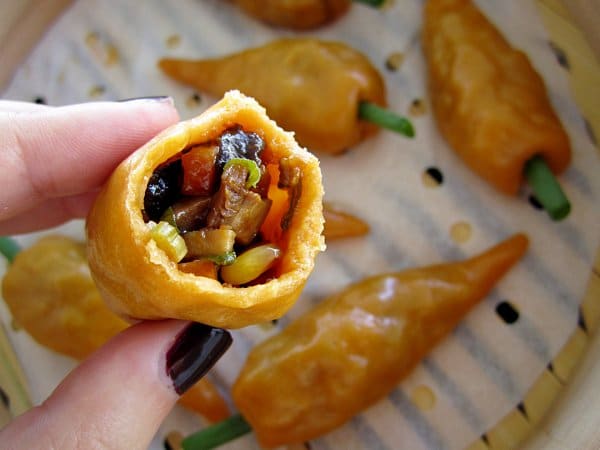 I brought it all together with fragrant ginger, garlic, and a whole mess of delicious Asian embellishments. This included 2 different kinds of soy sauce, rice vinegar, and toasted sesame oil.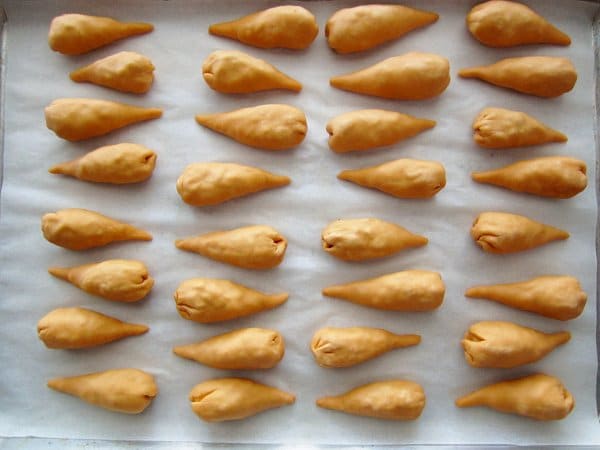 Shaping them took a little brainstorming. I knew that if I cut circles I could shape them into cones and thus into carrot shapes, but I needed to figure out exactly what size to cut them to yield the correct size dumplings with the proper shape (not too wide).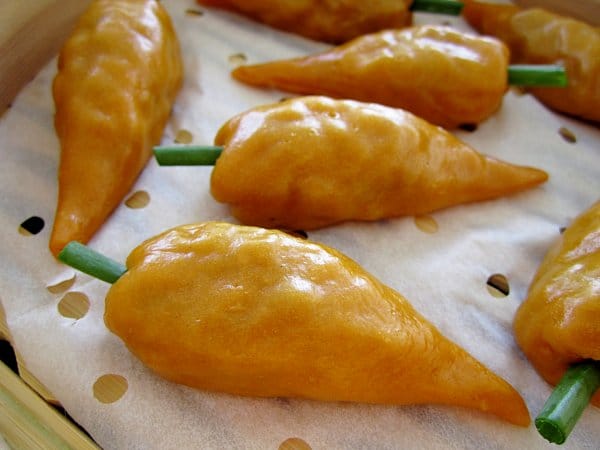 After a little trial and error, I resulted in the perfect technique. The mass of dough would be divided into 8 circles which would each be cut into 4 wedges and formed into cones/"carrots." It was a bit time consuming, but was absolutely worth the effort to yield these fantastic Buddakan-like results!
Other recipes you may like
Tried this recipe? Please leave a star ⭐️⭐️⭐️⭐️⭐️ rating in the recipe card below and/or a review in the comments section further down the page. You can also follow me on social media on Facebook, Instagram, and Pinterest!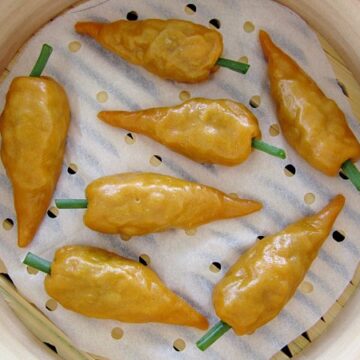 Carrot Dumplings
Inspired by the carrot dumplings at NYC's Buddakan restaurant, these veggie-filled dumplings are as delicious as they are adorable!
Print
Pin
Rate
Ingredients
Filling:
4

large dried shiitake mushrooms

2

tablespoons

light soy sauce

1

tablespoon

toasted sesame oil

1

teaspoon

dark soy sauce

(this has a higher viscosity and more intense flavor than traditional "light" soy sauce)

1

teaspoon

rice vinegar

¼

teaspoon

kosher salt

2

teaspoons

cornstarch

1

tablespoon

canola oil

2

tablespoons

minced fresh ginger

2

cloves

garlic

minced

1

cup

finely chopped carrots

¾

cup

fresh or frozen corn kernels

2

scallions thinly sliced
Wrappers:
10

ounces

(285 grams / 2 cups) all-purpose flour

¾

cup

carrot juice

(100%)
Garnish:
Scallions

as needed, green parts only, sliced into 1-inch pieces
Instructions
Plan ahead and soak the dried shiitake mushrooms in cold water over night (you may need to weigh them down a bit as they have a tendency to float). Reserve the soaking liquid. You will use it twice more. Squeeze the mushrooms dry, discard the stems, and finely chop the caps. You should have about ¾ cup.

Mix together ¼ cup of the reserved mushroom soaking liquid, light soy sauce, sesame oil, dark soy sauce, rice vinegar, and salt in a small bowl. Set this flavoring sauce aside. In another small bowl, mix together 1 tablespoon of the mushroom soaking liquid with the cornstarch and set aside.

In a large skillet over medium heat, add the canola oil. When the oil is hot add the ginger and garlic and saute for about 30 seconds until the aromas begin to release. Then add the mushrooms, carrots, and corn kernels and cook for about 2 minutes. Add the flavoring sauce and cook for another couple of minutes until the liquid is mostly absorbed. Stir the cornstarch mixture once more and add to the skillet, stirring to combine. Remove from the heat and stir in the scallions. Set mixture aside to cool. This filling can be made a couple days in advance and refrigerated until needed.

To make the dough for the wrappers, add the flour to a mixing bowl and form a well in the center. Bring the carrot juice just to a boil and then add to the flour, mixing with a wooden spoon until mostly combined. With floured hands, begin to knead the mixture in the bowl until it comes together completely.

Remove the dough to a wooden board and continue to knead for another 2 minutes or until the mixture is soft and pliable, and if pressed lightly with a finger the dough bounces back.

Place the dough in a zip-top bag, press out excess air and seal. Allow the dough to rest at room temperature for 15 minutes or up to 2 hours. It will slightly steam in the bag and continue to soften and become more pliable. The dough can then be refrigerated, if needed, and then returned to room temperature before using.

To assemble the dumplings, cut the dough into 8 equal pieces (first cut in half and then cut each half in half and then in half again). Cover dough with a damp paper towel when not in use to prevent the dough from drying out. One at a time, roll each piece of dough into a circle, about 6 inches wide. Cut the circle into 4 equal wedges, like a pizza (a bench/dough scraper works well for this).

Take each wedge one at a time with with floured fingers/hands shape into a cone. Start at the corner and gently press the overlapping dough together to seal as you move up the length of the cone (with your index finger inside the cone and your thumb on the exterior, pressing together). Make 4 cones with the 4 wedges of your first dough circle.

Then, one at a time, use a small spoon to fill each cone with the vegetable filling. Use the end of the spoon's handle to carefully pack the filling into the cone. Fill the cone almost full, leaving a small bit of dough on the end to seal the "carrot" closed. Pinch the end together and smooth the dough against the seam to make it less unsightly. Use your fingers to gently smooth out the carrot shape and adjust the filling from the outside to make it sit nicely.

Place the "carrot" seam-side down on a parchment-lined baking sheet and cover with a damp paper towel. Repeat with the remaining cones. Then repeat with each piece of dough to create 32 carrot-shaped dumplings. At this point the dumplings can be refrigerated (covered) until ready to cook, or they can be frozen on the sheet pan for about an hour until frozen solid, and then transferred to a freezer bag. If frozen, gently thaw dumplings before cooking.

When ready to steam dumplings, line bamboo steamer baskets with perforated rounds of parchment slightly smaller than the steamer baskets (I cut my own from parchment paper and then punched holes in them), or line with fresh cabbage, making sure to leave space around the edges for steam to come through. This will prevent dumplings from sticking to the steamer baskets. Arrange dumplings in the steamer baskets.

Meanwhile, add about 1 to 2 inches of water to a pot the same diameter as the steamer baskets (they should be able to sit snugly on top; alternatively you can steam in a wok if you have the proper set up, or place your steamer baskets directly into a very large pot deep enough to hold them, but prop them up with something so they are not submerged in the water). When the water is boiling, place the dumpling-filled steamer baskets on top (with the basket's cover) and steam for about 8 to 10 minutes or until the dumplings are slightly puffed and somewhat translucent.

Remove the steamer trays and cut a small hole into the top of each "carrot" using a paring knife. Stick a 1-inch piece of scallion into this hole to resemble a carrot top. Serve dumplings immediately while hot (they will actually start to stick to the parchment if they are allowed to cool on there too long).
Nutrition
Serving:
1
dumpling
|
Calories:
43
kcal
|
Carbohydrates:
8
g
|
Protein:
1
g
|
Fat:
1
g
*All nutritional information is based on third-party calculations and should be considered estimates. Actual nutritional content will vary with brands used, measuring methods, portion sizes and more.*