Potato Bombas are breaded and fried mashed potato balls with meat filling. An invention hailing from the Barceloneta beach-side neighborhood of Barcelona, these are must-have tapas when visiting Barcelona. If a trip to Barcelona is not on the horizon right now, make them yourself with this recipe!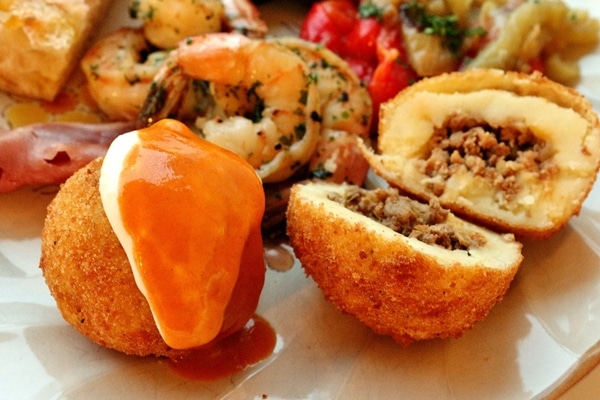 I returned from a trip to Barcelona incredibly inspired by the food there. There were many dishes I wanted to recreate, so I decided to plan an ode to Barcelona in the form of a tapas party for my family. There are many dishes from our trip that didn't make it onto the menu. I simply had to limit the number of dishes, but I hope to try others in the future.
Tapas Menu
Sangria
Spanish cheeses
Serrano ham
Olives stuffed with sun-dried tomatoes
Pan con tomate
Garlicky fried mushrooms
Potato bombas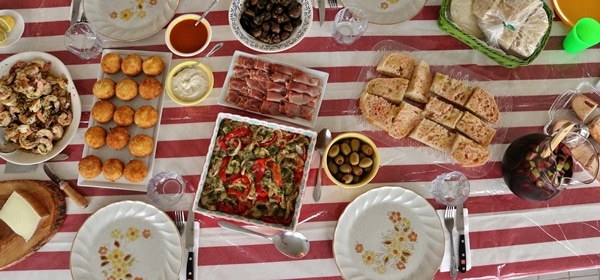 I purchased a variety of Spanish cheeses from Whole Foods to create a Spanish cheese board. These include 6 month aged Manchego (sheep's milk cheese), Capricho de Cabra (soft goat's cheese), and Drunken Goat (aged goat's cheese with edible red wine rind). The latter two are from the same cheese maker.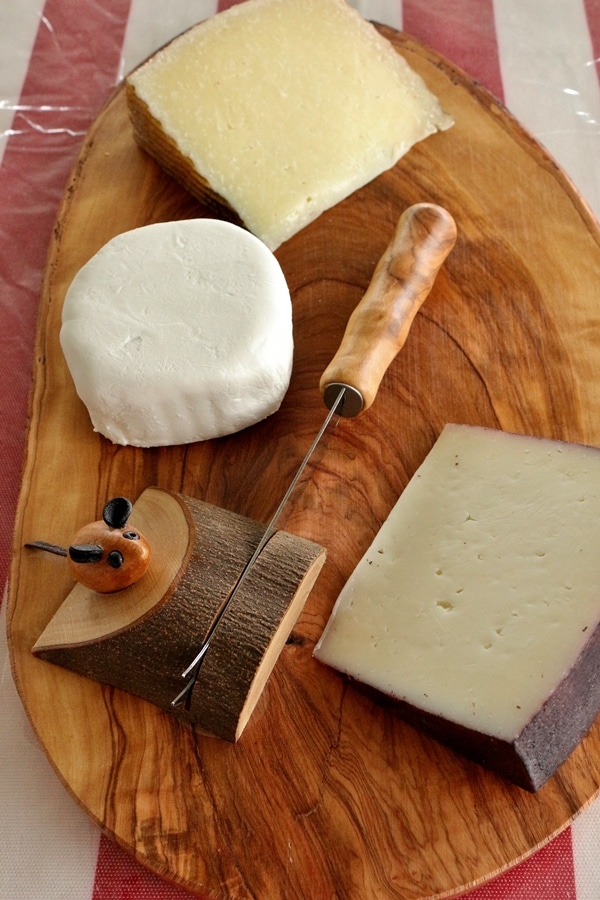 I also was able to procure Serrano ham there as well (I later found some at Aldi as well). It's from a different breed of pig, and not nearly as amazing as jamón ibérico. But it's the best I could do with my resources stateside, and reminds me a bit of prosciutto. The jumbo green olives are pre-stuffed with sun-dried tomatoes. I purchased them from the World Market section at Bed, Bath, and Beyond.
When we were in Barcelona, we ate pan con tomate more than any other tapas dish. Everywhere it was made with different types of bread. On this occasion I used ciabatta bread, split and light toasted, rubbed with fresh whole garlic cloves, halved tomatoes and a light drizzle of extra-virgin olive oil. So simple and so incredibly good! I also made some gluten-free pan con tomate on gluten-free baguettes for my nephews!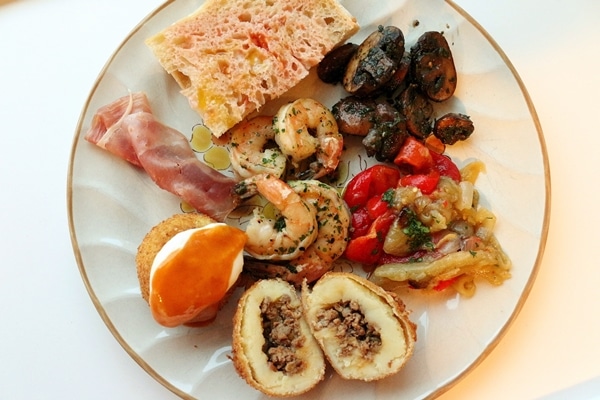 The birthplace of Potato Bombas
Potato bombas were actually invented at La Cova Fumada in the Barceloneta neighborhood of Barcelona. You may recall from my Barcelona blog posts that I had planned lunch one day in Barceloneta.
Well, my plan was to eat at La Cova Fumada, the birthplace of these famous potato bombs. But that unfortunately didn't happen on this trip due to a few circumstances. I still managed to eat potato bombas on two other occasions in Barcelona. It was so memorable that I absolutely had to try making them myself at home.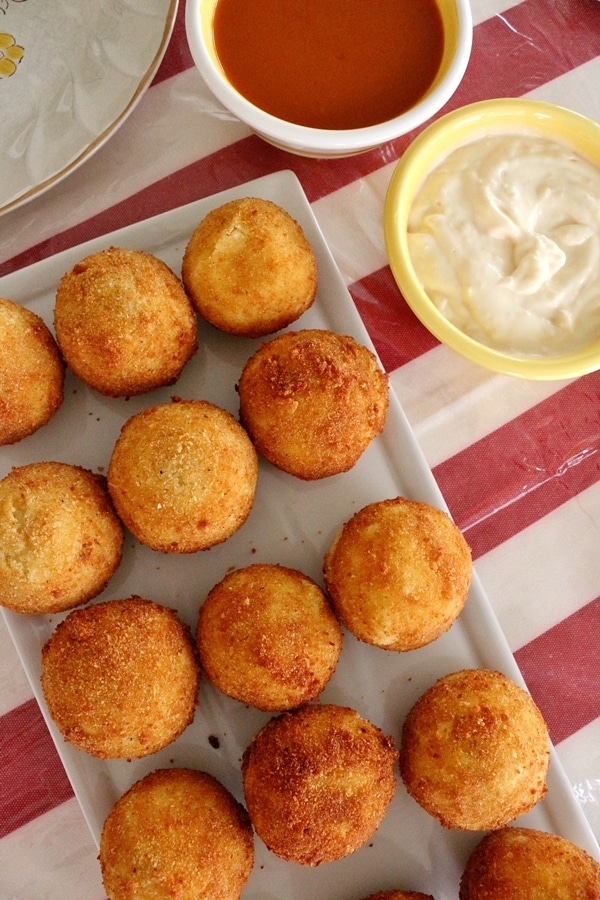 How to make Potato Bombas
Our favorite bombas from the trip were filled with stewed beef. The more traditional version, however, uses ground meat as the filling. Make the filling by sauteing chopped onion, and then adding a combination of ground beef and pork. Cook until the meat is cooked through and crumbly, then add grated tomato and spices. Set aside to cool until you're ready to assemble the potato bombas.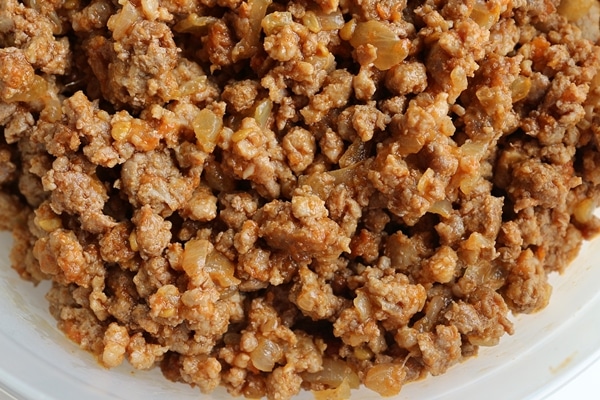 Next, make mashed potatoes. Simply peel and cube up potatoes, and boil them in salted water until tender. Then drain and mash them with olive oil and seasonings. Once the potato mixture is cool, add a beaten egg. I yielded 21 bombas.
Small discrepancies in measurements, or depending on how much you peel your potatoes may fluctuate that number a tad. You'll just want to aim for about ¼ cup potato and 1 tablespoon filling per bomba. Using a measuring cup and spoon will save the day and yield more accurate and evenly sized potato bombas.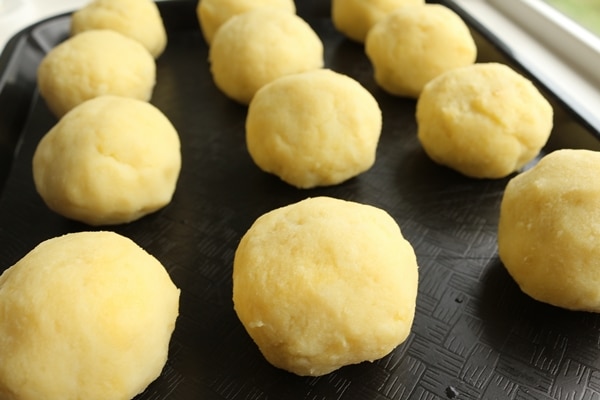 Although there are a number of steps, the recipe is actually not very difficult. It just requires a bit of planning and patience. The different components are quite easy to make and the potato bombas themselves are pretty easy to assemble as well.
I was worried shaping them would be messy, but it wasn't bad at all. Use a deep fryer to cook these if you can. I highly recommend this since it keeps the oil temperature steady, and doesn't make a huge mess on my stove top. They fry very quickly, at only about 2 minutes each.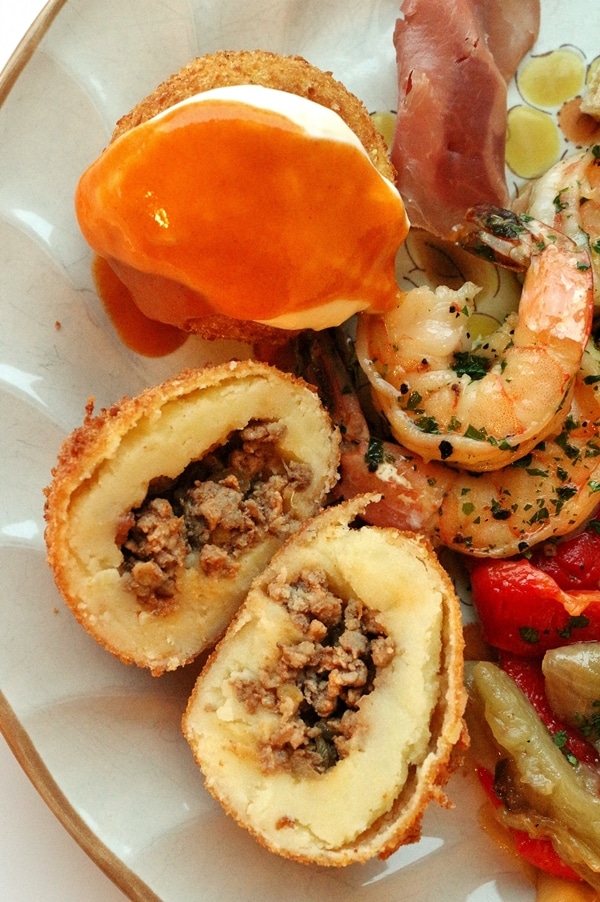 What to do with leftover allioli and bravas sauce
There are two sauces that go on the potato bombas: garlicky, mayonnaise-based allioli sauce, and spicy, smoky bravas sauce. You may end up with some leftovers of both, but there's a lot of great things you can do with them! I used some of my leftover sauces to make what I'm calling "trashy" huevos cabreados, or angry eggs.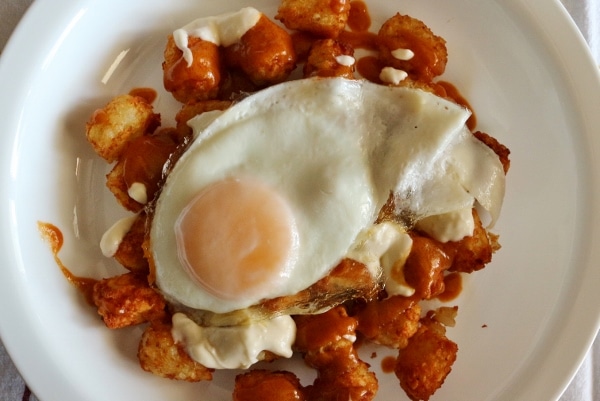 Huevos cabreados were one of my favorite discoveries in Barcelona. We really didn't know what to expect, but were floored by how much we loved this dish of french fries, bravas sauce, and allioli topped with a fried egg which was sliced table side and tossed together.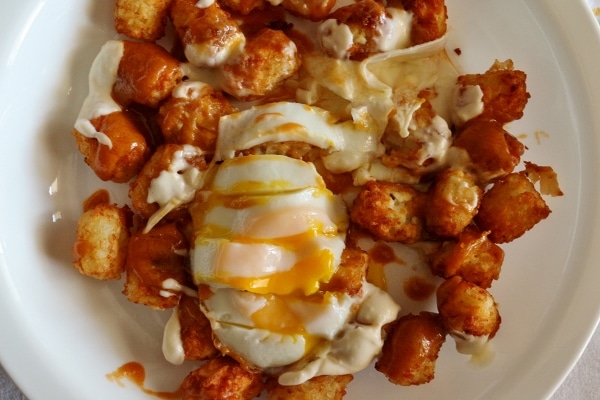 I recreated it in the trashiest, most American way possible: with frozen tator tots baked until crisp in my toaster oven. This was a super easy rendition of the original, and I didn't even need to heat up my deep fryer or slice a single potato into matchsticks. I just drizzled the two sauces over the top of my tator tots, finished with the egg, and viola!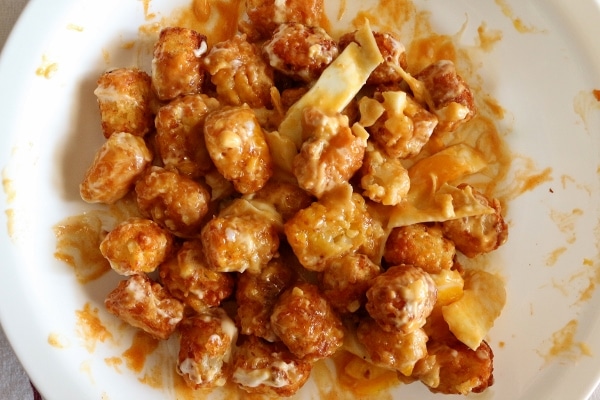 Other tapas recipes you may like
Have you ever eaten Spanish tapas before? What are some of your favorites? Tell me in the comments. And don't forget to rate this recipe if you've tried it. Thanks 🙂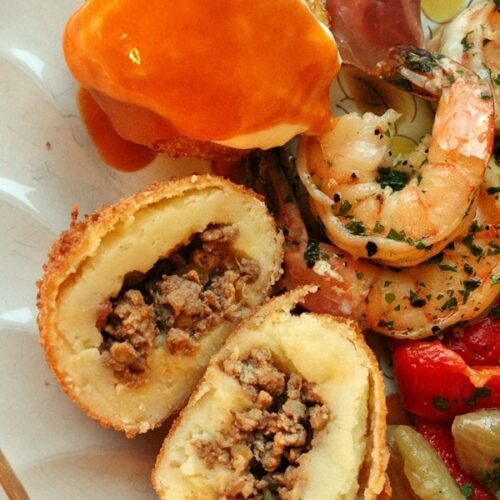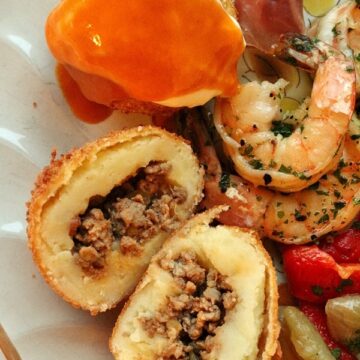 Barceloneta Potato Bombas
Potato Bombas are breaded and fried mashed potato balls with meat filling. An invention hailing from the Barceloneta beach-side neighborhood of Barcelona, these are must-have tapas when visiting Barcelona. If a trip to Barcelona is not on the horizon right now, make them yourself with this recipe!
Print
Pin
Rate
Ingredients
Allioli:
6

cloves

garlic

peeled and left whole

½

cup

extra-virgin olive oil

1

cup

mayonnaise

Juice of ½ lemon

Kosher salt
Filling:
1

tablespoon

extra-virgin olive oil

1

small onion or ½ large onion

finely chopped

4

ounces

(113 grams) ground beef

4

ounces

(113 grams) ground pork

½

tomato

flesh grated on a box grater, skin discarded

1

teaspoon

sweet (regular) paprika

1

clove

garlic

minced

1

teaspoon

kosher salt

Chili flakes or cayenne pepper

to taste
Potatoes:
2 ½

pounds

(1134 grams) Yukon gold potatoes,

peeled and cubed

Kosher salt

¼

cup

extra-virgin olive oil

1

large egg
Bravas sauce:
2

tablespoons

extra-virgin olive oil

1 ½

tablespoons

all-purpose flour

1

teaspoon

sweet (regular) paprika

1

teaspoon

smoked paprika

½

cup plus 2 tablespoons

chicken broth

Kosher salt

Pinch

cayenne pepper

or more to taste
To finish:
Vegetable oil

for frying

All purpose flour

as needed

2 to 3

large eggs

beaten

Dried breadcrumbs

as needed
Instructions
To make the allioli: In a small saucepan combine the garlic cloves and olive oil and bring to a simmer over medium heat. Cook for 5 to 7 minutes, or until the garlic is tender and honey gold (occasionally tilt the pan as needed to keep the garlic submerged–even off the heat the olive oil should be hot enough to keep cooking it). Watch the garlic carefully so that it does not overcook. Lift the garlic cloves from the oil with a slotted spoon and set aside on paper towels to cool. Reserve the garlic oil for another use (1 tablespoon will be used later for the allioli).

In a small food processor fitted with the metal blade, puree the garlic cloves, mayonnaise, lemon juice, and 1 tablespoon of the garlic oil. Taste, season with salt, and pulse to mix. Scrape the allioli into a lidded storage container and chill for up to 3 days. You should have about 1 cup allioli.

To make the filling: In a large non-stick skillet heat the olive oil over medium-high heat. Add the onion, and cook until softened. Then add the ground beef and pork, and cook, breaking the meat up into small pieces with the edge of a wooden spoon, until no longer pink and most of its natural liquid has evaporated. Add the grated tomato, paprika, garlic, salt, and cayenne and continue cooking until the remaining liquid has absorbed/evaporated. Set aside to cool completely.

To make the potatoes: Add the cubed potatoes to a pot and cover with cold water by at least an inch. Salt generously and bring to a boil over high heat, being careful it doesn't boil over (lower the heat as needed). Boil the potatoes until they are easily pierced with a fork, drain and then return to the pot off the heat. Add the olive oil and mash the potatoes with a potato masher until smooth. Adjust seasoning if needed. Let the potatoes cool slightly and then mash in the egg (you don't want the potatoes super hot or else the egg will cook). Set aside to cool to room temperature.

To assemble the bombas: Scoop ¼ cup of the potato mixture at a time into the palm of your hand. You can slightly wet your hands as needed if the potato starts to stick to your hands during this process. Carefully pat the scooped potato into a disc about ½-inch thick in the palm of your hand. Add 1 tablespoon of the cooled meat filling into the center, then carefully cup your hand to start bringing the edges of the potato together and use your other hand to pinch it closed. Smooth into a round ball and set aside as you continue shaping the remaining bombas. The bombas can be refrigerated at this point until you are ready to bread and fry them.

To make the bravas sauce: Heat the olive oil in a small saucepan over medium-high heat. Add the flour and paprikas and whisk for a couple minutes to ensure the flour starts to cook. Slowly add the chicken broth while continuing to whisk into a smooth sauce. It will thicken more once the mixture comes up to a boil. Season with salt and cayenne pepper. This sauce can be served hot, warm, or room temperature.

To finish the bombas: To each of 3 wide bowls add flour, beaten eggs, and dried breadcrumbs to set up a dredging station. Dredge each bomba one at a time in the flour, then the egg, then the breadcrumbs, and set aside on a clean tray or work surface until remaining bombas are breaded. You can also bread them in batches as you fry them, but this can get messy.

Heat the vegetable oil in a deep fryer or Dutch oven to 350°F. You'll want the oil to be deep enough so the bombas will be fully submerged once you add them to the oil. Fry the breaded bombas in batches for about 2 minutes each or until they are golden brown. If you fry them much longer the balls may start to crack open. Set finished bombas aside on a paper towel-lined tray or sheet pan to drain. Serve bombas immediately with the allioli and bravas sauce.
Notes
This recipe uses kosher salt (aka cooking salt, kitchen salt, coarse salt outside of the US). If you are using table salt, definitely scale down the salt as that is a saltier type of salt! The type of salt will make a big difference in how salty your food tastes, so keep that in mind.
Nutrition
Serving:
1
bomba
|
Calories:
292
kcal
|
Carbohydrates:
17
g
|
Protein:
8
g
|
Fat:
24
g
|
Saturated Fat:
4
g
|
Polyunsaturated Fat:
7
g
|
Monounsaturated Fat:
9
g
|
Cholesterol:
55
mg
|
Sodium:
335
mg
|
Potassium:
271
mg
|
Fiber:
2
g
|
Sugar:
1
g
*All nutritional information is based on third-party calculations and should be considered estimates. Actual nutritional content will vary with brands used, measuring methods, portion sizes and more.*