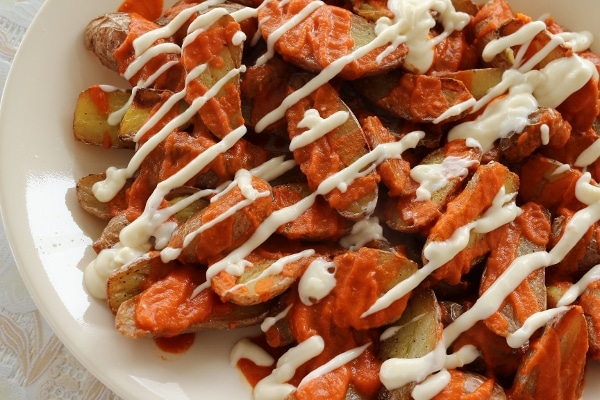 In honor of my amazing sister's birthday last week, I created a fun and festive Spanish tapas meal to celebrate. Tapas are one of my favorite styles of small plate meals (along with dim sum) and can always get on board for enjoying tapas with family or friends whether at a tapas bar or in my home.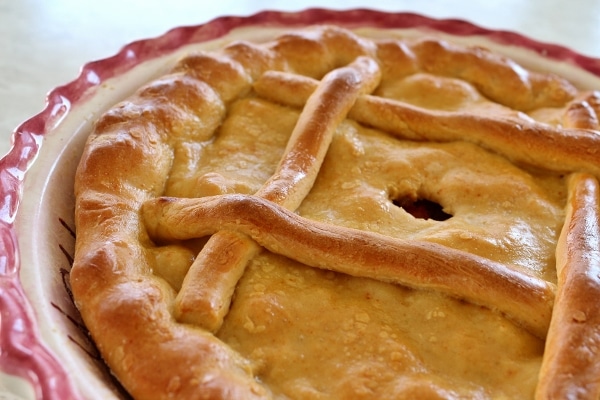 Along with a pitcher of fruity sangria (a tapas meal without sangria is just sacrilegious) I created a spread of dishes that included an Empanada with Marinated Pork Roasted Red Peppers, Shrimp with Garlic, Mussels on the Half Shell with Escabeche (served cold and prepped in advance), Patatas Bravas, and Roasted Broccoli (not exactly traditional tapas, but we needed some green veggies!).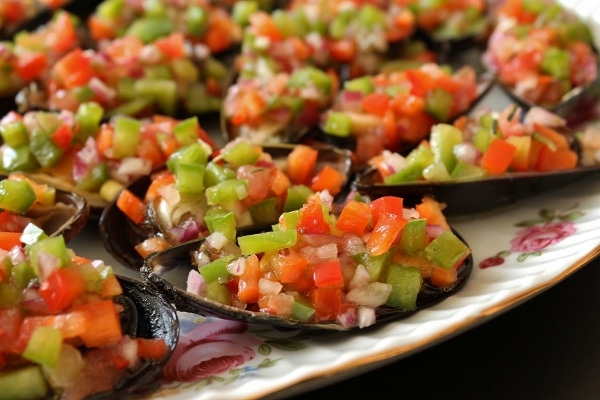 I also fulfilled my sister's only menu request (luckily she gave me free reign over the rest of the menu) for the birthday cake. A couple years ago, I posted the recipe for the famous Hollywood Brown Derby Grapefruit Cake, and this is the cake my sister desired on her birthday this year.
It's a personal favorite as well, light and spongey with a slightly tart grapefruit-infused cream cheese frosting and fresh supremes of grapefruit in the filling and to garnish. It's truly timeless and reflects back to the olden days of Hollywood's Golden Age.
I won't be sharing recipes for all of the dishes I made, but instead just a couple (at least for now). Today I'm highlighting my favorite tapas dish of all time: patatas bravas (or fierce potatoes). I'm not sure I've ever attended a tapas meal without ordering this popular tapas staple. Typically it begins with fried potatoes (usually cubed) and is served with a smokey, slightly spicy tomato sauce and a mellow garlic allioli (the Catalan version of aioli).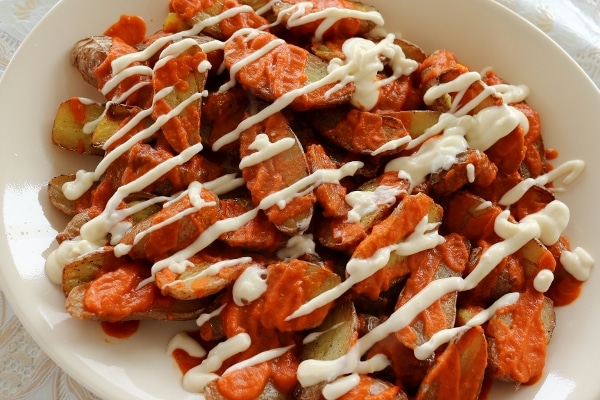 It's magical... seriously. In this particular case, instead of frying the potatoes, I boiled, halved, and then roasted red-skinned fingerling-style potatoes. They weren't quite as crisp as their fried friends, but they had wonderful flavor from the olive oil and were nicely golden around the edges.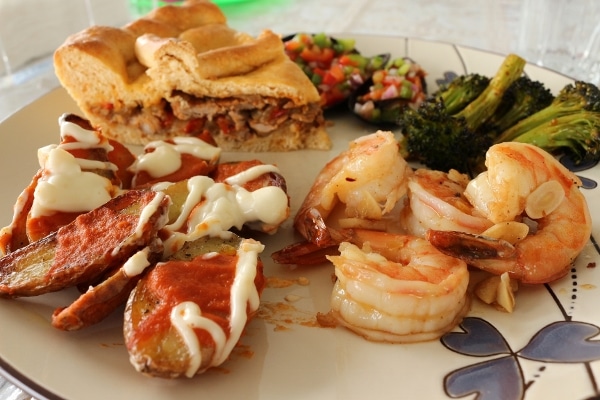 The sauces are truly what take these "patatas" from ordinary to extraordinary. The bravas sauce is a slightly spicy, smokey, garlicky tomato sauce. I've actually seen this sauce served at a tapas bar with croquettes, so there are really many ways it can be utilized.
The second sauce is a traditional allioli, which much like an aioli (the French/Provencal version) is a garlic mayonnaise. The garlic in this recipe is olive oil-poached and thus results in a soft and mellow garlic flavor than if using fresh garlic. It's super tasty and would be a lovely spread or dipping sauce on its own. Married with the smoky tomato-based bravas sauce, the allioli takes the "patatas" to a delicious dimension where potatoes reign supreme.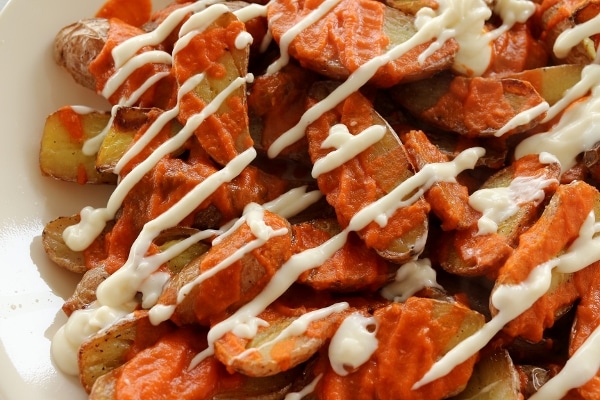 Patatas Bravas rule my tapas universe, and I'm so thrilled to finally create them in my own kitchen (after so many delicious experiences in restaurants). Stay tuned for future posts with more fun tapas creations.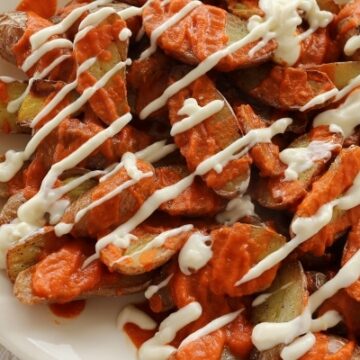 Patatas Bravas (Fierce Potatoes)
A classic Spanish tapas dish, these patatas bravas are roasted instead of fried for a lighter but just as delicious outcome.
Print
Pin
Rate
Ingredients
Allioli:
3

cloves

garlic

peeled

¼

cup

extra-virgin olive oil

(or just enough to cover)

½

cup

mayonnaise

Juice of ¼ lemon

Kosher salt and freshly ground black pepper
Bravas Sauce:
1 ½

teaspoons

extra-virgin olive oil

1

small Spanish onion

thinly sliced

2

cloves

garlic

chopped

¾

teaspoon

sweet smoked paprika

¼

teaspoon

ground cumin

Pinch

ground cayenne pepper

Kosher salt and freshly ground black pepper

9

ounces

(1 cup plus 2 tablespoons) canned diced tomatoes with their juices

1

teaspoon

sherry vinegar

(I have also used Champagne and white balsamic vinegars on different occasions)
Patatas:
3

pounds

waxy potatoes

such as Yukon Gold, red-skin, or fingerling potatoes

Kosher salt and freshly ground black pepper

Olive oil
Instructions
To make the allioli: In a small saucepan combine the garlic cloves and olive oil and bring to a simmer over medium heat. Cook for 5 to 7 minutes, or until the garlic is tender and honey gold (occasionally tilt the pan as needed to keep the garlic submerged–even off the heat the olive oil should be hot enough to keep cooking it). Watch the garlic carefully so that it does not overcook. Life the garlic cloves from the oil with a slotted spoon and set aside on paper towels to cool. Reserve the garlic oil for another use (1 ½ teaspoons will be used later for the allioli).

In a small food processor fitted with the metal blade, puree the garlic cloves, mayonnaise, lemon juice, and 1 ½ teaspoons of the garlic oil. Taste, season with salt and pepper, and pulse to mix. Scrape the allioli into a lidded storage container and chill for up to 3 days. You should have about ½ cup allioli.

To make the bravas sauce: In a large saucepan, heat the extra-virgin olive oil over medium heat. Add the onions and cook for about 10 minutes, or until they soften but have not colored. Add the garlic and cook gently for 6 to 8 minutes, or until the garlic is tender and aromatic. Stir in paprika, the cumin, and the cayenne.

Add the tomatoes, and the vinegar to the saucepan and season to taste with salt and pepper. Bring to a simmer over medium heat and cook for about 20 minutes, covered, or until the sauce is heated through and the tomatoes have begun to break down.

Let the tomato sauce cool a little and then, working in batches if needed, puree in a blender until smooth. As one batch is pureed, transfer it to a bowl or a container with a tight-fitting lid. Adjust the seasoning as needed. Use the tomato sauce right away, refrigerate it for up to 3 days or freeze it (like you would with any other tomato sauce).

To make the patatas: Preheat the oven to 450°F.

Put the potatoes in a large pot and add enough cold water to cover by an inch. Season generously with kosher salt and bring to a boil over high heat. Reduce the heat slightly and simmer for about 20 minutes, or until just fork tender. Drain the potatoes and set aside to cool. The potatoes can be boiled and cooled a day in advance (be sure to refrigerate them if you do this in advance). When cool, cut the potatoes into wedges, cubes, or if using fingerling potatoes, cut them in half lengthwise.

Season the cooled potatoes with salt and pepper and toss them with a generous drizzle of olive oil in a shallow baking pan (you can use some of the leftover garlic-infused olive oil as well). Spread out the potatoes in the pan so they are an even layer, and not overlapping. Roast for 12 to 15 minutes, or until the potatoes are nicely browned on one side. Rotate the pan and turn the potatoes over. Roast for another 8 to 10 minutes, or until browned and crisp on the other side (I actually roasted mine for a total of 30 to 35 minutes).

If you prefer fried potatoes, heat about 10 cups of canola or another vegetable oil in a deep, heavy pot until it registers 375°F on a deep-fry thermometer. Meanwhile preheat the oven to 250°F and line a baking sheet with several layers of paper towels.

Fry the potatoes in batches so that you don't crowd the pan. Carefully submerge them in the hot oil and let them cook for 4 to 6 minutes, or until crispy and browned. Lift the potatoes from the oil with a slotted spoon and let them drain on the paper towels. Sprinkle with salt and pepper and keep warm in the oven while you fry the remaining potatoes.

Serve the potatoes with the bravas sauce and the allioli drizzled over the top.
Nutrition
Calories:
243
kcal
|
Carbohydrates:
3
g
|
Protein:
1
g
|
Fat:
25
g
|
Saturated Fat:
4
g
|
Polyunsaturated Fat:
13
g
|
Monounsaturated Fat:
7
g
|
Cholesterol:
8
mg
|
Sodium:
496
mg
|
Potassium:
175
mg
|
Fiber:
1
g
|
Sugar:
2
g
*All nutritional information is based on third-party calculations and should be considered estimates. Actual nutritional content will vary with brands used, measuring methods, portion sizes and more.*