This recipe for hearty wheat bread with oats hails from Amy's Bread in New York City. It's chock full of oats and pecans to make for a beautifully texture bread perfect for toast and sandwiches.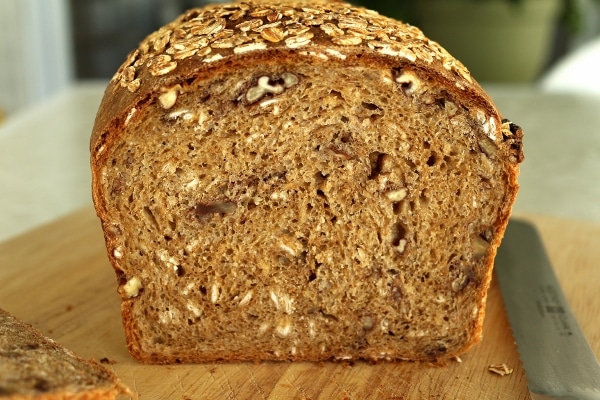 This was the first pan loaf recipe I tried from Amy's Bread, and I must say it turned out fantastic! Per usual, like their other recipes, this dough is quite wet and challenging to work with.
It says to add minimal flour when kneading it, but especially considering the humidity levels on the day I made the bread, I know the dough needed a bit extra flour to really make up for the extra moisture.
It was stick quite sticky and tacky, but not a total nightmare to work with after dusting more flour on the board and dough as I worked to knead it together.
Making any bread from Amy's Bread is a big waiting game. These are not fast breads that only need an hour or so to proof. They require planning and waiting.
The results speak for themselves, however. I don't think I've ever made pan loaves that have puffed up quite so beautifully! This whole wheat bread with oats is truly stunning.
It boasts a really nice crust on the exterior and a wonderfully chewy interior. The loaves are studded with toasted pecans and a nice balance of oats, making this sandwich bread anything but basic. It's hearty and nutty with a delicious complexity.
This whole wheat bread with oats is a bit denser than the typical fluffy sandwich bread you'd purchase at the store, but that means it will stand up well however you choose to use it.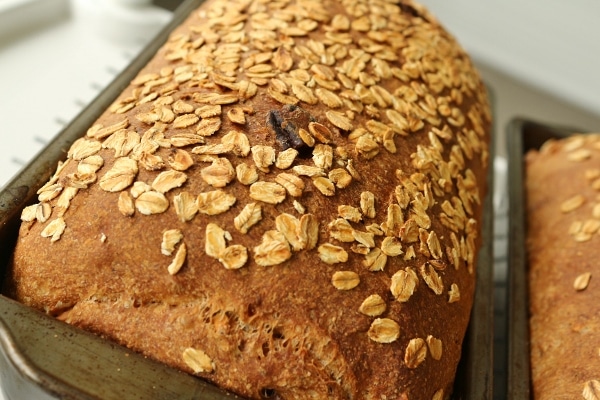 This whole wheat sandwich bread with oats and pecans can sway in either the sweet or savory direction. Cut in thick slices, it's perfect for French toast, and serves at a wonderful sandwich bread for tuna or chicken salad sandwiches, and even PB&J. It's also great as a simple toast with your bacon and eggs.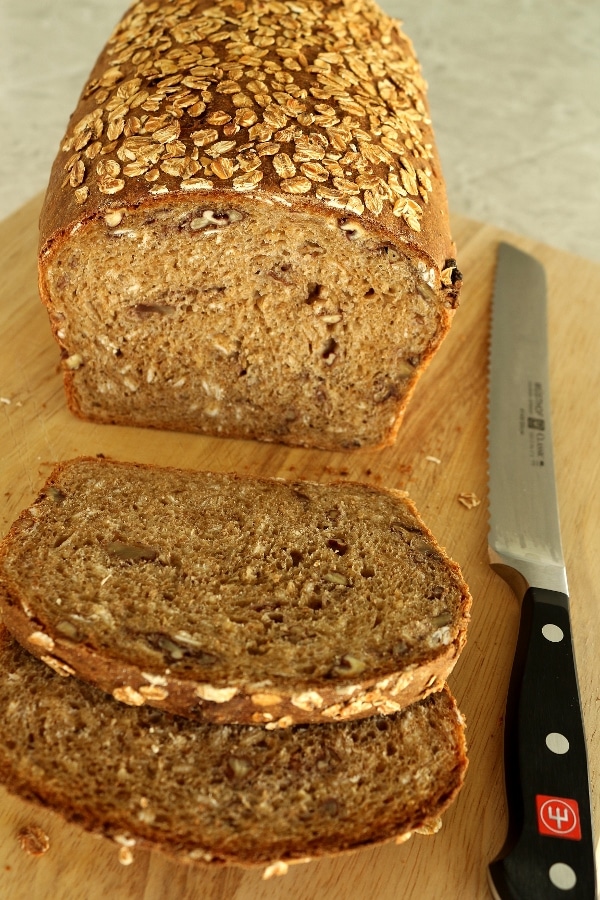 The original recipe is below. The only things I did differently were to slightly decrease the amount of molasses to 25 grams instead of 35 grams because I was using Blackstrap molasses which has a stronger flavor than regular molasses. I didn't want to take a chance of having the flavor be too strong.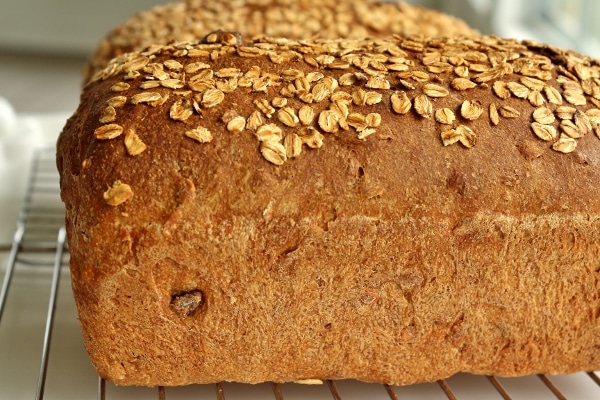 I also didn't use an old cast-iron pan to create steam. In the fine print of the book it mentions to use a pan you don't mind getting rusty, but that's not repeated anywhere else in the book.
I added boiling water into a regular small baking pan to create some steam. Spritzing water against the walls of the hot oven will also successfully create steam.
I DID bake my bread in the pans atop my preheated baking stone because the recipe encourages you to use it if you have one. I'm sure it helps get an even better crust by absorbing more heat into the pan than if it was simply on an oven rack.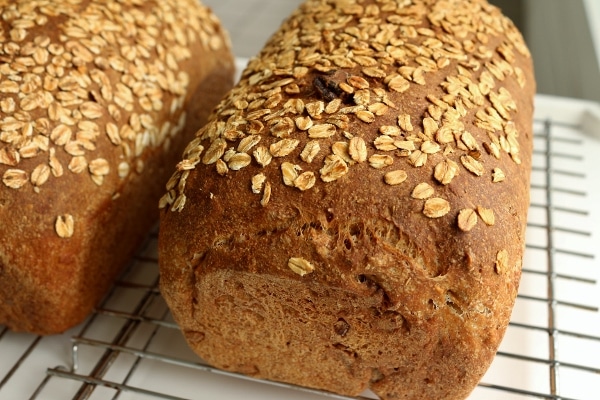 I'm very pleased with the results of this whole wheat sandwich bread with oats and pecans. It's a time consuming process to make it (mostly waiting for the dough to proof, etc), but it's definitely worth it.
You really yield so much more character in your bread if you take the time to make it yourself. This incredible bread is a perfect example of that.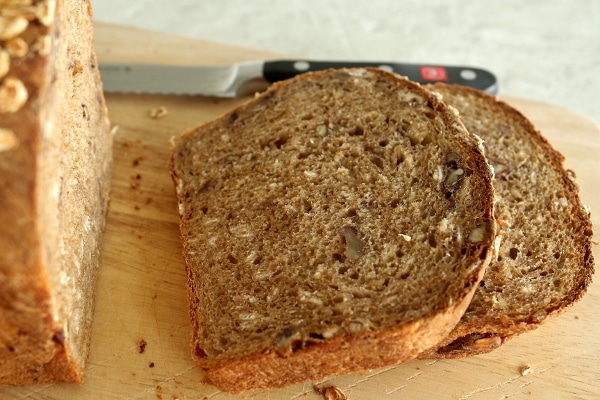 Other recipes you may like
Tried this recipe? Please leave a star ⭐️⭐️⭐️⭐️⭐️ rating in the recipe card below and/or a review in the comments section further down the page. You can also follow me on social media on Facebook, Instagram, and Pinterest!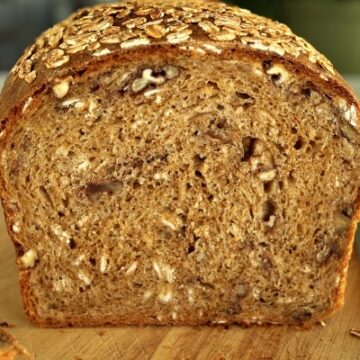 Whole Wheat Sandwich Bread with Oats and Pecans
This recipe for hearty wheat bread with oats hails from Amy's Bread in New York City. It's chock full of oats and pecans to make for a beautifully texture bread perfect for toast and sandwiches.
Print
Pin
Rate
Servings:
2
(9x5-inch) loaves (about 32 ½-inch slices)
Equipment
two 9 x 5-inch loaf pans, oiled
Ingredients
57

grams

(2 ounces / ¼ cup) very warm water (105º to 115ºF)

1

teaspoon

active dry yeast

524

grams

(18.48 ounces / 3 ½ cups) whole wheat flour

354

grams

(12.50 ounces / 2 ⅓ cups) unbleached bread flour

170

grams

(6 ounces / 2 cups) old-fashioned rolled oats

20

grams

(0.70 ounces / 2 tablespoons) kosher salt

622

grams

(22 ounces / 2 ¾ cups) cool water (75º to 78ºF)

340

grams

(12 ounces / 1 ½ cups) Biga Starter

(recipe follows)

42

grams

(1.50 ounces / 2 tablespoons plus 2 teaspoons) honey

35

grams

(1.23 ounces / 2 tablespoons) molasses

20

grams

(0.70 ounces / 2 tablespoons) canola or vegetable oil

227

grams

(8 ounces / 2 cups) pecan pieces, toasted

Extra oats

for topping the shaped loaves
Instructions
Combine the very warm water and yeast in a large bowl and stir with a fork to dissolve the yeast. Let stand for 3 minutes.

Whisk the whole wheat flour, bread flour, oats, and salt together in a medium bowl. Set aside.

Add the cool water, biga, honey, molasses, and oil to the yeast mixture and mix with your fingers for 2 minutes, breaking up the biga. The mixture should look milky and slightly foamy. Add the flour mixture and stir with your fingers to incorporate the flour, scraping the sides of the bowl and folding the dough over itself until it gathers into a shaggy mass.

Move the dough to a very lightly floured surface and knead for 7 to 8 minutes, until it becomes supple and elastic, using as little additional flour as possible. This dough should be very soft and moist but not mushy. If it feels too wet, add another tablespoon or so of bread flour as you knead. If it feels too stiff, add cool water 1 tablespoon at a time until you have a pliable dough. It will feel sticky in the beginning but become compact and elastic as you knead it. Put the dough back into the mixing bowl, cover with oiled plastic, and let rest for 20 minutes to relax and develop elasticity. You should be able to stretch it easily but you won't get a transparent sheet with this dough, because of the chunky oatmeal.

Spread out the dough in the mixing bowl and evenly sprinkle on the pecans. Press them into the dough, then pull the dough from the edges of the bowl and fold it in toward the middle. Knead the dough in the bowl until the nuts are evenly incorporated, 3 to 4 minutes.

Gather the dough into a loose ball, lift it up and oil the bowl, then place it back in the bowl, along with any loose nuts. Turn the dough to coat with oil, cover the bowl with oiled plastic wrap, and let it rise at room temperature (75º to 77ºF) for about 2 to 2½ hours, until it doubles in volume. When the dough is fully risen, an indentation made by poking your lightly floured finger deep into the dough should not spring back.

Gently remove the dough from the bowl and place it on a lightly floured work surface, pressing in any loose nuts. Divide it into two equal pieces and shape each piece into a log.

Spread a thin layer of the extra oats for topping on a flat plate or baking sheet. Use a pastry brush or plastic spray bottle to lightly moisten the top of each log with water, then roll the tops of the loaves in the oats. Place each loaf seam side down in one of the oiled 9 x 5-inch loaf pans. Cover with oiled plastic wrap and allow to proof for about 2 hours or until they have doubled in size (a finger pressed lightly into the dough will leave an indentation).

Thirty minutes before baking, preheat the oven to 450ºF. Prepare the oven by placing a cast-iron skillet and a smaller pan (a mini loaf pan) on the floor of the oven or on the lowest possible rack in an electric oven. Place an oven rack two rungs above the cast-iron pan, and if you have one, put a baking stone on the rack. Fill a plastic spray bottle with water. Fill a teakettle with water to be boiled later, and have a metal 1-cup measure with a straight handle available near the kettle.

Five to 10 minutes before the loaves are ready to bake, turn the water on to boil, and carefully place two ice cubes in the small loaf pan in the bottom of the oven. This helps to create moisture in the oven prior to baking.

When the loaves are ready, place the pans on the baking stone. (If you're baking without a stone simply slide the bread pans onto the empty oven rack.) Pour 1 cup of boiling water into the skillet and immediately shut the oven door. After about 1 minute, quickly spray the loaves with water, then shut the oven door.

After 20 minutes, reduce the oven temperature to 400ºF and rotate the loaves if necessary to ensure even browning. Bake them for another 25 to 30 minutes, until the loaves sound slightly hollow when tipped out of the pan and tapped on the bottom (an instant-read digital thermometer should register around 210ºF). The sides and bottom of the loaves should feel firm and slightly crusty. If the tops are browned but the sides are still somewhat soft, place the loaves directly on the stone or the oven rack to bake for 5 to 10 more minutes.

Cool the loaves completely on a wire rack before slicing. This bread freezes well, wrapped tightly in aluminum foil and a heavy-duty plastic freezer bag.
Notes
*Tips and Techniques from Amy's Bread*
We used unbleached bread flour with a protein content of 12.7% and regular whole wheat flour with a protein content of 14.5% for this dough. The biga was made with all-purpose unbleached flour with a protein content of 11.7%.
Use the same container for weighing/measuring the honey and molasses and the oil. Pour the oil into the container first, then pour the specified amounts of honey and molasses on top of the oil. When you add them to the ingredients in your mixing bowl, the sticky sweeteners will be released easily from the cup without sticking, giving a more accurate measure and an easier clean-up. (When using volume, measure the oil first, then use the same tablespoon to measure the honey and the molasses.)
If you want to duplicate the Whole Wheat Oat Pecan bread we sell in the bakery, add 290 grams/10.25 ounces/2 cups of golden raisins to the dough when you add the pecans; divide the dough into four equal pieces and shape them into bâtards before proofing and baking. You may have to bake two of the loaves on a sheet pan if they won't all fit on your baking stone.
You can also refrigerate this dough overnight and shape and bake it the next day. After mixing, let it rise for 1 hour at room temperature or until it looks slightly puffy but has not doubled, before refrigerating. The next day, let it rise for 2 hours at room temperature to warm and soften before shaping it.
Adapted from Amy's Bread: Revised and Updated
Nutrition
Serving:
1
slice
|
Calories:
203
kcal
|
Carbohydrates:
26
g
|
Protein:
6
g
|
Fat:
7
g
|
Saturated Fat:
1
g
|
Polyunsaturated Fat:
2
g
|
Monounsaturated Fat:
3
g
|
Sodium:
217
mg
|
Potassium:
41
mg
|
Fiber:
4
g
|
Sugar:
2
g
*All nutritional information is based on third-party calculations and should be considered estimates. Actual nutritional content will vary with brands used, measuring methods, portion sizes and more.*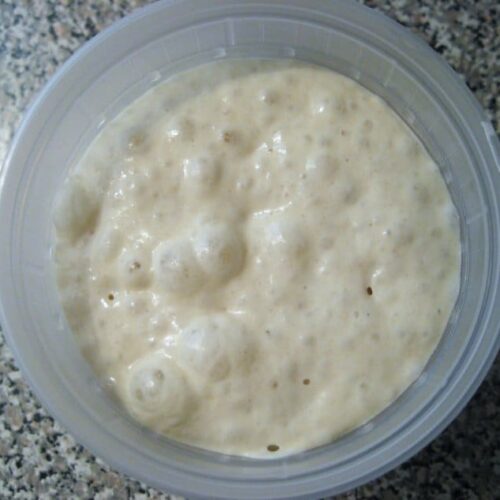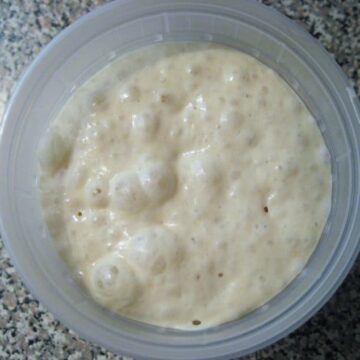 Biga Starter (Small Batch)
This simple starter is perfect for homemade bread making.
Print
Pin
Rate
Servings:
400
grams / 14 ounces / 1 ¾ cups
Ingredients
200

grams

(7 ounces / ¾ cup plus 2 tablespoons) very warm water (105º to 115ºF)

⅛

teaspoon

active dry yeast

227

grams

(8 ounces / 1 ½ cups plus 2 tablespoons) unbleached all-purpose flour
Instructions
In a medium bowl, mix the warm water and yeast together and stir to dissolve the yeast. Add the flour and stir vigorously with a wooden spoon for 1 to 2 minutes, until a smooth, somewhat elastic batter has formed. The batter will be fairly thick and stretchy; it gets softer and more elastic after it has risen. Scrape the biga into the container, mark the height of the starter and the time on a piece of tape on the side of the container so you can see how much it rises, and cover the container with plastic wrap.

Let it rise at room temperature (75º to 78ºF) for 6 to 8 hours. Or let it rise for 1 hour at room temperature, then chill it in the refrigerator for 8 hours or overnight. Remove it from the refrigerator and let it sit at room temperature for 3 to 4 hours to warm up and become active before use. Biga should more than double in volume. If you use the starter while it's still cold from the refrigerator, be sure to compensate for the cold temperature by using warm water (85ºF to 90ºF) in your dough, instead of the cool water specified in the recipe. Use the starter while it is still bubbling up, but before it starts to deflate.
Notes
*All nutritional information is based on third-party calculations and should be considered estimates. Actual nutritional content will vary with brands used, measuring methods, portion sizes and more.*