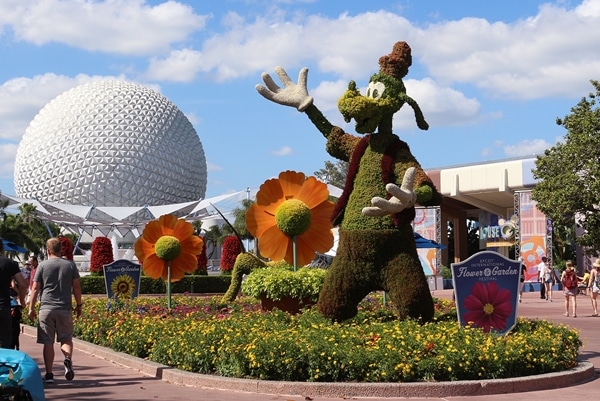 This spring I visited Epcot at Walt Disney World for my fourth International Flower & Garden Festival. I have enjoyed this event in 2013, 2016, and 2018 as well, and I can't recommend it enough. This is easily my favorite time of year to visit the park, as it's decked out in a kaleidoscope of colors from gorgeous flowers, gardens, and topiaries. This year's festival will wrap up on June 3rd.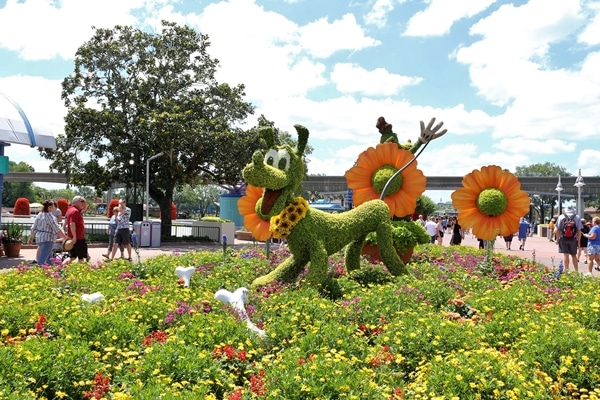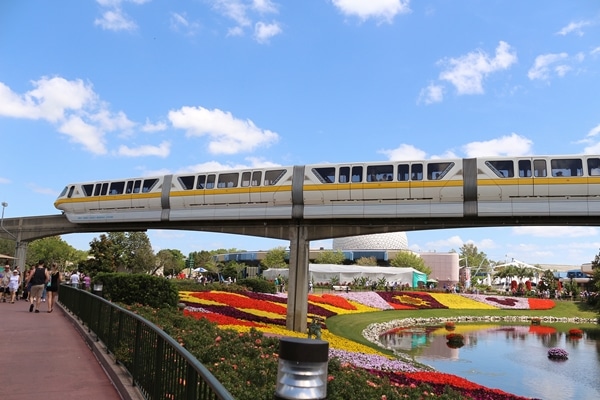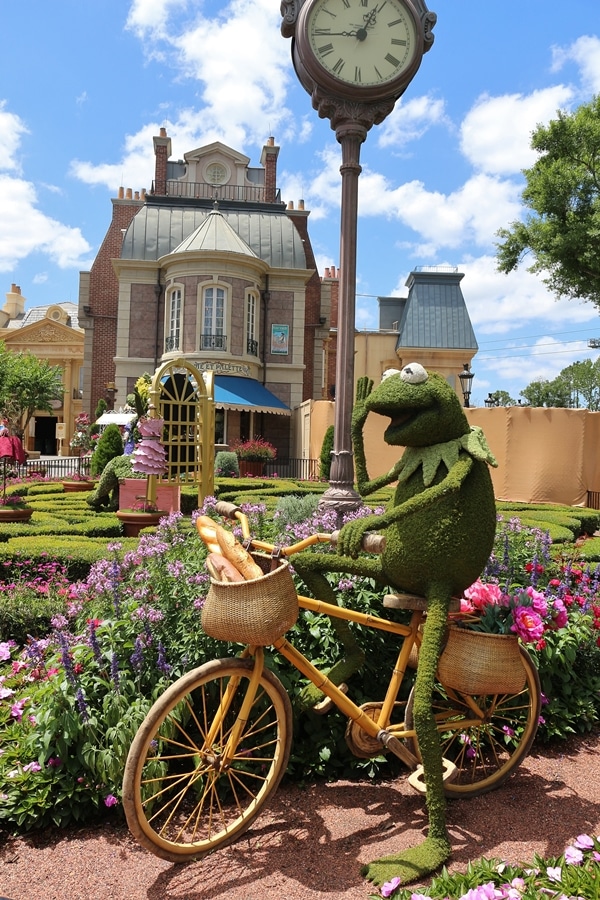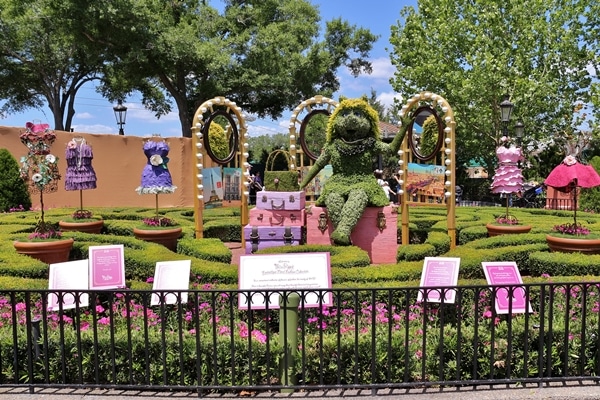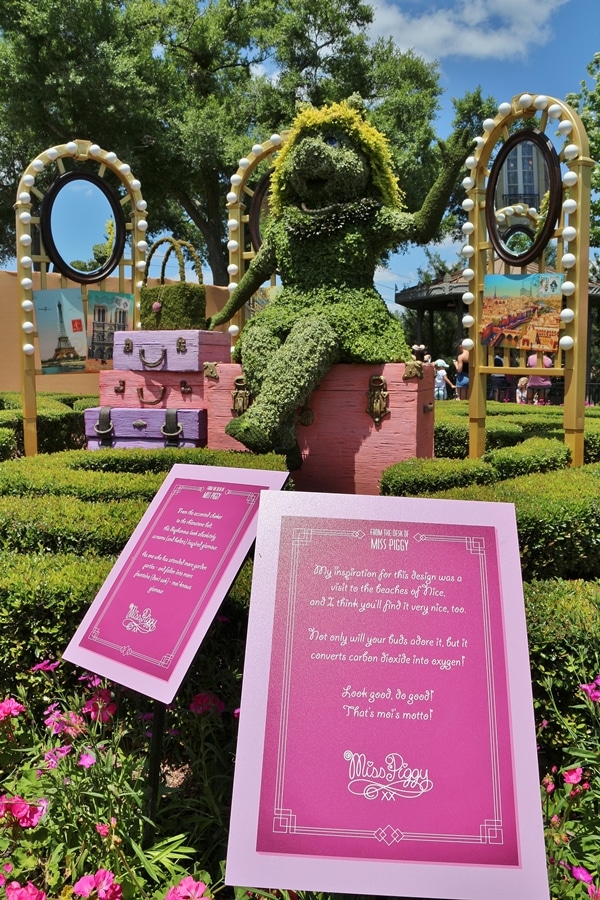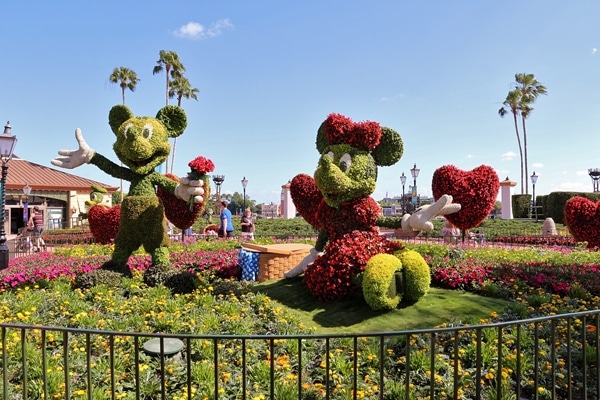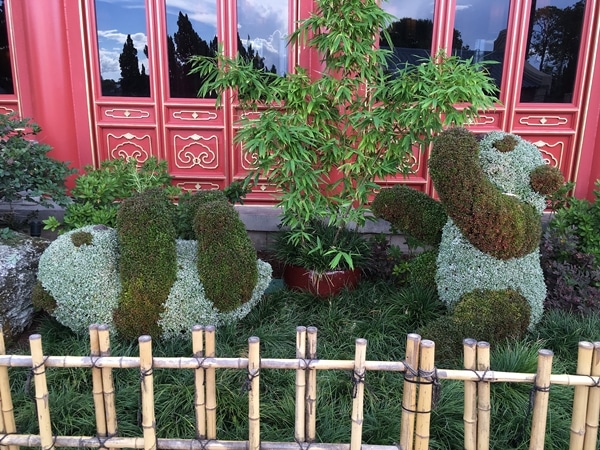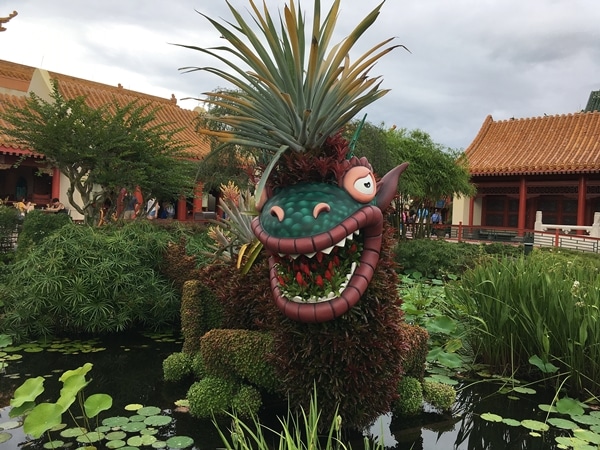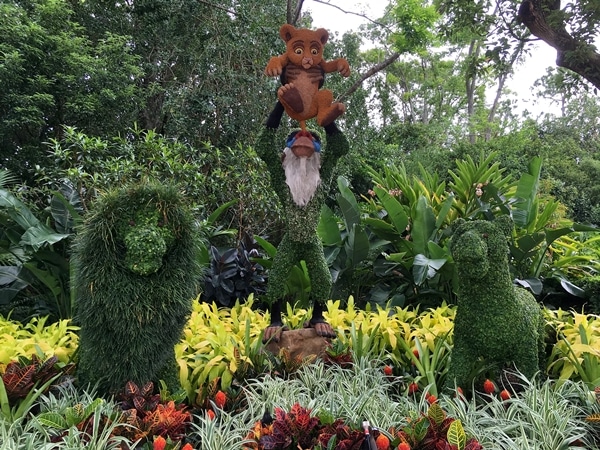 Although food is not the dominant feature of this festival, as it is with the Food & Wine Festival in the fall, the Flower & Garden Festival has its share of outdoor kitchens that serve up scrumptious bites from around the world. We sampled a few of these booths during our recent visit, as well as some other favorites in the World Showcase.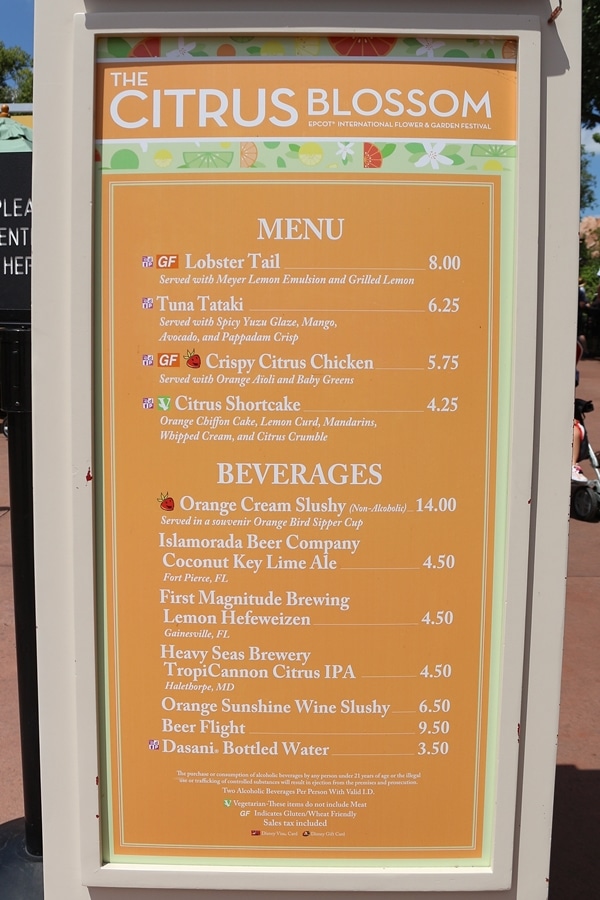 The first booth we checked out, The Citrus Blossom, was new to the festival this year. We sampled the crispy citrus chicken with orange aioli and baby greens as well as the citrus shortcake, a combination of orange chiffon cake, lemon curd, mandarins, whipped cream, and citrus crumble. Both were excellent. The chicken was perfectly breaded and fried with a citrus-infused creamy sauce and bright greens to round it out. The shortcake was light and refreshing, and not too sweet. We were quite happy with these selections.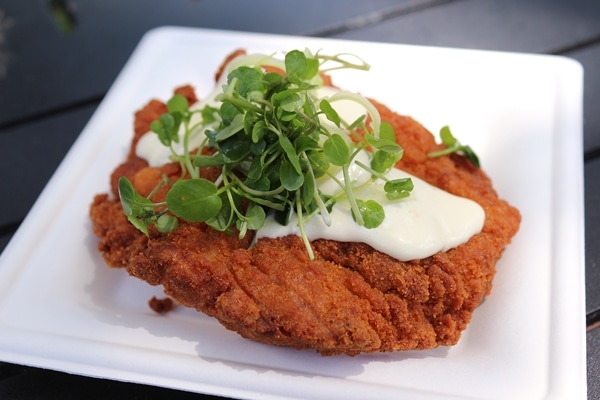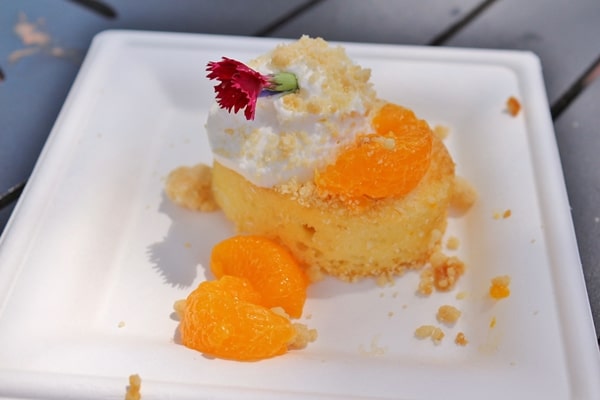 Next we visited the diagonally-adjacent booth, Refreshment Port, which was specializing in varieties of poutine this year. In retrospect I wish I had selected the standard poutine, but instead tried out the beef brisket poutine, which features beef brisket, beer-cheese sauce, poutine gravy, and fried onions.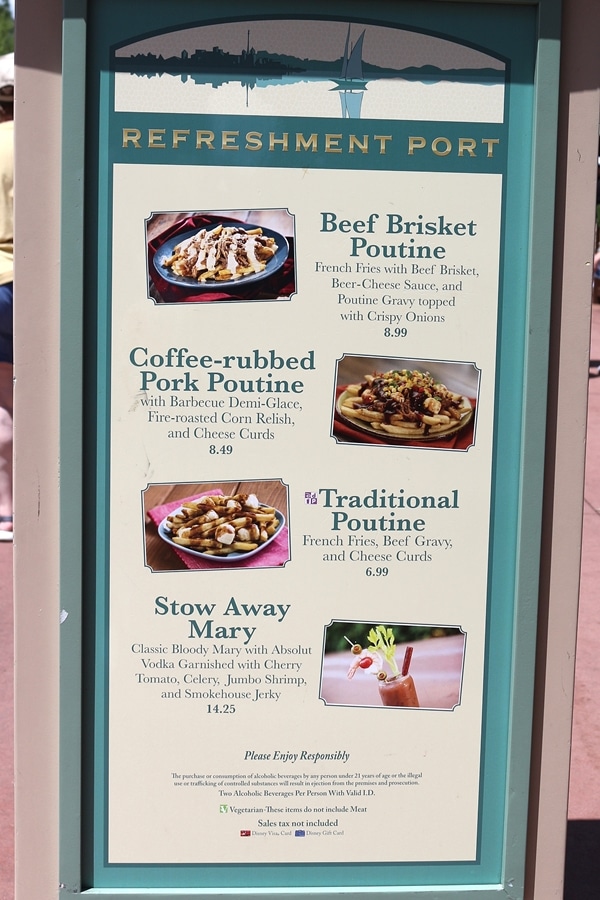 It was certainly not traditional, but rather an interesting take on cheese fries. I liked it overall, but found some bites of beef brisket to be a tad fatty for my taste. I was starving and easily inhaled my portion of the fries, but would likely pass on them in the future with other appetizing options throughout the other marketplace booths.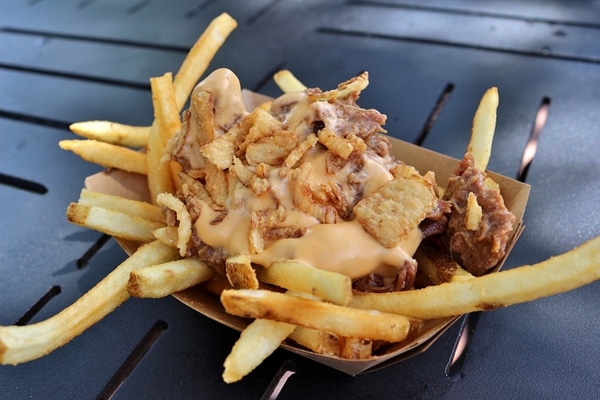 Before visiting our third and final booth during our lunch escapades this day, we visited the Yorkshire County Fish Shop, the quick service window in the United Kingdom Pavilion which specializes in fish and chips. We absolutely adore the fish and chips both here and at nearby
Rose & Crown Pub & Dining Room
. We couldn't resist this fish and chips interlude as we explored the World Showcase this afternoon.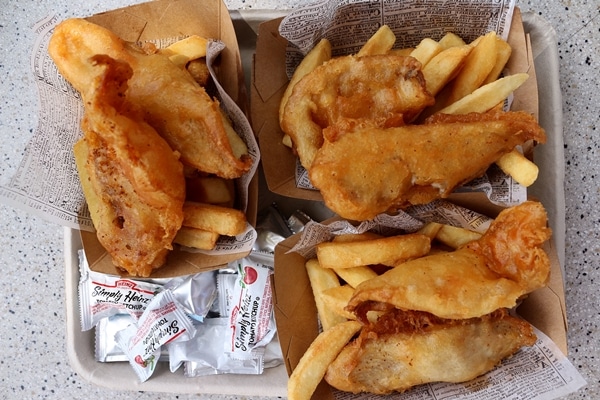 Our final marketplace booth, and rounding out our meal, was a visit to one of our favorites from year to year, Fleur de Lys located in the France Pavilion. The menu here is altered annually, but typically includes a savory tart of some kind on which we always indulge.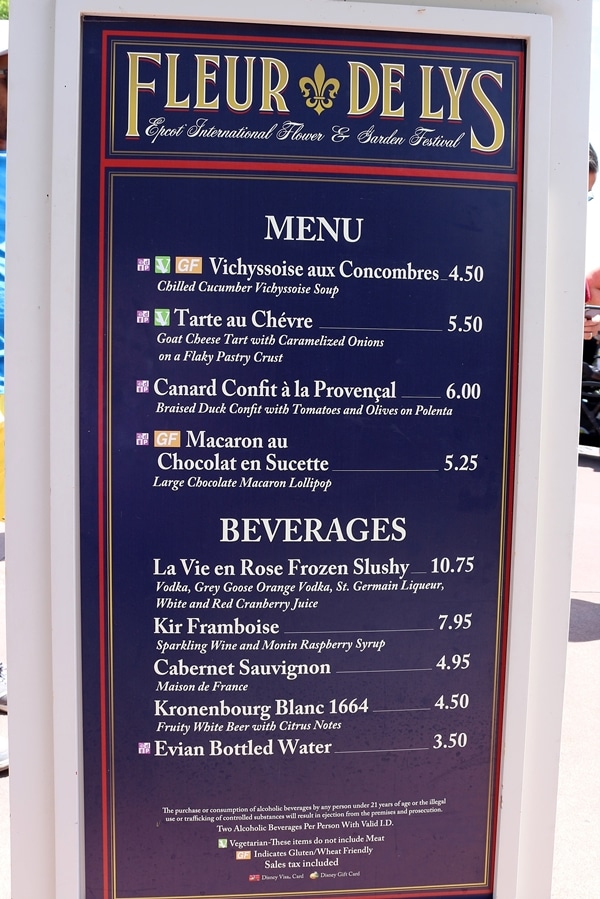 This year's tart is a tarte au chevre, a flaky puff pastry crust topped with caramelized onions and goat cheese. Holy fromage, my friends, this tart is the bee's knees! I have enjoyed every rendition of this tart during the years of my visits, and this is certainly one of my favorites!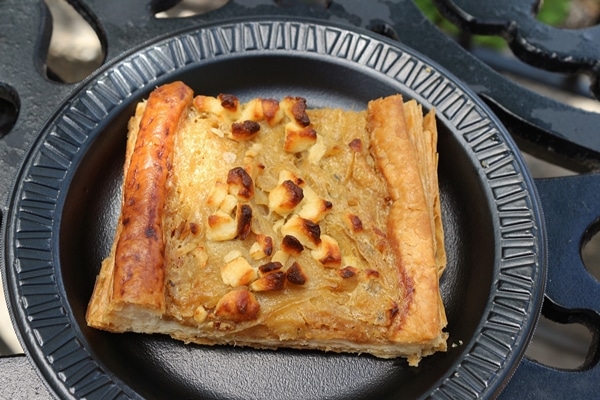 There were other booths on our list under consideration, but we were definitely stuffed at this point! We visited Epcot a second time during our visit, but didn't explore any of the other booths that particular day (we had other dining plans, which I'll share in another post).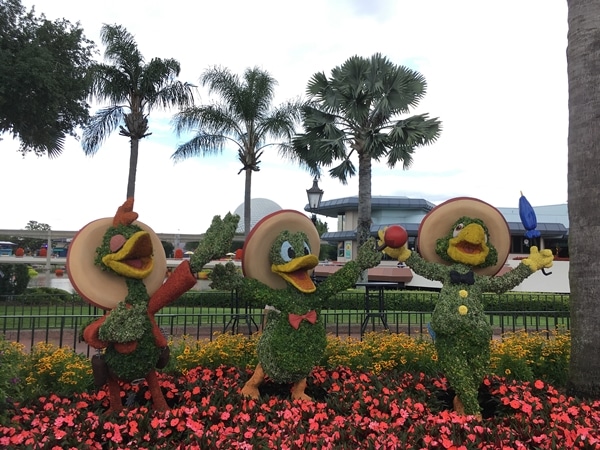 I will, however, share some bonus coverage from our second day at the park. We were extremely lucky to have planned our trip for that particular week, and a visit to Epcot on that particular day, because a week or so before our trip Disney announced that the U.S. Navy Blue Angels would be performing two passes over Spaceship Earth in honor of Military Appreciation Month this May. We actually spotted a couple of the pilots walking around Future World in Epcot upon our arrival to the park as we headed over to Test Track during Extra Magic Hours that morning!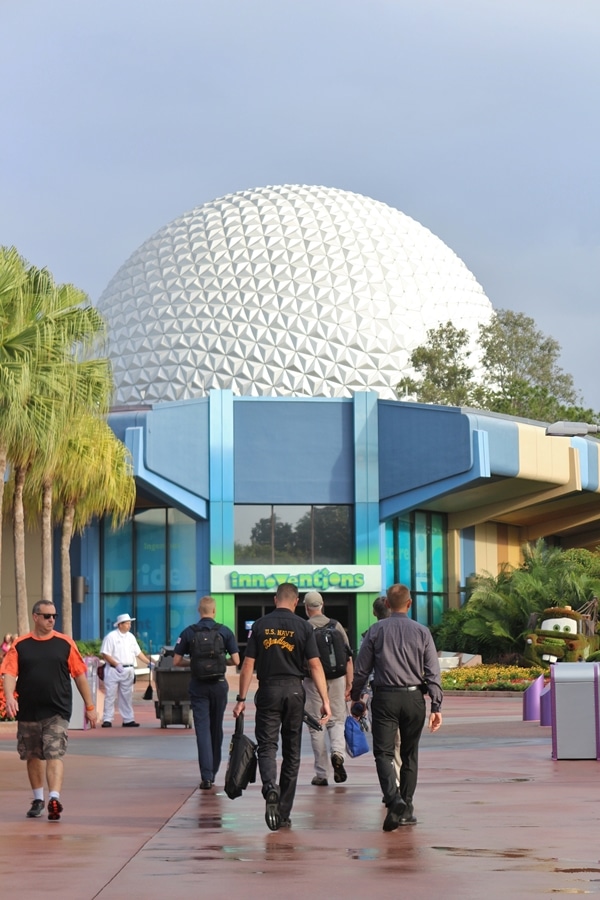 The flyovers were scheduled for around 9:30 am, and we arrived to the area in between Spaceship Earth and the World Showcase to stake out our spot about 40 minutes early. There was already a small crowd, and we parked ourselves close to the front where the professional cameras were set up. In retrospect I think we could have had even better views standing a bit further away, but hoped for less obstructive views if we were relatively close to the front of the crowd.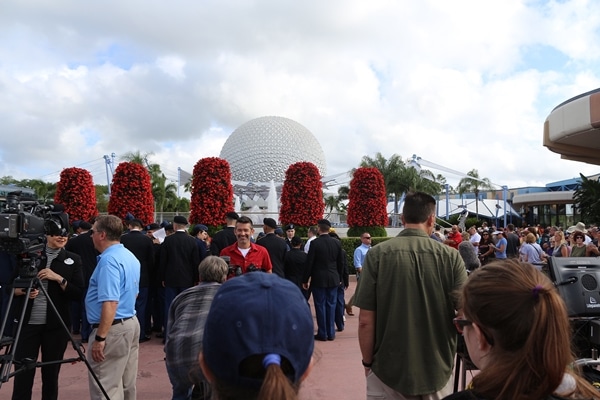 The 6 McDonnell Douglas F/A-18 Hornets executed two passes at 500 feet, and at speeds over 250 mph. The first was a tight formation flight, and the second a Delta break over the iconic Spaceship Earth attraction.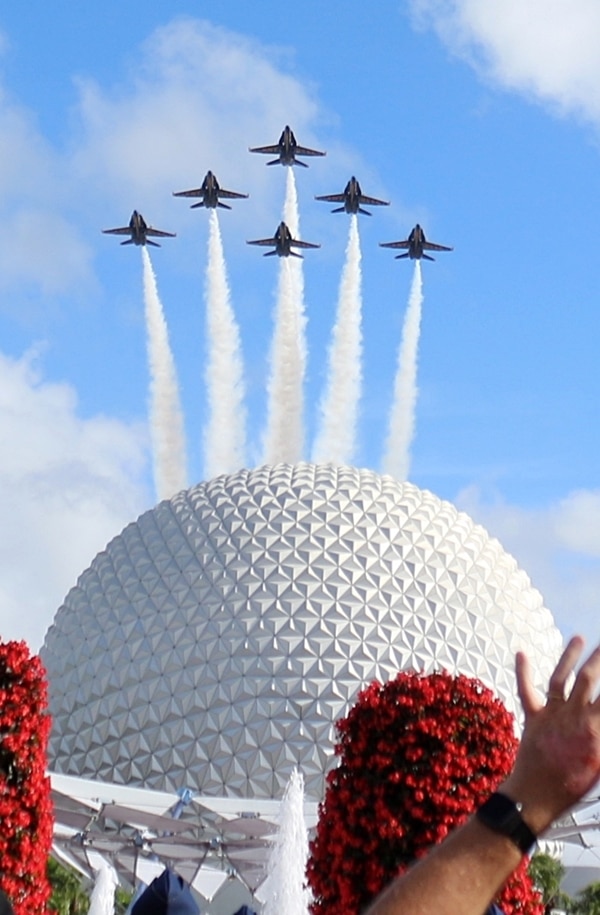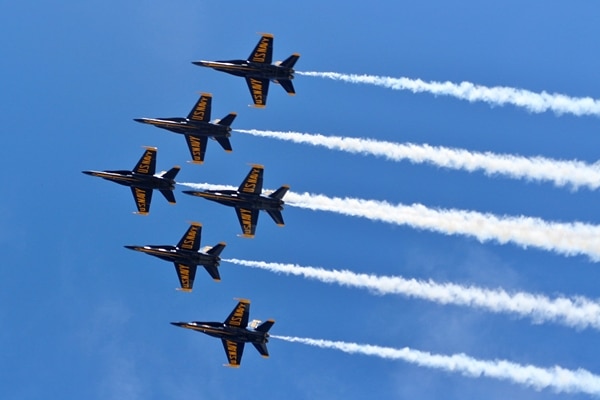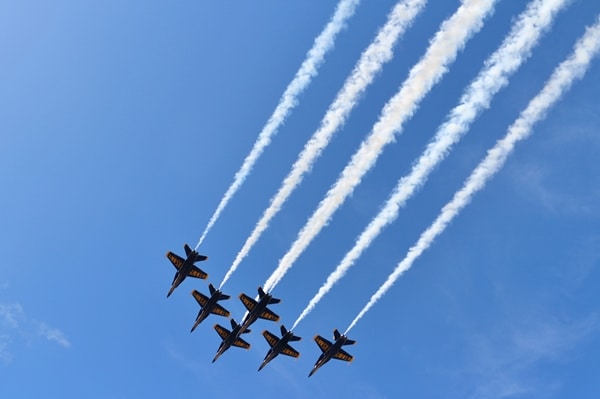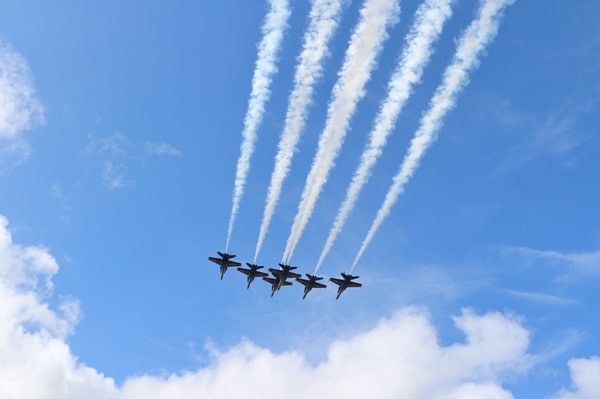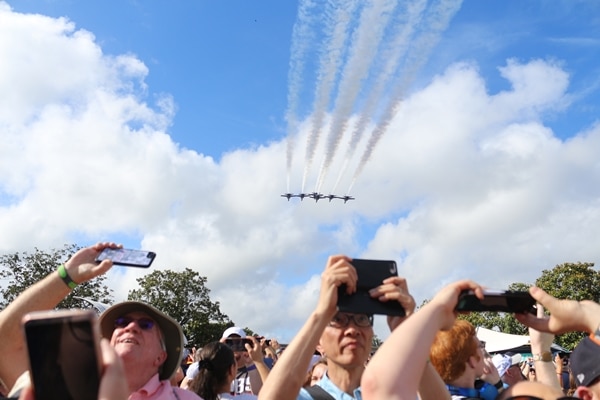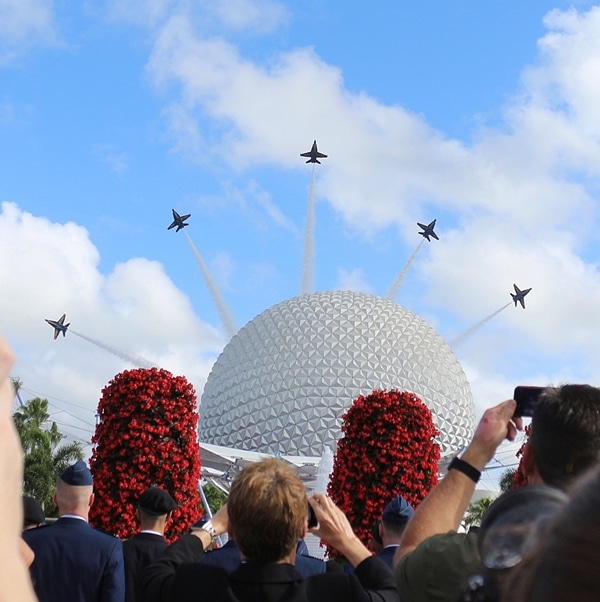 It was truly a magical experience being at Epcot for this! It really felt like the cherry on top of the sundae of an already incredible visit to one of our favorite theme parks during our favorite festival.
Related posts