I recently went on a press trip for Bacardi and visited the distillery in Puerto Rico. It was a really eye-opening experience. I knew very little about making rum before the trip, and I left feeling like an expert! I was reporting for The Daily Meal and wrote a couple of stories for the site based on my travels.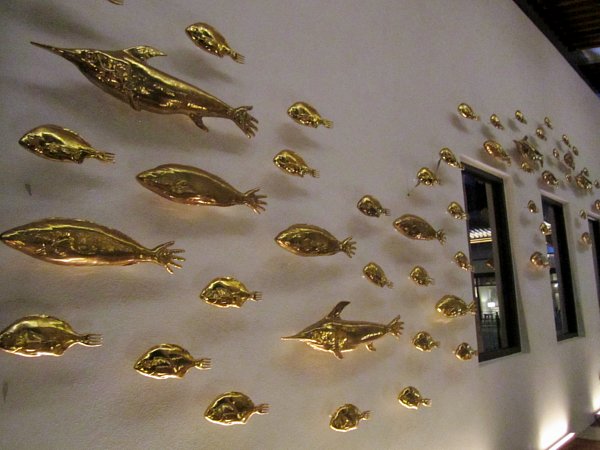 The first is a piece about how Bacardi makes rum. It includes a step-by-step slideshow as well! Once you learn about rum-making, you can read up on how to do a rum tasting with my second story for The Daily Meal. Both are very imformative pieces 🙂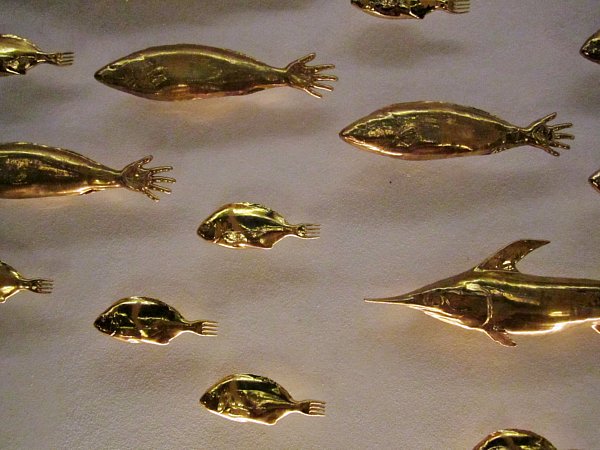 The trip wasn't all work, however (not like drinking rum is serious work, but you get my drift). We definitely made time to have some fun (laying on the beach, exploring Old San Juan, and ziplining in the rain forest!) and eat a lot of great food! My most exciting dining experience on the trip involved a trip to Dorado Beach, a Ritz Carlton Reserve in Dorado, Puerto Rico.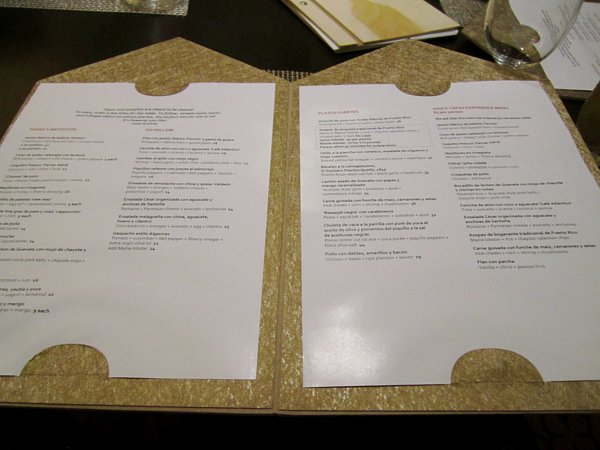 Picture this. You're in a taxi with your companions driving about 30 minutes out from San Juan. It's pouring rain, it's dark, and it looks like a jungle outside. You're pretty sure a Tyrannosaurus Rex is about to jump out of the palms and eat you. You think you see Jeff Goldblum lurking in the trees. Very Jurassic Park.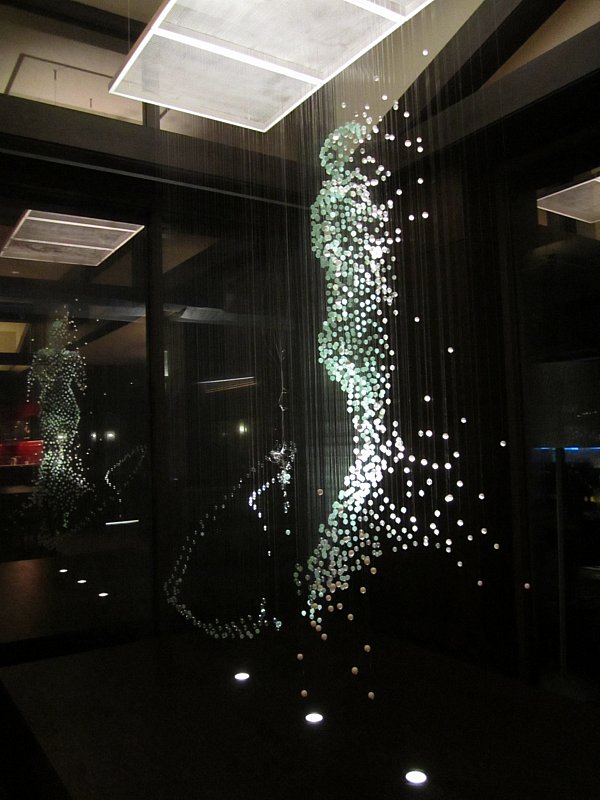 Your taxi driver is lost and, being a typical man, doesn't want to ask for directions. Finally, you turn back around and find the tiny illuminated sign that reads "Dorado Beach, a Ritz Carlton Reserve." You turn at the sign and continue to drive for what feels like an eternity through rows and rows of brightly lit palms. Finally, you arrive at one of the most beautiful hotels you've ever seen. Even in the rain. In the dark. With a T-Rex on your tail.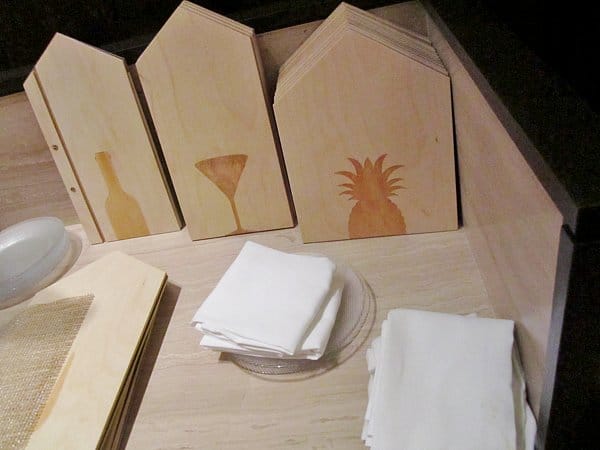 You realize you could never afford to stay here. Ever. But you feel pretty fancy being dropped off and escorted into the very open and airy outdoor pavilion to check in for your dinner reservation at Mi Casa by José Andrés. Yes, I said José Andrés. One of the best chefs in the world. He recently (as of December) opened a restaurant in Puerto Rico, and it is a must-try for any foodie visiting the area.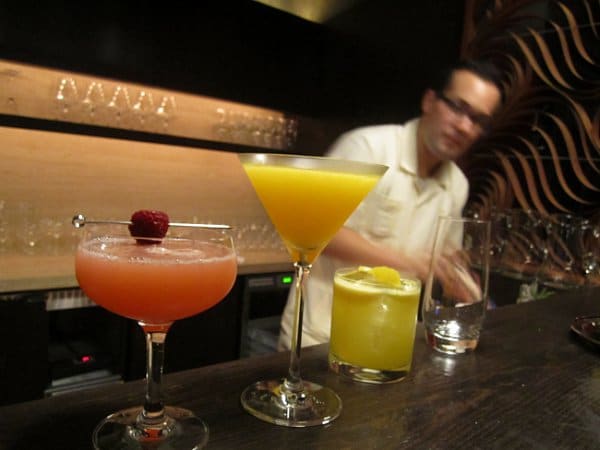 We started out in the bar sampling some specialty cocktails. Although there were many tantalizing options, I elected to try a classic: a dark and stormy made with homemade ginger beer.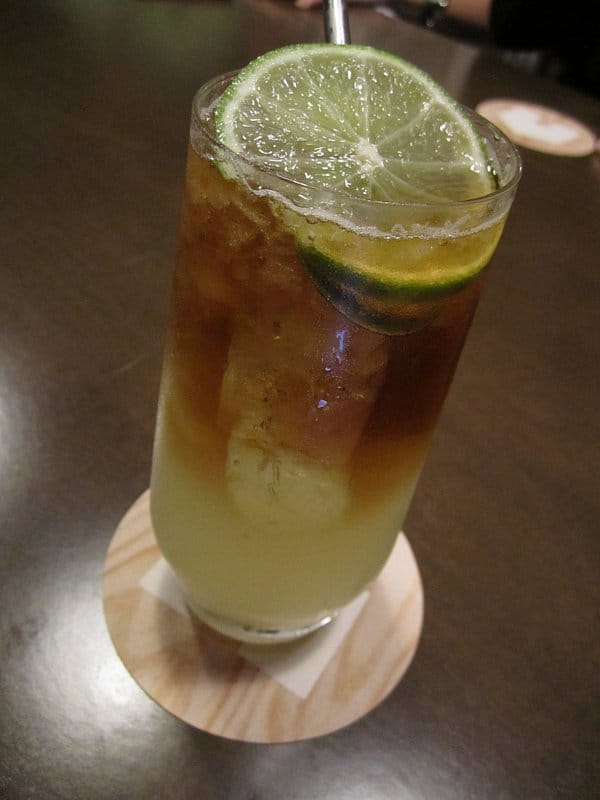 It was refreshing and very tasty. All of my companions loved their cocktails as well. They are all very inventive and beautifully executed.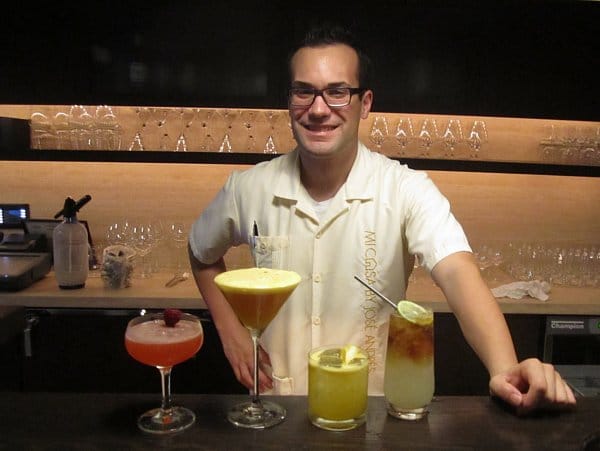 We were escorted (along with our drinks) to a table in the main dining room. A large tank of Caribbean lobsters featured a key ingredient for one of our dishes later in the evening.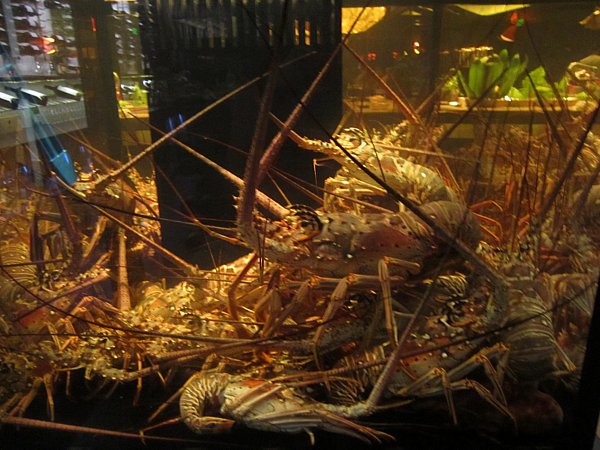 A room lined with wine bottles was another attraction while entering the dining room along with a beautiful red chair straight out of a David Lynch film.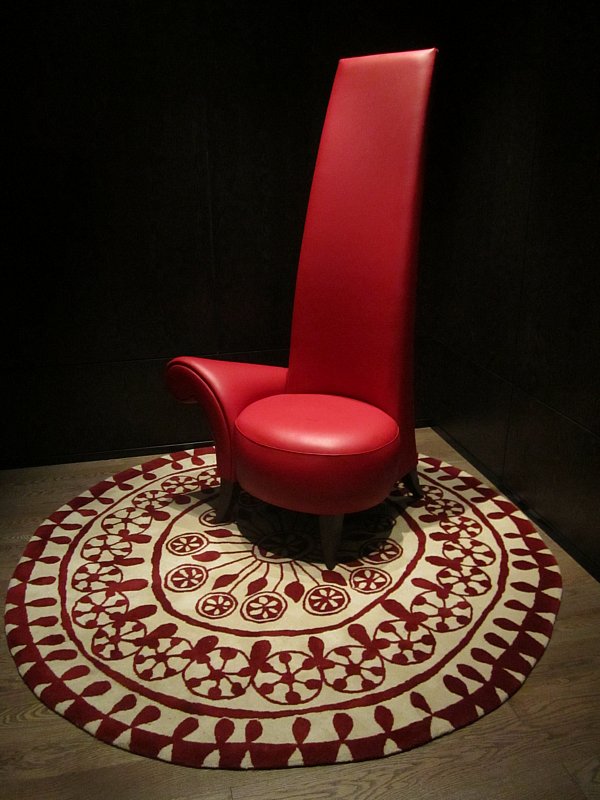 The main dining room is reasonably sized but not too big, and features a small additional private dining room with a refreshing backdrop.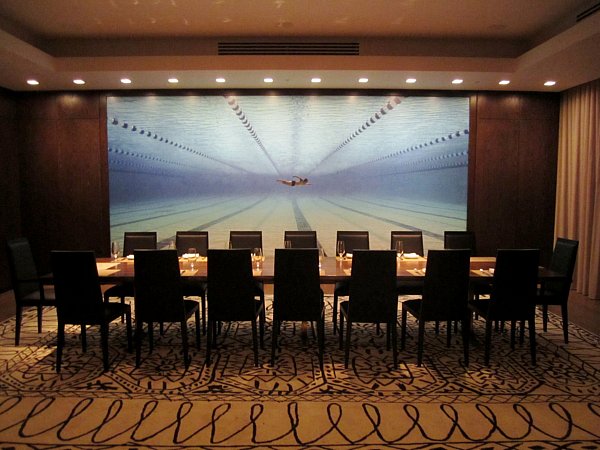 You can tell that a lot of thought and planning went into this restaurant space. It is undoubtedly very beautiful with a great open layout.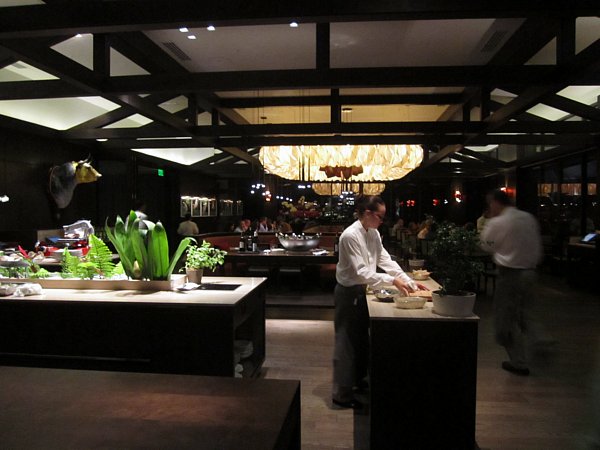 Even the menus are shaped like houses, and at the end of the meal a house-shaped box holding your check is brought to your table. Very clever!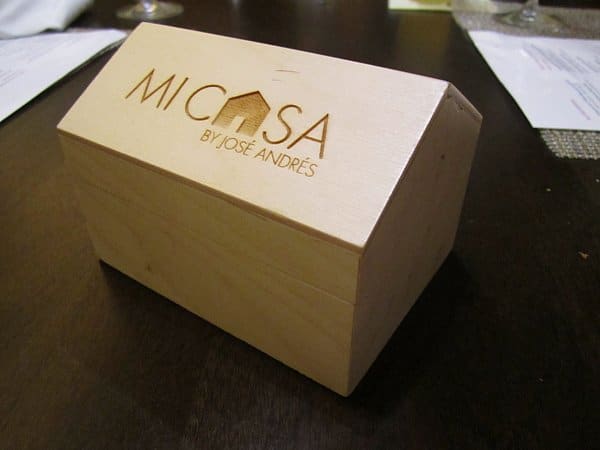 Our table decided to partake in the "Experience" menu (essentially a tasting menu) for $85 per person. We also added on another dish that we were anxious to try. The food arrived in waves of shared platters, with the exception of the last few courses which were not shared. Here is a run down of the many flavors we experienced with the Experience menu.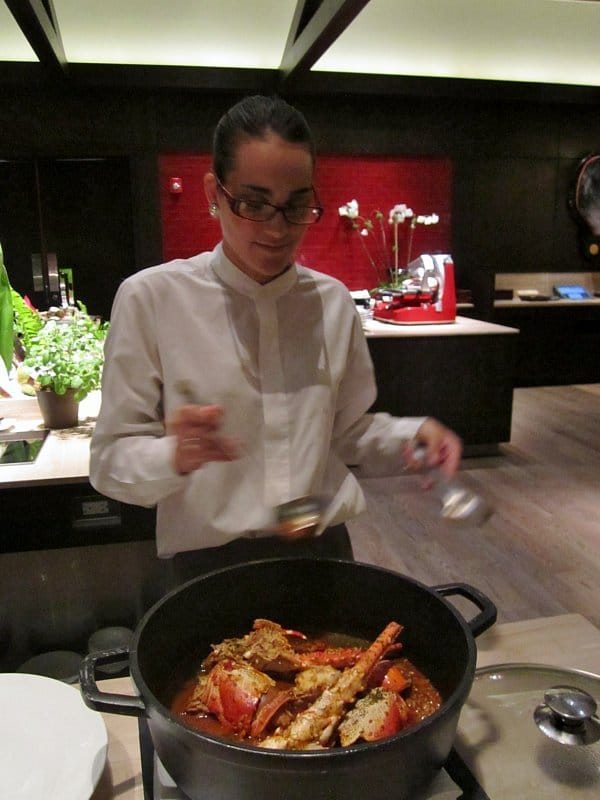 Jamón ibérico de bellota 'Fermín': Cured acorn-fed Spanish ham + tomato bread. This tomato bread is something I've actually made before in my kitchen. It's pretty straightforward, but never boring. Accompanied by the tender and salty ham, it was especially fantastic. The ham is quite expensive if ordered à la carte (a 1 oz portion is $22).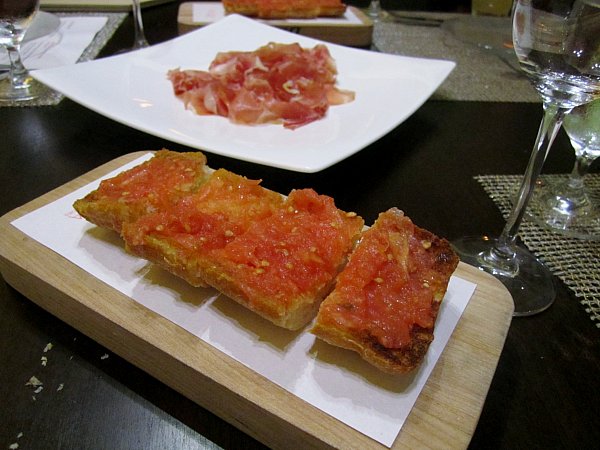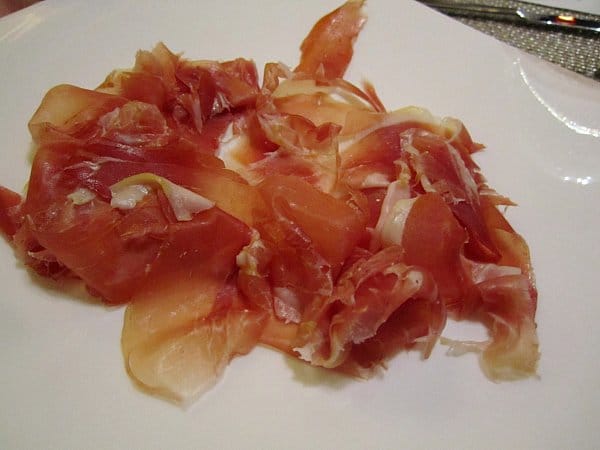 Cono de queso cañarejal con lechoza: Brik pastry + sheep's milk cheese + green papaya. These adorable little cones are topped with hazelnut shavings and feature a creamy and slightly sweet filling. I enjoyed the flavors and textures of this dish, but it was such a small bite, I'd definitely appreciate another 🙂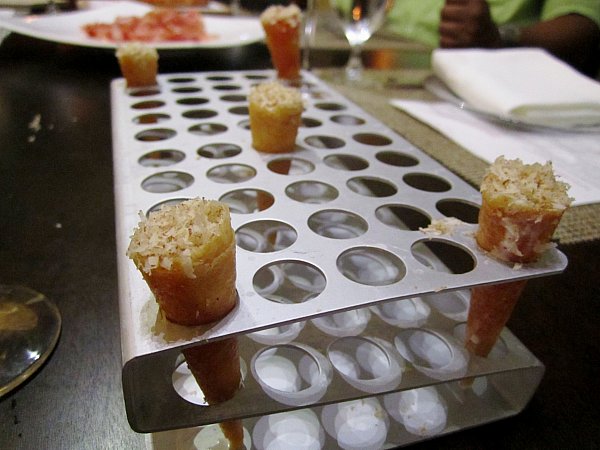 Coquitos frescos 'Ferran Adrià': Coconut + mint + lime. This was a really unique experience. A fresh coconut half is filled with a rum-spiked mixture of coconut water, mint, and lime. Small balls (filled with the same liquid, I'm assuming) are somehow contained in a thin membrane which essentially pops in your mouth releasing the flavored liquor. This dish serves as a palate-cleanser. We had some mixed feelings about the flavors, but I think the concept is really unique and the presentation is lovely.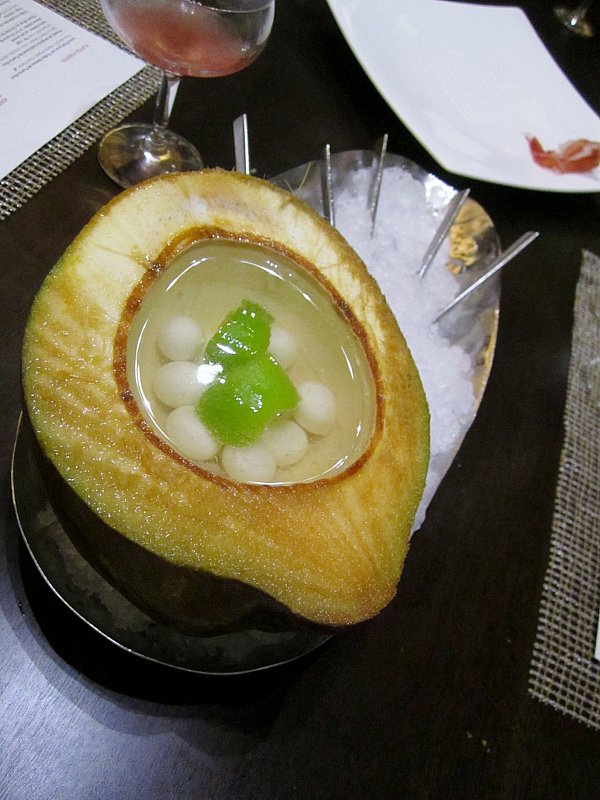 Mallorca con hígado de pato y mango: Mallorcan sweet bread + foie gras + mango. This course was our add-on. It was not included on the tasting menu, but was absolutely worth it! The extreme richness of the foie gras is offset beautifully by the sweet mango and wrapped up perfectly in what is essentially a tiny sandwich. This was a very tasty excursion from our set Experience menu.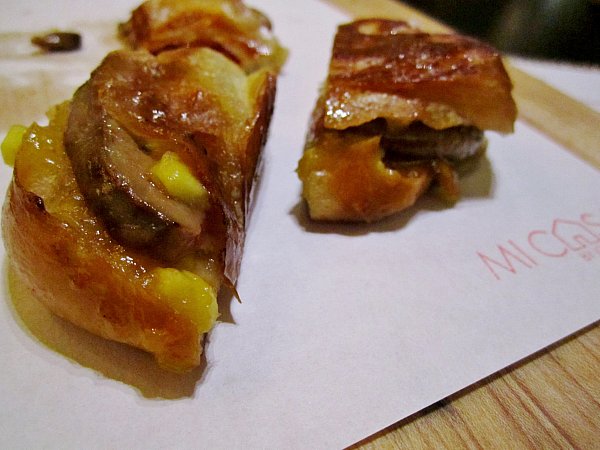 Mejillones en vinagreta: Mussels + honey + Sherry dressing. I thought this presentation of raw mussels was lovely. The mussels themselves were very tender and topped with a delicately acidic and flavorful escabeche "air." It also contained some finely chopped vegetables to add a bit of texture and additional layers of flavor.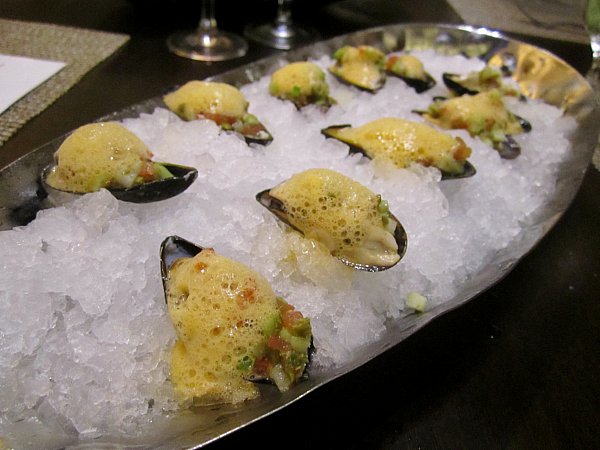 Ostras 'piña colada': Oysters + pineapple + coconut + rum. I actually really loved this dish. A couple of my fellow diners weren't super impressed. They felt that the piña colada foam didn't have much flavor, but I thought that the briny oyster married with the sweet and acidic chopped pineapple was a marriage made in Heaven. I happily would have eaten more of these oysters. Very well done, in my opinion 🙂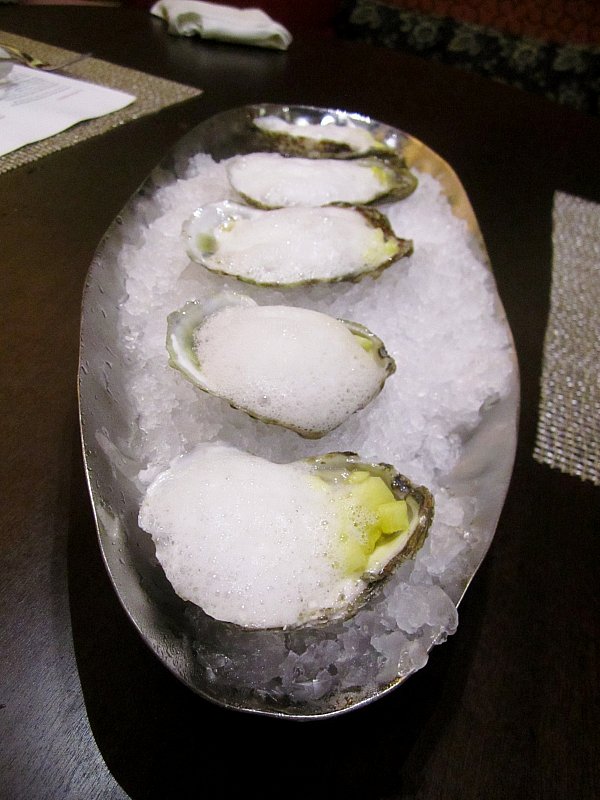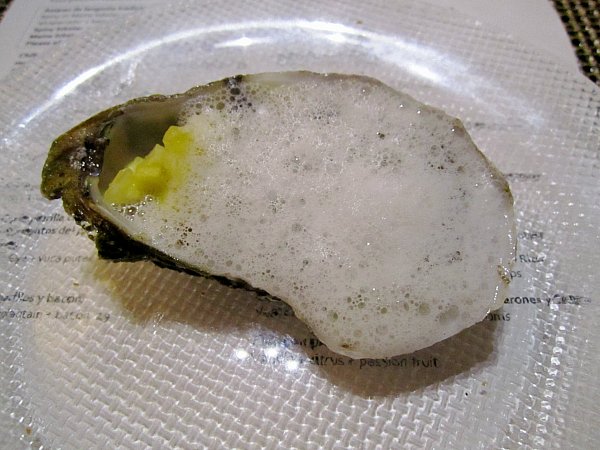 Croquetas de pollo: Chicken + béchamel. This crunchy and decadent croquetas were served in an acrylic shoe. Seriously. This was one of my favorite presentations of the entire evening. Not only was it whimsical and playful, but the croquetas themselves were phenomenal. The exterior was perfectly crisp while the filling was luscious, creamy, and rich, studded with small bites of chicken. I would eat a million of these if I could. Hands down one of my favorites of the night.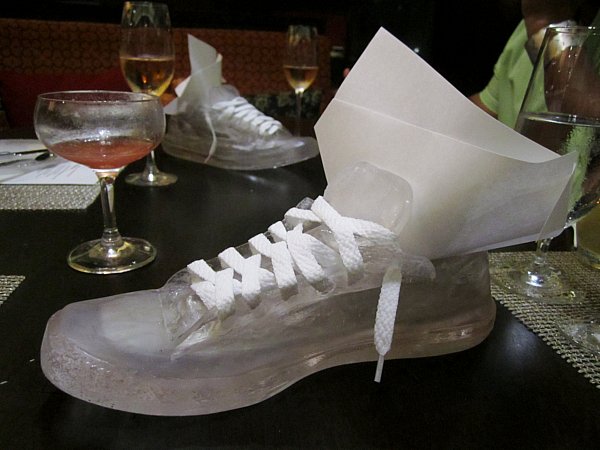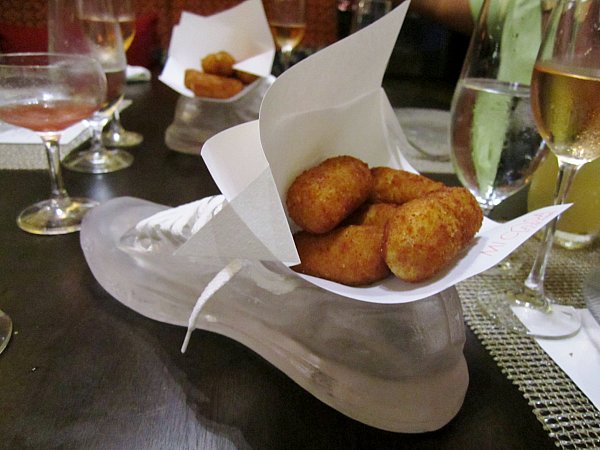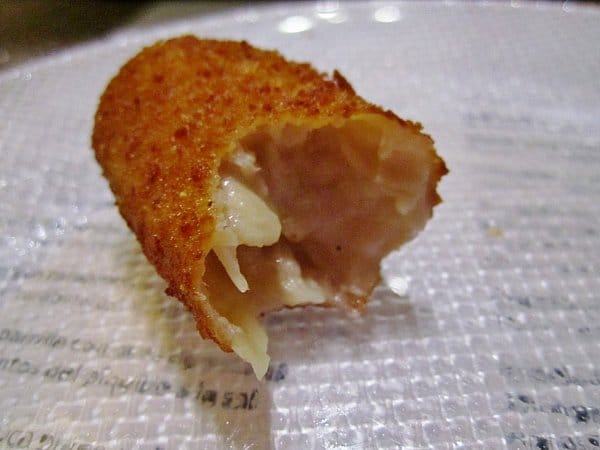 Bocadillo de lechón de Guavate con mojo de chayote y chicharrón volao: Steamed bun + Guavate-style pork belly + chayote mojo + pork rinds. This was another favorite from the night. Small rounds of fried bread were filled with absolutely tender pork belly and crunchy chicharróns. The combination of textures, from the unctuous pork belly to the crunchy chicharróns was nicely offset by the chayote mojo. This was a really lovely bite of food. Again, would have enjoyed more of these!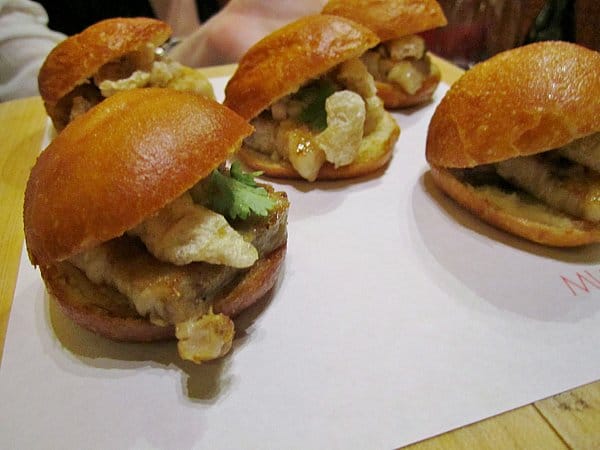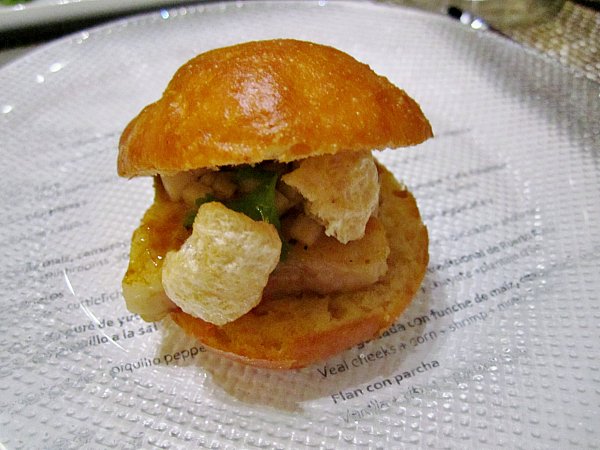 Ceviche de atún con coco y aguacate 'Café Atlántico': Tuna + avocado + jicama + coconut + quinoa. One of my favorite flavor combinations is raw tuna and avocado. This dish is nicely presented and boasts great, but mild, flavors. It's a nice transition from some of the heavier dishes featured on the menu. I especially loved the crunchy quinoa sprinkled on top. It added a really great texture that mimicked bread crumbs in a way, but was a lot more creative and of course healthier.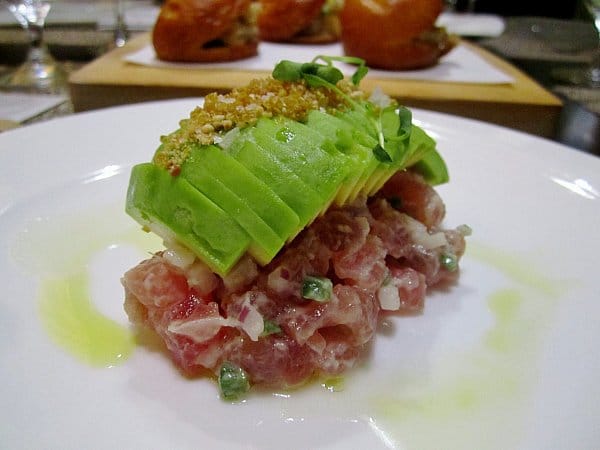 Ensalada César organizada con aguacate y anchoas de Santoña: Romaine + Parmesan cheese + avocado + anchovies. This was the last shared course on the experience menu. Essentially, these rolls encompass a deconstructed Caesar salad. Each is filled with lettuce and topped with a key component of a classic Caesar. I thought this was really inventive and, like the others, beautifully presented. Since we only got 2 rolls each, we didn't get to experience all 3 of the deconstructed toppings, but alas, it still hit the nail on the head.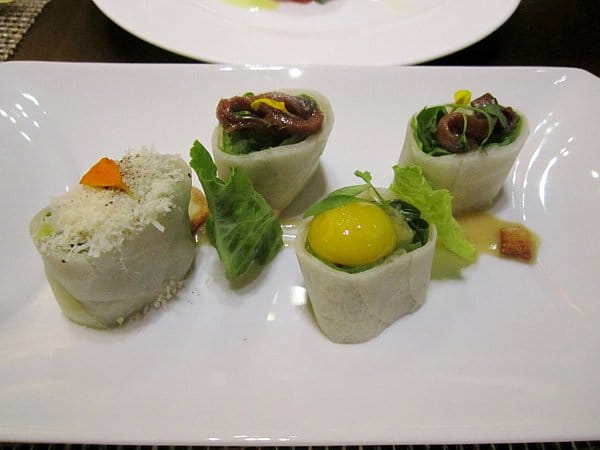 Asopao de bogavante tradicional de Puerto Rico: Maine lobster + rice + chayote +plantain chips. Remember the Caribbean lobsters hanging out in the fish tank? Yeah, this is their final resting place. Essentially, it's a lobster and rice stew, a play on a more traditional Puerto Rican rice soup. The stewing pot is presented tableside and then returned to a plating area to serve into individual dishes. I thought the aromas and flavors of this dish were incredible. The rice still had a great texture and the lobster was perfectly cooked. It was literally the perfect dish for our rainy day by the beach!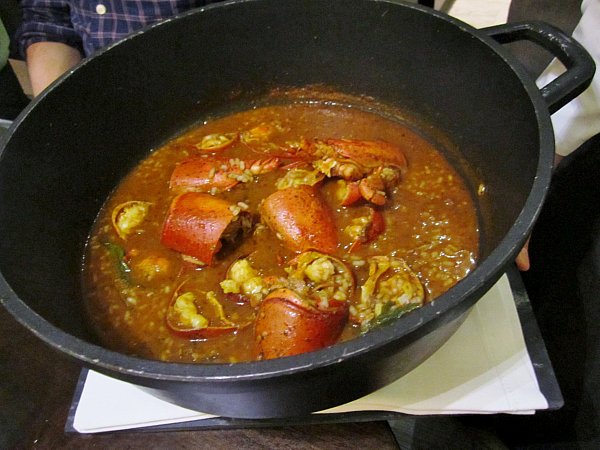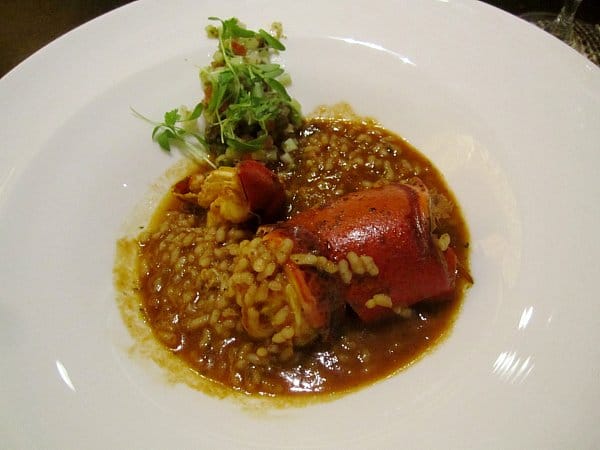 Carne guisada con funche de maíz, camarones y setas: Veal cheeks + corn + shrimp + mushrooms. I know I said that some of the previous dishes were favorites, but if I had to pick only one favorite dish from the evening, it would be this one. The veal cheek was mind-blowingly delicious and super tender. A decadent corn puree/polenta topped with shrimp and mushrooms was the perfect accompaniment. It added a touch of sweetness to an otherwise rich and unctuous main dish. This dish also utilized the crunchy quinoa that was featured in the ceviche dish. I loved this added texture here as well. One of my greatest regrets in life (seriously, in my whole life!) is that I was so ridiculously full by this point that I left a couple bites on my plate. I still wistfully think of them and kick myself for my stomach's failure to finish what it started.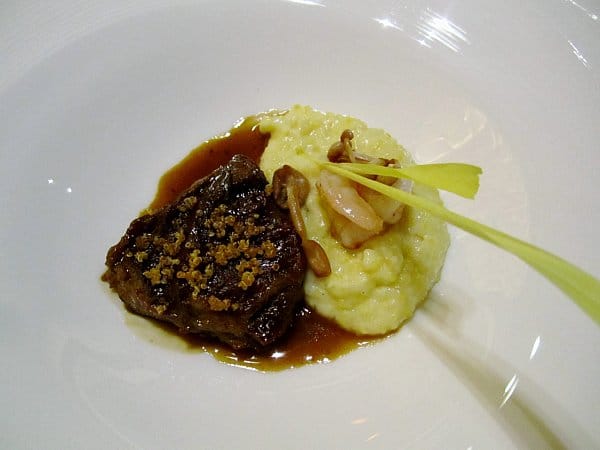 Flan con parcha: Vanilla + citrus + passion fruit. This dessert is included with the Experience menu. I was so full by this point (see previous paragraph) and it was also nearly 1am at this point, that I only tried one bite. It had a very mild passion fruit flavor. I couldn't really pinpoint it myself (I'm not even sure I was fully conscious by now), but the flan itself was well-done.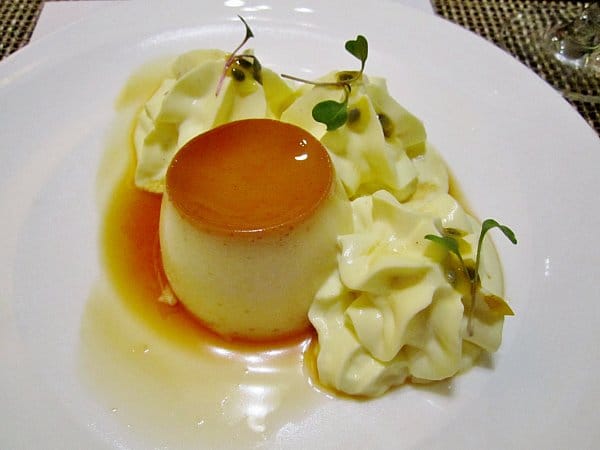 "Mi Casa": Chocolate + hazelnut + olive oil + salt. Even though it's not typically a part of the Experience menu, we also got to try this dessert featuring a chocolate ganache house. As a chocolate-lover, this was my favorite of the 2 desserts I tasted. It was worth the pain that followed after having already eaten way too much 🙂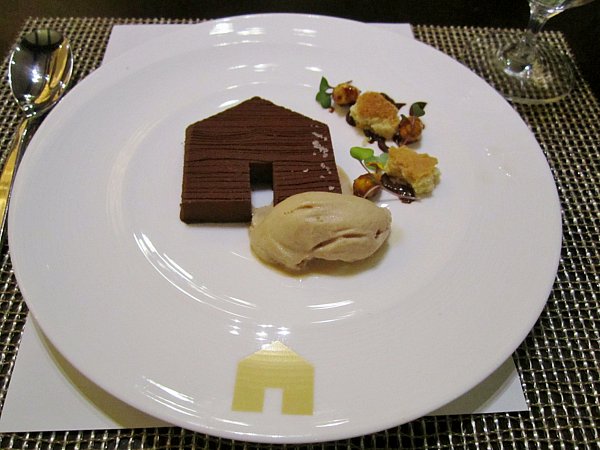 Dining at Mi Casa is an incredible experience. Honestly, I think the $85 Experience menu is a tremendous bargain compared to other comparable tasting menus I've seen and tried myself. Overall, the menu was really inventive, featuring spins on traditional Spanish and Puerto Rican fare in a fine dining environment. The staff is extremely professional and helpful. The facilities are lovely. I can honestly say that taking a trip to Dorado to visit Mi Casa is worth it for anyone who appreciates great food.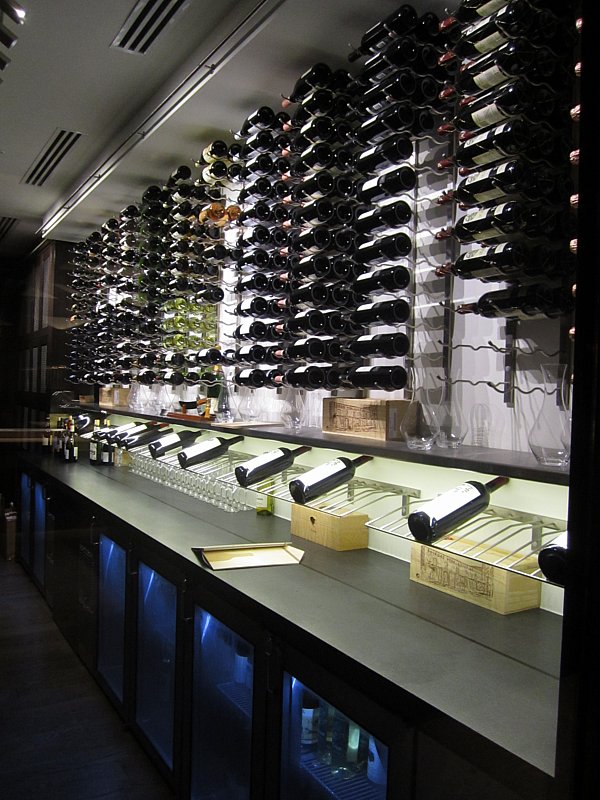 My Casa by José Andrés
Dorado Beach, a Ritz Carlton Reserve
100 Dorado Beach Drive
Dorado, Puerto Rico 00646
(787) 626-1100
https://www.ritzcarlton.com/en/Properties/DoradoBeach/Dining/MiCasa/Default.htm