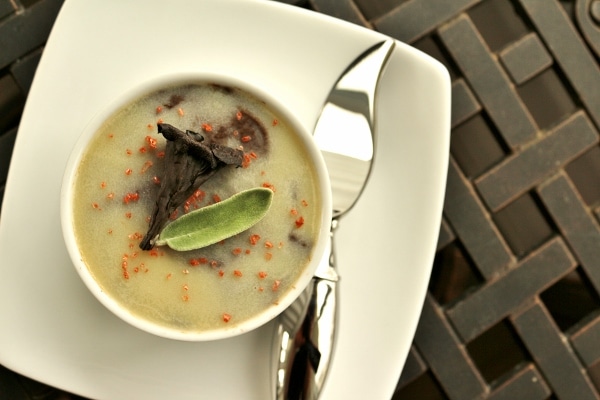 When I was little, I was the pickiest eater on Earth. I wouldn't eat anything green or anything with a weird texture. Mushrooms were not on the menu for me, but over time I've developed a taste for all the things I hated as a child, and mushrooms definitely top the list.
It sounds cliche, but I've never met a mushroom I haven't liked. My experience with mushrooms is still limited to many of the more common varieties (I've never even SEEN a Lion's Mane mushroom), but each variety I've tried has won over my heart in spades.
I recently received a review copy of Shroom: Mind-bendingly Good Recipes for Cultivated and Wild Mushrooms by Becky Selengut. The clever title referring to those mind-bending "alternative" mushrooms was not lost on me, and I thought it was a playful approach to the subject of the book.
Each chapter is devoted to a different type of mushroom, and begins with a fact sheet followed by five recipes organized from simplest to most challenging. The book also contains excellent advice on cleaning and storing mushrooms, as well as a fun "What Mushroom Are You?"quiz.
A few of the mouth-watering 'shroom recipes that top my list to try include Oyster Mushroom Ragout with Cognac and Herbs; Spicy Black Bean, Poblano, and Oyster Mushroom Burgers with Red Onion Jam; Oyster Mushroom and Corn Empanadas with Charred Poblano and Pumpkin Seed Sauce; Dan Dan Noodles with Shiitakes, Pork, Pickled Mustard Greens, and Spicy Chili Oil; Black Trumpet Pâté with Sage and Marsala; and Black Trumpet and Roasted Poblano Chilaquiles with Crema.
In an interview, Selengut lists her three favorites as the pâté, the Dan Dan noodles, and the chilaquiles--all of which easily made it to my own to do list of recipes. Starting off the bat, I made two of them.
The first was the Dan Dan Noodles with Shiitakes, Pork, Pickled Mustard Greens, and Spicy Chili Oil. I used rehydrated dried shiitakes instead of fresh as called for in the recipe (because I have a plethora in my pantry) and used the soaking water in place of the mushroom stock in the recipe. I also replaced the mustard greens with chard. The dish was delicious and very fast to make, especially once I had prepped and arranged all the ingredients before starting.
The recipe closely mirrors that of a traditional version of Dan Dan noodles, but with a fun twist from the 'shrooms. Next time I would definitely try this with fresh shiitakes. I love using the dried ones for many different purposes (especially dumpling filling), but I think they can sometimes have an odd texture, even once fully rehydrated, and in many cases they are better when chopped up instead of eating in larger pieces as they are here.
The next recipe I tried was the Black Trumpet Pâté with Sage and Marsala. This was incredibly easy to make and the dried black trumpets were easy to source at Whole Foods, where I also found a wonderful variety of fresh mushrooms including the likes of Hedgehog, Chanterelle, and King Trumpet and many dried mushrooms such as Lobster, Morel, and Porcini.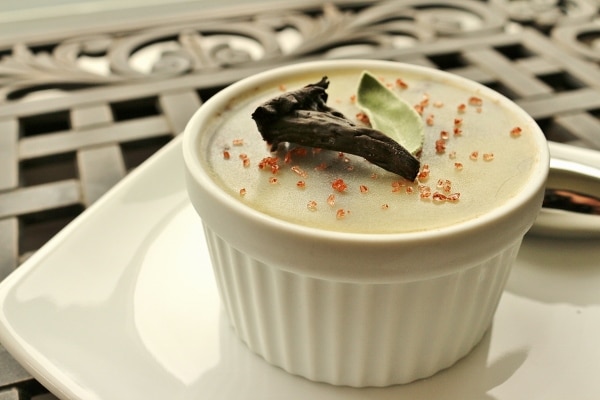 I made the pâté as a spread to serve with Christmas dinner, so I decided to double the recipe to make sure there was enough. One recipe is supposed to fill one ½-to-¾ cup ramekin, but I would say easily aim for ¾ cup since my double recipe generously filled three ½-cup ramekins with extra to spare.
When I first whipped this up and tasted it, I was concerned it was actually too spicy (I used the recommended amount of cayenne). I worried it would end up being too spicy for my guests, but then fortunately, once it chilled the spiciness really mellowed out and turned into a nice background note. Just beware of how much cayenne you use if you're sensitive at all to spice.
The only other change I personally made was to omit the smoked salt (I didn't have any) and just use a little more fine sea salt for the filling, and then I actually garnished my ramekins with Hawaiian red sea salt. On a recent Disney cruise to the Caribbean, I picked up a really lovely set of sea salts in St. Martin that include both black and red Hawaiian sea salts, Himalayan sea salt, and Guérande grey sea salt (or Sel Gris). I thought the red salt would be a great festive touch to an already elegant presentation.
The pâté is velvety umami deliciousness. The color and texture look a little... interesting, but I assure you this pâté could easily steal the show at your next gathering. I served mine with crostini, but also enjoyed it spread on fresh rustic bread. It would definitely make a lovely spread for sandwiches as well, or perhaps even a stand-in for the duxelles/pâté combo in Beef Wellington.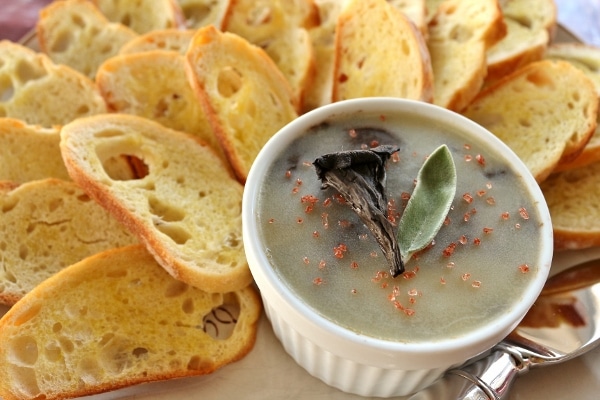 Shroom is a really awesome cookbook and resource for anyone interested in expanding their mushroom knowledge and usage in their kitchen. I'm anxious to try more of the unfamiliar mushrooms highlighted in the book, as well as many of the mouth-watering and "mind-bendingly good" recipes within.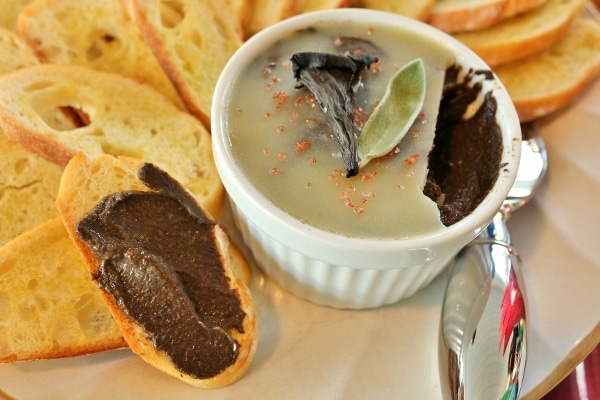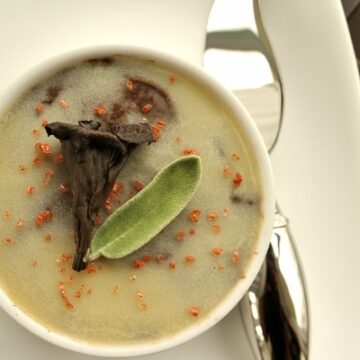 Black Trumpet Pâté with Sage and Marsala
This creative vegetarian pâté is a perfect appetizer for parties, and it also makes a wonderful spread on sandwiches.
Print
Pin
Rate
Servings:
4
or more as an appetizer
Ingredients
½

ounce

dried black trumpet mushrooms

3

tablespoons

unsalted butter

1

cup

small-diced yellow onion

½

teaspoon

fine sea salt

plus more as needed

¼

teaspoon

smoked salt

plus more for garnish

2

teaspoon

tomato paste

1

teaspoon

minced fresh sage

plus a few tiny leaves for garnish

1

teaspoon

minced fresh thyme

1

teaspoon

freshly squeezed lemon juice

½

teaspoon

soy sauce

¼

teaspoon

freshly ground black pepper

⅛

teaspoon

cayenne pepper

(less if you want it pretty mild)

2

tablespoons

Marsala
Instructions
To rehydrate the mushrooms, place them in a small bowl and pour a generous amount of warm tap water over the top. Wait 5 minutes, and then aggressively agitate them in the water. Carefully lift them out, discarding the water left behind. Now place the mushrooms in a new container, such as a quart-size heatproof pitcher or glass measuring cup, or a quart-size canning jar. Boil water and then pour at least 2 cups boiling water over the mushrooms. Place a small cup or plate on them to keep them submerged. Allow the mushrooms to completely soften, about 20 to 30 minutes or until softened. When the mushrooms are soft, lift them out of the soaking liquid, squeezing any liquid out of the mushrooms and back into the soaking vessel. Reserve 1 cup of the rehydration liquid.

In a medium skillet over medium-high heat, melt 1 tablespoon of the butter and add the onion and sea salt. Turn the heat down to medium and cook the onion, stirring occasionally, for 15 minutes, until the onion is very soft and lightly caramelized. Add the black trumpets and saute for 3 to 4 minutes. Remove 1 or 2 mushrooms to use as garnish; set them aside. Add the smoked salt, tomato paste, minced sage and thyme, lemon juice, soy sauce, black pepper, and cayenne to the ingredients in the pan and saute for 1 more minute. Deglaze the pan with the Marsala and then, 30 seconds later, add the reserved 1 cup strained mushroom soaking liquid. Reduce the mushroom mixture by half (you should be left with roughly ¾ cup). transfer the mixture to a blender and puree until very smooth. Season to taste with fine sea salt.

Fill a ½-to-¾-cup capacity ramekin or serving dish with the pâté. Use a spatula to smooth out the surface. Melt the remaining 2 tablespoons butter in a small saute pan, skimming the top with a spoon to scoop out the white milk solids. You can discard or spread the milk solids onto a piece of bread as a snack. Pour the clarified butter evenly over the top of the pâté. Refrigerate until chilled and the butter is set. Garnish with a scant sprinkle of smoked salt, the reserved pieces of mushroom, and some tiny sage leaves.
Notes
You can easily double the recipe and freeze one ramekin (just wrap it really well in plastic wrap and then foil); thaw it in the refrigerator overnight before serving. It is lovely served with fresh bread, crostini, brioche toast points, or any cracker of your choice. The pâté can also be used as a spread on a sandwich.
Adapted from Shroom
Nutrition
Calories:
108
kcal
|
Carbohydrates:
2
g
|
Protein:
2
g
|
Fat:
9
g
|
Saturated Fat:
6
g
|
Cholesterol:
30
mg
|
Sodium:
409
mg
|
Potassium:
55
mg
|
Fiber:
1
g
*All nutritional information is based on third-party calculations and should be considered estimates. Actual nutritional content will vary with brands used, measuring methods, portion sizes and more.*
*Disclaimer* I received no compensation to write this review other than a free copy of the book. My opinions are always my own.