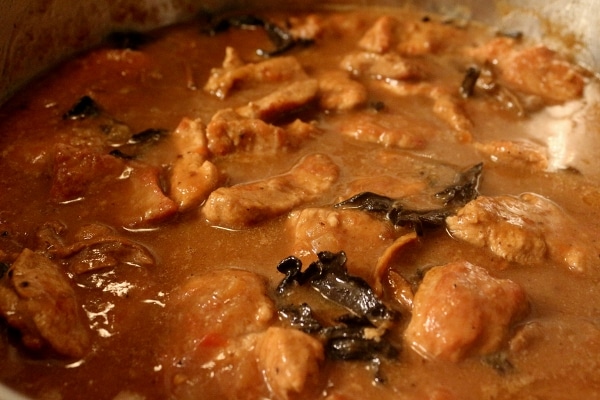 I love discovering cuisines from far off lands, both ones I've visited and ones I've longed to explore. I've never been to Spain, but it has always intrigued me. The language, the culture, and of course the food!
I recently received a copy of Spain by Jeff Koehler. It's a gorgeous book, full of wisdom about the experiences of living and dining in Spain. It takes readers on a culinary tour of the entire country, focusing on the real food that is at the heart of this nation.
There are lovely features within the book discussing all sorts of Spanish ingredients and traditions, from a look at cured pork products to saffron, olives, and more. It's a really comprehensive look at the Spanish diet, and it really makes the book so informative for curious foodies.
There are lots of fantastic recipes in the book, with mouth-watering photos to boot. Although the book is filled to the brim with bright and colorful photos of food and more, this is the kind of book I really wish featured photos for all the recipes, because so many of these dishes are truly foreign to me.
There was some that sounded particularly appealing and so I found myself Googling the Spanish names to see photos online. Regardless, there are still plenty of great pictures to keep me satisfied.
It was nearly impossible to decide where to begin when I got cooking in my kitchen. Many of the tapas sound appealing, and I absolutely intend to make the Soupy Rice with Lobster, which is reminiscent of my meal at Mi Casa by Jose Andres in Puerto Rico last February.
I'm also dead set on trying the Chicken Braised in Saffron, Almond, and Egg Yolk Sauce. It's sounds so unusual, yet delicious. In the end, I simply opened up the book to a page bearing a photo of Braised Veal with Dried Mushrooms, and I knew this was the one.
Although the recipe is clearly influenced by neighboring France, it's is decidedly Spanish in flavor with the typical use of sofrito. I actually used stewing veal that was already cut up (it was on sale), and I gently butterflied and/or pounded the pieces to make them flatter like the recipe states.
The result is a mouthwatering, tender concoction of delicate veal, umami mushrooms, and simply the most fabulous sauce. I served this with some noodles, but mashed potatoes, rice, or bread would be excellent starches to help sop up some of the juices.
I can wholeheartedly recommend this book to anyone wishing to learn more about Spanish cuisine. The book is substantial and definitely worth picking up. I am anxiously awaiting my next kitchen tryst with my new Spanish love.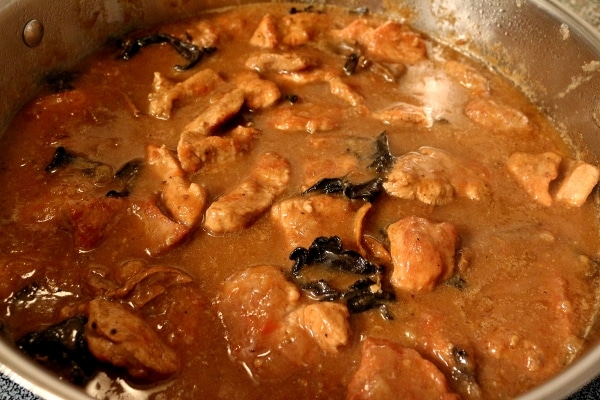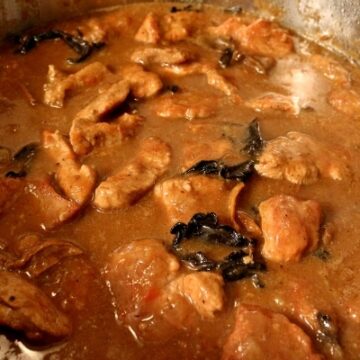 Braised Veal with Dried Mushrooms (Fricando amb Moixernons)
This Spanish braised veal dish is an umami flavor bomb with the addition of dried mushrooms. It's perfect when you want something cozy and comforting.
Print
Pin
Rate
Ingredients
6

tablespoons

extra-virgin olive oil

plus more for oiling pan

2

pounds

boneless veal

thinly sliced about ¼-inch thick

Kosher salt and freshly ground black pepper

All-purpose flour for dredging

1

medium onion

finely chopped

1

garlic clove

minced

2

ripe medium tomatoes

halved crosswise, seeded and grated, discarding the skins but reserving the juices

Scant 1 cup (15 g) dried mushrooms, preferably moixernons

(St. George's or fairy ring mushrooms) (I used dried porcini and black trumpet mushrooms)

¾

cup

muscatel, moscato, vino rancio, sweet sherry, or another sweet wine

1 ½

cups

light beef stock or water
Instructions
In a cazuela, heavy casserole, large saute pan, or deep skillet, heat 4 tablespoons of the olive oil over medium-high heat. Season the veal with salt and pepper, lightly dredge in flour, and pat to shake off the excess. Quickly brown in single-layer batches that don't crowd the pan, about 30 seconds on each side. Transfer to a large platter. Add a bit more oil to the pan if needed between batches.

To make the sofrito, add the remaining 2 tablespoons olive oil to the cazuela, reduce the heat to medium-low, add the onion and a pinch of salt and cook, stirring frequently, as the onion turns translucent, 8 to 10 minutes. Add the garlic and cook, stirring almost continuously, until aromatic, about 1 minute. Add the tomatoes and their juices and stir well. Cook uncovered over low heat, stirring often and tapping down on the ingredients with a wooden spoon to help break them down, until the tomato is dark, pulpy, and has lost its acidity, 10 to 20 minutes. Dribble in 2 or 3 tablespoons of water two or three times during cooking, if needed, to keep the sofrito from drying out. It can be made ahead and refrigerated a day or two.

Meanwhile, place the dried mushrooms in a small bowl, cover with warm water, swish them around, and immediately pour off the water. Cover the damp mushrooms with 2 cups warm water and let soak for 1 hour.

Return the veal to the pan of sofrito and turn to coat. Pour in the muscatel, turn over the pieces of veal, and let the alcohol burn off for 2 minutes before pouring in the stock. Bring to a simmer, reduce the heat to low, and partly cover the pan. Cook, just letting bubbles slowly break the surface for 45 minutes, turning over the meat from time to time to keep it from sticking.

Drain the mushrooms, reserving the liquid. Add the mushrooms and ½ cup of the reserved liquid to the pan and cook uncovered for 30 minutes, or until the veal is very tender. Add more reserved liquid if needed. The sauce should be like gravy. Serve from the cazuela.
Nutrition
Calories:
713
kcal
|
Carbohydrates:
18
g
|
Protein:
75
g
|
Fat:
50
g
|
Saturated Fat:
3
g
|
Polyunsaturated Fat:
11
g
|
Monounsaturated Fat:
8
g
|
Cholesterol:
150
mg
|
Sodium:
1132
mg
|
Potassium:
227
mg
|
Fiber:
3
g
|
Sugar:
5
g
*All nutritional information is based on third-party calculations and should be considered estimates. Actual nutritional content will vary with brands used, measuring methods, portion sizes and more.*
*Disclaimer* I received no compensation to write this review other than a free copy of the book. My opinions are always my own.