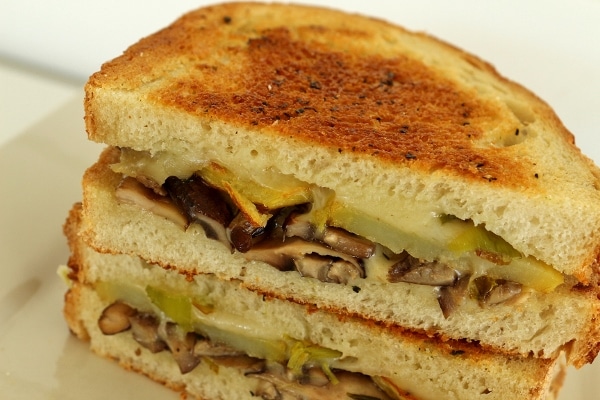 April 12th is National Grilled Cheese Day. It's also my birthday.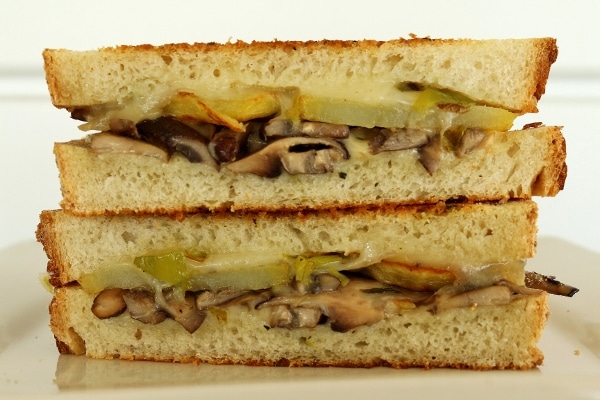 Those are two wonderful reasons for everyone to celebrate! I'm very proud to share my special day with one of my ultimate comfort foods. Grilled cheese is so much more than toasty bread stuffed with American cheese. It can be more sophisticated than that, which is evident by the sheer number of gourmet-style grilled cheese shops and food trucks springing up across the country.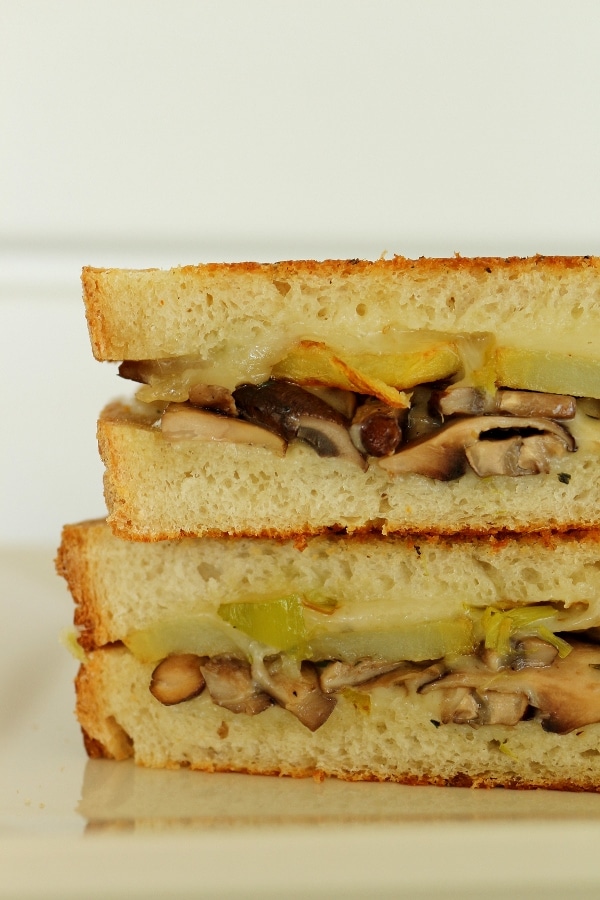 I recently received a review copy of Grilled Cheese Kitchen, authored by the owners of the American Grilled Cheese Kitchen in San Francisco, Heidi Gibson and husband Nate Pollak. Heidi has won seven grilled cheese championships, so the girl knows her stuff. I was thrilled to read some of her secrets within the pages of this new cookbook.
The book begins with useful notes on perfecting your grilled cheese, including multiple methods for grilling--or rather griddling--your sandwiches (my favorite is the easiest: using a panini press) to notes on selecting the best breads and cheeses to help your sandwiches shine.
In addition to chapters on both Breakfast and standard Grilled Cheese Sandwiches, there are also sections dedicated to Soup, Mac 'n' Cheese, and Pickles, Spreads, and Sides. All of them are drool worthy. The Mac 'n' Cheeses have easily stolen my heart, but in honor of today's holiday, I knew I needed to start things off by making one of the grilled cheese sandwiches instead.
I opted for the Mushroom-Gruyère Grilled Cheese. It features three varieties of mushrooms, sauteed leeks, roasted Yukon gold potatoes, and two delectable cheeses, all griddled between slices of artisan bread enhanced by the addition of thyme-infused butter. Now that's a grilled cheese worthy of a holiday!
Using premium ingredients is really key for making a stellar grilled cheese. Some of the specialty cheeses called for in recipes may be a bit more challenging to source, but overall, most of the ingredients can be found at well-stocked supermarkets and specialty food shops.
I headed to my local Whole Foods to source all of my ingredients, including fresh-baked bread and a great selection of cheeses. They had a mushroom mix that already included the mushroom varieties I needed for my grilled cheese. I just supplemented with an additional handful of creminis to yield the correct total weight of mushrooms (6 ounces) and I was ready to rock and roll!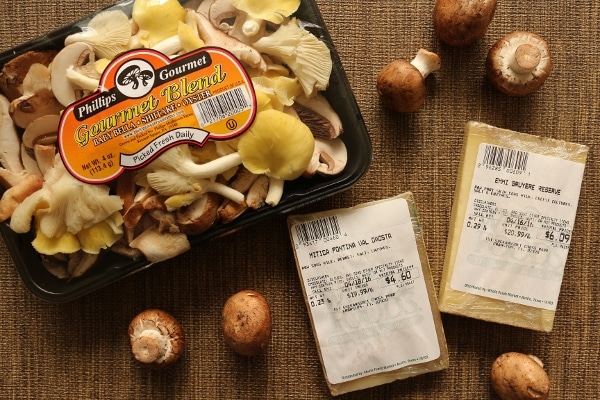 I'm happy to see that for such a guilt-inducing food, many of the recipes in this book are considerably light in regards to added fat. The Mushroom-Gruyère Grilled Cheese recipe, for example, makes two sandwiches, and only uses about 1 tablespoon butter, and less than 1 tablespoon olive oil. Obviously, the cheese is also fattening, but it's not an obnoxious amount of cheese per sandwich. It's really well-balanced.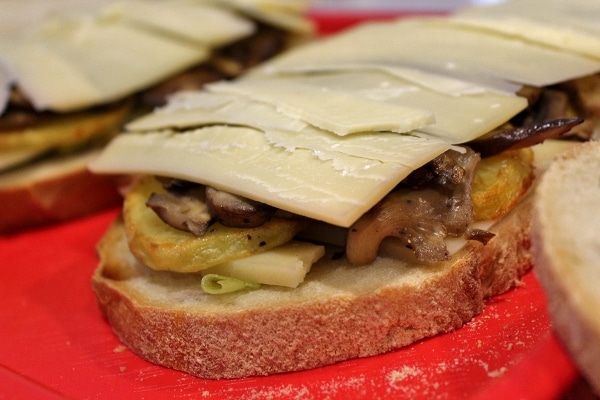 In my particular case, the bread I used was pretty large, cut from the center of a rounded boule-shaped Italian bread. I ended up only eating half of one of the grilled cheeses as a single serving. The other half was easily reheated in the toaster oven later to crispy perfection (flipped halfway through).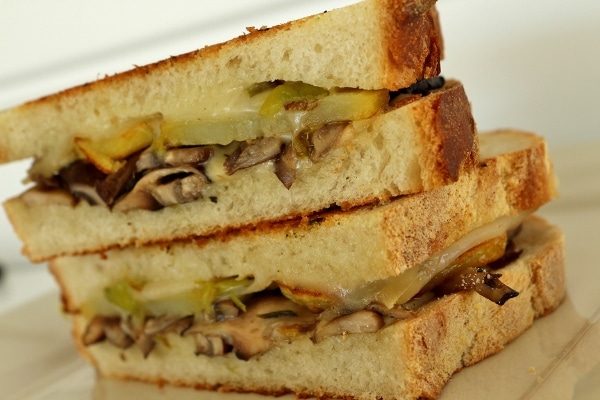 Also because my bread was on the bigger side, I required a bit more than 1 tablespoon of butter to get decent coverage on the exterior of my sandwich. Even with that said, I used a very thin layer spread almost from edge to edge. It also took me a bit longer to cook my sandwich and it's components. It might be because I have an electric oven/stove-top as opposed to gas, but just use your judgement and be patient. Even if it takes a few minutes longer, the effort will be worth it!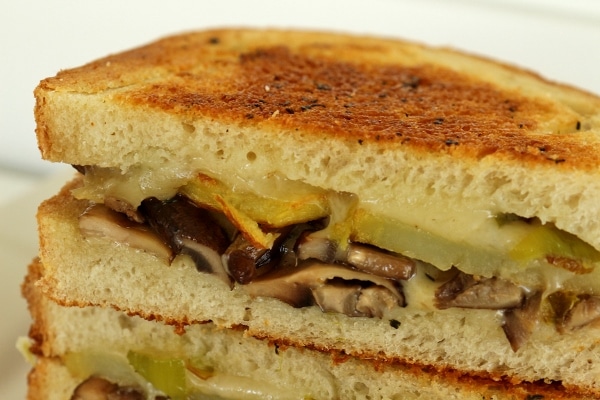 This grilled cheese is absolutely fantastic! The bread is golden and audibly crunchy, the cheese is stretchy and gooey, the mushrooms boast a great umami flavor, the leeks provide mild onion notes, while the tender potato adds a bit of earthiness. Although this sandwich is inspired by a mushroom ravioli dish, it reminds me more of potatoes au gratin with lots of mushrooms.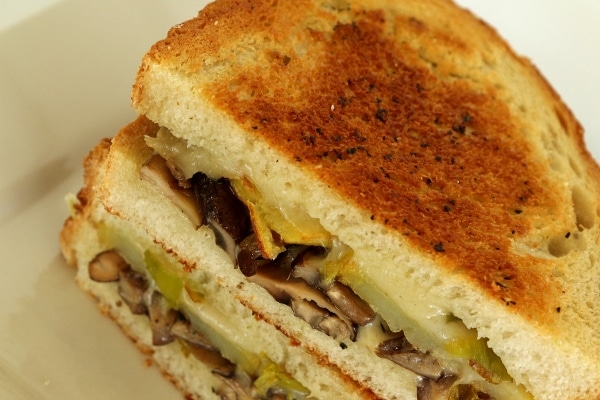 In any case, this is an excellent vegetarian grilled cheese that is incredibly satisfying. It's worthy of National Grilled Cheese Day, and even more so, it's worthy of being eaten on my birthday!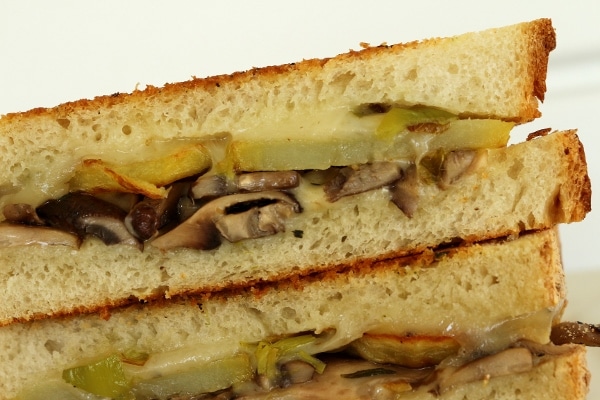 I'm so excited to try out more of the recipes in Grilled Cheese Kitchen! The Green Eggs and Ham Grilled Cheese is pretty high on the list, along with the Hawaiian Grilled Cheese and the Roast Beef and Blue Cheese Grilled Cheese, among so many others. If you love grilled cheese (and soups and macaroni and cheese) as much as I do, please check out Grilled Cheese Kitchen.
Other recipes you may like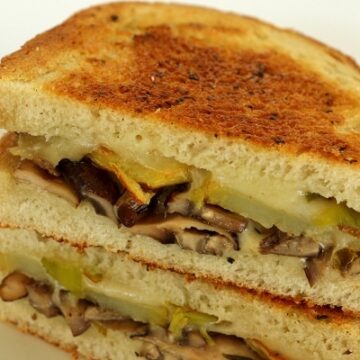 Mushroom-Gruyère Grilled Cheese
This umami vegetarian grilled cheese sandwich is filled with a variety of mushrooms, sliced potatoes, and 2 cheeses for a super comforting sandwich perfect for a chilly day.
Print
Pin
Rate
Ingredients
1

tablespoon

salted butter

at room temperature

1

teaspoon

minced fresh thyme or ½ teaspoon dried thyme

1

small Yukon gold potato

peeled and cut into slices about ¼-inch thick

2 ½

teaspoons

olive oil

Kosher salt and freshly ground black pepper

1

small leek

trimmed and tough green tops removed, halved lengthwise and carefully washed, cut into ¼-inch dice

2

ounces

(55 grams) shiitake mushrooms, stemmed, brushed clean, and cut into slices about ⅛-inch thick

2

ounces

(55 grams) cremini mushrooms, brushed clean and cut into slices about ⅛-inch thick

2

ounces

(55 grams) oyster mushrooms, brushed clean and coarsely chopped

4

slices

rustic artisan bread such as levain, sourdough, or white

(each about ½-inch thick)

2

thick slices Italian-style fontina cheese

preferably Fontina Val d'Aosta

2

thin slices Gruyère cheese
Instructions
Preheat the oven to 425°F. Line a baking sheet with parchment paper or coat thoroughly with nonstick cooking spray

In a small bowl, stir together the butter and half of the thyme and set aside.

In a medium bowl, toss the potatoes with ½ teaspoon of the olive oil and a pinch each of salt and pepper until the potatoes are evenly coated. Spread the potatoes in a single layer on the prepared baking sheet and roast until cooked through and starting to brown in spots, about 15 minutes. Set aside to cool.

In a small saucepan over medium-low heat, warm 1 teaspoon of the olive oil. Add the leek and a pinch of salt and stir well. Cover and cook, stirring to prevent sticking, until the leek is very soft, about 10 minutes. Remove from the heat and set aside.

In a medium saute pan over medium-high heat, warm the remaining 1 teaspoon olive oil. Add all of the mushrooms, the remaining thyme, and a pinch each of salt and pepper. Saute until the mushrooms have released their juices, are tender, and are just beginning to brown, 3 to 5 minutes. Set aside.

Heat a cast-iron or nonstick skillet over low heat.

Spread the thyme butter on one side of each bread slice, dividing it evenly. Place two slices, buttered side down, on a clean cutting board. Spread about 1 tablespoon of the sauteed leeks on each. Layer a slice of the fontina, half of the potatoes, half of the mushroom mixture, and a slice of the Gruyère on top. Finish with the remaining bread slices, buttered side up. Be careful handling the uncooked sandwiches; there is a lot of stuff that may fall out as you move them. If it does, just tuck the fillings back inside.

Using a wide spatula, place both sandwiches in the pan, cover, and cook until the bottoms are nicely browned, about 4 minutes. Turn and cook until the second sides are browned and the cheese is melted, about 4 minutes longer.

Cut the sandwiches in half, if desired, and serve immediately.
Nutrition
Serving:
1
sandwich
|
Calories:
580
kcal
|
Carbohydrates:
65
g
|
Protein:
22
g
|
Fat:
27
g
|
Saturated Fat:
10
g
|
Polyunsaturated Fat:
1
g
|
Monounsaturated Fat:
8
g
|
Cholesterol:
47
mg
|
Sodium:
567
mg
|
Potassium:
922
mg
|
Fiber:
6
g
|
Sugar:
5
g
*All nutritional information is based on third-party calculations and should be considered estimates. Actual nutritional content will vary with brands used, measuring methods, portion sizes and more.*
*Disclaimer* I received no compensation to write this review other than a free copy of the book. My opinions are always my own.