This post may contain affiliate links, which means that I may receive a commission if you make a purchase using these links. As an Amazon Associate I earn from qualifying purchases.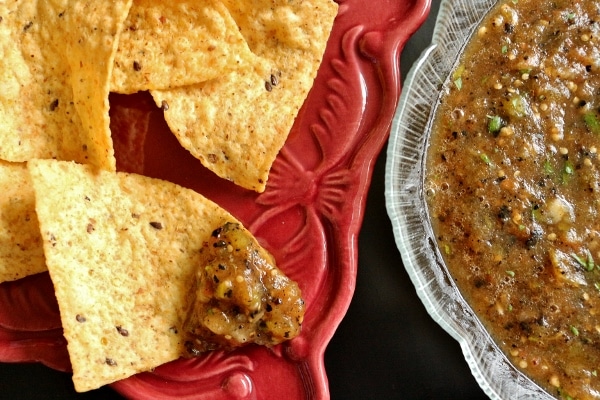 Mexican food is one of my favorites to make and to eat. Whether it's the authentic stuff, or the Americanized versions of the authentic stuff, it's definitely high on my list for Global cuisines. In fact, my favorite go-to random meal to make when I'm not really in the mood to cook, or have a craving for Mexican (which is all the time, by the way), is bean and cheese quesadillas with pickled jalapenos. They make my world a better place!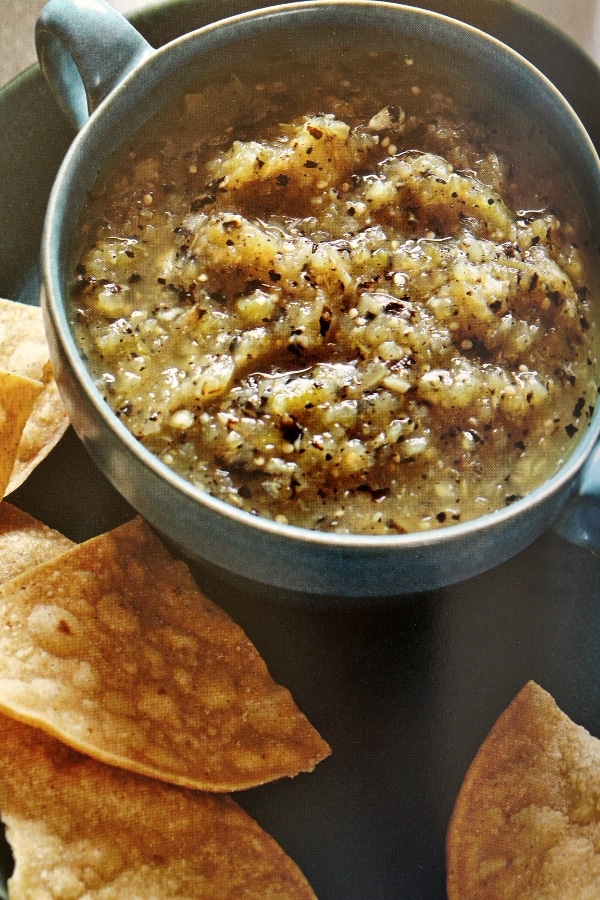 With that said, and with Cinco de Mayo just around the corner, I can't think of a better time to discuss a new cookbook on the market devoted entirely to Salsas and Moles. The book is written by Deborah Schneider and published by Ten Speed Press. Chapters range from Classic Table Salsas, Hot Salsas (or really hot sauces), Mole and Enchilada Sauces, Salsas for Tacos, and Chunky Salsas and Botanas.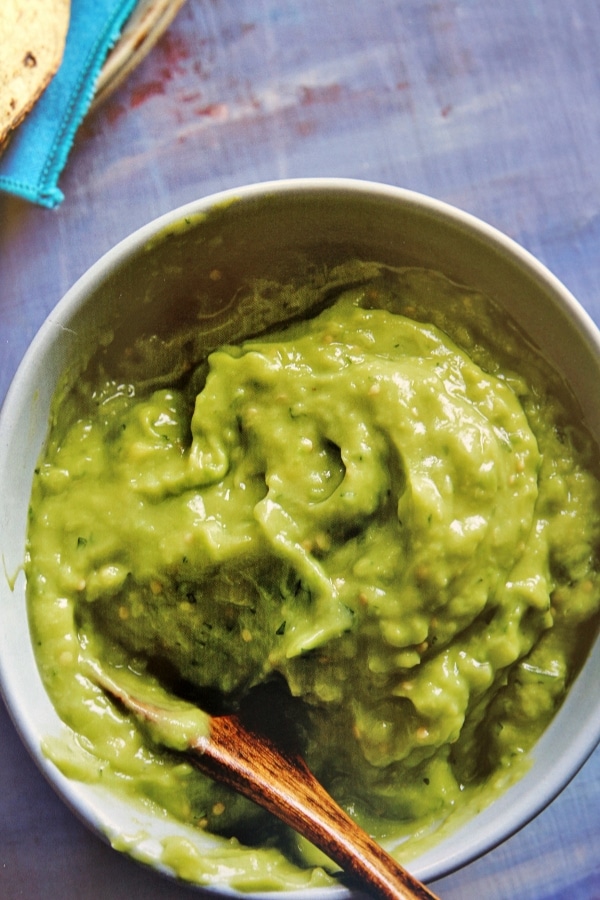 Each recipe includes a "Serving Ideas" notation, which is really vital to the book since its purely focused on the salsas themselves and not the creation of the entrees. For example, there are several recipes that state they would be excellent used for enchiladas, but there is no base enchilada recipe.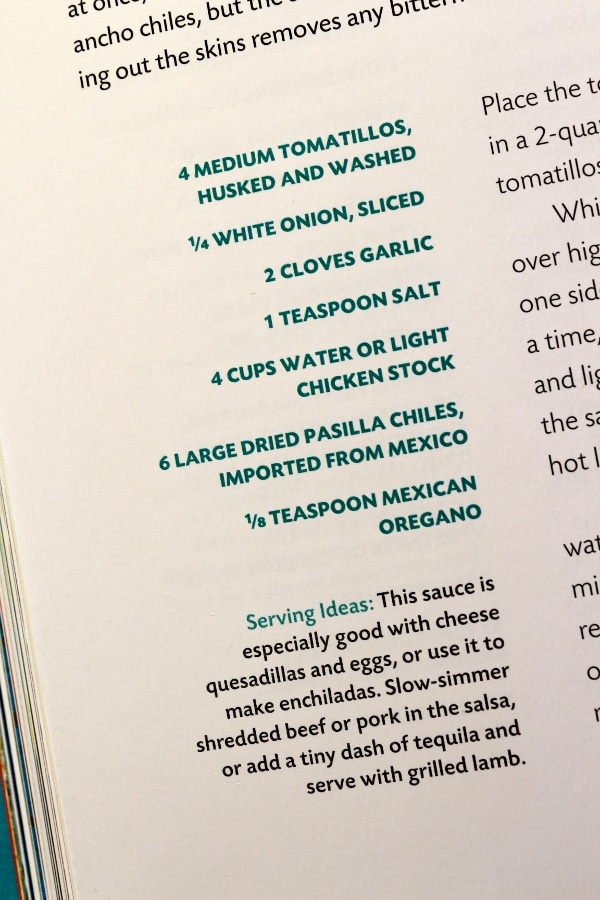 You would simply follow the basic steps for making enchiladas (found elsewhere, but even Schneider includes very basic steps in her "Simple Things to Do with Salsas" section–page 21 in the book) but use one of these sauces that suggest enchiladas as their use. There's always more than one serving idea for each recipe, so your options on how to use this book are limitless.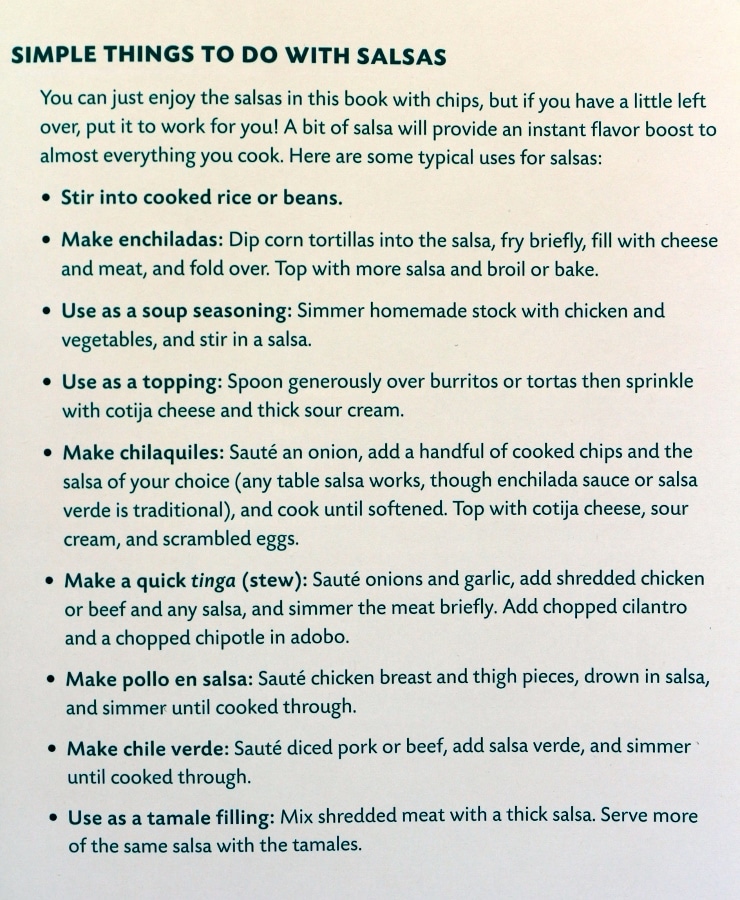 Schneider also notes that in Mexico is very atypical to just nosh on salsa and chips the way we do in America. With that said, you can still enjoy the salsas in this book that non-traditional way, as a dip, but they can (and probably should) be used in a variety of other ways. Additionally, most salsas are not intended to be super spicy. In fact most are quite mild, but spice levels can easily be adjusted per personal preference when making homemade salsas.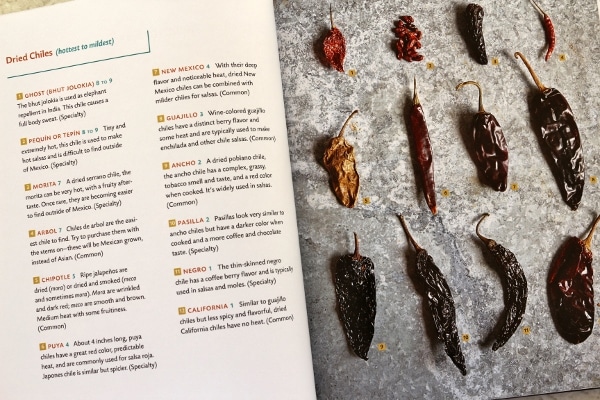 You may need to go online or to Mexican markets to source some of the fresh or dried chiles mentioned within the book, but Schneider includes some links for online vendors as well as a guides for both fresh and dried chiles from hottest to mildest. You can substitute chiles called for in certain recipes with others with similar levels of spice (or more or less). They will yield different results, but really all salsas are indicative of the cook, not just the recipe, so it's perfectly okay to tweak some ingredients to make the salsas your own.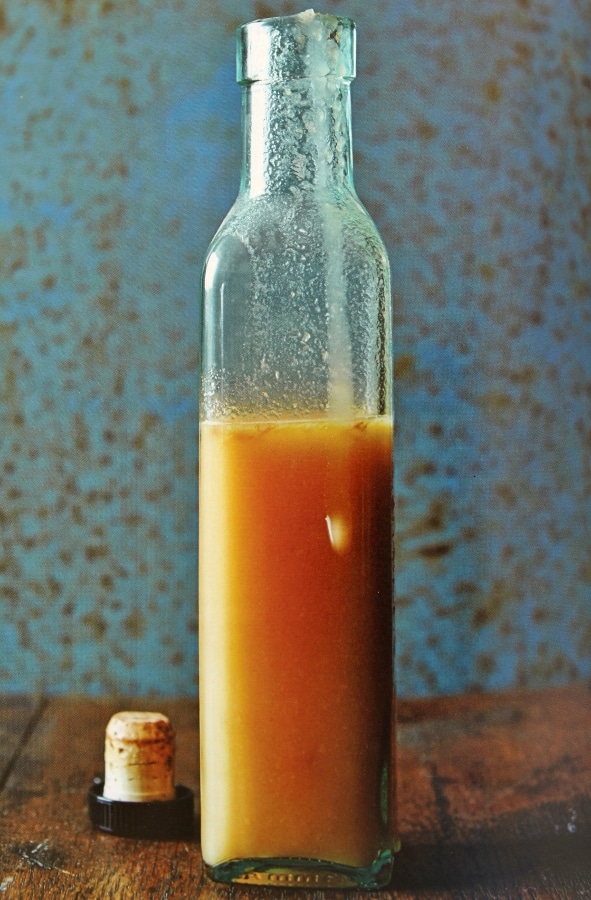 I'm really anxious to try my hand at making homemade mole at some point. It's a tedious process with a laundry list of ingredients, but I definitely plan to dive into mole production at some point in the near future. Moles in this book range from a Quick Mole, to Red Chile Mole, Mole Poblano, Mole Pipian, Mole Negro, and Mole Verde. It's also interesting to learn that chocolate is not typical in all moles, a fact I never knew. Only three of the moles in this book contain the decadent ingredient.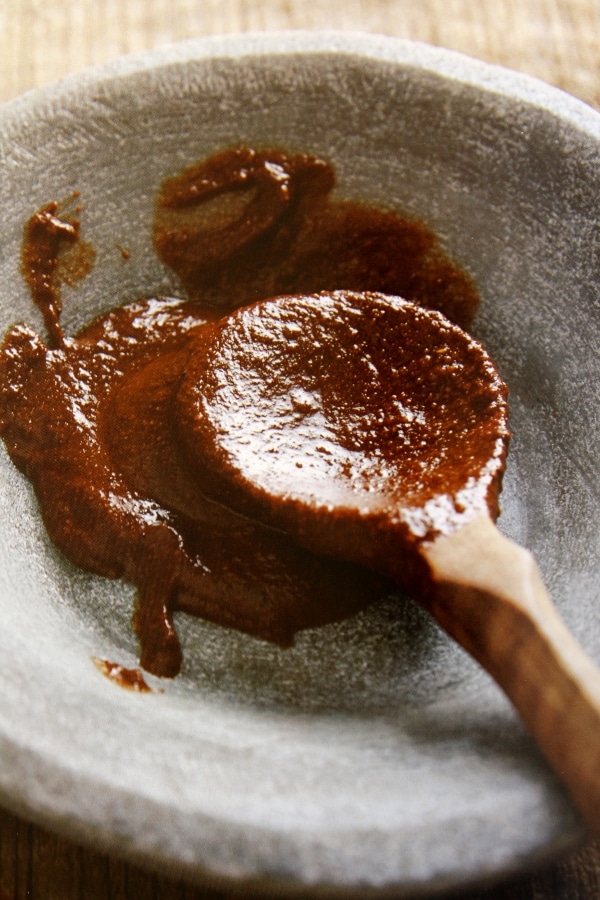 My mole escapades will have to wait until a later date. In the meantime, I experimented with some of the easier and less time consuming recipes within the book.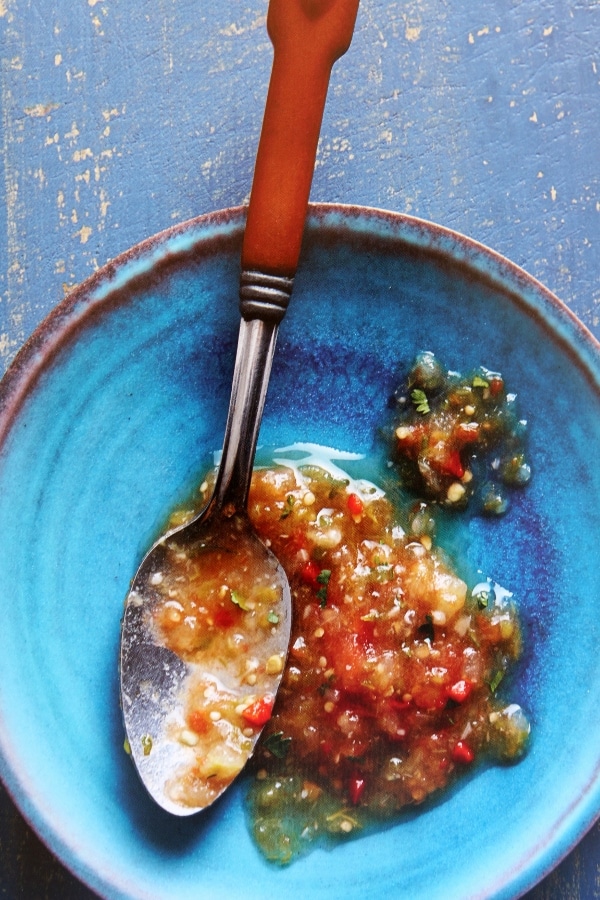 First, I actually made the Mojito Salsa from the Salsas for Tacos chapter. I didn't actually use it for tacos, but rather to serve with grilled pork chops. It was very citrusy and absolutely delicious, featuring lemon and orange juices, garlic, cilantro and a jalapeno (originally it called for half a serrano, but I had jalapenos on hand).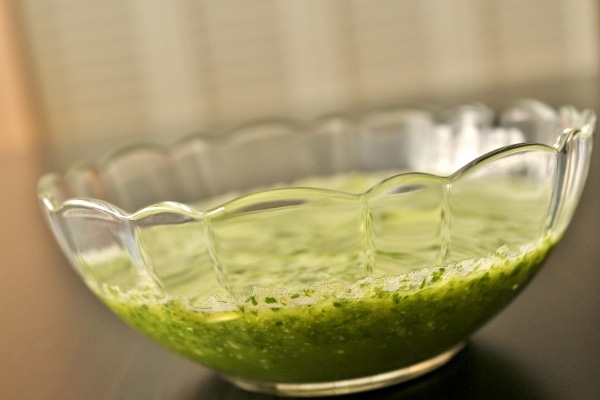 It was really runny though, and would definitely drip out of a taco if that was its purpose. Otherwise, my family really loved it and it was super easy to throw together in the blender in a matter of minutes–no cooking required! I would definitely make it again.
The very first recipe in the book caught my eye the moment I opened it up. Salsa Quemada is a very easy to make Roasted Tomato and Tomatillo Salsa. The ingredients are dry roasted in a cast-iron pan lined with foil and then later blitzed to create a beautifully charred salsa.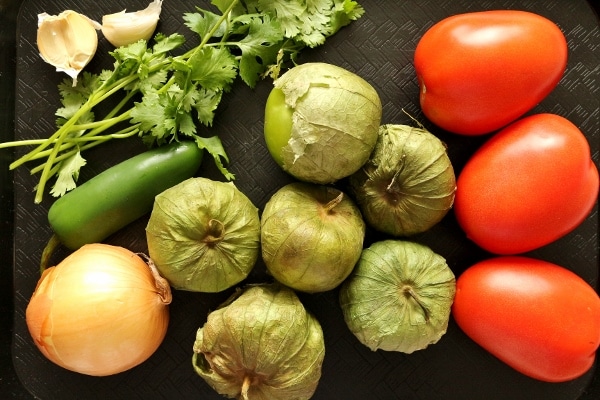 It's also very easy to make but requires a little extra time to watch and occasionally rotate the ingredients for an even char. I recommend using silicone-edged tongs so you don't accidentally rip the foil.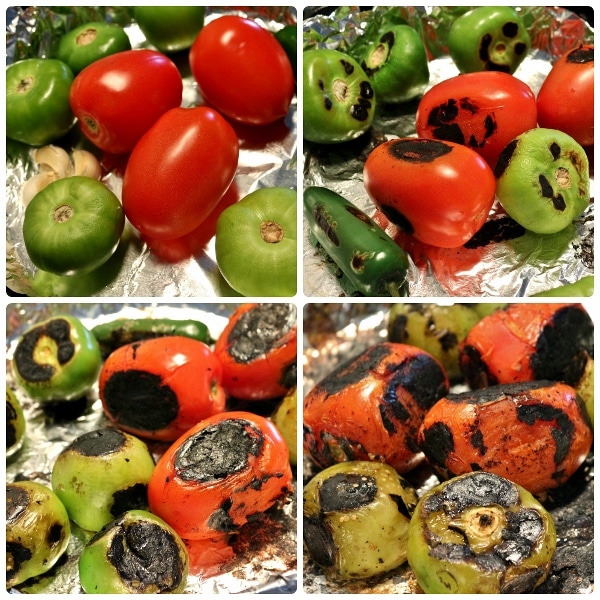 We enjoyed this smoky and tart salsa with tortilla chips (the American way), but Schneider also suggests serving it with eggs, tacos, quesadillas, grilled meats, and more. I used a slightly less spicy jalapeno in place of the serrano(s) and even removed the seeds because I didn't want it too spicy for my family.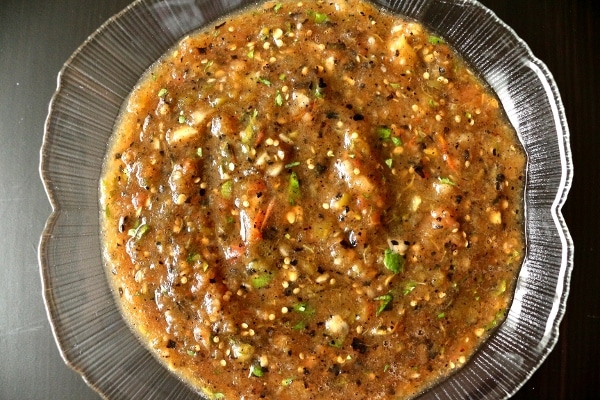 It was actually quite mild, especially since everything is roasted, and that mutes the spiciness of the chile. You can definitely include the seeds yourself, or even bump it up to two chiles if you want something with more zing.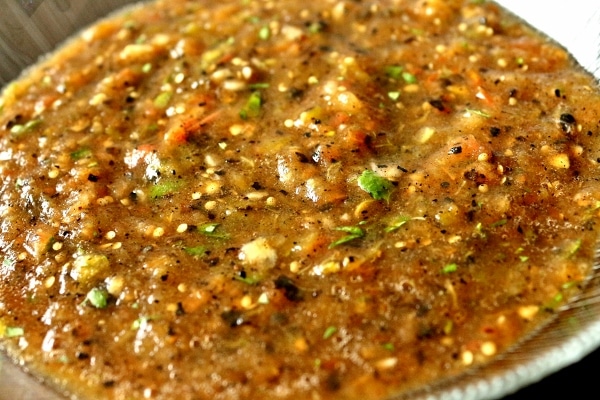 This salsa was well-worth the effort, and just may be my new favorite–although I still have so many other recipes to try from the book, so I can imagine there will be many favorites before I know it!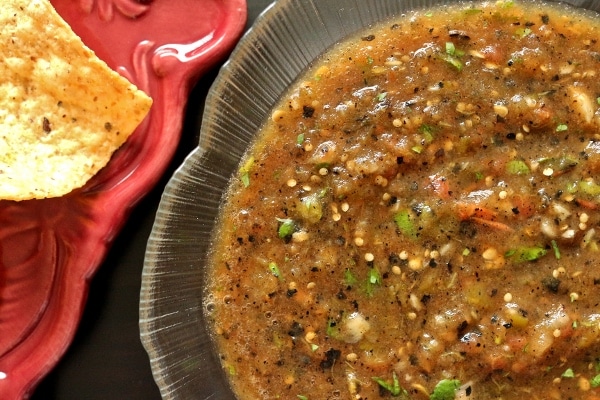 I love exploring the world of Mexican salsas, as well as expanding my palate to try some of the different chiles discussed in the book. I'm definitely looking forward to spending more time within the pages of Salsas and Moles, and would happily recommend this book to anyone who enjoys Mexican cooking and wants to expand their repertoire to include fresh, homemade salsas for any occasion.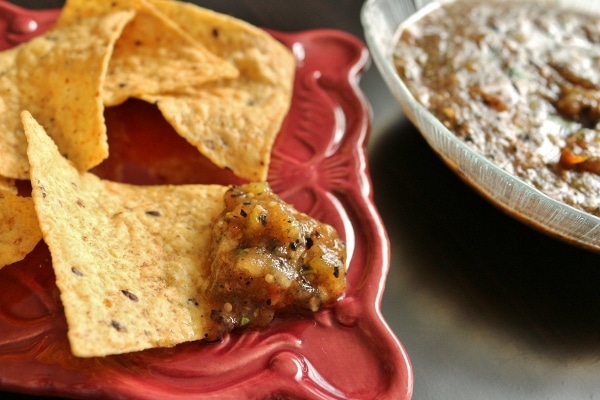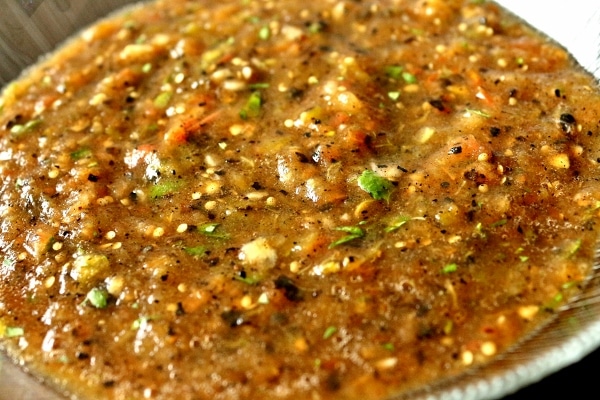 Salsa Quemada (Roasted Tomato and Tomatillo Salsa)
A classic tomato and tomatillo salsa is enhanced by roasting the veggies and aromatics. The result is a flavorful, charred salsa that just might change your life.
Ingredients
6

medium tomatillos

husked, washed, and dried

3

medium roma tomatoes

washed and dried

2 to 3

large cloves garlic

unpeeled

1

or 2 large serrano or jalapeno chiles

with stem(s)

1/4

white onion

diced

1

teaspoon

kosher salt

1

tablespoon

minced cilantro
Instructions
Turn on the fan over the stove. Line a large cast-iron skillet with a piece of aluminum foil and set over high heat. Place the tomatillos, tomatoes, garlic, and chiles directly on the foil and roast without moving too often until the garlic is just softened, the chile has streaks of char and is softened, the tomatoes have a good char on all sides, and the tomatillos are soft and starting to bubble (it should take about 20 to 25 minutes total). As each is cooked, remove from the pan and set aside to cool. The garlic will be done first, and the tomatoes will take the longest.

When the tomatoes are well blackened and begin to slump, return the tomatillos to the pan if need be, wrap the tomatoes and tomatillos in the foil, lift out of the pan, and set aside until cooled. Transfer to a food processor, along with any juices that run out as they cool. (Leave the black bits–they add flavor.) Peel the garlic, stem the chile, and add to the food processor along with the onion and salt. Pulse until well combined and mostly smooth–you want a bit of texture. Add the cilantro last, pulse briefly, and taste for salt again.
Notes & Nutrition
Serving Ideas: This salsa is fantastic on eggs, tacos, quesadillas, or grilled meats, or add to rice or soup. Use it as a base for spicy chicken tinga (stew) or a shrimp saute.
Adapted from Salsas and Moles
Servings 6.0 * calories 27 * Total Fat 1 g * Saturated Fat 0 g * Monounsaturated Fat 0 g * Polyunsaturated Fat 0 g * Trans Fat 0 g * Cholesterol 0 mg * Sodium 191 mg * Potassium 243 mg * Total Carbohydrate 6 g * Dietary Fiber 2 g * Sugars 3 g * Protein 1 g
*All nutritional information is based on third-party calculations and should be considered estimates. Actual nutritional content will vary with brands used, measuring methods, portion sizes and more.*
*Disclaimer* I received no compensation to write this review other than a free copy of the book. My opinions are always my own.