This post may contain affiliate links, which means that I may receive a commission if you make a purchase using these links. As an Amazon Associate I earn from qualifying purchases.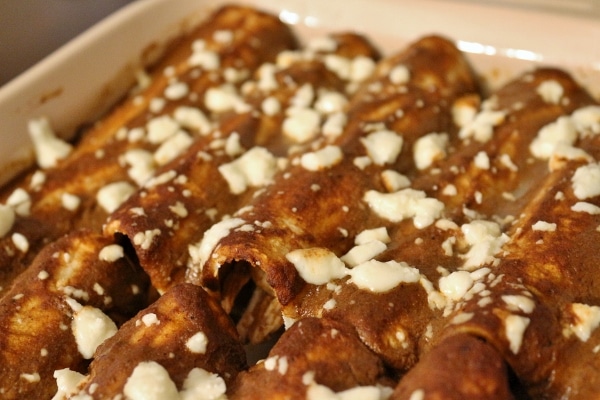 I have never shied away from a cooking challenge. The more complex or time-consuming, the more intrigued I typically am to attack said challenge and conquer it. For years I've been planning to try my hand at making a traditional Mexican mole. I've enjoyed it at Mexican restaurants slathered on my enchiladas, and I knew of its reputation as being a laborious process.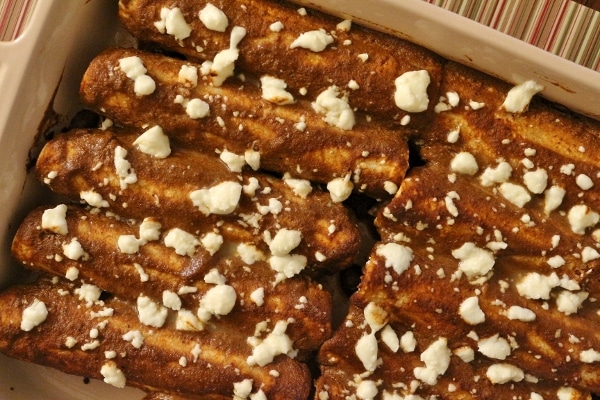 Moles come in many shapes and forms, although mole poblano is perhaps Mexico's most famous dish. It features an incredible balance of savory and sweet with profound complexity and richness. This sauce requires a lot of stirring and patience. Nearly every ingredient is cooked individually and then combined in steps.
Spiciness from the dried chiles and sweetness from the chocolate are only two of many unique characteristics in this kitchen-sink style sauce. I sometimes wonder how one decided to combine such eclectic ingredients together to yield something so prized in Mexican cuisine.
The morning of my mole expedition, I butchered two beautiful chickens. I reserved the wings, thighs, and drumsticks for my Korean fried chicken, which was on the menu later that weekend, and then simmered the wing tips, backbones, and breasts with some onion, carrot, bay leaves, peppercorns, parsley stems, salt, and water to make chicken stock.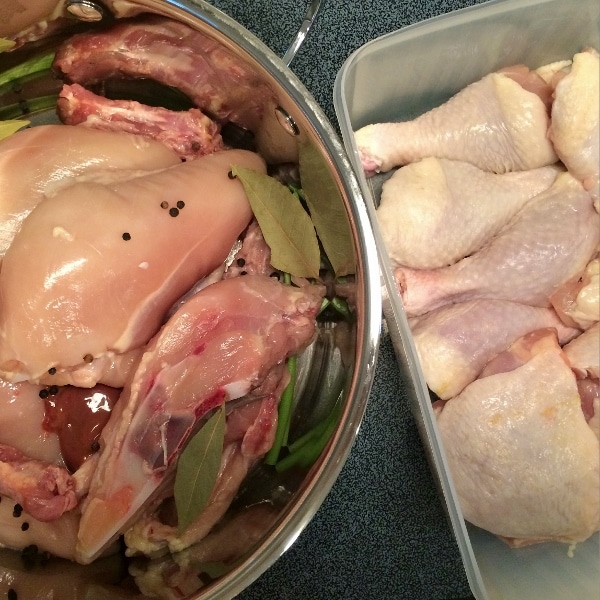 I reserved the breast meat, which I shredded, to become the filling for my Mole poblano enchiladas (or enmoladas), and used a good part of my fresh, homemade chicken stock in the actual mole. Talk about utilizing every part of the chicken! That's really the way it should be done. No shortcuts here 🙂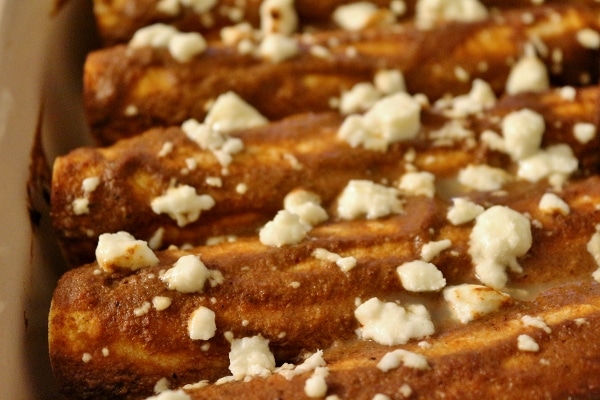 Meanwhile, I prepared my mise en place (literally translates to "putting in place" in French) for the mole poblano. Good prep work is paramount in successful cooking especially when faced with such a complex product as mole poblano.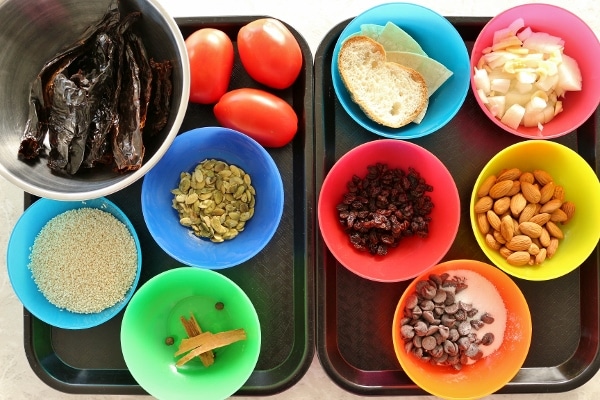 Then, slowly but surely, I spent the next 4 or 5 hours (honestly, I didn't keep good track of my time) working on the mole. It's a slow process, but not a difficult one. You begin by toasting the chiles, then soaking them in hot water before draining and pureeing them.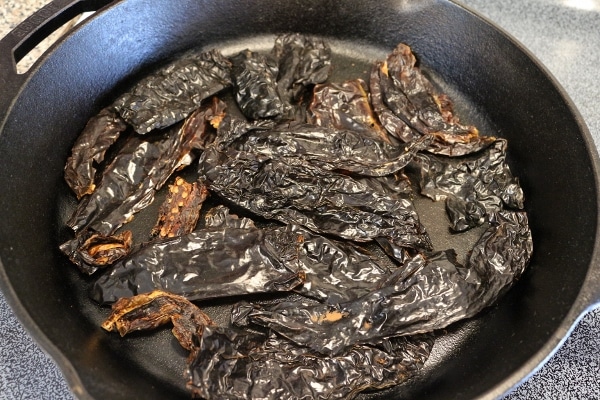 Next up, you pan-roast your tomatoes, following by toasting a series of individual ingredients in your cast-iron pan. By the time I got to step 4 in the recipe, I simultaneously began step 5 on another burner. I was essentially toasting/frying ingredients in my cast-iron pan on one burner, frying my chile puree and soon after the tomato puree on another burner, and also blitzing ingredients in the blender (such as the tomato puree, and later the sesame mixture).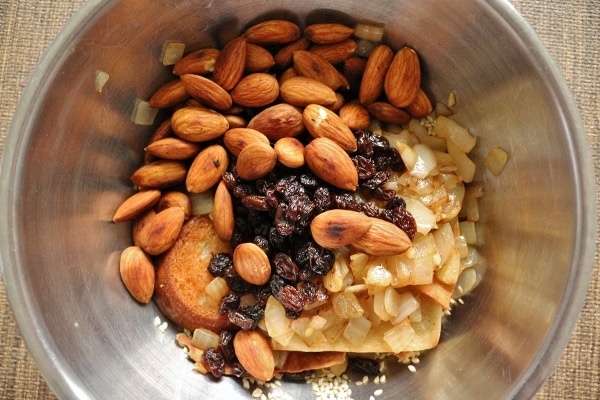 After FINALLY reaching the home stretch of this labor of love, the sauce is processed through a food mill to ensure the absolute smoothest, velvety texture.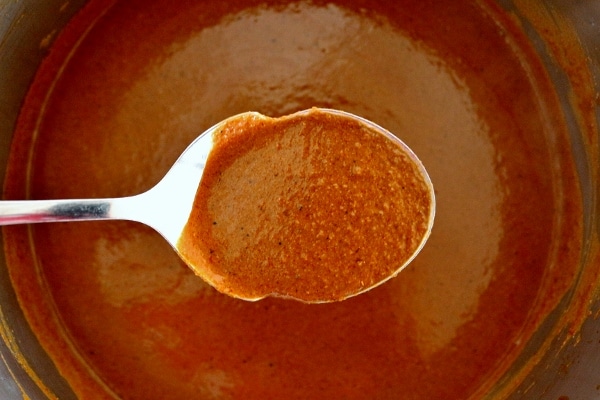 Now, how does one utilize this liquid gold? Well, the most traditional serving method is spooned over boiled chicken and topped with toasted sesame seeds. It's also frequently used as a sauce for enchiladas, which is my personal favorite. I gently warmed corn tortillas and filled them with my shredded chicken, which I had mixed with some of the mole. I then spooned more mole over the tops of the enchiladas and finished with some queso fresco before popping the baking dish into the oven at 350 degrees for about 20 minutes or so until heated through.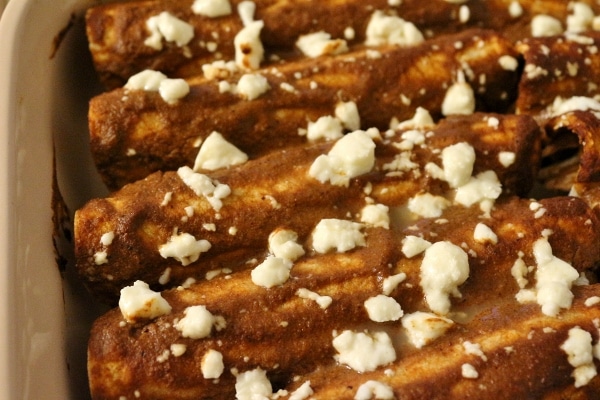 This recipe makes a lot of mole, and I highly encourage you to freeze some of it in smaller quantities so you can defrost and use it for various future occasions and cravings. I personally like to freeze my chicken stock the same way, in a silicone muffin pan where each frozen disc yields 1/4 cup. That way I can count out how many 1/4 cup portions I require, and defrost exactly that much.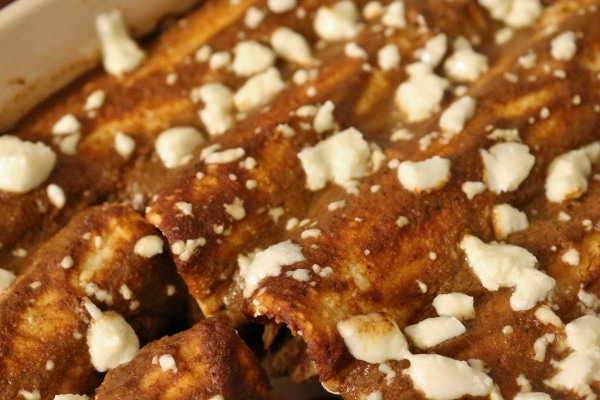 In any case, I'm thrilled to finally have had this opportunity to check homemade mole poblano off my cooking bucket list. I hope you're not discouraged by the lengthy process. If you're a fan of mole, this recipe is absolutely spot on!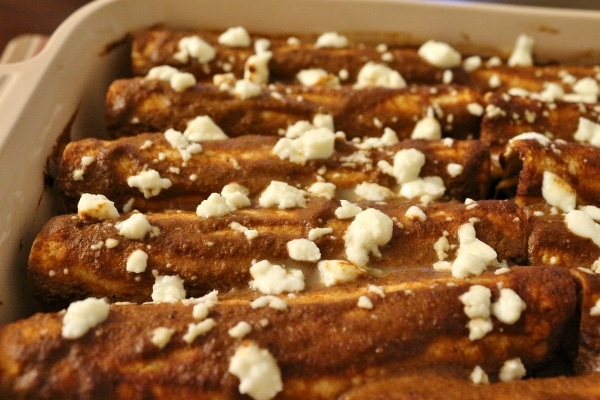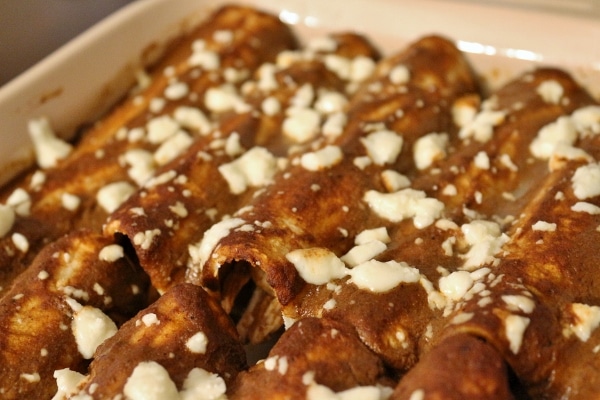 Mole Poblano
Mole Poblano is a true Mexican classic. It may be time consuming to make, but worth it for the amazing results, and complex flavor. It also freezes beautifully and is great on enchiladas!
Ingredients
STEP 1:
7

large pasilla chiles

1

morita chile

3

cups

hot water

1

cup

light chicken stock
STEP 3:
1/2

cup

sesame seeds

2

tablespoons

raw pepitas

1/8

teaspoon

anise seeds

1/8

teaspoon

coriander seeds

1/4-

inch

ceylon

(Mexican cinnamon stick)

2

allspice berries

1

whole clove
STEP 4:
2

tablespoons

fresh lard

(I used vegetable oil)

1

corn tortilla

quartered

2

plain cookies or ginger snaps or 1/4 slice white bread

1/2

white onion

diced

2

large cloves garlic

sliced

1/4

cup

seedless raisins

1/2

cup

raw almonds

1

cup

light chicken stock
STEP 5:
2

tablespoons

fresh lard

(I used vegetable oil)

1

cups

light chicken stock
STEP 6:
2

cups

light chicken stock

6

tablespoons

semisweet chocolate chips

(2 1/4 ounces)

1/4

cup

sugar

2

teaspoons

salt
Instructions
STEP 1: PREPARE THE CHILES—Split the dried chiles up the side with a sharp knife. Remove the stem, seeds and veins. Open up the chiles. Turn on the fan over the stove. Heat a large cast-iron skillet over medium-low heat. Toast the chiles inside and out, pressing down gently, until blistered and soft. Be very careful not to burn the chiles. Place the toasted chiles in a bowl and pour the hot water over them. Soak for 30 minutes, pushing down several times. When soft, drain (reserve the soaking liquid) and place in a blender with the chicken stock. Puree for several minutes, scraping down the sides, until perfectly smooth.

STEP 2: ROAST THE TOMATOES—Line the skillet with aluminum foil and set over medium heat. Roast the tomatoes on all sides until blackened and soft. Place in a small bowl and set aside.

STEP 3: TOAST THE SEEDS AND SPICES—Remove the foil from the pan, and reduce the heat to low. When the pan has cooled, toast the sesame seeds, stirring constantly, until light golden brown. Scrape into a medium bowl. Put the pepitas in the the skillet and stir until toasted and pale olive color, then add to the sesame seeds. Put the spices in the skillet and toast, stirring, for 1 minute. Add to the sesame seeds.

STEP 4: FRY THE TORTILLA, COOKIES, AND OTHER INGREDIENTS—Add the 2 tablespoons lard to the skillet and increase the heat to medium. (During this step, you may need to add a little more lard.) Fry the tortilla and cookies until golden and crisp, then add to the bowl with the sesame seeds. Fry the onion and garlic until soft and golden brown, stirring often, add to the sesame seeds. Fry the raisins, stirring, until plump, add to the sesame seeds. Fry the almonds, stirring, until browned then add to the sesame seeds. Set aside.

STEP 5: FRY THE MOLE—Heat the 2 tablespoons lard in a deep, heavy 4-quart pot or Dutch oven over medium heat. Add the chile puree to the pot. It will splatter, so cover with a splatter screen. Do not rinse the blender. Cook and stir for 20 minutes, until thickened. When the chile paste is cooked, puree the tomatoes in the same blender. Add to the chile puree and cook, stirring occasionally, for 10 minutes. Do not rinse the blender. When the tomatoes have cooked, puree the sesame seed mixture with the chicken stock, scraping down the sides several times, until perfectly smooth (I "borrowed" an extra 1/2 cup stock from the next step to help this mixture blend more smoothly, and then used only 1 1/2 cups in the next step instead of 2 cups). This may take several minutes. Add to the pot, and cook, stirring often, for 15 minutes.

STEP 6: SIMMER THE MOLE—Rinse the blender with the chicken stock and add to the pot, along with the reserved chile soaking liquid (see note below), stirring until well combined. Add the chocolate, sugar, and salt and stir as the mole comes to a simmer to make sure the chocolate does not stick to the bottom of the pot. Once simmering, reduce the heat slightly. Simmer the mole, stirring often and scraping the bottom, for 30 minutes; do not allow it to boil. Strain the finished mole through the fine screen of a food mill.
Notes & Nutrition
Note: To make the mole less spicy, discard the chile soaking liquid and substitute 3 more cups of chicken stock (this is what I did, just to be safe, and thought the result was slightly spicy, but very flavorful).
Serving Ideas: This mole is traditionally served with simmered or roasted turkey pieces, corn tortillas, and plain white rice.
Adapted from Salsas and Moles
Servings 32.0 (1/4 cup serving) * calories 88 * Total Fat 5 g * Saturated Fat 1 g * Monounsaturated Fat 2 g * Polyunsaturated Fat 1 g * Trans Fat 0 g * Cholesterol 5 mg * Sodium 211 mg * Potassium 63 mg * Total Carbohydrate 8 g * Dietary Fiber 1 g * Sugars 5 g * Protein 2 g
*All nutritional information is based on third-party calculations and should be considered estimates. Actual nutritional content will vary with brands used, measuring methods, portion sizes and more.*