This post may contain affiliate links, which means that I may receive a commission if you make a purchase using these links. As an Amazon Associate I earn from qualifying purchases.
These easy, homemade Crab Stuffed Shells are light, fresh, and super citrusy. They're reminiscent of crab cakes wrapped in a pasta hug. The orange-infused tomato sauce is refreshing and delicate. It's the perfect complement to these seafood stuffed shells.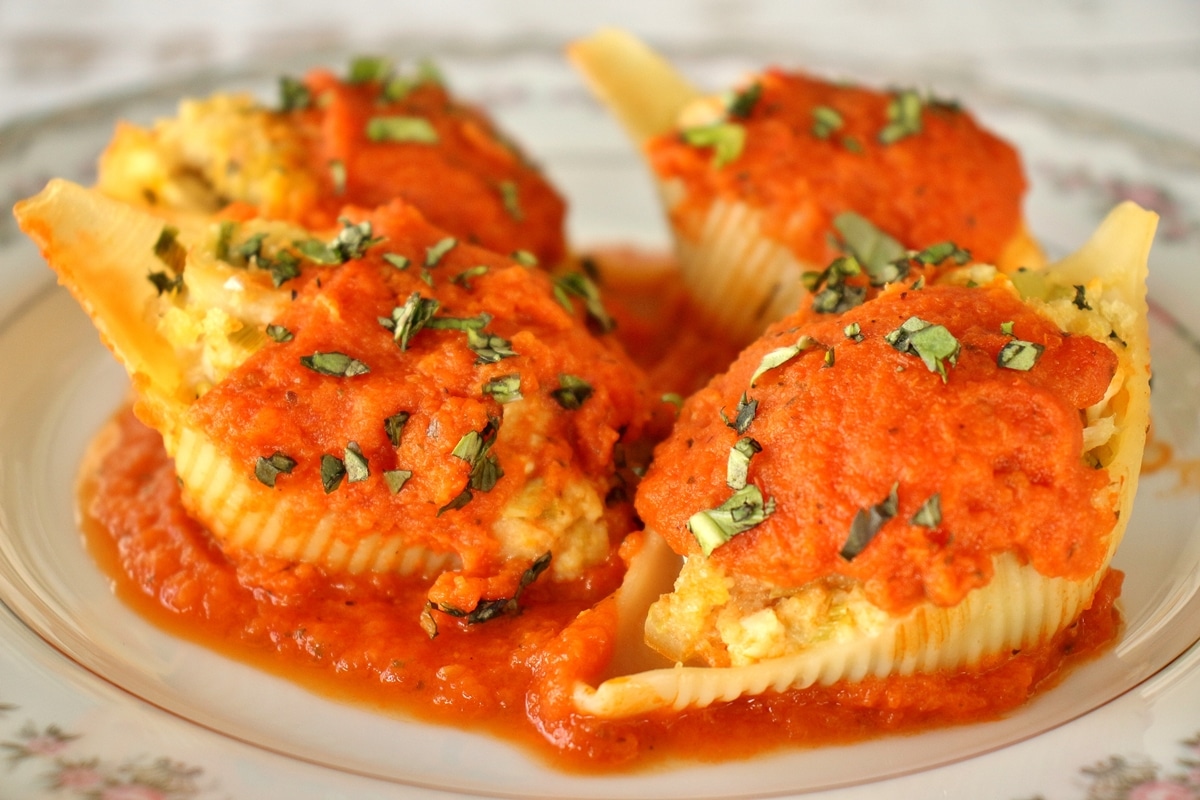 (This recipe for Crab Stuffed Pasta Shells was originally published in July 2015, but was updated with new photos and content in 2020).
Next to casseroles like lasagna, macaroni and cheese, and baked ziti, stuffed shells sometimes get overlooked. Personally, I love them! They're easy to make, easy to portion, and beautiful too. Although I typically make ricotta or meat-stuffed shells, one of my favorite recipes features a light and fresh-tasting crab meat filling.
These crab stuffed shells are a lot lighter than seafood stuffed shells with a creamy sauce and loads of cheese. In fact, these shells are stuffed with a mixture similar to crab cakes.
Fresh crab meat is combined with bread crumbs, seasonings, and eggs to bind. I liken this dish to crab cakes meet pasta, slathered with a light and delicate tomato sauce that really compliments the crab perfectly.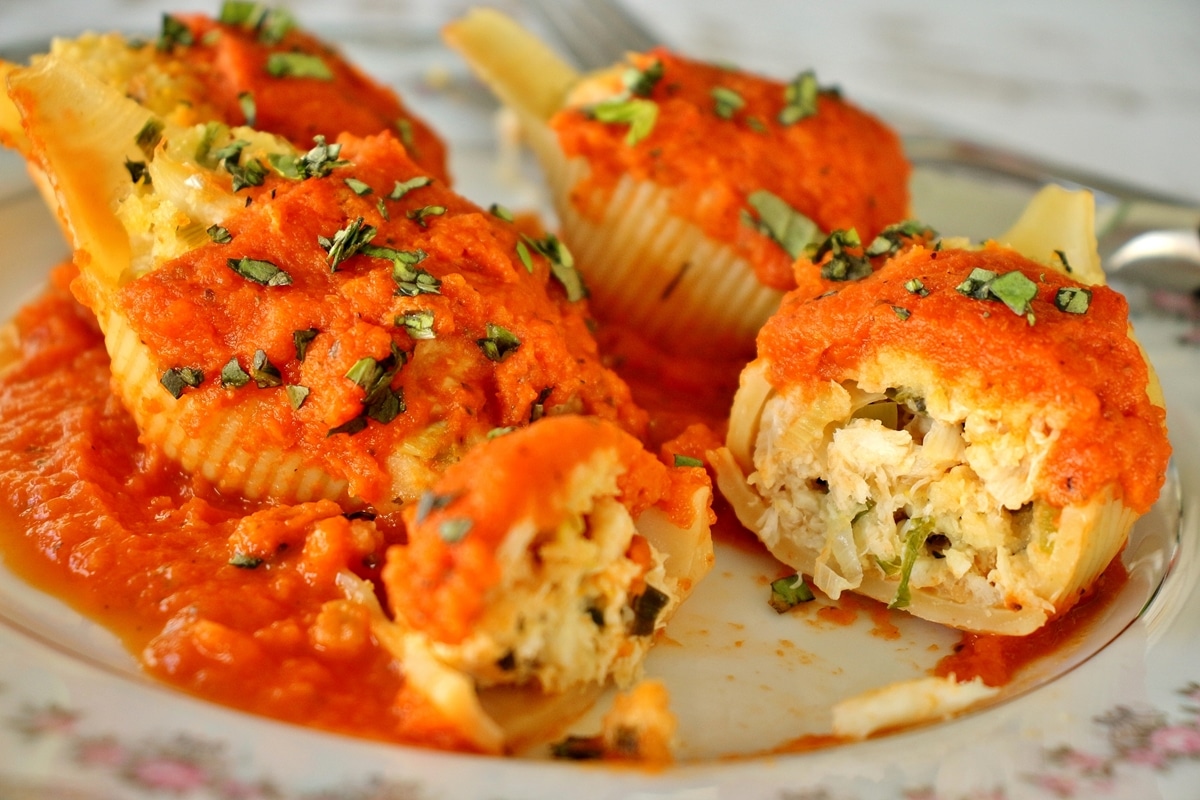 Ingredients for crab stuffed pasta shells
To make this recipe you will need some pretty standard ingredients like carrots, onions, celery, garlic, scallions, and fresh basil. You will also need lemon zest and juice, and orange zest.
This recipe uses fresh bread crumbs which are easy enough to make in your food processor. I recommend sourdough or ciabatta, but any basic artisan style bread will yield good fresh bread crumbs.
I would avoid using sliced sandwich bread. It's a lot softer and won't provide nearly as much flavor or texture as the other varieties. Just cube up some preferably stale bread and toss in in the food processor. Blitz until you have fine crumbs. Simple.
You'll need 8 ounces of fresh crab meat for the filling. Good quality canned crab is totally fine if you aren't able to get fresh crab. Crab meat can be quite expensive, so be on the look out for sales. I purchased several containers of crab meat on sale at a local market.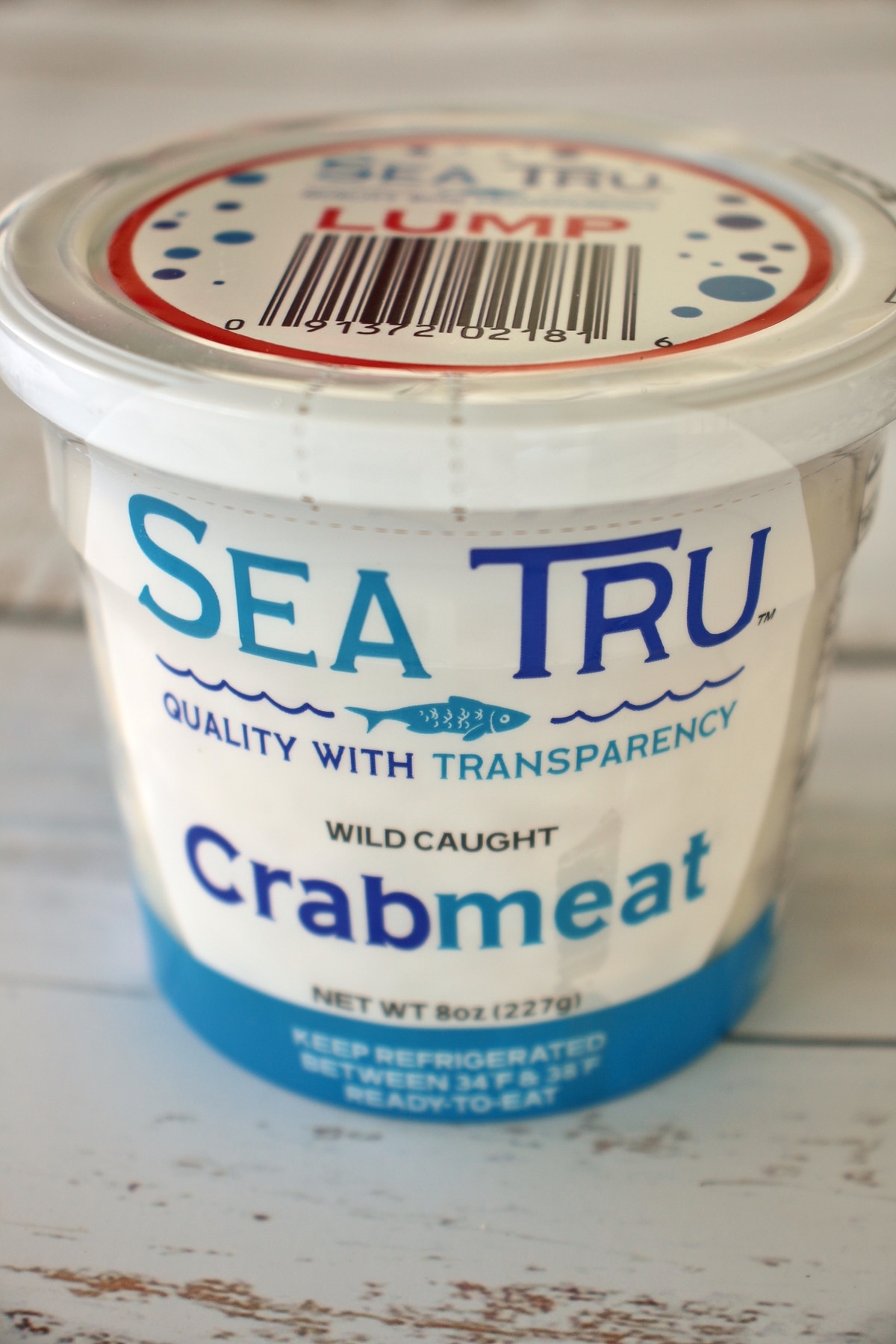 Because they are factory-sealed, they have a long window before expiration. I'm able to keep them in my fridge for several months before they go bad. Since the crab was on sale I was able to stock up on lump crab, which features larger pieces of crab than claw meat, for example. Although there are a lot of different types of crab meat, buy whatever you can afford. It will taste delicious regardless.
Finally, you will definitely need some jumbo pasta shells to stuff. There are a variety of brands, and although they are similar in size, they are shaped slightly differently. For example, Barilla is a popular pasta brand which sells jumbo shells. Their shells are squared off at the ends, and wrap around the filling a bit more.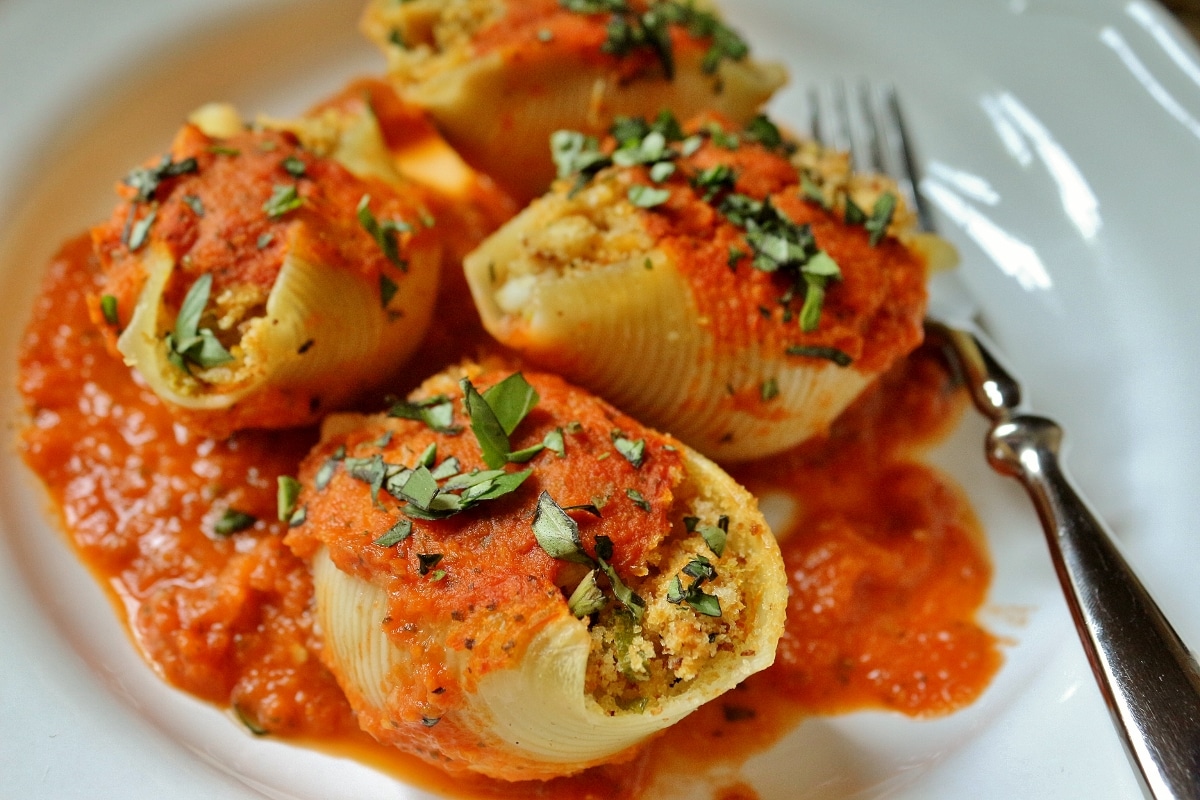 Pastene is another brand I have used for this recipe, and their shells have pointy ends, and don't wrap quite as much around the filling. Both styles of jumbo shells will work beautifully for this recipe. Get whichever you can find.
How to make the orange-scented tomato sauce
Let's start with the sauce. This basic tomato sauce that begins with onions and carrots sauteed in olive oil until somewhat softened. Next we add basil, garlic, salt, and chile flakes. Finally, add drained, canned diced tomatoes, chicken broth, orange zest, and a touch of sugar. Cover and simmer until the vegetables are tender.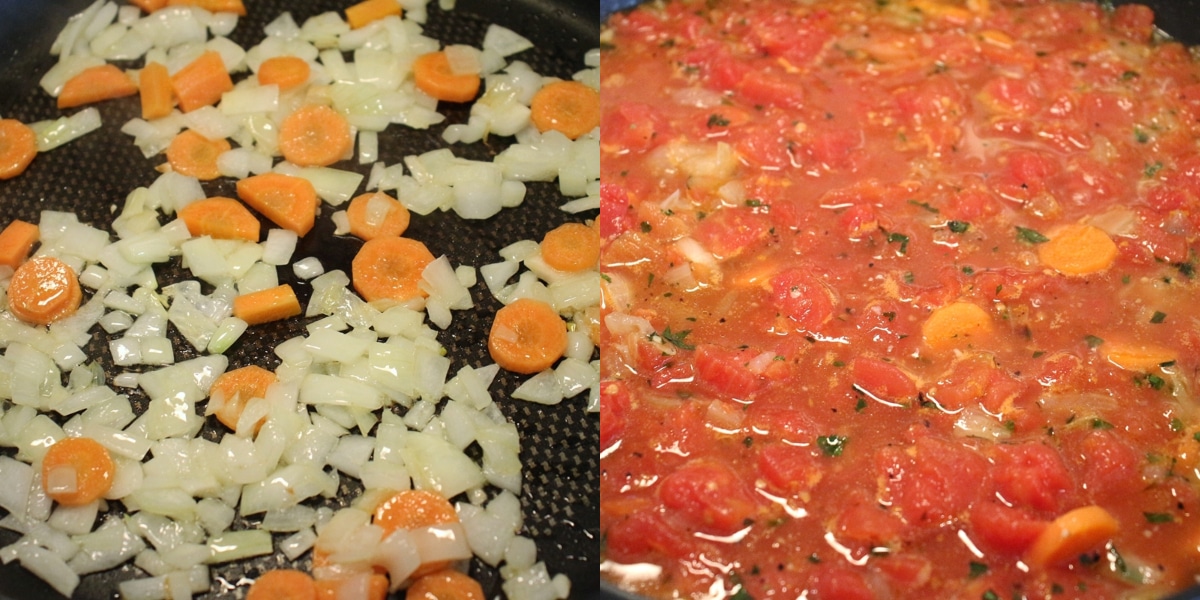 After simmering, puree until smooth to yield a bright and light tomato sauce with a bit of warmth from chili flakes, and an unexpected freshness and zing from the orange zest. Set the sauce aside while you work on your shells.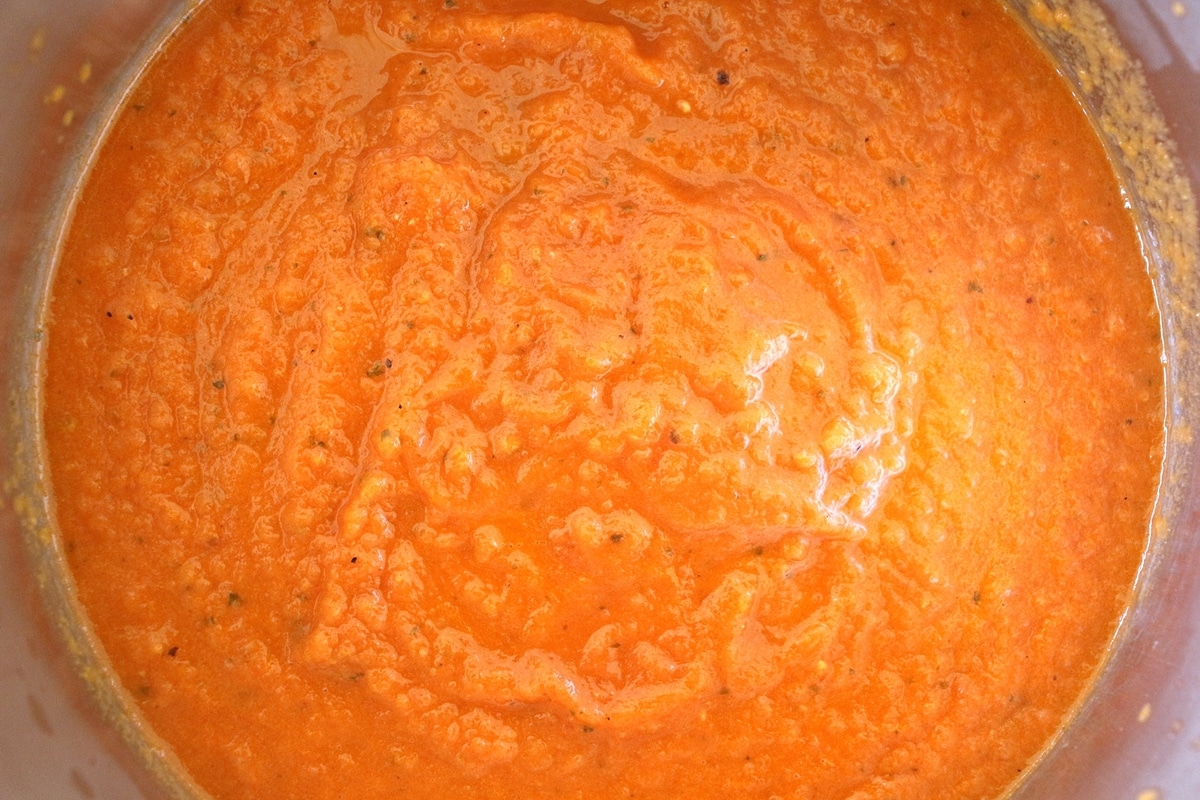 How to make the crab stuffed shells
The pasta shells themselves are stuffed with a mixture reminiscent of crab cakes. Begin by melting butter in a saute pan, and then add finely chopped celery and scallions. Cook until the vegetables are softened. Stir in fresh breadcrumbs, and then remove from the heat.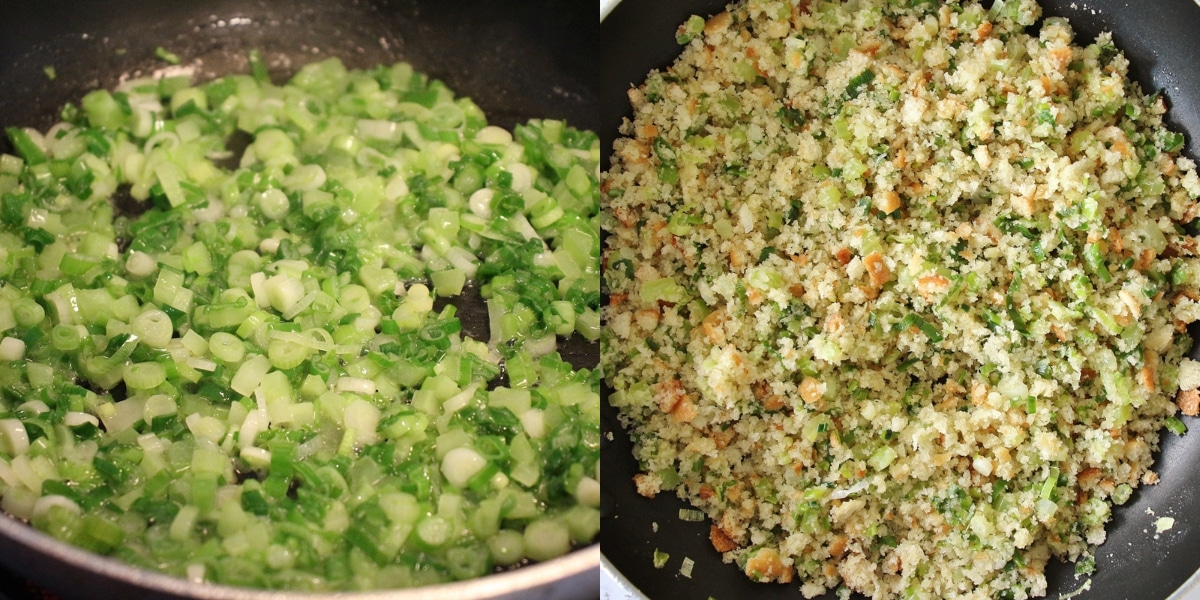 Next, add lemon zest and juice, orange zest, fresh basil, crab, and eggs to bind.

Meanwhile, boil your jumbo pasta shells until tender. I definitely suggest boiling a few extra shells in case any of them fall apart on you. Drain, and pat them dry with a paper towel or clean kitchen towel. You're ready to assemble your shells! Use a spoon to scoop filling into your shells. You can stuff them quite generously.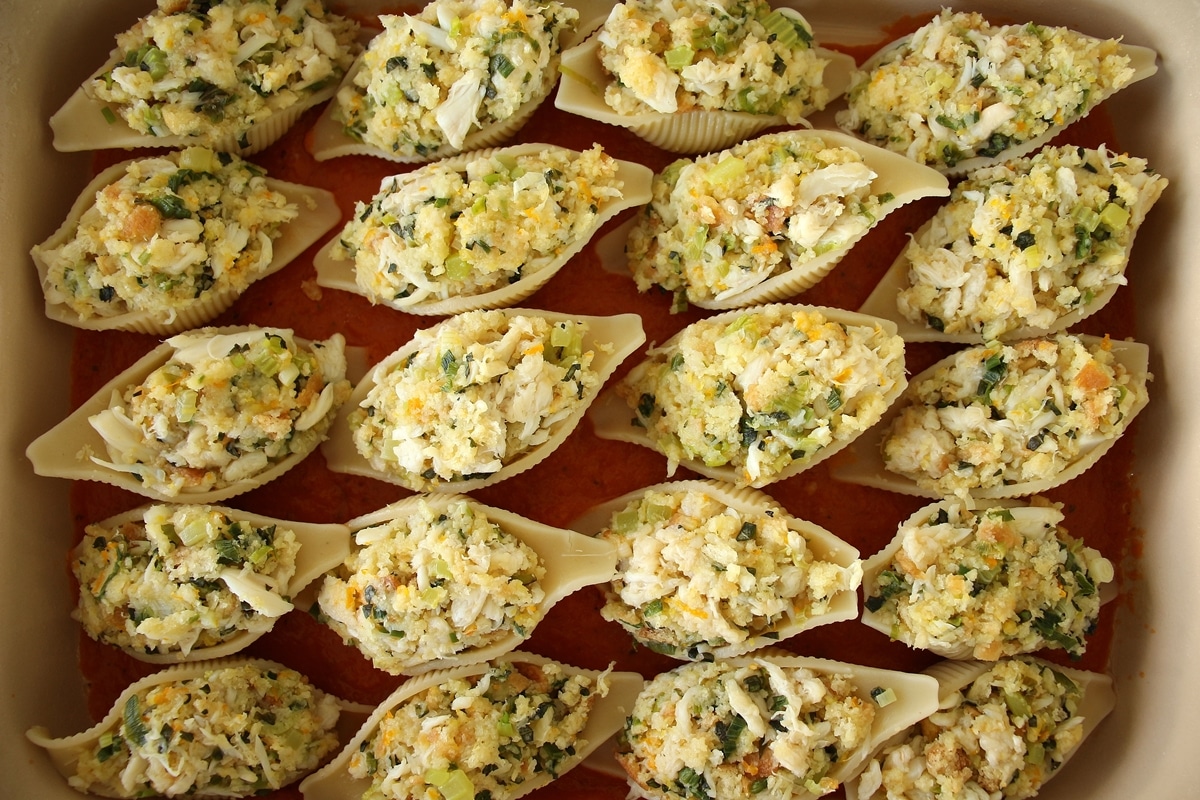 Pour about half the prepared sauce into a casserole dish, and arrange the stuffed shells over the sauce. Spoon more sauce over the top of each shell.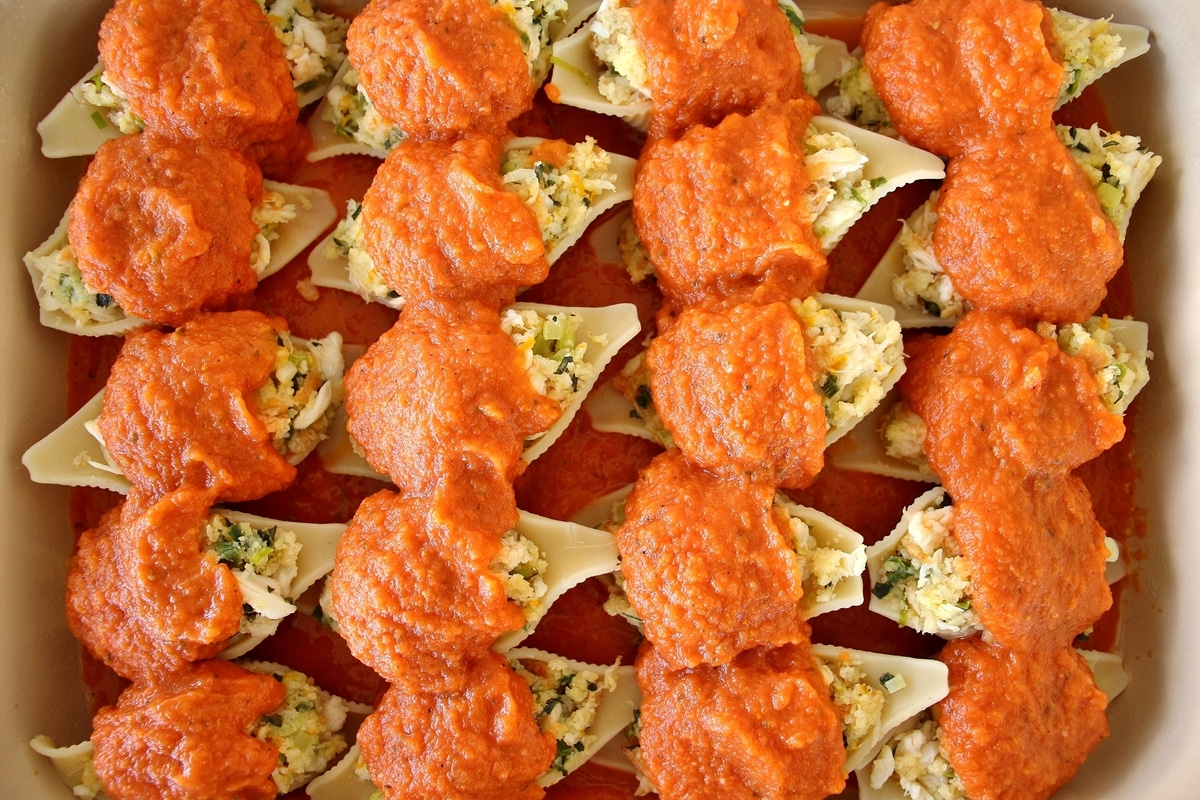 Bake for about 30 minutes at 375 degrees F until heated through. Serve the crab stuffed shells with additional heated sauce at the table. I like to spread a bit of sauce onto my plate and then top with the shells. Garnish with additional chopped fresh basil. Bon appetit!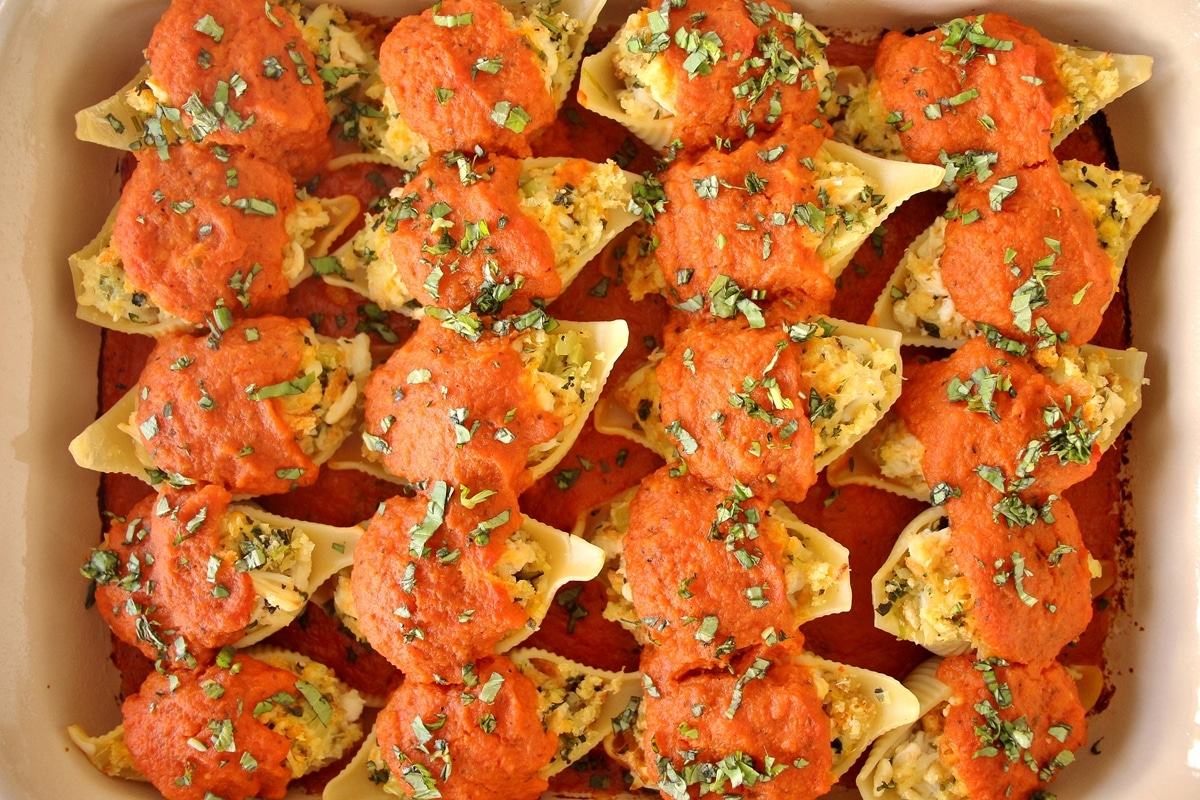 Other pasta recipes you may like
I'm really impressed not only by how the crab still shines even when it's not the dominant ingredient in the filling, but also by the freshness of the citrus. The orange and lemon really lighten up the dish and give it a summery feel, even though these shells can easily be made year round because they utilize canned tomatoes in the sauce.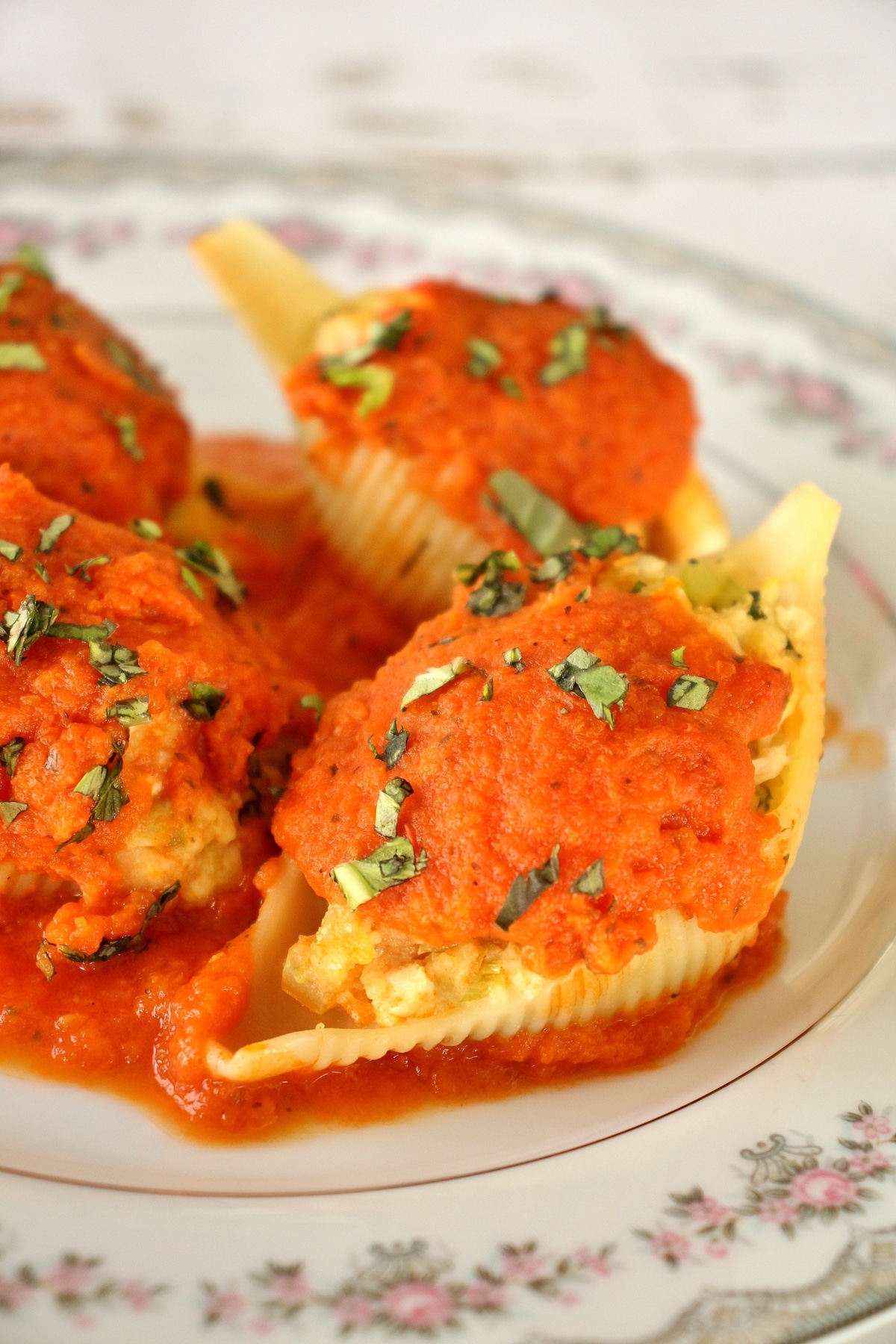 Other crab recipes you may like
I absolutely love these Crab-Stuffed Shells! What are your favorite fillings for shells? Have you tried making them with seafood? If you love crab cakes, I really recommend trying this recipe because it's the best of both worlds, crab cakes AND stuffed shells all in one. Don't forget to leave a comment and rate this recipe if you've tried it!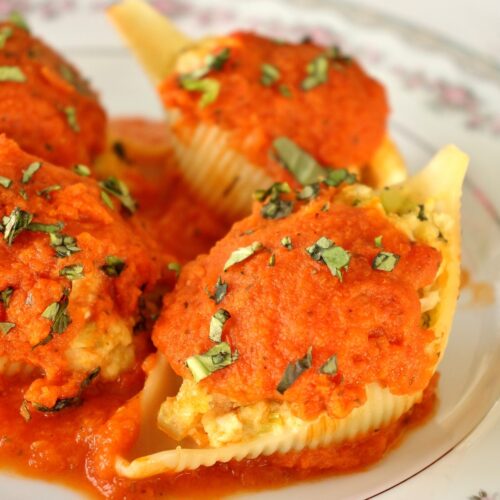 Crab Stuffed Shells with Orange-Scented Tomato Sauce
These easy, homemade Crab Stuffed Shells are light, fresh, and super citrusy. They're reminiscent of crab cakes wrapped in a pasta hug. The orange-infused tomato sauce is refreshing and delicate. It's the perfect complement to these seafood stuffed shells.
Ingredients
Orange-Scented Tomato Sauce:
1

tablespoon

olive oil

3/4

cup

(95 g) chopped onion

1/3

cup

(45 g) chopped carrot

1

tablespoon

chopped fresh basil

1

teaspoon

chopped garlic

Kosher salt

Scant 1/8 teaspoon red pepper flakes

2

(14.5-ounce) cans diced tomatoes

drained well

1 1/2

cups

reduced-sodium chicken broth

or homemade stock

2

teaspoons

orange zest

Generous pinch of sugar

plus more if needed
Crab-Stuffed Pasta Shells:
Kosher salt

20

jumbo pasta shells

2 to 2 1/2 inches (I suggest boiling about 23 just in case any of them break when boiling)

2

tablespoons

(28 g) unsalted butter

1

cup

(90 g) chopped green onions

1/3

cup

(40 g) finely chopped celery

2 1/2

cups

(140 g) fresh bread crumbs, preferably made from sourdough bread

1/4

cup plus 2 tablespoons

(15 g) chopped fresh basil

1 1/2

teaspoons

grated orange zest

1

teaspoon

grated lemon zest

2

tablespoons

fresh lemon juice

8

ounces

(225 g) fresh crabmeat

2

large eggs

beaten well
Instructions
Arrange a rack in the middle of the oven and preheat to 375 degrees F. Lightly grease a 9-by-13-inch or another shallow 3-quart baking dish.

For the Orange-Scented Tomato Sauce: Heat the olive oil in a large, heavy frying pan or medium saucepan (with a lid) over medium heat. When hot, add the onion and carrot and cook, stirring, until the vegetables are slightly softened, 3 to 4 minutes. Add the basil, garlic, 1/4 teaspoon salt, and the red pepper flakes and cook, stirring, for 2 minutes more. Stir in the tomatoes, chicken broth, orange zest, and sugar.

Bring the mixture to a simmer, reduce the heat, and cover. Simmer until the vegetables are tender, about 20 minutes. Season the sauce with more salt and even an additional pinch of sugar if needed. Puree the sauce in a food processor, blender, or food mill, and return to the pan. You should have about 3 to 3 1/2 cups. The sauce can be prepared 2 days ahead; cool, cover, and refrigerate. Reheat over medium heat.

Bring a large pot of water to a boil, generously salt and add the pasta shells. Cook until tender, 15 to 20 minutes–these shells often take longer than the package directions suggest. Drain in a colander, and arrange them on a plate or small tray lined with a clean kitchen towel or paper towel to dry.

In a medium frying pan over medium heat, melt the butter until hot. Add the green onions and celery and cook, stirring, until just tender, 4 to 5 minutes. Add the bread crumbs and stir for 1 minute more to moisten. Remove the frying pan from the heat and stir in half the basil, orange zest, lemon zest, and lemon juice. Mix well and gently mix in the crabmeat (after picking through for shells) 1/2 teaspoon salt, and the eggs. Fill the shells generously with the crab mixture. The shells can be prepared up to this point 6 hours ahead; cover and refrigerate.

Ladle half of the sauce on the bottom of the prepared baking dish. Place the shells in the dish. Nap the center of each pasta shell with some of the remaining sauce.

Bake, uncovered, until the shells are hot, 30 to 35 minutes, or longer if they have been refrigerated. Remove from the oven and sprinkle with the remaining basil before serving. Nap a bit of the extra sauce onto each plate and place several stuffed shells on top. Save any additional sauce to remoisten any leftover shells when reheating them.
Notes & Nutrition
Adapted from Sunday Casseroles
Servings 4.0 * calories 678 * Total Fat 18 g * Saturated Fat 5 g * Monounsaturated Fat 3 g * Polyunsaturated Fat 1 g * Trans Fat 0 g * Cholesterol 111 mg * Sodium 1436 mg * Potassium 753 mg * Total Carbohydrate 99 g * Dietary Fiber 12 g * Sugars 14 g * Protein 35 g
*All nutritional information is based on third-party calculations and should be considered estimates. Actual nutritional content will vary with brands used, measuring methods, portion sizes and more.*
Pin it for Later!